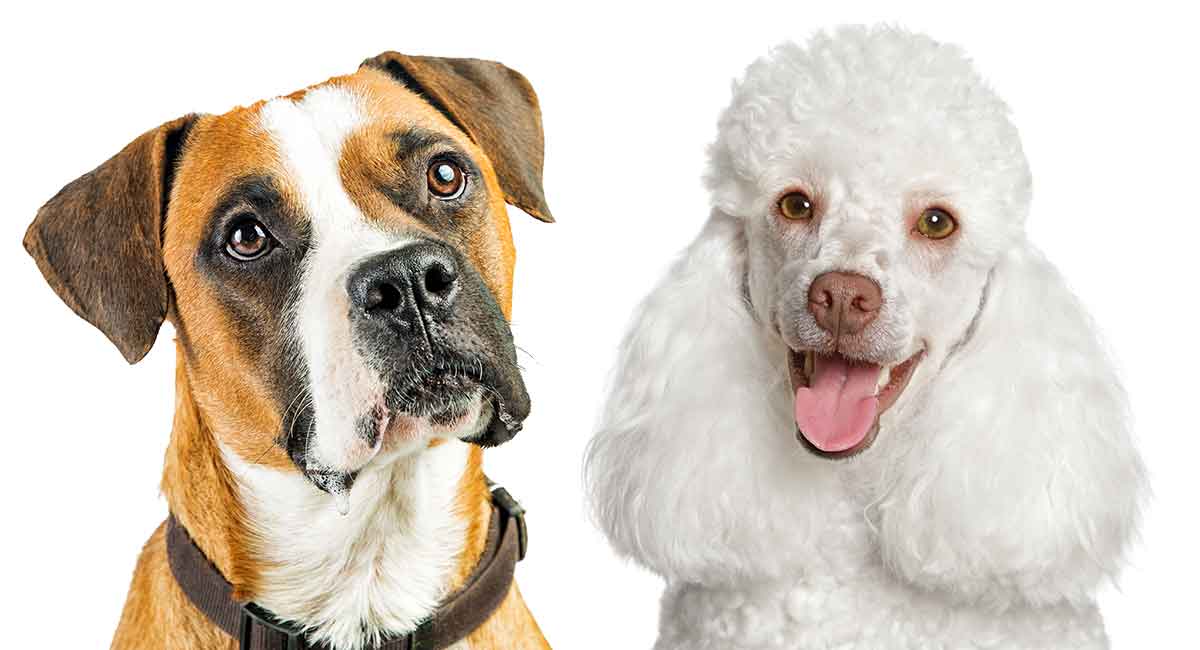 The Boxerdoodle is a mix between the playful and protective Boxer and the elegant and intelligent Poodle.
This breed is generally energetic and enjoys spending time with their owner.
The Boxer Poodle mix, or Boxerdoodle, is a medium-sized dog.
They weigh anywhere from 40 to 80 pounds, and they stand at a height of 15 to 25 inches.
Their appearance and temperament can never be guaranteed as a mixed breed. But the Boxerdoodle could have a thick, curly coat like a Poodle, or a short, tight coat resembling a Boxer.
Let's take a more detailed look at the Boxer Poodle mix and see if this spirited and fun-loving dog is the right fit for you.
What's In This Guide
Boxerdoodle FAQs
Our readers' most popular and frequently asked questions about the Boxerdoodle.
Boxerdoodle: Breed At A Glance
Popularity: Designer dog breed. The Boxer is ranked 11th and the Poodle is ranked 7th out of 193 breeds by the American Kennel Club (AKC).
Purpose: Family pet
Weight: 40 to 80 pounds depending on gender
Boxerdoodle Breed Review: Contents
History And Original Purpose Of The Boxerdoodle
A common question people have: Is there a Boxer Poodle Mix? And the answer is, yes! It is one of many new popular designer dog breeds.
The Boxerdoodle is the result of breeding a Boxer with a Standard Poodle. This can be accomplished traditionally or through in-vitro fertilization. And either breed can carry the pups.
The exact origins of this mix breed are unknown but the designer dog trend has been gaining momentum since the 1980s.
We don't know a lot about the specific origins of this mix breed, but we do know about the origins and purpose of the two parent breeds.
Boxer Origins
The Boxer, as we know it today, traces its lineage back to the late 19th-century. They were produced by combining the German Bullenbeisser and a smaller English Mastiff.
The Bullenbeisser was a large dog used by German nobility for hunting large game. However, the nobility no longer needed these large hunting dogs as the politics of the region changed.
They were crossed with the smaller mastiff to make a smaller and more attractive dog.
Since the late 1800s, they have been used as cattle herders, guard dogs, police dogs, war dogs, and guide dogs.
Boxers got their name from their tendency to use their front feet when they engaged with other dogs in wrestling or fighting.
They were first recognized by the American Kennel Club in 1904, and are now ranked by the AKC as the 11th most popular breed.
Poodle Origins
The Poodle breed includes toy, miniature, and standard. Contrary to the popular assumption that Poodles originated in France, they are, in fact, originally a German breed.
The name "Poodle" comes from the German word pudelin, which means "to splash about." They began as water retrievers for duck hunting but they are no longer considered a sporting breed.
Poodles are extremely intelligent. Historically, they were entertainers because of their trainability.
They were also used for truffle hunting because of their especially keen sense of smell.
Because of their easy trainability and their striking appearance, the Poodle crossed over from working dog to a French nobility companion, and eventually to a popular family pet
First registered by the American Kennel Club in 1887, Poodles are ranked by the AKC as the 7th most popular dog breed.
Fun Facts About Boxerdoodles
There is a good chance your Boxerdoodle pup is going to love to jump. Both the Poodle and the Boxer have a habit of jumping, especially when they are excited to meet new people or other dogs.
Boxerdoodle Appearance
The Boxerdoodle can take on any combination of the parent breed's physical attributes. With a mix breed dog like this, the size, coat texture, and coloring for your adult dog will be a fun surprise!
Let's take a look at the general size and appearance of the standard Poodle and the Boxer to see what trait your Boxerdoodle could inherit.
Boxer Appearance
Boxers are considered medium-sized dogs. Males typically stand around 23 to 25 inches high. Females tend to be slightly smaller at 21 to 23 inches.
An appropriate weight for males is between 65 and 80 pounds and for females 50 to 65 pounds.
The Boxer has a short, tight coat and a muscular, athletic body. Their eyes are deep brown and their brow is furrowed.
The head's distinctive features are a blunt, wide muzzle, and wide-set folded ears. They also have an undershot jaw.
The Boxer's coat colors are fawn and brindle (black stripes). If they have any markings, they are white. Approximately a quarter of Boxers are all or mostly white, but they are not albinos.
Poodle Appearance
Standard Poodles are generally between 15 to 27 inches tall. An appropriate weight for males typically ranges from 60 to 70 pounds and for females is about 40 to 50 pounds.
Poodles have long, straight muzzles and dark or amber eyes. Their ears are at or below eye level and hang close to the skull.
Their bodies are squarely built and well-proportioned. Poodle tails are usually docked and carried high.
The coat of a Poodle can be curly, quite thick, and rather coarse. Corded coats resemble dreadlocks and vary in length. The clip of a Poodle's coat is at the discretion or whim of the owner.
Interestingly, the highly stylized "lion," or pompon clips, were originally designed to keep vital parts of the dog warm when they swam in cold water for retrieving. This elaborate style caught on and remains popular today.
The variations in Poodle coat colors are significant. They include black, gray, silver, blue, cream, apricot, brown, and café-au-lait.
Boxerdoodle Appearance
Because the sizes of adult Boxers and Poodles are similar, it is safe to assume your Boxerdoodle will be in this same range as an adult.
Weight will vary depending on both genetics and gender but expect a medium sized dog. Your furry friend will likely weigh from 40 to 65 pounds if it is a female and 60 to 80 pounds if it is a male.
Your Boxerdoodle will probably have a tail that you can choose whether to dock.
Any further predictions about appearance are uncertain.
Your dog could resemble either parent breed in coat color and style, head shape, and body. Or they can feature a true combination of Poodle Boxer looks.
Boxerdoodle Temperament
Like appearance, it is difficult to know what behavioral traits your Boxerdoodle will inherit. We know both parent breeds are very energetic dogs and are both highly trainable breeds that have a history of working or sporting.
Both the Boxer and the Poodle are social dogs that enjoy being around people. It is reasonable to assume that these are traits you will also find in a Boxer Poodle cross.
It's possible that your pup will also inherit some traits common to just one of the parent breeds. Here are a few things to know about the temperament of each parent.
Boxer Temperament
It is in a Boxer's nature to be the family protector. They are fearless, but also gentle with children. Boxers are natural athletes and love to play and be with their people.
They are wonderful companion dogs and are not known to bark excessively if properly socialized.
Boxers generally do not do well with dogs of the same sex. They are usually fine with dogs of the opposite sex. It is possible your Boxerdoodle will have this same tendency.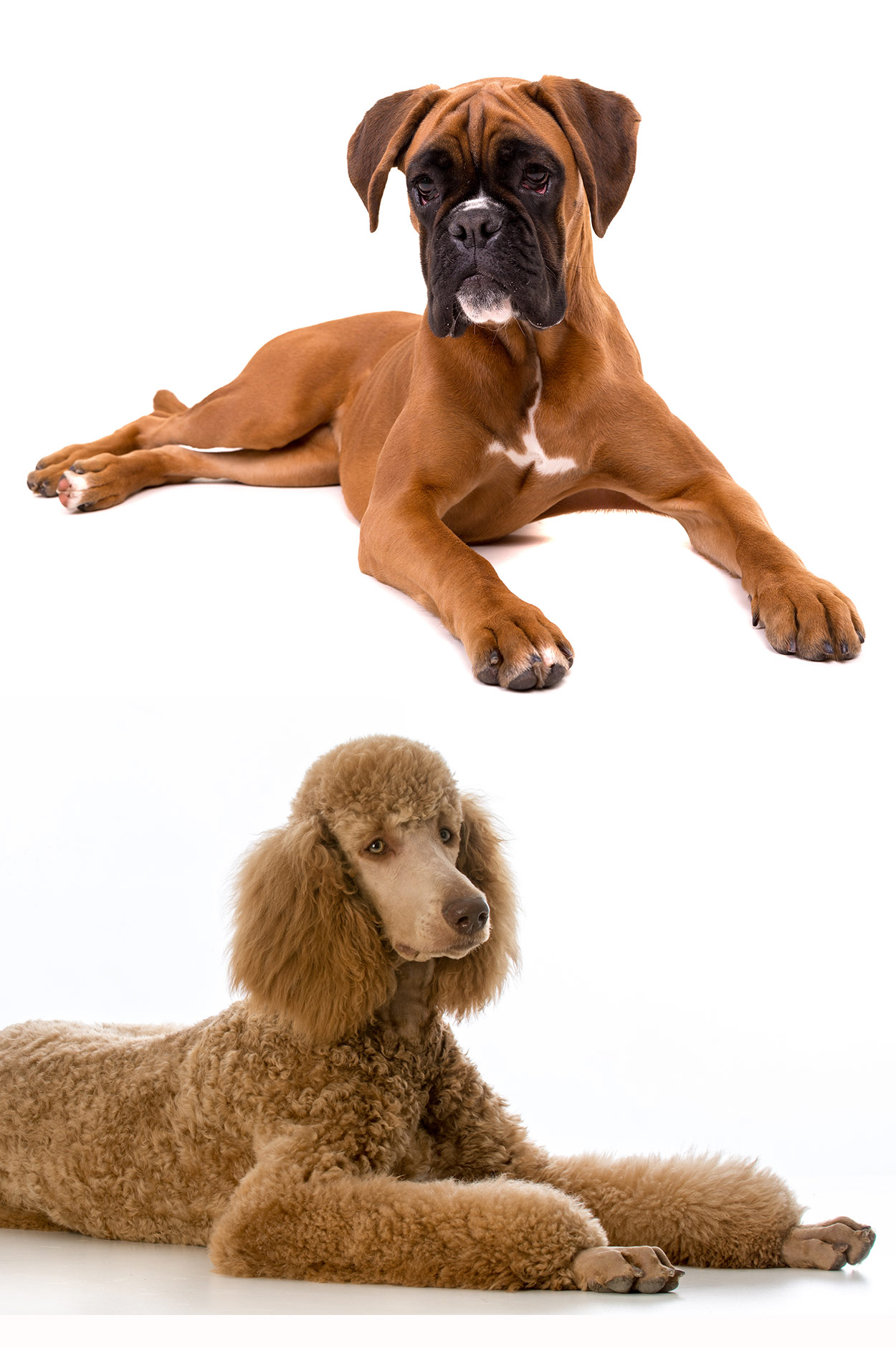 Poodle Temperament
Poodles are exceptionally intelligent and affectionate and enjoy socializing with people and other dogs. The standard Poodle is known to be patient and gentle with children and is considered a great family dog.
They love a simple, daily play activity like chasing around a ball or swimming. They are not known to bark excessively if they're receiving enough attention.
Training And Exercising Your Boxerdoodle
Both breed parents are active and love to exercise. And both breeds are very smart, and thus, can get bored easily.
Keeping exercise and training sessions interesting and mentally stimulating is the best way to keep your dog from finding their own fun and ending up in trouble. Poodles especially, enjoy lots of mental stimulation.
Boxerdoodle Training
Training a Boxerdoodle shouldn't be a problem if you keep training session interesting, fun, and not too repetitive They respond to positive training methods and praise.
There are many training methods, but one consistent point is that food should not always be a reward. The last thing your dog needs is extra weight.
Socialization and training should both begin early especially with the Boxer influence in your dog. They need that structure to help harness the Boxer puppy enthusiasm.
Also, with the Boxer in mind, it is good to socialize Boxerdoodles early on so that they are more tolerant of other dogs of both genders.
Boxerdoodle Exercise
Your Boxer Poodle mix is going to need plenty of exercise with two very active parent breeds. Probably around two hours a day.
Canine sports may be a good way to keep your dog's mind engaged as well as providing excellent exercise.
Poodles are great at agility, tracking, obedience, and also at retriever hunt tests. These may be skills your mix breed has too.
Boxerdoodles are happy to accompany you on a jog or long trek. They are well suited to active people. Swimming is another activity that your Boxerdoodle might enjoy too.
Just keep in mind that Boxers are sensitive to both cold and hot temperatures. Therefore, be conscious of the temperature when exercising your dog, especially in the summer months. The intolerance for heat and cold may be inherited by the Boxerdoodle.
Boxerdoodle Health And Care
Boxerdoodle health is very much dependent on the health of the parent breeds. Both the Boxer and the Poodle have some serious hereditary health issues that could be passed down.
Any good breeder will screen their dogs for common genetic health issues, and they should be able to show proof of this testing.
Let's look at some of the health issues that each breed is prone to.
Poodle Health Concerns
Poodles, despite being a generally long living breed, have a predisposition to a number of health issues. Some of these are minor health issues common to many breeds like dental disease and skin issues.
For example, sebaceous adenitis is a skin condition in which the glands that help keep the hair and skin healthy become inflamed. This results in patchy hair loss, skin lesions, brittle hair, and scarring.
This skin condition is most common in Poodles and unfortunately, there is no real cure.
Signs for the disease may come and go. Medication is often used not for the skin issue itself, but for any infections that the hair loss and lesions may contribute to.
Poodles also have a high prevalence of some other more serious health conditions that you should be aware of.
Joint Problems
Poodles have a high prevalence of hip dysplasia. This is a joint problem that stems from structural problems in the hip joint that affect the dog's mobility and can also be painful.
Hip dysplasia occurs when the top of the femur (thigh bone) and the hip socket do not fit together correctly. This causes friction and grinding in the joint. It results in the deterioration of the hip joint over time.
Genetics often play an important role in this condition. But excessive growth rates, obesity, and certain types of exercise can also contribute to this problem.
Signs of dysplasia include lameness or looseness in the affected leg(s), decreased ability to run, jump, or climb stairs, pain, stiffness, and decreased range of motion.
This condition cannot be cured. But it can be managed with various treatments including anti-inflammatories, weight management, specific exercise requirements, surgery, and physical therapy.
Gastric Dilation (Bloat)
This is a serious condition that occurs when the stomach excessively expands up to three times its normal size, with gas and food inside. The stomach then rotates, cutting off the blood supply and the exit route from the stomach.
This is very painful and also life-threatening. Without medical intervention, death can occur within a few hours.
Signs of bloat include pacing or inability to lie down, distended stomach, inability to vomit, foamy saliva, and panting. If you notice any of these symptoms, contact your veterinarian immediately.
Hypothyroidism
Hypothyroidism occurs when the thyroid gland does not produce enough hormones. The hormones produced by the thyroid help regulate a number of important bodily processes.
This can cause a range of signs and symptoms including skin issues, weight gain, lethargy, trouble staying warm, irregular heartbeat, and coarse hair texture.
It can be diagnosed with a blood test. And it is usually treated with daily medication.
Cushing's Disease
Cushing's Disease is caused by a tumor that grows either in the pituitary gland of the brain or in the adrenal glands. In either case, the result is the same and the adrenals glands are stimulated to overproduce cortisol.
This tumor tends to be malignant and often spreads throughout the body. If the disease is detected early, then the progress of the disease may be slowed.
Signs and symptoms include excessive consumption of food and water, pot belly, hair loss, and texture change, and frequent urination.
Recommended Testing for Poodles
Hip Evaluation
Ophthalmological Evaluation
Von Willebrand's Disease (VWD)
Sebaceous adenitis (SA)
Epilepsy

Boxer Health Concerns
The Boxer also has a number of health conditions that they are more susceptible to. They are prone to some of the same conditions as the Poodle, like hypothyroidism, gastric bloat, hip dysplasia, and Cushing's Disease.
Boxers also have a few more health-related issues that are important know about.
Heart Problems
Boxers are thought to be predisposed to two heart conditions: cardiomyopathy and aortic stenosis.
Aortic Stenosis
Aortic stenosis is congenital and occurs when there is a narrowing of the aortic valve. The heart is strained as it attempts to pump blood out to the body.
This strain can cause other heart-related issues and heart failure. There may be no outward signs of this condition.
If the case is severe you may notice lethargy, exercise intolerance, or fainting in your dog. There is a heart murmur in the case of aortic stenosis but it isn't always picked up until the dog is full grown.
There is a range of treatments depending on the severity of the condition. Mild cases may require no treatment and just monitoring. Moderate to severe cases usually require beta-blockers and exercise limitations.
Cardiomyopathy
Cardiomyopathy is a degenerative disease of the heart. It is a common cause of heart failure in Boxers.
Signs of this condition may come on slowly or suddenly. I can include rapid breathing, coughing, weakness, restless sleeping, fainting, decreased appetite, weight loss, distended abdomen, and depression.
Signs do not show up in Boxers until they are grown. But a blood test for puppies can detect the existence of the gene that causes it.
Cardiomyopathy is a serious disease that can cause heart failure or sudden death so testing is a must.
Degenerative Myelopathy
This condition affects the spinal cord and is degenerative.
Dogs first lose coordination in their back legs and eventually end up paralyzed. Incontinence tends to come as well with the paralysis.
This insidious disease affects mature dogs anywhere from 4 years of age and onward.
There is no cure. Diet, exercise, and physical therapy can help keep your dog mobile as long as possible.
Signs include knuckling (back paws turning under when walking), hindquarters swaying when standing still, easily falling over when pushed from the side, and have difficulty getting up from lying down.
A test for degenerative myelopathy is vital for Boxer puppies.
Lymphoma
Boxers have a higher than average risk of developing Lymphoma. This is a type of cancer that affects the white blood cells in the body
Lymphoma is also a very treatable type of cancer and detectable by a blood test.
It is recommended to get your dog's blood tested bi-annually to check for abnormalities.
Treatment often involves chemotherapy. Signs of the disease include swollen glands, weight loss, and labored breathing.
Respiratory Distress Syndrome
This condition is also known as brachycephalic syndrome, and it occurs in dogs with short noses.
Short-nosed dogs still have the same amount of tissues in their airways as other dogs. This extra tissue can hang down into the airways, narrowing or obstructing them.
Respiratory distress syndrome can lead to other health-related issues like pneumonia from food aspiration and heat stroke.
Signs of this condition are coughing, exercise intolerance, bluish gums, loud breathing, and fainting.
Treatment for severe cases can include surgery.
The Boxer also has a few less serious health issues to be mindful of.
Malassezia
Malassezia is a condition that is caused by yeast and can affect the skin and ears.
The affected skin will be hairless and greasy with an odor and infected ears will be red, itchy, and have a brown waxy discharge. See you vet if you notice these signs in your dog.
Extreme Temperatures
The Boxer is especially sensitive to temperature and does not have the ability to cope with extremes in either direction. They do not tolerate cold or heat well and thus, are not recommended to be outdoor pets.
The Boxer should live indoors with the family where they are warm in the winter and shaded from the hot sun in the summer.
Recommended Testing For Boxers
Hip Evaluation
Elbow Evaluation
Thyroid Evaluation
AS/SAS Cardio
Aortic Valve Disease
Boxer Cardiomyopathy
ARVC DNA Test
Degenerative Myelopathy DNA Test
Boxerdoodle Health Concerns
You are well on your way to understanding the possible health issues of your cross-breed pup by understanding the concerns of the parent breeds.
A Boxerdoodle can inherit any hereditary health issue common to one of the parent breeds, but those conditions common to both are most likely to affect your dog.
Some genetic health problems can be tested for in the parents.
It is important to only use a responsible breeder that does a thorough health check of their dogs. Ask to see the test results for your potential pup's parent before deciding to bring your new furry friend home.
Boxerdoodle Life Expectancy
Both parent breeds have a good average life span. The Boxer's life expectancy is 10 to 12 years and the Poodle's life expectancy range from 10 to 18 years.
Mixed breed dogs tend to have the same average life expectancy as the parent breed so your Boxerdoodle's expected life span is about 10 to 12 years. They can perhaps even live longer if they are healthy and have more Poodle influence in them.
Boxerdoodle Grooming
You're (almost) home free if your Boxerdoodle has a Boxer coat. A quick allover rub with a rubber, curry brush or hound glove once or twice a week is all that's needed.
It will require more frequent efforts to keep your dog attractive and comfortable if your Boxerdoodle has a Poodle coat. Follow this link to a complete guide to groom Poodles because they can be complicated to groom.
Ears, teeth, and nails will need to be attended to with the same regularity as any breed. And it should be started early with your pup so they are used to this routine.
Daily tooth brushing with canine toothpaste will head off dental problems. It can even lengthen your dog's life.
Weekly gentle ear cleaning will also keep your dog healthy and comfortable.
Boxerdoodle Shedding
Do Boxerdoodle's shed? There is no definitive answer just like in the case of temperament, size, and appearance.
Poodles do not really shed much so there is a possibility that your Boxer Poodle mix won't either. But you can't bank on that.
On the other hand, Boxers do shed. So, it will depend on the type of coat your dog inherits whether they shed or not.
If your dog has more of a Boxer coat the bi-weekly grooming should help catch loose hairs before they spread all over your house.
So, to answer the question, do Boxerdoodles shed? Maybe.
Do Boxerdoodles Make Good Family Pets?
The Boxerdoodle comes from two family-friendly dog breeds. Both the Poodle and the Boxer are gentle, friendly, and playful breeds. So, your Boxerdoodle should be too.
Both parent breeds are also known to be patient with children. However, due to the bouncy, energetic nature of these larger breeds, they are not recommended for families with small children.
An excited Boxerdoodle could accidentally knock over a tiny child. They are dogs better suited to families with older children.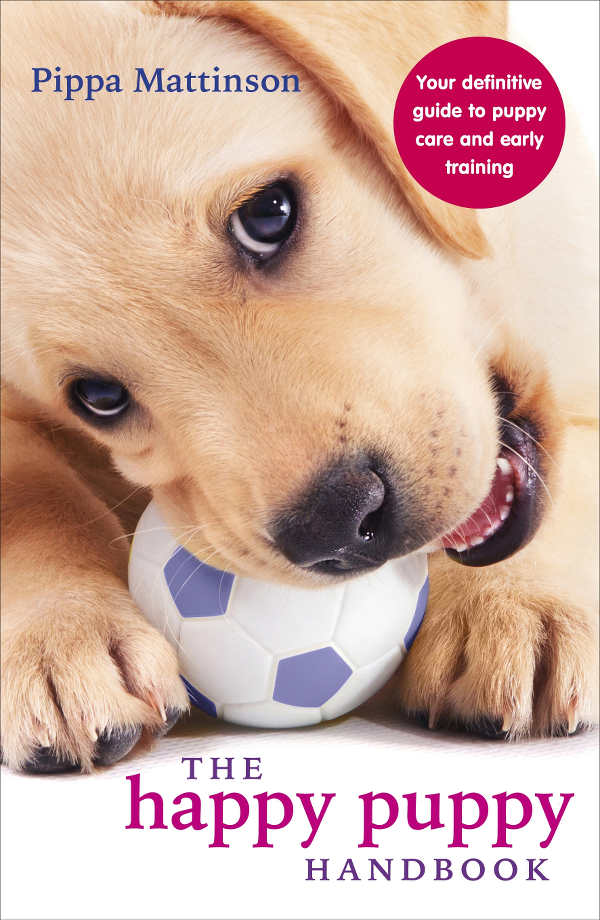 Rescuing A Boxerdoodle
Instead of purchasing a pup from a breeder, you can also adopt a rescue dog from an animal welfare society. There are a number of lovable and affectionate canines out there looking for a new forever home.
Designer dogs may be a little harder to come by this way but it may be possible to find one through a breed specific rescue with a little patience. See our list of rescues below.
Finding A Boxerdoodle Puppy
After reading up on Boxerdoodles, the next step in making your decision may be visiting breeders or Boxerdoodle rescue organizations to size-up your potential pet in person.
This crossbreed has become popular enough that you should not have difficulty locating the dog you want.
Ask lots of questions about the Boxerdoodle's parents. Make sure to review their health records. And ask for references from earlier litters.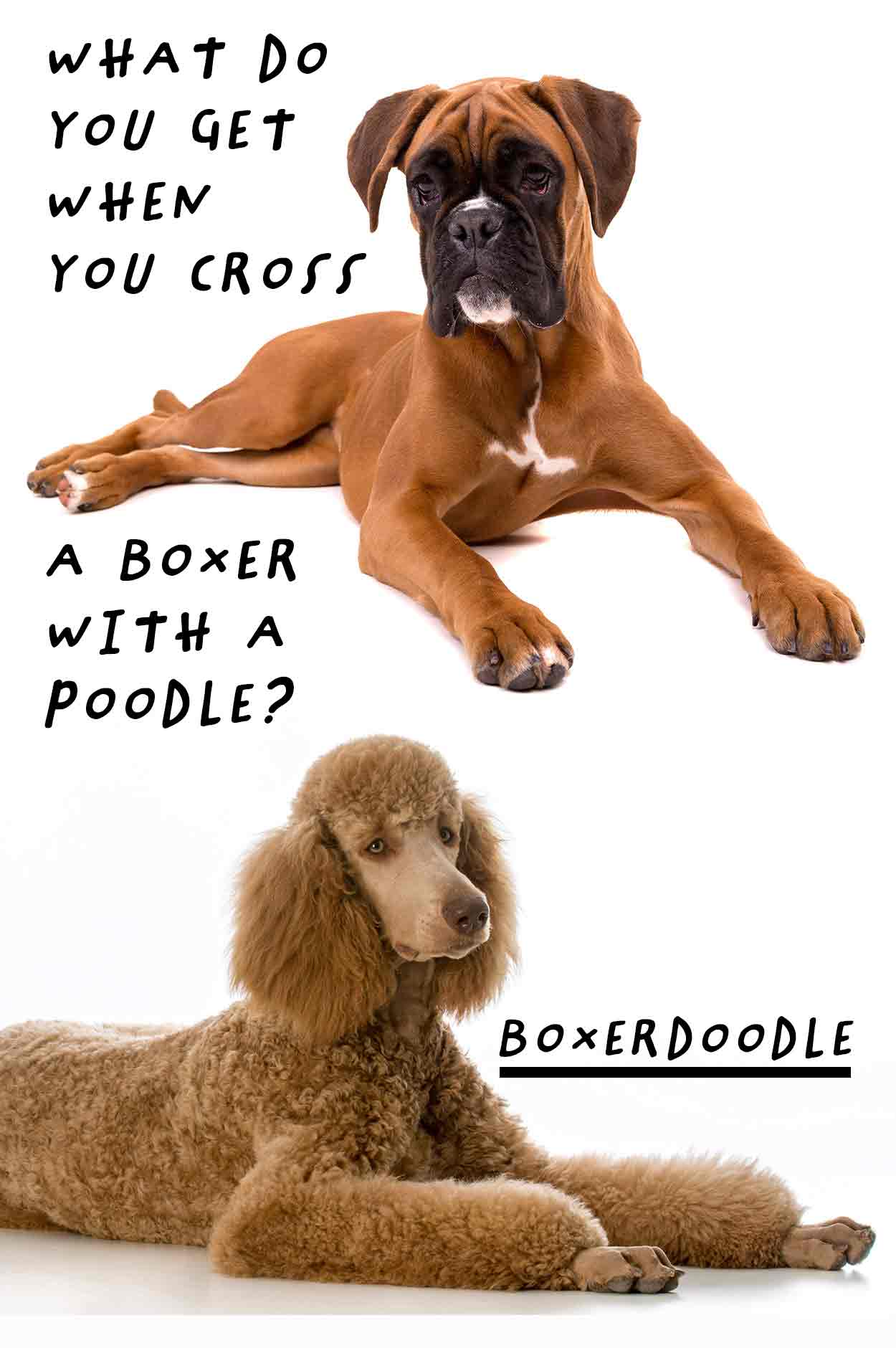 Reputable breeders are accommodating and will be comfortable answering your questions.
Make sure the environment and care seem appropriate and that the animals appear well-socialized and happy. Walk away if you feel pressured or uneasy.
Observe the energy level and temperament of the puppy and enjoy some interaction to get a sense of his or her personality. Your intuition will tell you when you've made that loving connection.
Using a reputable breeder is recommended over a pet store or online ad. Store or puppy mill dogs are often plagued with health issues and they can have a more challenging temperament. You never know how the pup or their parents were treated.
Raising A Boxerdoodle Puppy
An active Boxerdoodle pup is going to keep you on your toes! Here are some tips to help make socializing and training your new furry friend a little easier:
Positive Puppy Training—Does It Really Work?
Boxerdoodle Products And Accessories
Here are a few products that might help with the care of your furry friend, especially if they have the curly Poodle coat!
The Best Interactive Dog Toys
Pros And Cons Of Getting A Boxerdoodle
Getting a dog is a big responsibility, especially one that has the energy of the Boxerdoodle!
Let's take a look at the pros and cons of this breed to see if a Boxer Poodle mix is a good fit for you.
Cons
This breed has a ton of energy and needs a lot of daily exercises
They have a predisposition to some serious health issues
Boxerdoodles are not well suited to families with small children
They depend on their coat and could have high maintenance grooming needs
Boxer Doddle Mixes may not do well with other dogs of the same gender
Pros
They are gentle, friendly, and affectionate dogs
Boxer Doodle Mixes are highly trainable
These dogs are great companions for active individuals
They are good family pets for homes with older children
Comparing The Boxerdoodle With Other Breeds
The Boxerdoodle And Boxer German Shepard
Another interesting Boxer cross is the Boxer German Shepard mixed breed.
This is a medium size dog. But is potentially a bit bigger than the Boxerdoodle, weighing 65 to 95 pounds.
Both breeds are friendly and gentle but the Boxer German Shepard may be a little calmer than the Boxerdoodle. The German Shepard's reserved side may help to balance out the Boxer's bouncy and outgoing nature in this mixed breed.
However, this breed like the Boxerdoodle is going to require a lot of exercise activities even with that relaxed German Shepard influence. Both mix breeds are highly active and need mental stimulation to stay out of trouble.
For more on the Boxer German Shepard mixed breed click here.
The Boxerdoodle And The Cockapoo
One of the most popular designer dog breeds is the Cockapoo. It is a Cocker Spaniel and Poodle mix.
This mix breed can use a toy, miniature, or standard Poodle. So, the size of the mixed puppies is that much more variable. Generally, this breed is smaller than the Boxerdoodle, weighing anywhere from 6 to 30 pounds.
The Cockapoo is a good family dog with its social, playful, and energetic nature like the Boxerdoodle. And they are both highly trainable breeds that respond to positive training methods.
However, Cockapoos may have more of a tendency to bark due to their Cocker Spaniel influence.
For more on the Cockapoo click here.
Similar Breeds
Here are a few more Boxer or Poodle mixes that you might like if you are interested in the Boxerdoodle:
For more Boxer and Poodle mixed breeds check out these articles:
Boxerdoodle Breed Rescues
US Rescues
UK Rescues
Canada Rescues
Australia Rescues
Please leave us a comment below if you want to join one of these listings.
Is the Boxerdoodle Right For You?
Consider your resources in terms of the time you can spend socializing, training, and exercising your Boxerdoodle.
Do hours of daily exercise and frequent grooming fit into your schedule? Consider how your dog's needs will mesh with your home routines.
Do you have the right space for an active dog or a dog park or recreation area nearby? Will you enjoy getting outside with your furry friend?
The Boxerdoodle is reputed to be a good dog for families as well as individuals. But keep in mind this bouncy, high energy dog may be too much around small children.
Any pet requires a financial investment as well. Providing appropriate nutrition, grooming, preventative care, and veterinary care in the event of accident or illness are all budgetary considerations when you bring home a new family member.
References And Resources
Clubs And Organizations
This article has been extensively revised and updated for 2019.