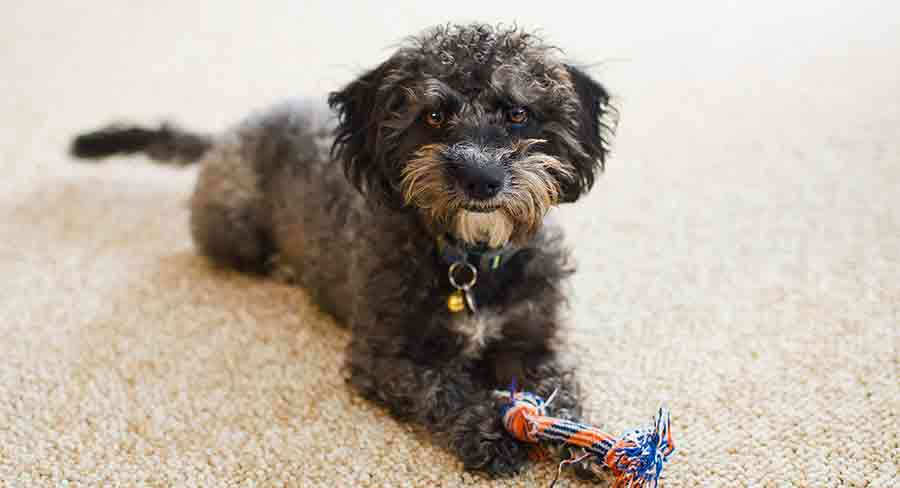 The Yorkie Bichon mix is a popular choice for owners who want a small, affectionate companion. Like any other mixed breed, it's impossible to know exactly what traits each puppy will inherit before they are born. But, these dogs are generally friendly, intelligent, and playful. They suit homes where they have plenty of company, but owners must also be prepared for some potentially complex care needs, including grooming.
Let's take a closer look at the possibilities for a Yorkie Bichon dog, to see if it's the right choice for you.
Yorkie Bichon at a Glance
| | |
| --- | --- |
| Height: | 7 – 11.5 inches |
| Weight: | 7 – 18 lbs |
| Temperament: | Affectionate, lively, playful |
| Coat type: | Soft to the touch, can be curly or straight |
| Coat colors: | Black and tan, blue and gold, white and more. |
| Grooming needs: | Brushed every day with bigger grooming sessions every few weeks |
| Energy levels: | Moderate to high |
| Average lifespan: | 12 – 13 years |
| Puppy price: | $600 and above, more often over $1000 |
Yorkie Bichon Mix History
The Bichon Frise Yorkie mix is often also called a Yorkie-Chon. Although there's a chance this small dog combination has been around for a while, or that some owners have accidentally bred them in the past, the modern Bichon and Yorkie mix has only started to gain traction in the past few years. Like mixed breeds in general! As of yet, this combination isn't recognised as a breed by major kennel clubs.
The Yorkie Bichon mix results from breeding a purebred Yorkshire Terrier with a purebred Bichon Frise. Both breeds have long histories. Bichons have spent most of their time as a popular, loving lap dog for nobles and families alike. Though the Yorkie was originally a working breed, catching and eliminating rats and other pests in factories, this breed also became more popular as a lap dog. Both parent breeds will pass on traits to their offspring that make them great candidates for this job, such as their petite size and people-centric personality!
Bichon Frise and Yorkie Mix Appearance
Like all mixed breeds, Yorkie Bichon puppies can inherit any mix of traits from their two purebred parents. Some things are easier for us to predict, since both parent breeds are quite similar. For instance, we know that this puppy will usually grow to be in the toy dog category. Yorkshire Terriers grow to 7-8 inches tall, weighing around 7 lbs as adults. Bichon Frise are slightly bigger, reaching from 9.5 to 11.5 inches and weighing 12 to 18 lbs. Puppies can be anywhere between these average stats.
Other things are less easy to predict, like fur type and color. Both parent breeds have long soft coats, but the Yorkie has a silky single layer, whilst the Bichon has a curly double layer. So, there's a lot of variation amongst puppies. Some may favor one parent breed, but others might fall exactly in between both.
What About Coat Colors?
Coat colors are another trait that will vary from one puppy to the next. Neither Bichon Frise dogs or Yorkshire Terriers have a huge range of colors, but their coat colors are quite different from one another. Here are the colors and combinations you'll see in a purebred Yorkie:
Black and tan
Black and gold
Blue and tan
Blue and gold
Whereas a Bichon will be:
White
Apricot and white
Buff and white
Cream and white
Puppies can be any of the above shades. You likely won't know exactly what colors and patterns their fur has until they are born. Some dog fur and coloring will also change slightly as they age.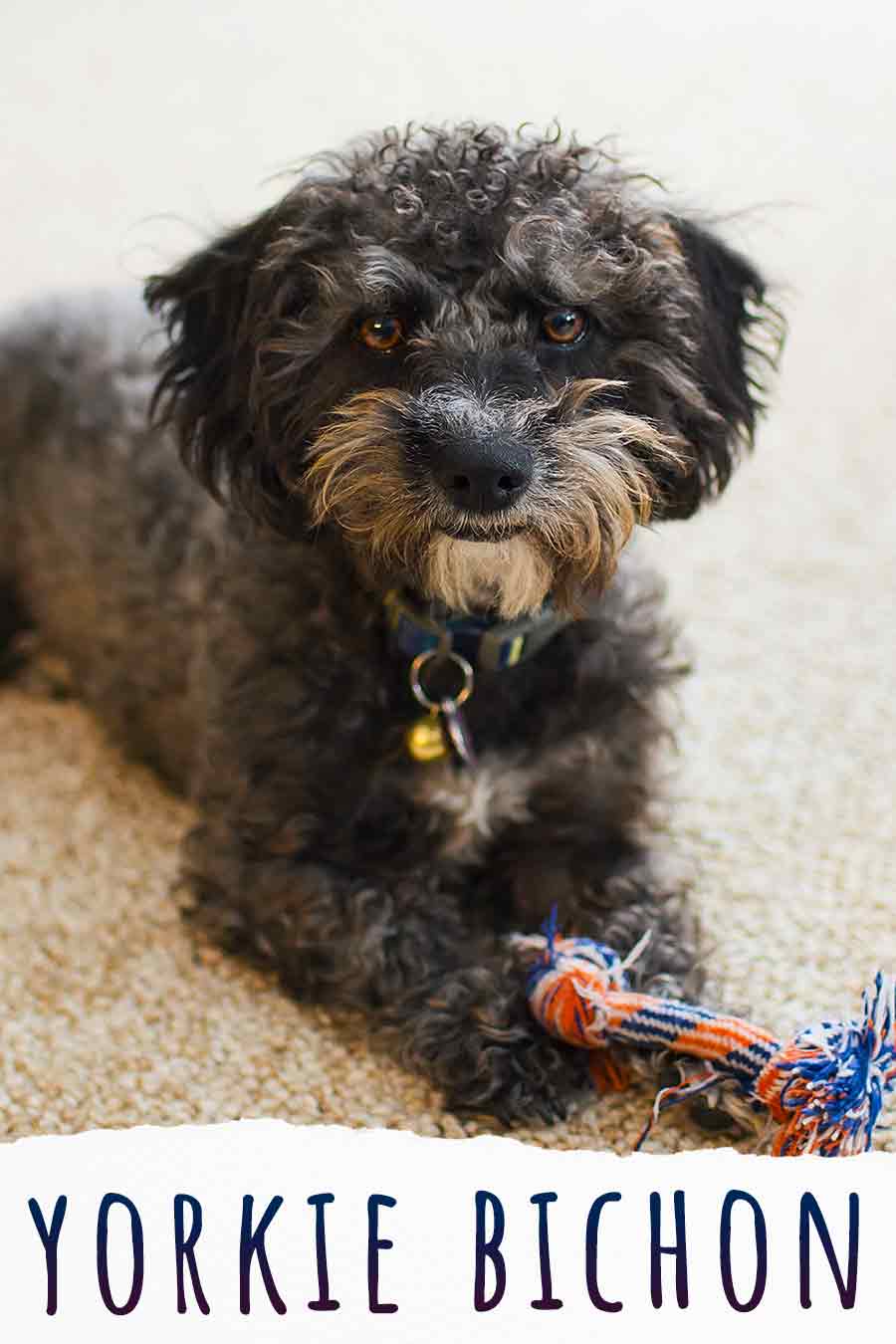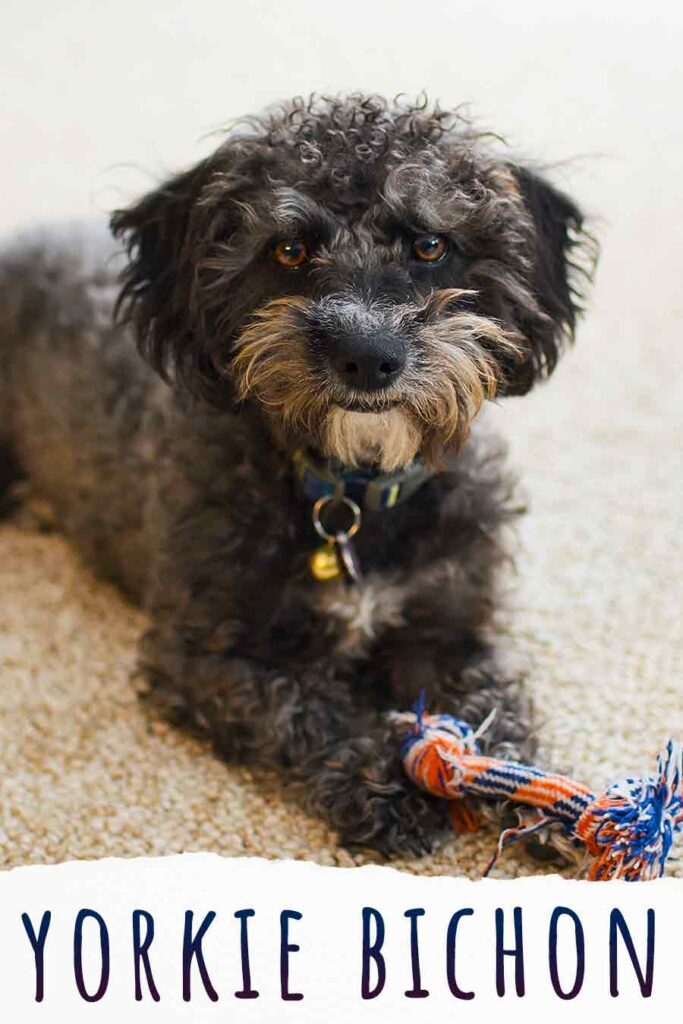 Bichon Frise Yorkie Mix Temperament
Like appearance, temperament can vary from one puppy to the next, even those from the same litter. But, generally, both parent breeds have affectionate, friendly, and playful temperaments that make them such good candidates as lap dogs. The Bichon Frise tends to be more friendly with other dogs and pets, but both parent breeds are great with kids. So, it's likely that resulting puppies will be too.
Although this mix will be small, and likely friendly towards its closest family members, socialization from a young age is still very important. Though small dogs can't do as much damage as larger breeds when aggressive, biting and aggression are still dangerous. So, you should socialize your Yorkie Bichon mix well before they are 12 weeks old. An added benefit of this will be reducing fear reactions and increasing your dog's confidence in new situations. So, it's a win win!
Yorkie Bichon Training and Exercise
The Bichon Yorkie mix is small, but energetic. These curious and playful dogs need time every day dedicated to exercise and burning energy. So, don't be fooled by their petite bodies! They have surprisingly high energy levels. Types of exercise can range from walks and short hikes to swimming and high energy games in your yard.
Training can provide some exercise, but more importantly will offer your mix mental stimulation. Bichon Yorkie mix dogs are intelligent and people-centric. So, they will love regular training sessions with you. Positive reward methods are a great way to build on your bond with your dog. Remember to stay consistent, and subtract any calories in training treats from your dog's total daily allowance to prevent weight gain. You can start positive reward training from the time you bring your Yorkie Bichon puppy home!
Yorkie Bichon Mix Health
A Bichon and Yorkie mixed breed dog will be prone to the same hereditary issues as either parent. But, as long as you're choosing a reputable breeder who only breeds from healthy dogs, you'll lower your risk of getting a puppy with these issues. Here are some of the most common health problems that a Yorkie Chon may experience:
Dental issues
Hip dysplasia
Patellar Luxation
Legg-Calves-Perthes disease
Autoimmune thyroiditis
Eye issues
Cataracts
If your mix grows to be very small, like the Yorkie parent, they may also suffer from size-related problems, like fragile bones and soft spots on the head.
How Long Do Yorkie Bichons Live?
Studies looking into lifespan for purebred dogs found that both the Bichon Frise and Yorkshire Terrier breeds live to just under 13 years on average. And, since mixed breed dogs live longer than purebred dogs on average, you can expect a Yorkie Bichon mix to live well into their teens. This mix is a long term commitment!
How to Groom a Bichon Yorkie Mix
The best way to groom this mix will vary depending on the fur type they inherit. If they have a Yorkie-style single layer coat, they will need daily combing to remove tangles. Many Yorkie owners like to trim their dog's hair short, to make grooming more manageable.
If your puppy grows to have a curly white coat like the Bichon, they will also need regular grooming. But, the Bichon has a double layer coat, so tools like slicker brushes and pin brushes may be better. Puppies with white faces should have their eyes wiped regularly with a damp cloth to remove any tear stains.
Generally this mix will need daily maintenance and a bigger, in depth grooming session every few weeks. During grooming sessions, you should check claw length and check ears for any waxy buildup. This is not a low-maintenance breed when it comes to grooming.
Finding Yorkie Bichon Puppies
Yorkie Chon puppies are not the most popular mixed breed out there at the moment. This has both pros and cons! The benefit is that puppy mills and disreputable breeders will likely focus their efforts on other, more popular and profitable breeds. And, the downside is that it can be much harder to find a breeder near you.
In your search, the most important thing is to make sure you're choosing a reputable breeder. They should only breed from healthy dogs, and should have evidence of clear health tests to show you in person. They should also be aware of the issues toy breeds can face.
When you visit the puppies, make sure to meet the mother too. Make sure all of the dogs and puppies are friendly and that they are a well-loved member of the household. Expect the breeder to ask you just as many questions as you ask them – this is a sign they care about the home their puppies are going to!
How Much Does a Yorkie Bichon Cost?
Prices for a Yorkie Bichon puppy will vary depending on your location, puppy coat colors, demand, and more. In some places, this mix can be as little as $600, but elsewhere they can reach highs of £3000.
Price isn't necessarily an indicator of quality. It can simply reflect trends and demands. So, it's still important to investigate your breeder and make sure you're choosing the healthiest puppy possible.
Similar Breeds
If you love the Yorkie Bichon mix, you may also like the following breeds:
Is a Yorkie Bichon Mix Right for Me?
A Bichon Frise Yorkie mix can make a wonderful companion in the right home. But, owners must remember that these little dogs are surprisingly energetic, and have very high grooming needs. They can get on well with children and other pets, but must be well socialized. Their small size doesn't exempt them from training! And, any young children at home must be taught the right ways to interact with a small dog in order to avoid any play-based injuries.
Do you have a Yorkie Bichon at home? We would love to hear about them in the comments!
References and Resources
Adams, V. (et al), 'Methods and Mortality Results of a Health Survey of Purebred Dogs in the UK', Journal of Small Animal Practice (2010)
Howell, T. (et al), 'Puppy Parties and Beyond: The Role of Early Age Socialization Practices on Adult Dog Behavior', Veterinary Medicine: Research and Reports (2015)
Beuchat, C. 'The Myth of Hybrid Vigor in Dogs… is a Myth', The Institute of Canine Biology (2014)
Urfer, S. (et al), 'Risk Factors Associated with Lifespan in Pet Dogs Evaluated in Primary Care Veterinary Hospitals', Journal of the American Animal Hospital Association (2019)
Gelatt, K. (et al), 'Cataracts in the Bichon Frise', Veterinary Ophthalmology (2003)
Nilsson, K. (et al), 'Heritability of Patellar Luxation in the Chihuahua and Bichon Frise Breeds of Dog and Effectiveness of a Swedish Screening Program', The Veterinary Journal (2018)
OFA – The Canine Health Information Center
Capik, I. 'Periodontal Health vs Various Preventive Means in Toy Dog Breeds', Journal of the University of Veterinary Sciences Brno (2010)
Farrell, L. (et al), 'The Challenges of Pedigree Dog Health: Approaches to Combating Inherited Disease', Canine Medicine and Genetics (2015)