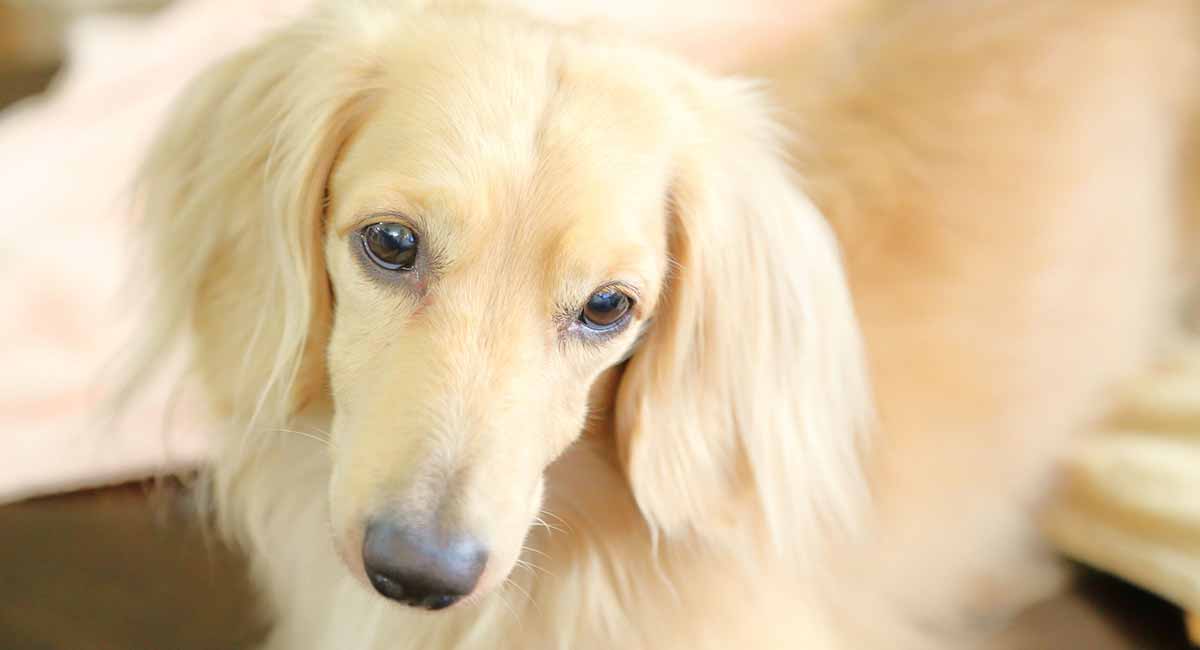 Sitting at number 13 out of 194 on the American Kennel Club's (AKC) list of America's most popular dog breeds is the adorable and affectionate Dachshund! But as a dog that comes in many colors, is there such as thing as a white Daschund? Is there even such a thing? And what should you know about the health, temperament, and physical characteristics of this uniquely colored dog? Keep reading to find out!
What is a White Dachshund?
The Dachshund breed comes in a variety of coat colors and patterns. It even comes in two different sizes and three different coat types! So, what is a white Dachshund? A white Dachshund is a Dachshund that is completely white from nose to tail. But is there really such a thing? The internet can be misleading, with many image searches pulling up pictures of adorable white Dachshunds and a number of breeders selling this 'rare' colored breed for thousands of dollars. However, we should note that while a white Dachshund is possible under the right circumstances, it is not a recognized color as far as the American Kennel Club is concerned.
But what does a white Dachshund look like? For starters, a white Dachshund will have an all-white coat. Just like his other Dachshund counterparts, a white Dachshund can come in two size varieties, including
8-9 inches (Standard)
5-6 (Miniature)
The dog can also come in three different coat types, including
Smooth
Long-haired
Wirehaired
Most famously, Dachshunds are known for their long bodies, squat legs, long tails, long ears, and pointy little faces. While most Dachshunds are born with round brown or amber colored eyes, some lighter colored ones such as piebald, merle, or dapple colored can have blue eyes. Although white is not a standard or recognized color, according to the AKC, there are a number of other colors that are recognized and therefore eligible for show. These colors include
Black
Tan
Black and Tan
Chocolate and Cream
Chocolate and Tan
Red
Blue and Tan
Cream
So, since the standard colors of a Dachshund breed do not include white, how would a breeder come across a white Dachshund puppy? Let's talk more about the genetics of the white Dachshund and learn the story behind its snow-white coat.
White Dachshund Genetics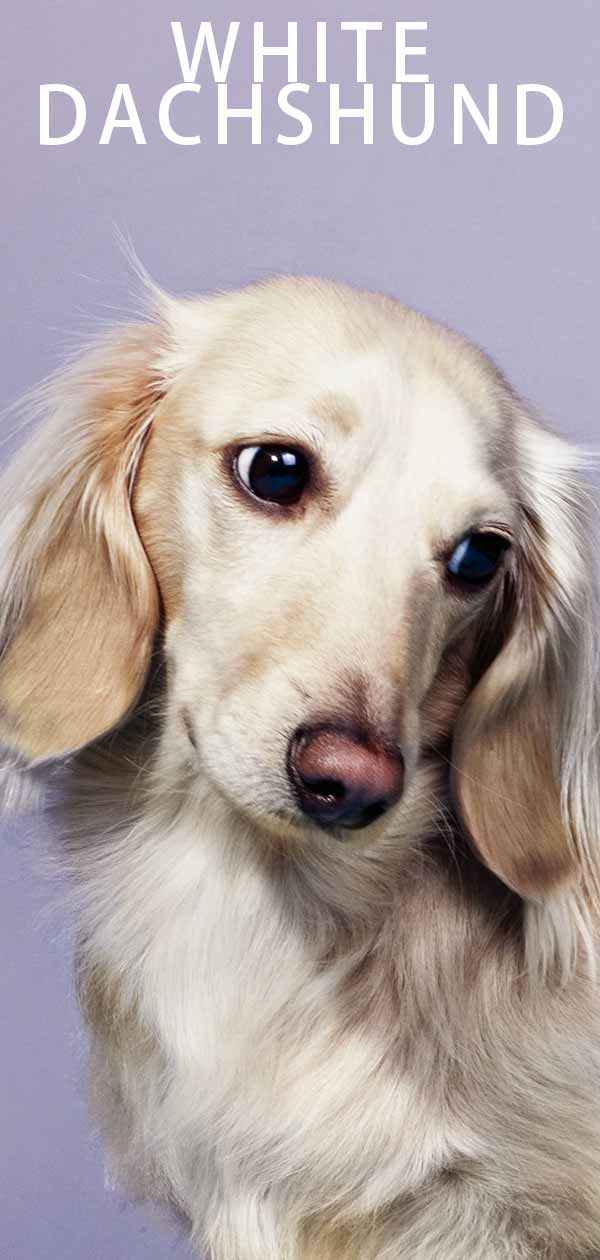 Did you know that the color of a dog's coat is the result of only
two base colors
? That's right! Regardless of your dog's breed, its coat color will be determined by a pair of foundation colors which are red and black. Its coat will also be determined by the genetics from the parent breeds. Since the gene that works to produce lighter colored coats in dogs is a recessive gene, both parent breeds must carry it in order to create a white Dachshund. But will the color of your Dachshund's coat have any sway on his health or temperament?
White Dachshund Temperament
There is quite a bit of speculation when it comes to the color of a dog's coat and its influence on temperament or personality. In fact, as
Dr. Stanley Coren
explains, studies have been done on the phenomenon of black dogs being bought or adopted less due to their color and the idea that black dogs are more aggressive. The truth is, there have been no conclusive studies done to prove that the color of a dog's coat has any correlation with personality or temperament. This means that black dogs are no more aggressive than white dogs. For the most part, it's believed by experts that a dog's temperament depends on responsible breeding practices, early socialization, health, and training. Based on this information, a white Dachshund's temperament will be like that of his other colored counterparts. On average, Dachshund dogs are clever, independent thinkers who love their people and get along well with other dogs. They are active and curious, with big personalities and are often described as sausage-shaped comedians. However, it is very important that Dachshunds be trained from an early age and are properly socialized. This is because they were bred hunting dogs who went up against impressive prey like badgers! Badgers are known for their fearsome nature, but still, the little Dachshund is known to be a courageous pursuer. This means that he will not back down and can be bold and hardheaded.
How to Train Your White Dachshund 
And while smart, Dachshund dogs can be tough to train and will need a consistent, patient hand. Therefore they need an owner who understands that this breed will respond best to
positive reinforcement training methods
. We should note that Dachshunds can be prone to digging. So, they should be watched in the backyard so they don't destroy your garden and grass or even dig a tunnel and escape! While Dachshunds are small and for the most part sweet natured, they can tend to show aggression when not properly socialized and trained. In fact, a
2008 study
conducted by Applied Animal Behavior Science stated that the Dachshund breed was known to show a higher rate of aggression to humans. This means that the white Dachshund will be best suited for families with older children and families who are able to devote time to training and socializing their new furry family member. So, now we know that the coat color of your white Dachshund will not affect his temperament, but what about his health? Let's find out!
White Dachshund Health
Unfortunately, there are a number of health issues related to the pigmentation of a dog's coat, with lighter or diluted pigmentations being the most dangerous of all. Along with other issues like blindness and birth defects, your white Dachshund can be prone to congenital deafness. Along with white, other colors related to
congenital deafness
in dogs include
There are a number of colors to keep an eye out for when it comes to certain colors which include
Merle Dachshunds
White Dachshunds
Dapple Colored Dachshunds
Luckily, the Dachshund is, for the most part, a healthy breed with along lifespan of 12 to 16 years. However, along with deafness, blindness, and birth defects in certain colored Dachshund dogs, a prospective owner should also keep in mind that any color can be prone to a number of inheritable health issues. The main health issues to look out for are:
Elbow dysplasia
Legg-Calve Perthes disease
Urinary Stones
Cystinuria
Progressive retinal atrophy
Cataracts
Obesity
Ear infections
Spinal issues due to their elongated backs
The AKC currently has no recommended health tests available for the Dachshund breed. Still, you can help to maintain your white Dachshund's overall health by keeping him or her on a well-balanced diet that consists of high-quality dog food free of fillers and additives. And since Dachshunds can be prone to obesity, they should be exercised on a regular basis. If a Dachshund becomes too heavy, his elongated back can pay the price. A well-exercised Dachshund will also be able to build strong muscle tone which will help support its back so it is pain-free. Your white Dachshund will do well with a good half an hour walk twice a day, and some free playtime in the home or backyard. As Dachshunds can be prone to back issues and back injuries if over-exercised, owners should monitor their play and not encourage them to run up and down stairs or climb on and off furniture without assistance.
White Dachshund Grooming
You can also help keep your Dachshund happy and healthy by ensuring you practice proper grooming techniques. Consistently and properly grooming can help play a major role in overall health and happiness. Dog owners who neglect to properly groom can leave their pups vulnerable to skin issues, rashes, matting fur, and even infections. And an uncomfortable dog can lead to a dog with behavioral issues as well. White dogs, in general, can be more prone to developing eye stains and they can show dirt and debris on their coats more vividly. To keep your white Dachshund's coat and skin in top shape, we recommend investing in scent free baby wipes or grooming wipes to clean your Dachshund after play or walks. You can also buy a high-quality dog shampoo and tear-stain remover at any local pet supply store or online.
But what about brushing your white Dachshund?
Remember, the Dachshund can come in three coat types including short hair, long hair, and wire hair. Dachshunds are also shedding breeds, and while they shed only mildly, they will still need to be brushed on occasion. However, how much and how often will depend on coat type. For the most part, a short haired Dachshund is the easiest to maintain with occasional baths and brushing when needed. The long-haired Dachshund should be brushed one or two times a week to keep hair from matting. While the wire-haired Dachshund will need to be hand-stripped or plucked a few times a year to keep the coat healthy. And since Dachshunds have long ears and can be prone to ear infections, ears should be checked and cleaned regularly. And, as we mentioned your Dachshund may also be prone to digging. So to avoid a broken or cracked nail, owners should keep nails cut or ground down regularly.
Your White Dachshund
While the white Dachshund is not accepted as a standard colored Dachshund by the AKC, it's still possible to come across an all-white or mostly white Dachshund. And while the white color should not affect temperament, it can play a large role in his overall health such as congenital deafness. To ensure that you get the healthiest Dachshund possible, we recommend doing plenty of research and going through a reputable breeder.
Cost of a White Dachshund 
On average, Dachshunds can cost between $200 and $1000, with some breeders charging more for white Dachshunds. Remember, not all breeders are as experienced as they would like you to believe. So, keep in mind that most reputable breeders will have health screened litters and offer you certifications of health. You should also keep in mind that many backyard breeders, pet stores, and online sellers will offer puppies at a lower cost upfront. However, these puppies have a higher chance of being unhealthy, meaning you could end up paying more for your puppy in the long run. Furthermore, to avoid accidentally supporting a puppy mill, steer clear of pet stores and backyard breeders. If you opt to rescue your white Dachshund, remember that there are local rescues specific to the breed. Rescues can charge between $50 to $300 for adoption fees. Have you ever seen a white Dachshund? Tell us in the comments below!
Related Articles
References
Stanley Coren, Ph.D., DSc, FRSC,
Your Dog's Coat Color Predicts His Hearing Ability
, Psychology Today Lynn Buzhardt, DVM,
Genetics Basics – Coat Color Genetics in Dogs
, VCA Hospitals, S. M. Schmutz, T. G. Berryere,
Genes Affecting Coat Color and Pattern in Domestic Dogs: A Review
, Animal Genetics, Tiffani J Howell, Tammie King, Pauleen C Bennett,
Puppy Parties and Beyond: the role of early age socialization practices on adult dog behavior
, Volume 6, pages 143-153 Stanley Coren Ph.D., Psychology Today,
Are Black Dogs Less Lovable?