Welcome to your complete guide to the West Highland White Terrier. The wonderful Westie.
Affectionately known as a Westie, the West Highland White Terrier is a small breed of dog from Scotland.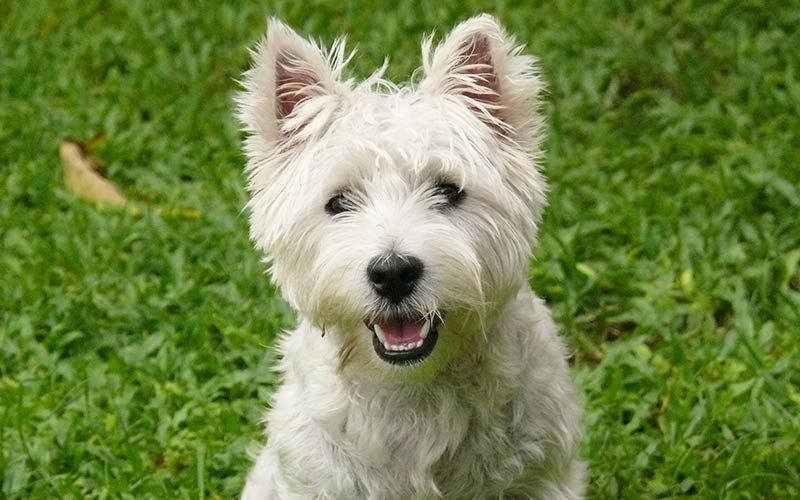 These cute, little dogs are extremely popular both in the UK and USA, where they remain in the top third of all breeds.
But do Westies make a suitable pet?
Here we provide all the information and facts you need about owning a West Highland White Terrier.
Read on to discover if a Westie is the right breed of dog for you.
Westie dog breed
The Westie Terrier is closely related to other Scottish terriers, such as the Cairn, the Scottish and the Dandie Dinmont.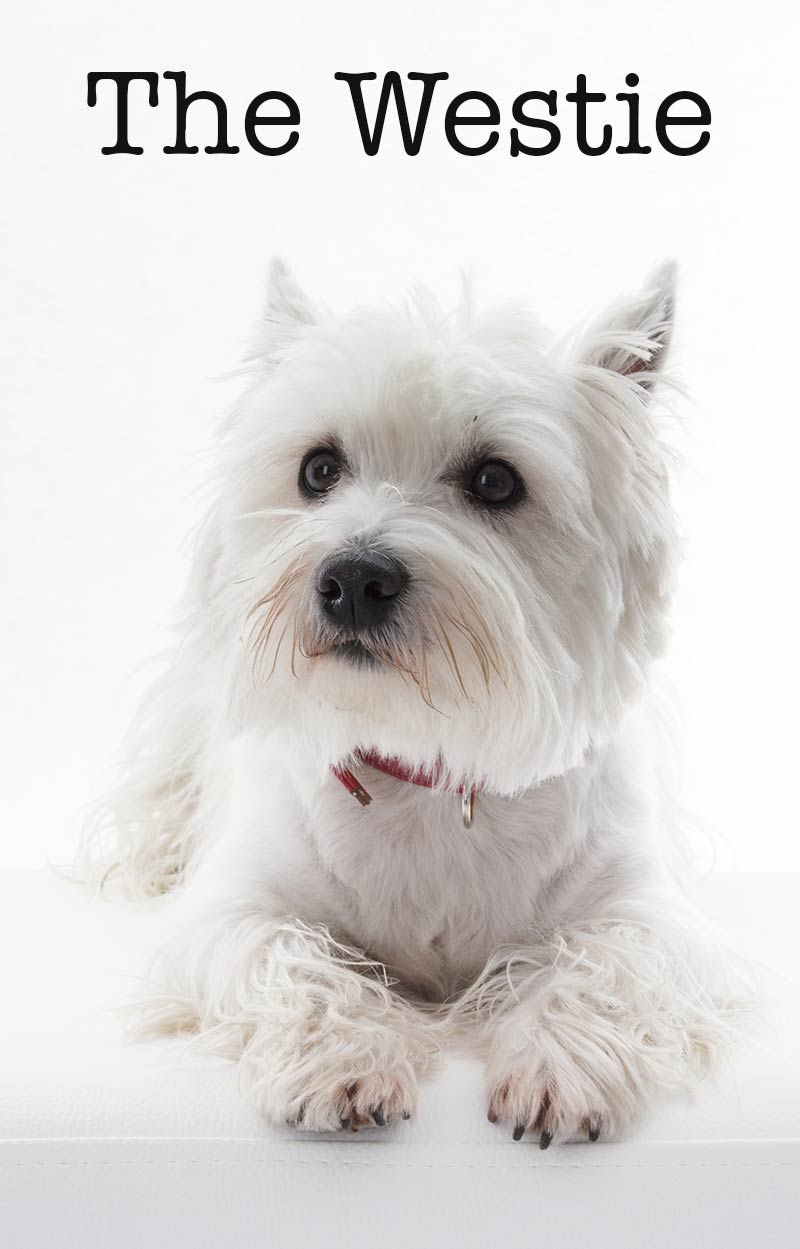 "Terrier" translates from the Latin word terra, meaning earth.
The breed was originally bred as a working terrier, going to ground and digging out prey such as rats, foxes, rabbits and badgers.
The legend is that, during the 19th century, Colonel Malcolm, while hunting with his small brown terriers, accidentally shot his favorite dog after mistaking it for a fox.
He then developed a small breed of white dog who had all the necessary characteristics of a working terrier but couldn't be mistaken for prey.
The Westie has been known by many names, including the Poltalloch Terrier and the Roseneath Terrier, before being officially recognised as the West Highland White Terrier by the Kennel Club of England in 1906.
The breed was introduced to the USA in 1905 and first shown the following year. The AKC recognised it in 1908.
Westie weight
The Westie size is small but robust with a broad chest, rectangular shaped body along with a waggy carrot-like tail!
Male West Highland White Terriers measure between 10 to 12 inches (25 to 30cm) in height. Weighing approximately 15 to 20 pounds (7 to 10kg).
Females are a little smaller and measure between 9 to 11 inches (23 to 28cm) in height and weigh approximately 13 to 16 pounds (6 to 7kg).
Do Westies shed?
The white coat of a West Highland Terrier is his most distinctive feature and is what distinguishes him from other terriers.
Westies possess a unique double coat. The undercoat is soft and furry whereas the outer one has stiff, coarse hair that measures about two inches in length.
Because the outer coating has a rough texture, mud is easily brushed out, making it easy to keep a Westie clean.
It also provides warmth and protects against cold or wet weather along with possible bites from prey.
And although they are not hypoallergenic dogs, you will notice Westies shedding very little hair, so it won't be all over your furniture!
However, grooming Westies is very important, and their coats should be brushed at least once a week.
Regular clipping helps to remove dead hair and maintain a healthy, shiny coat.
Some owners prefer to do this themselves with others choosing the services of a professional dog groomer.
Show dog owners use the technique of stripping. This timely process involves plucking the dead hairs from the Westie by using the fingers, resulting in a rough but wavy coat.
Westie Temperament
When it comes to the West Highland temperament, don't be fooled by their diminutive size and adorable cuteness!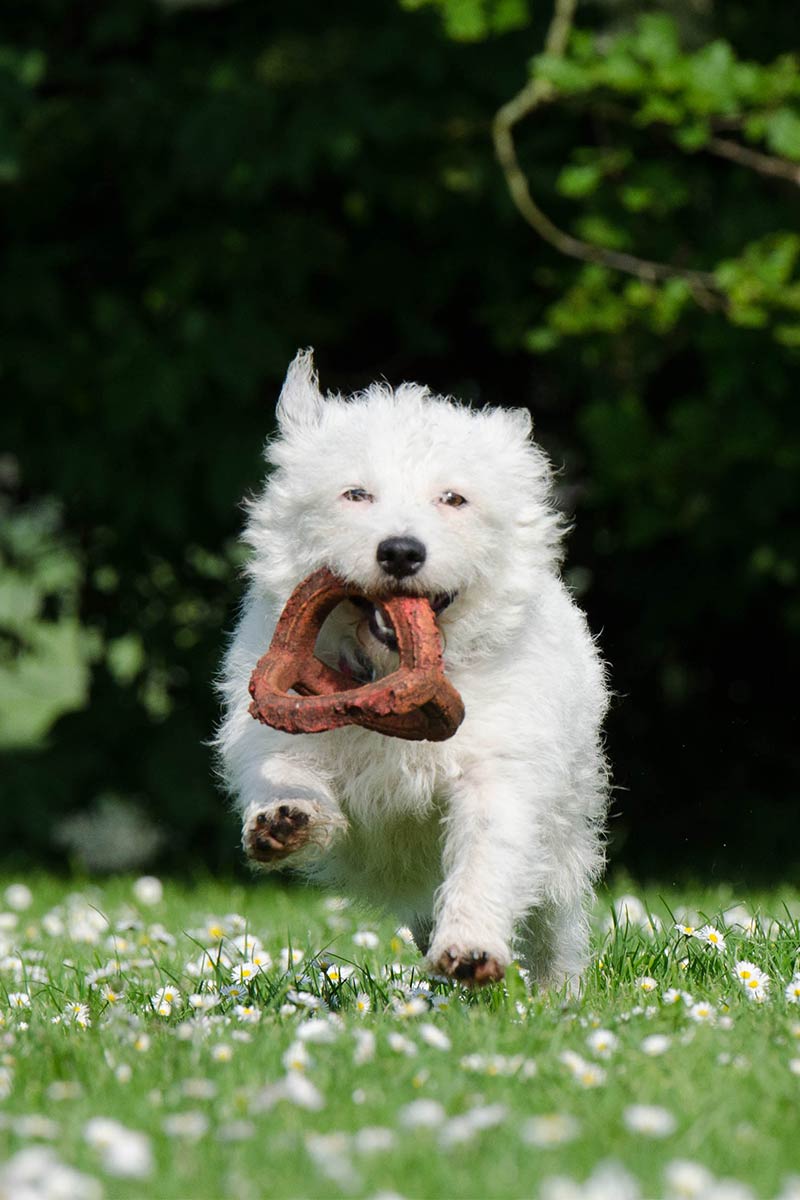 A Westie is a big dog in a small dog's body and is stronger and tougher than it looks with no shortage of self-esteem.
Exceptionally energetic and intelligent, they are too much of a busy body to be a lap dog, wriggling away after just a few minutes!
Westies require regular exercise and playtime to keep them occupied. Especially if you don't want to find them digging up your backyard.
The terrier instinct remains, and it is advised not to let a Westie off the leash in any open area. As if they see a small animal to chase, it's highly likely they will go after it, oblivious to your commands!
However, the Westie possesses a happy disposition endearing him to everyone, including strangers. She is extremely loyal with a strong desire to please.
Westie personality
The West Highland Terrier personality is larger than life itself. They will keep you amused and entertained with their funny ways.
Westies love being around people and do well in a household with older children.
Although it depends on the individual, Westies are not the most suitable dog to have around young children. They should never be left unsupervised.
Tail pulling, sudden jerks or movements and noisy, boisterous children running through a house can bring out the Westie's inherent traits causing them to chase after or even nip a small child.
They get along with other dogs and cats kept in the home. But it is not recommended to keep small pets such as hamsters, guinea pigs or rabbits. They could be in big danger from your Westie!
Despite their small size, the West Highland White Terrier is brave, strong-minded and independent but considered easier to handle than other Scottish terriers.
They do, though, like to have their way and can be domineering and a little naughty if given a chance.
Westies respond well to positive reinforcement, especially when rewarded with food.
West Highland Terriers do best with an active family who loves the outdoors.
It is possible to keep them in an apartment provided they have plenty of walks and are taken for a run at least twice a week.
Due to their high energy levels and intelligence, the Westie thrives at dog agility and obedience competitions. As well as earth dog tests, tracking and flyball.
Westie barking
A common complaint of Westie owners is barking.
Although they are attentive watch dogs, their yapping can become out of control.
When they were hunters, the Westie Terrier needed a loud bark, so they were heard from underground.
It is important that your Westie is trained correctly from the start. Has plenty of exercise and regularly socialises with other dogs to help kerb his barking habits.

You can find a guide to stopping your dog barking here 
Westie health problems
Like many breeds of dogs, West Highland Terriers are susceptible to certain health issues.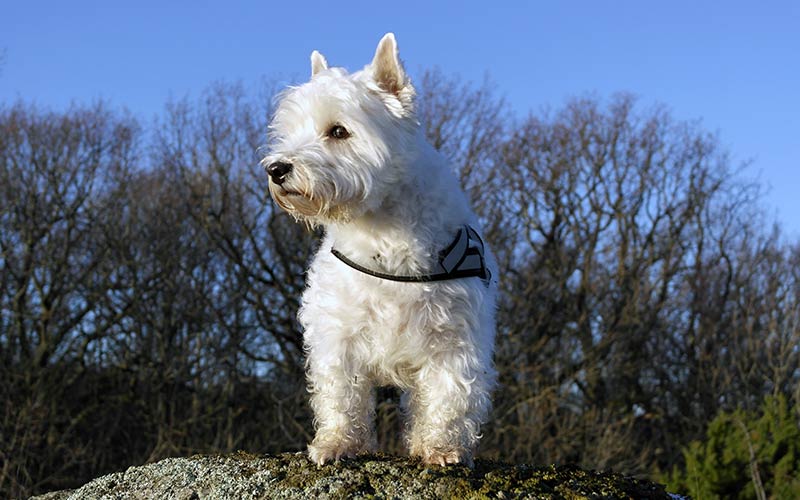 Skin allergies causing severe itchiness is especially common in Westies.
One such condition, Atopic Dermatitis, is genetic and affects 25% of Westies aged between 3 months to six years. It cannot be cured and controlled only by special diets and medications.
Another condition believed to be genetic, but not known for certain, is Westie lung disease. Causing serious breathing problems.
Like many small dogs, luxating patella (loose kneecaps), hip dysplasia and other orthopaedic issues are common in West Highland Terriers. As well as digestive disorders such as colitis and pancreatitis.
Other conditions that Westies are prone to include the white shaker dog syndrome. Whereby they tremble uncontrollably, requiring long term medication, along with dry eye, Addison's disease and aggression.
Before you buy a Westie puppy talk to the breeder about which health tests they have had carried out on the parents. Make sure there is no family history of atopic dermatitis or shaker dog syndrome.
How long do Westies live?
The Westie life expectancy is between 12 and 16 years so you must be prepared for a long-term commitment if you decide this breed of dog is for you.
West Highland Terrier breeders
If you decide that you would like to buy a puppy Westie, then you should look for a breeder with a good reputation.
So how do you find reputable Westie breeders?
One way to choose a breeder is by checking out the websites of the West Highland White Terrier Club of America or the Kennel Club Assured Breeders in the UK.
All members must abide by their club's principles and meet certain requirements before they can sell West Highland White Terrier puppies.
Otherwise, attend local dog shows to meet breeders or ask your veterinarian to recommend someone.
Avoid breeders that have multiple litters, allow you the choice of any puppy or sell to you at a low price without papers.
Also, steer clear of pet stores as their puppies often come from puppy mills with little regard for bloodlines, health concerns or where the animal ends up.
Westie puppies
Here we give you all the Westie puppies information you need to help choose the right pup for you.
When visiting a reputable breeder, don't be afraid to ask questions about any concerns you have.
Take note of the environment and if the puppies have been socialised and look healthy.
Breeders watch their Westie terrier puppies over many weeks, discovering each one's personalities, thus can help find a pet suitable for you and your lifestyle.
Observe the Mother's demeanour and, if possible, the Father's too, requesting details and papers about their pedigrees.
Ask the breeder if they have had genetic testing done on the sire and dam to rule out any possible hereditary health conditions.
Good breeders screen potential buyers as well to ensure an ideal home, also requiring the signing of a purchase agreement.
West Highland White Terrier price
When buying from a reputable dealer, the average West Highland Terrier price is between $900 and $1200.
Westie rescue
You may decide that you do not have the necessary time to devote to a puppy so may want to adopt a Westie adult dog instead.
The advantages are that an older dog will have had some training and be less destructive and energetic.
Contact shelters that rescue Westies to find out what they have available.
A West Highland Terrier rescue centre will be honest about any health or behaviour issues and will offer support should you rehome one of their dogs.
Not all their dogs have problems, and many West Highland Terrier rescue cases are simply because an owner had no time or a change in circumstances.
Should I Buy a Westie Puppy?
West Highland White Terriers are great little dogs for active owners who can dedicate plenty of time for exercise and play.
They are most suitable for families with older children.
Make sure you find out all the Westie info you can, buy from a reputable breeder to eliminate possible health problems and begin training as early as possible.
Westies are adorable and will melt your heart if you own one.
References
Roque, JB et al. Atopic dermatitis in West Highland white terriers is associated with a 1.3Mb region on CFA 17
Salzmann, CA et al. Genome-wide linkage study of atopic dermatitis in West Highland White Terriers.