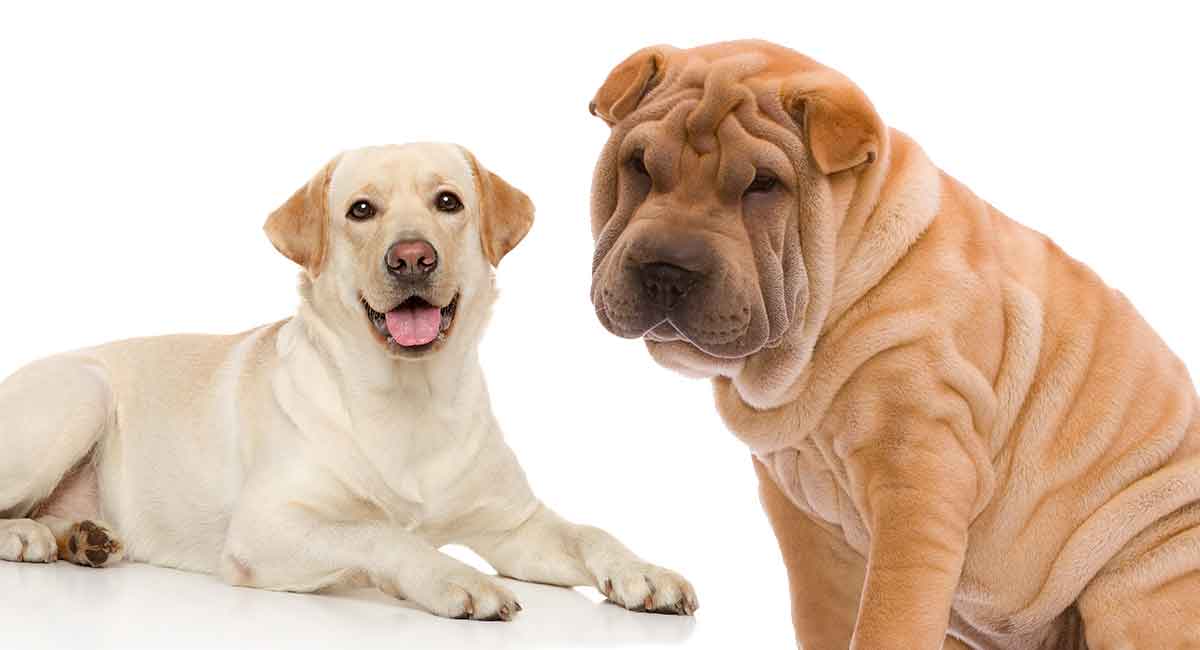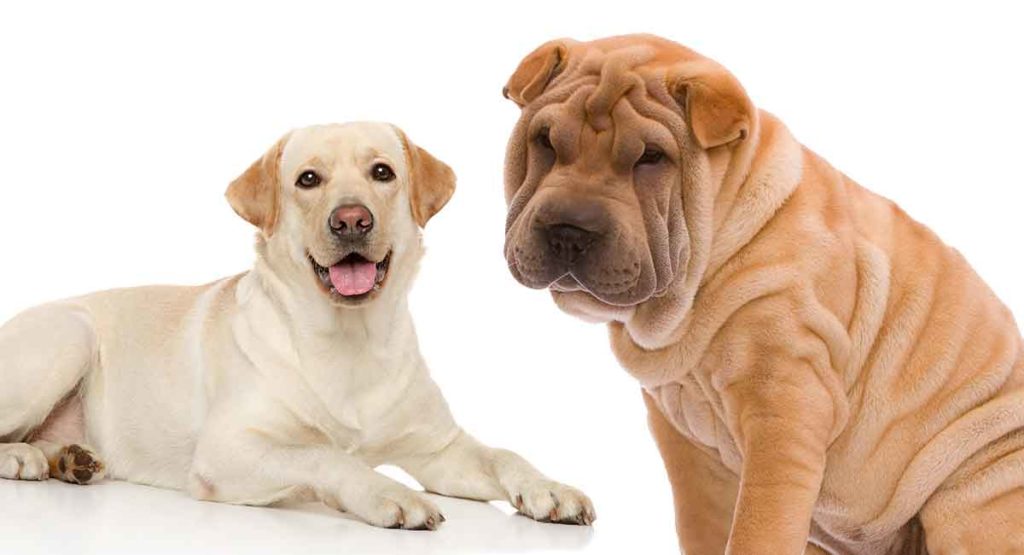 Are you interested in a Shar Pei Lab mix dog?
Then this article is for you!
The Shar-Pei Lab mix is a cross between the Chinese Shar-Pei and the Labrador Retriever.
It is also known as Lab Pei, or Sharpay Lab.
But what happens when you mix the classic family pet with an unusual guarding breed?
Is the result also a dog you would be happy to share your home with?
Where do Shar-Pei Lab Mix Come From?
The Shar-Pei Lab mix is a relatively new hybrid breed that emerged this century.
He is believed to have originated in the USA.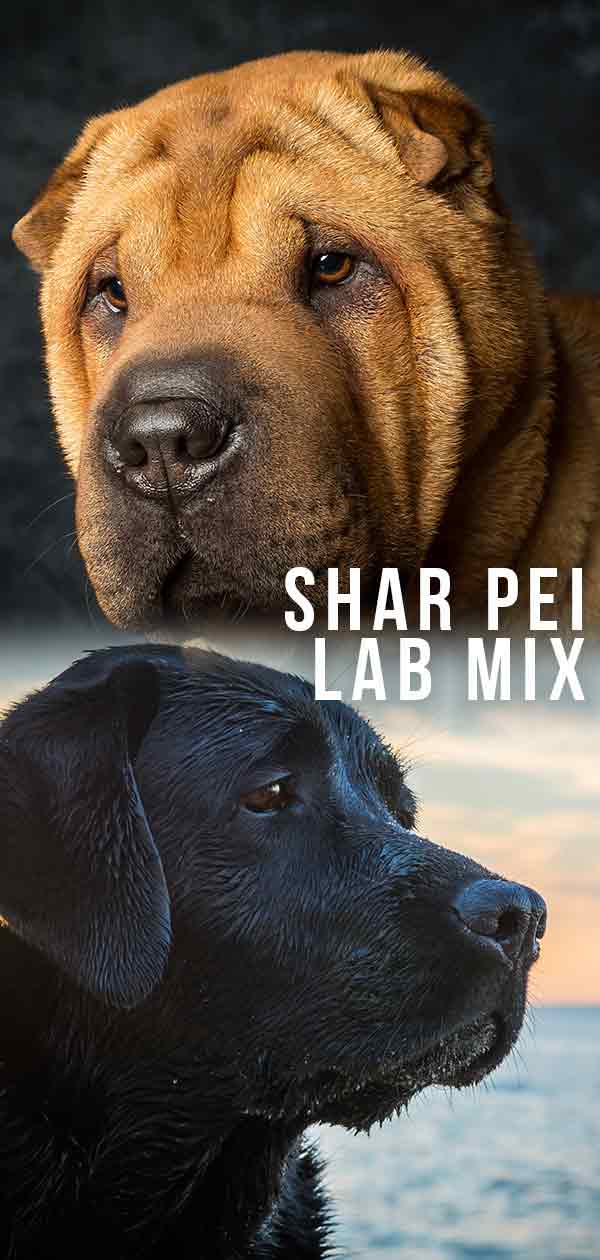 His two breed parents though, both have a fascinating history.
The Shar Pei Story
Often known as Chinese Shar-Pei, this ancient breed originated in Southern China more than 2000 years ago.
He was originally empoyed by peasants for herding livestock, hunting, and guarding.
When dog fighting became popular in China over a century ago, the Shar-Pei participated in this cruel sport.
The Shar-Pei almost became extinct after the communist revolution, but was saved thanks to gallant efforts by breeders in Hong Kong and Taiwan.
Labrador Retriever Origins
The Labrador Retriever originated in Newfoundland, just off the coast of Canada.
The first Lab were created by cross-breeding St. John's Waterdogs with other smaller water dog breeds.
Labs assisted local fishermen by pulling the nets in from the water.
In the early part of the 19th century, a number of these dogs were imported to England for duck hunting.
These dogs founded the loveable and popular breed that we know today.
Designer Dogs – The Controversy
The controversy surrounding designer dogs is vigorously debated by canine enthusiasts everywhere.
Purebred advocates argue that pedigree puppies have predictable traits when it comes to size, coat type, temperament, and energy levels, so potential owners know what to expect.
Breeders also know which health tests to give their dogs so that they can reduce the risk of genetic conditions.
However, supporters of the mixed breed claim that cross-breeding two different breeds reduces the possibility of inherited diseases and increases hybrid vigor.
However, the traits of a designer dog are unpredictable, and a puppy may inherit more characteristics from one parent than the other, so there is no guaranteed outcome.
You can find out more about the pros and cons of purebred vs mixed breed dogs here.
Fun Facts about Shar-Pei Lab Mix
In the 2014 Hungarian film, White God, two Shar Pei Lab mix dogs, twin brothers Luke and Bodie from Arizona, shared the lead role of a dog named Hagen.
In the movie, Hagen is abandoned by his owners because of his mixed-breed heritage and leads an uprising against human oppression alongside other unwanted dogs.
Shar Pei Lab Mix Appearance
A mixed breed dog can inherit more physical traits from one parent breed, or an even combination from both.
This makes it difficult to predict the outcome.
Here we look at both parent breeds and the Shar-Pei Lab mix.
Shar Pei Looks
The Shar-Pei is a compact, medium sized-dog that weighs between 45 to 60 pounds and stands 18 to 20 inches in height.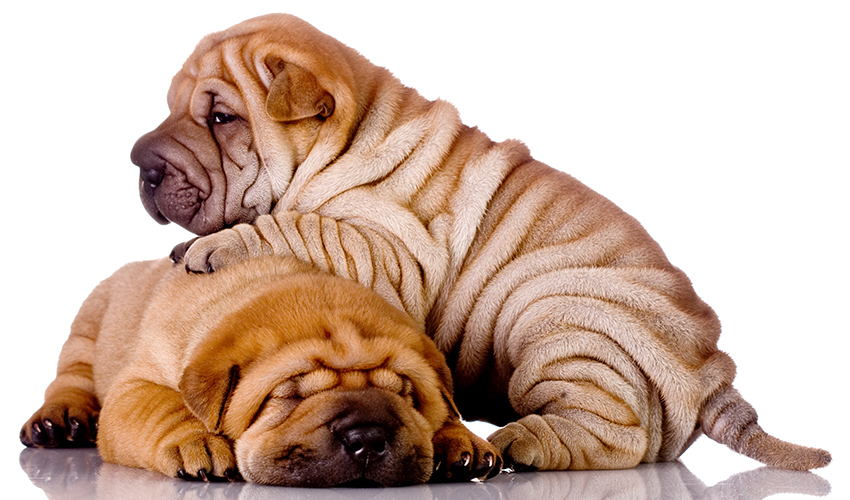 Males are generally bigger with more of a square body shape than females.
This Chinese breed has a unique and unusual appearance with its loose, wrinkly skin, a large hippopotamus-shaped head.
These dogs have small sunken eyes, tiny triangular ears, and a hallmark blue/black tongue.
Labrador Retriever Features
The Labrador is medium-sized, but their athletic and sturdy build makes them appear larger.
Their weight ranges between 45 to 60 pounds, and their height is 18 to 20 inches.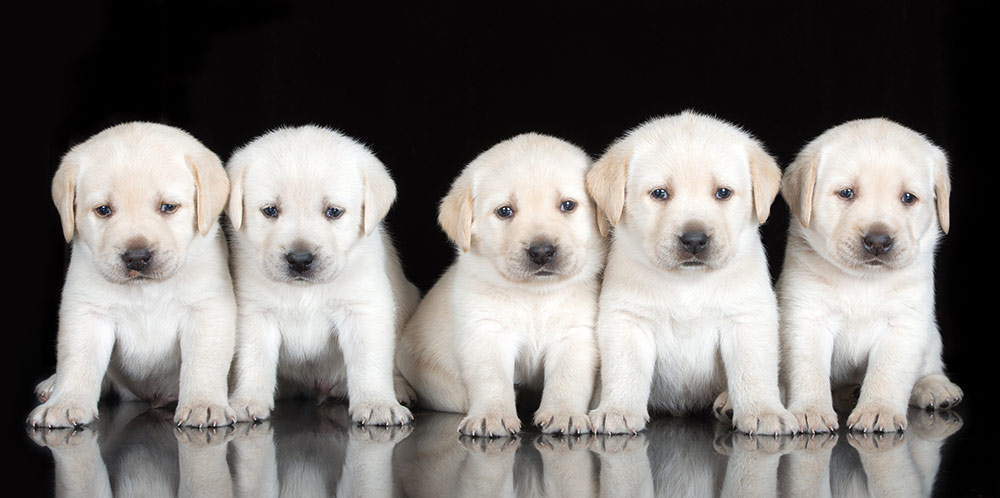 Males are usually bigger than females.
The Lab has a broad head that is more refined than the Shar Pei's.
He has large floppy ears, pendant shaped eyes and a face that features a kind expression.
The Shar-Pei Lab mix is likely to be powerfully built and medium in size, with an average height of between 18 to 25 inches and weighing anywhere between 40 to 60 pounds.
Your Lab Pei puppy may resemble one parent breed more than the other or have similarities from both.
Shar Pei Lab Mix Coat
Shar Pei means "sandy skin" and signifies the texture of this rare breed's rough and prickly short coat.
Although they do not require regular grooming and are moderate shedders, their wrinkles need to be cleaned and dried weekly to prevent infections.
Shar-Pei colors include black, red, blue, apricot and sable (where the tips of the hair are black giving a more shaded effect).
How Does the Lab's Coat Compare?
The Lab has a double coat, which means they have two layers of fur.
Their top coat has a slightly rough feel whereas underneath it is softer and lighter.
Labradors shed quite heavily all year round, more so during the spring and fall, and require brushing at least twice a week.
The coat colors of the Lab are black, chocolate, and yellow, which comes in a variety of shades.
How Will a Shar Pei Lab Mix Puppy Turn Out?
The coat of your Shar Pei cross Lab will most likely be short and straight with a coarse feel.
They may inherit some of the Shar Pei's wrinkles and be a moderate shedder.
Possible coat colors are black, brown, golden, cream, and white, and may include the sable tipping.
Shar Pei Lab Mix Temperament
The Shar-Pei and Labrador are very dissimilar when it comes to temperament.
The Lab is friendly, outgoing dog who loves everyone.
Whereas the Shar-Pei is naturally more reserved and cautious of unfamiliar people.
The temperament of the Shar-Pei Lab mix is therefore difficult to predict as they can have personality traits of either breed.
Shar Pei Personality
The Shar-Pei is deeply devoted and loyal to his family, but a common problem is aggression towards strangers and animals.
He also has a strong instinct to chase.
These pups are unsuitable for homes with other pets and small children as they do not have the patience to tolerate rough play.
Shar Peis are intelligent, which means they learn quickly, but they are also extremely independent and strong willed.
This means they do best with a confident handler.
However, they make excellent watchdogs, and devoted companions.
How Does a Labrador Differ?
The Labrador remains popular as he is intelligent, loyal, and loving with a sweet, friendly nature.
They are patient with children of all ages and get along with other pets.
Labs are energetic dogs, and if his exercise requirements are not met, he can become destructive.
Because Labrador are sociable, they can become extremely distressed if left alone for long periods.
Labs love to chew so require plenty of chew toys.
The Lab Pei is likely to be intelligent, loving and protective of his family, traits that are present in both parent breeds.
However, it depends what characteristics are inherited most as to the outcome.
Training Your Shar-Pei Lab Mix
Both the Labrador and Shar Pei are intelligent breeds.
The Labrador is renowned for its trainability.
However, the Shar-Pei is strong-willed, does not always like to do as he is told, and needs a firm but gentle hand using patient and consistent training techniques.
It is important that training and socialization starts at an early age, so your Lab Pei is exposed to different animals and people in various situations, including obedience classes.
The influence of the Shar-Pei may cause your pet to be stubborn and willful, so may require the services of an experienced and professional dog trainer.
Potty training should also start early.
The Shar-Pei is a fastidious dog, and potty training is easier and quicker than with most other breeds.
If your Lab Pei is difficult to potty train, crate training can help.
Shar Pei Lab Mix Exercise Needs
The Labrador is an energetic breed who loves swimming, unlike the Shar-Pei, and makes an ideal partner for hiking, cycling and running.
The Shar-Pei is a brachycephalic breed, although not as extreme as breeds like the Pug, requiring moderate exercise to prevent overheating.
Your Lab Pei is likely to have medium energy levels depending on which parent breed it takes after more.
Shar Pei Lab Mix Health
Like the majority of purebred dogs, both the Shar-Pei and Labrador breeds have genetic health issues.
Your Lab Pei may inherit health problems from either parent breed, or they might bypass them altogether.
Let's look at what could be on the cards for them.
Shar Pei Health
Because the Shar-Pei has an unusual head shape and a small, squashed nose he may get out of breath quickly or even develop Brachycephalic Airway Syndrome.
His is also prone to ear infections and eye issues including cherry eye, entropion, glaucoma and chemosis.
The Shar Pei's wrinkles can cause a wide variety of skin problems such as cutaneous mucinosis, pyoderma, and seborrhea. Skin cancer is common in this breed.
Familial Shar-Pei fever is an inherited condition which causes swelling of the hock joints and high temperature, risking kidney failure if not diagnosed in time.
Labrador Retriever Health
The Labrador is prone to Progressive Retinal Atrophy, bloat, heart disease, and ear infections due to his floppy ears.
Both Labrador and Shar Peis are susceptible to obesity and joint problems including hip dysplasia and elbow dysplasia.
A good Shair Pei mix breeder will test for eye disorders and hip dysplasia in their breeding dogs, and share the results with you.
What About the Health of Your Lab Pei Mix?
Your puppy may inherit health conditions from either parent breed, with joint issues, obesity and skin problems most likely.
The skin issues depend on how deep the wrinkles are on your Shar-Pei Lab mix and will require regular cleaning.
The lifespan of the Shar-Pei is 8 to 10 years, whereas the Labradors is 10 to 12 years.
The average lifespan for your Shar Pei Lab mix is between 8 to 12 years.
Feeding a Shar-Pei Lab Mix
The Lab Pei loves to overeat so is prone to becoming overweight or obese which increases their risk of joint problems.
You should feed your Shar-Pei Lab mix high-quality dog food that has meat as the first ingredient and contains glucosamine which is good for the joints.
Limit their calorie intake and feed small feeds 3 to 4 times a day to prevent bloat.
A slow feeder bowl can also help.
Speak to your veterinarian about your dog's dietary needs – they might recommend aa diet specially formulated for dogs with skin problems.
Do Shar Pei Lab Mix Make Good Family Dogs?
Potential owners of the Shar Pei Lab mix must not assume they are getting a dog with the Lab's kind temperament.
With a mixed breed dog, there is no guarantee as to the outcome.
Because of the Shar-Pei influence, the Lab Pei is not suitable for families with small children or other pets.
This breed is suitable for singles or a family with older children.
Rescuing a Shar Pei Lab Mix
Would you like to adopt a Shar Pei Lab mix from a rescue center or animal shelter?
Contact organizations and tell them you are interested in this breed of dog.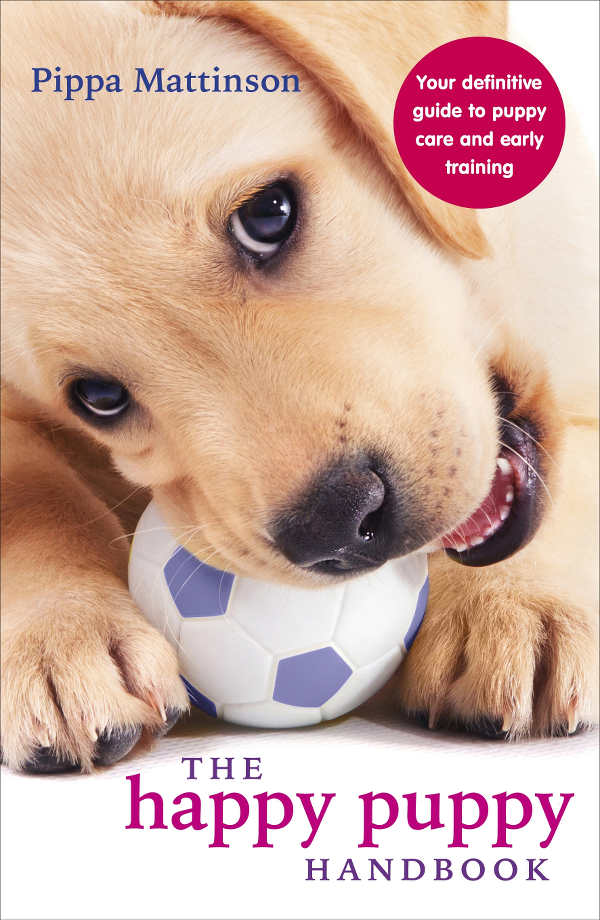 Genetic breed tests are available for pups with unknown breeding.
One advantage of adopting an older mixed breed dog is that the traits they've inherited from each parent will be more apparent.
Finding a Shar Pei Lab Mix Puppy
Mixed breed dogs are increasingly popular.
Many people love the idea of a mixture of personality traits, along with endearing breed names like Cockapoo and the belief that hybrids are healthier.
When you look for a Shar Pei Lab mix puppy, it is vital that you find a reputable breeder.
A responsible breeder is happy for you to visit their premises, see the parents, and provide the results of genetic health tests.
Avoid buying over the internet or from pet stores or puppy mills as they do not provide health tests, resulting in an unhealthy dog and expensive vet bills for you.
Raising A Shar Pei Lab Mix Puppy
Puppies demand a lot of time, love and attention, but the rewards of investing those things last their whole lifetime.
These training guides will get you off to a flying start with your young dog.
Pros and Cons of Getting a Shar Pei Lab Mix
We given you a lot of information here today!
Now let's summarise the key points.
Cons
Their wrinkles need regular attention
Prone to skin conditions, joint issues, obesity, and eye problems
Unsuitable for families with small children or other pets
Can have a stubborn streak
Not good for first-time owners
Shar Pei has many health issues which Lab Pei may inherit
Unpredictable traits
Pros
Loyal and loving
Protective
Good watchdogs
Intelligent
The coat is easy to maintain
Suitable for families with older children
May only be moderate shedders
Alternatives to the Shar Pei Lab Mix
Many people want a Lab mix because of the sweet nature of the Labrador Retriever.
These dogs have distinctive looks like a Shar Pei mix, but their personalities are easier to predict:
Shar Pei Lab Mix Rescue
If you are thinking of adopting a Shar Pei Lab mix, it is best to contact rescue centers specializing in either the Shar Pei or Labrador to see if they have any mixed breed dogs available.
Here is a list of rescue centers:
USA
UK
Australia
Canada
We are very happy to add your rescue center for the Shar Pei Lab mix – please tell us about them in the comments box!
Is a Shar Pei Lab Mix Right for Me?
There is much to consider with this unusual mixed breed, especially regarding health and temperament.
The wrinkles and skin folds require regular care to keep the skin healthy, with obesity, dysplasia, eye disease, and cancer all possible health concerns.
The Shar-Pei has a temperament that is very different from the Labrador, so this breed may be a challenge for inexperienced owners as well as being unsuitable for families with small children or other pets.
Before you even consider a Lab Pei, it is vital that you research extensively to ensure it is a suitable pet for you!
References and Resources