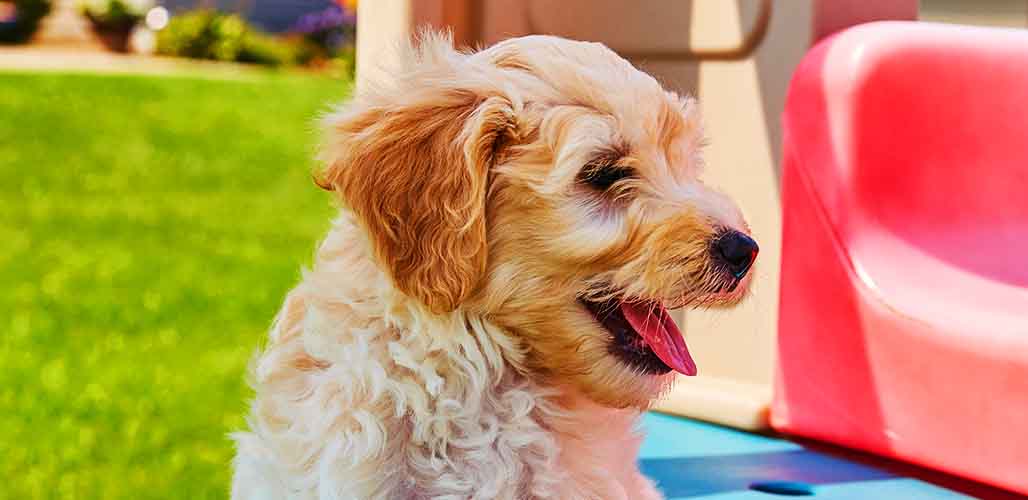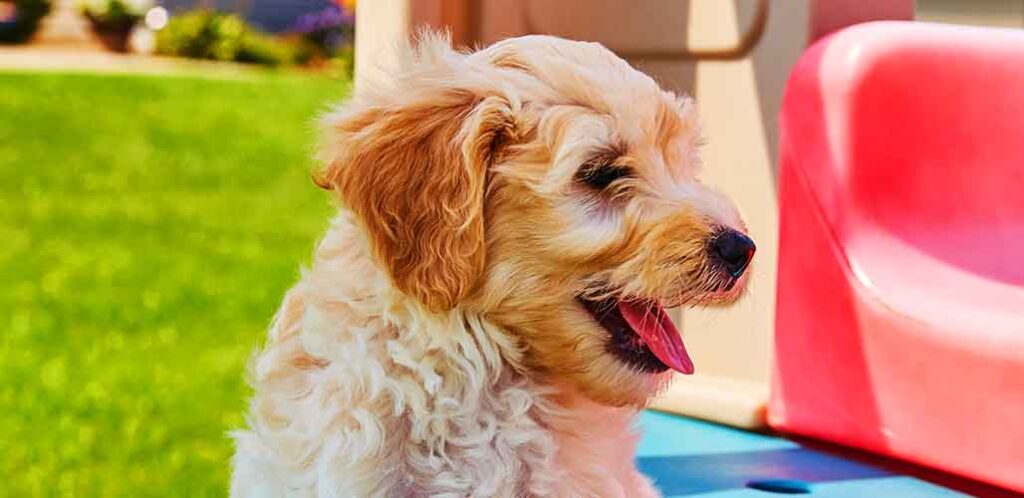 Mini Goldendoodle colors vary much more than I expected, given that they quite obviously have the word "golden" in their name! These little dogs are a popular choice, thanks to their low-shed coats and their extremely friendly personalities. If you've decided a mini Goldendoodle is right for your home, you next need to choose the color puppy you'd like. So, in this guide, I'll examine some of the most popular Goldendoodle colors, along with the ways you can determine what color category your pooch fits into, if you already have one at home!
Contents
Why Are There So Many Miniature Goldendoodle Colors?
The reason as to why there are so many miniature Goldendoodle colors is that there are three Golden Retriever Colors that the American Kennel Club (AKC) recognizes: Dark Golden, Golden, and Light Golden. When it comes to Poodle colors, however, the AKC recognizes eleven colors:
Apricot
Black
Blue
Silver
Gray
Red
Silver Beige
White
Brown
Cream
And Cafe-au-lait.
When breeders breed Golden Retrievers with Miniature Poodles, it could produce a large selection of coat colors. Let's take a look at each of these in turn.
Apricot Goldendoodles
The first Goldendoodle color is the Apricot Goldendoodle which sports a beautiful orangey coat that gives them the appearance of a teddy bear. Apricot Goldendoodles are one of the most sought-after Goldendoodles because of their magnificent coats, and they can thank their parents for that, as both parents must pass down a recessive gene to the pup.
When Apricot Goldendoodles are born, they will typically have a darker coat, but over time it will eventually lighten as they get older. Some ways to differentiate an Apricot Goldendoodle is by their black eyes, black eye rims, black toenails, and black nails.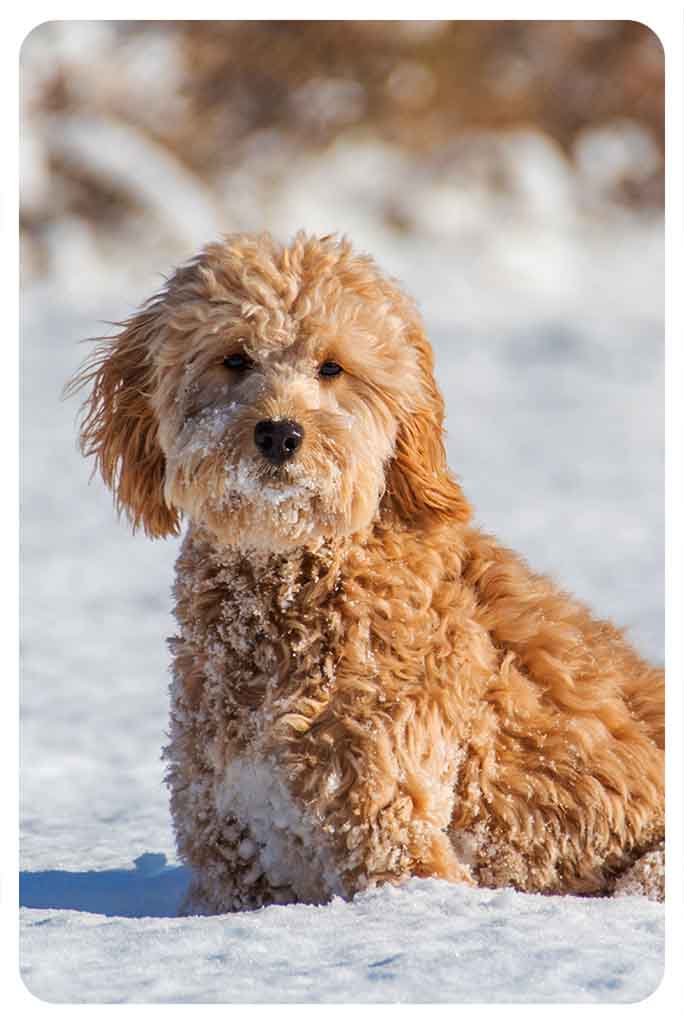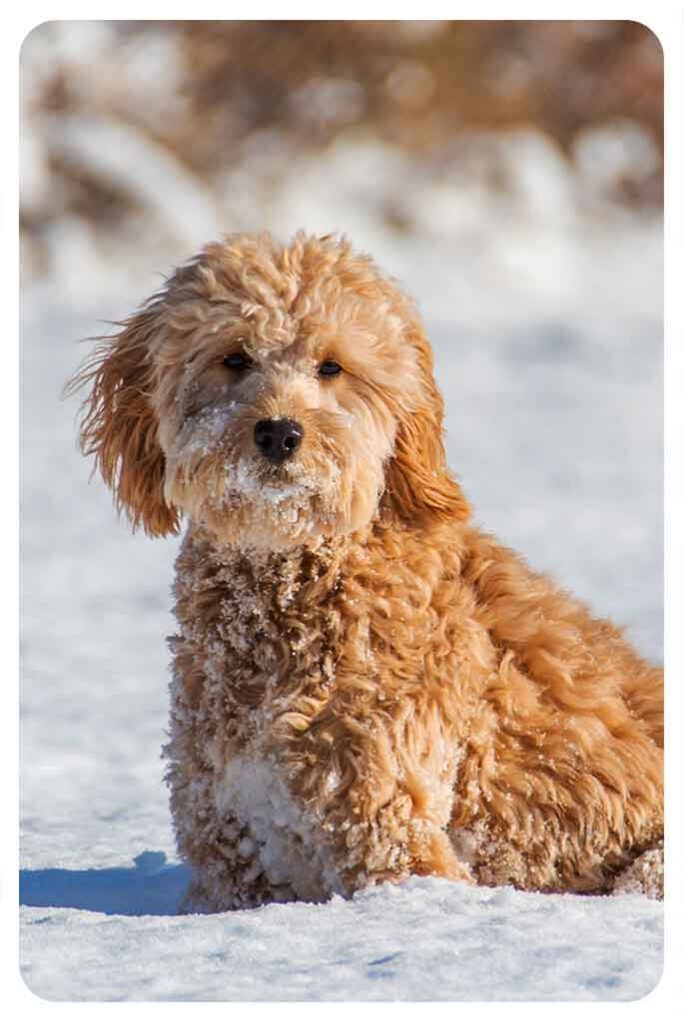 Black Goldendoodles
Black Goldendoodles are very rare because their black coat is recessive and will only appear in second or third-generation pups. Throw in the fact that some Poodles have fading genes which can turn their black coat silver or grey over time, and you've got yourself a very scarce coat color that you may never be lucky enough to see.
Black and White Goldendoodles
Some later-generation Black Goldendoodles will have white markings and may even be predominately white with black markings. Many people will often refer to Black and White Goldendoodles as phantom, brindle, or parti merle Goldendoodles, but these names refer to markings in particular areas of the dog's coat and not so much their coat color.
Blue Goldendoodles
Blue Goldendoodles will be born dark with a more steely tint compared to Gray Goldendoodles, for example. Both parents will need to pass down the recessive gene to their pups, and as they grow older, their coats may continue to lighten.
Brown Goldendoodles
Brown or Chocolate Goldendoodles are one of the rarer Goldendoodle colors as their coloring comes from a mutation in a gene that both parents would need to pass down that would typically produce a black-coated pup.
A Brown Goldendoodle will often be born with an extremely dark coat, which often looks black. But as they age, their color fades and becomes a beautiful chocolate brown color, sometimes even lightning to the point of the pup becoming silver. You'll notice the most color change on a Brown Goldendoodle between its paw pads and on its muzzle.
Champagne Goldendoodles
Another rare Goldendoodle color is the Champagne Goldendoodle which has a yellow tint to its light-colored coat. The champagne color comes from a recessive red gene that is diluted to form an incredible yellow tone. Like other Goldendoodle coat colors, a Champagne Goldendoodle may be born with a darker coat which will lighten as they get older.
Cream Goldendoodles
Cream Goldendoodles are a favorite for breeders, as they can breed them with multi-colored Goldendoodles to produce some pups with magnificent coat colors. Because their coats can be extremely light in color, people often confuse Cream Goldendoodles with White Goldendoodles. A Cream Goldendoodle, however, will inherit its color from both of its parents, and it'll more often than not have a pink or dark nose and paw pads and dark or light eyes.
Golden Goldendoodles
We can't leave out the golden tones! Of course, Golden puppies can range from a darker shade to a very light shade, so they can also fall under the brackets of some other colors on this list. In fact, colors like champagne, cream, tan, apricot, and red might all fall under the bracket of golden depending on which breeder you speak to. And, be aware that the particular shade of golden in a puppy's coat might change over the course of their lifespan!
Gray Goldendoodles
Multigenerational breeding will produce Gray Goldendoodles that get their fading coat color from the poodle side of their family. Gray Goldendoodles will be born with dark fur, which will begin to turn gray around the six-week mark. Once these pups reach two years of age, however, they will have their permanent Gray hue.
Red Goldendoodles
Red Goldendoodles show off a stunning mahogany coat that really stands out in a crowd. Like the Apricot Goldendoodle, the Red Goldendoodle receives recessive genes from both parents, and their teddy-bear-looking coat is what makes them a popular choice for Goldendoodle owners.
Silver Goldendoodles
Silver Goldendoodles are a lighter version of Blue or Gray Goldendoodles that are born dark and lighten significantly as they age. Around the six to ten-week mark, you may begin to see signs that the pup will be silver as their roots will grow through silver, or they'll have silver hairs between their toes.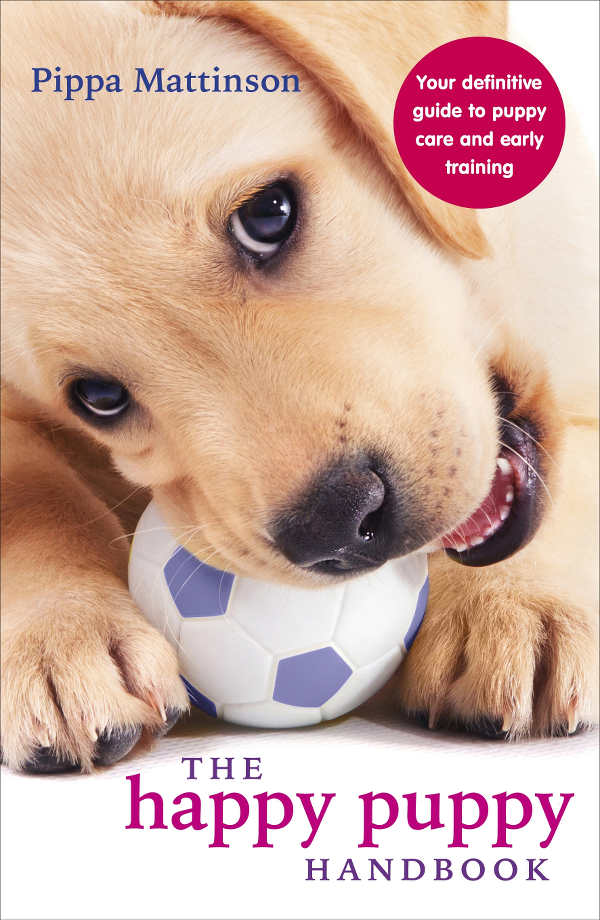 Silver Beige Goldendoodles
Silver Beige Goldendoodles are born dark, and as they age, their coats lighten to create a light silver color or a cafe au lait shade. People often confuse Silver Beige Goldendoodles with sables as their coat's combination of colors gives them a similar effect, however, Silver Beiges don't have black-tipped hairs.
Tan Goldendoodles
A Tan Goldendoodle pup will get its coloring from its Golden Retriever parent. The red pigment in their coat will dilute, leaving the pup with a coat color between the shades of apricot and cream Goldendoodles.
White Goldendoodles
White Goldendoodles may seem entirely white from afar, but these dogs will actually have shades of cream throughout their coats. Two recessive alleles are needed for a White Goldendoodle to be born, meaning you'll never find a first-generation white pup. White Goldendoodles don't go through the fading process, meaning they will be born white and will stay white throughout their adult life.
Which Mini Goldendoodle Colors Do You Love?
Miniature Goldendoodles come in a wide range of colors, but regardless of their coat color, they're all truly beautiful and unique. If you're trying to decide on the perfect pup for your family, then I hope this article has helped you learn more about Goldendoodles and their various coat colors. It's important to remember that at the end of the day, there is no color that is better than the other, so keep that in mind when deciding on your new family member.
More About Goldendoodles