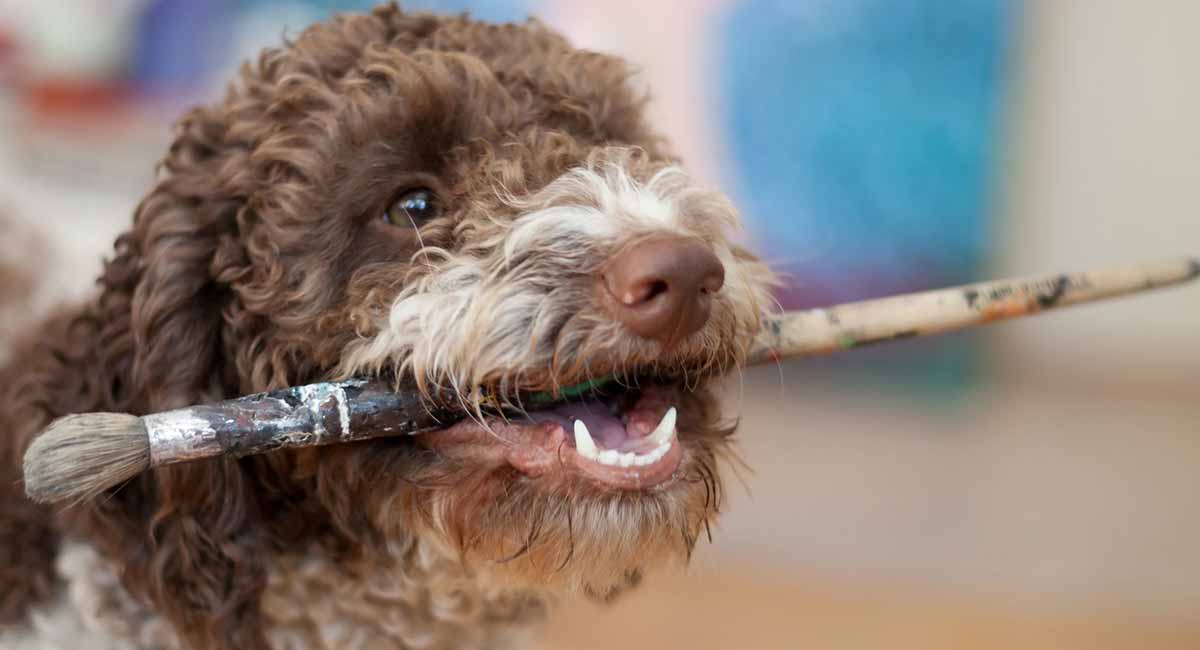 The Lagotto Romagnolo is an Italian dog breed.
They are also known as the "truffle dog". Which gives a hint as to one of their most popular roles!
This breed will grow to between 16 and 19 inches, weighing between 24 and 35 pounds as an adult.
The Lagotto Romagnolo isn't very well-known outside Italy. But they are very distinctive. They have lots of positive traits which make them wonderful pets for the right family.
So, without further ado, let's find out a bit more about this fluffy and talented breed! Will it be the perfect breed for you?
Where Does the Lagotto Romagnolo Come From?
The origins of this breed lie in the Romagna area of Italy, referred to in the second half of their name. The first part of their name "lagotto" means "duck dog" in the dialect of the local area, and tells us of their initial purpose.
It's thought that this ancient breed, or a variant of duck retriever, has been around since the 7th Century.
Despite their ancient origins, the breed nearly died out in the 1970s due to cross breeding. After a concerted effort to save the Lagotto Romagnolo breed, the Italian Kennel Club recognized the breed in 1993.
While their original purpose was as a gun dog, they are now more often used to sniff out truffles.
The Lagotto Romagnolo Club of Great Britain has an excellent and detailed history of the breed on their website.
Fun Facts About the Lagotto Romagnolo
This isn't a very well-known breed in the USA, coming in at number 99 out of 193 breeds, in terms of popularity.
But, thanks to their reputation as the best breed for finding the expensive and elusive truffle, Lagotto pups can be expensive.
Pups from specialized truffle dog breeding programs can cost $8,500. That price includes training, and with the price for truffles reaching $1,000 per pound, you could soon make your money back!
Lagotto Romagnolo Appearance
The male Lagotto Ramagnolo stands at between 17 – 19 inches high, with the female slightly smaller at 16 – 18 inches. Males weigh in at 28.5 – 35 pounds, and females 24 – 31 pounds.
The official breed standard requires a powerfully built, well-proportioned, compact dog. Their strength should be obvious, but combined with an alert and lively expression.
The Lagotto Ramagnolo's double coat has a woolly texture, more like hair than fur. While this hair is long, it creates tight curls over the entire body apart from their heads. This gives the appearance of a shorter coat.
Lagotto Romagnolo dogs come in a wide range of colors, including:
Brown
Brown roan
Off-white
Orange
White and brown
White and orange
In terms of markings, a brown mask is acceptable. Some dogs may also have tan markings.
Lagotto Romagnolo Temperament
This breed is a pleasure to be around. While they are energetic, they're also loyal and affectionate.
Lagotto Romagnolo do make good watch dogs. So early training is essential to ensure they do not become overly enthusiastic in this area.
The hunting instinct of the early Lagotto Romagnolo has now been more or less bred out. This means their recall and concentration on the task at hand has improved.
Training Your Lagotto Romagnolo
Lagotto Romagnolo dogs are intelligent, and love to learn. This makes them a pleasure to train.
As soon as you bring your new puppy home, it's a great idea to sign up for some training classes. As well as a wonderful bonding experience, socialization at an early age will help your puppy grow up to be both confident and well-behaved in a variety of situations.
Our Dog Training Guides include plenty of lessons and exercises designed to take you all the way from basic commands, to complex tricks!
This breed is active, and will definitely need regular, daily walks. Mental stimulation is almost as important as physical activity for this breed. So consider signing up for some classes to challenge your dog.
Agility classes, dock diving, and scent work are all ways to keep your dog's body and mind active. And of course, you could also train your pup to search for truffles!
Lagotto Romagnolo Health
While the Lagotto Romagnolo is on the whole a healthy breed, there are still a number of health tests recommended by the Lagotto Romagnolo Club of America.  These are:
Hip evaluation
Ophthalmologist evaluation
Benign familial juvenile epilepsy DNA test
Lagotto storage disease DNA test.
Hip Dysplasia
These dogs can be prone to hip dysplasia, a genetic condition which can lead to the degeneration of the hip joint. Responsible breeders will screen parent dogs who will be given a hip score, ranging from excellent to severe.
Eye Issues
This breed can also suffer from a number of eye diseases, including juvenile cataracts and distichiasis.
Epilepsy
Benign familial juvenile epilepsy (BFJE) can affect this breed.
Seizures usually begin at around the age of 5 – 9 weeks, and then often these seizures stop around 13 weeks. A genetic mutation on the LGI2 gene has been identified as the cause. Which is why Lagotto Romagnolo dogs need to have a DNA test before breeding.
Any dog which tests positive should not be bred. It's also been shown that carriers of the BFJE gene show some behavioral abnormalities which are similar to attention deficit hyperactivity disorder (ADHD) in humans.
Lysosomal Storage Disease
Lysosomal Storage Disease (LSD) is a neuro-degenerative disease with severe symptoms. This is sometimes also called Lagotto Storage Disease when referring to this breed in particular.
Affected dogs will show signs of clumsiness, abnormal eye movements, cerebellar ataxia, and behavioral changes. The age at which the symptoms present themselves can vary, as can the severity and the rate at which the disease progresses.
Dogs can carry the LSD gene, without showing any symptoms. If they are bred with another carrier, then some of their puppies will be affected by LSD.
As a result, all Lagotto Romagnolo dogs must be DNA tested, and at least one dog must test clear for breeding to be allowed.
DNA tests for this breed are available at Optimal Selection (USA) and MyDogDNA.
Life Expectancy
The life expectancy of the Lagotto Romagnolo is 15 – 17 years.
Grooming
In terms of grooming, the curly coat of hair that this breed has does mean their grooming requirements can be a little different.
Their coat needs clipping on a regular basis, to prevent matting. Once this is done though, they only need the occasional brush between clips.
Some dogs hair will mat more easily than others, so it's a good idea to keep an eye on this when you give them a brush. They also don't shed that much, as any hair that falls out tends to get caught in their curls.
Food Requirements
These dogs will do well on a high-quality dog food. There are many options out there, from kibble, to wet food, or raw.
Some dogs have a tendency to get overweight if they aren't getting enough exercise. So, be sure to feed the recommended amounts only.
If you're using treats as training rewards, remember to include those in your dog's daily allowance.
Do Lagotto Romagnolo Make Good Family Dogs?
These dogs are loving and loyal. Which makes them very well suited to life as a family dog.
They love accompanying their families on active trips. But their energy levels may be a little too much for younger children.
Bear in mind that this breed thrives on the company of their family. They don't enjoy living outside, away from the center of the action.
If you're absent for long periods of the day, then bear in mind that this breed may not enjoy being left alone regularly.
Rescuing a Lagotto Romagnolo
If you've decided that this breed could make a great addition to your family, but you're not keen on getting a puppy, then rescuing an older dog could be the perfect solution.
Adopting a rescue dog means they are likely already trained, and their temperament will have been checked by the rescue organization.
Plus, it's a wonderful feeling to give an older dog a new, loving home!
Finding a Lagotto Romagnolo Puppy
It's very important to take your time finding a reputable breeder of Lagotto Romagnolo pups.
They should be more than happy to talk you through any tests the parent dogs have had, and be happy to show you the results.
It's a good idea to ask to meet both parent dogs when you visit any potential pups.
Always avoid selecting a puppy from either a pet store or a puppy mill. Here, the focus is on profit, not the health of puppies. It's unlikely that the parents will have been health tested, and you won't be able to meet them to get an idea of their temperament. As a result, it's a gamble as to whether the pups will be healthy in the long-term.
You can use our Puppy Search Guide to help you find your perfect pup.
Raising a Lagotto Romagnolo Puppy
Once you've chosen a breeder, and selected your perfect puppy, you can start to get excited about bringing them home!
Our Puppy Training Guides are a great place to find out more about positive training methods, potty training, crate training, and much more.
If you're looking for more information about caring for your puppy, check out or Puppy Care Guide for information on feeding, grooming, and stages of development.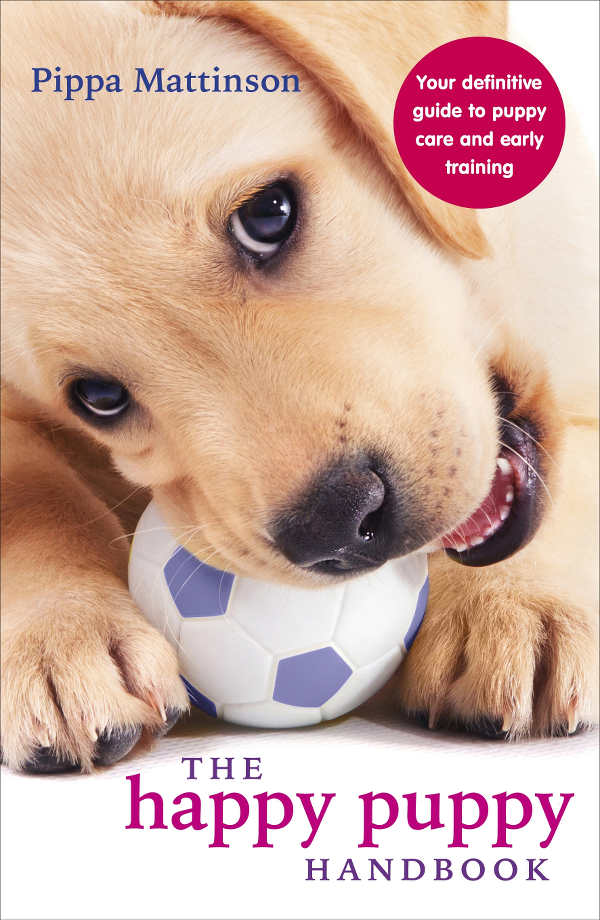 Pros and Cons of Getting a Lagotto Romagnolo
Cons
Some disadvantages include that some puppies can be very expensive due to their reputation as the best breed for hunting truffles.
You'll also need to take care to find a reputable breeder in order to make sure your pup doesn't suffer from any inherited health conditions.
Pros
It is an enthusiastic, loyal, and intelligent breed.
If you're a family with older children, who live an active, outdoor life, this breed will suit you down to the ground.
Only you will know if this breed is the right choice for your family. But, being honest with yourself about what sort of dog will suit your circumstances will give you the best chance of making the right decision.
Similar Breeds
There are plenty of other breeds which you can consider as an alternative to the Lagotto Romagnolo.
Given the relative rarity of the Lagotto, you may decide to look for a breed which is a little popular, with a wider selection of puppies.
If you're looking for another breed with an affinity for water, then the Portuguese Water Dog is an excellent alternative.
If it's the curly coat of the Lagotto Romagnolo that caught your eye, then an obvious alternative is of course, the Poodle!
Our line-up of 10 Italian Dog Breeds includes some excellent alternatives hailing from the same country.
Lagotto Romagnolo Rescues
If you'd love to add a Lagotto Romagnolo to your family, but would prefer an older dog, then rescuing is a great idea.
Due to the fact this is a relatively unusual breed, you may have difficulty finding breed-specific rescue organizations.
You can always register your interest in a specific breed at any local or national rescue centers, and they will notify you if they take in a Lagotto Romagnolo dog which is in need of a home.
The Lagotto Romagnolo Club of Great Britain includes a rescue facility specifically for this breed, with the Lagotto Romagnolo Club of America currently working on establishing a similar facility.
If you know of any rescues specializing in this breed, please let us know in the comments!
Is a Lagotto Romagnolo Right For Me?
If you're looking for a fun-loving, curly-haired companion, then this breed definitely fits the bill.
As a pedigree breed, they suffer from relatively few health conditions and have a good life expectancy.
Do you have a Lagotto Romagnolo, or have you seen them in action hunting for truffles? We'd love to hear from you!
Related Articles
References and Resources
Health Screening & Breeding Practices. Lagotto Romagnolo Club of America.
Jokinen et al. 2015. Behavioral abnormalities in Lagotto Romagnolo dogs with a history of benign familial juvenile epilepsy: a long-term follow up study. Journal of Veterinary Internal Medicine.
Kyostila et al. 2015. A missense change in the ATG4D gene links aberrant autophagy to a neurodegenerative vacuolar storage disease. PLoS Genet.
Cataracts & Eye Disease. Lagotto Romagnolo Foundation, Inc.
Truffle Dogs. Blackberry Farm.
The Truffle Dog Whisperer. Robb Report.
Official Standard of the Lagotto Romagnolo.
History of the Lagotto Romagnolo. The Lagotto Romagnolo Club of Great Britain.