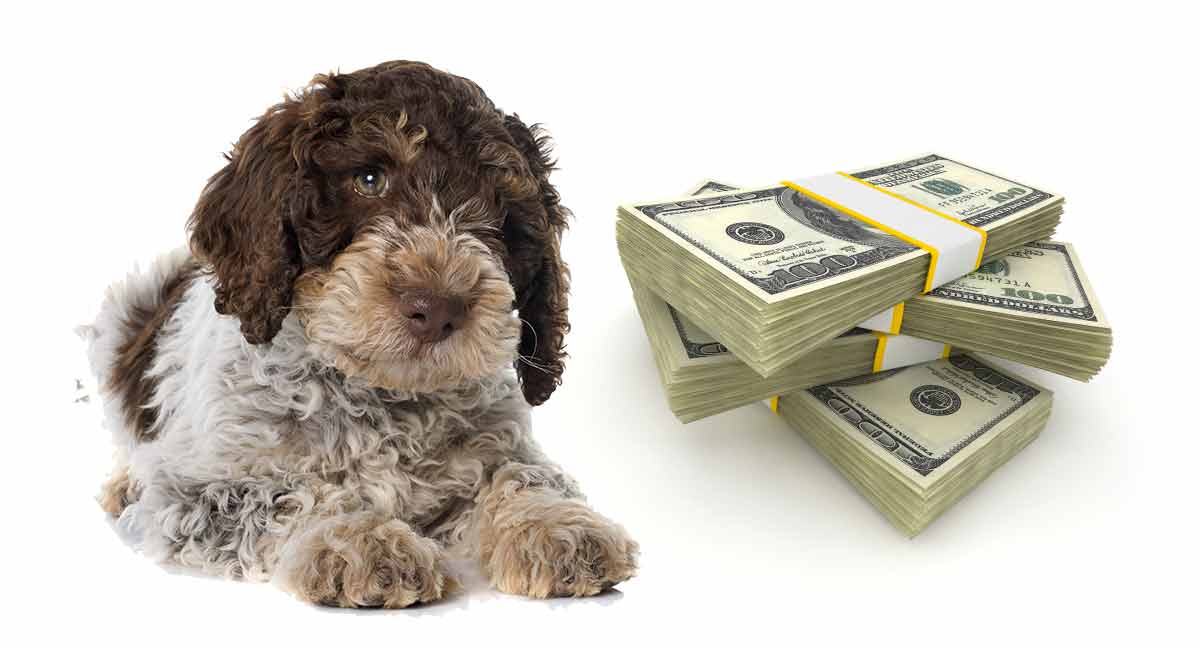 The Lagotto Romagnolo is a rare and beautiful dog. Since there is a shortage of breeders in the US, they can come at a hefty price. The average Lagotto puppy goes for $2000 to $3000. And don't forget about the lifetime cost of owning a dog, with the first year being the most expensive. Today I'll share why these unusual pups cost so much, and what you will need to budget for a lifetime of care.
Contents
Calculating the Cost for A Lagotto Romagnolo Puppy
TheLagotto Romagnolo is a breed with Italian rootsand a hefty Lagotto Romagnolo price. Elegant in name and in nature, this rare and beautiful dog is a true gem of intelligence, brains, and serious work ethic. It's no surprise their delighted owners what to breed them from time to time.
But there is a method to the madness of breeding healthy puppies and the process for breeders can be quite costly. Did you know that before your Lagotto Romagnolo puppy is born, his parent dogs are being carefully selected, health screened, certified, and cleared of any inheritable diseases?
Breeders are responsible for medical costs, birthing fees, puppy food, and more up until the day their puppies are sold. This all affects the Lagotto Romagnolo price, because the litter has cost the breeder several thousand pounds.
Does that mean a puppy that isn't show quality or doesn't cost you an arm and a leg is going to be less healthy? Not always.
Expensive Puppies Vs Low Price Puppies
Puppy mills, backyard breeders, and inexperienced online puppy sellers all contribute to unhealthy puppies that may cost less upfront but can cost much more in the long run.
To avoid accidentally supporting an illegal puppy mill, inexperienced or irresponsible breeder or seller, experts recommend staying away from pet stores or private, unlicensed sellers. Research your breeder or the source you are getting your puppy from, and don't be afraid to ask for certificates of health.
Not all puppies cost thousands of dollars! Many breeders breed puppies that are specifically for companionship, and those puppies are going to cost less than puppies bred for show.
Companion puppies can differ from show quality puppies in minute ways that have nothing to do with health. In fact, the difference can be as small as the coloring of eyes or a diluted coat.
Another way to save money and still get your hands on a wonderful dog is by going through a rescue. There are a number of breed-specific rescues and shelters that specialize in purebred dogs, including the Lagotto Romagnolo!
What Is the Cost of a Lagotto Romagnolo Puppy?
As mentioned above, going through a breeder to get a puppy is typically going to cost more than rescuing, and going through a breeder to get a dog like the Lagotto Romagnolo is going to cost more.
This is because the Lagotto Romagnolo is a rare breed who was only recently introduced to the AKC in 2015, and there are not many breeders who sell this dog.
Beautiful, intelligent, friendly, and rare, you may find yourself on a waiting list for a Lagotto Romagnolo in the US. You may also want to prepare to spend a pretty penny.
On average, a Lagotto Romagnolo puppy can cost between $1,800 and $2,500.
Of course, rescuing is an option, but you may find it difficult to find a Lagotto Romagnolo puppy at a shelter. Still, an adult Lagotto Romagnolo is an excellent dog for those looking to skip the tiring puppy stage and move right into training and companionship!
If you are fortunate enough to find one of these dogs looking to be rescued at a shelter, you will likely end up spending a fraction of what you would through a breeder, with adoption fees typically starting at $50 and maxing out at around $400.
Costs and Budgets
Like any living pet, the Lagotto Romagnolo is going to incur fees over his lifetime. Owners will need to prepare for monthly expenses on items such as:
Dog food
Treats and toys
Vet bills or insurance
Beds and crates
Collars, leashes and training leads
Puppy classes
Grooming
The first year of a puppy's life is usually the most pricey, with their upfront cost and all of their new things. But medical care further down the line can quickly add up too. Over the course of their lifetime you can expect to spend somewhere in the region of $15,000.