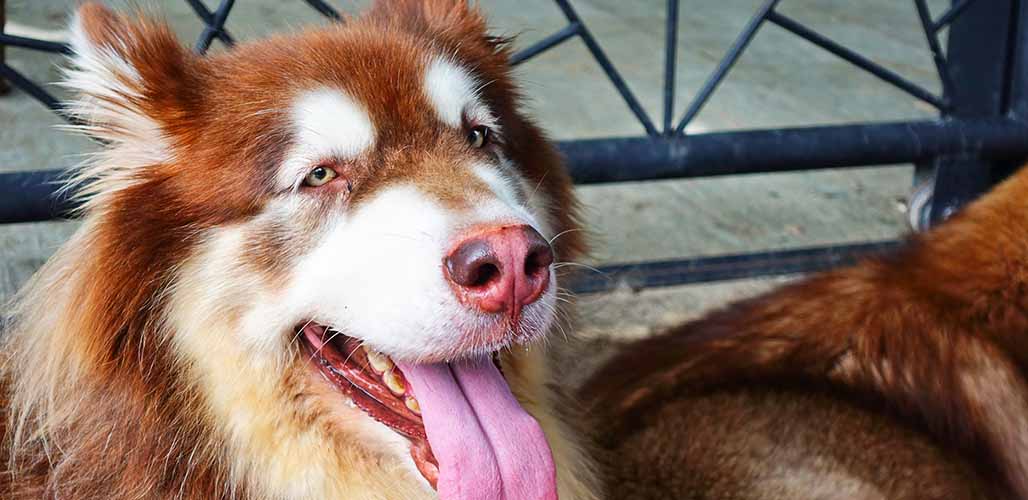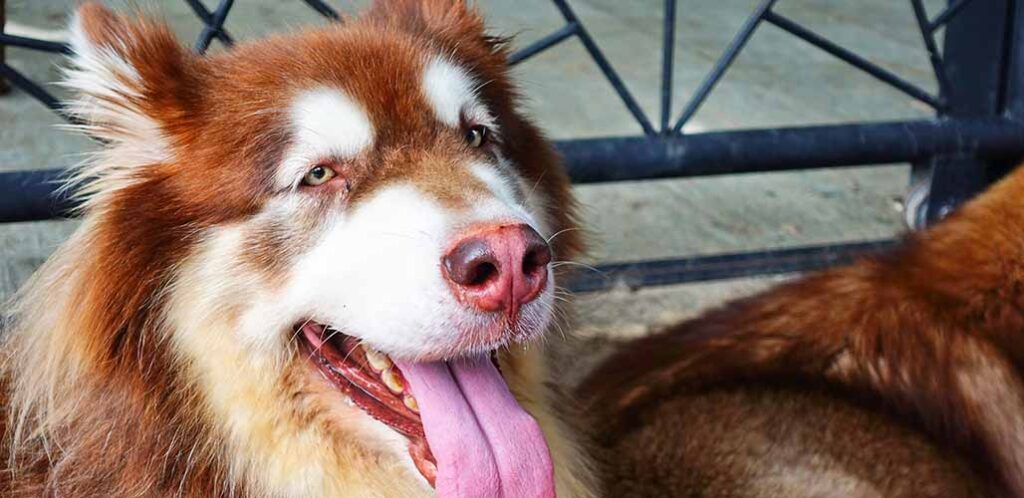 The Giant Alaskan Malamute is an enormous dog weighing 100-200 lbs. They are technically just very large Alaskan Malamutes, but due to their size might not meet the standards of the pure breed. The Giant Alaskan Malamute has a thick, medium length coat to keep it warm in cooler climates. It's clever, playful, and very loyal to its immediate family. These dogs are very eager in training, but can be quite territorial. Early socialization is a must, and they make great guard and watchdogs too. Although they aren't the best fit for most homes with young children or that are out for much of the day.
Contents
What is a Giant Alaskan Malamute?
Alaskan Malamutes are an ancient sled dog breed that originated in the Arctic. These dogs worked alongside humans in packs to pull sleds over long distances. On top of this, they accompanied people on hunts and located things like seal breathing holes.
Though there are a variety of Malamute breeds, the Giant Alaskan Malamute is currently not an accepted variety. These dogs will not be accepted for AKC show, and will not conform with all parts of the standard Alaskan Malamute breed standards.
Alaskan Malamute vs Giant Alaskan Malamute
The Giant Alaskan Malamute and the standard Alaskan Malamute are only distinguished by their size. In all other aspects, they are the same, including general temperament, coat type and colors, and so on. Standard Alaskans will only grow up to 25 inches tall, weighing a maximum of 85lbs. But, the Giant variety will be much larger than this.
The standard Alaskan Malamute's size is restricted by its breed standard. But, there is no such breed standard for the Giant Malamute because it is not an officially accepted strain. Giant Alaskan Malamutes would never qualify for show, since their size exceeds the regular Alaskan Malamute breed standard boundaries considerably.
How Big Does a Giant Alaskan Malamute Get?
Since there is no official breed standard to refer to, the expected size of a Giant Alaskan Malamute can vary. But, they will definitely be larger than the standard Alaskan Malamute. As a general rule, Giant Malamutes can grow up to 35 inches tall, and will usually weigh over 100 lbs. But, some will be much closer to 200 lbs as adults. Like the standard Malamute, females will often be smaller than males when fully grown.
The Giant Alaskan Malamute has the same double layered, medium length coat as the standard variety, which can make them look even larger!
General Appearance
Apart from their size, Giant Alaskan Malamutes will be very similar to the standard variety. This includes all other aspects of their appearance. Their thick coats always have some white on them. They can be solid white, or white with another color. The other potential colors range from agouti, to silver, seal, red, black, and more.
Giant Alaskan Malamutes have a generally powerful appearance. They have broad heads, triangular ears, and a furry tail that is carried over their back.
Are They Friendly?
The Giant Alaskan Malamute has roots as a working dog. So, they will be energetic, intelligent, and determined. They tend to get along well with other dogs, particularly those they are raised with. But, they can show possessive and guarding traits. This behavior can lead to aggression if owners aren't careful, particularly towards strangers and unfamiliar dogs. Socialization from an early age is the best way to minimise this risk.
Alaskan Malamutes form strong bonds with their owners. They are eager to please during training and are quite chatty dogs. But, this doesn't mean they will constantly be barking. Instead, they are more likely to "talk" to you. They are playful dogs, and enjoy the chance to exercise every day.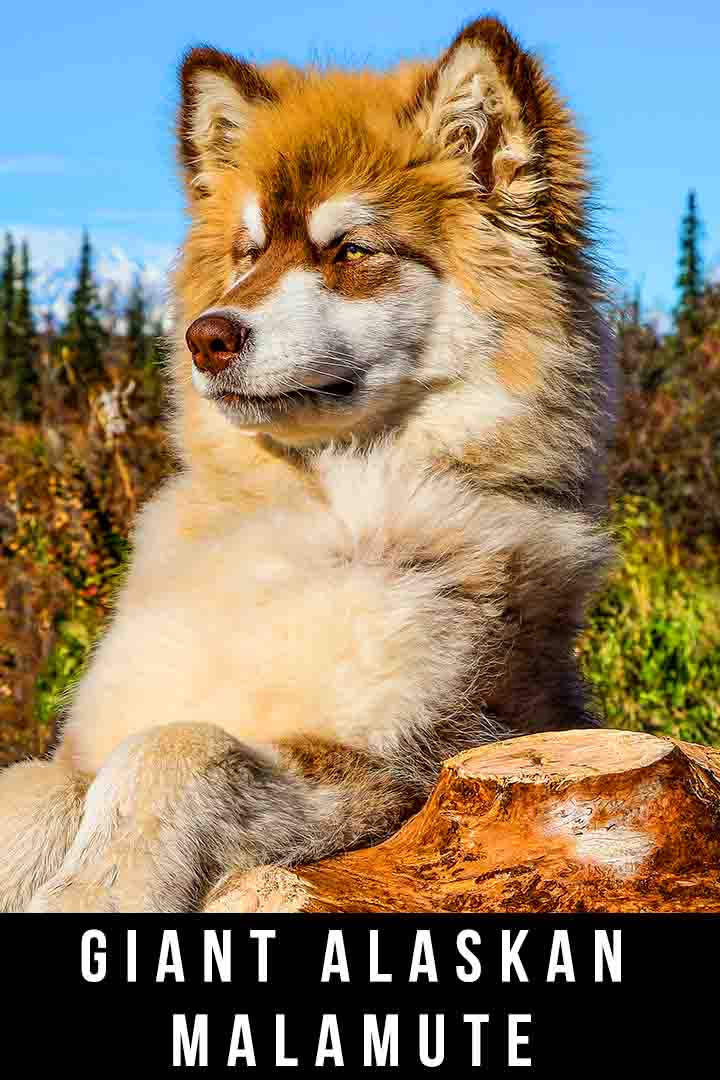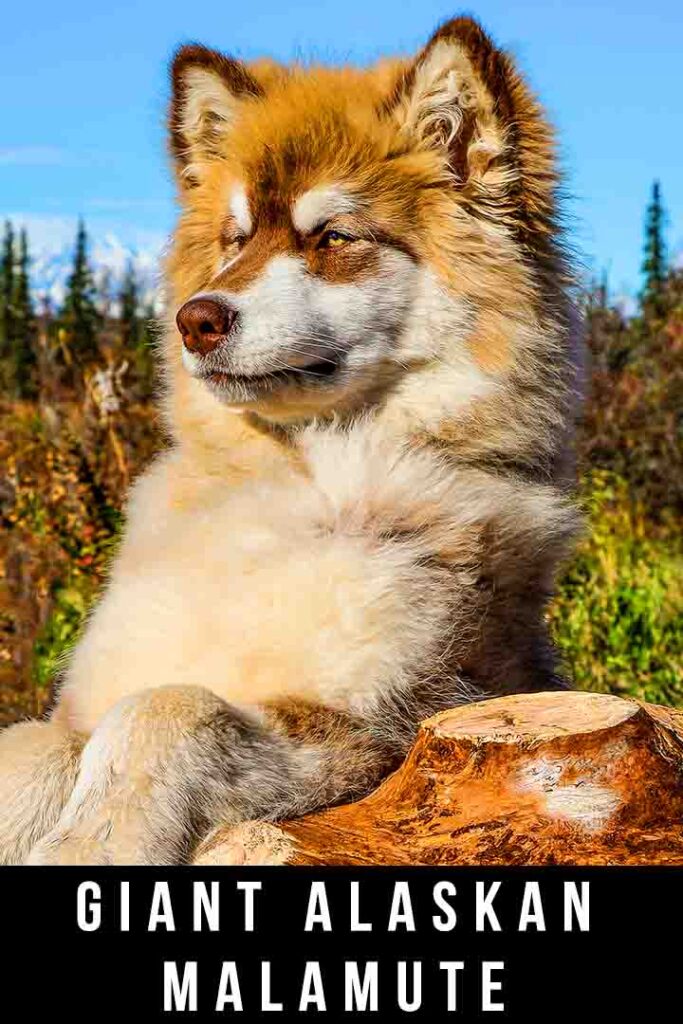 Training and Exercise
The Giant Alaskan Malamute usually takes well to training. Since they form strong bonds with their owners, positive reward methods will work well when training them. They are clever dogs and eager to please, so they will enjoy working to figure out what behavior you want to earn treats and affection.
With their roots as a working sled dog, the Giant Alaskan will be energetic, active, and will need some form of exercise every single day. However, as a very large breed, owners should take care with exercise that could damage their dog's joints.
This breed is not well-suited for small homes or city living. They will be happiest in a large home with plenty of space for running and playing.
Giant Alaskan Malamute Health
The Giant Alaskan Malamute is prone to the same health issues as the regular Alaskan Malamute. But, it is also potentially at risk of size-related health problems, due to its massive stature.
Giant dog breeds are known for experiencing problems with their joints, including hip and elbow dysplasia. Some studies recommend not letting large and giant dog breeds use stairs until they are at least 3 months old in an attempt to prevent these issues. On top of this, large and giant dog breeds at at higher risk of bloat (gastric dilatation volvulus), which can be life threatening.
On top of this, a Giant Alaskan Malamute may be prone to:
Cataracts
Epilepsy
Hypothyroidism
Progressive Retinal Atrophy
Wobbler's syndrome
Polyneuropathy
Grooming and General Care
Giant Alaskan Malamutes have the same thick, double layered coat that standard sized versions of this breed have. Fur is medium length, so can tangle if left unbrushed. They will need regular grooming to ensure that their coat is healthy and looking its best. Giant Alaskans are moderate shedders, but grooming will help you to keep on top of this.
During grooming sessions, you should also check areas like their ears and paws. If their nails aren't adequately worn down through exercise, you will need to trim these yourself, or take them to a groomer for this. Socialize your Giant Alaskan Malamute to grooming from a young age so they are comfortable with every step of the process.
These dogs will do best on a dog food made for large breeds. As a giant breed, they won't reach their full size for a long time, often up to 2 years. So, they will need a good quality puppy food until then. Subtract training treat calories from their daily allowance to prevent obesity.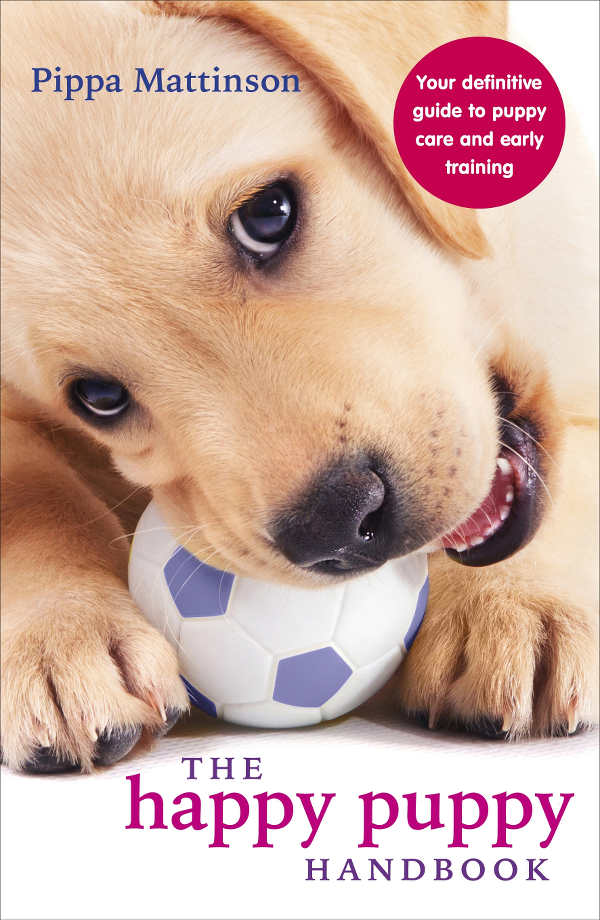 Giant Alaskan Malamute Lifespan
Giant dog breeds sadly do not live extraordinarily long lives. In fact, make giant dog breeds don't reach double figures, particularly when looking at the average lifespan of the breed.
Studies into purebred dog lifespan found that the Alaskan Malamute lived an average of 10 years. However, these statistics may not be as accurate for the Giant Alaskan Malamute. Particularly if a Giant Alaskan experiences any of the common size-related health issues that can plague them.
Giant Alaskan Malamute Puppies
Giant Alaskan Malamutes do not conform with the AKC breed standards, so you might struggle to find breeders that specialize in this larger version near you. It's important to choose a reputable breeder, given the potential additional health problems that this breed variety can experience. The best breeders will health test their dogs, will provide the best care possible, and will be willing to answer your questions and take back the puppy if unforeseen circumstances require it.
A Giant Alaskan Malamute will usually cost somewhere between $1800 and $3000. Though, the exact price for puppies can vary depending on their predicted adult size (based off their parents), their coloring, location, demand, and more.
Another alternative is to search rescue centers near you. Many Alaskan Malamute rescue centers will accept giant versions of this breed.