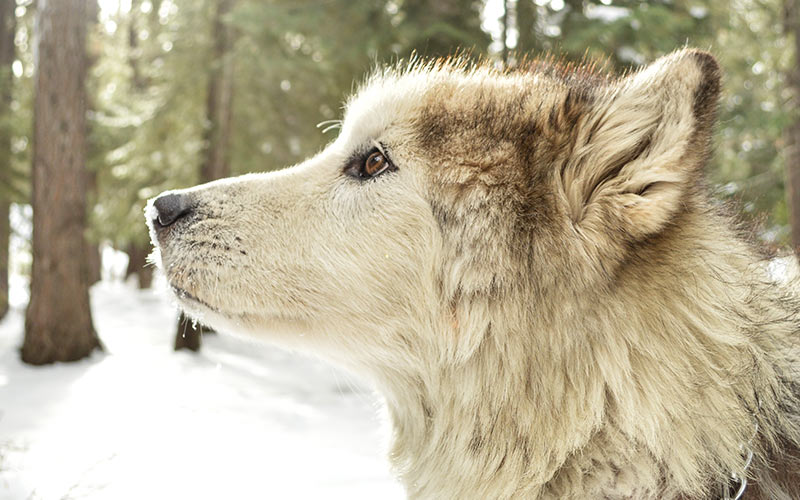 Welcome to our complete guide to Dogs That Look Like Wolves. Finding out all about these special breeds.
You're taking a stroll when a fellow pedestrian approaches with what appears to be a wolf on a leash!
It has a lanky build, an intense gaze, pointed ears, and course fur that's reminiscent of a wolf's coat. But instead of stalking its prey out in the wild, it's calmly walking alongside its master.
Wait a second, who would keep a pet wolf?
Chances are, the "dog like wolf" in question is actually just a domestic dog whose breed bears a strong resemblance to a wolf due to their lineage.
Big wolf dogs are amazing.
But what dog breeds look a lot like wolves…and are they all descended from wolves?
Great questions!
In this article, we'll talk about the dog breeds that resemble wolves, their origins, and their suitability as family pets.
Looking first at wolf hybrids, then at some modern dog breeds that have been designed to look like wolves.
Wolf type dogs – what makes them appealing?
Wolf like animals' appeal to people for a number of reasons.
Wolves are mysterious and aloof animals that aren't encountered by humans as often as other wildlife, such as deer and bears.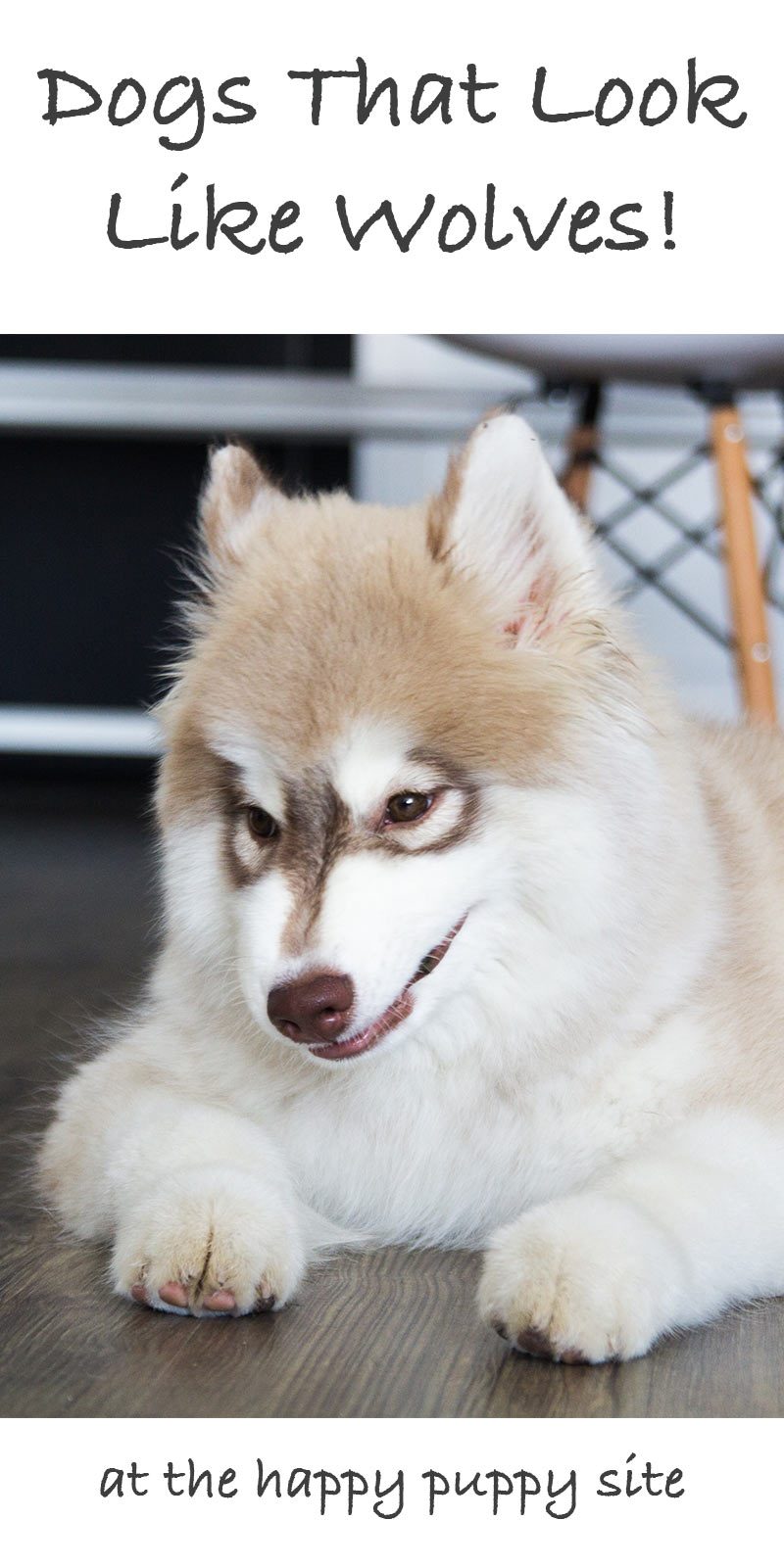 This shroud of mystery has intrigued mankind for some time, and so wolves have become popular subjects in mythical works for years.
Anyone who has read "Little Red Riding Hood" knows about the "big bad wolf," and who hasn't heard of the fabled "werewolf"?
Though wolves may be allusive, photographers have managed to capture images of these wild, beautiful, and sometimes feared beasts. Some wolves have also been captured and raised in captivity.
After seeing wolves in person, the movies, or reading about them, people may be drawn to dogs that look like wolves because of their wild appearance and close resemblance to one of nature's top predators.
Wolf dog breeds temperament
Dog closest to wolf in appearance = dog with wolf temperament and tendencies…right?
The answer is in some ways, yes and in some ways, no.
Some dogs that look like wolves were actually developed from mating wolves with dogs.
We'll get more into the specifics of this when we discuss some particularly wolfy dog breeds.
Many of these wolf-dog matings resulted in hybrids that did not do well as working dogs due to the retention of some of the wolf's traits.
After all, when two different dog breeds (or in this case, a dog and a wolf) are crossed, the temperament of their offspring is often unpredictable.
In the case of breeding dogs with wolves, the resulting offspring were more likely to favor their wolf parent's temperament.
This resulted in the "phasing out" of the wolf blood further down the line, which created the wolf-looking dog breeds of today.
Even though today's wolf-looking dog breeds no longer have wolf's blood, they may or may not still exhibit wolf-like traits and tendencies.
Dogs That Look Like Wolves' Traits
Some members of wolf-looking dog breeds may have the wolf's strong pack instinct, meaning that they won't do well without another doggy friend.
Conversely, some members of dogs that look like wolves breeds may NOT like having another dog in the house.
They may also be aggressive to humans.
Other members of wolf-looking dog breeds may also possess a strong prey drive. Or the tendency to chase and attack small animals.
While many dogs exhibit this behavior (e.g., it's not uncommon to see a dog chasing a cat in play), dogs with a strong prey drive will not chase your small pets for sport, but for the kill.
As with any hybrid dog, we'd like to stress that not all hybrids are the same. Some dogs that look like wolves may behave entirely like domestic dogs, some may behave more closely to wolves, and some may be a 50-50 mix of both.
Wolf-dog hybrids – controversial or not?
In the wild, it's not very likely that a wolf will seek out and mate with a domesticated dog, but it's not impossible because wolves and dogs are actually the same species!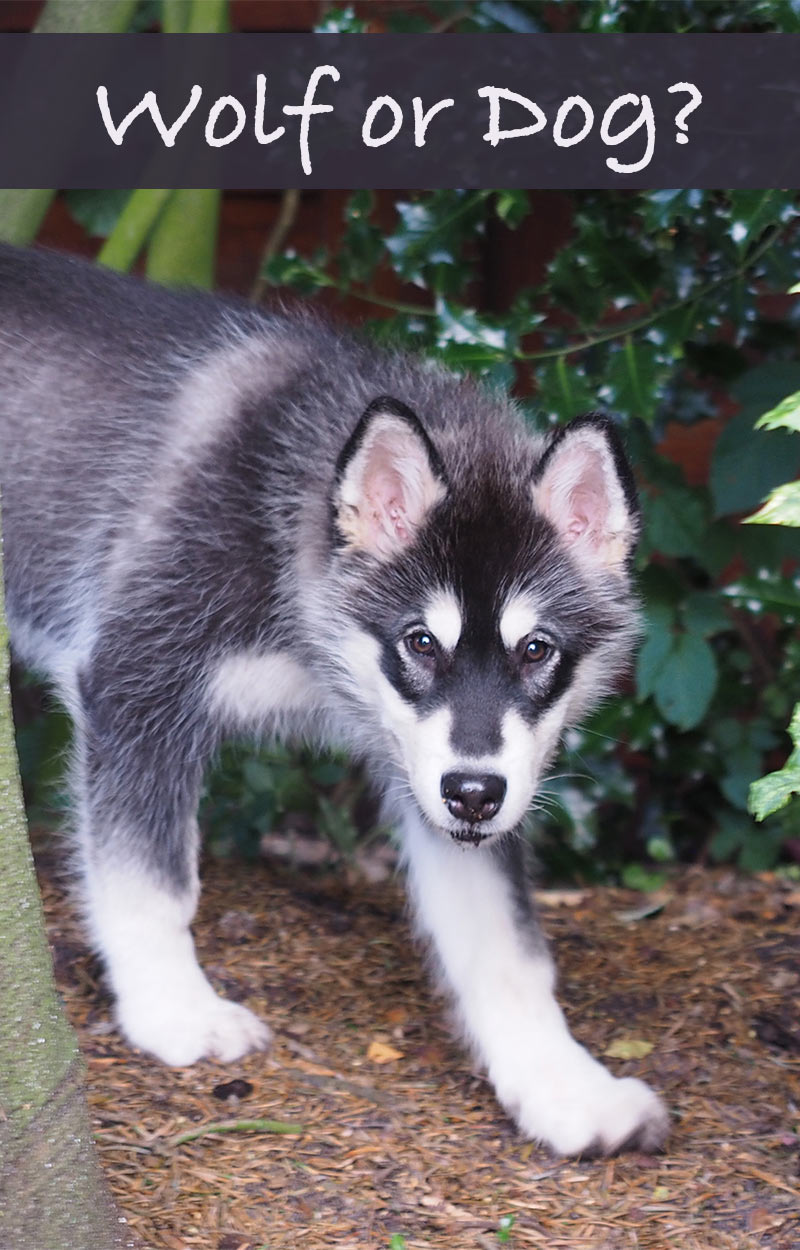 As we mentioned while discussing wolf-like breeds earlier, people have bred wolves with dogs in the past to create the wolf-looking breeds of today. During the breeding process, wolf blood was gradually reduced in order to prevent the wolf tendencies from overshadowing the favorable domesticated dog traits.
However, there are still some breeders who specialize in mating wolves kept in captivity with various wolf-like dogs to obtain half-wolf, half-dog pups. These hybrids are often sought after for their looks and uniqueness.
Wolf hybrids may be exotic and beautiful, but they come with a unique set of problems when they're kept as pets.
Wolf pets (both full wolf and wolf-dog hybrids) are generally not a good idea due to their highly unpredictable nature and strong wolf traits.
They are much more likely to exhibit the wolf behavior that we've mentioned throughout this article (pack instinct, prey drive, challenging authority, urinating or defecating in appropriate places).
Generally, they can be hard to train, as their natural instinct is hard to suppress (and shouldn't be suppressed).
But don't worry! You don't need a wolf hybrid to get dogs that look like wolves.
Wolf-like dog breeds
Most wolf like dogs of today were developed from breeds that resulted from dog-wolf interbreeding a long time ago.
The following modern breeds are dogs that look like wolves to some extent:
Alaskan Malamute
The Alaskan Malamute are popular dogs that look like wolves.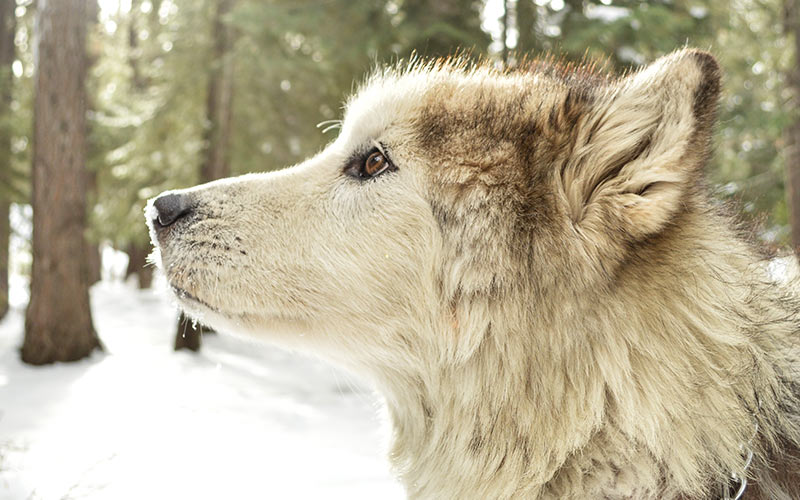 This large and fluffy breed is thought to be a descendant of wolf-dog hybrids that accompanied man across the Bering Strait to Alaska and Canada almost 4,000 years ago.
They later became Arctic sled dogs known for their athleticism and endurance. Today, they are primarily wonderful and active pets.
Make sure to play and interact with them a lot. Especially if they are the only dog in the house, or they will become lonely. And potentially destructive… Take it from someone who used to live next door to a Malamute who howled all night if she was left alone outside!
Siberian Husky
The Husky is the slightly smaller and faster cousin of the Alaskan Malamute. Like the Malamute, Siberian Huskies were primarily used as sled dogs in early 1900s North America.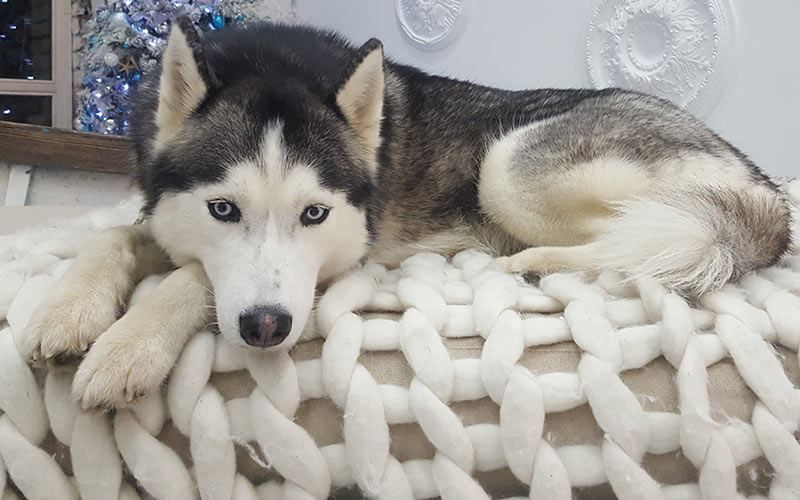 A more agile dog than the Malamute, they were well-known for their speed and endurance, both qualities of which they still possess today.
Similarly to the Malamute, Huskies require enough space to roam and plenty of play time. Huskies are known to be effective chewers if left unsupervised. Like the majority of northern-type dogs, they will howl like a wolf if they are starved for companionship.
Samoyed
"White wolf like dog" perfectly described the Samoyed.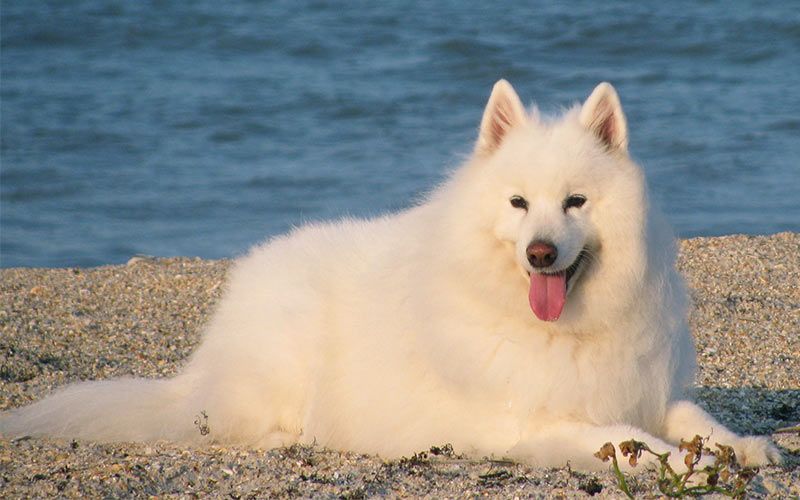 With its super thick, often snow-white coat and curled-up tail, the Samoyed looks similar to an arctic wolf. However, it actually descended from a primitive dog originating in Siberia. Meaning that it has no wolf or fox blood in its lineage!
"Sammies" have been used in the Arctic and Antarctic for various explorations over the years. Today, they are still excellent working dogs with a friendly and eager-to-please personality.
Like the Malamute and Husky, Samoyeds require lots of activity and may howl if they're displeased.
Czechoslovakian Vlcak (Wolfdog)
Closest dog to a wolf could be this relatively new breed! In 1955, the Czechoslovakian wolfdog was created. A German Shepherd Dog was crossed with a Carpathian wolf in an effort to produce a wolf-looking working dog. But with a domesticated dog's personality.
Originally intended as border patrol dogs, they are now recognized as members of the working group. This breed does tend to show their wolf side however. They will require early socialization with children, other pets, and strangers from a very early age. There is otherwise a risk they may become fearful and difficult to work with.
They may also go after small animals due to their heightened prey drive. You'll want to keep them active in order to prevent your home and property from being destroyed.
Tamaskan
The Tamaskan is not formally recognized as a registered breed, as it is a mix of North American sled dogs, Alaskan Malamute, Siberian Husky, and German Shepherd Dog. This combination resulted in offspring that closely resemble Timber wolves, with a size somewhere between the Husky and the Malamute.
Due to the wolf blood in its parent breeds, the Tamaskan does have a strong bonding instinct and wants to be with other dogs or people. Like the other sled-type dogs we've mentioned, they will howl when lonely. They don't have the prey instinct, but do like to dig holes and be pretty active.
With their almost overly friendly disposition and slightly calmer personality than the Husky, Tamaskans may be a good option for the family who wants a wolf-looking dog that is trustworthy with children and small pets.
Northern Inuit
This breed is quite similar to the Tamaskan in its heritage. It's thought that dog breeders in Canada and Greenland crossed sled-type northern dogs with wolves to create a working dog that would also make a great family pet.
In the 1980s, some of the offspring were exported to Great Britain, where they were bred with Siberian Huskies, Alaskan Malamutes, and German Shepherds. These offspring became the first generation of the Northern Inuit Dog.
Northern Inuits possess the same active traits as their parent breeds. So they require consistent training and play time, or their destructive tendencies make rear their ugly heads. They may also be prone to chase and hunt small animals. So this should also be taken into consideration before purchasing one of these as a pet for a multi-pet household.
Canadian Eskimo Dog (Inuit)
Like the Alaskan Malamute, the Inuit breed goes back as far as 4,000 years ago, when man was first making the trek from Siberia to North America.
Inuits started out as hunting dogs and gradually became sled-pulling dogs once colonized in the modern-day Canadian Arctic.
They are very athletic dogs, having been known to pull twice their own body weight in their sledding days, even without much food! This is a special type of dog, though. Despite being gentle companions, they are not suitable for homes with children due to their easily startled nature.
They cannot thrive in warm climates, and like the other sled dog breeds we've mentioned, will let their voice be heard when they wish for human or dog companionship.
Saarloos Wolfdog
It was originally developed in the Netherlands to develop better working and service dogs. This was attempted by crossing German Shepherd Dogs with Grey wolves.
The resulting offspring were then bred with wolves in a second generation, of which proved to be unsuitable for work or service. Since then, the wolf blood has been bred out of the Saarloos Wolfdog, and they are now sought as extremely wolf-looking pets.
However, they do possess very strong wolf-like mannerisms, including the pack instinct, prey drive, and fear/shyness associated with strangers. They can also be hard to potty train, as wolves often urinate and defecate to mark their territory and to warn intruders from invading it.
Wolf-type dog health and wellness
Buying a dog which looks like a wolf doesn't mean that the dog will develop health issues or diseases that are any different from other dog breeds.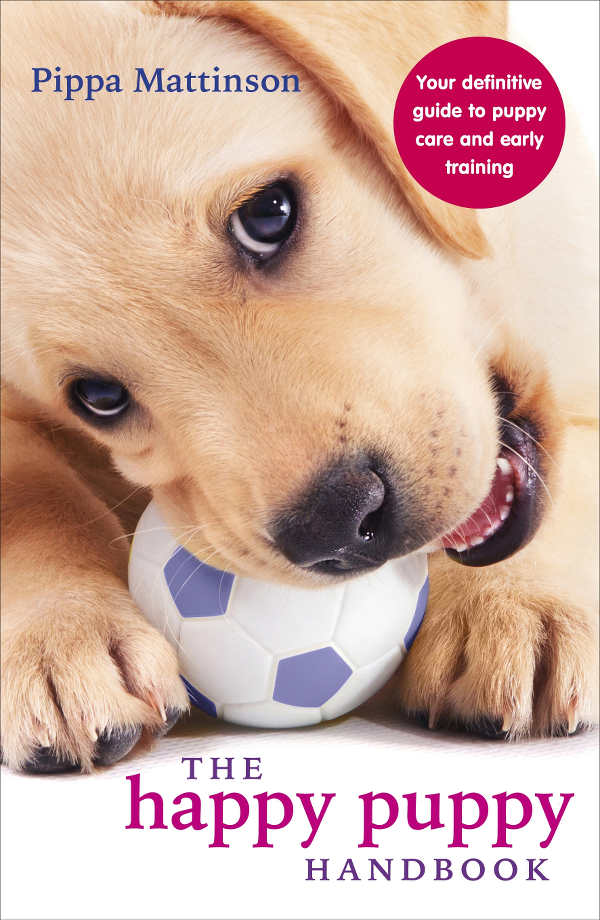 The Perfect Companion For Life With A New Puppy
The dog will simply be prone to the same types of health conditions and diseases as any other dog breed. As well as the health conditions and diseases that its parents are carriers for.
Dogs and wolves are prone to the same health issues, after all! And most dogs that look like wolves are modern breeds and not hybrids.
If you're looking to obtain a wolf-like puppy, we recommend genetic testing of both parents to determine what, if any, health issues they are carriers of.
In addition to the aforementioned ailments, there are a few things to consider before purchasing a wolf-type dog.
Dogs that look like wolves typically have long and/or thick coats that may require keeping them in a cooler environment so they don't overheat.
They'll most likely need constant brushing, due to shedding, and may be completely intolerant of temperate climates.
Furthermore, dogs that look like wolves tend to be active and mischievous. They have a definite need for play time and an outlet for their "wild" side, preferably outdoors.
They generally do not do well mentally if they are crated or are kept in a small apartment. If you leave them alone for too long, it's likely they'll find something to chew up!
Wolfy dog breeds – Do you love dogs that look like wolves?
Dog breeds closest to wolf represent a unique group.
They look like wolves in varying degrees, but each possesses unique traits and talents according to their dog heritage.
Dog breeds that are like wolves in appearance due to the reduction and eventual removal of wolf blood in their lineage generally act like other dog breeds. But some wolf hybrid dog breeds display more wolf-like behaviors than others.
Even within one particular litter of puppies, it's hard to determine how each member will turn out.
If you're interested in purchasing a dog that looks like a wolf, be prepared to potentially contend with a highly active, yet sometimes shy dog. That will require training and socializing from a very early age onward.
You may or may not be able to house it with other dogs and pets. It may also be destructive if not allowed to exercise and play adequately.
There's also the eerily wolf-like howling that many sled-type dogs are known for.
Finally, we would strongly urge you against wolf-dog hybrid breeding or keeping. As a hybrid pup may have wolf tendencies that are too strong to be contained, even by a thoroughly experienced dog owner.
If you've enjoyed this article, you might also want to take a look at Dogs That Look Like Bears