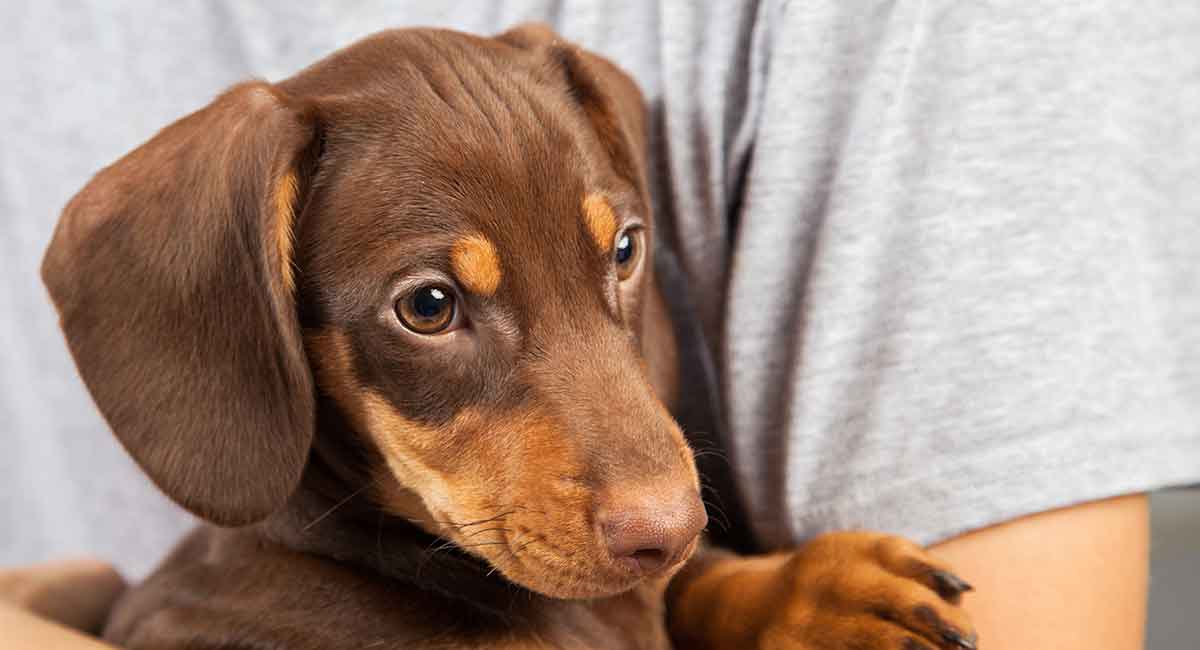 Dachshund colors and markings vary almost as much as their cool coat types do. The classic wiener dog pattern most people imagine is black and tan, or solid brown. But they actually can be red, blue, cream, fawn and a number of other shades. And some of their colors and patterns are linked to health issues.
Contents
History and Origins of Dachshund Colors
Were there always so many different Dachshund colors? What is the difference between Dachshund colors and patterns? Are patterns and markings the same thing? If you are new to the wonderful world of Dachshunds, you probably have so many questions!
So let's step back into history for a moment to discover more about the history and origins of Dachshund colors and the Dachshund breed itself.
The Dachshund today is classified as a scent hound, which means these dogs use their noses to track and hunt prey. Bred specifically to hunt burrowing small animals like badgers. This is why Dachshunds have shortened legs – this adaptation helped them dig down into a burrow after their prey without getting stuck!
Coat Types
So now let's take a closer look at the origin and evolution of the Dachshund's colors and coat types!
Smooth Haired Dachshund Colors
The very first, original Dachshunds had smooth, short, flat coats.
The original Dachshund coat colors were red (the most common) and black (the second most common), which is often mistaken for brown in its darker, rustier shades.
Wire Haired Dachshund Colors
In time, Dachshunds were crossed with Terriers.
The goal here was to introduce some of that traditional Terrier fire to create an even fiercer and more tenacious hunter.
The Terrier influence also introduced a new coat texture, wire haired Dachshunds, and a new coat color, wild boar.
Long Haired Dachshund Colors
Later on, Dachshunds were crossed again, this time with Spaniels and Setters.
The goal with this cross was to produce a sweeter temperament.
It was hoped this would produce a canine which was more amenable to life as a companion.
The influence of these longer coated dogs also produced a new coat texture, namely long haired Dachshunds.
This in turn saw the several new coat colors come to life, including blue (gray), fawn (Isabella), wheaten, cream and chocolate (brown).

Dachshund Colors and Breed Sizes
Both standard and miniature (and tweenie) Dachshunds can have the same basic coat colors, patterns and markings.
To clarify, according to AKC standards, a "standard" Dachshund is a dog that weighs 16 to 32 pounds, while a "miniature" Dachshund is a dog that weighs 11 pounds or less.
There is also an unofficial "tweenie" size Dachshund, but this size is not recognized by the AKC.
Overall, the colors and patterns of any Dachshund has a lot to do with coat type (smooth, wire, long). Size is not a known influencer of coat color or pattern.
Dachshund Colors and Genetics
We know quite a lot thanks to canine genetics. For example, we know that the color of a dog's coat (or the pattern or markings) can sometimes indicate possible health issues either from birth or later in life.
This is one reason why your choice of breeder is so vital to the health and quality of life of your Dachshund puppy! It is also important to do your own research to discover what to look for when choosing the healthiest puppy.
Can Dachshund Colors Influence your Puppy's Health?
As you might imagine, this can get complicated! Essentially, the same genes that create certain colors, patterns or markings sometimes have additional functions to carry out in a dog's development.
This is particularly the case with dilute (recessive) color genes such as those that can produce the white coat color and blue eyes. This is a combination which has long been associated with canine deafness.
For this reason, white-coated Dachshunds with one or both blue eyes are disqualified from the show ring. As well, certain patterns and markings are associated with specific health concerns in Dachshunds.
Patterns and Health Issues
Dilute (recessive) colors such as blue (a dilute of black) and fawn (a dilute of chocolate) are associated with skin sensitivity. This includes a condition called CDA, or color dilution alopecia. CDA can cause skin allergies, skin sensitivity, sunburn, thinning coat and skin infections.
Skin cancer is more prevalent in dilute coated Dachshunds, and preventative vaccinations are less likely to work as expected. These dogs can have immune issues and a shortened lifespan.
Markings and Health Issues
The Dapple (merle), Double Dapple and Piebald (white) Dachshund patterns have been linked to several serious health issues. These include:
missing eyes
eye size reduction
blindness
deafness
seizures
various skin disorders
Official Dachshund Colors
The official AKC standard Dachshund colors – often called the base or self colors – include:
red
cream
black and tan
black and cream
chocolate and tan
blue and tan
fawn (Isabella)
tan and wild boar
Official AKC Dachshund colors and markings include:
brindle (striped)
dapple (light/dark patches)
sable (self color with overlaid darker color)
Non-standard but recognized colors and markings include:
brindle piebald
double dapple
piebald
Self Dachshund Colors
The original Dachshund colors, red and black, are still the most common colors for Dachshunds today. The official breed standard lists base (self) colors that include patterns. This means the pattern is the standard – seeing one color appear without the other is considered rare.
So here is a primer to help you understand how breeders and show judges define each of these Dachshund colors.
Red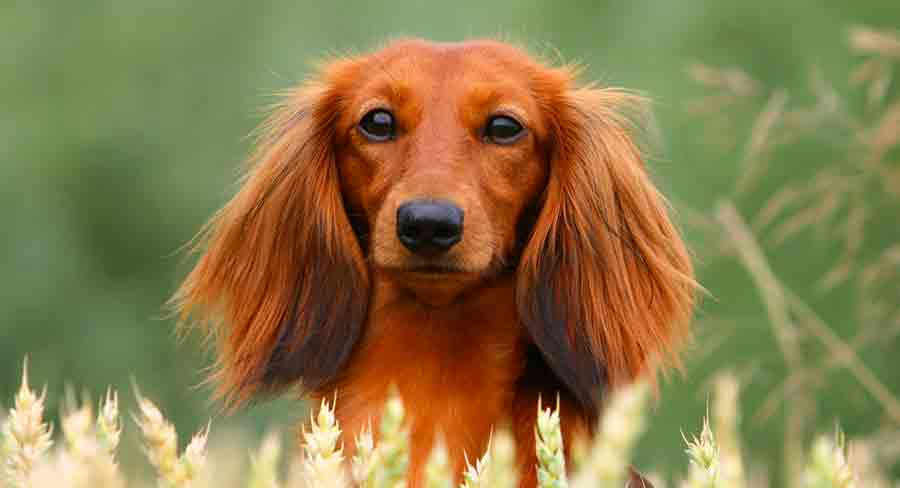 The red color spectrum can range from a very light strawberry blonde to a dark reddish brown.
Black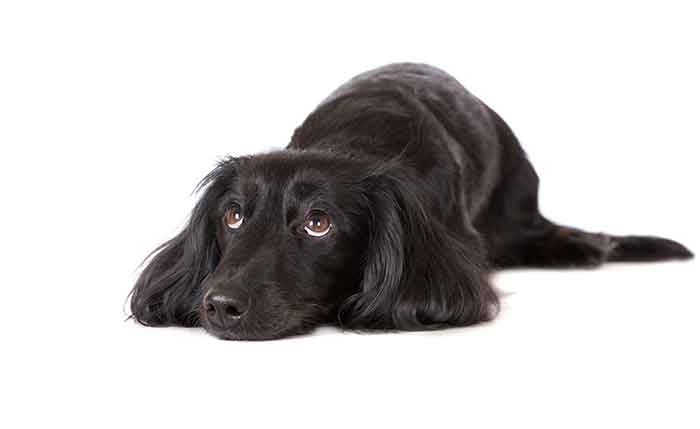 The black coat color is relatively rare only when the dog is all black without any tan markings.
Tan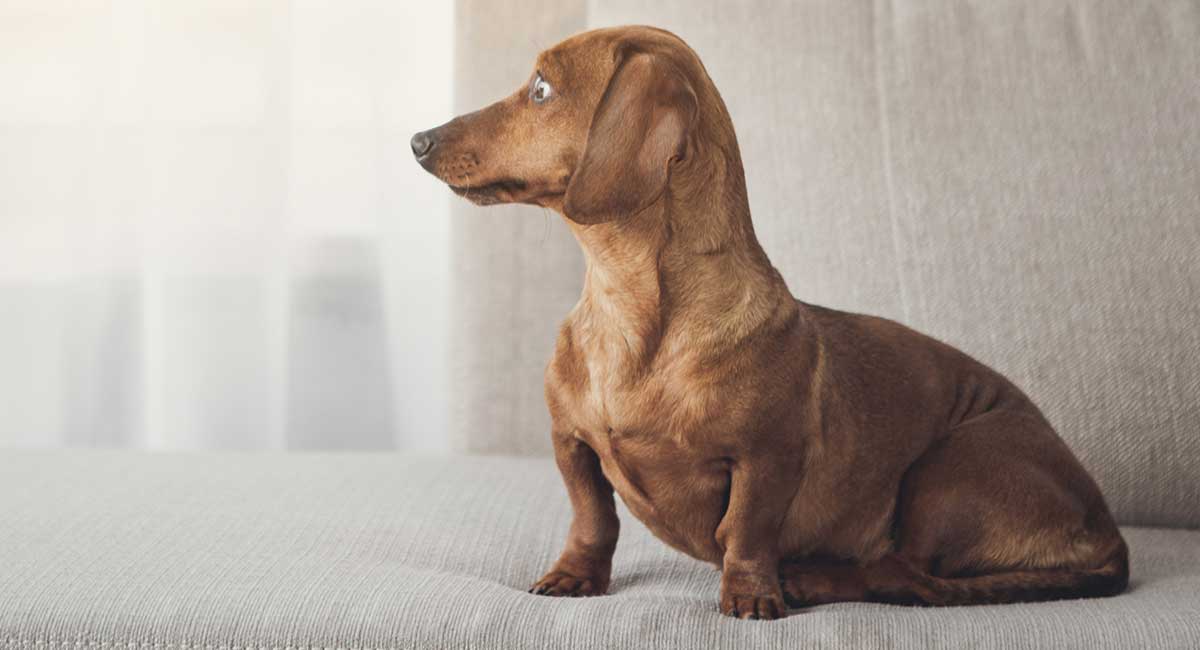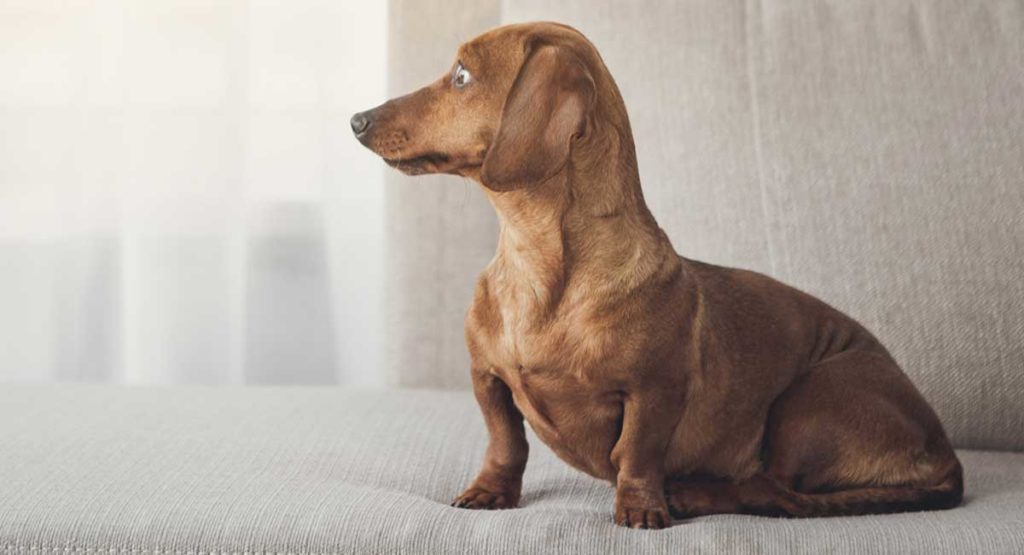 The tan color spectrum can also sometimes be mistaken for red or brown. It ranges from light tan/brown to a darker tan/reddish brown.
Cream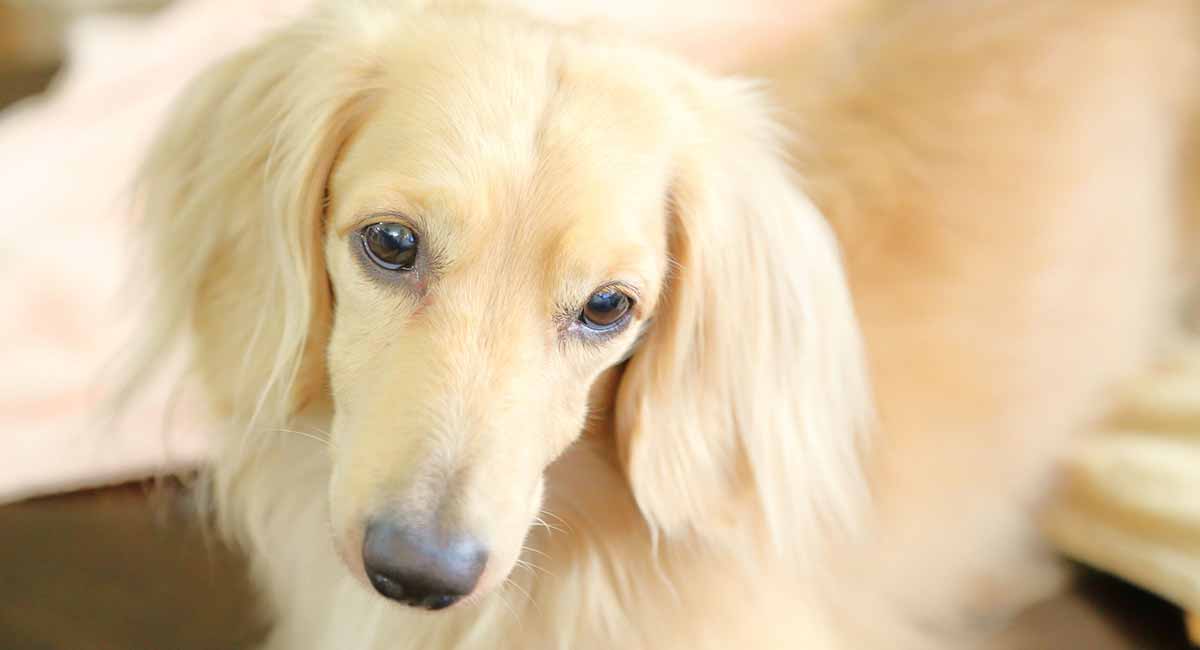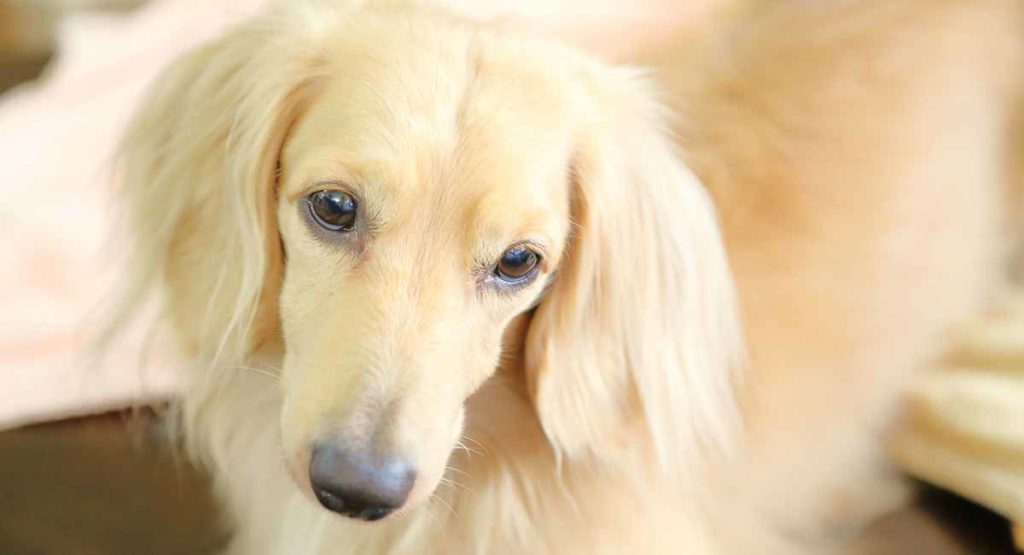 The cream color is most commonly seen in the miniature long hair Dachshunds. This color is a lovely buttery, ivory color with very little variance. Puppies that will grow up with a cream-colored coat often start out life with a darker grey/black coat.
Chocolate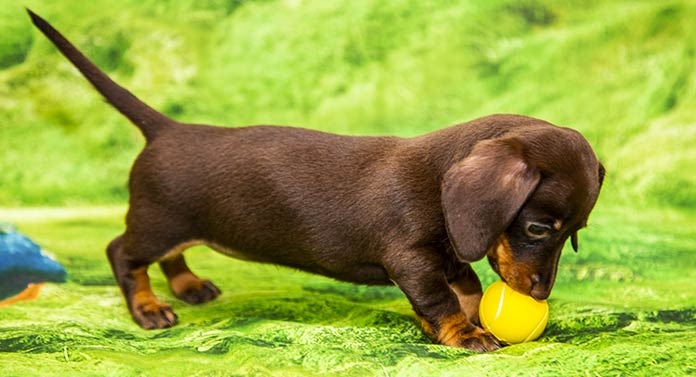 The chocolate coat color is one that can also get confusing, as it looks similar to tan or red. Chocolate will often be combined with tan or cream.
Blue
The coat color commonly called blue is actually a dilute form of black. It can take on more of a blue/steel grey tone or a lavender/grey tone.
Fawn
Sometimes called Isabella, this is a dilute version of chocolate brown. Fawn often looks silvery/tan or silvery/grey or even silvery/blue.
Dachshund Colors and Patterns
Dachshund patterns typically have two colors. There is a main color and an accent color (often called "color points").
In each of these common Dachshund colors and patterns, the first color in the pair typically covers the head and body. The second color in the pair appears above the eyes, on the sides of the muzzle, down the front of the throat and on the paws.
Here are the most common (but not the only possible) Dachshund colors and patterns:
Black & tan.
Blue and tan.
Chocolate & cream.
Fawn (Isabella) and tan.
Dachshund Colors and Markings
The words pattern and markings are used fairly interchangeably to describe different Dachshund colors and combinations.
But in general, these words point to something more than just one self (single) or two co-occurring colors (such as "black and tan").
There is another coloration occurring either because a third color has been introduced or because of how the colors overlay with one another.
The main Dachshund markings are wild boar (some breeders consider this a color rather than a pattern/marking), dapple, double dapple, sable and piebald.
Rare Dachshund Colors
One particularly rare Dachshund color is white. It is acceptable as a minor marking only, like a splash across the chest. Pure white Dachshunds are not eligible to compete in AKC shows.
True all-black or all-chocolate Dachshund coats are also relatively rare.