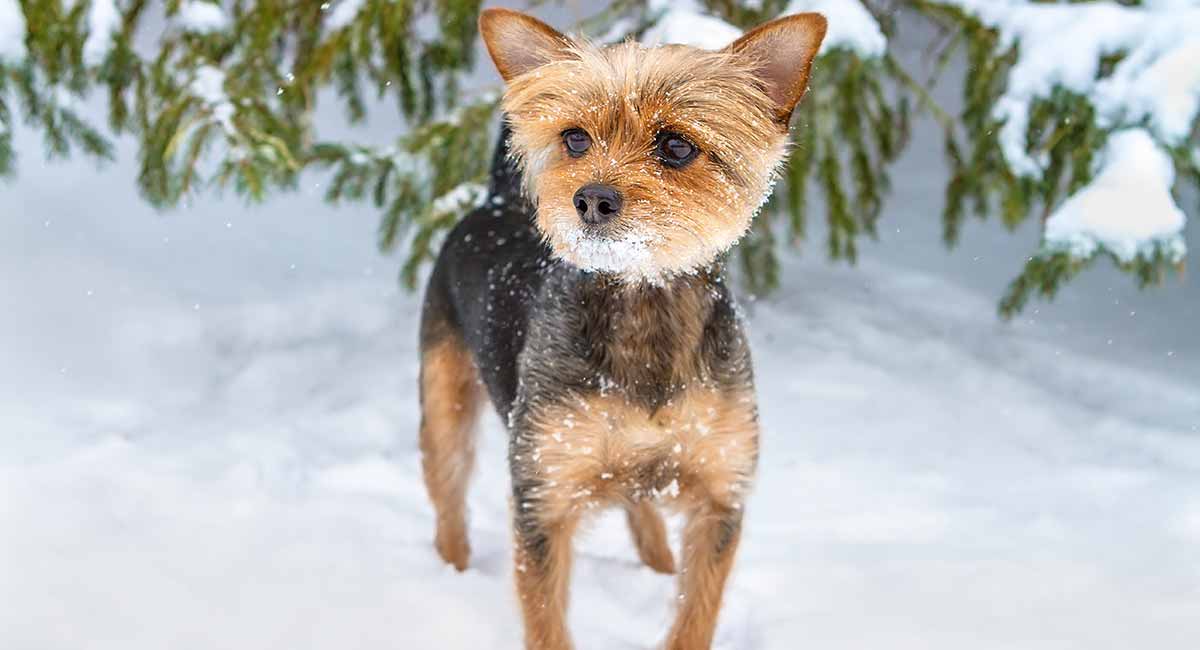 The Chorkie is a cute and confident cross breed. A Yorkie Chihuahua mix, this little dog will weigh up to 10 lbs and be no more than 9 inches tall.
Energetic, inquisitive and loyal, the combination of Yorkshire Terrier and Chihuahua temperaments is sure to make an impression.
Both parent breeds are generally long lived and it is reasonable to assume your Yorkie Chihuahua Mix will also have a good life expectancy. However, there are a few health issues you should be aware of.
Let's dive into the wonderful world of Chorkies and find out if a cute Yorkie Chihuahua pooch is the right canine sidekick for you!
What's In This Guide to the Chorkie?
Chorkie FAQs
Our readers' most popular and frequently asked questions about the Chorkie.
Chorkie: Breed At A Glance
Popularity: A popular designer breed. Parent breed popularity: The Chihuahua is ranked 33rd and the Yorkshire Terrier is ranked 10th of 193 breeds (2019 American Kennel Club (AKC) ranking).
Purpose: Pet (lapdog)
Weight: 6 to 10 pounds
Chorkie Breed Review: Contents
History And Original Purpose Of The Chorkie
Just one single crossbreed mix pup, the Labradoodle, was well known back in 1998. By 2006, eight different mixes of crossbreed pups were gaining in popularity. And by 2016, there were just under 300 successfully crossbred dog mix breeds. Wow!
Clearly, the crossbreed or "designer" pup is here to stay.
The word "designer" specifically denotes two purebred dog parents—each from a different purebred line. These purebreds are bred together to produce a crossbred, mixed litter of puppies.
A great example is the crossbred mix dog we are about to explore here—the Yorkshire Terrier Chihuahua Mix. Let's take a look at the origins and purpose of the Chorkie's parent breeds: the Chihuahua and the Yorkshire Terrier.
Origins Of The Chihuahua
The Chihuahua's main claim to fame is that it is the world's smallest dog breed.
The exact origins of the Chihuahua are speculated, but this dog has been a domesticated breed in Mexico since at least the time of the Aztecs.
It is believed that the Chihuahua descends from a similar, but somewhat larger breed, the Techichi. This larger breed was the chosen canine companion of the Toltecs in Mexico.
The Chihuahua came to America in the mid-1800s. The American Kennel Club (AKC) registered their first Chihuahua in 1908.
Origins Of The Yorkshire Terrier
The Yorkshire Terrier actually has ties back to the working class in Scotland even though this breed is most associated with the English regions of Yorkshire and Lancashire.
It started out as a working dog in Scottish mines and factories seeking out rodents. The Yorkie did eventually make its way to England and was elevated from factory exterminator to a fashionable Victoria era lapdog.
The Yorkie made its big trip across the pond in the 1870s and was recognized by the American Kennel Club in 1885. The UK Kennel Club first registered The Yorkshire Terrier in 1886.
Origins Of The Chorkie
The Yorkie Chihuahua mix first became popular in the 1990s. And Chorkies have been popping up everywhere since then.
You have perhaps seen them frequently inside the tiny purses of famous blonde celebrities, but you'll also in the lives of doting dog lovers across the globe.
Fun Facts About The Chorkie
If you've ever seen a Taco Bell ad, you've probably seen a Chorkie. Rumor has it the famous furry face of the fast food taco brand was actually a Chorkie!
Chorkie Appearance
Appearance can tend to lean toward one parent breed or a blend of both with mixed breed dogs. Pups in the same litter can even look quite different, with one boasting a silky, long coat like a typical Yorkie, while another has the shorter, coarser coat of a short-haired Chihuahua.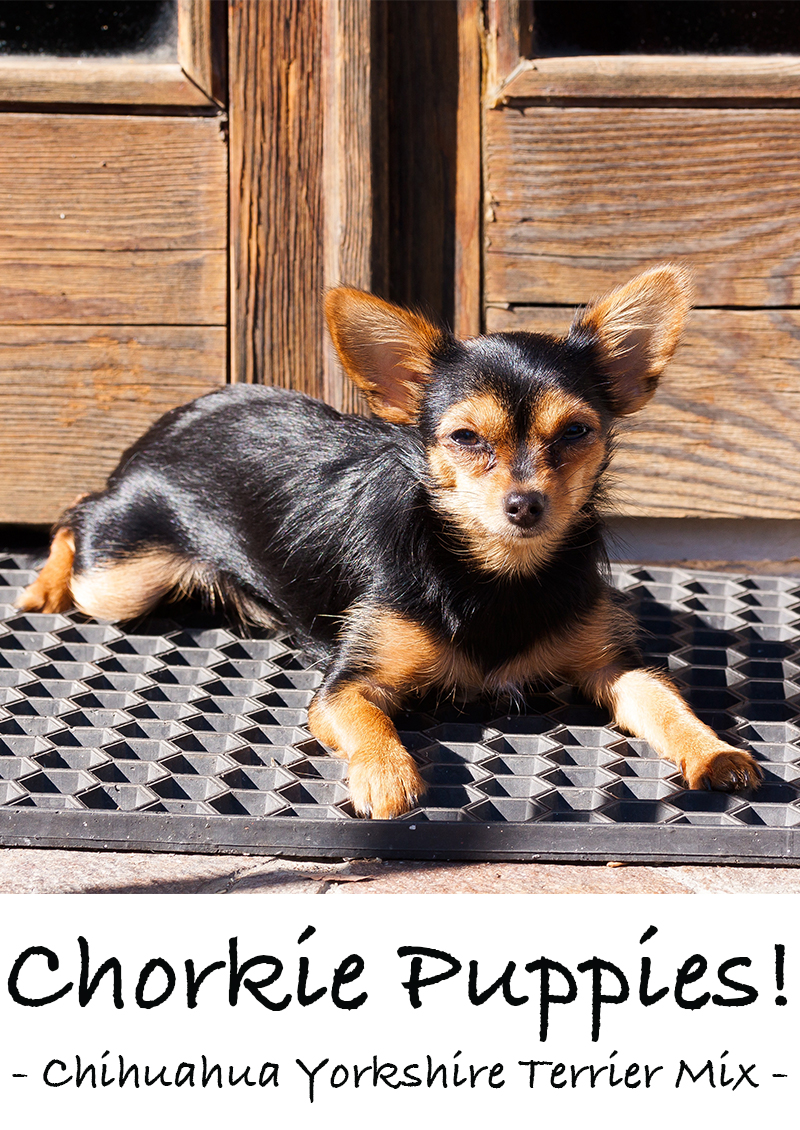 Yorkie Chihuahua mixes are generally tiny dogs that range from 6 to 10 pounds in weight, and 6 to 9 inches in height.
Their appearance will vary depending on the traits inherited from each breed parent.
However, it is hard to say for certain how many Chorkies have the round, dome-like Chihuahua head and a rectangular shaped body with short legs.
Coat lengthen will depend, in part, on whether the Chihuahua parent was a short or long-haired breed. Chorkie coats can range from medium to long, with either a smooth, silky texture or a slightly coarser and wavy look.
Chorkie puppies can display coat colors from white to tan, brown to black, or beige to grey.
Some Chorkies may be predominantly all one color while others may have a mottled aspect with many coat colors mixed in.
This variation in coat coloration, as with other traits, is due to the inherited genetics of each purebred parent.
Essentially, when it comes to the size and appearance of a mixed breed, like a Chorkie, there is always going to be an element of surprise!
Chorkie Temperament
Overall, Chorkie owners report that Chorkies are delightfully outgoing, cheerful, affectionate, and playful dogs. They are active and energetic and eager to be with their families.
Chorkies can also be good guard dogs, especially if the Yorkie side dominates. They definitely exhibit a tendency towards barking that comes from both parents.
Their loyalty also dictates that they feel the need to bark in order to warn you about anything and everything in their environment, just in case you need to know.
Although the Yorkie Chihuahua mix is vocal, they are not known to be aggressive dogs.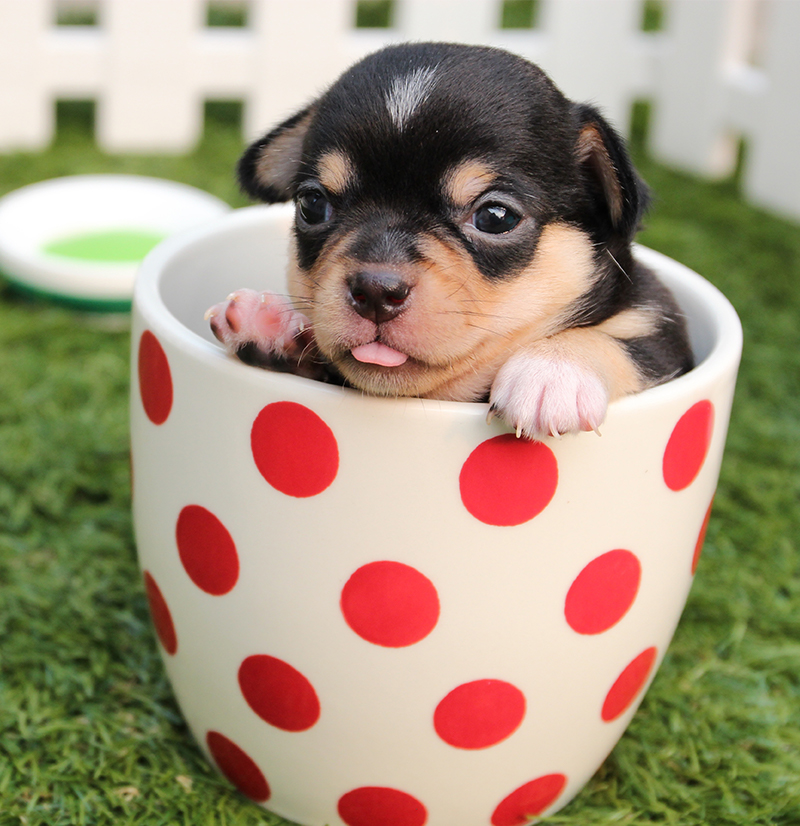 On that note, it is worth mentioning that Chorkies have a reputation for being less easy to train than other breeds.
However, if you use positive reinforcement training methods and the right type of motivation, then you should succeed with perseverance.
Training And Exercising Your Chorkie
Chorkie Training
When it comes to training, both parent breeds are known to be a bit on the stubborn and willful side. However, like their parent breeds, Chorkies are also loyal, intelligent, and eager to please dogs that tend to respond to positive reinforcement.
It is recommended to start training early and to be firm but gentle. The Yorkie side of your dog may respond well to high praise and treats.
Also, with the Yorkie heritage in mind, it is recommended to socialize your Chorkie to other animals, people, and new situations slowly and always in a happy, positive environment.
Chorkie Exercise Requirements
Chorkies need daily exercise. But they do their best with short, mild to moderate intensity walks twice a day. They should also get some play time in there too which can be a more intensive activity in short duration.
Both parent breeds, despite being small, can do well in canine sports utilizing agility. This may be another way to exercise your Chorkie that is enjoyable for you both!
Keep in mind that the Chihuahua hails from a warm climate and gets cold very easily, especially when it comes to outdoor exercise.
They are definitely meant for indoor living. Care should be taken to avoid ever allowing them to get too cold since they have trouble warming themselves quickly enough.
As a result, you should plan to provide dog clothing in cool weather as a necessity, also because they are so very small!
Chorkie Health And Care
The Yorkie Chihuahua mix comes from two relatively healthy and long living breeds.
However, there are a few hereditary health conditions to be aware of in both the Chihuahua and the Yorkshire Terrier line that could affect your Chorkie.
A mixed breed puppy like the Chorkie should have parents fully health tested for conditions which impact their breed. They can potentially pass any of these conditions to their offspring.
Let's take a look at the hereditary health conditions common to the Chihuahua and the Yorkshire Terrier.
Chihuahua Health Concerns
The Chihuahua is predisposed to a few serious health issues. A good breeder will thoroughly health screen the parents to help decrease the chance of passing on any hereditary health problems and ensure healthy offspring.
Patellar Luxation
This orthopedic disease is twelve times more common in small dog breeds and results in the dislocation of the kneecap. It often occurs in one knee but can happen bilaterally as well.
The condition can be congenital and may start to present in dogs as young as 4 months old.
Female dogs are more likely to suffered from patellar luxation than males and one study found that about 23% of Chihuahuas have this condition.
Depending on the severity of the condition, signs include an abnormal gait, pain, and limping. A popping sound may be heard at the moment of dislocation.
Treatment can range from massaging the kneecap back into place, to using a brace, to surgery.
Both parents should be screened for a history of patellar luxation.
Heart Problems
Chihuahuas are susceptible to two different heart problems: patent ductus arteriosus (PDA) and mitral valve disease.
PDA is caused when a small vessel in the heart doesn't close properly after birth, causing fluid build-up, and essentially putting a strain on the heart.
Dogs with PDA have a specific type of heart murmur. Once detected it can often be repaired with heart surgery.
Signs of PDA include coughing, shortness of breath, weakness in the hind legs, and fatigue during exercise.
Mitral valve disease tends to occur in older dogs and is caused by weakened heart valves that allow backflow of blood. It also causes strain on the heart.
If detected early, this condition can sometimes be managed with medication and annual heart testing.
Breeders should have proof of thorough cardiac evaluations of both parents.
Hydrocephalus
This condition is also referred to as "water on the brain."
It is hallmarked by fluid build-up in the skull. This build-up puts pressure on the brain and can cause seizures, lower mental functioning, and a spastic gait.
Hydrocephalus is most common in breeds with dome-shaped heads like the Chihuahua. Treatment can range from medication to surgery.
Hypoglycemia
Smaller dogs are more likely to have trouble with low blood sugar.
They are most susceptible after exercise or a period of excitement, and also if they miss feeding time.
Signs and symptoms include seizure, collapse, and weakness. Contact your veterinarian if you observe any of these signs in your pet.
Tracheal Collapse
The trachea is made of rings of cartilage. Those rings can be weak or improperly formed with this condition. And this can result in the collapse of the trachea.
Signs to look for are coughing and difficulty breathing. Contact your veterinarian right away if you observe these symptoms in your dog.
Mild cases can be treated with medication. More severe cases will likely need surgery.
Allergies
A less serious but common health issue in Chihuahuas is allergies. This breed is prone to atopy, a kind of skin allergy that causes itchiness and affects the feet, ears, belly, and folds of the skin.
Signs often include rubbing of the face, persistent licking, and chronic ear infections.
See your veterinarian if you think your dog may be suffering from allergies.
Recommended Testing for Chihuahuas
Cardiac Exam
Ophthalmological Exam
Patella Evaluation

Yorkshire Terrier Health Concerns
The Yorkie actually has a number of the same health concerns as the Chihuahua.
It has a few more health concerns to be aware of, and they could potentially be passed down to any offspring.
Cushing's Disease
Yorkshire Terriers have an increased chance of developing Cushing's Disease.
This results from overactive adrenal glands. These glands pump out too much steroid hormone into the body.
Signs are frequent drinking and urinating, potbelly, increased appetite, decreased activity levels, thin skin, and hair loss.
Treatment usually involves medication with close monitoring for the correct dosage.
Liver Problems
Yorkies can have a liver disease called portosystemic shunt (PSS).
This occurs when the blood supply to the liver is interrupted and some of the blood intended for the liver actually goes around it.
The liver is then unable to grow or work properly. It cannot remove toxins from the body effectively.
Main signs of PSS are stunted growth and seizures.
This disease is sometimes treated with diet and medication, but in some cases, surgery is needed.
Hemorrhagic Gastroenteritis (HGE)
This condition can affect any breed, but is more common in small breeds and can affect the Yorkie. It is an idiopathic disease and it is not known if the cause is hereditary.
HGE is an acute and serious disorder. If left untreated the dog will die.
It can come on suddenly and is marked by large quantities of bloody diarrhea, decreased appetite, lethargy, a painful abdomen, and fever.
Diagnosis by a vet may require a plethora of testing and the treatment usually includes intravenous fluids, potassium, and electrolytes. Antibiotics and other medications are also administered.
Recommended Testing For The Yorkshire Terrier
Ophthalmologist Evaluation
Patella Evaluation
Chorkie Health Overview
Health issues from either parent breed could affect the Chorkie. You never know what genes have been passed down to your pup. Therefore, conditions common to both breeds are most likely to be inherited.
Both breeds are more likely to develop hypoglycemia (low blood sugar), patellar luxation (knee dislocation), mitral valve disease or PDA, tracheal collapse, and skin allergies.
As these are common to both parent breeds, these conditions are the most likely to affect your Chorkie.
The other important non-genetic health concern you will need to watch for is overfeeding your Chorkie pup.
It is very important to balance food and treats with activity and exercise so this petite pup will stay healthy.
Chorkie Life Expectancy
In general, small breed dogs tend to outlive large breed dogs.
Yorkies and Chihuahuas are two of the longer-living breeds of the small breed dogs. The Yorkie's average lifespan is between 14 and 16 years and the Chihuahua's average lifespan is between 14 and 18 years.
The Chorkie has a slightly shorter average estimated lifespan than the parent breeds of about 10 to 15 years.
Here again, the genetics of the parents can play a huge role in how long your Chorkie lives as well as how healthy they are throughout their life.
Chorkie Grooming Requirements
Grooming and care requirements can also vary from pup to pup, even within the same litter of pups, because the Chorkie is a mixed breed dog.
Long-haired Chorkies will need a minimum of semi-weekly grooming sessions and periodic hair trims to keep their long coat tangle-free, healthy, and manageable.
Short-haired Chorkies will need less frequent grooming.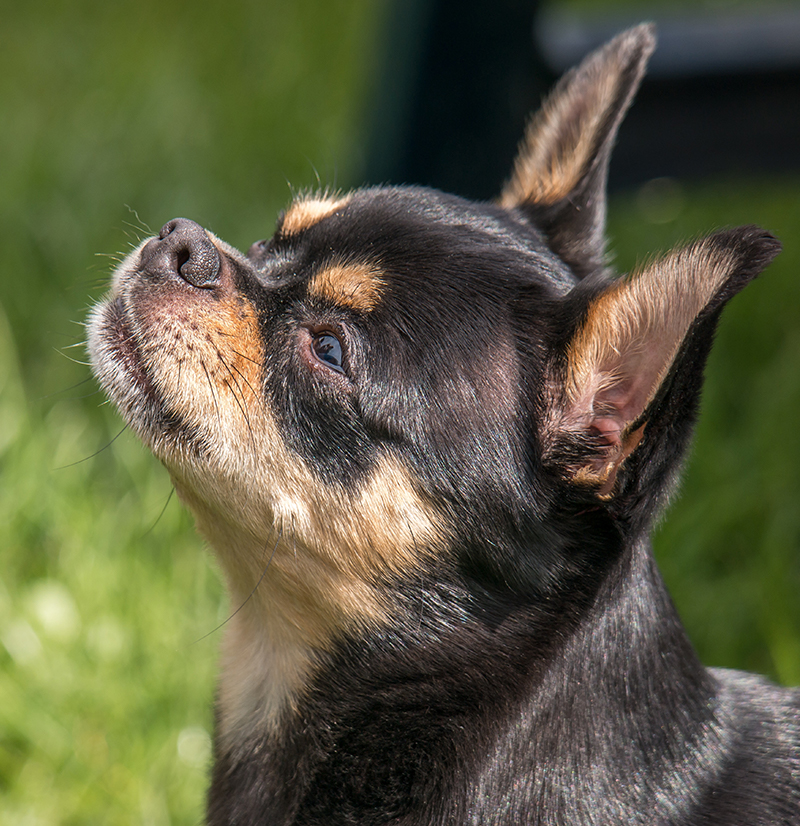 Neither long-haired nor short-haired Chorkies are known to shed a lot which is are characteristic owners tend to love.
As a general rule, it can be good to get in the habit of at least doing once-weekly grooming, ear checks and teeth cleaning sessions.
At the same time, you can also check your Chorkie's body over thoroughly for ticks, fleas, minor injuries, and overall good health.
Do Chorkies Make Good Family Pets?
In general, toy breeds like Chorkies are not the ideal choice for families with small children.
The simple reason for this is that Chorkies are so small themselves that it would be easy for a child to unknowingly step on, fall on, or otherwise hurt a Chorkie.
These loyal, friendly, playful dogs do make good pets for families with older children or for families without children looking an attentive canine companion.
Rescuing a Chorkie
Giving a rescue dog a new home can be a rewarding experience for you both.
They sometimes also come with the added bonus of already being trained. It is also usually cheaper to adopt than purchase a designer breed pup from a breeder.
We have a list of rescues for Chorkies below.
Finding A Chorkie Puppy
You have two main choices for finding a Chorkie puppy as with any new dog. The first choice is to obtain a Chorkie from a breeder. The second choice is to rescue a Yorkie Chihuahua Mix puppy from a shelter.
Puppies from pet stores and online ads are strongly discouraged as they are often sicklier and sometimes have a more difficult temperament as well. You never know how the puppy or its parents have been treated.
It is vitally important to have your veterinarian do a preliminary round of health tests to screen for the possibility of known minor or major breed-specific health issues whether you go with a rescue or a reputable breeder.
As with any other attributes, even two Chorkie puppies from the same litter of pups may not inherit the exact same health issues as their littermates. It all depends on how the parents' genetics are distributed in each Chorkie puppy.
Chorkie Breeders
Finding a good breeder can be a little trickier than finding a good breeder of a purebred dog. But it is still possible.
Make sure you visit the breeder and see that they have a good bond with their dogs. Ensure that they are loved members of the family and not just there to make money.
The mother dog should know her name and respond affectionately to her owner.
A good breeder should ask you lots of questions about your personal situation. And they should be happy to answer any questions you might have about their dogs.
Make sure both the mother and father dogs are fully health tested for any medical conditions that their breed is prone to.
Help Finding a Puppy
Picking your new best friend can be tricky. But you're in luck!
Choosing The Perfect Puppy is a book. Packed full of tips for deciding which breed to welcome into your home.
Including detailed reviews of the most popular breeds.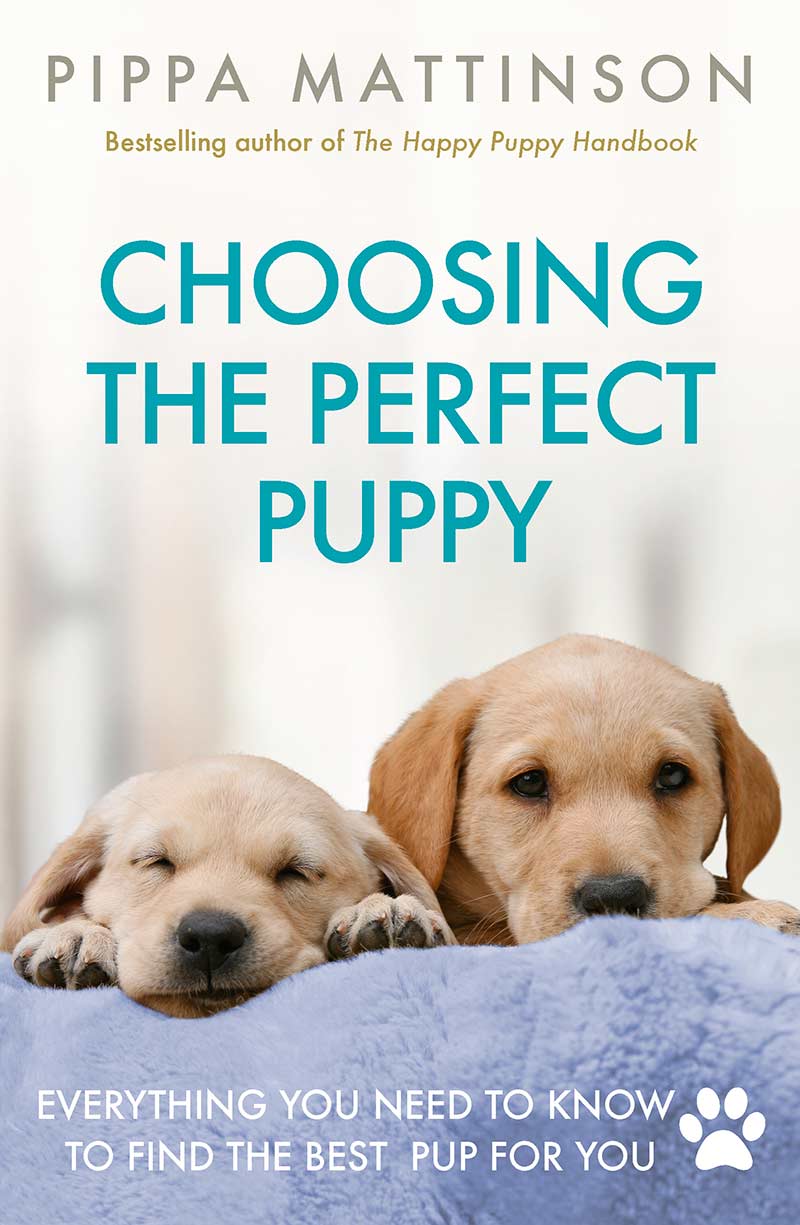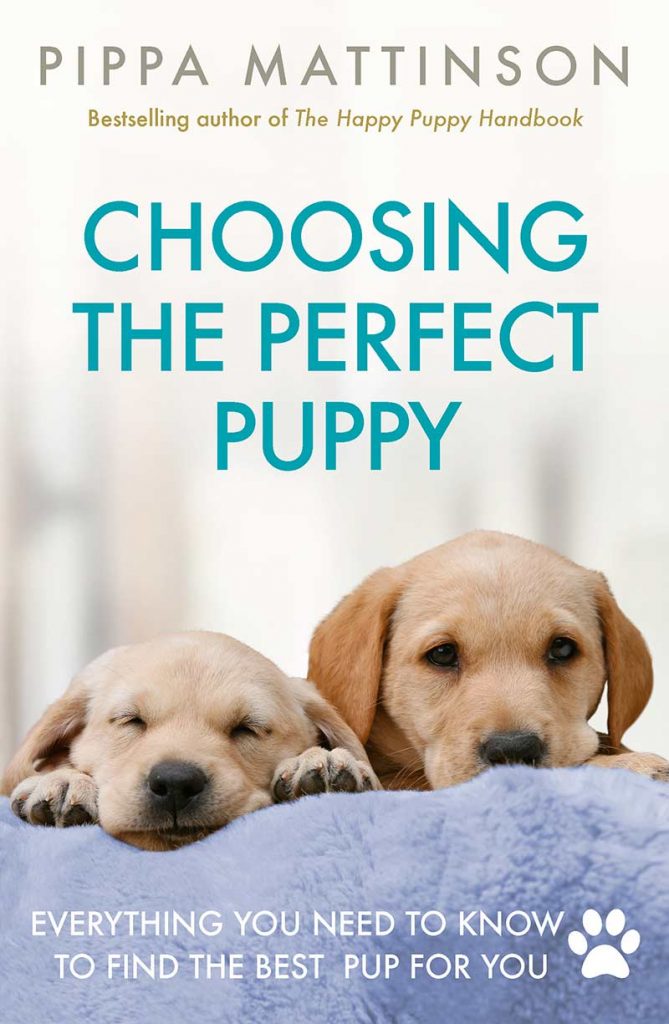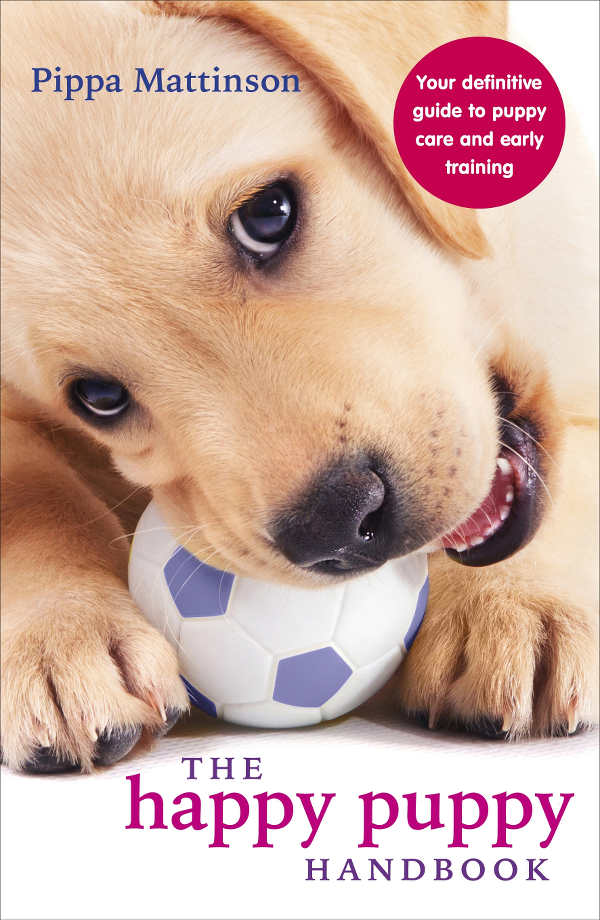 Order your copy from Amazon today.
Raising A Chorkie Puppy
A Chorkie puppy will certainly be cute, but they will also a hand full! Be sure you are prepared for the time and effort it takes to care for and train a new puppy.
It is recommended to start training and socialization, to both people and other animals, early on. Be firm but patient and gentle with your pup. Don't allow any behaviors that you don't want to see in your adult Chorkie.
Here are some articles you may find helpful when training your new pint-sized best friend:
Chorkie Products And Accessories
Here are a few tips on ways to keep your Chorkie active, entertained, warm, and looking their best!
Pros And Cons of Getting A Chorkie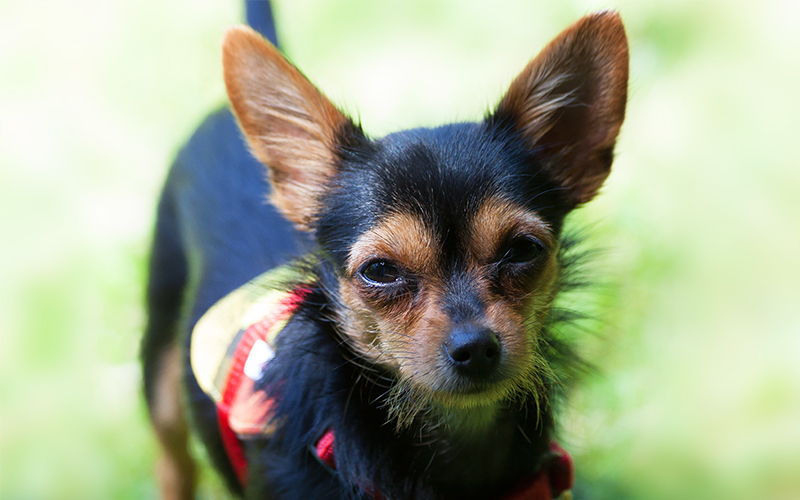 There is a lot of information to consider if you are thinking about bringing a Chorkie into your life. Let's take a look at the pros and cons of this designer breed:
Cons
There are a few serious hereditary health concerns that your Chorkie could inherit
Chorkies are not the best fit for families with small children
They are a vocal breed
Depending on the coat they inherit, your dog may need bi-weekly brushing
Chorkies can be more challenging to train than other breeds
Pros
Chorkies are loyal, friendly, and eager to please dogs
They tend to have a good life expectancy

Yorkie Chihuahua Mixes

usually get along with other animals well when socialized early
They are good indoor dogs that don't require a lot of space for exercise
Chorkies are low shedders and short hair Chorkies are low maintenance for grooming
Comparing The Chorkie With Other Breeds
Chorkie And The Chion—Papillon Chihuahua Mix
The Chorkie is similar in many ways to the Papillon Chihuahua Mix, the Chion. Both are similar in weight, but the Chion can be slightly taller.
They are similar in temperament as well. Both these breeds are friendly lap dogs that can have a fierce streak when confronted with large dog breeds.
The Papillion does not have an undercoat, so their silky long hair often only needs monthly brushing. Depending on the Chihuahua it is mixed with, your Chion could be very low maintenance in the grooming department.
The Chion has a slightly better life expectancy than the Chorkie at 12 to 15 years, though both dogs are predisposed to some serious health issues.
For more on the Chion Mix breed click here.
Chorkie And The Shorkie—A Shih Tzu Yorkie Mix
The Shorkie, a Shih Tzu Yorkie Mix, can grow up to 15 pounds, about 5 pounds more than a large Chorkie.
With their fleecy undercoat and silky second coat, Shorkies require more grooming than the average Chorkie, with daily brushing often needed.
Both of these Yorkie mix breeds are loyal and highly attached to their owners, however, the Shorkie can be less tolerant of children than the Chorkie, making the Chorkie a better family pet.
These breeds also differ in terms of health concerns. The Shorkie is considered a brachycephalic dog, inheriting its short muzzle, and related breathing difficulties, from the Shih Tzu parent breed.
For more information about the Shorkie, click here
Similar Breeds
If you are intrigued by the tiny but bold Chorkie, here are some other mixes you may be interested in as well:
Check out these articles for more information on other popular Chihuahua and Terrier mix breeds:
Chorkie Breed Rescues
While you may understandably be wondering if it is even possible to obtain a Chorkie from a rescue shelter, new advances in genetic science are providing an unexpected benefit for rescue shelters trying to place dogs in new forever homes.
Some shelters have started doing DNA testing on dogs that are turned in at rescue shelters and appear to have purebred or designer dog roots.
This accomplishes two very important goals: first, it identifies popular cross breeds and purebred dogs who are in high demand among dog lovers; and second, it matches the breed to the dog so any known breed-specific genetic or health issues can be planned for and tested for in advance.
In this way, if you are a fan of finding Chorkies for adoption rather than purchasing a crossbred puppy from Chorkie breeders, you may be able to verify at the shelter that the dog you are adopting is, in fact, a true crossbred Chorkie!
Rescue Societies
While not all breeds, especially mixed breeds, have a specific breed rescue organization, most rescues dedicated to either parent breed will also take in related mixes as well.
US Rescues
UK Rescues
Canada Rescue
Australia Rescue
Please leave a comment below to join one of our listings.
Is a Chorkie Right For You?
If you are looking for a tiny companion that is loyal and affectionate, with an outgoing personality, this might be the dog for you.
If you have small children in the house or are not home often, this may not be the dog for you right now.
The Chorkie is best suited to an attentive owner that has time for cuddles, regular brushing, patient training, and leisurely daily walks.
Do you have a Chorkie? We'd love to hear about the antics of your Yorkie Chihuahua mix!
References And Resources
This article has been extensively revised and updated for 2019.