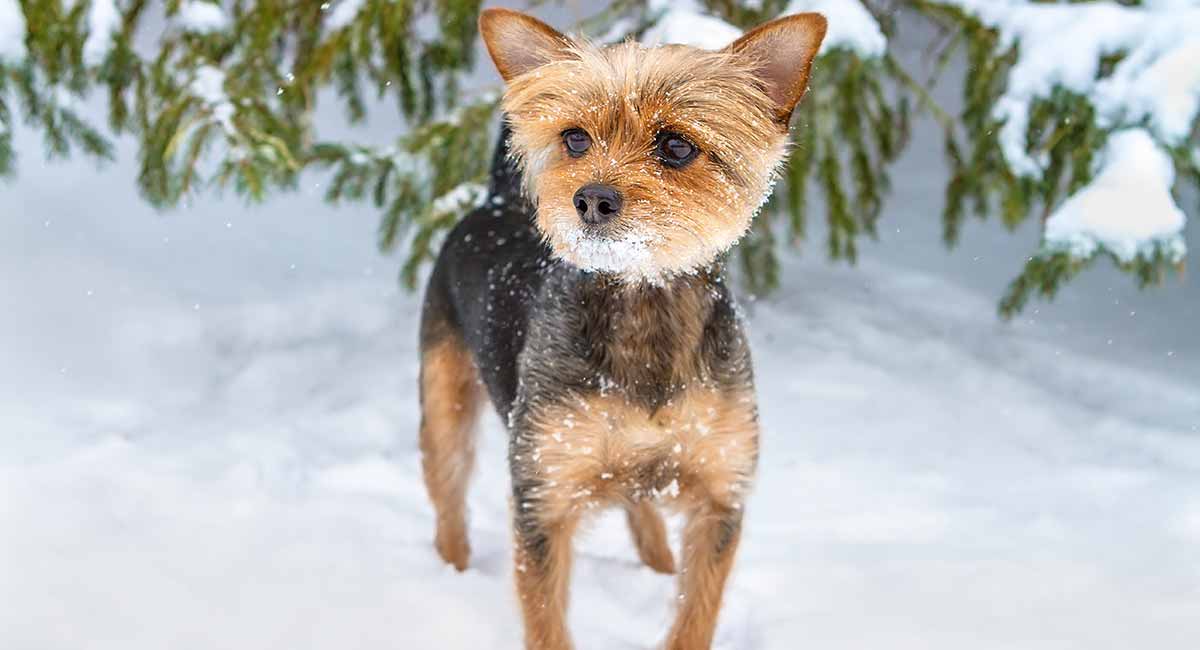 Chorkie dogs are a designer breed, a hybrid mixing the purebred Chihuahua with the pedigree Yorkshire Terrier. They are confident, smart and affectionate, with a protective streak that makes them good watchdogs too. These small dogs are loyal companions that will weigh up to 10lbs and stand 9 inches tall. Their small size and big attitude makes them a better fit for older kids or adult only homes. Chihuahua Yorkie mix dogs have energetic and inquisitive traits, and tend to live into their teen years. They have long or short coats in a range of colors and patterns.
Contents
A Varied History
The Yorkie Chihuahua mix first became popular in the 1990s. And they have been popping up everywhere since then. You have perhaps seen them frequently inside the tiny purses of famous blonde celebrities, but you'll also in the lives of doting dog lovers across the globe. To look further into their past, we need to study their parent breeds, the Chihuahua and Yorkie.
The Chihuahua's main claim to fame is that it is the world's smallest dog breed. This dog has been a domesticated breed in Mexico since at least the time of the Aztecs. It is believed that the Chihuahua descends from a similar, but somewhat larger breed, the Techichi. The Chihuahua came to America in the mid-1800s. The American Kennel Club (AKC) registered their first Chihuahua in 1908.
The Yorkshire Terrier has ties back to the working class in Scotland even though this breed is most associated with the English regions of Yorkshire and Lancashire. It started out as a working dog in Scottish mines and factories seeking out rodents. The Yorkie did eventually make its way to England and was elevated from factory exterminator to a fashionable Victoria era lapdog. The Yorkie made its big trip across the pond in the 1870s and was recognized by the American Kennel Club in 1885. The UK Kennel Club first registered The Yorkshire Terrier in 1886.
What Do Chorkie Dogs Look Like?
Their appearance will vary depending on the traits inherited from each breed parent. However, it is hard to say for certain how many Chorkies have the round, dome-like Chihuahua head and a rectangular shaped body with short legs.
Appearance can tend to lean toward one parent breed or a blend of both with mixed breed dogs. Pups in the same litter can even look quite different, with one boasting a silky, long coat like a typical Yorkie, while another has the shorter, coarser coat of a short-haired Chihuahua.
Yorkie Chihuahua mixes are generally tiny dogs. They range from 6 to 10 pounds in weight, and 6 to 9 inches in height.
Coats and Colors
Coat lengthen will depend, in part, on whether the Chihuahua parent was a short or long-haired breed. Chorkie coats can range from medium to long, with either a smooth, silky texture or a slightly coarser and wavy look.
Chorkie puppies can display coat colors from white to tan, brown to black, or beige to grey.
Some Chorkies may be predominantly all one color while others may have a mottled aspect with many coat colors mixed in.
This variation in coat coloration, as with other traits, is due to the inherited genetics of each purebred parent. Essentially, when it comes to the size and appearance of a mixed breed, like a Chorkie, there is always going to be an element of surprise!
Chorkie Grooming
Grooming and care requirements can also vary from pup to pup, even within the same litter of pups, because the Chorkie is a mixed breed dog.
Long-haired Chorkies will need a minimum of semi-weekly grooming sessions and periodic hair trims to keep their long coat tangle-free, healthy, and manageable. Short-haired Chorkies will need less frequent grooming. Neither long-haired nor short-haired Chorkies are known to shed a lot which is are characteristic owners tend to love.
As a general rule, it can be good to get in the habit of at least doing once-weekly grooming, ear checks and teeth cleaning sessions. At the same time, you can also check your Chorkie's body over thoroughly for ticks, fleas, minor injuries, and overall good health.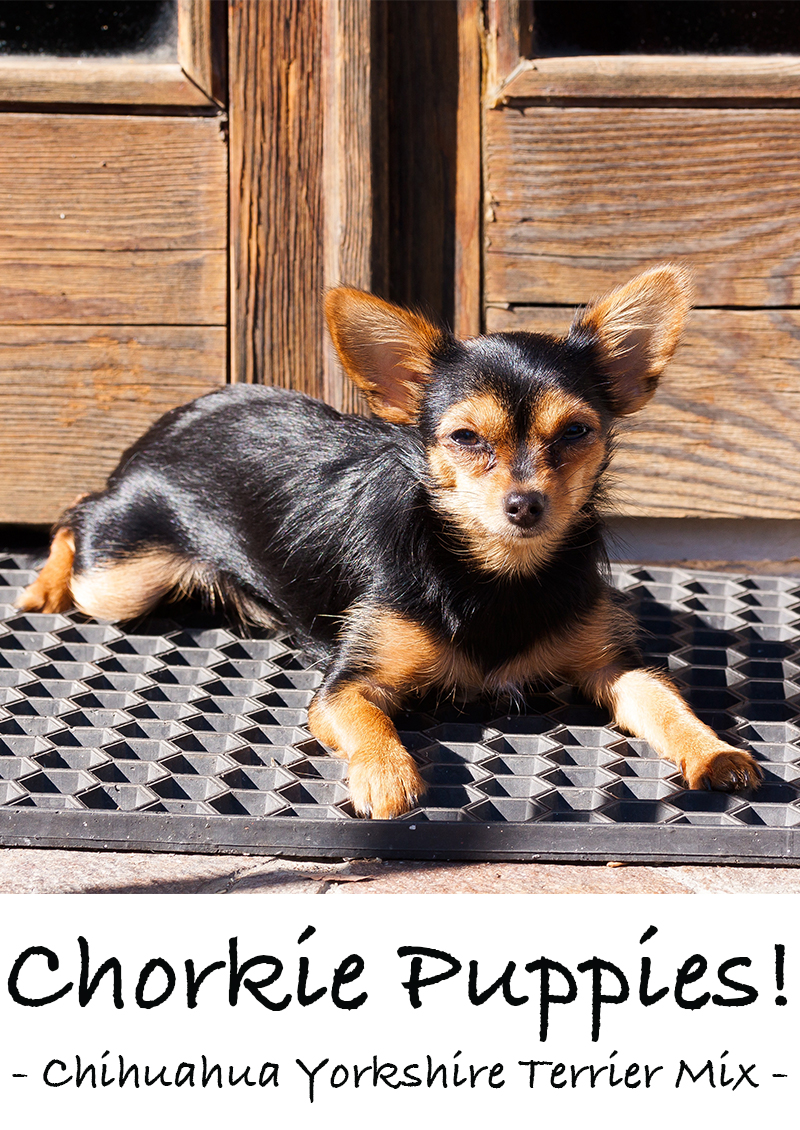 Are They Friendly?
Chorkies are delightfully outgoing, cheerful, affectionate, and playful dogs. They are active and energetic and eager to be with their families, but can also be good guard dogs. Especially if the Yorkie side dominates. They definitely exhibit a tendency towards barking that comes from both parents.
Their loyalty also dictates that they feel the need to bark in order to warn you about anything and everything in their environment, just in case you need to know. Although the Yorkie Chihuahua mix is vocal, they are not known to be aggressive dogs.
Do Chorkies Make Good Family Pets?
These loyal, friendly, playful dogs do make good pets for families with older children or for families without children looking an attentive canine companion.
In general, toy breeds like Chorkies are not the ideal choice for families with small children. The simple reason for this is that Chorkies are so small themselves that it would be easy for a child to unknowingly step on, fall on, or otherwise hurt a Chorkie.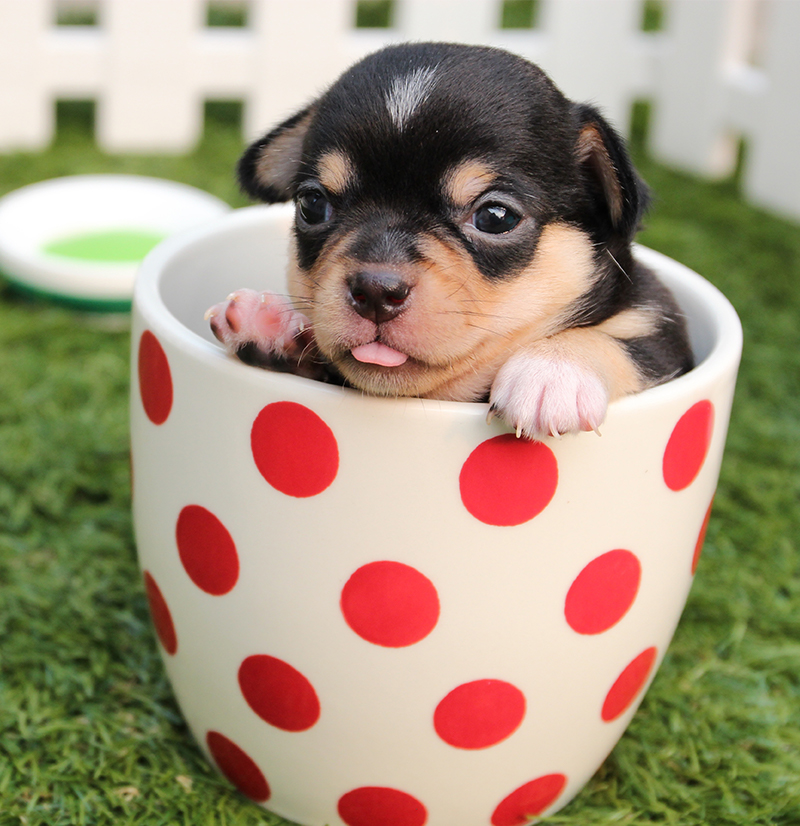 Training and Exercise
When it comes to training, both parent breeds are known to be a bit on the stubborn and willful side. However, like their parent breeds, Chorkies are also loyal, intelligent, and eager to please dogs that tend to respond to positive reinforcement.
It is recommended to start training early and to be firm but gentle. The Yorkie side of your dog may respond well to high praise and treats. Also, with the Yorkie heritage in mind, it is recommended to socialize your Chorkie to other animals, people, and new situations slowly and always in a happy, positive environment.
Chorkies need daily exercise. But they do their best with short, mild to moderate intensity walks twice a day. They should also get some play time in there too which can be a more intensive activity in short duration. Both parent breeds, despite being small, can do well in canine sports utilizing agility. This may be another way to exercise your Chorkie that is enjoyable for you both!
Keep in mind that the Chihuahua hails from a warm climate and gets cold very easily, especially when it comes to outdoor exercise. They are definitely meant for indoor living. Care should be taken to avoid ever allowing them to get too cold since they have trouble warming themselves quickly enough. As a result, you should plan to provide dog clothing in cool weather as a necessity, also because they are so very small!
Chihuahua and Yorkshire Terrier Health
The Yorkie Chihuahua mix comes from two relatively healthy and long living breeds. However, there are a few hereditary health conditions to be aware of in both the Chihuahua and the Yorkshire Terrier line that could affect your Chorkie. Health issues from either parent breed could affect the Chorkie. You never know what genes have been passed down to your pup. Therefore, conditions common to both breeds are most likely to be inherited.
Both breeds are more likely to develop hypoglycemia (low blood sugar), patellar luxation (knee dislocation), mitral valve disease or PDA, tracheal collapse, and skin allergies. As these are common to both parent breeds, these conditions are the most likely to affect your Chorkie. The other important non-genetic health concern you will need to watch for is overfeeding your Chorkie pup. It is very important to balance food and treats with activity and exercise so this petite pup will stay healthy.
The Chihuahua is predisposed to a few serious health issues. A good breeder will thoroughly health screen the parents to help decrease the chance of passing on any hereditary health problems and ensure healthy offspring.
Patellar Luxation
Heart Problems
Hydrocephalus
Hypoglycemia
Tracheal Collapse
Allergies
Cardiac Exam
Ophthalmological Exam
Patella Evaluation
The Yorkie actually has a number of the same health concerns as the Chihuahua. It has a few more health concerns to be aware of, and they could potentially be passed down to any offspring.
Cushings Disease
Liver Problems
Hemorrhagic Gastroenteritis
Ophthalmologist Evaluation
Patella Evaluation

Chorkie Life Expectancy
In general, small breed dogs tend to outlive large breed dogs. Yorkies and Chihuahuas are two of the longer-living breeds of the small breed dogs. The Yorkie's average lifespan is between 14 and 16 years and the Chihuahua's average lifespan is between 14 and 18 years.
The Chorkie has a slightly shorter average estimated lifespan than the parent breeds of about 10 to 15 years. Here again, the genetics of the parents can play a huge role in how long your Chorkie lives as well as how healthy they are throughout their life.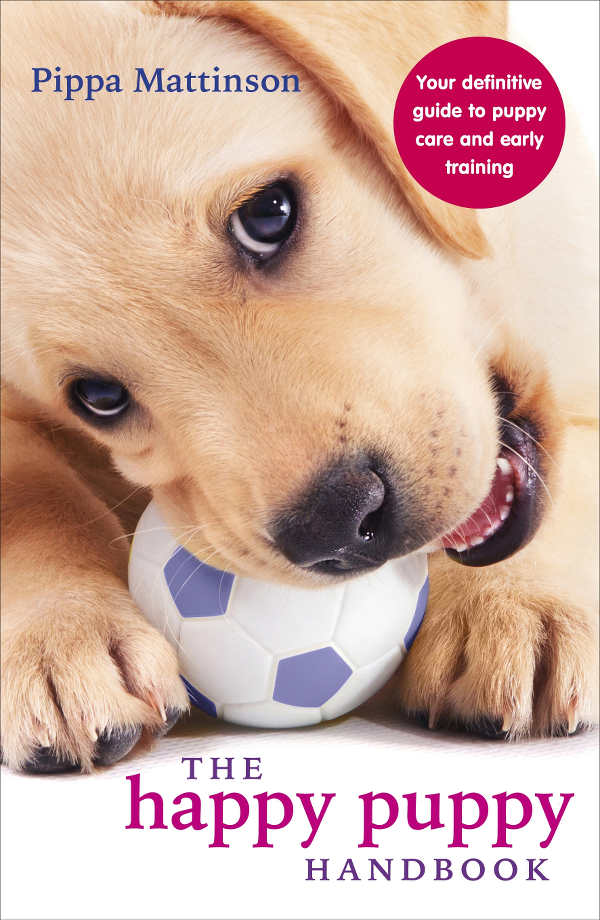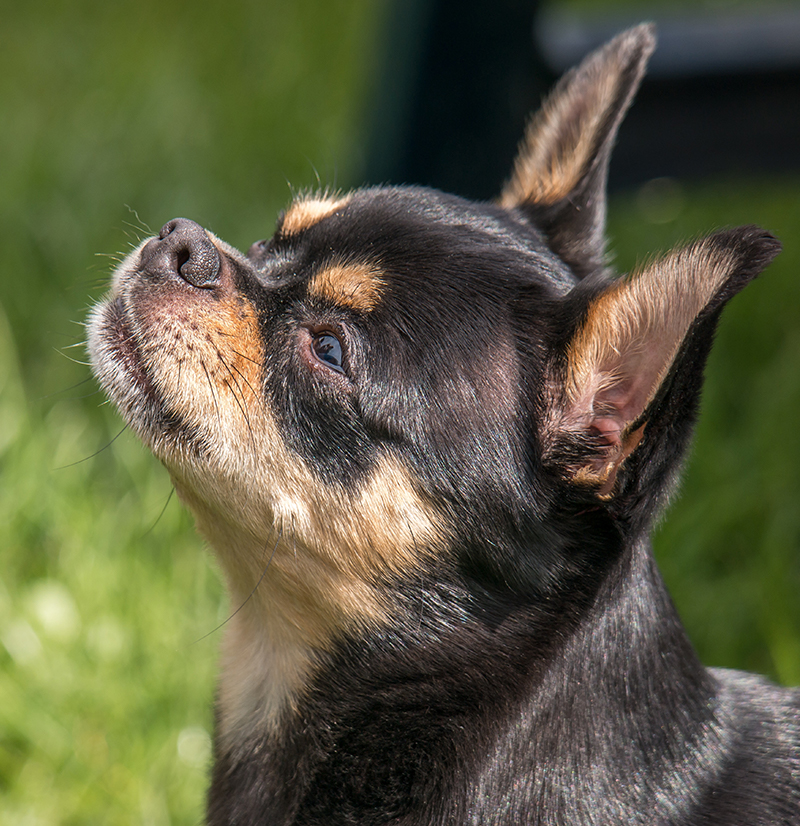 Shelter Dogs
Giving a rescue dog a new home can be a rewarding experience for you both. They sometimes also come with the added bonus of already being trained. It is also usually cheaper to adopt than purchase a designer breed pup from a breeder. We have a list of rescues for Chorkies below.
Finding A Chorkie Puppy
You have two main choices for finding a Chorkie puppy as with any new dog. The first choice is to obtain a Chorkie from a breeder. The second choice is to rescue a Yorkie Chihuahua Mix puppy from a shelter. Puppies from pet stores and online ads are strongly discouraged as they are often sicklier and sometimes have a more difficult temperament as well. You never know how the puppy or its parents have been treated.
It is vitally important to have your veterinarian do a preliminary round of health tests to screen for the possibility of known minor or major breed-specific health issues whether you go with a rescue or a reputable breeder.
As with any other attributes, even two Chorkie puppies from the same litter of pups may not inherit the exact same health issues as their littermates. It all depends on how the parents' genetics are distributed in each Chorkie puppy.
Ethical Breeders
Finding a good breeder can be a little trickier than finding a good breeder of a purebred dog. But it is still possible. Make sure you visit the breeder and see that they have a good bond with their dogs. Ensure that they are loved members of the family and not just there to make money. A newborn Chihuahua is tiny and a newborn Yorkie is not much bigger, these petite dogs need special care and so do their parents.
The mother dog should know her name and respond affectionately to her owner. A good breeder should ask you lots of questions about your personal situation. And they should be happy to answer any questions you might have about their dogs.
Make sure both the mother and father dogs are fully health tested for any medical conditions that their breed is prone to.