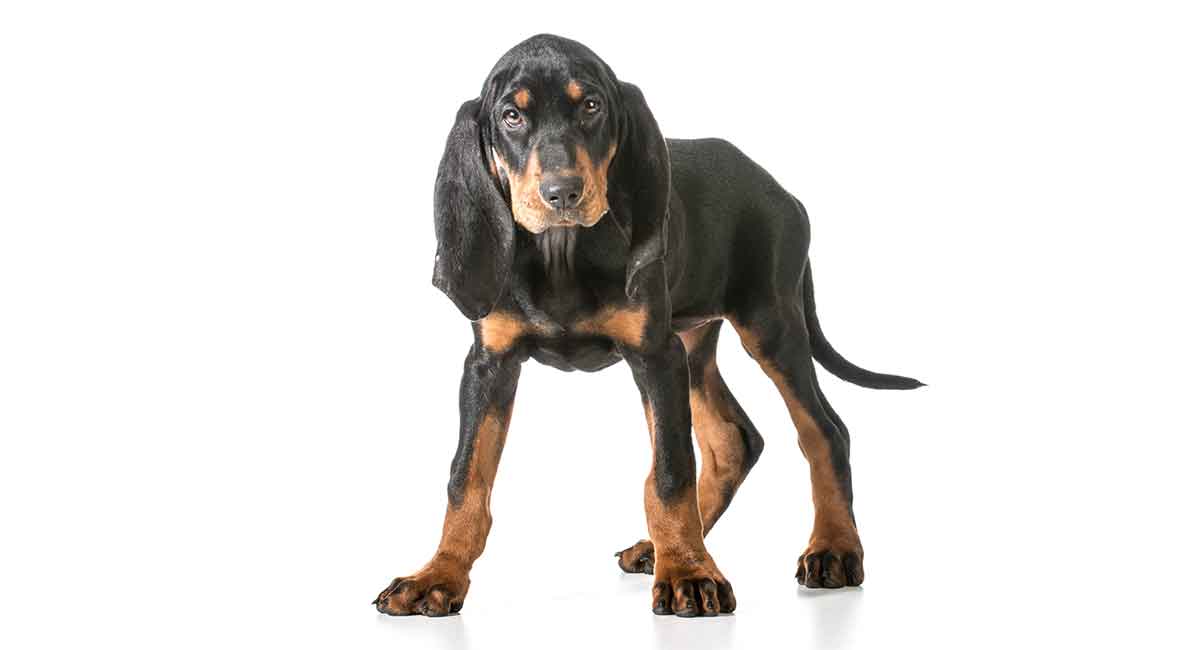 The Black and Tan Coonhound is an American hunting dog bred to track raccoons. An active, working breed, this is a tireless, independent dog that needs a serious amount of exercise. Their coat color, sense of smell and long soft ears give a nod to their Bloodhound ancestors. But this is a taller dog, with males reaching up to 27 inches in height.
In an energetic family that loves hiking, hunting, or running, Black and Tan Coonhounds can make great companions. They are relaxed, gentle and friendly at home and get along well with other dogs and children. Like most hounds this sociable breed isn't much of a guard dog and can be noisy if left alone. It's not the easiest breed to train and may be better suited to a more experienced owner.
Contents
We're going to learn about the black and tan Coonhound, including how coat color, temperament, health and more all tie into genetics. Here's some cute 3 week old Black and Tan Coonhound puppies starting to explore the world
What Is the Origin of the Black and Tan Coonhound?
The American Kennel Club refers to the black and tan Coonhound as an American original. But what is his background?
Deriving his name from the prey he hunted, the black and tan Coonhound was a raccoon's worst nightmare and a hunter's best friend. He stalked raccoons at night using his one-of-a-kind Coonhound howl to lead his human to his catch. The raccoon skin cap is a famous American staple.
The black and tan Coonhound, and his other Coonhound relatives, are to thank for this interesting fashion statement. Most believe this dog was created by crossing a number of hound dogs, including the Bloodhound and the Foxhound.
The mix resulted in a well-mannered, lazy dog by day who turns into a fearless, musical hunter by night. The black and tan Coonhound was the first Coonhound type to be registered by the American Kennel Club in 1945. Today he sits at number 130 out of 194 on the American Kennel Club's list of most popular dog breeds.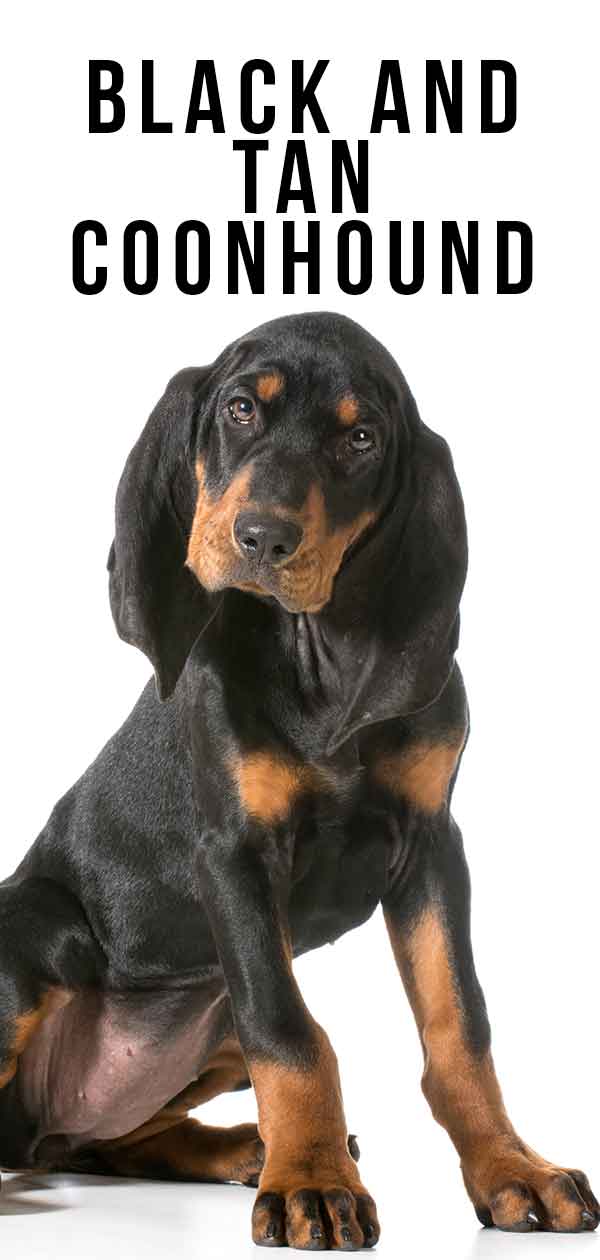 What Does a Black and Tan Coonhound Look Like?
True to his name, the black and tan Coonhound is an unmistakable hound breed.
His dense, smooth coat lays flat on his skin. The breed has long ears; loose skin around his face, muzzle, and back; expressive brown eyes; and a long tail.
He is primarily black with tan markings around his nose, on his paws and the underside of his back legs. He is a proportionate dog with a sweet face to match his even-tempered personality.
How Big Do Black and Tan Coonhounds Get?
The black and tan Coonhound size can vary, depending on gender and genetics. But they are usually leggy dogs.
A males can grow to be between 25 and 27 inches tall. And females can grow to be between 23 and 25 inches.
Weight can vary as well. Individuals can weigh anywhere from 65 pounds to a whopping 110 pounds.
What Is the Black and Tan Coonhound Temperament Like?
When you encounter a black and tan Coonhound puppy, your heart will surely melt. Maybe it's the doleful eyes, those too-long ears or that big personality.
Playful and clumsy, an American black and tan Coonhound grows up to be mellow and mild-mannered. This is a devoted, even-tempered, companion who does well with children, and exhibits patience and affection.
However, he will not be as playful as his puppy-self once was. He prefers to watch the action from the fireside rather than partake.
Still, this is a pooch who requires plentiful exercise every day.
Health Issues and Life Expectancy of the Black and Tan Coonhound
Like many larger breeds, the black and tan Coonhound's life expectancy is not exceptional. Living anywhere from 10 to 12 years, this breed is well constructed and relatively healthy.
Like all dogs, this breed can be prone to some genetic health issues a potential owner should be aware of.Keep an eye out for ectropion, hypothyroidism and canine hip dysplasia.
Your black and tan Coonhound's ears need special attention. They are prone to ear infections if not properly cared for. Keep them clean and dry with a high-quality ear cleaning solution. Be careful during bathing not to get excess moisture in his deep ear canals.
Your black and tan Coonhound can also be predisposed to dental issues, so his teeth should be looked after and cleaned often.
The Black and Tan Coonhound–Does Color Affect Temperament?
Have you ever heard of what's known as the "black dog syndrome"? Many speculate that black or darker-colored dogs are adopted or purchased less due to the stigma of their black fur. Superstitions and rumors are to blame for the myth that black or dogs with dark fur are more aggressive and represent negative entities. Some also speculate black-coated animals are an omen of death.
The Science of Black Coats
However, according to Stanley Cohen, Ph.D., there is no real correlation between coat color and temperament. No legitimate scientific studies prove that dark coat colors in dogs are colors to fear. In fact, many studies show that dogs with black fur, like the black Labrador Retriever, actually rate lower on a scale of aggression.
If you want to find out what the best dog breed would be for you and your family, researching a reputable breeder is recommended. But when it comes to actual behavior, doing research on training and socializing your dog is highly recommended. Follow these steps below, and you will surely have a much happier and healthier dog regardless of coat color.
How Do You Groom a Black and Tan Coonhound?
Grooming your black and tan Coonhound is simple. This is a wash-and-wear dog whose short coat lays flat to his skin.
While this is a shedding breed, he sheds most once or twice a year during shedding season. Black and tan Coonhound shedding is easy to manage so long as he is brushed weekly and bathed occasionally. Weekly brushing should be enough to keep loose hair from covering your furniture and clothing, though a daily grooming, if you have time, is an enjoyable way to bond with your dog
Like all dogs, unless exercised on hard surfaces, the black and tan Coonhound will also need his nails trimmed regularly.
Socializing the Black and Tan Coonhound
The black and tan Coonhound is social, and he can be prone to boredom and dislikes being alone. This is a vocal breed who will let you know if he is lonely.
There is no ignoring a Black and Tan Coonhound bark. Doggy siblings are a great way to keep this breed happy if you are unable to be home with him and keep him company. And while the black and tan Coonhound personality is even-tempered and affectionate, he should be trained and socialized early on.
Black and Tan Coonhound Exercise
He will do great with a good play session in the backyard or a nice long walk on a leash.
Remember, the black and tan Coonhound is a hunting dog at heart. He will chase instinctively after smaller animals like squirrels and rabbits. So until your dog has a reliable recall, he will always need to be wear a long line when exercised outside of the home or other secure area
His backyard should be securely fenced in with a nice, tall dog proof fence.
Training the Black and Tan Coonhound
A prospective owner should also note that while intelligent, the black and tan Coonhound can have an independent streak.
He will not so much want to follow rules but will instead tolerate them.
Positive reinforcement works wonders, and it's important to start as early as you can, teaching your dog to focus on you, and pay attention to you, before progressing to obedience training.
Is the Black and Tan Coonhound Dog Right for Your Family?
If you are looking for an easygoing dog who is patient with children and enjoys being around his family, then look no further.
This dog is not aggressive or dominant, although he can be stubborn and set in his ways.
He will do well with children, but keep in mind that he will certainly grow out of his playful puppy stage into a calm, mellow dog.
Less playful and more stoic, the black and tan Coonhound is a great companion for easygoing families.
Enjoy walks and romps in the backyard with him. His family should not be opposed to being home often with this dog.
Or, at least get the black and tan Coonhound a doggy companion to keep him company.
The ideal home for this breed is a large, securely fenced-in backyard where the black and tan Coonhound can run and play without escaping.
Otherwise, he will spend his days scaring birds and squirrels that dare set foot on his territory.
Tips on Choosing a Black and Tan Coonhound Puppy
For the healthiest and happiest of puppies, go through a reputable breeder or shelter.
Remember, black and tan Coonhounds are easygoing dogs who are relatively healthy.
But that doesn't mean breeding isn't important.
Reputable breeders health screen their litters, and are able to offer you proof that their puppies are healthy and adoptable.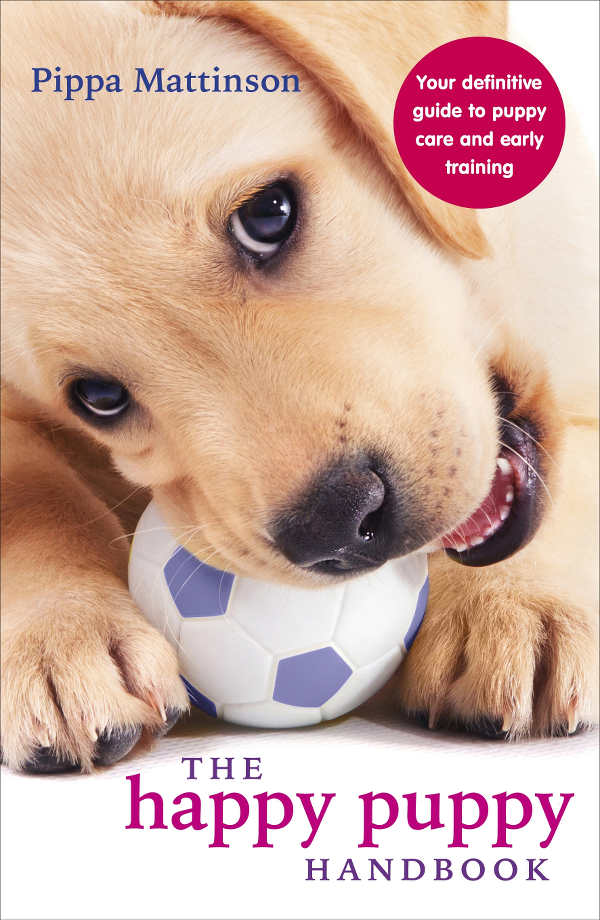 Most black and tan Coonhounds can be purchased from a breeder for approximately $500 to $1000.
Sometimes a black and tan Coonhound can cost more, depending on the quality of his parents and the reputation of the breeder.
If you prefer to rescue your black and tan Coonhound, adoption fees are typically $100 to $200.
Are you a fan of the black and tan Coonhound? Tell us what you love about this breed in the comment section below.
Also make sure to check out our guide to Coonhound mixes!
References and Further Reading:
Buzhardt, L., "Genetics Basics – Coat Color Genetics in Dogs," VCA Hospitals
Coren, S., "Are Black Dogs Less Lovable?" Psychology Today
"Genetics of Coat Color In Dogs May Help Explain Human Stress and Weight," Stanford University Medical Center, Science News
Howell, T.J., et al., 2015, "Puppy Parties and Beyond: The Role of Early Age Socialization Practices on Adult Dog Behavior," Dovepress, Vol. 6, pgs. 143-153
Ruvinsky, A. and Sampson, J., 2001, "Genetics of Coat Color and Hair Texture," The Genetics of the Dog, pg. 61
Schmutz, S.M. and Berryere, T.G., 2007, "Genes Affecting Coat Color and Pattern in Domestic Dogs: A Review," Animal Genetics