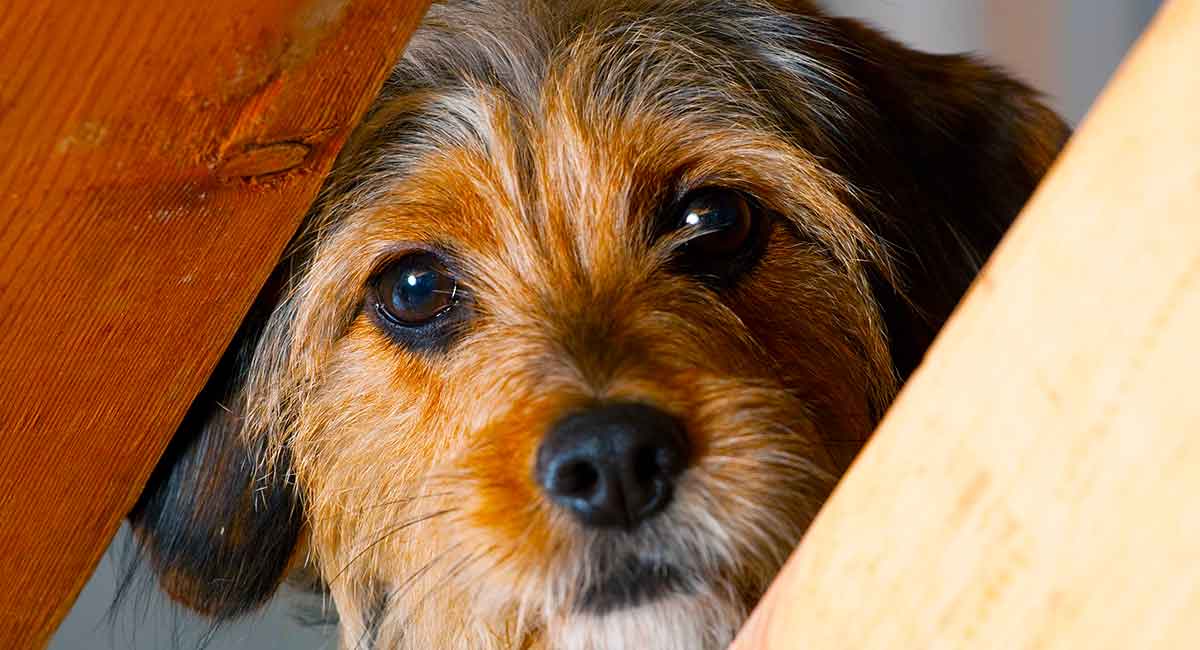 Do you want to know all about the Beagle Yorkie mix?
Are you wondering if this cute crossbreed would make the right dog for you?
If so, then you're in for a treat.
Here is your all-inclusive guide to the cheerful, affectionate, and spirited crossbreed, the Beagle Yorkie mix!
What is A Beagle Yorkie Mix?
Sometimes called a Borkie, the Beagle Yorkie mix is a crossbreed between the Yorkie and the Beagle.
The Beagle Yorkie mix is quickly rising in popularity amongst breeders and dog enthusiasts alike, but there is still a lot to consider about this designer dog before you decide to bring him home.
Let's learn more.
The Designer Dog Controversy
Although crossbreeding has existed since the beginning of canine and human relationships, the practice seems to have become a more popular yet controversial trend over the last 20 years.
What is cross-breeding, and what makes a crossbreed separate from a mutt? Actually, this is part of the debate.
You may also be interested inthe Morkie – an adorable Maltese Yorkie mix
You see, those who support crossbreeding insist that while mutts have an unknown lineage of several different breeds, crossbred dogs are the offspring of two specifically chosen purebred parents.
To learn more regarding mutts in comparison to crossbreeds, visit us here.
On the other hand, there is also the issue of health.
Breed vs mix
While some claim that crossbreeding can reduce the quality of breeds by tempering the bloodline of purebreds, others insist that crossbreeding is a way to create healthier dogs.
For example, some supporters of crossbreeding hope that doing so will reduce the numbers of inheritable diseases being passed from parents to offspring.
However, other experts insist that crossbreeds are equally prone to inheriting the same health issues as their purebred counterparts.
On the other hand, if you are more interested in learning all about the Beagle Yorkie mix, then keep reading!
Let's begin with the history of this little hybrid!
How Did the Beagle Yorkie Mix Come to Pass?
While crossbreeding has been an ongoing practice for generations, there is very little known about the Beagle Yorkie mix.
In fact, by today's standards, this dog is still considered a first-generation crossbreed.
For this reason, his exact origin is still unknown.
Luckily, we can learn more about the Beagle Yorkie mix and what makes him tick by investigating the histories of his purebred parents.
Let's start with the Beagle!
Origin of the Beagle
The Beagle is an ancient breed whose true place of origin remains a mystery today.
However, according to the American Kennel Club (AKC), records show packs of rabbit and hare hunting hounds roaming the English region before the Romans arrived there in 55 B.C.
It seems likely that the modern-day Beagle is related to these early pack-hunting dogs, with some referring to the breed as being "indigenous to the soil."
Once referred to as a "foot hound," the Beagle was a staple for both nobles and commoners, especially serving those who needed assistance when hunting small game but could not afford to keep a horse or were too old to ride.
These foot hounds did as their name suggests – they hunted on foot alongside their masters, making hunting trips affordable, successful, and easy for a number of men and women.
Beagles did not make their way to the United States until after the Civil War, where they promptly became popular companions for rabbit hunters!
Registered by the AKC in 1885, the Beagle is one of the United States' favorite dogs, sitting proudly at number 5 out of 194 on the AKC's list of America's most popular dog breeds.
And, to this day, Beagles continue to be a favorite among small game hunters, who covet this breed's incredible sense of smell, keen skill for hunting, and unique howl.
Origin of the Yorkie
The Yorkshire Terrier is believed to have been created during the 1800s in the English regions of Lancashire and Yorkshire.
Despite his miniature size, the Yorkie was bred as a tiny, tough-minded exterminator.
Working in coal mines and textile mills, his job was to rid his domain of rodents and other vermin.
However, it wasn't long until the Yorkie went from working in dirty factories and caves to snuggling in the laps of noblewomen.
In fact, the true shift hit in 1886, when the Kennel Club of England officially recognized the breed, shooting him to fame amongst noblewomen, who tucked the breed under their arms as they would fashionable pocketbooks.
Yorkies were not officially recognized in America until 1885, when a female Yorkie named Belle was registered by the AKC.
Today, the Yorkie sits at number 9 on the AKC's list of America's most popular dog breeds, just four behind his canine counterpart, the Beagle.
Now, let's learn what you get when you mix the talented and intelligent Beagle with the hardworking and spunky Yorkie.
What is the Beagle Temperament?
Because the Beagle Yorkie mix is a crossbreed, his temperament will be left up to chance and genetics, depending on which parent he takes after most.
The Beagle, for example, makes a wonderful family dog and gets on well with both children and other household pets!
He is an active and sturdy dog, which makes him a great companion for children, as he is hardy and full of energy.
Since Beagles are inherently working breeds, they are happiest around their families, partaking in as many activities as possible and needing a consistent amount of exercise every single day.
Beagles are also prone to escaping.
Natural problem solvers and incredibly clever, this breed is known to dig, climb, and squeeze his way out of homes and backyards.
Prospective owners should make sure their yards are secure and keep a watchful eye on their Beagle when going in and out of the house.
And because of the Beagle's strong prey drive, experts warn against letting this breed off leash during walks.
If you do, you risk your Beagle taking off after smaller animals and possibly putting himself in harm's way, especially if you are walking him near busy roads or residential neighborhoods.
So, what about the Yorkie?
What Is The Yorkie Temperament?
The Yorkshire Terrier is a true terrier, according to the AKC, and this means spunk, courage, and lots of sass!
Silly and friendly, the Yorkie is eager to please and becomes very bonded with his family members.
He is a true lap dog who will sit with you for hours at a time, but don't let that fool you!
This breed needs plenty of exercise and playtime and will thoroughly enjoy joining you on all your exploits.
Although the Yorkie makes a good family companion and gets along well with other pets and kids, he is not the recommended breed for younger, more energetic children or homes with larger, more hyper dogs.
The Yorkie, while being tough and spunky, is still a very small dog and can easily be injured by rough play.
Since the Yorkie is eager to please, he can be sensitive to harsh scolding and should always be met with a gentle, loving hand.
And, like the Beagle, the Yorkie was originally employed as a hunter of sorts and could, therefore, be prone to taking off after smaller animals in the yard or during walks.
Experts say to always use a leash with this dog and be careful when letting him outside in the yard on his own as he is small and could be susceptible to predators like large owls or coyotes.
Beagle Yorkie Mix Temperament
Considering the above information, you can expect your Beagle Yorkie mix to have a strong prey drive and be pretty active.
He will likely do very well with children and other animals, but if he is smaller, like his Yorkie parent, then potential owners with smaller children will want to ensure their kiddos understand how fragile their puppy could be.
As with all dogs, the Beagle Yorkie mix will benefit from early socialization and obedience training.
Socializing your Beagle Yorkie mix will help ensure he is happy and well-rounded.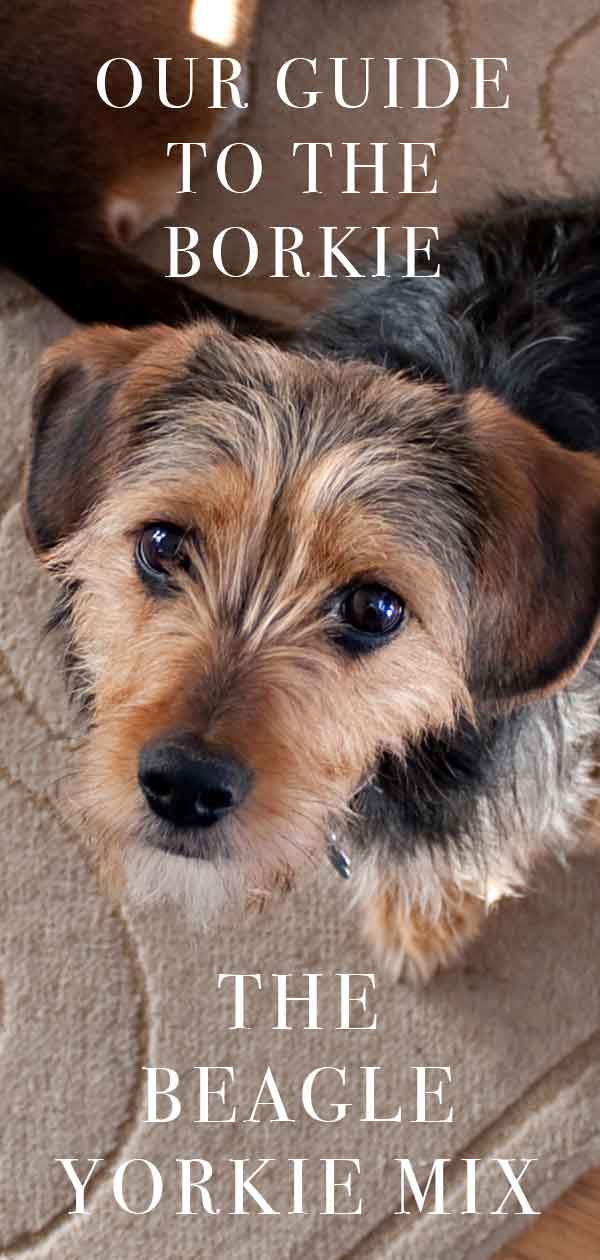 How Big is the Beagle Yorkie Mix?
Keep in mind that when dealing with any crossbreed, determining size and weight is going to be left up to chance.
However, we can get an idea of what your Yorkshire Beagle mix will look like by looking at the size of his purebred parents.
The Beagle is a medium-sized hound that is around 13-15 inches tall and weighs 15-30 pounds.
The Yorkie is much smaller, standing 7-8 inches tall and weighing under 7 pounds.
Beagle Yorkie Mix – General Appearance
Just as with temperament and size, the appearance of your crossbreed Beagle Yorkie mix is going to depend on genetics and chance.
Let's look at the possible options.
The Beagle has a short coat that sheds mildly, a longer body, floppy ears, big brown eyes, and a long tail.
The Beagle's sleek coat comes in several color combinations, including:
Orange and White
Lemon and White
Tri-Color
Chocolate Tri
White and Chocolate
White and Chestnut
Red and White
On the other hand, the Yorkie is a small, proportionate dog with long, silky hair that does not shed. He has erect ears, a short, docked tail, and round, brown eyes.
The Yorkie hair comes in three color combinations, such as:
Black and Gold
Blue and Tan
Blue and Gold
Remember, your Beagle Yorkie mix could inherit any number of the above coat combinations, so be prepared for a variety of looks.
How Should I Groom and Otherwise Care for A Beagle Yorkie Mix?
Beagle and Yorkie mix grooming is going to depend on the coat type he inherits from his parents.
The Beagle, for example, is simple to groom and only requires occasional bathing. Still, he needs to be brushed about two times a week to keep loose hair at bay.
The Yorkie, on the other hand, needs to be brushed every day and a bath should be given to him once a week.
With hair very similar to human hair, the Yorkie may be trimmed with a puppy cut or his hair may be grown all the way to floor length!
The amount of grooming needed for him will depend on his haircut.
And, while the Yorkie is considered to be hypoallergenic, the Beagle is not.
For this reason, you should expect your Beagle Yorkshire Terrier mix to shed somewhat.
Your pup will also need his nails trimmed regularly to keep them from breaking and his ears cleaned to keep wax and moisture buildup from causing infection.
Beagle Yorkie Mix Lifespan and Health Concerns
Pinpointing the lifespan and potential health issues common to the Beagle Yorkie mix is going to be difficult, as he is a cross between two purebred parents with different life expectancies and health concerns.
The Beagle has a lifespan of 10-15 years and is most prone to glaucoma, patellar luxation, central progressive retinal atrophy, epilepsy, hypothyroidism, chondrodysplasia, distichiasis, cherry eye, and keratoconjunctivitis sicca.
On the other hand, the Yorkie lives around 11-15 years and can be predisposed to hypoglycemia, Legg-Perthes disease, skin issues and allergies, retinal dysplasia, liver shunt, collapsed trachea, kneecap dislocation, pancreatitis, hemorrhagic gastroenteritis, and dental issues.
Remember, your Beagle Yorkshire puppy can be predisposed to any of the same health issues his parent breeds.
For that reason, you may want to consider early health screening.
Early health screening can help to give you an idea of what your puppy may encounter in his future.
Keep in mind that reputable breeders of Yorkshire Beagles will health screen their litters and be able to provide you with certificates proving their dogs are healthy and free of any issues.
Exercising and Training A Beagle Yorkie Mix Dog
The Beagle Yorkie crossbreed is likely going to be active and playful, just like his purebred parents.
He should be exercised at least thirty minutes to an hour a day, depending on his size and weight.
If your Beagle Yorkie crossbreed is medium in size, like his Beagle parent, then he should be walked for an hour daily and given plenty of playtime.
If your Beagle Yorkie mix is a bit smaller and takes after his Yorkie parent, give him about thirty minutes of proper exercise a day.
A quick walk, as well as a romp in the yard, should meet this crossbreed's exercise needs just fine.
Luckily, training should be simple, as both the Beagle and the Yorkie are intelligent and eager to please.
Keep in mind that early socialization and obedience training can help keep the Beagle Yorkie crossbreed well-adapted throughout his lifetime.
Also, remember that the Yorkie breed especially can be sensitive to harsh training.
Is My Home Type Ideal for the Beagle Yorkie Mix?
The Beagle Yorkie crossbreed will do best in a home with a securely fenced backyard and, if he is smaller, homes with children who are older and more respectful.
However, by all accounts, this breed gets on well with both animals and children and is rather easy going.
He makes both an excellent family dog or a companion for singles.
And he is adaptable to many home types, as long as his daily exercise needs are being met!
I Want A Beagle Yorkie Mix! How Can I Find a Borkie Puppy?
Do you want a Beagle Yorkie mix puppy? Great! Here are some tips from experts on how to go about picking the perfect pup.
Getting your Yorkie mixed with Beagle pup through a shelter could be hit or miss, depending on what is available at the time.
However, one benefit of rescuing a Beagle Yorkie crossbreed is that adoption fees are much less than breeder fees.
You can expect to pay anywhere from $50 to $100, and also don't be surprised if the shelter covers the initial vet fee!
On the other hand, if you plan on going through a breeder, prepare to pay around $500 to over $1000.
However, one pro of going through a breeder is that you can ask questions about health and temperamental issues regarding the parent breeds or previous litters.
Also, and as previously stated, responsible breeders will have health screened their puppies and will be able to provide you with certificates proving your Beagle Yorkie Mix puppy is good to go!
Do you have any more tips on how to find a Beagle Yorkie puppy, or do you have a Beagle Yorkie crossbreed of your own?
Tell us in the comment section!
References
Borbala Turcsan, Adam Miklosi, Eniko Kubinyi, Owner Perceived Differences Between Mixed-Breed and Purebred Dogs
Tiffani J Howell, Tammie King, Pauleen C Bennett, Puppy Parties and Beyond: the role of early age socialization practices on adult dog behavior, Volume 6, pages 143-153
Nathan B Sutter and Elaine A Ostrander, Dog Star Rising: The Canine Genetic System, Nature Reviews Genetics, Volume 5, pages 900-910
Lowell Acumen DVM, DACVD, MBA, MOA, The Genetic Connection; a Guide to Health Problems in Purebred Dogs, Second Edition, 2011
Purebred Vs Mutt – Common Objections to Mixed Breed Dogs
Carol Beuchat Ph.D., The Myth of Hybrid Vigor in Dogs…Is A Myth