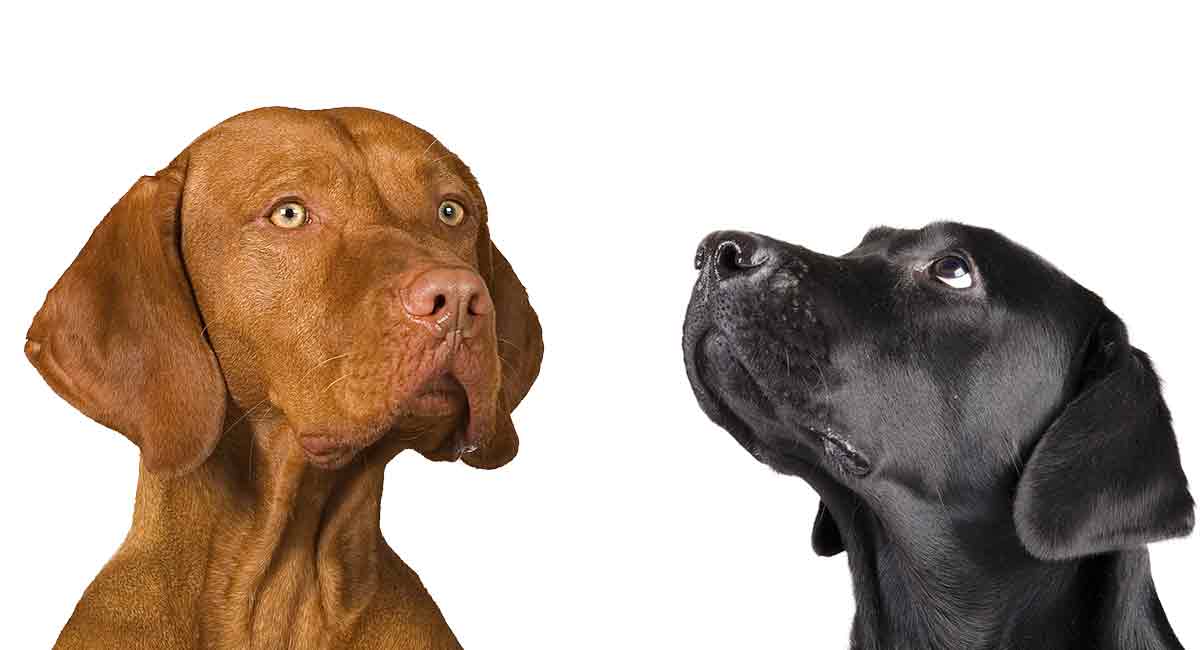 The Vizsla Lab mix or Vizslador is an intelligent dog with a strong history in field sports. These gorgeous pups can make great family pets for active homes, but they have a lot of energy to burn and a strong need to be together. They can be clingy and sensitive, slow to mature and shed a lot too. However, if you have the time and patience for positive reinforcement training and a sport like agility, their kind, friendly and eager to please temperament is incredibly rewarding.
Contents
Where Does the Vizsla Lab Mix Come From?
It is only in the last decade or so that Vizslas and Labradors have been combined regularly. Before then it was usually just a farm based accident, or someone producing local working ranch dogs for convenience. However, we can learn a lot about their history by getting the know the parent breeds' origins.
The Vizsla has a long history, and in ancient times it was used to hunt Falcons. They are still popular working dogs today, and are even used by the Transport Security Administration for search and rescue operations, and can also be a seeing-eye dog.
The Labrador had its origins in Newfoundland, Canada. Fishermen took these dogs on boats with them to help haul in their catch. Today they are also used extensively as service dogs, law enforcement and military dogs, as well as hunting companions.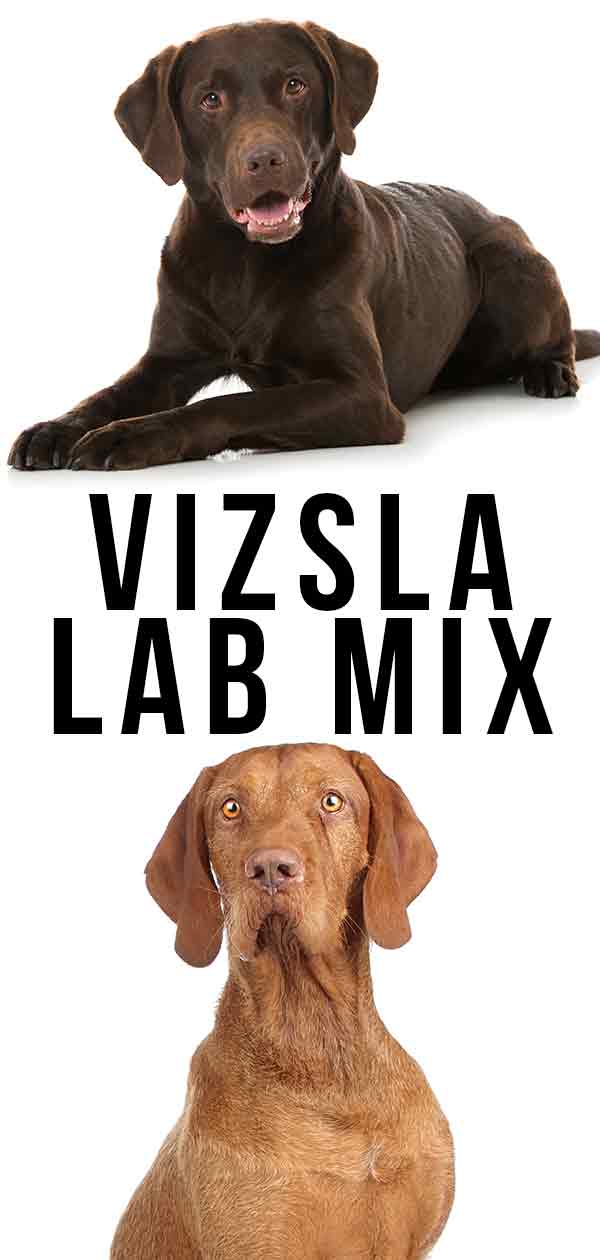 What Do They Look Like?
Although they are a mixed breed, the Vizsla Lab mix has a fairly consistent appearance. They have floppy ears, long legs, barrel chests and an alert expression. All their coats are short and they tend to be more likely to have orange or chocolate coats than the black or yellow from the Labrador side of the family.
They are also high shedding dogs, that will benefit from weekly grooming especially in the spring.
Vizsla Lab Mix Temperament
The Vizslador is a high energy dog which loves to work. They need loads of exercise, so if you are an active, outdoors person, they would love to join in on your adventures. Their hunting background belies just how soft natured and sensitive they are. It could be said they need just as many cuddles as they need hours of exercise!
Don't be surprised if your pup becomes your canine-shaped shadow as you go about your business at home. They too will be a kid for a while too, renowned for their extended puppyhood.
Training and Socialization
This mix is very trainable, but their delayed maturity means you will need a bit of patience in the early years. One of the most important things to remember about this mix is that the Vizsla side of the family could bring with it some skittishness. It is vital to thoroughly socialize your dog when it is small to make them more comfortable in a variety of settings.
Vizsla Lab Mix Health
Vizsla and Labrador dogs are both prone to hip dysplasia, vision problems and bloat. It's important that both parents have good hip scores, a recent eye test and a clear certificate for PRA blindness. This will give your puppy the best chance of not inheriting those conditions.
Bloat is a little different in that its cause is often environmental. Bowls like slow feeders can help reduce the chances of your dog suffering from it, as can avoiding exercise immediately after eating.
Vizsla Lab Mix Puppies
Mix breeds are rapidly gaining in popularity. This can be a good thing for the general health of dogs on the one hand, but it can also open the way for unscrupulous individuals to make a quick buck off the back of mass-produced pups.
In order to make sure your puppy and its parents have been treated kindly and fairly, it is important you visit the place they are bred. Meet the breeder and at the very least, meet the mother dog along with her litter. She should have an obvious bond with the breeder, and a purpose beyond just producing puppies. She should also be a treasured pet, working dog or even agility companion. And the breeder should be happy to show you evidence of health tests from both parents.
What About Rescue?
A great option if you are not ready for the onslaught of a puppy for the next 4 years is to rescue an older dog. It is also a great way to give a dog a second chance.
Usually, a change in the owners' circumstances has led to the dog having to go to the shelter. However, bear in mind that at times the dog may be for rescue because they had some problems.
Health issues or behaviors that the previous owner could not cope with, or worse still, they had been neglected or mistreated. Make sure you get a thorough history of the dog before you take them home. Ensure you have the right environment to give them the care and attention they need.