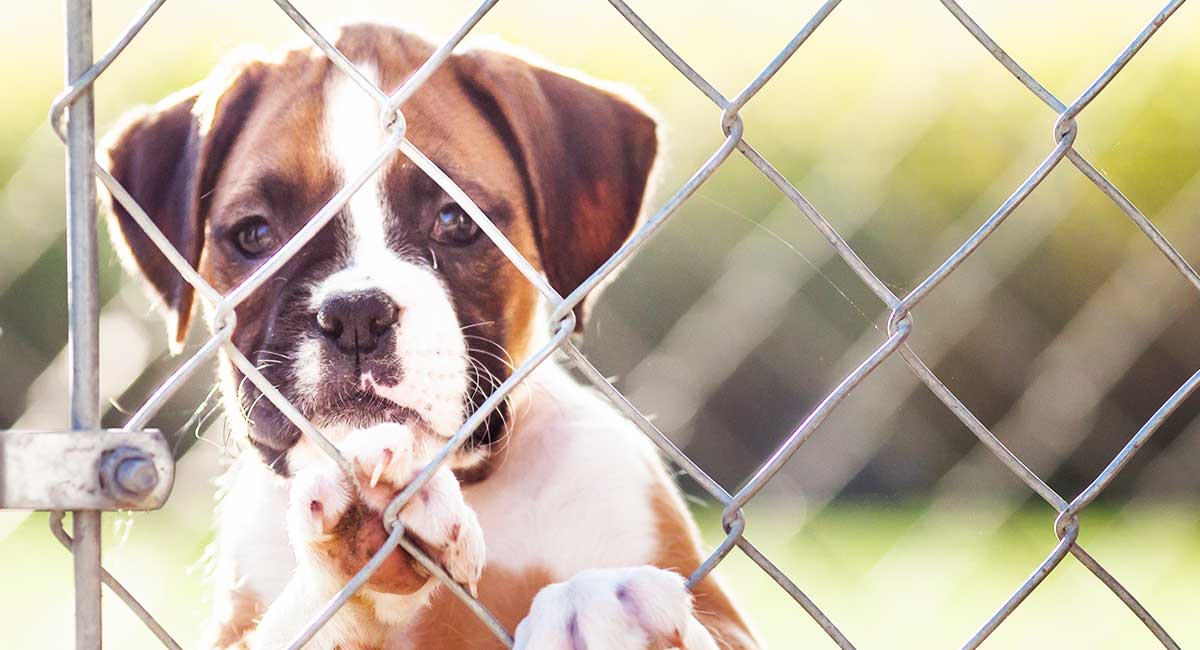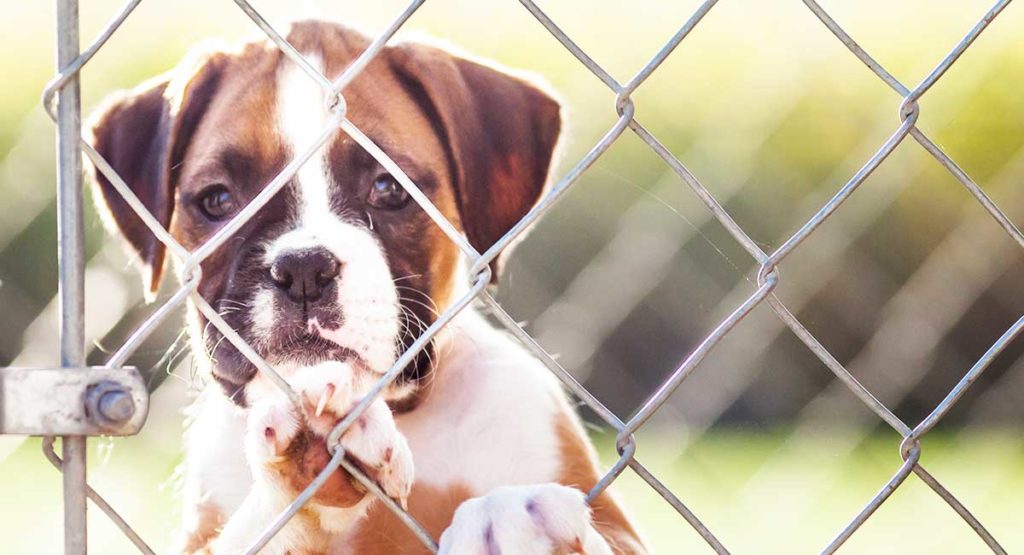 Separation anxiety in dogs can be a heart-wrenching situation to deal with as a worried pet owner.
Let's say you adopted an adolescent or adult dog. He excelled in basic dog training courses.
You tackled potty training without any problems. He loves sleeping curled up on your legs in bed at night.
Let's call him Luca. And he's a German Shepherd. Yes, I admit, I'm speaking from experience here.
But when it's time for you to leave the apartment, your angel turns into a monster!
In this article, we take a look at how to help him better cope with your absence.
Products included in this article were carefully and independently selected by the Happy Puppy Site team. If you decide to make a purchase from one of the links marked by an asterisk, we may earn a small commission on that sale. This is at no extra cost to you.
Your Worried Dog
Lat's take a closer look at your monster dog when you go out. He paces, whines, and starts drooling. He refuses to go into his crate or room.
You lug him resentfully into it and leave for work with your fingers crossed.
Three hours later, your neighbor calls to say that your dog has been barking all morning.
If it doesn't stop, she's going to report it to the apartment administration.
You come home to find that your dog has destroyed his crate to escape and pooped on the floor.
The room is covered in the stuffing that once was his dog bed. There are scratch marks on the window sill.
And this is the third time this week that it's happened exactly the same way!
What is a good pet owner supposed to do in this situation?
If your dog is anything like Luca, he or she is suffering from separation anxiety.
What is Separation Anxiety in Dogs?
There are several signs of separation anxiety in dogs. It occurs when a dog is alone and becomes distressed.
It may be that your dog becomes anxious if he's closed off in a different room of the house from everyone else, such as during a party when he is separated.
Separation anxiety might occur only when your dog is left alone in the backyard – or even when he has another dog companion, but his owner isn't present.
Many dogs become overly anxious when their owner leaves the home for an extended period of time.
In time, with repetition of this situation, the dogs can begin to develop anxiety after just a few minutes of being alone.
Eventually, separation anxiety in dogs grows worse until even the slightest suggestion of you leaving the house, such as picking up the keys or walking to the mailbox, triggers anxious behaviors.
With moderate to severe separation anxiety, dog owners can expect any or all of these behaviors to make life difficult.
Signs of separation anxiety in dogs
These are examples of dog separation anxiety symptoms:
Pacing
Drooling excessively
Panting
Eyes darting side to side
Whining
Barking
Howling
Jumping on the window frame to look outside
Digging or clawing
Becoming destructive – eating shoes, clothes, destroying pillows, blankets,
Losing bowels or bladder – (pooping or peeing inside in places he typically doesn't)
Why do some dogs experience separation anxiety?
What causes separation anxiety in dogs is dependent on each dog's situation, honestly.
Here are a few examples of situations with dogs and separation anxiety that develops in those cases.
Let's discuss some of the reasons.
Overly Strong Attachment
Some dogs genuinely bond more strongly to one human in their life than another.
These dogs follow their owner everywhere.
Separation anxiety for these dogs could occur even if there are other people or dogs in the area.
If their specific person isn't around, they show signs of anxiety.
Trauma
In some cases, a dog that has experienced certain types of trauma may develop anxiety issues.
For example, with a rescue dog, separation anxiety may present after several months of being adopted.
If the dog had previously been in an unpredictable or unsafe environment, it will take time for the dog to adapt to a comfortable lifestyle with a strong bond for his new owner.
However, after that bond is sealed, the dog may gradually present symptoms of separation anxiety that become more and more severe over time.
Stress From External Cause
In my Luca's case, we discovered that the initial cause of his anxiety during the day was coming from barrier aggression.
It started months after we deemed him house-trained enough to let him loose in the living room while I was gone at work.
Thanks to overhearing a conversation with a neighbor, we discovered that right around the time he started pooping on the floor every day and scratching the window sill, there was a series of home break-ins in our neighborhood.
Including three of the houses visible directly from our living room window.
I determined that the pattern of daily barrier aggression toward an intruder for a few days in a row probably put Luca on high alert for a while.
That was compounded by my poor reaction as a frustrated pet and home owner – I would come home and fuss and scream at the poor dog.
Yes, I'm a professional trainer, and yes I lose my cool with my dogs too. I told you I could empathize!
So, we brought the separation anxiety on by creating anxiety in Luca that every day I would leave, he would try to protect the house from an intruder, and then he would get in trouble for it.
What's a poor dog to do?
Boredom And Lack of Mental Stimulation
Another situation that could create symptoms of separation anxiety could be boredom.
Dogs need mental stimulation just like we do! Symptoms of boredom tend to overlap with the symptoms of separation anxiety.
Symptoms of a lack of mental stimulation in dogs includes excessive digging, barking incessantly, chewing on everything, getting into the trash when you're not home, gaining weight, and following you around the house all day.
To ensure your dog is getting enough mental stimulation, read this article all about mental stimulation for dogs.
Hyperactivity Due to Lack of Exercise
Dogs are naturally very active animals, but as pets they tend to live sedentary lives.
Vets and behaviorists suggest that dogs need at least 30 minutes of vigorous exercise per day in addition to 1-2 hours of normal activity.
This means that in addition to a couple of hours of walking, exploring the house, training or playing with a toy on his own.
Rover also needs 30 minutes of heart-thumping running, fetching, swimming, climbing, and more.
So, if your dog isn't getting his quota of exercise, his hyperactivity may contribute to his separation anxiety symptoms.
Lack of exercise is a common contributor to dog separation anxiety at night.
While you're getting your beauty rest, Fido is pacing the house and whining outside your bedroom door. Be sure your pooch is getting enough exercise to wear him out for a good night's sleep!
Medical, Health, And Age-related Issues
Sudden separation anxiety in older dogs may be caused by medical issues.
If the symptoms of anxiety include incontinence, it's important to rule out medical problems.
Like urinary tract infections, a weak sphincter, hormone imbalances, bladder stones, diabetes, Cushing's disease, and kidney problems, to name a few.
Tips for How to Help a Dog With Separation Anxiety
Before we jump into our step-by-step training guide for what to do for dogs with separation anxiety, we need to offer a few important tips about this training technique.
Patience, patience, patience. I absolutely understand that dealing with separation anxiety in dogs is incredibly difficult.
I've been in your shoes, remember? Try to learn from my mistake.
Never fuss, yell, or punish your dog if you see symptoms of separation anxiety.
Attaching punishment or negative attention to your dog's existing or growing anxiety will compound it exponentially.
Hire a dog walker or ask a friend/neighbor to periodically check in on your dog throughout the day.
Send your dog to doggie daycare until you can work through separation anxiety behavior modification properly.
If your dog does not typically stay in a crate while you're gone, give crate training a try.
In a lot of cases, dogs feel more secure and comfortable in a small, den-like space like a crate.
Coping with separation anxiety in dogs
Follow these training tips for proper crate training.
And you might want to avoid leaving a blanket or bedding in the crate until your dog is fully crate-trained, as they may destroy it or ingest it during the process of destroying it due to anxiety.
Until your behavior modification training is complete, it's quite critical not to leave your dog alone for longer than his/her tolerance threshold.
That means that if your dog starts to panic after an hour, then you can't leave your dog alone for more than an hour.
If his anxiety starts immediately, then yes, that sadly means your dog can't be left alone until treated.
I know it sounds infeasible, but trainers and certified behaviorists who have dealt successfully with this issue will agree.
Just as with human phobias and fears, it's critical to keep a person feeling safe and secure without exposing them to their phobia.
Otherwise they're back at square one with panic attacks.
Team work!
It will take a village. By that, I mean, everyone who lives with you will need to participate.
You'll also need a team of friends, family, pet sitters, dog walkers, trainers, etc.
If you can muster a team of help for a few weeks, you'll be able to follow through with the somewhat exhausting and tedious routine of behavior modification we'll outline below.
Because of these difficult conditions for treatment of separation anxiety in dogs, it's highly recommended to consult with an expert.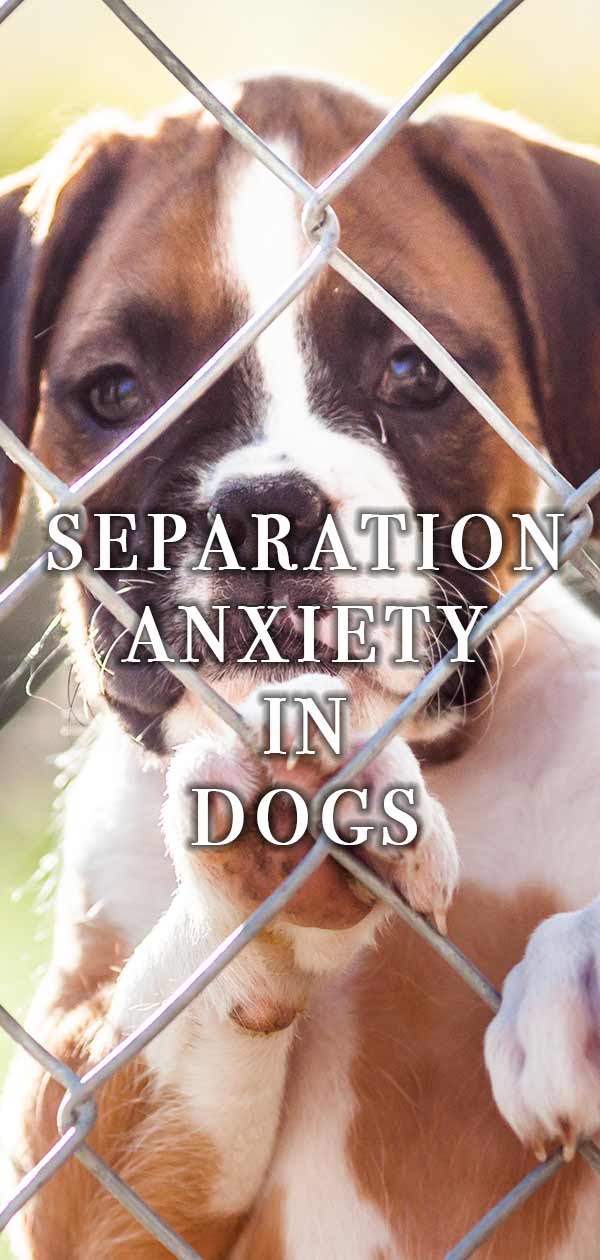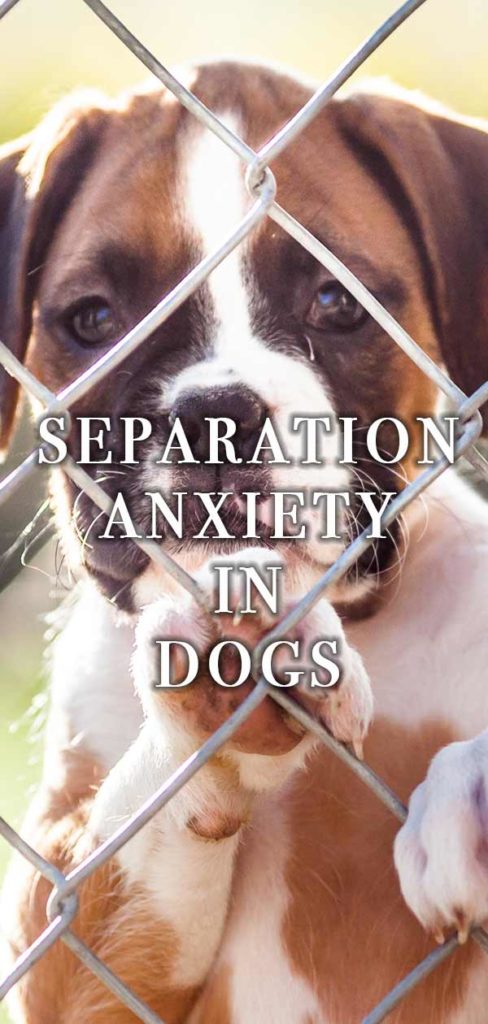 Dog Separation Anxiety Training Guide
Here is a detailed training guide on how to reduce and control your dog's anxiety.
Remember that it may take quite a while!
Step 1: Determine your dog's threshold.
This means you need to understand exactly what activity triggers your dog's anxiety.
Test your dog's reactions to the following:
Being put in your yard alone (only if it's safely fenced-in of course)
Getting shut in a room alone while you're in the same house (make noise so he can hear you but can't see you)
Locked in his crate while you're in sight
Locked in his crate while you're out of sight
If you have other dogs, does he react the same if the other dogs are near him?
A sneaky trick to help you in this process is to use two mobile devices with Facetime, Skype, Zoom or some other video calling app.
Set one up to be able to view your dog and take the other with you as you leave the room/house.
(A video baby monitor works as well if you have one lying around or can borrow from a friend.)
Keep your eye on a clock to see how long after being separated your dog's behavior begins to change.
Once you have a full understanding of your dog's threshold of space and time for his anxiety to begin, you can work on desensitizing him or her to longer and longer absences.
Or, you can use this information to jumpstart your work with a professional trainer right away.
Step 2. Desensitization to longer periods of absence.
Desensitization is a behavior modification technique used for animals and humans who have a phobia or fear.
The concept is to expose your dog to tiny amounts of the fear-inducing stimulus and increase it gradually over time until your dog no longer realizes he has the fear.
This is the part of the training that is going to make you feel absolutely insane.
But trust me on this.
Cut the time of your dog's threshold in half and start with that length of time as your starting point.
(For example, if your dog's anxiety starts after five minutes of being alone, then start your desensitization with just two minutes.)
Leave your dog for the initial amount of time, then return immediately and offer praise and playtime.
For example, with Luca, we would say goodbye, walk out the front door, wait five minutes, and then come back inside and play with him.
Repeat this mini exercise five times and call it quits for the day.
The next session, start with two rounds of the same length of time, then increase it by a bit more.
(If the starting point was two minutes, then increase it to three, then four, then five, then maybe ten, then maybe fifteen.
If the starting point was ten minutes, then try moving to twelve minutes, then fifteen, then twenty, etc.)
Repeat the exercise five to eight times, then end the session for the day.
Repeat these sessions every day (maybe even twice a day if your dog seems to handle the process well) for a few days, and then take a break for a few days.
Then resume training for a few more days before another break.
This training will continue until your dog can stay alone for the typical amount of time you need him to be comfortable with.
You'll have to get creative to plan your day around this training.
This could mean walking to a neighbor's house for lunch and coming back. Or you could run to the grocery store and back.
Hire a team of dog-walkers, trainers, pet sitters, or neighbors to stop by while you're at work at the proper time increments.
Note that if at any point, your dog starts showing the anxiety behaviors again, you'll need to back up to a shorter time interval for a while.
Step 3. Desensitization to departure cues.
Your dog notices right away if you're about to leave the house. You pick up your keys, put on your shoes, grab your purse, etc.
Any of these could trigger your dog's anxiety.
That's why you'll also want to spend some time desensitizing your dog to those actions.
You'll feel silly, but pick one action a day to work with. We'll use your keys as an example.
On a day you plan on being home all day, spend the day randomly picking up your keys and walking around with them.
Then put them back down and pretend like it was the most normal thing in the world.
This will help you dog realize that you won't be leaving him for eight hours every time you pick up your keys.
The next time, do the same with your purse.
On a Saturday around the house, just randomly pick up your purse and carry it around while you're on the phone. Then put it down.
When you get up to use the restroom, pick up your purse and bring it along. Ignore your dog.
Don't give him any cues or attention that would make him take too much notice of the behavior.
How To Find A Professional Experienced With Separation Anxiety in Dogs
Most people don't realize that there are different types of dog training. It's important when dealing with severe anxiety that is causing your dog or yourself to be unsafe or unhealthy to find an experienced, trained professional.
Talk to your veterinarian. Some veterinarians take additional specialty training in vet school for behavior modification.
If your vet is not specialized in behavior, he or she might have the information for the nearest canine behaviorist.
Experts in dog behavior who are specifically trained in behavior modification are called behaviorists.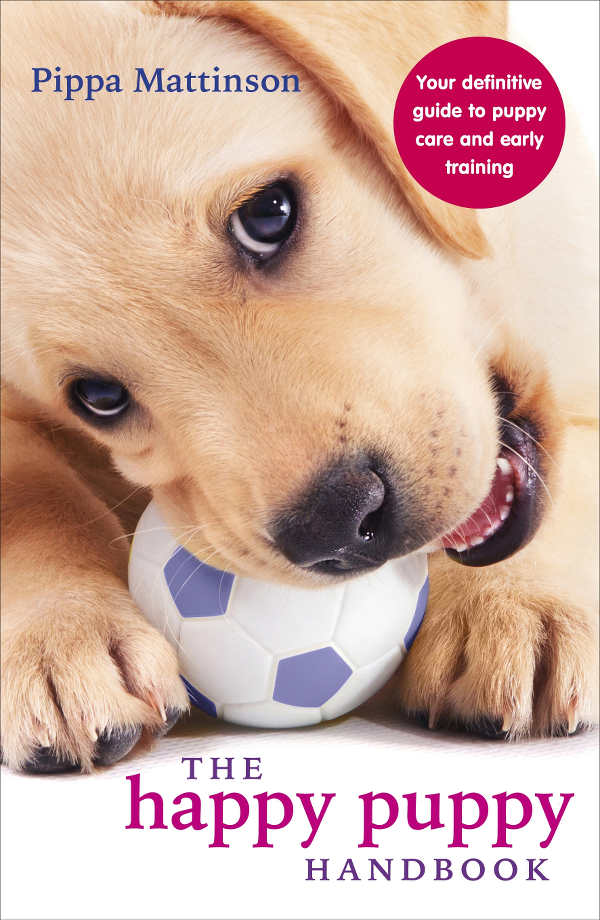 Behaviorists who are specifically trained in this way receive special certification, so be sure to do your research to find out if someone claiming to be a dog behaviorist is actually certified.
Some dog trainers specialize in helping dogs with separation anxiety.
They may not be fully certified behaviorists, but if they have a lot of experience working with at least 30 or more dogs in various capacities of separation anxiety in dogs, they will be prepared to help you and your dog.
Our Favorite Dog Separation Anxiety Tools & Toys
Another way to help your dog deal with separation anxiety is to distract him while you're gone with various toys and mental stimulation.
Here are a few of my favorites that worked with Luca and other clients' dogs to help them keep their mind off departure cues and the initial separation.
Any puzzle toys that dispense treats to your dog once he unlocks the mechanism for dispersion, like the Outward Hound Tornado Treat Dispenser*.
The reviews on this one are great!
The Dog Twister*, is another great option.
Many owners keep their furry friends occupied with this gadget
The Our Pets IQ Ball* promises to keep your pooch entertained.
The reviewers love it, and it's not difficult to see why.
The Outward Hound Hide-a-Squirrel* toy is great for dogs who love to dig and root around.
All dogs love having a sniff around.
The Dog Snuffle Mat* also is a great option.
It helps satisfy your dog's need to root around.
Does dog separation anxiety medication work?
In some cases, medications for treating separation anxiety in dogs can significantly help. You should schedule a behavior consultation with your vet. This is typically a slightly longer appointment than a check-up visit to allow you time to go into detail about your dog's medical and behavioral history.
In some cases, as with humans who suffer from anxiety, anti-anxiety medications can help with extreme separation anxiety in dogs.
In other cases, a short-term calming medication can help during the training process until the appropriate behavior modification has taken hold.
Separation Anxiety In Dogs
Separation anxiety in dogs is exhausting for your pet and yourself.
You can see now that curing dog separation anxiety quickly is not very likely.
It might be as simple as offering a few dog separation anxiety toys to take Fido's mind off of you leaving.
However, I highly recommend consulting a professional to help you work through a solution if your dog has separation anxiety.
Talk to your vet first, and he or she can help with medical options and refer you to an experienced behavior expert.
I truly hope that this advice on how to treat separation anxiety in dogs has pointed you in the right direction to seek help in resolving your pet's anxiety!
Liz London is a certified dog trainer through the Certifying Council of Professional Dog Trainers (CPDT-KA) & the Karen Pryor Academy (Dog Trainer Foundations Certification) with regular continuing education courses from the top animal trainers from all over the world, including Michele Pouliot, director of training for the Guide Dogs for the Blind. She lives with her German Shepherd named Luca, her husband, and their toddler who is currently himself in the housebreaking phase of training.
Affiliate link disclosure: Links in this article marked with an * are affiliate links, and we may receive a small commission if you purchase these products. However, we selected them for inclusion independently, and all of the views expressed in this article are our own.