Your puppy's ears are sensitive and need to be treated with care. We'll be looking in this article at how to clean your puppy's ears naturally at home.
You'll need to know when you should clean your puppy's ears and what you should clean them with.
To jump straight to the instructions use the bottom link in the pink menu
Why some puppies get dirty ears
Whether or not puppies need their ears cleaning and how often they should be cleaned will depend a great deal on what shape they are!
Your dog's ancient ancestors were wolves.
Wolves have pointed ears, well designed by natural selection to do a great job of helping them to work in their environment.
However, modern dogs, removed from the powerful forces of nature, have been bred with a wide variety of ear shapes, sizes and positions.
As a result, some breeds ears require a lot more attention than our ancestors could ever have imagined.
Your puppy's ear type
If your puppy is from a breed that has the traditional wolfish look, with pointed erect ears and clear open ear canals, you will probably rarely need to give them any extra care.
However, if your puppy's ears are covered with a soft flap, as many of our breeds are today,   they are more likely to trap dirt and grim than upright ears.
Your puppy's ear hair
Drooping ears often come with pretty long coats attached.
Long hair can look beautiful on dog's ears. Curly coats and wooly manes can give a very characteristic and eye-catching look. But they also trap dirt and daily grime near to your dog's ear canal.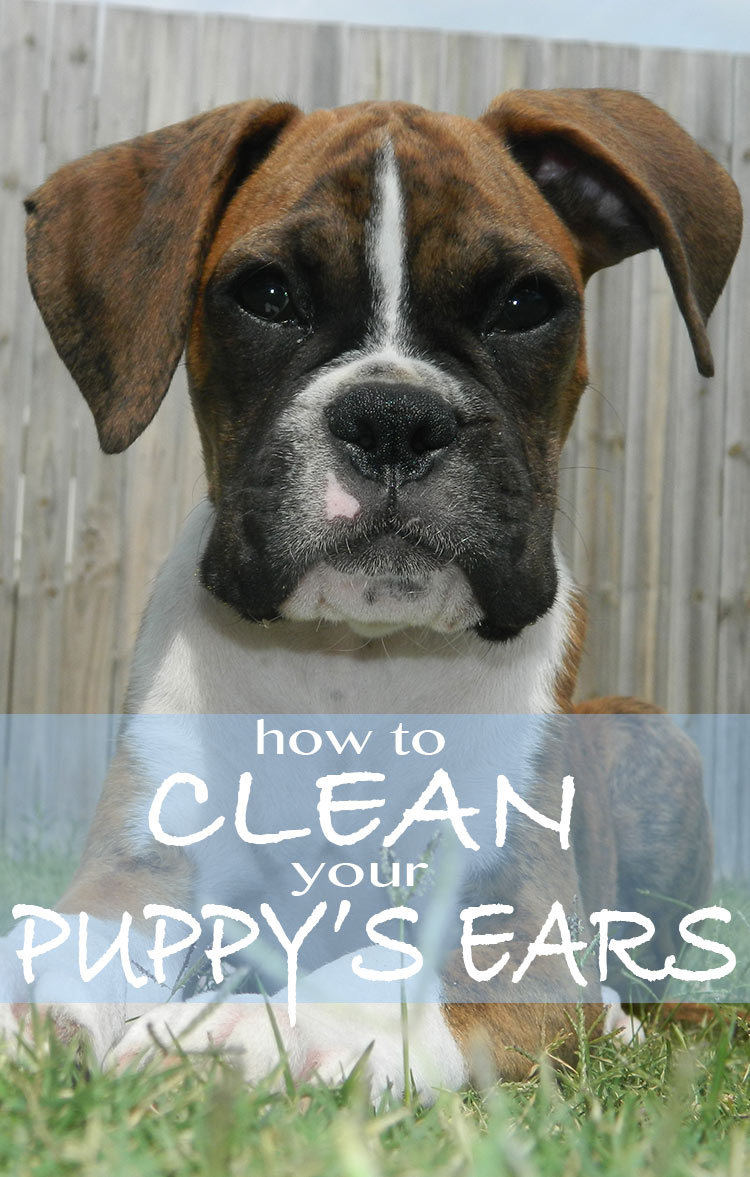 Sadly, some dogs are also afflicted with hairy ear canals! These tiny hairs can cause great discomfort in affected dogs, and often require veterinary treatment.
Dog breeds with ears that may need cleaning
Typical breeds that will need some extra attention paid to their ears are those with long drooping floppy ears.  Such as  Cocker Spaniels, English Springer Spaniels, and Bassett Hounds.
But dogs with shorter ears that are covered by flaps may need cleaning too.


(paid link)
Breeds such as Labradors and other Retriever breeds,  Pointers and Setters, and many of our Hounds, will benefit from regular ear checks, and may benefit from a gentle once weekly natural clean as described below.
When to clean your puppy's ears
You can help all of these types of dogs to have healthier ears by regularly cleaning them.  How often you need to do this will depend on what you find when you examine your dog's ears
Check inside the flaps each time you groom your dog and at least once a week.  We'll explain what the ear should look like inside below.
Regular puppy ear checks – what to look for
When you look inside your puppy's ears, you are looking to check that they are healthy and free from problems.
Common ear problems that you may spot with a simple weekly inspection are
A build up of dark wax
Redness or soreness
Smelly ears
Any of these may indicate that your puppy has a problem, such as an infection.
Healthy ears look pink not red or sore, and your puppy's ears should not smell of anything.
If you can see redness or detect an unpleasant smell, or if your puppy is shaking his head or poking at his ears, then take him to your vet.  Don't try and treat the problem yourself.
If all you can see is a little grubby ear wax, then you can give your puppy's ears a gentle clean at home.
What should we clean a dog's ears with?
You will find all kinds of solutions recommended for ear cleaning in dogs.  That does NOT mean that they are OK to use on your puppy.  Here are some of the more common home remedies you'll find online
These are usually recommended for use in a heavily diluted form.  However, it is never a good idea to pour anything – diluted or not – into a small puppy's ears.
All these substances even when watered down may be very uncomfortable to your puppy if his ear is at all sore.  They might also make matters worse if he has a problem.
Cleaning puppy ears naturally
The best thing to use to clean your puppy's ears at home is warm (previously boiled and cooled) water. You can also use a cleaning solution specifically designed for puppies and approved by your vet.
If you want to keep your puppy's ears clean naturally, without any chemicals, then boiled water is your best bet.
Getting your puppy used to ear cleaning
Water is also a great way to practice ear cleaning in long eared puppies.
That way, if they get an ear problem later in life, they will be used to having their ears handled, and the whole 'cleaning process' won't be upsetting for them.
Use the instructions below to practice regular ear cleaning with warm water.
But do talk to your vet if your puppy shows any suspicious symptoms, as sometimes nature needs a little help he may need something stronger to restore his ears to good health.
Equipment you need to clean your puppy's ears
To clean your puppy's ears you will need some cotton wool pads(paid link), warm water or special ear cleaning solution(paid link). It will also help if you have some treats and a friend on hand to help!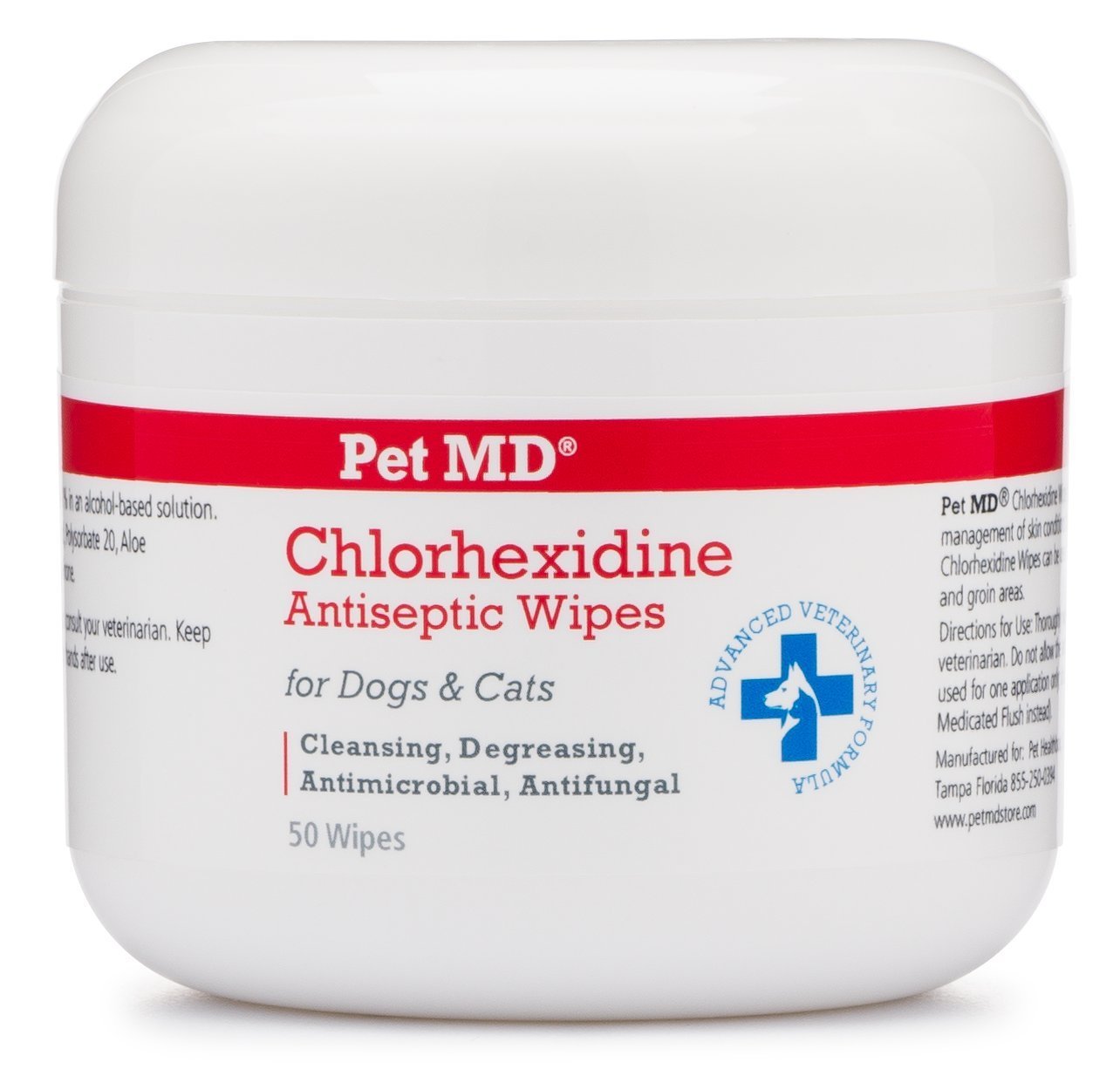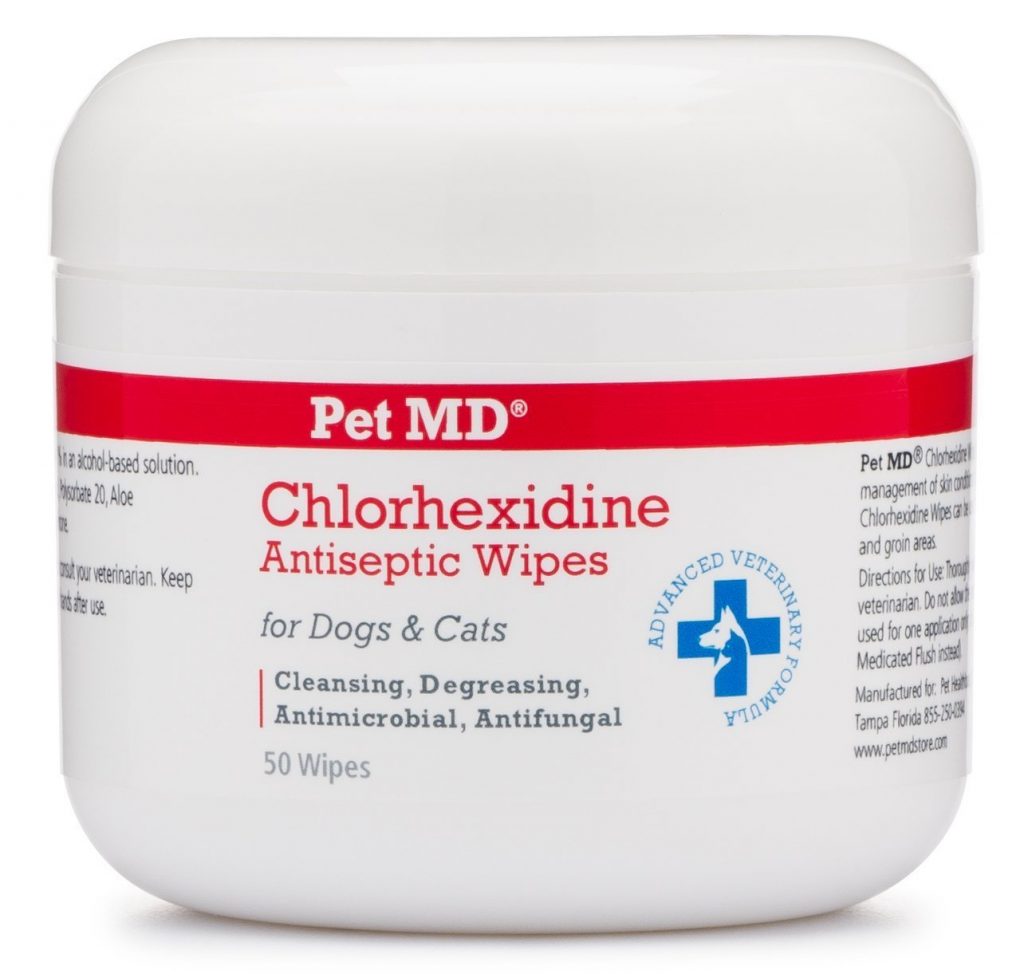 (paid link)Remember – if you want to use ear cleaning solution, read the bottle carefully. Make sure it is designed for use on small puppies, and check how often it is recommended to be used.
If in any doubt consult your vet first.
How to Clean With Warm Water
The more positive an experience you can make this for your puppy, the better.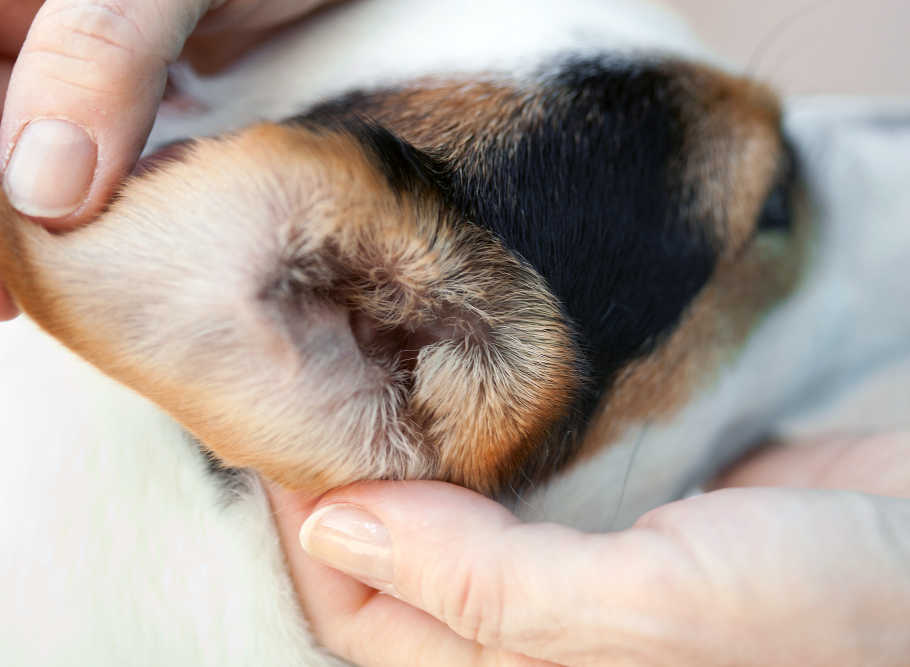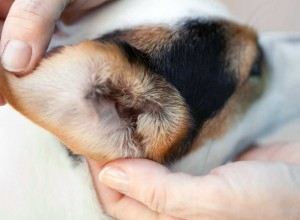 Have on hand lots of tiny treats(paid link), and if possible a helpful friend.
Although you can clean a small puppy's ears alone, it will be easier and more pleasant for you both if you have someone helping you out.
Sitting on the floor, pop your puppy into your friend's lap.
Ask your friend to very calmly stroke the puppy, encouraging him to stay in one place. Get them to periodically with the other hand pass him treats.
Remember, only give the puppy treats when he is staying fairly still. Not when he is wiggling around with excitement.
Take your cotton wool pad and dip it in the warm water. Make sure it is damp, but not soaking.
Use one hand to lift the ear, and the other to gently wipe any dirt that you can see clinging to the outside of the ear.
Very carefully wipe around the outside of the ear canal, and just around the opening. Be sure not to drip water or poke your cotton wool into the ear canal itself.
How to Clean With Ear Cleaner
If your vet has recommended cleaning inside your puppy's ears with a specially designed cleaning solution you should follow the instructions carefully.
This will usually involve holding the ear open with one hand and squirting the solution in with the other.
You will then gently massage the ear from the outside. You'll be able to hear it squelching when you have got the solution right into the ear canal.
Remember, never poke anything into the ear canal itself, and if you are worried about your puppy's ears, or if they smell or look dirty, take him along to the vet for a check up .
Summary
Most dogs are not upset by the process of having their ears cleaned, but it's still an important one to get your puppy used to it from a young age.
If you have a breed with long ears that is vulnerable to ear infections, even if he isn't yet showing signs it's a good idea to get him used to the process.
That way when you have to do it later on, you won't cause either one of you unnecessary distress.