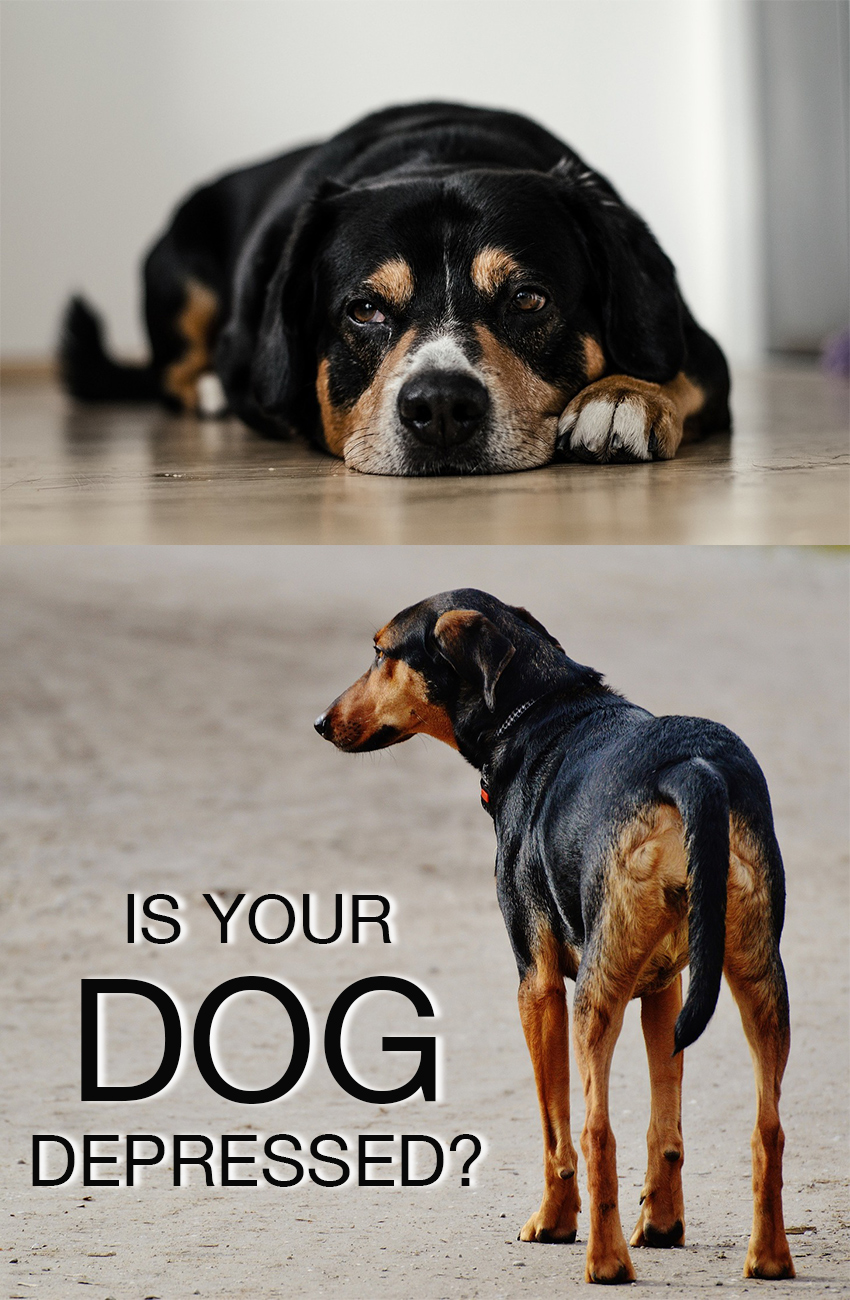 Are you worried that your dog might be depressed?
Does he seem sad or tired for no reason?
Are you worried that he has lost his enjoyment in life?
In this article we are going to take a look at dog depression.
Answering your top questions on canine depression, and helping you to find out how to help your dog to feel happy again.
What Is Dog Depression?
Dog depression is a blanket term used to describe periods of sad behavior exhibited by dogs.
The behaviors considered to be associated with dog depression are those which a human may exhibit when suffering from clinical depression. For example, changes in appetite, becoming withdrawn and lethargic.
Dog depression is a way that we can describe a very sad dog.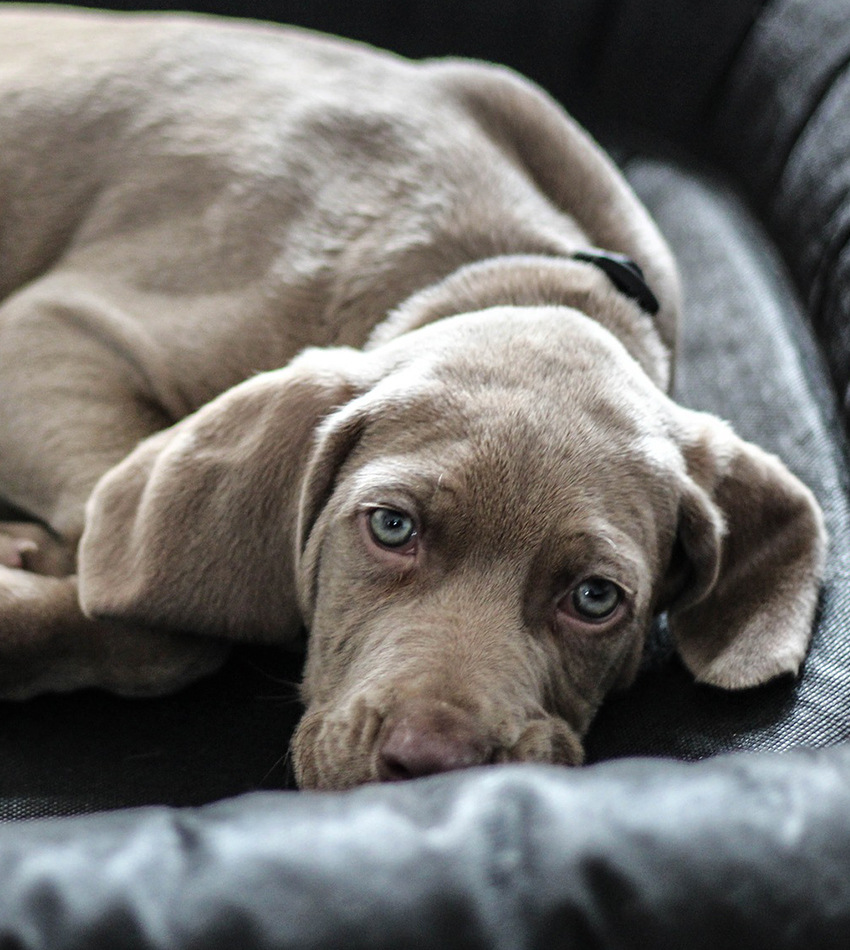 Can Dogs Get Depressed?
Clinical depression in humans is a well researched and studied field. This is not the case with canine depression.
At present there is no unequivocal evidence to prove that dogs can get depressed.
No studies which have shown a chemical imbalance in depressed dogs brains have been produced.
However, depression in dogs is largely a term for describing very unhappy behaviors.
And dogs can definitely feel very unhappy.
It is useful to have this blanket term of dog depression to describe our miserable pets, as it enables us to focus down to find the route cause of the issue.
Is My Dog Depressed?
If your dog seems sad, then you might understandably wonder whether he is depressed.
Although there is no defined medical way of identifying depression in dogs, there are some dog depression symptoms that you can look out for.
Signs Of Depression In Dogs
Dog depression is categorised by changes in their behavior, which do not reflect their normal character.
Let's take a look at some common dog depression signs that might suggest that you have an unhappy dog:
Increased sleeping
Change in appetite
Lethargy
Upset stomach
Hiding
Restlessness
Panting
Drooling
Irritability
Howling
Whining
Sudden weight loos
Increased shedding
Loss of enjoyment
Very unhappy dogs can show any or all of the symptoms of dog depression above.
My Dog Looks Sad
It is common for owners to worry if their dog looks sad. Even if they don't show any of the behavioral signs above.
When you are looking at your dog's expression, you should consider not what looks sad to human eyes but what indicates sadness in a dog.
Some breeds have what is thought of as a sad expression. But they have it all the time.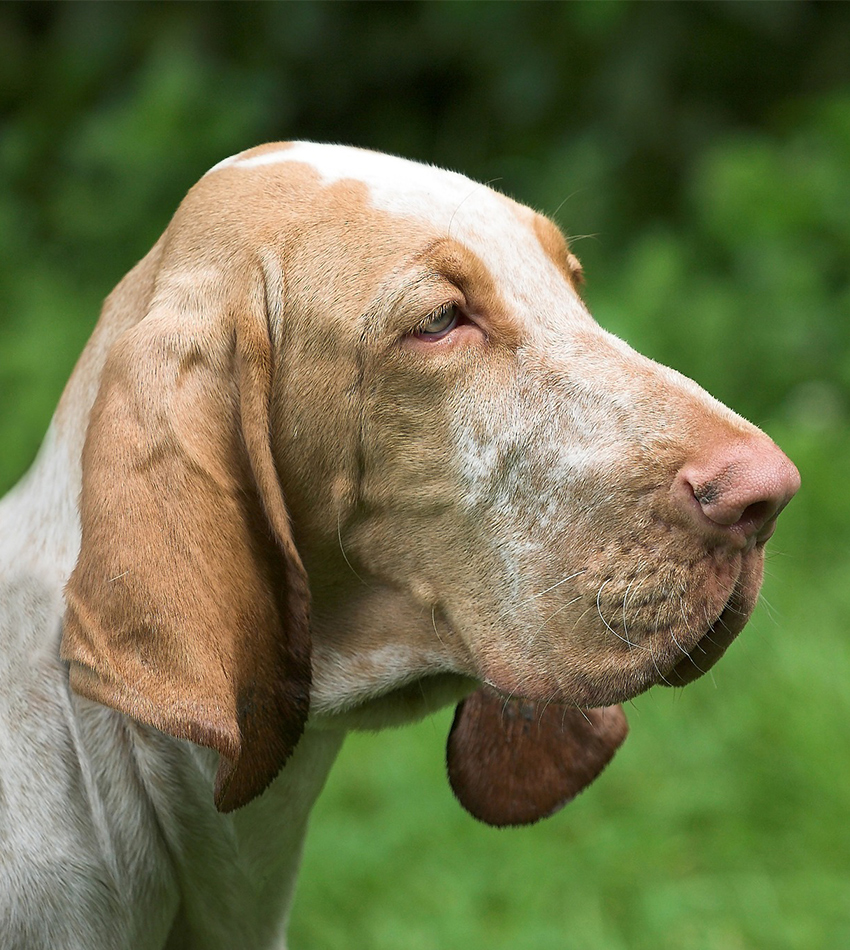 These sad dog faces are as a result of the way they are bred.
Drooping eyes, low set ears and hanging jowls can all make a puppy look sad. But these are anatomical features and not something that he can change to reflect his mood.
Sad Dog Body Language
Physical signs of sadness or fear in dogs include:
Tightly closed mouth
Lip licking
Looking at your with their head turned away
Intense gazing with the whites of the eyes showing
Head bowed
Tail low or tucked under
These will differ slightly between breeds, for example Whippets always hold their tails under their bodies.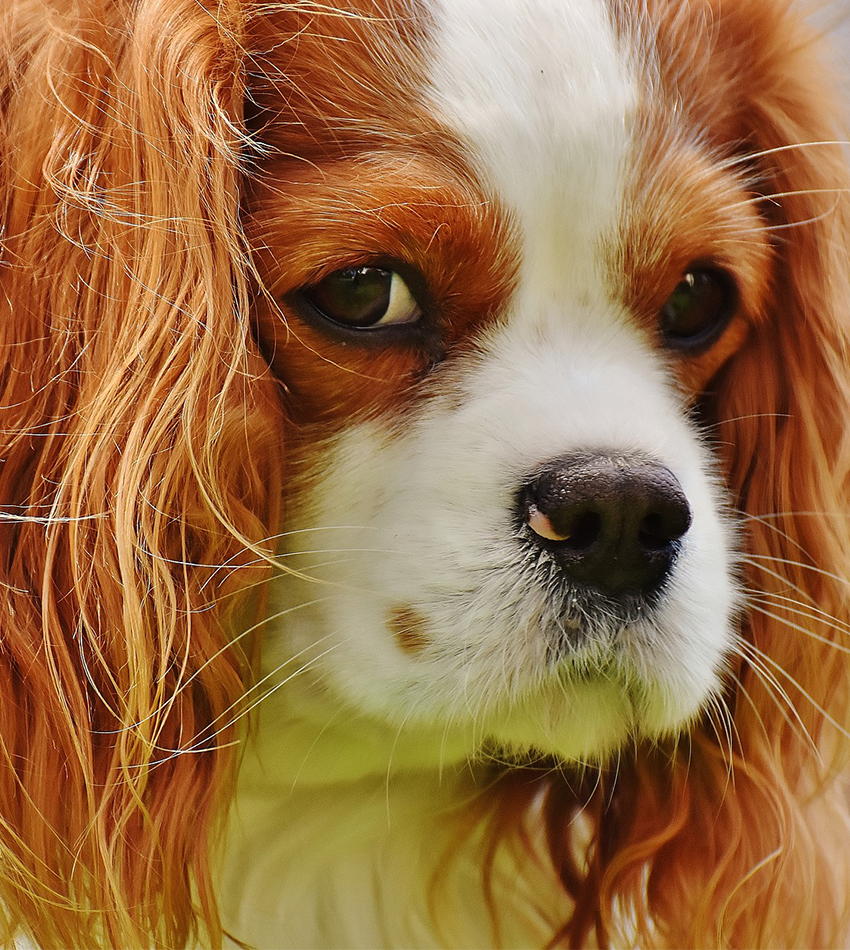 Look at how your dog compares to the other members of his breed to help you decide whether he is displaying sad body language.
Dog Depression Treatment
The first thing to do if you think your dog is depressed is to visit the veterinarian.
Some signs of dog depression are the same as those you will see in some health problems.
It is very important that your vet rules out any health issues that could pose a risk to your dog or be causing him to feel unhappy.
There is no single set method of how to cure dog depression. You will first need to endeavour to work out what it is that is making your dog sad.
Why Is My Dog Sad?
Unlike depression in humans, dog depression is usually as a result of an actual event, person or situation in their lives.
If your dog is sad, then he probably feels this way for a reason. Even if that reason is not one that you can easily identify.
Sudden changes to a dog's routine, environment or health can make them very sad.
Common Causes Of Dog Depression
There are a number of things that can make even a confident dog catch a serious case of the blues.
Sad major life events, disruption to their routine, fear, loneliness and even boredom can cause noticeable behavioural changes in your canine companion.
Let's take a look at some of the most common causes of dog depression and what we can do to help them feel better.
Health Problems
The first and most important thing to consider when your dog is acting different, is that there could be a health problem at play.
Dogs can't tell us when they are feeling hurt or under the weather, these ailments are only shown in differences in the way that they act.
Sad dogs are often unwell dogs. So if your dog appears to be down in the dumps, then your first stop should be to your local veterinarian for a full check up.
Once medical issues have been ruled out, let's consider some events which could cause your dog to appear to be depressed.
Dog Depressed After Boarding
Dogs like routine and stability. Just like we do! The difference is that as rational verbal adults we can understand that some changes to our routine are temporary.
When you put your dog into boarding kennels for the first time, he does not necessarily know that you are going to return for him. If he finds being away from you tough, he might act differently upon his return.
This is a fearful reaction to the uncertainty he now feels. He doesn't know that you won't be going to go away again and this time not pick him up.
You can help to reduce or avoid dog depression after boarding by spending lots of time with him. Shower him with praise, treats and fun games and activities.
If you know you will need to put him in kennels again at some point, you can help him to come to terms with this by doing a few overnight stays in the run up to the longer stay. This will help him to understand that whenever he goes there, you will always come back for him.
Dog Depression After Moving
Moving house is a big change for anyone, but even more so for a dog who does not have any idea what is going on. Dog depression after moving is not uncommon.
Their routine will be severely interrupted before and during the move, and will need to be re-established once you are settled in.
The sooner you can return to a normal or fixed routine with your dog the better. Walks, meals and activities scheduled to fixed times each day will help him to feel more settled. Make sure all of his things are returned to him as quickly as possible, especially his bed or crate, so that he feels he has somewhere familiar to retreat to.
Dog Depressed After Grooming
Is your dog depressed after grooming? Does he sit patiently while you brush him but then mope around for several hours afterwards?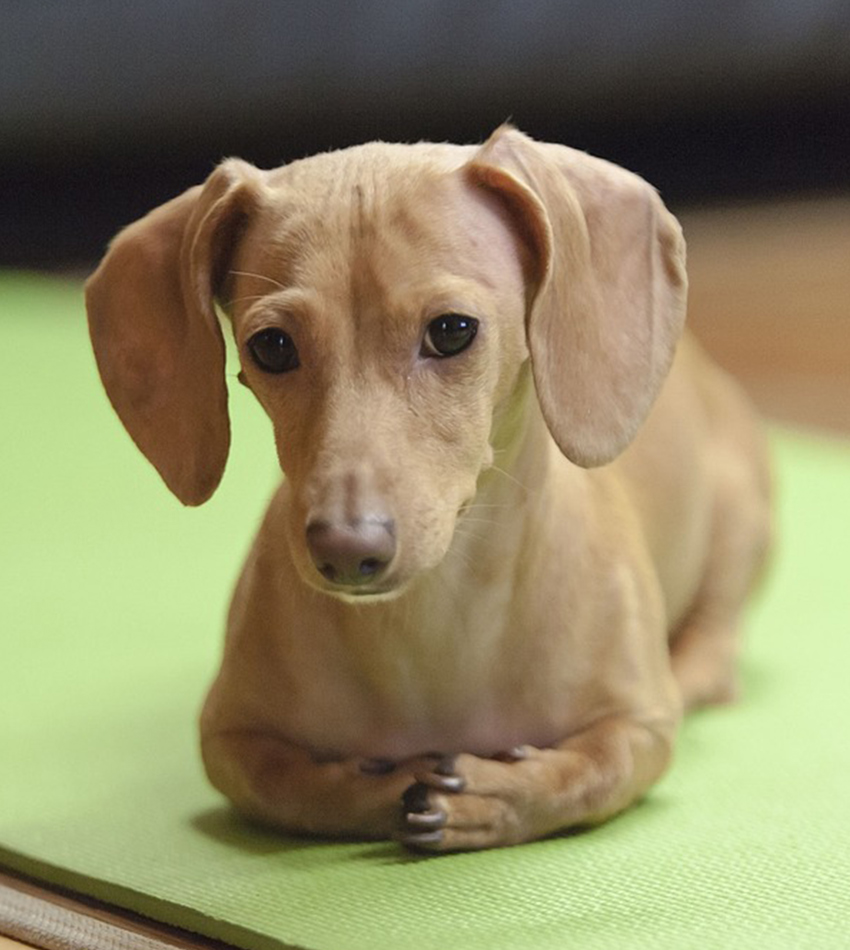 Just because your dog tolerates being brushed, does not mean that he finds it an enjoyable experience. Some dogs find the act of grooming stressful or uncomfortable.
Fortunately there are a few options you can look at if your dog is unhappy are brushing.
If he is a long haired breed, then consider keeping his coat shorter by clipping it.
You might like to try visiting the groomers instead of brushing him yourself as well. It may be your technique he finds difficult, or the association between your home and the act of grooming.
You can also help him to find grooming a rewarding experience through the careful use of treats. You can find a great technique for helping your dog to enjoy his grooming sessions here. 
Dog Depression After Death of Another Dog
Dogs find major life changes distressing. If your dog has always lived with another dog, played together and slept together, then they will feel their loss.
The lack of company, play and interaction will have a huge impact on your dog's life and can make him feel sad, lonely and bored.
It is not unusual for dog depression after the death of another dog to occur.
There are a few ways you can help your dog to feel more cheerful. Spending more time with him, engaging in new distracting activities or games and getting more exercise will all help.
You might also want to consider the impact of getting a new dog. If your dog is very sociable then he might well appreciate a new companion in his life, when you feel that you are ready to make this step.
New Arrivals
Even the friendliest dogs in the world can object to a new arrival in their home.
They might tolerate them nicely, allow them to pester them, but still be unhappy in the disruption to their lives and routines.
If you have had a new baby, or brought a new puppy into the house, then your dog's world will have been turned upside down. There will be extra distractions, interactions and objects all over the place. However hard you try to keep things normal for your dog, they will notice the change.
If your dog shows signs of depression after a new arrival, then they will hopefully get used to them within a few weeks and return to normal. In this time, make sure that they have somewhere to retreat where they are away from grabbing hands or puppy teeth.
Keep as much of their daily routine consistent as you can, and stay positive in your interactions with them. This will helpfully help them to come to terms with their new situation as soon as possible.
Fear
If you are asking yourself 'why is my dog hiding in the closet' or 'why is my dog staying away from me' I am afraid that the probable answer is that he is scared of something or someone in your house.
A common cause of fear in dogs is the use of aversives in training.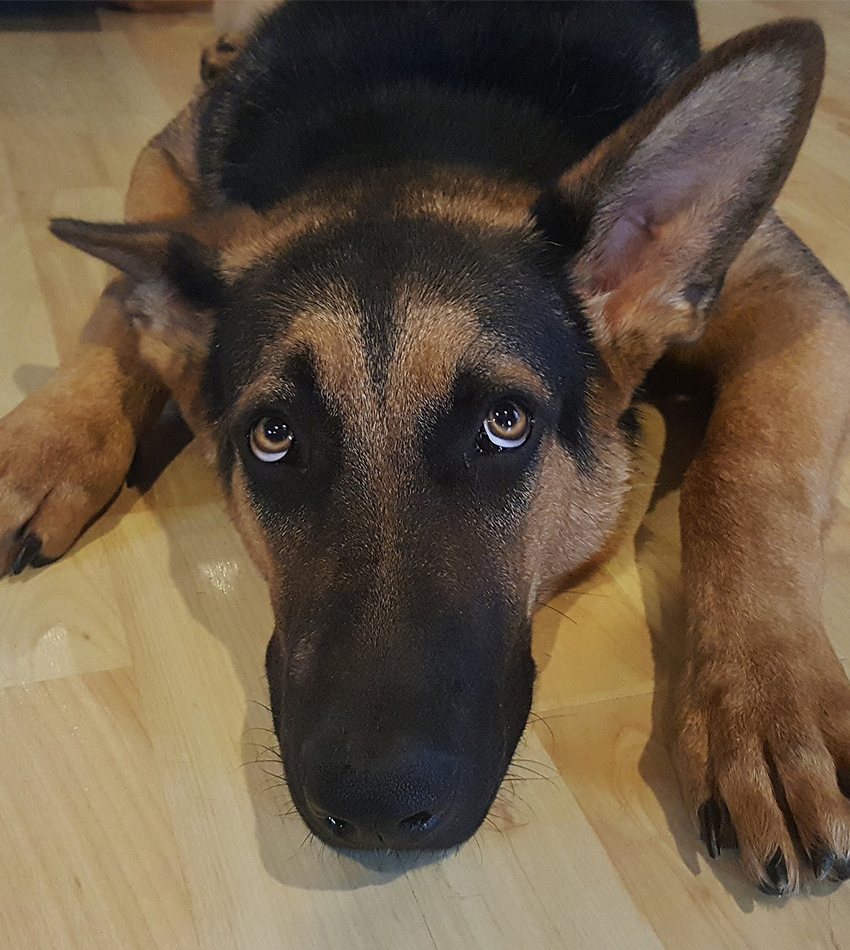 You might not be aware, but punishing a dog does not have to mean the act of physically reprimanding them. It can be to do with intimidating them vocally, spraying them with compressed air or using a devise such as a prong collar.
If you train your dog through fear, then he will become fearful of you. This will impact your relationship and can make him appear to be withdrawn.
Fortunately, this is a situation which can be rectified through switching to positive reinforcement training.
If your dog is withdrawing from your company constantly and you do not use any aversives around him, then see if you can work out whether something else about your home is causing him to feel intimidated or uncomfortable.
Is your house too hot, so he wants to sleep somewhere else with cool floorboards? Is your house too cold, so he is looking for the smallest warmest space?
Make a list of the places he retreats from and goes to, and try to work through the problem in a practical way.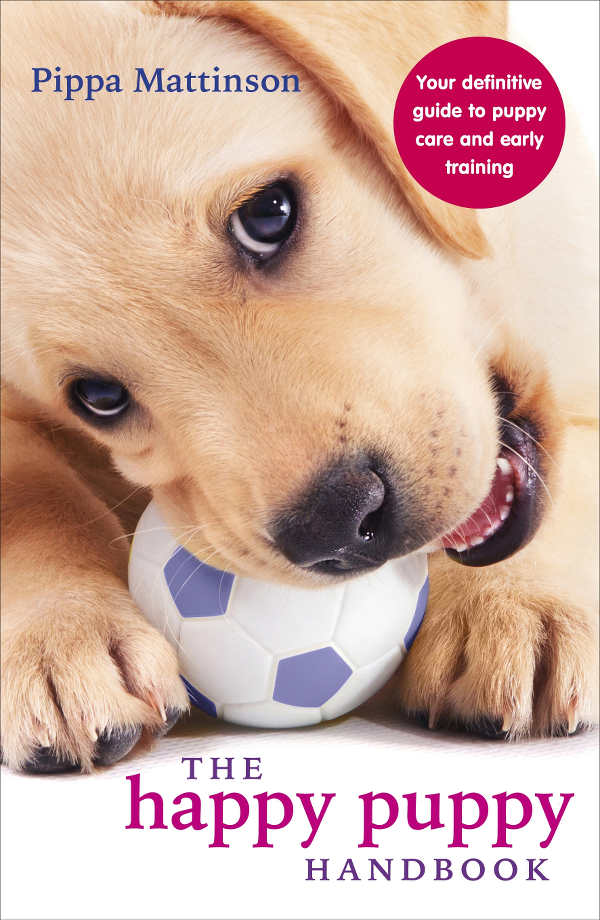 Boredom
Boredom is a serious problem for some dogs. If your dog is showing signs of canine depression, have a think about how he spends his day.
Does he have company? Are there things to keep him entertained around the house? Is he getting enough exercise or training sessions?
Many households work full time, leaving the dog at home during the day.
While you might think this arrangement is fine as your dog hasn't destroyed anything or messed in the house when you return, he might be suffering emotionally due to the lack of company and mental or physical stimulation during the day.
There are a few possible solutions for you to try. Firstly, make sure that you leave your dog plenty of things to keep him busy.
Frozen Kong toys filled with treats will keep most pups busy for a while.
You could arrange for a dog sitter or dog walker to come around once or twice during the day to play with your puppy. Or look into the doggy day care options in your area.
Some people are even lucky enough to bring their dog to work with them, and this is something you could bring up with your employer if you have a friendly boss!
There are also some amazing interactive dog toys and treat dispensers you can now buy, which link to a mobile app and allow you to play with your pet while you are out.
Keeping your dog entertained when you can't be together is a great way to improve his attitude to life.
Getting Old
Old dogs can give the impression of being depressed. They often slow down, sleep a lot, eat less and are not willing to play.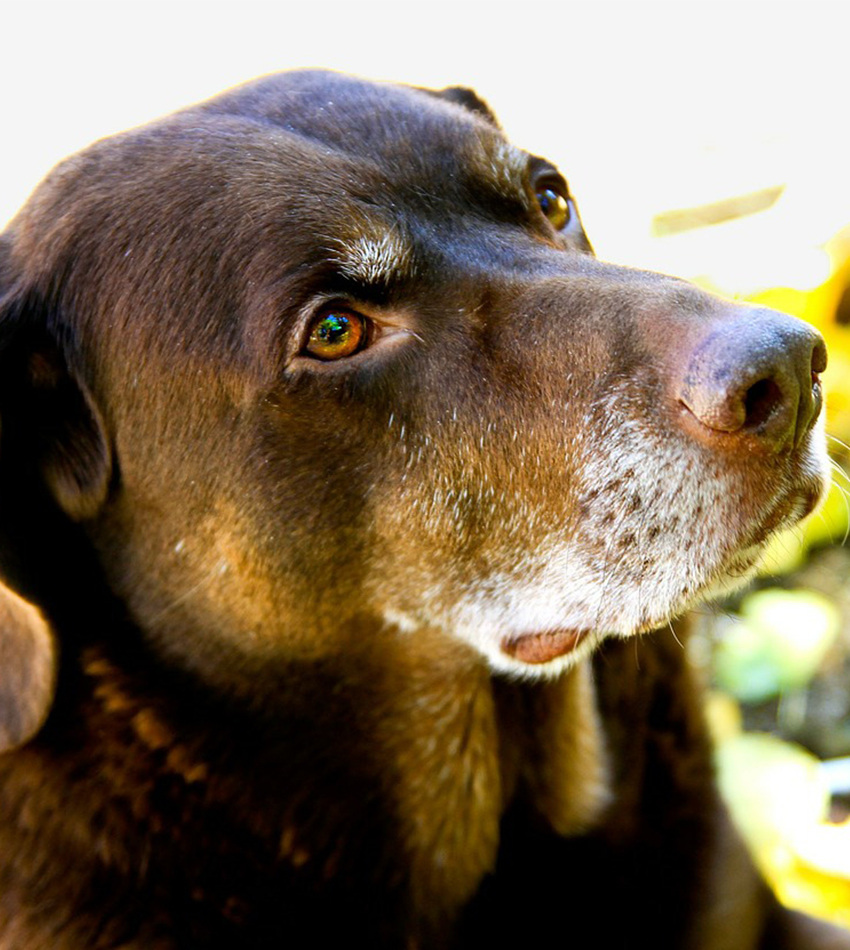 If these changes occur gradually over time and your dog seems generally well, then it is probably a result of his age and not signs that he is feeling sad.
This said, changes in behavior should be met with a trip to the veterinarian for a thorough check-up, before you decide it is just old age.
Dog Depression Medication
Some veterinarians will as an absolute last resort for miserable dogs prescribe antidepressants.
These should be a short term solution for dogs suffering from stress, and should be used in combination with changes to your dog's life that help to promote his happiness as well.
Before you even consider antidepressants for your dog, please take a really good look at his environment and any route causes of stress which are making him sad.
This will be a far better solution in the long term, to help your dog to stay confident and happy.
How To Make Your Puppy Happy
As well as responding specifically to what you believe to be the cause of your dog's depression, there are some great things you can do to boost his confidence, cheer him up and grow the bond between you.
Get out and about to places he is comfortable and feels confident
Regularly commit to positive reinforcement training sessions
Reward happy signs such as tail wagging with praise and treats
Spend more time with him
Exercise more
Find some doggy friends