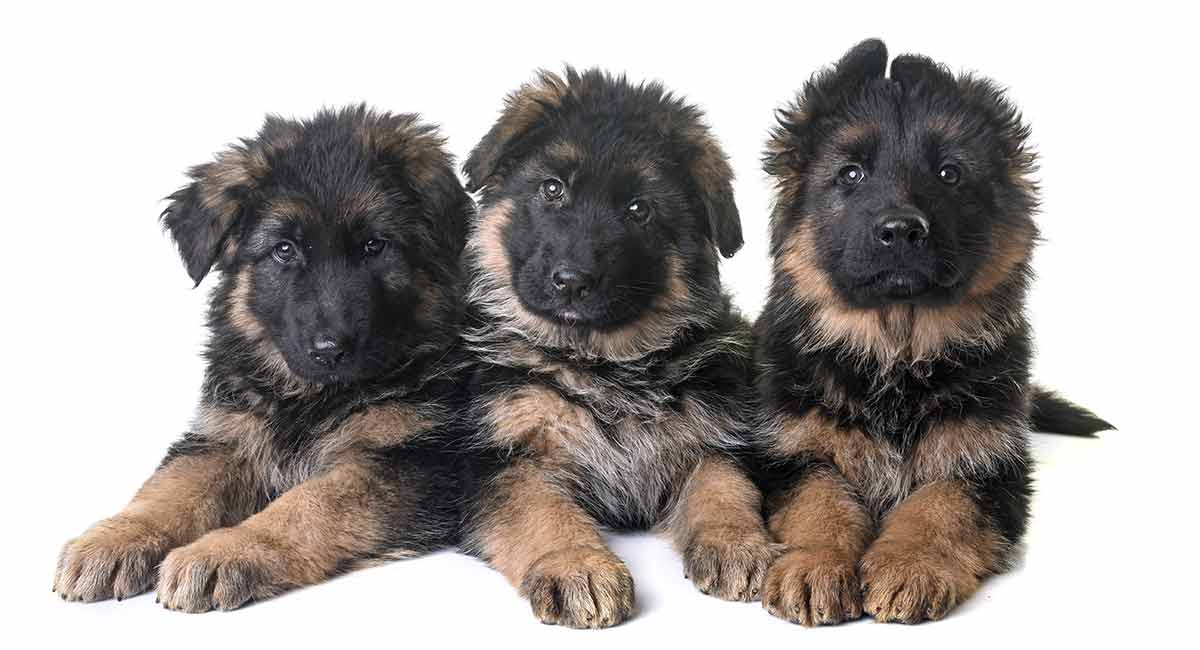 8 week old German Shepherd puppies are ready to be separated from their littermates and settle into their new homes. Bringing home that new puppy is an exciting time, but it's also challenging. It's a time of sleepless nights, potty training, bite inhibition and lovely bonding!
Contents
At 8 weeks old, it's your job to introduce your puppy to a whole new world, and help her grow up to be a happy and healthy member of your family. This article is designed to help you along your way. We'll help you understand why your 8 week old German Shepherd puppy does what she does, and how best to handle the typical challenges of raising a young German Shepherd.
You'll find lots of resources here to help you. You can also sign up for Pippa's Training Tips by email, using the box below.

What to Expect From a New Puppy
Raising any puppy has its overwhelming moments, and German Shepherd puppies are no exception! After a few nights of interrupted sleep, potty-training mishaps, and that puppy penchant for destruction, you may feel like you're at the end of your rope.
This is completely normal. Every new puppy owner has their moments of frustration and doubt. Remember that your 8-week-old German Shepherd puppy is going through a big life change, too.
She may be feeling stressed and out of sorts when you first bring her home. Consistency and structure will go a long way toward helping both of you.
Introducing The Puppy Crate
A crate can be your best friend when it comes to caring for your 8-week-old puppy. While some people think of crates as cruel, the reality is that with the right training, your puppy will think of her crate as a safe, quiet space where she can go to relax.
If you leave your puppy unsupervised at home, you may come back to find a whole lot of destruction.
Puppies can get into all kinds of trouble on their own, with their natural curiosity and desire to chomp down on just about everything in their path. A crate can help you keep your German Shepherd puppy — and your belongings! — safe and sound when you can't be there.
Crate training also can help housetraining go more smoothly, since your puppy won't want to go potty where she sleeps. But it's very important to introduce the crate properly, and never use crate time as a punishment.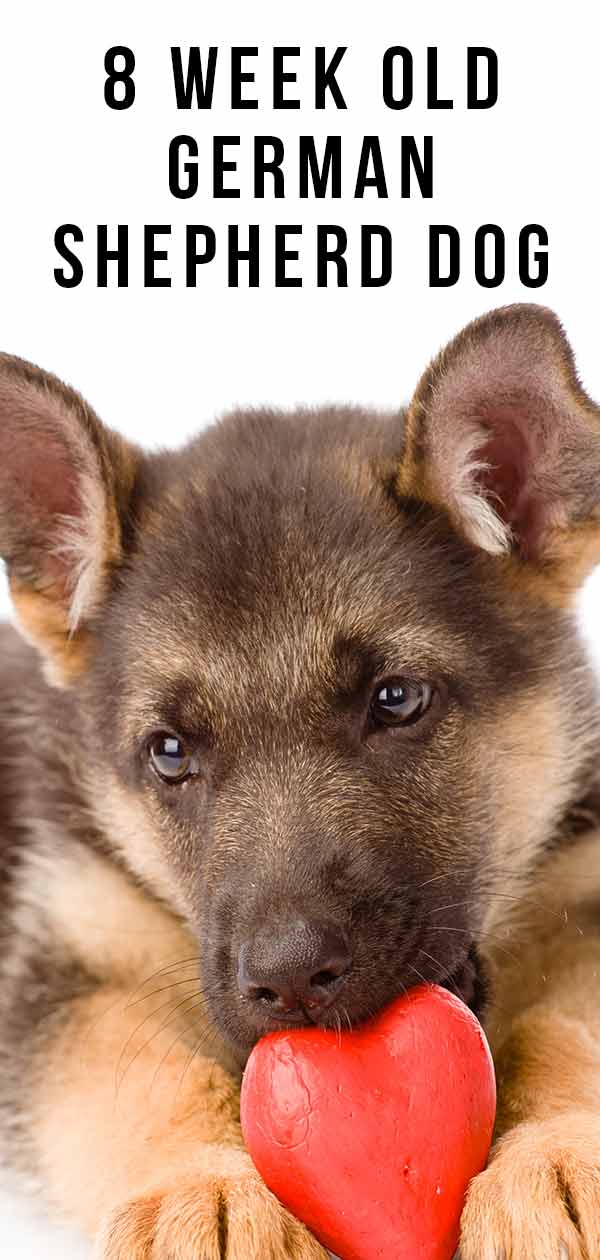 8 Week Old German Shepherd Puppy Schedule
From feeding and potty breaks to playtime and nap time, a schedule will help both you and your puppy know what to expect out of life, and keep things from getting too chaotic.
While every puppy is different, chances are your daily schedule for the first week will look a little bit like this:
Early morning: Time for the first potty break of the day! Don't be surprised if your puppy needs to go out at the crack of dawn — or even earlier.
Breakfast time: You can feed your puppy breakfast right after her first potty break, or wait a little longer and let her go back to sleep first. No matter what, she'll need another trip outside shortly after the meal to relieve herself.
Mid-morning: Time for another small meal, and another potty break.
Afternoon: Lunchtime followed by a potty break.
Late afternoon: Another potty break!
Evening: Dinner, and then — you guessed it — potty time.
Just before bed: One last trip outside before you turn in for the night. Remember, your 8-week-old puppy can't go very long without needing to potty, so you may also need to get up to take her out in the middle of the night.
In between potty and mealtimes, your puppy will probably be playing or napping. Scheduling play and exercise at the same times every day can help ensure that you get that nice, quiet naptime right on schedule, too.
And don't be afraid to include training in the first week!

Your puppy's attention span might be short right now, but she's always learning and it's best to begin training as early as possible.
Potty Training an 8 Week Old German Shepherd
Potty training can be one of the most daunting tasks of raising a brand new puppy.
The younger the puppy, the more potty breaks she'll need.
Don't be surprised if you find a few messes around the house in the beginning. It may take a bit longer than you expected for your puppy to get the hang of things!
But if you stick to a strict schedule, you'll decrease the likelihood of potty training mishaps.
First Night With Your Puppy
The very first night with your 8-week-old German Shepherd puppy might be the toughest.
Your puppy has never been apart from her siblings and mother before. If you put her in a room by herself at night, chances are she's going to start crying.
And if you've never heard a puppy cry before… well, let's just say your neighbors are going to hear it, too.
The best way to avoid a night full of mournful wailing is to let your puppy sleep in your room, at least in the beginning.
While you may be tempted to let your puppy sleep in the bed with you, this isn't the safest option. She could fall off the bed, or wake up and get into trouble while you're still sleeping.
Safer ways to keep your puppy comfortable and contained at night include keeping her crate beside your bed, setting up a puppy playpen, or even just using a tall cardboard box.
How Much do 8 Week Old German Shepherds Sleep?
If your new puppy seems to be asleep more often than she's awake, don't worry — this is totally normal.
In fact, an 8-week-old puppy can spend as many as 18 hours a day sleeping!
This is why it's important to allow for quiet time in your puppy's schedule, so she can get the rest she needs to help her grow.
Feeding an 8 Week Old German Shepherd
In the beginning, it's best to keep your 8-week-old German Shepherd puppy on the same food she was eating before you brought her home. This helps keep some element of consistency in her routine (and her stomach).
If you do decide to switch over to a different food after a few weeks, do so in stages. Adding about 25% of new food to 75% of your puppy's current food is a good general rule. You can then increase that slowly over time.
At 8 weeks old, German Shepherd puppies should be fed three to four times per day. Eating too much in one sitting will upset their stomachs, and that's no fun for either of you!
Because the German Shepherd is a large breed, you should also feed your puppy a diet formulated specifically for large breed puppies.
There are many commercially available diets made to help large breed puppies grow at the right rate. This helps to avoid skeletal abnormalities like hip dysplasia.
Want more information on what to feed your 8-week-old German Shepherd, and how to change her diet as she gets older? We have everything you need to know right here in our guide to feeding a German Shepherd puppy.
Upset Stomaches
If your brand new puppy has an upset stomach despite your best efforts, don't worry too much — it's normal for puppies to have diarrhea within the first few days of arriving at their new homes.
The stress of such a drastic life change can manifest in different ways, and an upset stomach is a pretty common reaction.
You can give your pup a better chance of having a settled stomach by keeping her on the food she was eating before you brought her home, and feeding on a consistent schedule.
Diarrhea can also be a sign of an underlying issue besides stress, however, and severe diarrhea can be life-threatening if left untreated.
If your puppy is vomiting, has bloody diarrhea, seems unusually lethargic, or is refusing to eat or drink, then it's time to call the vet.
8 Week Old German Shepherd Puppy Biting
Puppies often bite each other when they're playing — to them, biting is just part of a fun game!
Your 8-week-old German Shepherd puppy is likely to bite you too, for exactly the same reason. She may even growl.
But in your puppy's mind, it's all in good fun. There's nothing "mean" or aggressive about your puppy's play biting, even if it does hurt.
And it really can hurt!
That's because an 8-week-old puppy hasn't really figured out bite inhibition yet.
Bite inhibition is your puppy's ability to control the power of her tiny jaws during play-biting.
With the right reactions and training on your part, your puppy's needle-sharp biting will turn to gentle, harmless mouthing.
Your Growing Dog
As your German Shepherd puppy grows, our guides will help you care for her throughout her life. Here are a few links to get you started:
Have you just brought home an 8-week-old German Shepherd puppy? Or have you raised German Shepherd puppies before? We'd love to hear from you in the comments!