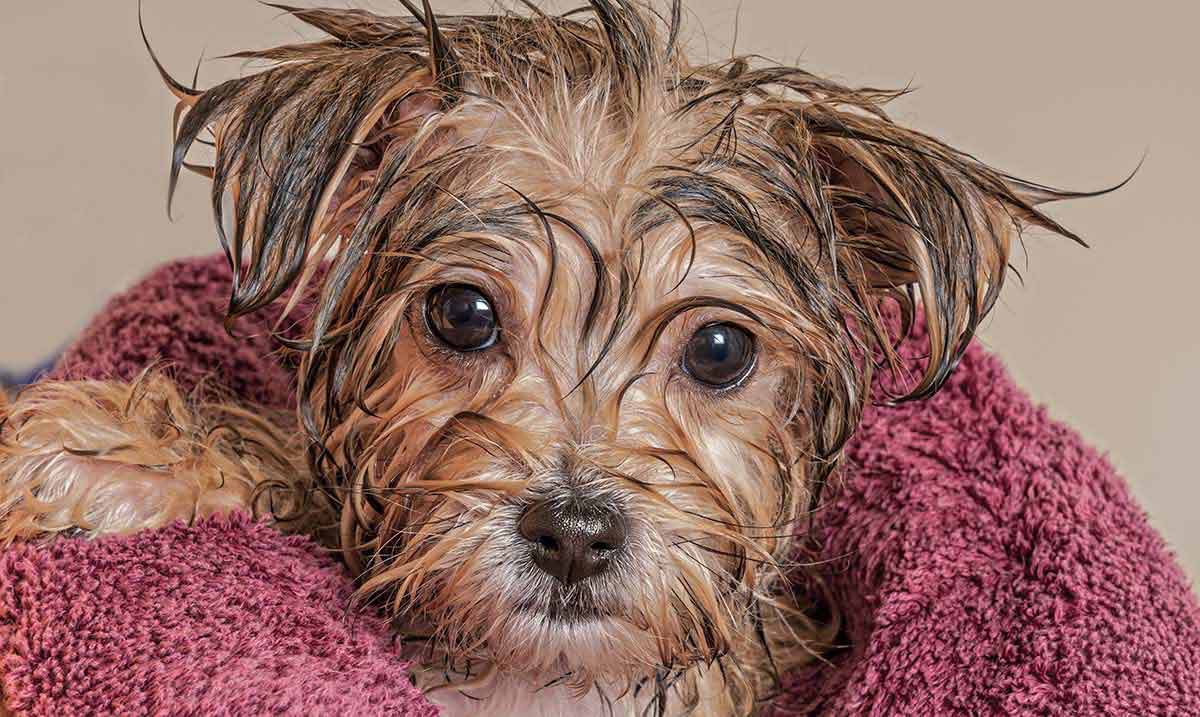 Puppy bath time should be fun! But giving a puppy a bath something that new puppy parents often worry about. Today we are going to take you step by step through the baby dog bathing process. Making it as easy as possible. I'll share how often to bathe a puppy, where to do it, what puppy cleaning supplies you need, and give you instructions for making your bath time routine puppy perfect.
Contents
When Can You Give A Puppy A Bath?
So when can puppies have their first bath? The answer is that it's absolutely fine to give your new puppy a bath if they need one, on their very first day home. The chances are that won't be necessary. But it won't hurt. But what do we mean by "if they need one" Should you wait until your puppy is muddy or visibly dirty?
You don't have to wait until your puppy gets dirty to bathe them. You can bathe your puppy if they smell – most puppies smell great, but occasionally a new puppy is a bit smelly when the breeder hands it over.
You can also bathe your puppy just to get them used to it, and we'll talk a bit more about that in a moment. And later on if your puppy has been swimming in salt water a bath or a good rinse in clean water may be in order.
Puppy's First Bath
Planning your puppy's first bath? Puppy bath time doesn't need to be a daily event. Small puppies don't need daily baths in the same way that human babies do. Plus, some folks with clean healthy dogs never bathe their puppies at all. Unless the puppy gets poop on themselves or steps in something equally nasty, of course.
But for now, this means there is no specific date on which you should give your puppy his first bath. Let's take a look at when you might want to give your puppy his first bath, and how often you should bathe him after this.
Though you should be careful if you are raising a litter of puppies not to bathe them unless completely necessary before they are 8 weeks old. Bathing puppies at 3 weeks old might seem appealing as they are just starting to get messy, but wiping them with a damp cloth and towel drying will suffice.
Can You Bathe a Puppy at 8 Weeks Old?
There is no minimum puppy bath age. You can bathe a puppy at 8 weeks old, if he needs a bath. Most puppies will at some point. After all, they are prone to falling and stepping in poops and puddles! But, this doesn't mean your puppy will need a full bath every day.
When Can You Bathe Them Regularly?
There are a couple of cons to bathing dogs regularly. Especially once they are out and about in the world. But, there are some pros too, so we'll look at both.
One of the main disadvantages of regular baths is that even the gentlest of shampoo is likely to disrupt the natural balance of your puppy's skin and fur to some extent. Plus, it disrupts the natural waterproofing that fur develops as your puppy matures.
Don't Lose Friendly Bacteria
Under your puppy's fur is a little microworld of friendly bacteria. This helps to keep your puppy's skin at just the right level of acidity. Changing that balance with shampoo may reduce your puppy's natural resistance to skin problems and infections. Your puppy's soft baby coat is replaced by a typical adult coat in the first few months of life. Let's take a look at this coat in more detail.
Waterproof Adult Fur
Between six and twelve months old, most puppies will have grown their adult fur. One of the traits of adult fur in many dogs is that it is fairly waterproof. This waterproofing is made by oils from the skin. Plus, it helps keep your dog warm and comfortable when he swims or goes out in the rain. This is also what makes the smears you'll see on a white wall if your dog regularly sleeps up against it!
Shampoo strips out those natural oils. When this happens, water can penetrate your dog's coat right through to the skin. So, regular baths are neither essential, nor even a very good thing. But surely your pup needs a wash from time to time or he'll get smelly? So just how often can you bathe a puppy?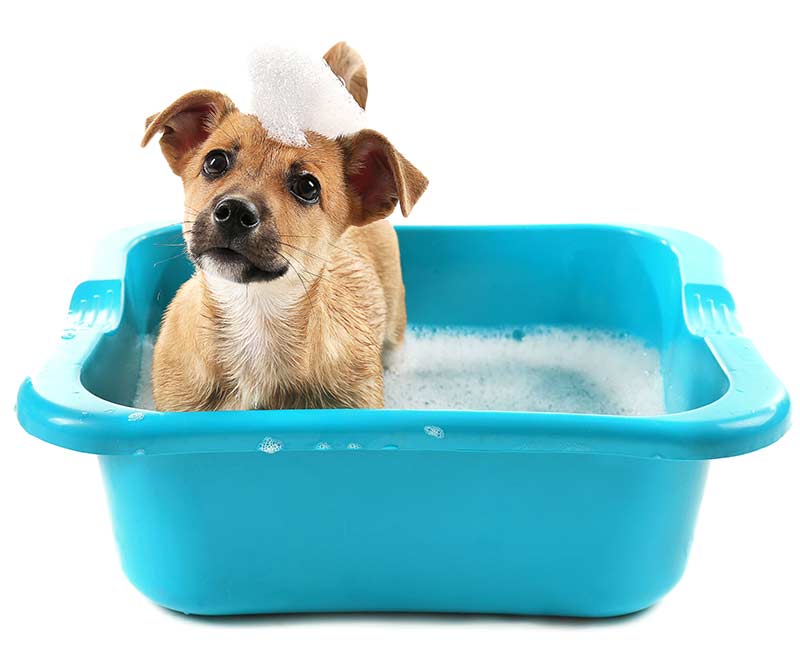 How Often Should I Bathe My Puppy?
So there's a good case for not bathing an adult dog too often, and good reasons to bathe a puppy regularly. But how often should you bathe your puppy? Are we talking daily baths here? There is no hard and fast rule but here's a puppy bathing schedule for you to use as a guide:
Once a week until three months old
Once a month until six months old
Twice a year thereafter or as necessary
But, bear in mind that it probably won't hurt your puppy if you never bathe them at all. So why use the schedule above? I mentioned before that there were some benefits to regular bathing, let's look at those now.
Benefits of Regular Baths
One of the major benefits is to let the puppy to get used to being bathed. Let's face it. He's almost certainly going to need a bath at some point in his life. Your puppy may need a bath:
For medical reasons (infections, parasites, allergies)
To remove nasty substances from fur
To reduce odor
If a puppy has never had one before, a bath on his third birthday because he meets a skunk or steps in some engine oil, is going to be a pretty traumatic experience.
It Helps You Too!
The other benefit is really for you. Some breeds of dog, especially some of the sporting breeds have a natural strong body odor. Labradors and other sporting dogs can be very smelly. Some dogs are affected more than others. My yellow Lab for example smells very strong if not bathed occasionally. While my chocolate Lab has only the mildest body odor.
Many dogs smell stronger as they get older. Older dogs can get very smelly if not bathed occasionally. As can dogs that are more likely to get grubby due to having folded skin, like a Bulldog, or short legs, like a Dachshund. Some dogs even have a tendency to pee on their own legs, like the lovely Whippet, so they'll need a more frequent wash!
Staying Happy
To avoid upsetting your older dog if you need to start giving them baths from time to time, it's a good idea to get a puppy used to baths right now. This means it's a good thing for all puppies to be used to happy bath times from an early age.
Bathe your puppy once a week for the first three or four weeks, then once a month until they are six months old, then at least twice a year after. Then, bath-time should be a peaceful non event for your dog. He won't be scared when he sees the shampoo come out. The whole experience will be no big deal.
Some dogs will need bathing more regularly than others due to their coat type. Curly dogs like Poodles or Doodles need bathing more often than Labs or German Shepherd dogs with their straight double coats. Dogs with short single layered coats will need the least scrubbing!
What Will You Need For Your Puppy's First Bath?
To bathe your puppy you will need:
Puppy shampoo
A small tub
Lukewarm water
A wide mouthed comb
Puppy conditioner
Towels
Don't be tempted to use human shampoo on a puppy. If you get it in his eyes they will sting and he won't want to have another bath, ever again. Baby shampoo can be used in an emergency. But a dog's skin is less acid than human skin. So, it's best to use a puppy shampoo designed for the purpose.
Where To Bathe A Puppy
Bathing your dog in the bathtub is fine for older dogs, but some puppies may panic if plunged into a giant white bathtub. Which if you think about it, isn't really that surprising! You can help accustom your puppy to the big bath by standing him in it for a few seconds, a few times a day. Plus, give him some tasty treats to eat while he's in there.
A popular alternative for bathing a puppy is the kitchen sink. But be careful as wet puppies are slippery and if he wriggles out he may fall and hurt himself. If your puppy doesn't like the bathtub, a safer place is in a plastic washing up bowl on the kitchen floor!
What About Showers?
With a small puppy you might be tempted take them into the shower with you, but some will find this a bit scary, and you will have to have the water a lot cooler than you would feel comfortable with, so it's not a great idea. If the weather is fine you can do the whole thing outside, using a portable dog shower.


I actually use one of these in the bath too, for my dogs. This is because the shower head in my bath is not detachable. You use the spray to cover the pup with water, then lather up the shampoo, then use it to rinse off.
My portable dog shower has made puppy bath time much easier. And the 5 litre tank is enough for one adult Labrador without refilling. Especially if you make her wet with water from a cup first. You can also get battery operated portable shower heads. These have a little pump at one end that you stick in a bucket of water. I should think they are easier to store than the pump action container type that I use.
Bathing A Puppy, Step By Step
Now we've taken a good look at when to bathe your puppy, plus the pros and cons of puppy bath time. So, let's move on to the actual bathing process.
You'll need puppy soap, or puppy shampoo, which is especially formulated so as not to sting your puppy's eyes. And has the extra benefit of smelling wonderful!
Some dog shampoos are suitable for young puppies, but you do need to read the label. You don't need medicated puppy shampoo unless your veterinarian has advised it.
Preparation
First of all, make sure you have everything ready. If you don't have a hand held shower spray, you'll need an enamel or plastic cup for rinsing. Or a portable shower. Set your cup out within reach of the bath. Along with the puppy shampoo or puppy soap, and at least two good sized towels.
Many puppies will also love some tasty treats. So have a pot of these to hand too. You want to make bath time the best fun so that he is happy to repeat it next time it's needed.
It is also a really great idea to have a helper with you the first time you bath him. Controlling a wet wriggling puppy is not the easiest of tasks, so a second person can help! On top of all this, you need to have an extra towel or handy to dry the wet floor when you're finished!
Puppy Bath Water Temperature
First you need to make sure you're using the right temperature of water. You can test the heat on the inside of your wrist to avoid burning your puppy. Lukewarm water will make the whole process the most comfortable for your puppy. Wet the puppy with this warm water a little before you apply shampoo. But don't be surprised if this is difficult!
Most puppies have quite water repellent coats. Spread a little slick of shampoo down the puppy's spine. Then with very wet hands start to work it into his coat. Do each leg in turn and then his tummy and bottom. Don't shampoo the puppy's face unless absolutely essential. And keep the shampoo away from his eyes.
Rinse and Repeat!
Keep adding a little more water to spread it around and overcome the water resistance of the coat. Rinse thoroughly with your plastic cup or (shower spray). And change the water before repeating. The second shampoo will be much more successful and you should be able to work up a nice lather. It is very difficult to thoroughly wet most dogs.
Give the puppy a little treat at frequent intervals. You may need to use a whole meal up this way the first time, to keep him happy. It's really important to make sure your puppy is thoroughly rinsed off. Leaving any shampoo residue on your puppy can cause skin problems.
Should I Use Dog Conditioner?
Some people like to use dog conditioner as well as shampoo when they are bathing their dog. Especially if their dog has longer fur, as it can help to prevent knots and tangles. However, this is not essential.
You do not need to use conditioner when bathing your puppy, shampoo will be enough. But if you do decide to use one, make sure it is specifically made for dogs. Plus, make sure you rinse thoroughly after conditioning, so that none of the product is left on your dog's skin.
Puppy Bathing Tips
When your puppy has been thoroughly rinsed off, lay a towel over your lap and scoop him up in the other. He may shake off the water before you are able to do this, so prepare to get a little wet! Pop your pup into your lap and give him a good rub down. Most puppies will find this fun and exciting. So be prepared for playful nipping and grabbing at the towel.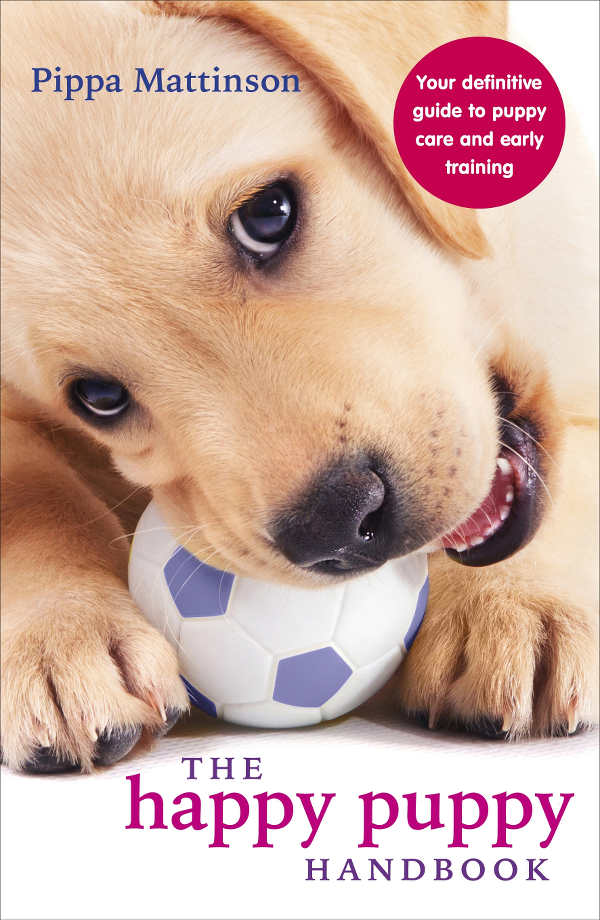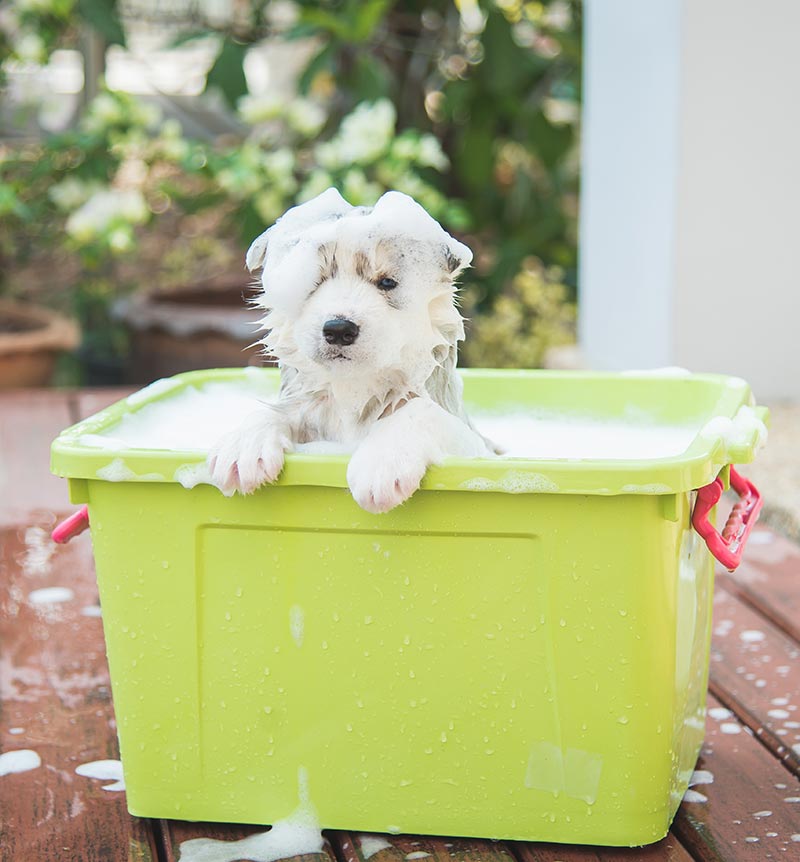 If you have someone helping you, it can be easier for one person to gently hold onto the puppy whilst the other dries him off. He will shake when you put him down. This will happen no matter how well you dry him!
Air Dry vs Hair Dry
You can leave him to air-dry in a warm room. Give him a towel to scoot around on if he wants. As this will speed up his drying and keep the damp away from some of the rest of your house.
If he seems happy then put it on a low, warm setting and focus the stream of air from the dryer through your hand with your fingers spread out. This is so you can make sure the temperature isn't too hot on his skin.
You can dry your puppy with a hairdryer. If he doesn't mind the noise. But, if he seems unsure, then you have two options. Either don't use it, or very gradually get him used to the noise.
You'll need to do this at a distance, then move slowly towards them whilst someone cuddles your pup in their lap and gives them treats. Do this every day and make very slow progress. If your pup seems upset, move back further away to a point they are happy. Only inch closer when they appear to be completely disinterested in it's noise.
Totally Dry Dogs
It's important to dry your dog thoroughly, especially if they have a double coat. Leaving your dog's coat wet can encourage fungal infections or hot spots. So, feel your dog's coat with your fingers after a bath to find any areas that need extra attention.
Plus, make sure to speak to your vet if your dog shows signs of irritation following his bath. They can help you find the cause of this, and avoid any further problems in the future.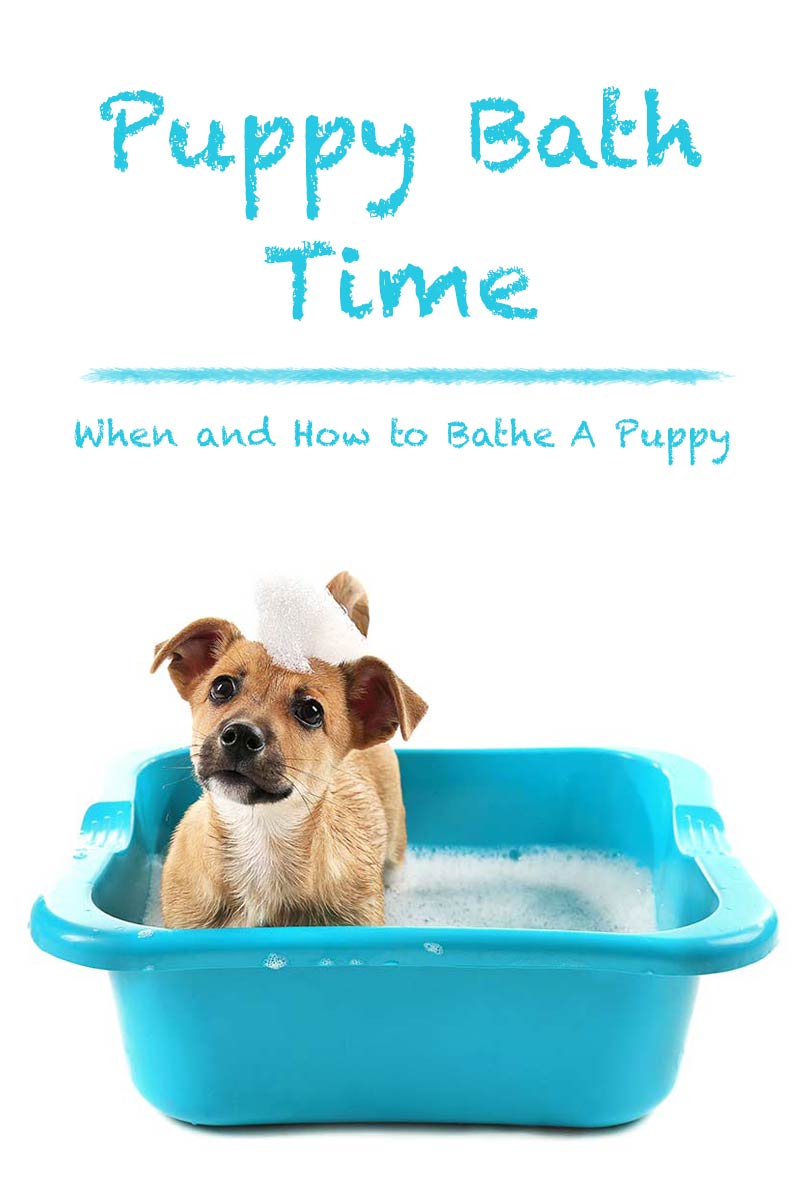 Puppy Bath Time Routines
It will help you and your dog to have a clear routine for bath time. Keep it going with simple steps, setting up the equipment before you start, and have a clear end time when drying is over. Make sure to reward them throughout, and remember not to over wash them.
However you choose to wash and dry your pup, just remember to make puppy bath time as enjoyable and fun for him as possible. Plus, use a dog shampoo specifically made for dogs to avoid any harsh soaps.
But, by all means bathe your puppy if he is really grubby or has rolled in something smelly. And bathe him often enough for it not to be an alien experience. But don't overdo it. For small mishaps, or muddy paws, wet wipes are often all that you'll need. And remember, there is no such thing as 'too many towels', when you have a wet dog in the room!