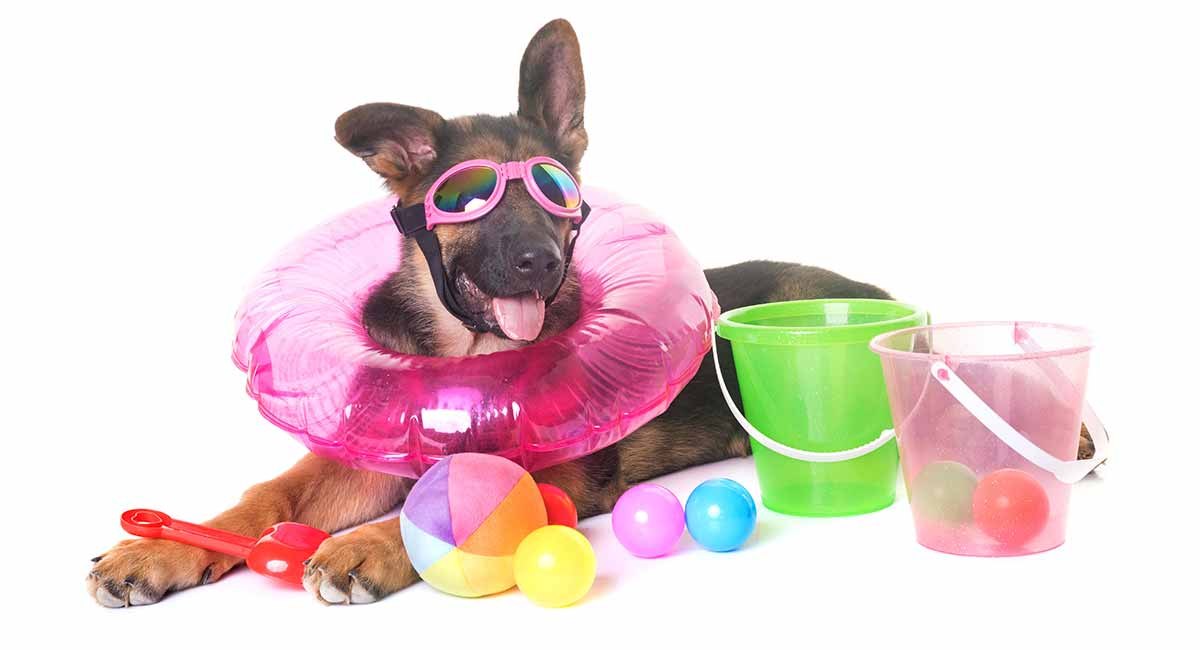 There are some things to buy for a German Shepherd puppy which are non-negotiable – you simply can't raise one without them. Other things are nice-to-have, or their importance will depend upon your lifestyle, and puppy parenting choices. Things like a collar, harness, and leash are important for your dog's safety and training. But, we can't forget things like dog toys and treats!
Things To Buy For A German Shepherd Puppy
1. Collar
It's a legal requirement in many regions for all dogs to wear a collar bearing your contact information. Traditional leather collars with an engraved tag are a popular choice. But we also love these embroidered nylon collars*.
They are lightweight, easy to clean, and won't go stiff after getting wet like leather ones. They can be personalised with up to 25 characters of information which will help someone return your pup to you.
Info to Include
We recommend using details such as:
your surname
cellphone number
and/or the street number and zip code of your address.
However, we don't recommend including your puppy's own name. Dog theft is distressingly common, and letting dog thieves know what your puppy's name is only makes it easier for them.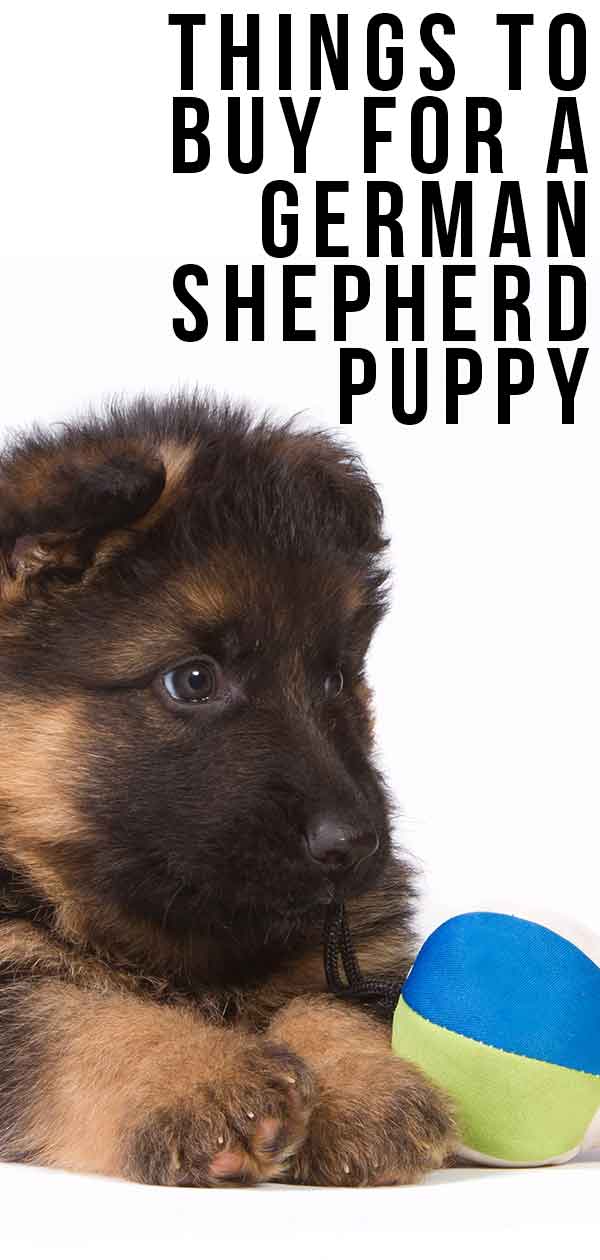 2. Harness
For some dog owners, harnesses fall into the category of "optional extra, not really necessary". But here at Happy Puppy HQ, we love them! So, it's coming second on our list of things to buy a German Shepherd puppy.
They're harder for a wriggly puppy to slip out of than a collar.
If your puppy reaches the end of their leash quite suddenly, a harness distributes the impact over a large area of predominantly muscle, rather than concentrating it on a small area of delicate throat tissues.
They're safer than a collar for restraining your dog in a vehicle, for the same reason.
And they make it easier to safely control your puppy during training.
What's more, there are lots of harnesses on the market to choose between, from lightweight and washable, to ones with extra safety features for walking at night.
Our Favorite
A particularly enduring favorite of ours is the Ruffwear Front Range harness*. It comes in lots of colors, and it's a great all rounder!
3. Travel Restraint
Most people want to be able to travel with their dog. But there are some things to buy German Shepherd puppies that will make this easier. Puppies who travel unrestrained in vehicles can be somewhat mischievous however!
It can be all too tempting to try and climb into your lap or your footwell, for a bit of attention.
Furthermore, unrestrained dogs are more likely to sustain serious injuries in a collision. For puppies destined to travel in the trunk of your car, a soft sided travel crate* is a good way of keeping them contained.
However, if your GSD puppy is a destructive chewer, this kind of crate might not last long.
Another Alternative
A great alternative is anchoring their harness securely to the seat belt plug. This will keep your puppy in place, and distribute the impact of a crash as safely as possibly over his body. You can achieve it using a seatbelt with a carabiner attached, like these*.
4. Leash
If you're collecting your puppy at 8 weeks old, they won't need much in the way of formal exercise just yet. However, it's prudent to start getting them accustomed to wearing a collar or harness, together with a leash, from an early age. So one of the things to buy a German Shepherd puppy is a leash.
Young puppies are very receptive to new experiences, so teaching them to accept wearing a leash is easiest while they are still young. You'll also reap dividends by teaching the foundations of good loose leash walking whilst they're small.
Most GSD puppy parents find that they need two types of leash.
The Two Types
First, a short lead for keeping their dog under close control near traffic and whilst walking on the sidewalk. This one has two handles*, one at the end of the leash and one very close to your puppy, which is ideal for achieving that kind of close control.
And second, a biothane long line*, which can trail behind them while you practice training and recall outdoors.
5. Crate
People tend to have mixed feelings about dog crates. So it won't make everyone's list of things to buy a German Shepherd puppy. But used responsibly, they have heaps of advantages.
They can become a cosy den for your puppy, which he will learn to associate with being safe and relaxed in.
They can make toilet training quicker and easier.
And they prepare your dog for being unavoidable crating in the future, for example if they ever need to stay at the vet, or travel by air.
Our crate training article is all about how to choose the best crate, and use it correctly. And this article is all about choosing the right size for a German Shepherd.
6. Bedding
Of course, a bare crate doesn't make a very cosy crate on its own! So add some bedding to your list of things to buy a German Shepherd puppy! Whilst your GSD is a puppy, vet bed* is a really useful, machine washable, quick drying, cut-to-size way to line their crate and make it cosy.
If you decide to move onto something more supportive as they grow up, our review of the best beds for German Shepherds will help you find the perfect next step. Many of them are available in standard crate sizes too – perfect for making the bottom of a crate as luxurious as can be!
7. Puppy Gates or a Play Pen
Try to think of creating a safe puppy zone for your GSD as an investment for them and you! Puppies are curious, playful, and at times even total trouble-magnets!
Creating a safe place in your home where you can leave them for a few moments to visit the bathroom or answer the door protects them from harm and gives you peace of mind.
Your puppy zone should ideally have wipe clean floors in case of toilet accidents, and you should invest a little time teaching them to associate it with good things – by leaving treats in it for them to find, and returning their favorite toys there when they leave them lying around.
You can make a puppy zone for a German Shepherd Dog puppy using a heavy duty playpen like this*…
…or by using baby gates* to turn a whole room into a puppy safe area.
8. Poop Bags
Repeat after us: good puppy parents pick up their dog's poop! In fact you'll be picking up so many poops over the next decade that you'll never regret stocking up on poop bags in bulk, and making a small saving while you're at it.
We particularly like these biodegradable ones from Greener Walker*, which combine good etiquette and good environmental credentials.
9. Toys
Like all puppies, German Shepherd pups have stacks of energy. So, toys should be a priority on your list of things to buy a German Shepherd puppy. They love to play, and playing plays a valuable role in developing their muscles, motor skills and coordination.
Toys they can chew on also help to relieve sore gums while they're teething. In fact, GSDs have pretty tough teeth and jaws, even from a young age.
So we recommend choosing toys designed with durability in mind. The Kong range is perfect – and their classic Kong* is perfect for both chewing on, and playing chasing games.
10. Food and Water Bowls
All puppies need access to clean, fresh water. Ceramic or stainless steel options like these* are easiest to keep clean and free from bacteria.
And whilst we recommend using most of their daily food allowance as rewards during training, you might also like to give them small meals in a bowl.
GSDs are a deep chested breed, which makes them more prone to gastric dilatation volvulus, or 'bloat'. In fact it is estimated that bloat causes the death of approximately 1 in 7 GSDs.
Eating too quickly is a risk factor for bloat, so a slow feeder bowl like this cult classic from Outward Hound* can protect your puppy.
11. Food
Your puppy should come home with a modest supply of the food they were weaned onto by their breeder. But that doesn't mean food shouldn't make the list of things to buy for a German Shepherd puppy !
In fact, we recommend asking your breeder ahead of time what food they're on, and stocking up on a few weeks' worth.
If you'd prefer to transition them onto a different diet, wait until they're completely settled in your home, and move them across gradually over a period of about a week. This will minimize the possibility of them etting an upset tummy.
Our article on the best diets for German Shepherd Dogs will give you some food for thought.
12. Treats
A well balanced and nutritionally complete diet is essential for your dog's wellbeing, but what about treats? Are they just the start of a slippery slope towards canine obesity? Well, we think treats have an important role to play in successful German Shepherd training! So, we've added them to our list of things to buy a German Shepherd puppy.
But the best way to capture a new behavior, or advance an established area of training to the next level, is by offering a high value food reward at first.
The good news is, these don't have to be purpose-bought treats. Pieces of cooked chicken or small cubes of cheese are equally effective. But some pet parents prefer the convenience of something ready made, and that's fine too.
Some we Like
You may need to experiment with a few brands to find out which your GSD will work the hardest for. But these crunchy treats from Nutro* are as good a place to start as any!
13. A Grooming Kit
German Shepherds may be rough and tough, but they're not above needing a bit of grooming to maintain their physical well being. Even if you're planning to rely on a professional groomer to meet most of their needs, it's smart to keep some essential supplies on hand at home, for emergencies.
These basics belong in every dog owners kit:
A brush, for removing loose hair, debris, matts and tangles – German Shepherds need their coats brushing at least two or three times a week.
Shampoo, for when they roll in in something stinky.
And a pair of tick removers*
Visit us here for our complete guide to German Shepherd grooming.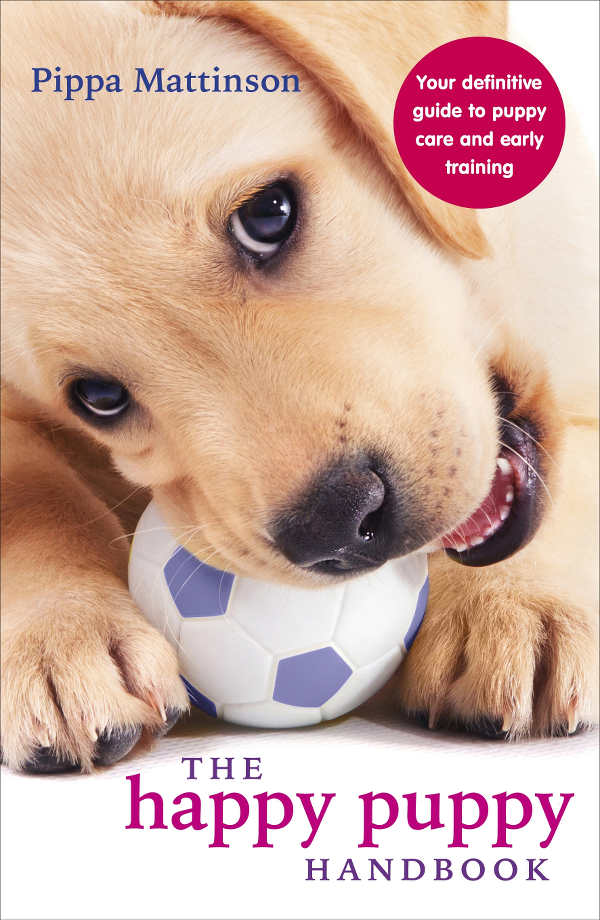 14. Toothbrush and Toothpaste
These could be considered part of general grooming supplies.
But we think that looking after your GSD's gnashers is so important that choosing the best toothbrush and toothpaste deserves some extra consideration on our list of things to buy a German Shepherd puppy.
After all, this isn't something you can mostly delegate to a groomer once every 6 weeks!
Toothbrushes for dogs come in many forms, from handled types like our own, silicone finger brushes* like the one in this picture, and even ones which rely on ultrasonic waves to break down plaque and calculus.
Be sure to choose a flouride-free toothpaste designed for dogs to go with it, like this one from Petrodex*.
15. Insurance
Last but not least, it is vitally important to plan how you'll meet large expenses, such as unexpected veterinary care.
Medical procedures such as setting broken bones and corrective surgery for bloat cost several thousand dollars.
It's up to you to decide whether you can meet this out of pocket, or whether to use a pet insurance product.
Most insurance plans have the added bonus of including public liability cover.
This pays out if your dog damages someone else's property, or hurts them – which can result in tens and even hundreds of thousands of dollars of costs.
Affiliate link disclosure: Links in this article marked with an * are affiliate links, and we may receive a small commission if you purchase these products. However, we selected them for inclusion independently, and all of the views expressed in this article are our own.