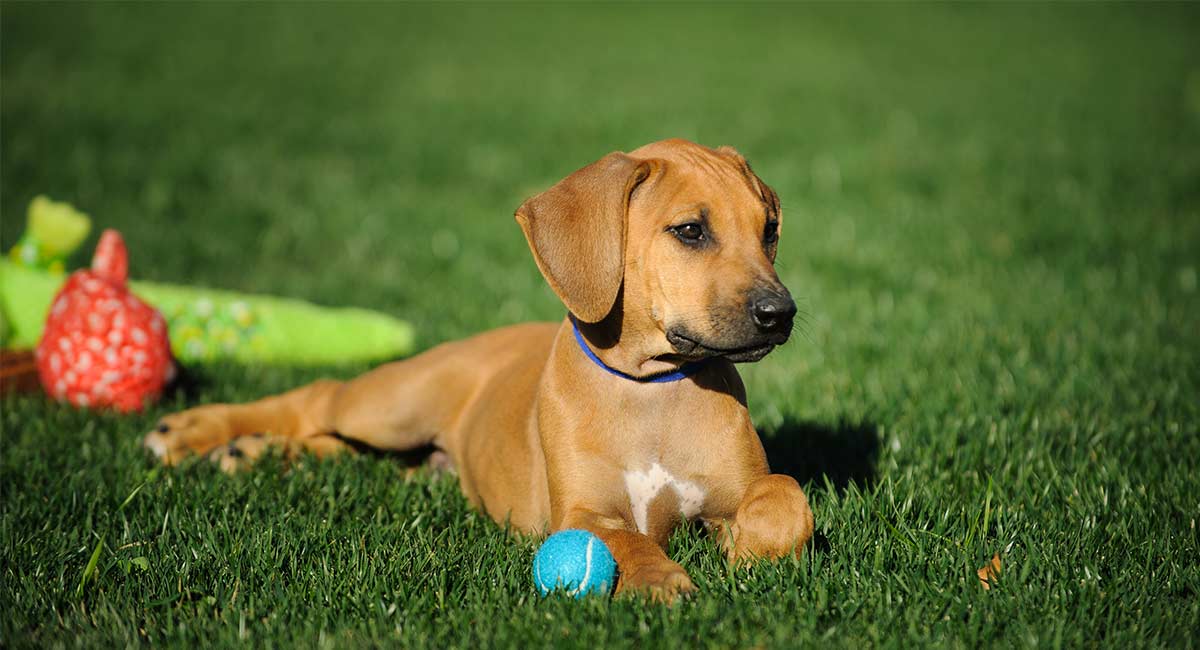 I have raised a lot of puppies over the years, and I've found that what I literally need for a puppy isn't always the same as what I want to buy for them. There are basic essentials like a safe place to sleep or play, quality food and a harness and leash. Then there are puppy checklist items that make everything a little bit easier and nicer, like a range of toys, treats and grooming paraphernalia.
Contents
Bringing a puppy home is an exciting time, but it can be daunting too. Having everything you need to hand will help get you off to a great start. You'll need consistency, patience, and lots of love to go along with the physical things. And your new dog is going to need veterinary visits, and plenty of socialization and obedience training too.
Before Bringing Home A New Puppy
Before you get your new dog, it's best to prepare! And the things you need from a shopping point of view are important. But at the top of the list is knowledge and information.
You need to know what to expect from a new puppy, because some behavior can come as a BIG surprise to new parents. And how to get the best from those first few weeks with a puppy in your home. Here are some quick tips
5 Things To Know About New Puppies
For the first few days your puppy will be homesick. And they will be scared of being left alone. Keep them very close to you for at least the first 48 hours and they will feel secure and confident more quickly
Puppies bite and it hurts. The more hyper they are, the harder they bite. Buy some tough chew toys to keep their little teeth occupied. And stop physical games if they get over-excited
New puppies need to pee more often than you think. More than once an hour at times during the day, and at least once during the night for the first week or two.
Some puppies won't eat much for the first few days. It's normal but talk to your vet if they seem unwell.
All puppies, even from friendly breeds, become wary of new experiences after the first 3 months. You need to deliberately socialise your puppy before this time, in order to raise a friendly dog.
Before getting a puppy, it's a good idea to make sure you are going to be around a lot of the time in the first few weeks, and aren't swamped with other committments.
New puppies settle in quicker and more happily if you keep them with you all the time for the first few days including at night. And if you teach them to be alone in easy stages. Don't worry, it won't make the puppy clingy, on the contrary, it will make them more confident.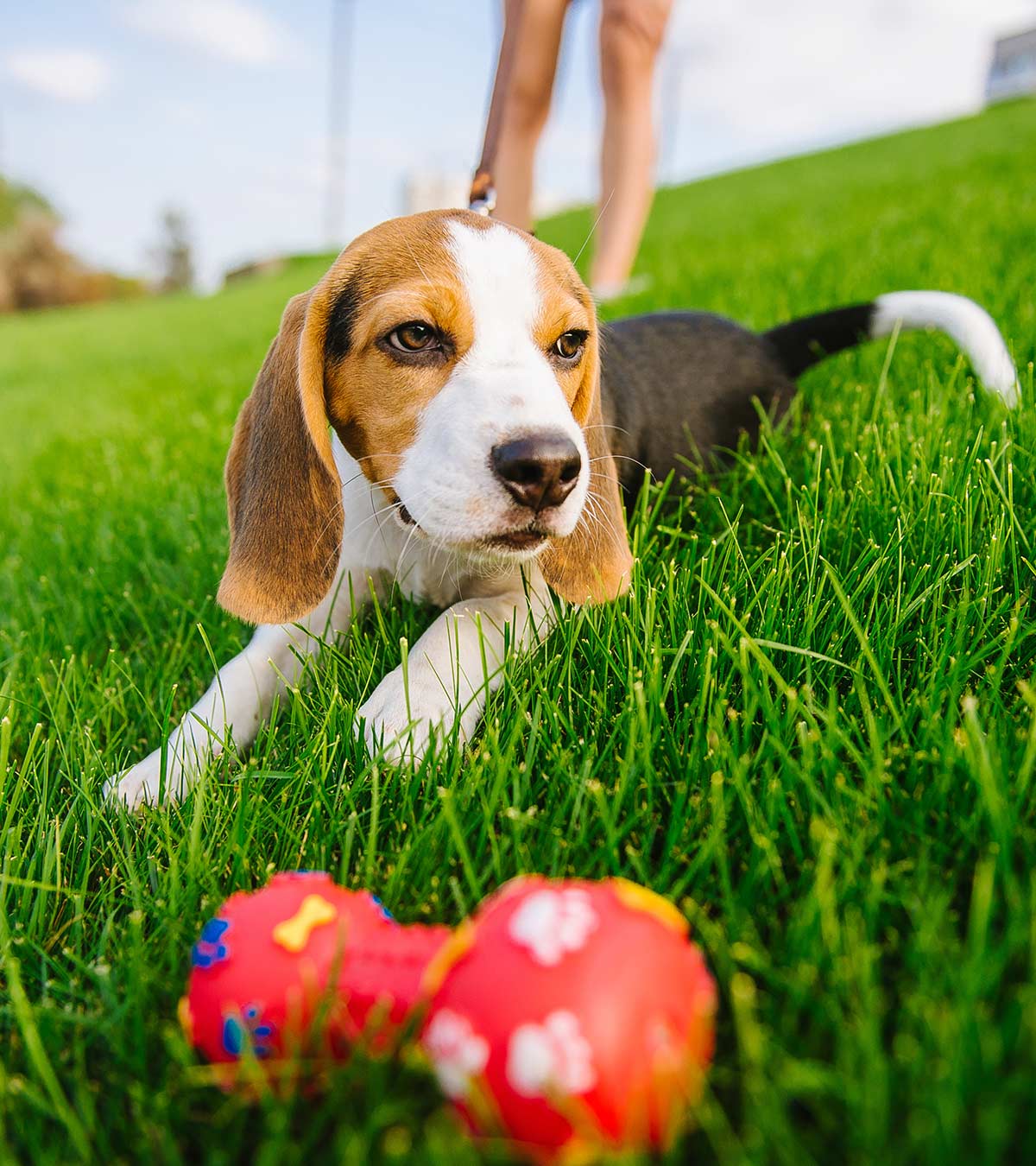 What are the basic needs of a dog?
If you've never owned a dog before you'll probably find their basic needs both more simple and more challenging than you anticipated. Simple because dogs need very little to keep them happy and healthy. They'd rather sleep on a hard floor next to you, than on a fancy padded bed across the room. They don't care much what they eat, how much you spent on their toys, or what their collar and leash looks like.
Pretty much all dogs need exercise, and lots of it, and training, and that's where most of the challenges come in. And when it comes to shopping, your biggest expense will be healthcare, especially veterinary insurance.
What Do I Need For A Puppy?
Somewhere safe to sleep and play
Quality food
Harness or collar and leash
No. 1 Somewhere safe to sleep and play
You must be able to restrict your puppy's access to parts of your home. Allowing a puppy to roam an entire house will drive you mad. They will pee on anything soft, chew things that will harm them, and it will take you forever to potty train a puppy on this basis.
So, you need a way to keep the puppy in a small area. There are three basic products that help you do this. Crate, Gates, and Pens.
A crate is ideal if you are committed to crate training kindly (you can't just shut a new puppy in a crate, they will howl and get distressed) Baby gates can be used to restrict them to one room with washable floors. Or in an open plan house you can use a large playpen for the same purpose.
Puppy Gates (or Baby Gates!)
A baby gate can be used to restrict your puppy to the kitchen where you can keep an eye on them and accidents are easily cleaned up.
A simple pressure mounted gate can be assembled in minutes without any tools. They usually come in white, but other colors are becoming more easily available.
Regalo Expandable Gates
These expandable gates from Regalo* do the job well.
Animal's Favorite Retractable Gate
A retractable gate like this one* from Animals' Favorite is not quite as sturdy, but disappears neatly out of the way when not needed.
A Dog Crate
There are two types of crate that are suitable for puppies. The wire mesh crate that can be folded away when outgrown. Or the rigid hard sided pet carrier. I like to have one of each, a mesh crate for the kitchen so that the puppy can watch what is going on around them. And I use a hard sided dog carrier for car trips until they are big enough to go in my main car crate, and for visiting friends.
Basic Metal Dog Crate
Crate training? Here is a basic metal dog crate* by Carlson Pet Products.
Hard Sided Dog Carrier
These are really useful pet carriers, the down-side is that they don't fold away, but they do make a nice cosy den for a new puppy to feel safe in. My new puppies sleep next to my bed in a carrier like this one.
If you are expecting a long car ride home when picking up a puppy from the breeder, then this crate also makes a safe secure den for the journey.
A Puppy Playpen
If you don't want to crate train your puppy and you have an open plan house, you will need a playpen. The most basic and affordable pen is this type also known as an ex pen
Foldable Exercise Pen
This foldable metal exercise pen*.is easy to put up and fold away when not needed.
I prefer the more robust pens like this Yintatech heavy duty pen below. It's completely modular and you add as many panels as you like. It has a door, and is robust enough not to move around when bounced by a lively puppy.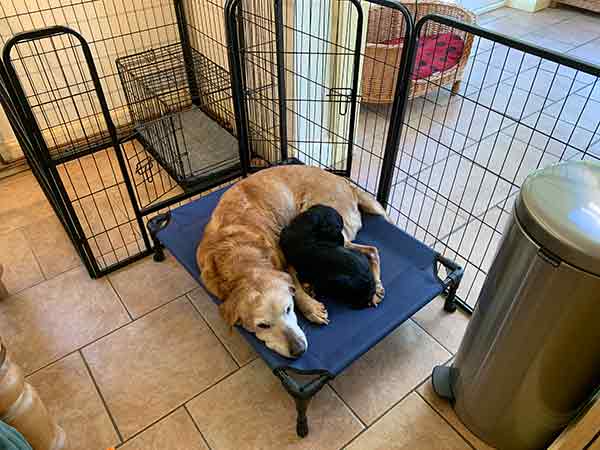 No. 2 Quality Puppy Food – What To Look For
There are three main ways to feed a puppy: commercial puppy food (kibble), home-cooked food, and raw. Each way is fine if done properly. By far the easiest way is with kibble. Getting the correct balance of nutrients for a growing puppy with home cooking is something of a science, and raw requires a lot more attention to storage and food preparation.
TOP TIP: Follow the breeder. By that I mean feed your puppy exactly what the breeder fed before you collected them and don't make any changes until the puppy has been with you for a week or so. After that it's up to you!
Choosing Puppy Food
Our favorite puppy foods have proteins as their first main ingredients, not to mention all the nutrients puppies need to flourish.
Hill's Science Diet Puppy Food
Hill's Science Diet puppy food* is just one example.
Hill's Science Diet Small Breed Food
And for the most petite pups there's Hill's Science Diet small breed puppy food*.
Both contain DHA that supports brain, eye, and skeletal development as well as antioxidants and vitamins to maintain a healthy immune system!
No 3 A Harness Or Collar, And Leash
You'll be taking your puppy out a lot for socialization purposes and you need to be sure that they are securely restrained. Even while your puppy is being carried in your arms, a harness is a good idea.
It's much easier to hold a wriggling slippery puppy with a harness on, and it helps your puppy get used to the sensation of wearing one.
Ruffwear Front Range Harness
The Ruffwear Harness is the one I use and recommend. It doesn't impede the dog's movement, is easy to get on and off the dog and easy to clean. It just gets chucked in the washing machine and comes up bright and pretty again!
You can see our Labrador, Daisy, wearing hers and our terrier puppy Polly learning to wear hers, in this video
The Ruffwear harness comes in a wide range of sizes and is very adjustable with a lot of room for growth. That extra small harness fitted my terrier puppy for several months and each of my Cocker Spaniel puppies for several weeks before they needed to go up a size. You can read the reviews on Amazon using the link below
The leash I am holding in the video is the Hi Kiss strong dog leash, also in orange
I've kept the puppy essentials brief because you could actually manage with just those three things. Your puppy could sleep on an old pillow or folded towel for example and you could use a human plate or bowl for water.
Puppies don't need a food bowl at all for the first few weeks as all their food should really be coming from your hands at this early stages, both as reinforcement in training games and to help establish a great bond between you.
Fortunately puppy shopping is a lot of fun so you'll probably want to buy plenty of puppy stuff anyway. There are many, many puppy products on the market. We'll focus on what is useful and helpful. Let's build a comprehensive puppy checklist.
What Do I Need For A Puppy?
Here's your complete new puppy shopping list. These are the things you really need to buy before your puppy arrives. They are not all essential (see above for puppy essentials), but they are going to make your life a lot simpler. I've put the make or brand I use, or nearest equivalent, in brackets where relevant.
No. 1 Food
Start off with the your breeder recommends then if you want to switch change, gradually, to a reputable brand such as Hills Science Diet. Don't worry too much about brands, avoid very cheap foods which are usually full of fillers, and look at what comes out of your puppy (nice firm poops are what we are looking for) and at what customers are saying. Taste Of The Wild and Amazon's own brand Wag have pretty good reviews.
No. 2 Bowls
We recommend ceramic or stainless-steel bowls since they are easy to clean and won't harbor bacteria like plastic does. Plus, ceramic and stainless-steel dog bowls are dishwasher safe and come in hundreds of cute designs! Ceramic bowls look nice and don't tip up easily, but are more likely to break if you drop them. Stainless steel bowls make a lot of noise when your dog pushes them around the kitchen.
Mason Cash Non-Tip Bowl
This non-tip bowl from Mason Cash* is a design classic that comes in five different sizes.
Weebo Pets Stainless Steel Bowl
And for some extra flair, check out this pink stainless-steel no-tip bowl by Weebo Pets*.
No. 3 Crates
A basic foldable metal crate is a great help with potty training and a safe place for your puppy to nap, and sleep at night.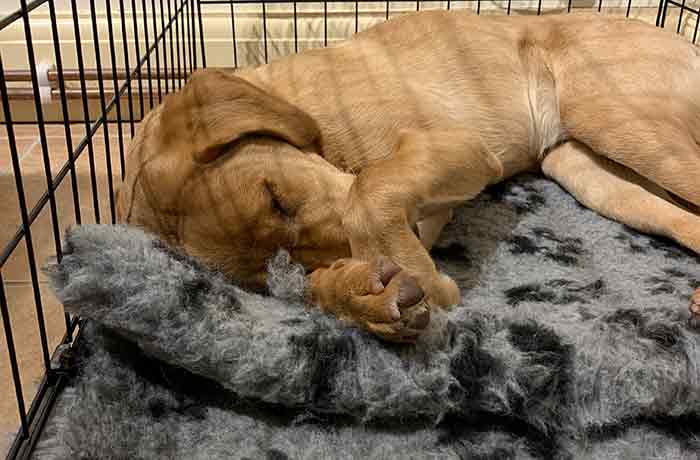 Daisy is modelling a basic crate and Vetbed 'paws' fleece. The crate is a two door crate like this one from Amazon
No. 4 Vetbed Fleece
Vetbed comes in a wide range of patterns. We like the grey paws pattern that Daisy had in her puppy crate
You could use an old blanket or towel for your puppy to sleep on, but they are quite likely to shred those up fairly fast. You can also buy mats like the ones below, to fit your crate
I recommend Vetbed fleece to new puppy owners, many puppies are whelped and raised on vetbed and they do seem less inclined to chew it up than other types of bedding. You can buy it on a roll from large pet stores, or ready cut in squares to fit your crate from Amazon.
If you want to purchase a squishy bed, get one with a removable, washable, tough fabric, cover. And try to accept that at some point the puppy will probably disassemble it!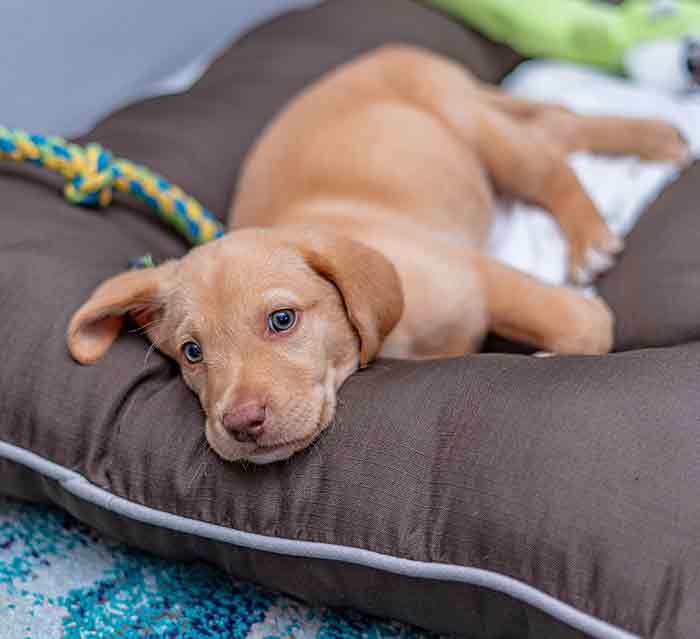 No. 5 Playpen
This is the Yintatech modular style of playpen that I use. It's designed only for indoor use, but I use mine outdoors too and it has lasted several years.
It's not the cheapest option but I love that it is robust and looks smart in my home.
No. 6 Puppy Pads
Not everyone will need puppy pads. The main reason you'll need them is if you have to leave your puppy for longer than they can last without taking a pee. So if you don't want to get up in the night to take your puppy out to the yard for example. Or if you have to go out for a couple of hours and leave the puppy in a playpen
I strongly recommend you potty train your puppy to go outside rather than on puppy pads where ever possible, to save having to train them to give up the pads later. But in an emergency, they are very useful.
HARTZ Home Protection Lavender Scent* is a popular brand. These pads lock moisture in which helps to prevent odors and leaks, and the best part is that the urine doesn't spread along the pad.
No. 7 Harness
See the Puppy Essentials section above for more information and video of the Ruffwear harness
No. 8 Leash
The Hi Kiss rope style dog leash is attractive and very comfortable to hold in your hands. It comes in two thicknesses. I use the half inch for my Labradors and the third inch for my Cocker Spaniels and Terrier.
No. 9 Baby Gate
You can buy tall dog gates, but a standard baby gate is fine for puppies. Look at the style of fittings carefully. Some are simple to assemble and held in place with pressure pads, but these can put slight dents in soft wood. Others require drilling and screwing to hold them in place.
Regalo do a huge range of sizes so you should be able to find one to fit your gap
No. 10 Cuddly Toy
I think it's important to point out that cuddly toys rarely last more than a few months, so don't spend a small mortgage on them. But, it's definitely worth buying your puppy at least one soft toy because sometimes puppies just need to chew on something soft with some 'give' in it. And if you don't provide that 'something' your puppy will improvise with your clothing.
For best results, introduce the cuddly toy when the puppy is still very small, rather than later on when they have more power in their jaws.
I recommend Kong Knots toys. I have not found any soft toys that are more durable, and though your puppy will destroy them eventually, you should get a couple of months pleasure out of them. They contain very little stuffing and have some strong ropes inside, that puppies enjoy biting down on.
All our puppies have one of these Kong Knots Teddies (below) and at least one other Kong Knots toy. They are adorable and make for some lovely photos as your puppy carries them around and plays with them
No. 11 Tough Chew Toy
The classic strong puppy chew toy is the puppy Kong. Kong toys are great, puppies like to run around with them in their mouths, chew on them a little, chase them when they bounce eratically along the floor. And so on.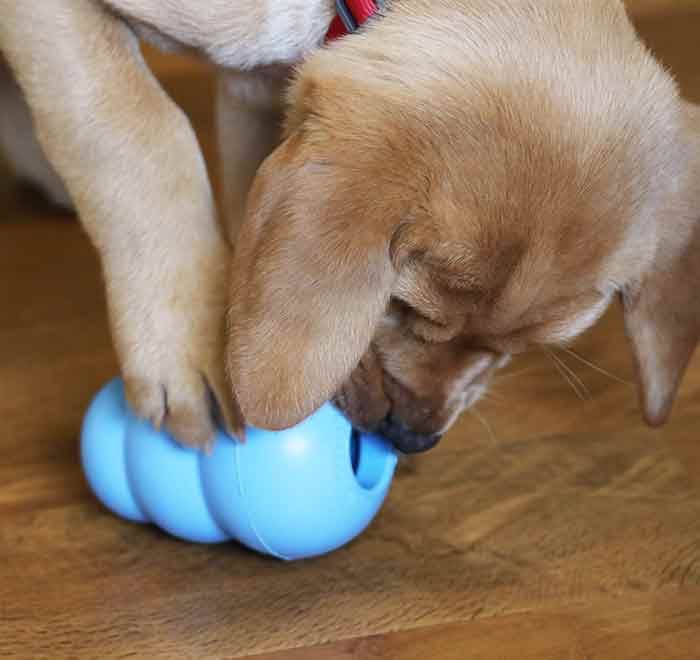 However, it has to be said that a Kong isn't that appealing as a chew toy, until you get involved. The real benefit of the Kong is the fact that it can be filled with semi liquid food and frozen. You can then give your puppy this 'filled' Kong which will provide huge pleasure as he licks away at the inside.
Kong toys last and last. We have several that have survived at least four puppies and must be more than five years old.
I recommend you buy at least two puppy Kongs, so that you can have one in the freezer ready and waiting for when it's needed. Maybe your puppy needs a little space to calm down. Or a little bit of comfort while you are occupied with other things. That's the time to bring out your frozen filled Kong.
No. 12 Wooden Chew Toy
You need to be very careful giving wooden toys to a puppy as many types of wood splinters and isn't safe. However, some puppies really crave wood to chew and if you don't provide them with it, they will attack your chair legs and even your baseboards with vigor. Rather than go into daily battle with a puppy like this, I provide a tree root wood chew.
Tree root chew toys are not cheap! But they will outlive most puppies. I have several that have survived three puppies now. They are taken from a specific type of tree root that is very hard and doesn't splinter. I have had one puppy that managed to break one up and if that happens to you, you'll need to remove the toy. But most puppies aren't able to break them
No. 13 Grooming Brush
Even if your puppy has a short coat and needs little grooming, regular daily grooming sessions with a gentle body brush are a good idea.
That's because gentle brushing in the direction that the fur grows in is a great way to get your dog used to being handled and touched all over. This will help build a bond between you and prepare your dog for times when they made need to be handled – at the vet's office for example.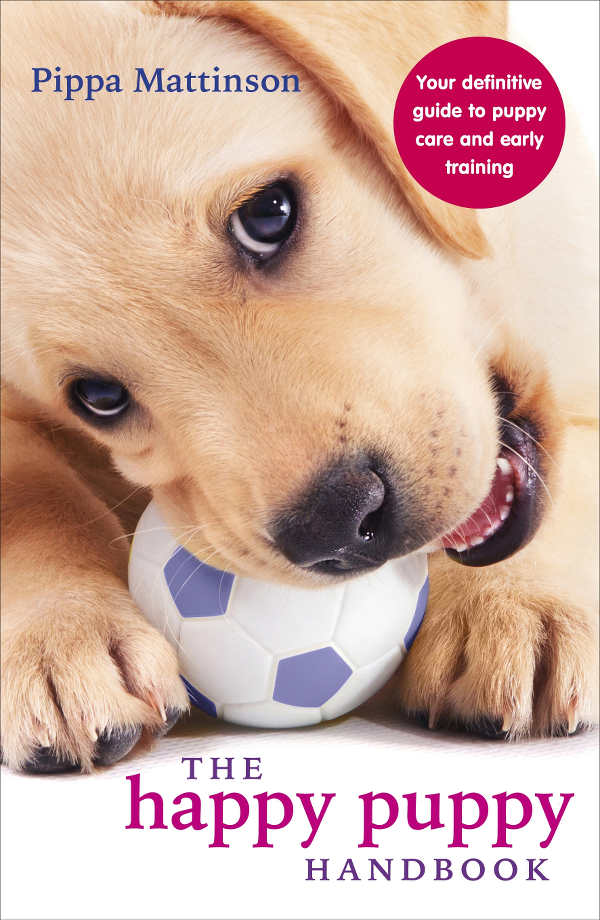 Puppy brush
You can buy dog and puppy brushes in many different styles and sizes. This handled brush from Hartz is a popular style
I actually use a soft body brush designed for horses, with a handle strap across the back. Like this one
I find this the most comfortable style. You'll probably need to experiment to find out what suits you best.
No. 14 Puppy Shampoo
There are lots of dog shampoos to choose from. While puppies don't need regular bathing, there will probably be occasions when they do need to be bathed, and it's not a bad idea to get them used to the process.
Choose a shampoo that is specifically designed for puppies
No. 15 Cordless Nail Trimmer
Unless they walk a lot on hard ground, most dogs will need their claws trimming regularly. This can be done with clippers that cut through the nail. Or with an electric nail trimmer. I prefer these now. The early versions were cumbersome and noisy but modern ones are powerful and fairly quiet.
I've tried several models and now use this Casfuy cordless nail grinder. It's quick to recharge and the LED light is a helpful extra touch.
Going Beyond the List
Hopefully those lists above have helped you decide what to get for your new puppy. But if you are enjoying puppy shopping there are many more useful and fun puppy products to choose from
2Pet Foldable Dog Crate
Why not look at getting a foldable dog crate* by 2Pet?
Keep in mind you'll want to make your puppy's crate a comfortable space he feels safe in. Line the floor of the crate with soft bedding and be sure to offer your puppy his favorite toy while he is in there.
Leash and Collar
Your puppy is new to "wearing" things, so when picking out a collar, look for a soft, adjustable one that won't irritate his sensitive neck. Keep in mind that you'll likely go through many collars as your dog grows and ages.
Blueberry Pet Collars
These puppy collars from Blueberry Pet* are a sweet place to start.
Blueberry Pet Durable Leashes
Blueberry Pet also make a collection of durable leashes in a kaleidoscope of colors*, perfect for your puppy!
Bedding
Puppies love being warm and snuggly during nap and bedtime. Their bedding needs to be soft and gentle, yet withstand a lot of washing!
Comspart Puppy Blankets
These puppy blankets by Comspart* come in a handy multipack, and can be washed over and over again.
Grooming Brush
A soft-bristled brush such as the GripSoft Bristle Brush* is perfect for everyday brushing and getting your puppy used to being groomed.
LilPals Double Sided Comb
For puppies with longer hair, you'll want a metal comb  like this double sided comb* by LilPals.