Puppies pee and poop a lot! Potty training teaches your puppy where to eliminate, and a good potty training system helps you manage your puppy while they learn the new bathroom rules.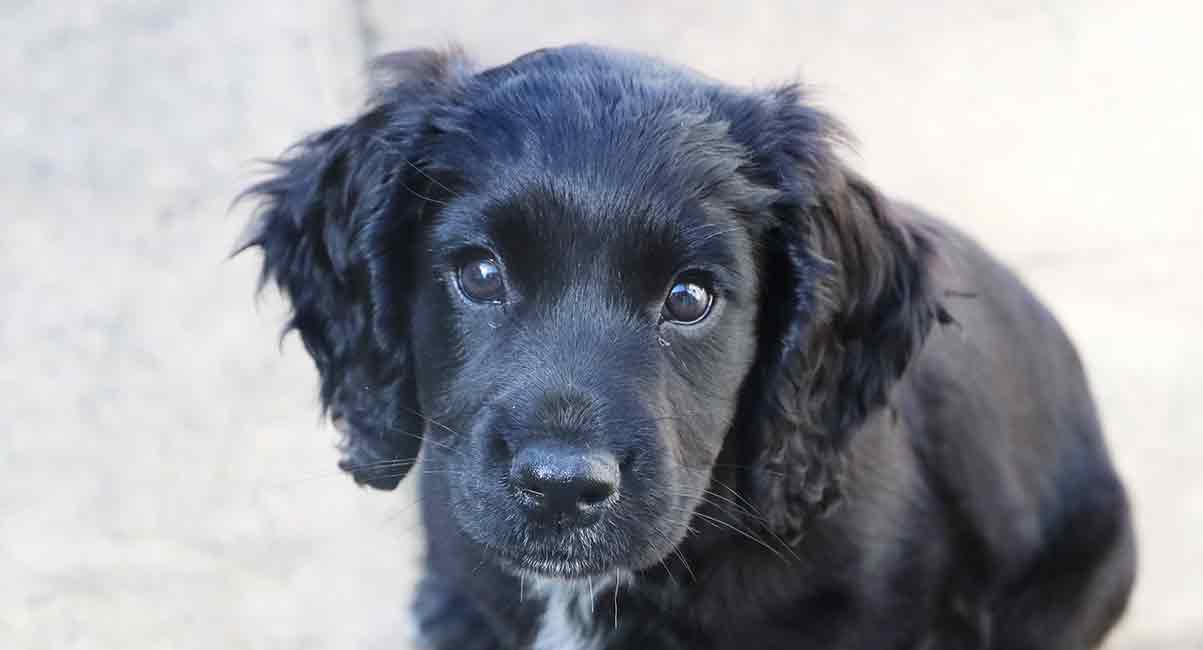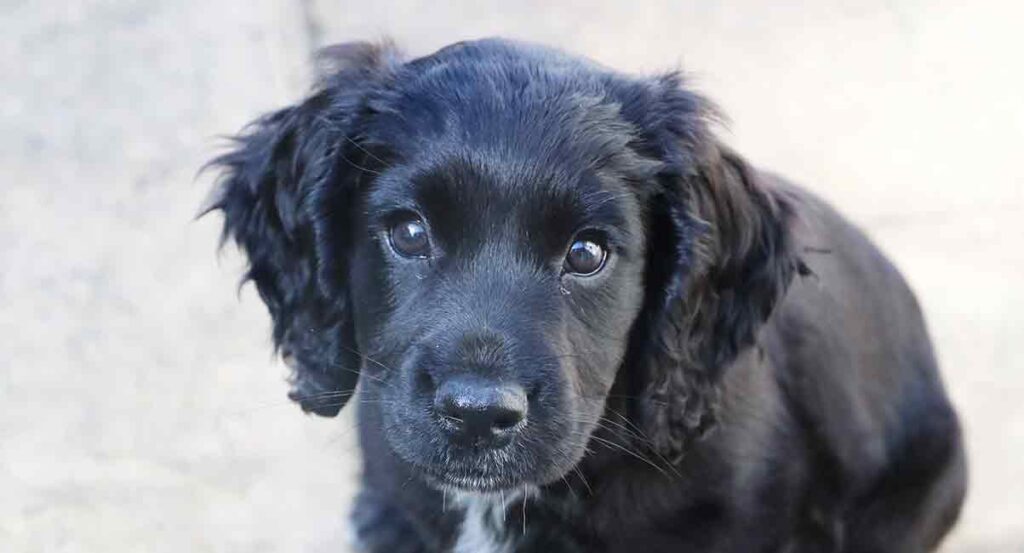 How long will it take to potty train my puppy?
A well-managed puppy might be basically potty trained in your home, by about twelve weeks old. However, it can take up to six months to have a dog that is reliably clean and dry in anyone's home. That's because the ability to wait before eliminating is minimal in an 8 week old puppy, and develops gradually over the next few months.
Many of the problems people experience with small puppies are due to a large gap between what they expect will happen and what is actually going to happen. This is certainly true of potty training.
Potty training does not always go smoothly, but while problems are common, they are mostly straightforward to put right.
I'll look at the factors that can influence how quickly your own puppy learns, and at what you can do to make your potty training journey as speedy as possible.
How long does it take to potty train a puppy? – Let's be realistic!
I see all kinds of claims for ultra-fast potty training. Some books will even promise results in a week or a few days.
These fast track solutions are very appealing, but most of these systems are simply about training you to manage your puppy and to anticipate his behavior.
This is not a bad thing – but there is rather more to it than that, and I do have to tell you that your puppy is not going to be truly house trained at the end of three days, nor at the end of a week.
No matter what method you use.
Three success factors
How long it takes to fully potty train any puppy depends on a number of factors including
The rate at which your puppy matures physically and mentally
The method you choose to house train your puppy
The effort you put into the process
You don't have much control over the first of those, but there's a lot you can do to influence the other two factors.
Before we begin any task or project, it's a good idea to make sure we know what we are aiming for.
What does success look like – what is a fully potty trained puppy?
I sometimes hear from people who bring home a new puppy and are very disappointed because the breeder told them the pups were already potty trained, yet on arriving home, it is clear that the puppy is not potty trained at all.
This confusion has arisen because the breeder has simply taught the puppies to pee on pads, or because the puppies had permanent access to an outdoor toilet area on the breeder's premises (with the door to the yard permanently open for example). Again, neither of these is necessarily a bad thing, but they are not really what most of us mean by potty trained or house trained.
What to expect of a potty trained dog
For most of us, the definition of potty trained is a little more advanced.
A fully potty trained dog:
Can go all night (8 hours or so) without needing the bathroom
Can wait a couple of hours or more home alone without soiling the house
Won't pee in the car or on public transport
Won't pee or poop in a public building or in a friends house
Can you potty train a puppy in 7 days?
None of the criteria on that list above are within the capabilities of an eight week old puppy. Nor are they reliably within the capabilities of most twelve week old puppies. So you have a journey of weeks or even months ahead of you before you arrive at your destination.
Don't panic though!
While your puppy won't have complete adult bladder control at four or even five months old, he or she will be substantially clean and dry under most normal circumstances if you follow the instructions in a well laid out potty training program. And with the right puppy management techniques, you'll be able to avoid most, if not all, accidents in your home within a month or two.
Okay! Let's look at each of those success factors we mentioned above.
1. Your puppy's development
Every puppy is a unique individual, in every respect. The speed at which your puppy's bladder matures and the control he has over it, will not be exactly the same as every other puppy his age.
Nor will his ability to learn and memorize the right places to go to the bathroom.
So while it is tempting to compare your puppy with dogs belonging to friends and relatives, it is not a good idea. Not least because we, as humans, have very poor memories when it comes to what our puppy did when he was small.
Just because your neighbor says her dog was clean and dry in the house at nine weeks old, doesn't mean he actually was. Try not to worry about the stage other people's dogs are at, just focus on making forward progress with yours.
Be patient with small breed dogs
In this section we should also include size. Because size matters when it comes to bladder control!
This simply means that very small dogs, such as Chihuahuas, have very small bladders and may take longer to potty train than larger dogs.
2. Potty training methods
There are two main methods of house training
Method 1 – Your puppy eliminates outdoors from day 1
Method 2 – Your puppy eliminates on puppy pads first then transitions to outdoors
The first method teaches your puppy to pee outdoors right from the very start, this is ideal. The second method allows your puppy to use a dedicated indoor toilet area to begin with. And transitions to an outdoor toilet area later on. You'll need this method if you are planning to leave your puppy alone for longer than they can manage to wait between bathroom breaks. Or if you live in an apartment and cannot quickly take your puppy outside when they need to go.
Remember, when a puppy needs to go, they need to go NOW!
Method 2 takes longer than method 1 as the puppy needs to relearn the rules about where they can pee and where they can't. Method 1 makes the ground rules clear from the start.
Gated areas – Puppy Zones
Whichever method you use, it's a good idea to confine your puppy to a small part of your home to begin with. We call this area, the Puppy Zone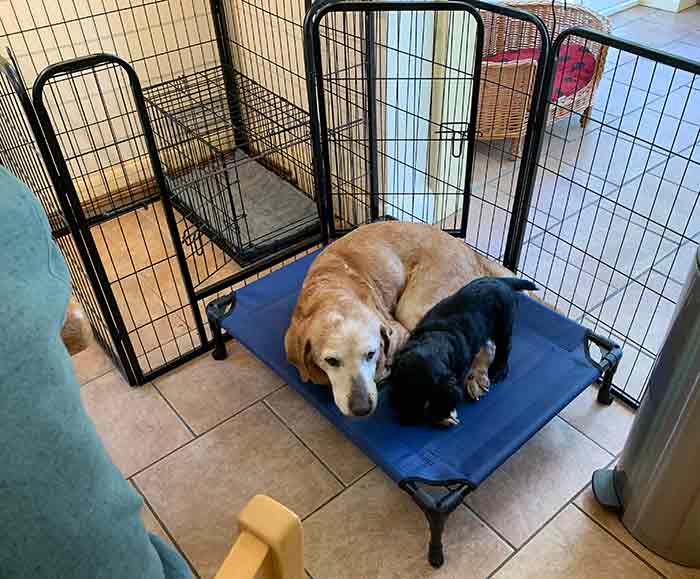 This is Tig relaxing in her puppy zone with her new friend Tess.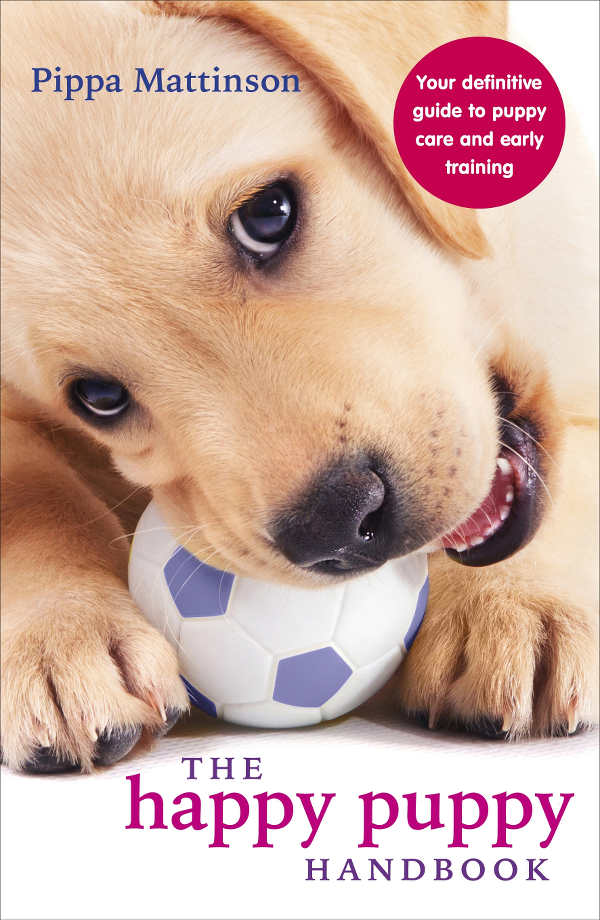 Gated areas with washable floor help to speed up potty training by reducing accidents (making sure the puppy is never too far from a helpful human or their puppy pads) and making it easier to clean them up when they do happen.
3. Are you a potty training perfectionist?
I talk about this in my puppy tips emails, because we are all different, and have different training styles. And that can influence the speed at which your puppy learns.
People seem to fall into two camps when it comes to potty training. The 'no big deal' camp and the 'potty training perfectionist'. I confess to being a potty training perfectionist while my other half has a more laissez faire approach to the whole thing.
The 'no big dealers' have an easier time of it for the first couple of weeks. They don't worry too much about getting the puppy outside in time, and don't worry about a puddle or three. They'd rather mop up a puddle here or there, than stand out in the yard for ten minutes, waiting for a puppy to 'get busy'.
However, us perfectionists tend to win out in the long run. The problem with puppy puddles is – they encourage more puppy puddles.
Pups like to pee where it smells of pee. And if that is under your breakfast table, that's where they'll pee next time.
So how long will it take to potty train my puppy?
Many larger breed dogs will be free from accidents and fairly reliable to take out and about by the time they are five months old. Allow another month or two if your puppy is a smaller breed or if you need to transition from the indoor pee pad method. If you are a potty training perfectionist you may have cracked it before your puppy reaches five months of age.
And remember, managing your puppy effectively, taking them out frequently, anticipating when they need to pee, all these things will create a puppy that is mostly clean and dry at home, much sooner than this. It will also make your life much easier, and help your puppy get into good habits right from the start.