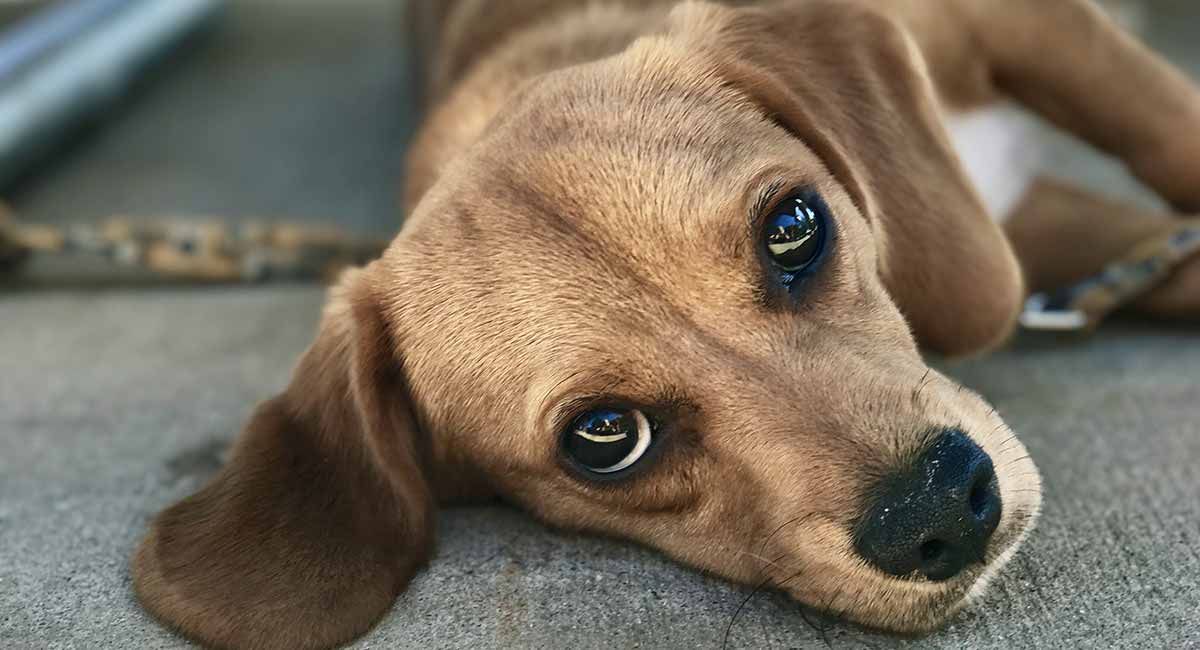 Many canines excessively lick themselves, and sometimes, a lick granuloma can develop.
Lick granulomas sound pretty scary, and we know that any medical condition that threatens the health of your beloved pet can make you anxious.
Fortunately, most dermatological conditions, like lick granulomas, are not serious health concerns.
However, they can be chronic, so you should learn about the condition to be aware of the symptoms and treatment options associated with granulomas.
Canine Lick Granuloma
So, what is a lick granuloma?
The condition is a skin disorder that forms when a cat or dog excessively or compulsively licks a specific area of the body.
Sometimes the ailment is called acral lick dermatitis, acral lick granuloma, or acral lick furunculosis. It often starts with a small scratch or injury to the body.
The most common location for the granuloma is on one of the legs or feet.
The granuloma itself is a lesion that appears red, inflamed, and raised.
Hair loss appears on the surface of the lesion and the wound may weep, bleed, or form a scab.
Over time, the granuloma will harden and appear much higher than the surrounding skin.
Cause Of Acral Lick Granuloma in Dogs
Lick granulomas are caused by your dog excessively licking a wound over the course of weeks or months.
When the wound is disturbed, the outer layers of epidermis are scraped away.
They are continually removed and unable to heal, leading to substantial inflammation.
Sometimes, enough of the epidermis is damaged that the underlying dermis becomes exposed.
Your dog's body will try to heal itself by producing scar tissue both around and underneath the wound.
This creates the raised appearance and the process is called lichenification or fibrosis.
The majority of lick granulomas start off small and unnoticeable.
However, over time, the constant grooming and irritation will lead to a much larger wound.
Sometimes, the granuloma will develop into a skin ulcer.
Skin ulcers heal quite slowly due to their large size and the reduced blood flow to the region.
Unfortunately, ulcers are prone to infections so the granuloma should be treated before an ulcer develops.
Acral Lick Granuloma Behaviors
Now that you know that lick granulomas are caused by the actions of your canine, you may want to know why this happens.
Well, your dog will lick a fresh wound to clean it and to reduce infection risks.
Dog saliva does have some antibacterial properties, especially against E coli and Streptococcus bacterial strains.
When the wound begins to heal, licking may continue due to the itching of the skin.
This can lead to the opening of the wound, licking actions to clean it, and eventual healing.
This creates a cycle where your dog may continue to lick, and the lick granuloma can develop.
Cycle of Licking
Sometimes a painful condition like arthritis can prompt your canine to lick.
In some situations, anxiety can lead to the licking too.
This sort of situation is usually noted with excessive grooming all over the body.
The grooming itself can create one or several wounds that lead to the formation of granulomas.
Obsessive compulsive disorder is often linked to lick granulomas and this may be the underlying cause of the excessive grooming.
General distress due to separation anxiety or a change in the home environment can lead to the issue as well.
How To Treat Lick Granuloma
If you notice a raised wound on your dog, then make an appointment with your veterinarian.
The professional can diagnose the disorder and also look for signs of an infection.
Antibiotics
If an ulcer or infection has developed, then antibiotics will likely be prescribed.
Your animal expert will decide between an oral medication or a topical agent.
Sometimes, both will be used depending on the severity of the infection.
Also, the wound may be cleaned to remove damaged tissue and bacteria.
A regular cleaning regimen may be suggested at home too.
A variety of different antibiotics may be used and medicines are typically started once a swab of the site is taken.
This helps to identify the microorganism for more pinpointed treatment.
However, your vet may decide on a broad spectrum antibiotic to offer swift relief.
This depends on your vet and their experience with your canine.
Depending on severity, your canine may need to take antibiotics for only two weeks or as long as six weeks.
You will need to keep a keen eye on the wound during the healing period to make sure the infection does not worsen.
If it does, then a trip to the vet is necessary and a stronger antibiotic may be needed.
Wrap and Collar
If a topical agent is prescribed, then a lick granuloma wrap can be placed over the medicine.
This is best to keep your canine from licking the area, so the medicine has an opportunity to work.
During the healing period an Elizabethan collar can be used as well, which is a good idea if an infection has already developed.
Chronic Acral Lick Granuloma Treatment In Dogs
Unfortunately, dogs will often continue to lick the same area once the initial wound has healed.
This can set off a frustrating and expensive cycle of treatments and re-injury.
Your veterinarian can supply advanced treatments with laser therapy and cortisone injections if the granuloma becomes a chronic problem.
Laser therapy
Laser therapy has been shown to be quite successful in reducing inflammation, eliminating lesions, and encouraging healing of granulomas.
Multiple treatments are needed though, so this may require a time commitment on your part.
Behavioral treatments
Also, if the licking continues, then anxiety, OCD, and other behavioral issues should be explored.
Sometimes environmental changes, like taking your canine to a dog daycare facility during the day, can greatly help the situation by reducing separation anxiety.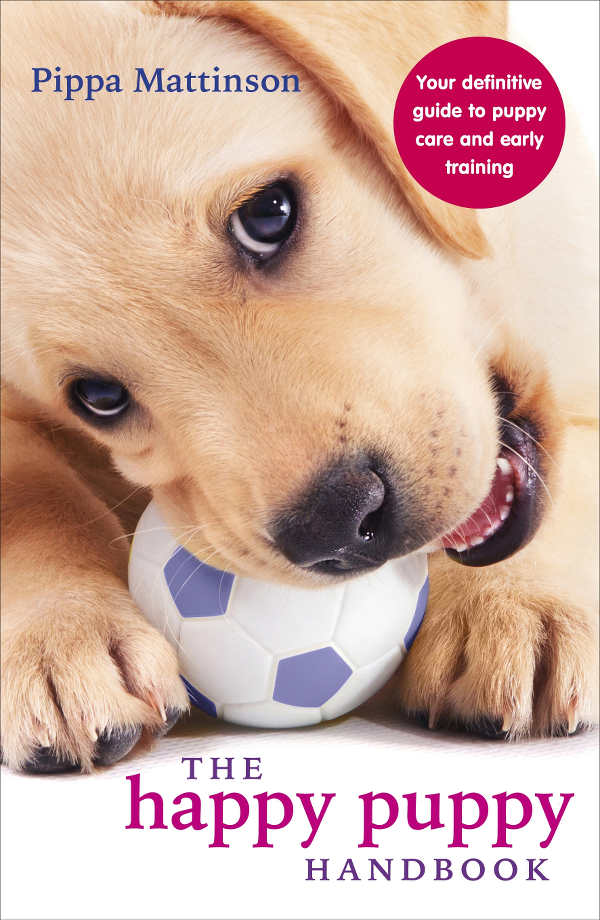 Other times, anti-anxiety medication may be required.
Bandages
While underlying issues are explored, a lick granuloma bandage can be placed over the original wound area.
The bandage acts as a barrier to keep a fresh wound from developing.
Basically, your canine will lick the bandage instead of his skin.
A bandage is literally just a "band-aid" to temporarily stop your dog from injuring himself.
A canine lick granuloma can easily develop somewhere else if your canine scrapes himself.
If you see your dog licking a new injury, then seek out veterinary assistance immediately.
Also, reach out to a pet behavior specialist who can help your canine break his bad habits.
Positive reinforcement is a great way to teach your canine not to lick.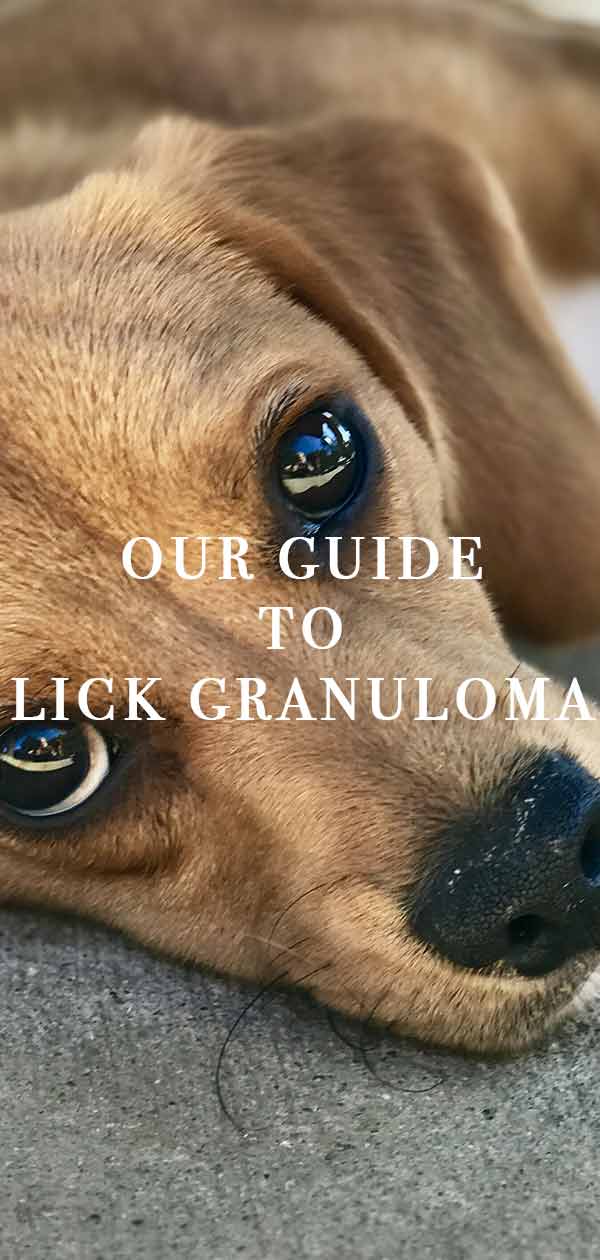 Lick Granuloma in Dogs – A Conclusion
A lick granuloma is a potentially serious dermatological condition that affects canines.
Thankfully, a treatment can be found with the help of a veterinarian and sometimes a behavior specialist.
Since granulomas can be chronic and develop into infectious ulcerations, it is wise to seek out care with an animal expert as soon as you see your dog licking a scratch.
Do you have a dog with a chronic lick granuloma dog paw or are you curious about how to get rid of lick granuloma? Let us know in the comments below.
References and Further Reading