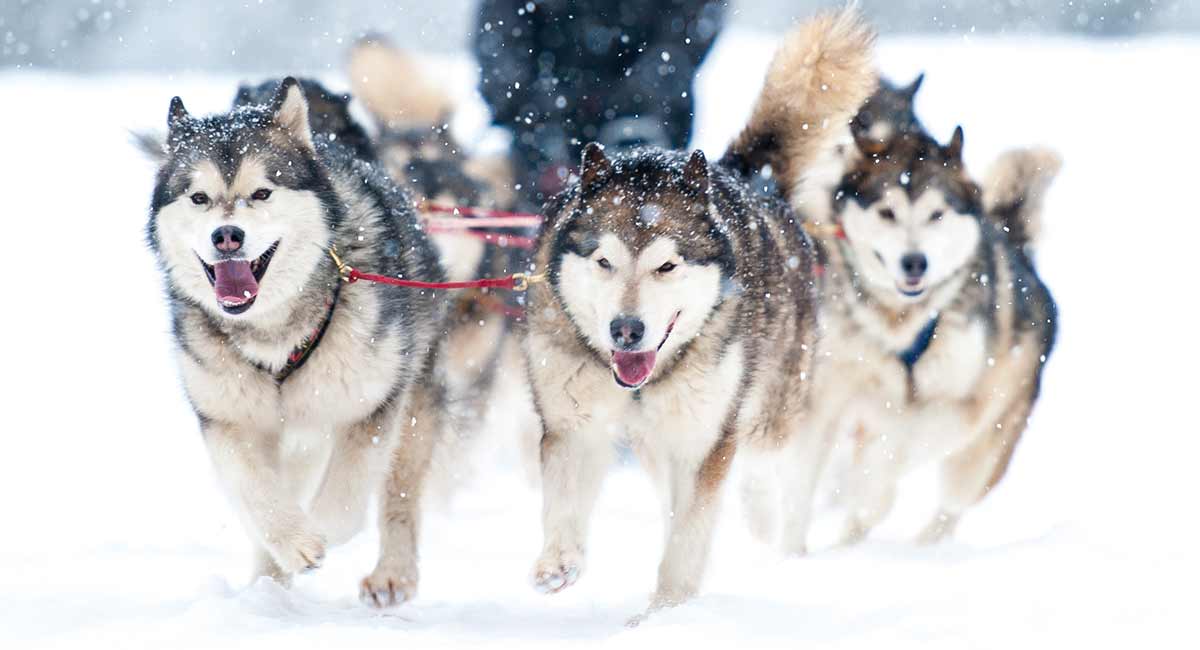 The average Husky lifespan is 12 to 15 years. This compares favorably with other dogs of a similar size such as the Labrador, Golden Retriever, and German Shepherd. Of course statistics are only a guide, with some dogs living longer, and others shorter, lives. But to help your hairy hound live a long and active life, you can swing some factors in your favor. Here's what you need to know to have the longest living Husky.
Contents
Husky Lifespan – How Long Do Huskies Live?
There's a good chance of Husky life expectancy reaching the teens. It's nice to think their heritage as active sled dogs means they come from hardy stock with good health.
As a general rule, the bigger the dog, the shorter their life expectancy. Meanwhile, small breeds tend to live longer. For a medium to large dog, the Husky lifespan of around 13 years stands up well.
Common Husky Health Problems And Impact On Husky Life Expectancy
Purebred dogs often have an Achilles heel where their health is concerned. Most breeds have an increased risk of developing certain health problems. The Husky is no different. However, there's good news. Husky life expectancy is high because overall they are a healthy, strong breed.
This makes sense as these four-leggers are used roughing it in sub-zero temperatures. Weaker dogs were unlikely to survive to create the next generation. Those problems that do occur impact quality of life rather than Husky lifespan.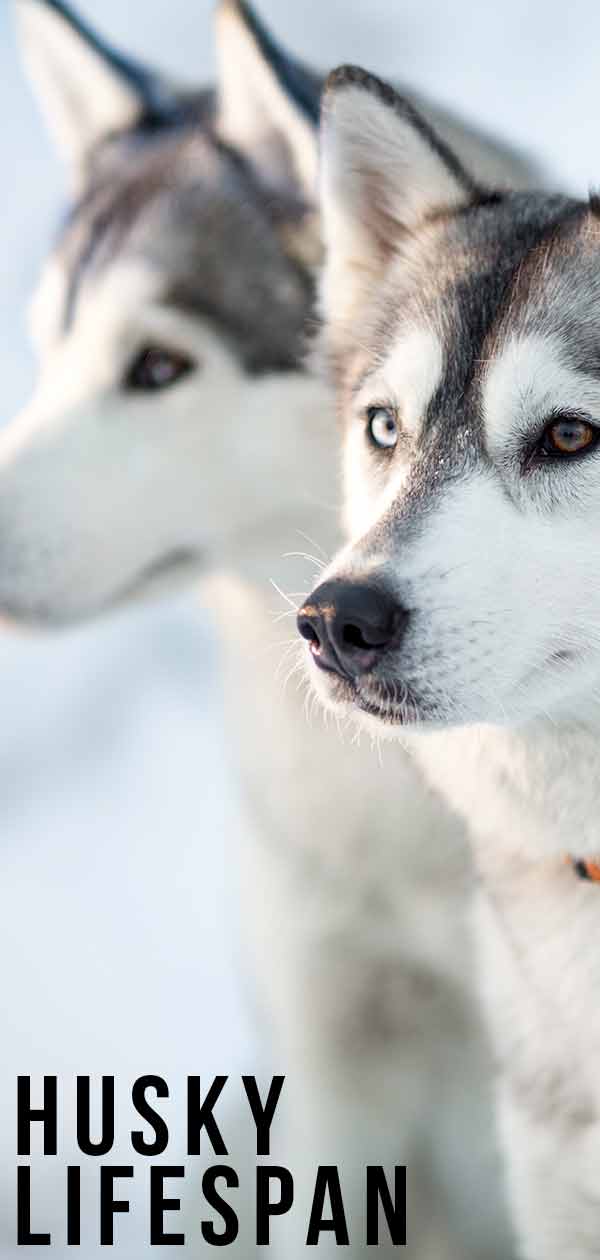 Hereditary Cataracts
Huskies are prone to hereditary cataracts. The condition isn't dangerous in the same way a heart defect might be. However, they cause premature loss of vision. For an active dog like the Husky, this isn't great news, but they can do just fine with the aid of a caring owner.
A cataract refers to cloudiness of the lens within the eye. Like wearing a dirty contact lens, having a cataract stops light getting to the retina at the back of the eye. As the condition progresses, poor eyesight can turn into total loss of vision.
We tend to think of cataracts as an old dog's problem, but sadly, Huskies can develop juvenile hereditary cataracts. This affects their ability to see from as young as one year old. For an active dog that loves to roam, this can be limiting, but not life-threatening.
Progressive Retinal Atrophy (PRA)
Sadly, PRA is another condition which causes premature blindness in the Husky, and potentially in young dogs. This is another inherited health problem affecting the light-sensitive layer lining the eyeball.
From just a few months old, the retina thins and withers, causing the dog to go blind.
With a dedicated owner, PRA should not impact on Husky lifespan. The biggest risk is the energetic Husky that runs into the road unaware of oncoming traffic.
This makes it a challenge to give such an active breed enough exercise, but a long line and plenty of space goes a long way to keeping that fur-friend safe.
Glaucoma
It seems the eye is the Husky's weakness, since glaucoma is another condition that affects the eye. Glaucoma refers to a buildup of fluid pressure within the eyeball, causing it to stretch and expand. Not only does this blur vision but it is painful.
There are treatments which help reduce the impact of glaucoma, but these aren't always successful. Also, they don't cure the condition, but control the symptoms. This makes lifelong therapy essential.
Hip Dysplasia
Hip dysplasia is a common hereditary condition passed from parent to pup. It causes poor anatomy of the hip joint. In turn, the joint's poor fit leads to inflammation and pain. In mild cases, pain relief is all that's needed, but for the worst cases the pain is so severe as to require hip replacement surgery.
For dogs where such radical surgery is not an option, hip dysplasia has the potential to shorten Husky lifespan. It is the hardest decision to make. But rather than have a pet live in constant severe pain, choosing to end their misery is the humane option.
Behavioral Issues
Although not strictly speaking a health concern, the Husky's love of freedom and need for extreme exercise can be a problem. This breed is hard-wired to be on the go all day long. However, not every Husky has a suitably energetic owner.
When kept confined they can develop bad habits, such as barking, digging, and chewing. This can lead to them being abandoned or signed over to a shelter. With rescues full to overflowing, this could put the dog's future in peril.
How To Help Your Husky Live Longer
Don't despair, there is a lot you can do to maximize Husky life expectancy!
Slim and trim: Look after your Husky's waistline and they'll live longer. Studies show that lean dogs live two to three years longer than their chubbier canine cousins. Avoid over-feeding to max out that Husky lifespan.
Spay the girls: Studies show that female dogs live longer than males, and that spayed females live longer than those left entire. For a longer Husky life expectancy, get a female pup fixed.
Vaccination: Vaccinating against common life-threatening diseases does actually save lives.
Parasite control: Take advice from your vet about appropriate parasite control. For example, heartworm is a life-threatening, but preventable, condition.
Active lifestyle: As a sled dog, the Husky is bred to run all day in harsh conditions. Your dog may love to curl up by the hearth, but this doesn't do away with their basic drive to run. A bored dog may run off and become the victim of a traffic accident. Or else, they may become so destructive they're impossible to live with. Make sure a Husky gets plenty of mental and physical exercise.
Good Husky Husbandry
Breeding from healthy Husky dogs is crucial to creating strong, healthy puppies. To do this requires breeders to behave responsibly and screen their dogs for genetic disease before breeding.
Then, only those dogs found to be free of disease should be used to create the next generation.
For example the Siberian Husky Club of America is signed up with the Canine Health Information Center (CHIC). The latter holds a genetic database for screened dogs with good scores.
These dogs have been hip scored by the Orthopedic Foundation for Animals (OFA) and passed. Likewise, dogs have been examined and certified by the Canine Eye Registry Foundation (CERF).
Buying a pup with a good health pedigree makes for great Husky life expectancy.
And remember, to help your best buddy lead a long, healthy life, keep your dog trim and active, and don't overlook regular preventative healthcare.