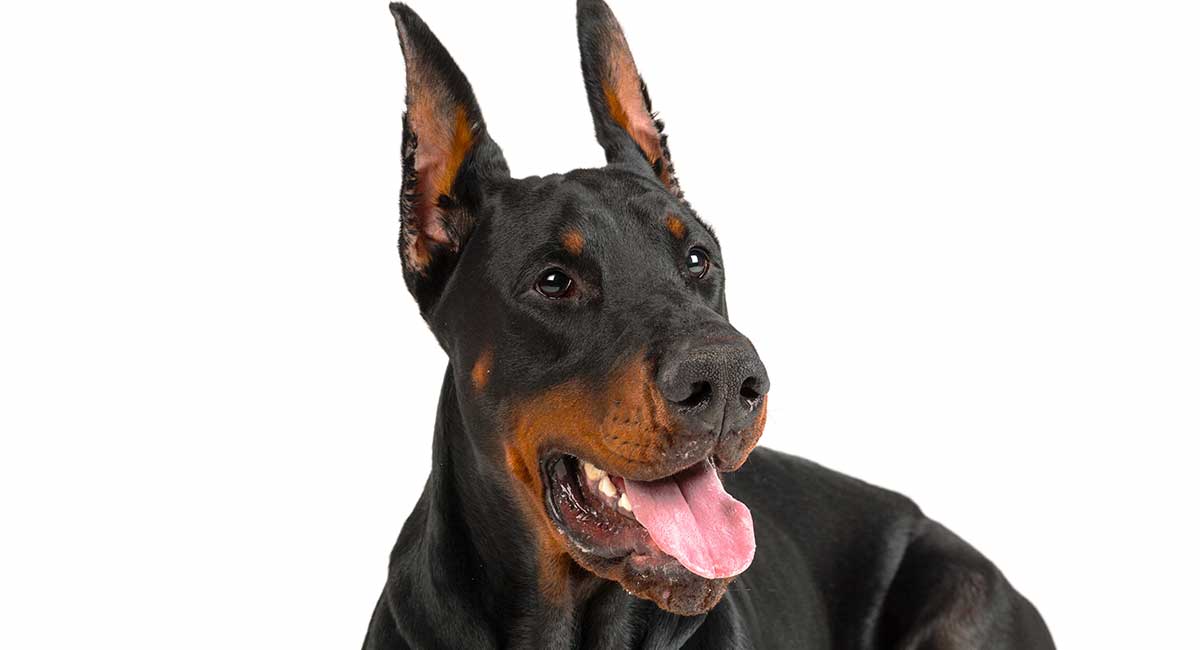 Doberman ear cropping is a surgical procedure that makes a Doberman's ears stand upright. When uncropped, an adult Doberman has ears that naturally flop and fold over. Like tail docking, clipping dogs' ears is standard practice in some breeds in the USA. But not everyone agrees with the practice, and it definitely does have some downsides.
Contents
Why Crop Doberman Ears?
In some breeds such as Doberman Pinschers and Boxers, puppy ear cropping was considered an important attribute for a protection dog in the belief that cropped ears improve the dog's hearing and make it harder for an assailant to grab hold of the dog. In smaller breeds like the Brussels Griffon, the ears were cropped to make it harder for a cornered rat to bite them.
Another reason is that in a Doberman, uncropped ears are often perceived to give a gentler, less aggressive appearance, so clipping dogs ears may also be part of an attempt to enhance the Doberman's reputation for being fearless and fierce.
Natural Ear Positions
When you visit a litter of Doberman puppies you'll probably find that the puppies' ears are still in their natural state. Natural Doberman puppy ears are floppy, wide, and proportionately long in relation to the size of the head. Their ears are soft and silky, and inside they're smooth and pink. As the dogs mature, this color will darken and a soft layer of hair will grow on the inside of the ear.
Cropping may take place before you collect your puppy, or your breeder may recommend you have the procedure carried out by your own veterinarian. If the puppies have not already been cropped you may be able to choose to leave your puppy with natural ears. This is something that's worth considering as ear cropping, and its aftercare, is not always straightforward.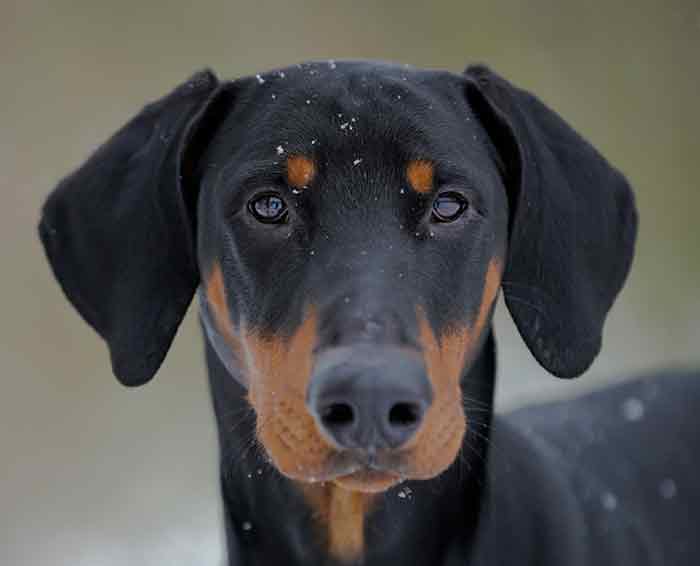 Can Doberman Ears Stand Up Without Cropping?
Leaving your dog's ears uncropped in the hope that they will stand up on their own, won't work. Natural, uninjured ear carriage in a Doberman is never upright.
People hoping to find out how to make doberman ears stand up without cropping are usually going to be disappointed because taping Doberman ears without cropping them, is very unlikely to work. The only way to get reliably erect ears on a Doberman, is to cut them before holding them in their new position until the ear cartilage has hardened.
Different Doberman Ear Cropping Styles
There are three different types of ear crops for Dobermans. The Doberman military crop (or working crop) is the shortest and easiest for training the ears to stand upright. The show crop has a long, curved shape and it takes many months for the ears to stand erect as well as almost a year of proper after-care.
This shaping exposes the inside of the ear, including the ear canal. The medium crop is between military and show length. In some dogs, surgery may not be successful and these dogs sometimes undergo additional surgery.
Elective Surgery
Surgical interference is the only thing that alters the appearance of their ears. And there are several different approaches to this surgical procedure.
Ear cropping is an elective surgery. A cosmetic procedure which changes the shape of a dog's ears quite dramatically with arguably little measurable benefit to the dog. Although ear cropping has been a common custom for this breed, especially in the US, there is much controversy regarding this practice. Many places have banned ear cropping entirely, including most European countries.
During the ear cropping procedure, the Doberman puppy is anesthetized and the floppy part of the dog's ear is cut off. The cut edges of the ear are stitched and Soft foam blocks or 'posts' are placed inside the ear and the ear is then taped around them to stand upright. This procedure is performed on puppies that are between the ages of 6 to 12 weeks of age. After 12 weeks the cartilage in the ear will have hardened and this makes it unlikely that the ears will ever stand erect. The posts remain in the puppy's ears until the ears will stand erect on their own. Doberman ear posting can take from a few weeks up to a year.
Both the American Veterinary Association (AVMA) and the Canadian Veterinary Medical Association oppose surgical alterations that are not for the benefit of the dog and merely for cosmetic purposes. Even in the US, there are fewer veterinarians who are willing to perform this surgery and ear cropping is no longer being taught at colleges of veterinary medicine.
Clipped Ears – Maintaining Breed Standards?
Breed organizations like the American Kennel Club still endorse the practice of ear cropping to maintain the traditional breed standards. Of course, breed standards can be changed, and have been changed in countries whereear cropping has been banned, so this isn't a strong argument for continuing to endorse this surgical procedure.
According to the Doberman Pinscher Club of America ear cropping is done for two functional reasons. The first is that a cropped ear gives the dog an advantage when confronted with an attacker as there's less for the perpetrator to grab hold of.
Even if true, this isn't really an issue for the average family pet. Secondly, they state that when the ears are erect they're able to locate the source of sound more accurately than a dog with a dropped ear. However, there's no scientific evidence to back up this claim.
Doberman Ear Health
You may have heard that leaving your Doberman uncropped will increase the risk of ear infections, but there is no evidence to support this theory. A Doberman without clipped ears is not overly susceptible to ear infections or hearing loss.
Essentially with the cropped Doberman, the aim is to comply with show standards or are cropped because the owners like the way it makes the dog look. There are people who want their Doberman to appear as intimidating as possible. And as one study found, dogs with cropped ears are perceived as being more aggressive and dominant.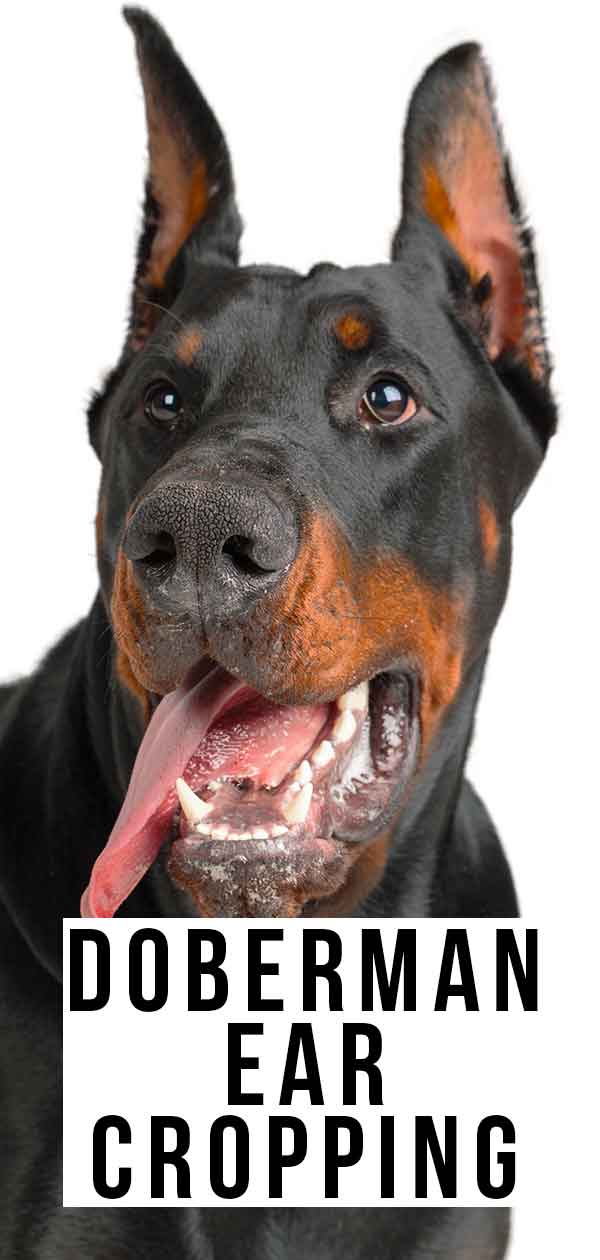 Cropped vs Natural Ears
Doberman ear cropping is now banned in many countries. And there are a number of reasons why this practice has fallen out of favor. Veterinarians and other animal experts have concluded that there is little benefit to ear cropping and this has to be weighed against the downsides.
Cropping a Doberman's ears can actually be hazardous to the dog's health for a number of reasons. Not only is this needless practice painful for the dog, as with any surgical procedure there's the risk of infection or complications with anesthesia.
In addition, the bleeding disorder known as Von Willebrand's disease has a particularly high frequency in Dobermans. This condition is characterized by a defect in platelet function which affects the blood's ability to clot. Excessive bleeding after surgery is a common clinical finding and severely affected dogs may bleed to death from surgical procedures. This is one more reason not to have your Doberman's ears cropped as surgery can be extremely hazardous.
Post-operation care is a time-consuming commitment. If you choose the long crop, you could be looking at many months of after-care.
Does It Hurt?
The operation itself is carried out under anesthetic, but post operative pain is inevitable when we make deep cuts in part of an animal's body or when we remove body parts entirely. This pain may be manageable with pain relief, but it isn't always possible to eliminate post operative pain entirely.
In addition, the long healing process in the weeks that follow surgery, can be more painful for the dog than the actual surgery itself.
It's also believed that the dog's body language is compromised when their ears are cropped and this may affect their ability to express themselves to other dogs. Lastly, after all the pain and suffering, there's no guarantee that the surgery will be successful and the dog can end up permanently scarred.
Where can i get my dogs ears cropped?
Ear cropping must be carried out by a qualified veterinary surgeon under a general anesthetic. It cannot be carried out in areas where ear cropping is illegal, and is a procedure that is usually carried out only in puppies.
If you decide you want your puppy's ears clipped, you'll need to contact your veterinary surgeon to discuss this. But please do consider leaving your puppy's ears intact. Ear cropping is not a straightforward or quick procedure. The operation is just the beginning. Here's what's involved afterwards.
The Ear Cropping Process And Aftercare
Ear cropping surgery is done under anesthesia and takes about 30 minutes. The surgery must be done by a veterinarian who is experienced in cropping Doberman's ears. In some areas this may involve considerable journeys as fewer and fewer vets are willing to carry out the procedure.
During surgery, the outside part of the ears are trimmed and the edges are sutured. Some vets will post and tape up the ears immediately, while others will wait until the wounds heal.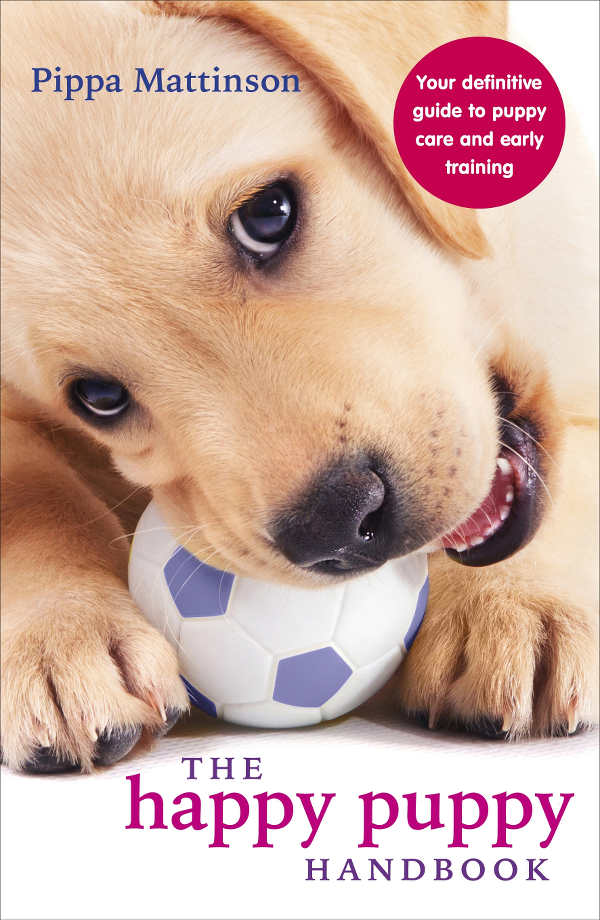 Posting is done in a variety of ways. Essentially the ears are taped over the head to keep them upright and wrapped with gauze for protection. Timing will vary, but taping typically lasts about 6 months and it can take as long as a year for a long crop.
Proper aftercare is essential during this lengthy healing process, which is very uncomfortable for the dog. The wounds can bleed quite a bit and regular dressing changes are required to prevent infection.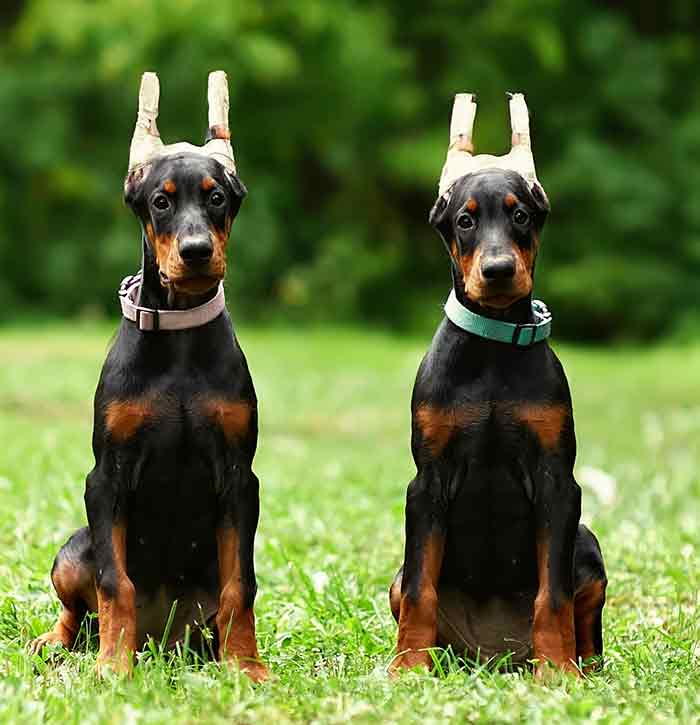 Doberman Ear Cropping – Pros and Cons
A Doberman without ears cropped has a softer look with ears that are quite wide and floppy. There are those who insist that ear cropping is a part of the breed's identity. Others will state that cropped ears allow the dog to hear better or reduce the risk of ear infections or deafness.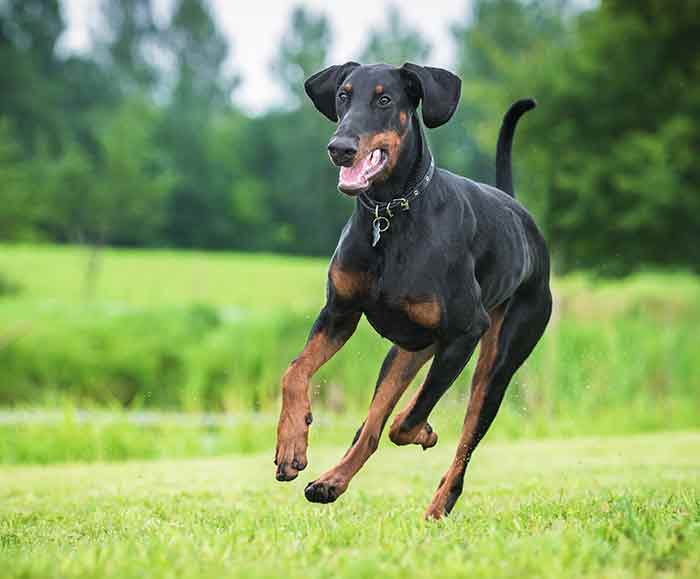 However, the only reason to have a Doberman's ears cropped is to comply with show standards or for aesthetic purposes. If you are not intending to compete with your dog in the show ring, there is no need for your puppy to go through this process.
Is Ear Cropping Cruel?
Many people think so, and the procedure is now banned in many areas. Fewer and fewer veterinarians are willing to perform this surgery. It's an expensive procedure that causes the dog a lot of pain. Owners are responsible for post-operative care that can last for many months. And even then there's no guarantee that the surgery will be a success.
If you are on the fence about owning a Doberman without ears clipped, we hope this article has given you food for thought.
We think that a Doberman without cut ears looks just beautiful and we hope you agree! Tell us your thoughts on Doberman ear cropping in the comments below.