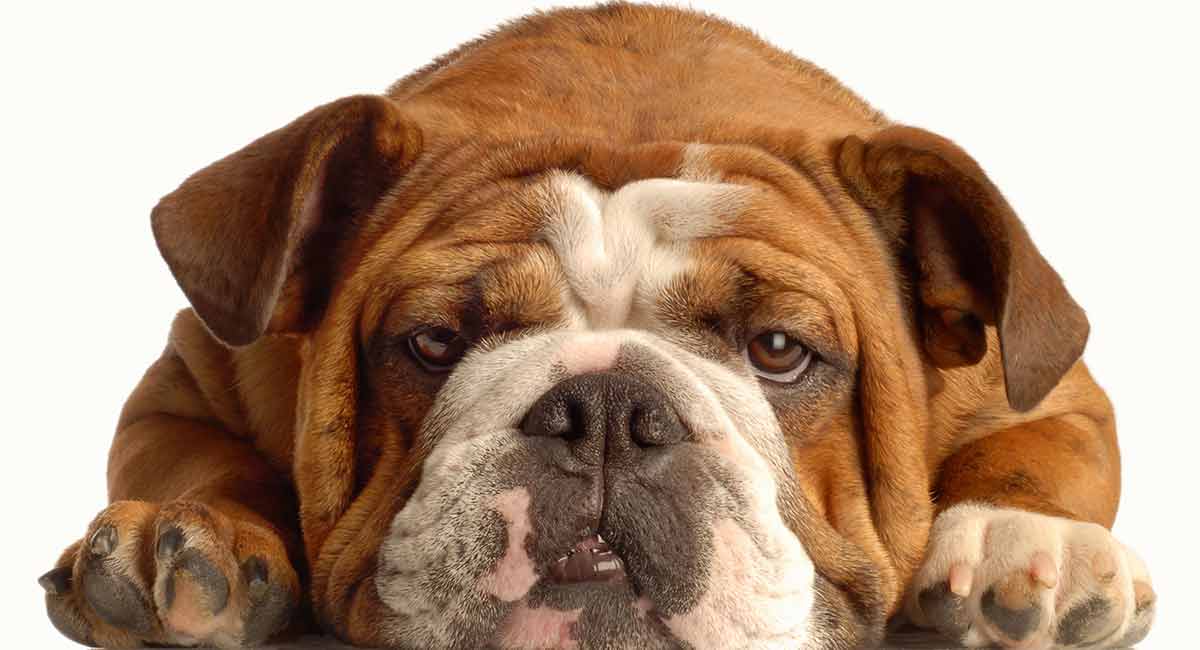 The English Bulldog's gentleness, good-natured temperament and adaptability make them a great family pet. Unfortunately, that has come at a cost to their health and overall life expectancy. This breed has a much shorter lifespan than the average dog, at just 6 to 8 years. Today I'll share why I think these estimates are more accurate than the higher aims you might see elsewhere online, and what you can do to help your prized pup to live as long as they can.
Contents
It is easy to fall in love with English Bulldog puppies, but their laid back attitude isn't just a sign of a chilled family pet. It can be a signal that something is wrong too.
How Long Do English Bulldogs Live According To Studies?
Much like any other breed, the English Bulldog lifespan is variable. Several studies look at their longevity. Sadly, the average English Bulldog lifespan is not very long.
One study by the UK Kennel Club and British Small Animal Veterinary Association found that the average lifespan for the English Bulldog was only 8.25 years. And only 8.9% were reported to have died of "old age." Similarly, this study done in 2013 reported that the average lifespan of English Bulldogs is 8.4 years.
In contrast, one particular study from 2010 gives a slightly different average for the English Bulldog lifespan. This study found that the average English Bulldog lifespan is only 6.29 years and suggests a bit of variance in the average.
They were once considered very healthy dogs with an average lifespan of 10 years. But now the average English Bulldog lifespan is now only about 6 to 8 years.
English Bulldog Lifespan Compared With Other Breeds
All of these studies reported that the average English Bulldog lifespan is far below that of the average dog. Based on the studies mentioned above, the English Bulldog lifespan is about 30% shorter than the average amongst most other breeds.
Factors Affecting English Bulldog Lifespan
There are many factors that can affect the lifespan of all breeds. This includes: their environment, their daily diets, and their exercise routines. Interestingly, the size of a dog often contributes to its lifespan. Small dogs generally living longer than larger dogs. The English Bulldog falls in the range of medium-sized dogs and so has a middle-of-the-pack lifespan.

Life Expectancy vs Breeding Practices
The widespread popularity of the English Bulldog has proven to be costly for these sweet, patient, and good-natured dogs. More English Bulldogs are being unethically bred as demand increases. This has led to a slew of health problems and driven down the English Bulldog's life expectancy.
Years of breeding English bulldogs in favor of "squished faces," skin folds, small stature, and other child-like features has led to the English bulldog becoming one of the most unhealthy dog breeds in the world.
Mixing It Up
By introducing other dog breeds into the gene pool, it is possible to fix many of their current health problems, and genetic diversity can be improved. In fact, such attempts have already been made, and have produced healthier canines.
But, there is push-back from some English Bulldog breeders about changing the general shape and genes of an English Bulldog. They are worried it would essentially make the breed no longer English Bulldogs.
Would they still be an English Bulldog if their faces were no longer squished and their bodies no longer so short and stout?
Some breeders are attempting a different route. They're trying to improve the breed's health by carefully breeding only the healthiest bulldogs together.
Still, this reverse breeding is questioned by some. They believe that current Bulldogs are so unhealthy that attempting to improve within the breed will take longer than it is worth.
Health Issues
The answer to "How long do English Bulldogs live?" is affected heavily by the number of health problems that plague this breed of dog. Many conditions contribute to the relatively short English Bulldog lifespan. Including heart problems and respiratory issues.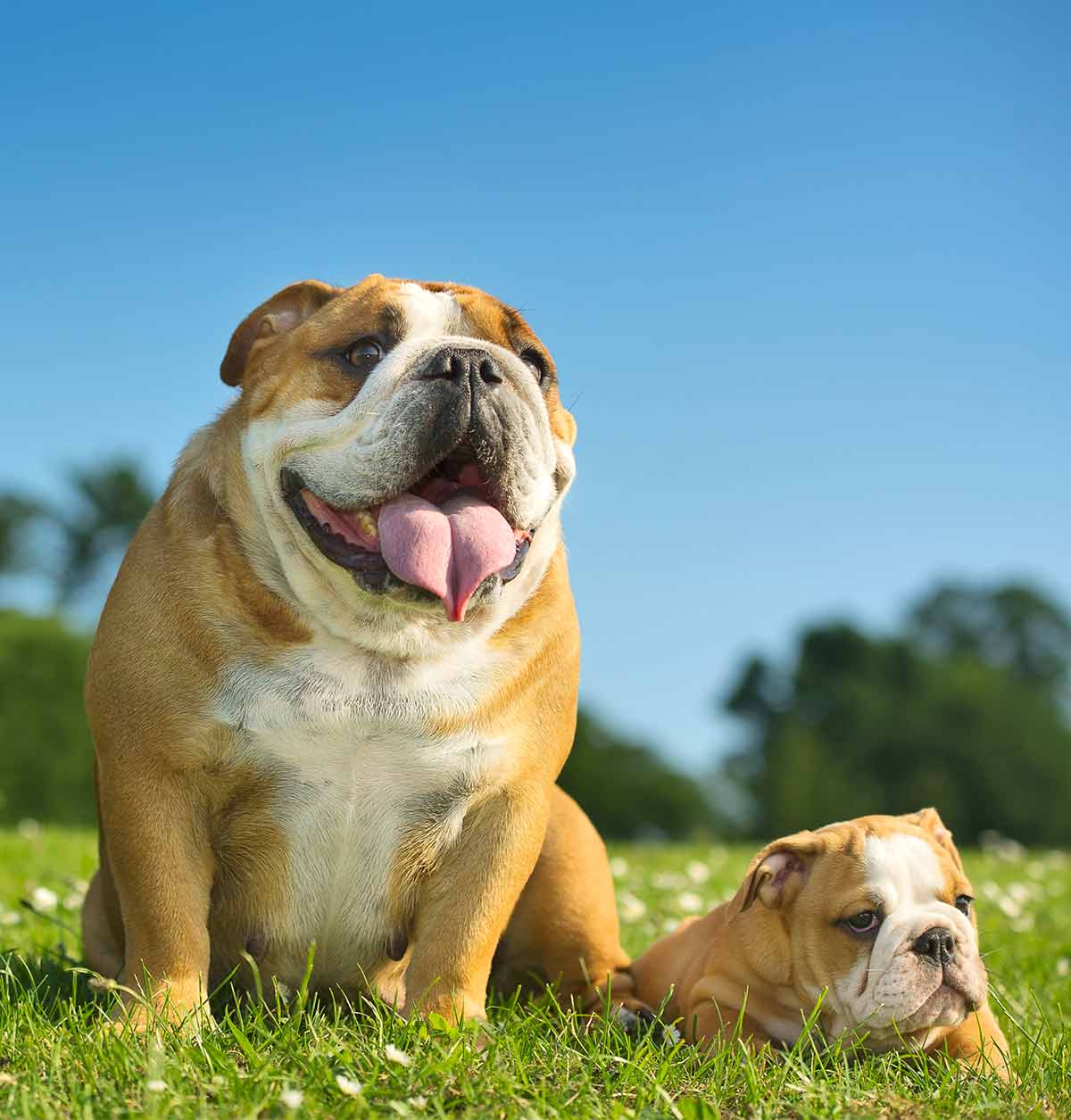 Heart Disease
Heart Disease can develop in both younger and older English Bulldogs. But, if caught early, it can often be managed with medication. Early detection will help ensure your dog lives many more years.
Bladder And Kidney Stones
English Bulldogs have a higher risk of developing bladder or kidney stones. This condition is more common in female dogs. It can be painful and may turn into a serious, life-threatening condition if a stone causes a complete obstruction. In this case, the bladder can rupture.
You can treat stones with a diet, non-surgical, or surgical intervention. A preventative diet is recommended if they have had stones in the past.
Breathing Disorders Decrease Lifespan
The vast majority of English bulldogs suffer from brachycephaly. With their short muzzles and flat faces, English Bulldogs have extra tissue in their airway passages. They have the same amount of tissue as other dogs but due to their short, squished faces, there is nowhere for the excess tissue to go.
This causes breathing difficulties and other respiratory and digestive related issues. English Bulldogs tend to be gassy from the extra air intake, are prone to heat stroke, and can develop pneumonia from food inhaled into their lungs.
Signs of respiratory difficulties are: loud breathing, coughing, blue tinted gums, fainting, and exercise intolerance.
Laryngeal Paralysis
In older English Bulldogs, paralysis of the vocal cords can occur. The paralyzed chords hang down into the airway and interfere with breathing. Listen for loud, noisy breathing. This condition can become severe and dogs can fall down and struggle to breathe effectively.
English Bulldog Lifespan And Joint Problems
Dysplasia refers to an abnormal joint structure that leads to partial or complete dislocation. English Bulldogs are prone to hip and elbow dysplasia which can also lead to arthritis. This condition becomes more likely as a dog ages.
Spiral Tails and Back Pain
Hemivertebrae is a condition characterized by wedge-shaped spinal vertebrae that can cause curvatures in the spine. It is a condition that the English Bulldog is born with and that can cause damage to the spinal cord and disability.
A puppy that appears to have no tail at all might be more likely to suffer as a result of this issue. X-rays can detect puppy spinal abnormalities. Early diagnosis can help to prevent further damage, exacerbated by exercise or weight gain.
Other General Factors
Some general factors that contribute to a dog's life expectancy include things like the English Bulldogs age and size. Others factors more within a dog owner's control are dental care, vaccinations, preventative treatment for parasites, and weight management.
English Bulldog Lifespan And Dental Issues
Just like humans, dogs get plaque and tartar build up on their teeth. Also similar to humans, without appropriate dental care, this build up can lead to infections in the teeth and gums. Dental neglect can become serious, potentially causing major health issues, like liver and kidney damage. It even reduces the life expectancy of your pet by 1 to 3 years.
Their small mouths mean their teeth are squished in too tightly. As a result, overcrowding can cause pain and gum problems. Simply, brushing your dog's teeth 3 times a week can help keep them healthy and decrease the likelihood of these dental-related health concerns.
Obese Dogs Die Young
Weight management is important to the quality of life and life expectancy of your dog. English Bulldogs are particularly susceptible to weight gain. So, as pleading as those sad little eyes may be, you must resist the urge to indulge in table scraps or extra treats.
Overweight dogs are at risk of developing heart disease, metabolic disorders, digestive disorders, and back pain. English Bulldogs are already susceptible to joint problems and additional weight will only exacerbate this issue.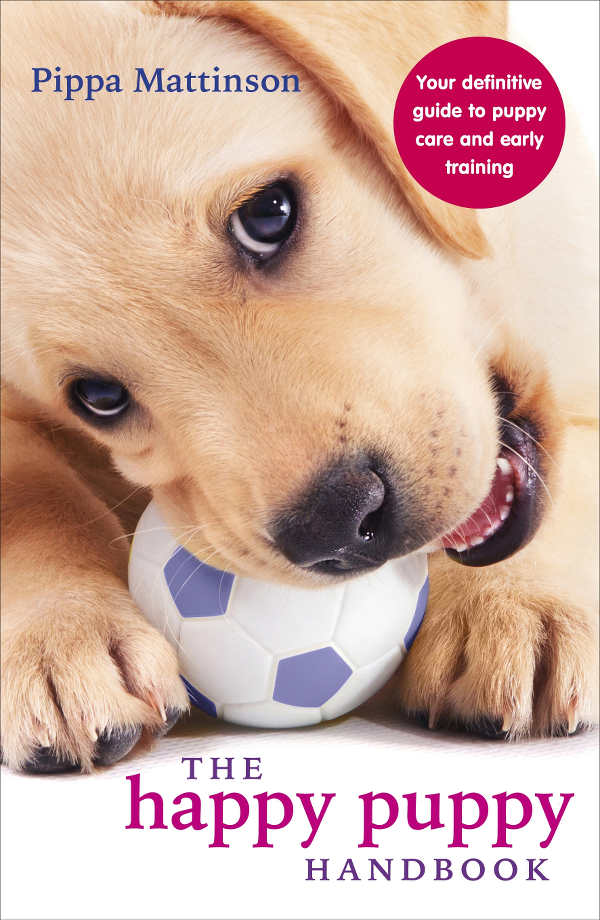 Preventable Illnesses
You can easily prevent a number of non-inherited diseases with routine vaccinations and maintenance medication. Routine vaccinations can include parvovirus, distemper, hepatitis, and rabies. Talk to your vet about options for managing ticks, fleas, and worms.
Increasing Your English Bulldog's Lifespan
As a pet owner, there are many things you can do to help maximize the life expectancy of your English Bulldog. A few of them include being diligent and attentive to your dog's grooming and dental care. And ensuring your dog maintains a healthy weight through proper food and exercise.
In addition, it is important to be aware of your dog's unique limitations.
Brachycephalic dogs can't swim. Their head and chest are much larger and heavier than their hindquarters, causing them to sink. Drowning is a real risk for English Bulldogs so to keep your dog safe always put an English Bulldog life jacket on them, and supervise them around water.
English Bulldogs are also very sensitive to the temperature and can overheat very quickly. They can develop heat stroke even in a short time on a hot day. Be mindful of taking your English Bulldog out to exercise in hot weather or leaving them in such an environment for any amount of time.

Choosing A Healthy English Bulldog Puppy'
When searching for an English Bulldog puppy, finding a reputable breeder is especially important. With the poor breeding practices and inbreeding that plagues this specific breed of dog, this gives you the best chance for a healthier dog. A healthier dog is also likely to be more expensive than one from an unethical breeder.
Oldest Living English Bulldog
The Facebook group page "The Oldest Bulldogs Around the World" shares information on English Bulldogs. It has for 8 years and over. There have been a few reports by Bulldog owners of dogs who have turned 16 this past Spring (2019).
One owner from Cleveland, Ohio, USA, self-reported that her dog, Oliver, lived to an incredible 20 years of age and passed away in January 2018.