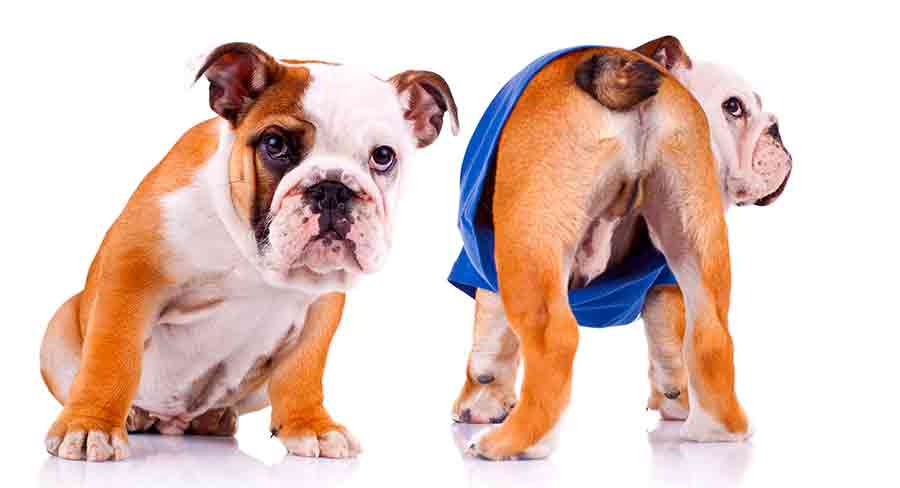 English Bulldogs certainly do have tails, but there are a few different English Bulldog tail types, and some of them are more prominent than others. All Bulldog puppies are born with a tail, just like any other canine breed. But Bulldog tails can be straight, curly or even coiled into a tight screw. Unfortunately, some of these wavy tail varieties are also associated with significant health problems. Curly tails start bending within the spine, and they can be tricky to clean and become a breeding ground for bacteria.
Contents
Do English Bulldogs Have Tails? A Bit Of Introduction
English Bulldog is an alternative name for the Bulldog breed. Technically their breed name is just 'Bulldog', but people tend to add 'English' to make it obvious that they don't mean either the French Bulldog or American Bulldog breeds. English Bulldogs are also distinct from Olde English Bulldogges, but we'll come back to them a bit later!
Bulldogs are iconic for their looks. They are squat and heavily built, with jowly, wrinkled faces and a pronounced underbite. In the United States, their pushed-in faces are inextricably linked with the Marine Corps. And in the UK, they are closely associated with famous war time Prime Minister Winston Churchill. According to the AKC, they have been the American people's 5th favorite dog breed every year since 2013.
So most of us can easily recognize a Bulldog by their face. But what about the other end? Can you picture an English Bulldog tail?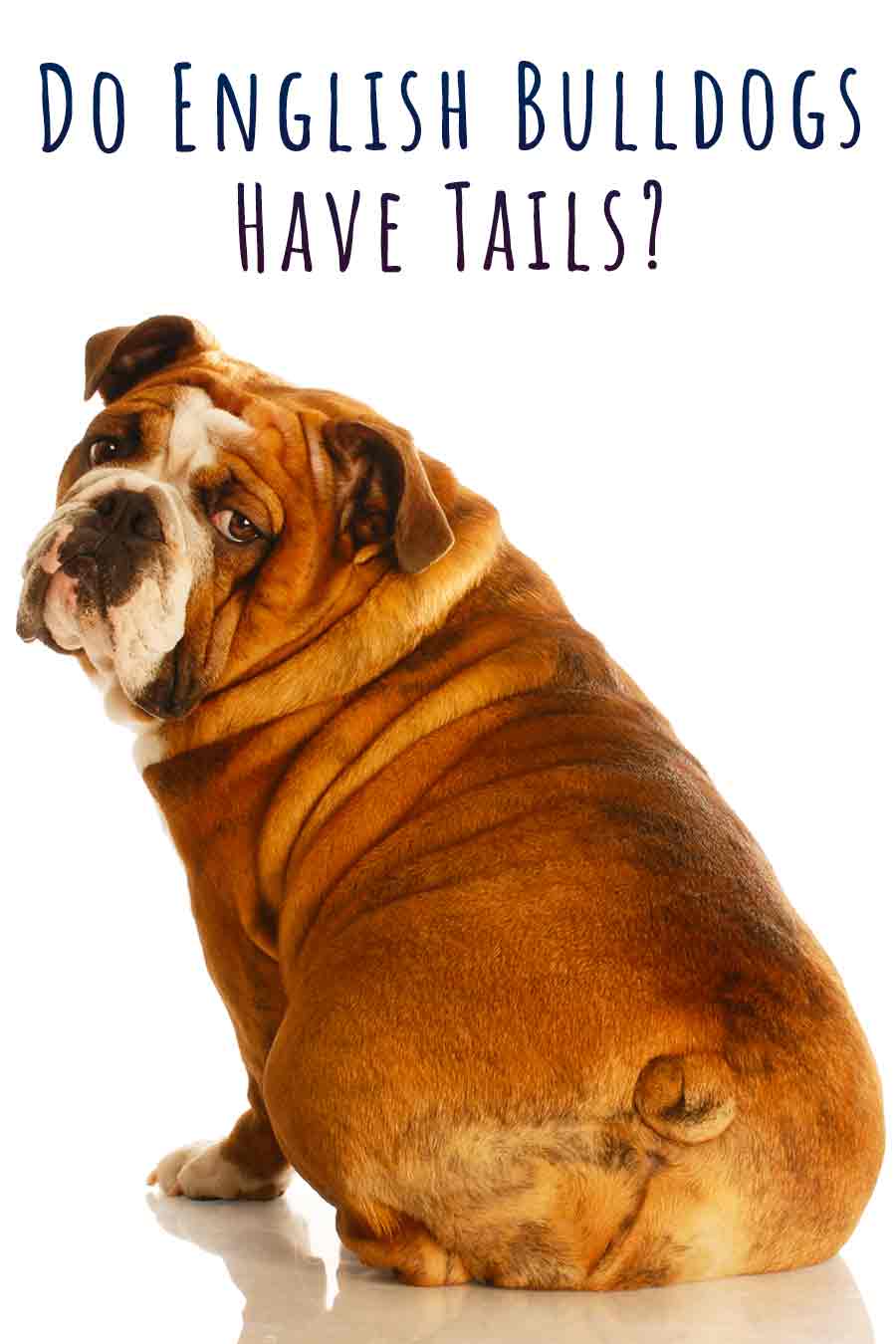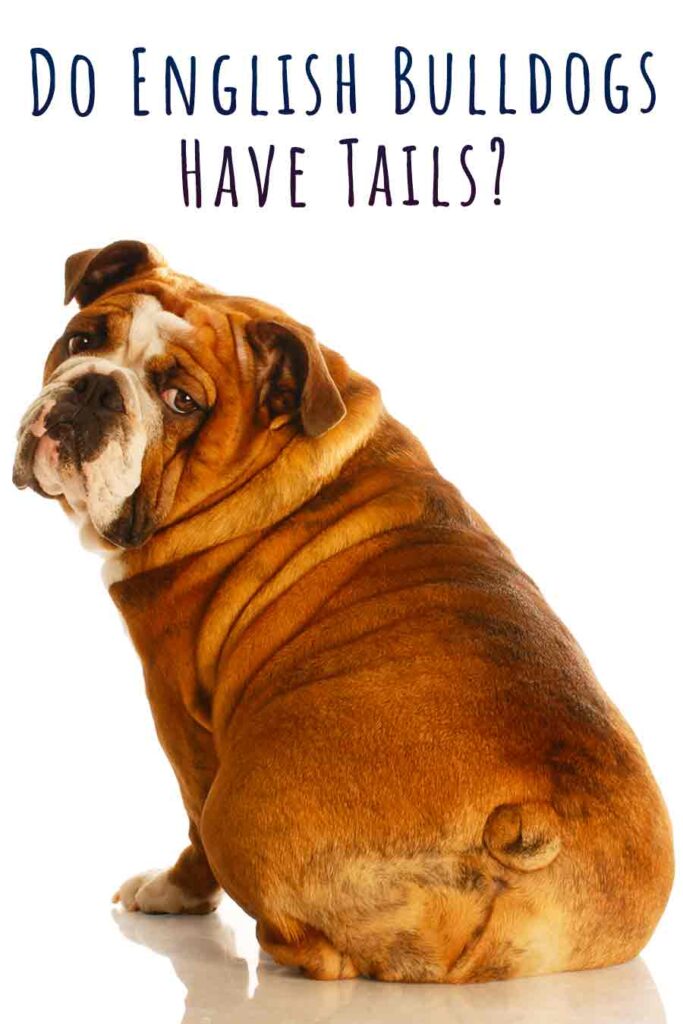 Are English Bulldogs Born With Tails?
Yes! All English Bulldogs are born with tails, and most hold onto them for their whole life. However, their tails are naturally shorter than those of most dog breeds. Dogs' tails are formed of coccygeal vertebrae, or tail bones. Whilst full-tailed dogs have 19 to 23 coccygeal vertebrae, Bulldogs are born with just 6 to 13.
To understand more about why some Bulldogs look like they don't have tails at all, even though they definitely do, it helps to look at the different English Bulldog tail types.
English Bulldog Tail Types
The Bulldog breed standard describes what an ideal Bulldog should look like. It says Bulldog tails should be either straight or screwed, but never curved or curly. They must be short, with a thick base tapering to a fine tip. And they should always hang or corkscrew downwards from their base.
Straight tails
Straight tails are the most prominent Bulldog tail type. They are one of the Bulldog tail types accepted by the American Kennel Club for show standard dogs. And some people think they should be the most desirable one, since they doesn't have any associated health problems. Straight tails are only a couple of inches long, but this is their natural length, and not the result of being cropped in puppyhood.
Curly tails
Curly tails spiral loosely like a pig's tail, or curve back over on themselves like a Basenji's tail. These are the least desirable tail type for Bulldogs, according to their breed standard. So breeders usually do their best to avoid producing litters of puppies that have them, and you're unlikely to often see them.
Screw tails
Screw tails are twisted in a series of tight kinks, so that they sit close against the body like a bun. The dog in the photos accompanying this article has a screw tail. When Bulldog puppies with screw tails are born, the bones and spaces between them are still soft enough that the tail can be gently unfurled. But as they grow up the bones harden and set in position. This tail type is also acceptable in show dogs. But unfortunately it is also associated with some pretty serious health problems.
English Bulldog Tail Problems
Screw tails are caused by abnormal development of the tail bones. Despite starting out as a genetic fault, lots of Bulldogs now have screw tails because some people like how it looks, so they have deliberately fixed the possibility in the Bulldog population. However, screw tails are associated with several complications:
Tail fold pyoderma
Tail fold pyoderma is a common problem of screw tail English bulldogs. Where the tail sits flush against the dog's butt, the friction between the two causes irritation and inflammation. This creates a site for bacterial or fungal infections to enter the body – and they quickly take hold because conditions underneath the tail are so warm and damp. Sometimes antibiotics are are enough to treat tail fold pyoderma, but often surgical amputation of the tail is the only way to stop it recurring.
Spinal column malformations
English Bulldogs with screw tails also have an increased frequency of spinal column malformations. Examples include spina bifida, where some of the vertebrae don't fully enclose the spinal cord and the crucial nerves bundled inside it. Another example is cranial thoracic vertebral canal stenosis (CTVC), where the vertebrae are malformed and squeeze the spinal cord. Young male Bulldogs are the dogs most likely to be diagnosed with CTVC. Both of these conditions require surgery to fix them.
English Bulldog Tail Docking
Bulldogs have such naturally short tails that some people wonder if it has been achieved by tail docking. Tail docking started out as a way of protecting working dogs' tails from injury. Later, when taxes were introduced on non-working dogs, people started docking the tails of sporting and pet breeds, to try and pass them off as working dogs. Today, some pet dogs still have their tails docked 'in the tradition of their breed'. However, it is widely regarded as unnecessary, and a potential welfare concern.
More Important Things To Know About English Bulldogs
Tail problems aren't the only health concerns of English Bulldogs.
Due to their extremely flattened faces, Bulldogs are likely to have difficulty breathing, which increases the risk of heatstroke in hot weather. The shape of their skull and jaw also increases the risk of dental problems. Even their eyes can be negatively affected by being set in such shallow sockets.
English Bulldogs have high rates of orthopedic problems relating to their joints. A whopping 70% of Bulldogs are estimated to have some degree of hip dysplasia. A further 37% are diagnosed with elbow dysplasia, 5% with luxating patellas and 6% with diseased shoulder joints.
English Bulldogs are also vulnerable to tracheal hypoplasia, where the windpipe is extremely narrow, making it difficult to breathe and shortening their lifespan.
All of these conditions have a hereditary component. Which means they can be passed genetically from one generation to the next. Unfortunately, the entire English Bulldog breed was founded from just a small number of individuals, which means there is very little genetic diversity in the modern population. Researchers doubt there are enough healthy Bulldogs left to 'breed out' these health problems in future.
English Bulldog With Long Tail
According to their breed standard, English Bulldog tails should always be short. Some English Bulldogs with long tails are occasionally reported with the Bulldog community, but it's unclear if this is a naturally occurring trait which pops up occasionally, or if it has been introduced by crossbreeding.
However, another breed exists which attempts to recreate an older version of the Bulldog. One with a longer tail, a more pronounced muzzle, and a lower frequency of genetic diseases. And that breed is the Olde English Bulldogge. The Olde English Bulldogge has been recognized by the United Kennel Club, but it is not yet acknowledged by the American Kennel Club. Old English Bulldogges have long, slightly curved tails, known as 'pump handle tails'. Screw tails are specifically disqualified by the breed standard.
Do Bulldogs Have Tails?
So the answer to the question 'are Bulldogs born with tails?' is yes, they are! English Bulldogs have short tails which can be straight or screwed. Their tails are naturally short, and haven't been docked. But, some Bulldogs do need to have their tail amputated altogether due to screw tail related health problems.
References