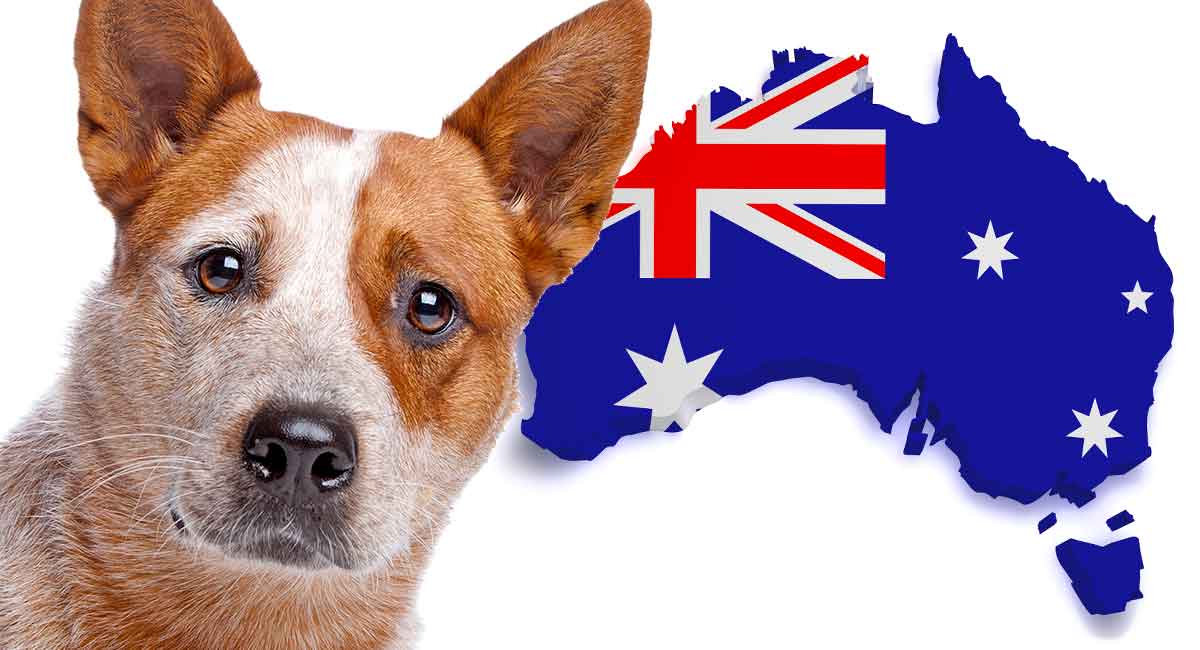 The red Australian Cattle Dog has a very distinctive appearance and an equally distinctive temperament and personality.
In this focused article, learn what you need to know about the Red Heeler to decide if this is the right pet dog for you!
The Red Australian Cattle Dog Breed
The red Australian Cattle Dog has a lengthy and international breed history that stretches back to the 1800s and beyond.
One of the most fascinating facts about the red Blue Heeler dog breed is that if you trace their breed lineage back far enough, you will discover these dogs have wild dingo dog blood in them!
The original red Blue Heeler dogs were dingoes crossed with Collies.
Later, these early heelers were crossed again – this time with Dalmatians and then with Bull Terriers and Kelpies.
These new Australian Cattle Dogs were essential to their people, herding and guarding livestock for long hours daily in every kind of weather.
What Do Red Heelers Look Like?
According to the official breed standard, Red Heelers can be red mottled or red speckled.
Sometimes Red Heeler dogs will also have darker markings (black, tan, or red) on their faces or bodies.
Coat color genetics can quickly become a complicated topic.
What is most interesting about Red Heelers is that their hair is actually white with flecks of color!
Another interesting fact is that Red Heeler puppies are born white, and their base color appears after the first few weeks of life (red or blue).
A Red Heeler may have some black hairs scattered throughout the red mottled or red speckled pattern and a black nose.
Sometimes breeders cross a Red Heeler with a Blue Heeler and this can produce the red Blue Heeler dog.
Other Red Blue Heeler Dog Colors
The Red Heeler is actually a less well-known color for the Australian Cattle Dog, which is often called simply the Blue Heeler.
Both the Blue Heeler and the Red Heeler are Australian Cattle Dogs.
The full color spectrum described in the official breed standard includes blue, blue mottled, blue speckled, red mottled, and red speckled.
Markings can include black and tan, red, or just tan markings.
Other non-standard ACD colors can include lavender, apricot, chocolate, purple, cream, and silver in solid, roan, speckled, or mottled patterns.
Australian Cattle Dog Red Heeler Shedding and Grooming
The Red Heeler has a double-layer coat, but it is short and smooth and fairly self-maintaining.
These dogs generally have no doggie odor, even after a hard day's work.
They need only weekly brushing and the occasional bath.
The exception is that twice per year, your Red Heeler will shed out the insulating undercoat.
During these times, you may need to brush your dog every few days to keep shed hair under control.
Australian Red Heeler Size, Weight, and Height
The Australian Red Heeler dog typically weighs 35 to 50 pounds and stands 17 to 20 inches tall.
These are lean dogs with long legs and powerful, compact bodies who are bred to run and herd and work.
There is also a newer "miniature" Heeler that will stand up to 16 inches high and weigh less than 30 pounds.
They are equally strong, active, and talented at herding and guarding.
Red Heeler Temperament and Personality
To date, no research has definitively linked coat color to differences in Australian Cattle Dog personality and temperament.
Rather, research supports that the dominant temperament of heelers of any coat color is active, energetic, driven, somewhat stubborn, independent, very intelligent, and athletic.
Is the Red Heeler Breed Good With Children?
The Australian Cattle Dog is a dog breed that has been bred to work at a specific job: herding and guarding livestock.
Because of this, the Red Heeler is often described as mouthy or nippy.
When herding cattle, nipping is useful.
But it doesn't tend to be so well-received when a heeler is trying to herd children or adults!
Red heelers also tend to bite or nip during play, which can be unpleasant for kids and adults alike.
Because of this dog breed's natural assertiveness and strong herding instincts, this is not the best choice for a pet dog for families with young children.
Also, for the same reasons, Red Heelers do not mix well with other vulnerable family pets.
Red Heeler Cattle Dog Guarding Tendencies
The Red Heeler's background as a working and herding dog can cause this dog to be standoffish or guarded with unknown people.
With animals and children, there is a strong tendency for this dog to try to herd them.
The Red Heeler can make an excellent guard dog with proper training and socialization.
Will a Red Heeler Dog Bark a Lot?
The Red Heeler has a high-pitched bark and an equally resonant whine.
However, as long as you make sure your Heeler gets enough daily exercise and activity, these dogs are not serious barkers or whiners.
Red Heeler Cattle Dog Intelligence
In one survey of 79+ purebred dog breeds, the Australian Cattle Dog ranked as the 10th smartest dog breed!
This particular survey defined canine intelligence as the ability to quickly learn and master commands in five tries or less and obey their owners up to 95 percent of the time.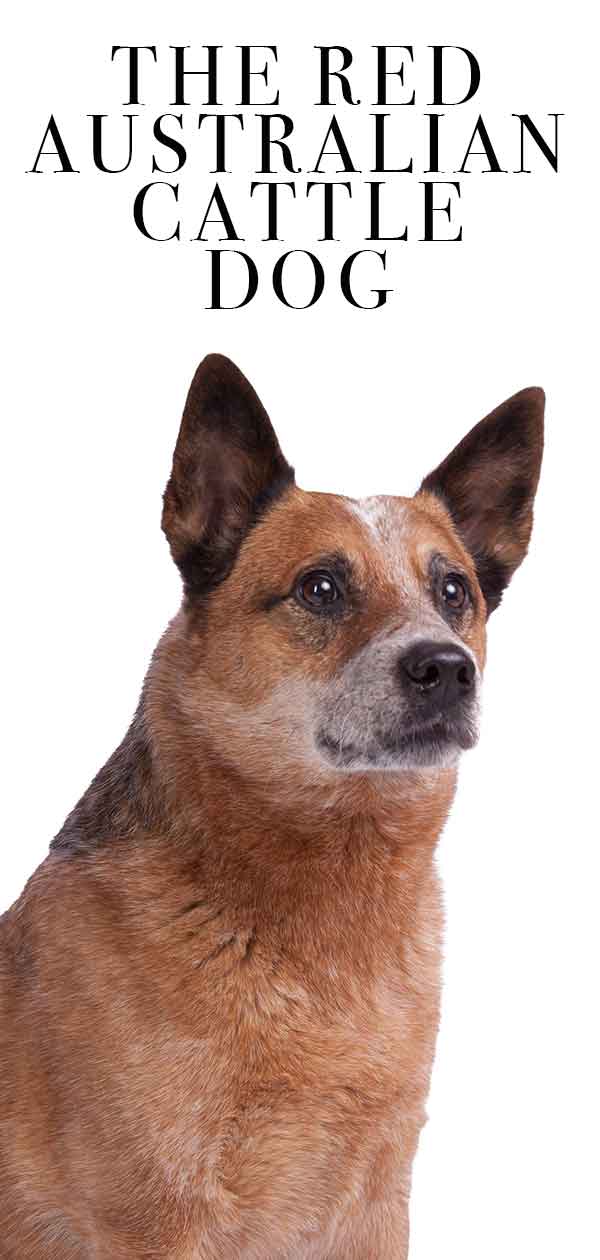 Red Australian Cattle Dog Training and Socialization
What the Red Heeler's ranking in the canine intelligence survey tells you is that this dog is going to be a quick study.
What the survey doesn't say is that Australian Cattle Dogs have a reputation for being stubborn.
This is likely a product of their long lineage as herding dogs working independently of their owners, sometimes separated by great distances!
The earlier you begin training and socialization, the happier and more well-adjusted your Red Heeler dog is likely to be as a family companion and productive member of your local community.
Red Heeler Dog Breed Exercise Needs
The Red Heeler dog breed was carefully developed to work as a herding dog.
In this role, an Australian Cattle Dog might work for many hours straight under difficult weather and terrain conditions, moving continually with all senses alert.
Suffice it to say that as a pet dog, your Red Heeler is going to need a lot of exercise and activity to stay healthy and happy!
Canine sports and long runs (once out of puppyhood) can be a great outlet to keep all that drive for activity channeled in positive and productive ways.
Red Australian Cattle Dog Health Issues
Finally, one of the most concerning issues for red Australian Cattle Dogs is congenital deafness.
Deafness can occur in one or both ears.
Researchers think it may be more prevalent in female Heelers.
Happily, with appropriate training, deaf Heelers can still make great companions!
Red Australian Cattle Dog Health Testing
The Canine Health Information Center (CHIC) recommends that the Australian Cattle Dog (regardless of coat color) be tested for:
hip and elbow dysplasia
eye and heart issues
patellar luxation
congenital deafness
osteochondritis dissecans
Red Australian Cattle Dog Lifespan
The red Australian Cattle Dog can live 12 to 16 years.
However, one Australian Cattle Dog, Bluey, is (well, was) a Guinness Book of World Records holder for longest-lived dog.
Bluey lived for 29 years and five days!
Red Australian Cattle Dog Puppy Cost
The average cost of a red Australian Cattle Dog puppy from a reputable breeder will range from $500 to $2,000+.
This wide variety in pricing can reflect demand, coat colors, gender, breeding lineage and show awards, and the option for future breeding rights.
Choosing a Red Blue Heeler Puppy
Red heeler puppies are white until they are at least a few weeks old.
After that time, their adult colors and patterns will begin to grow in.
Always choose a reputable breeder who places a premium on breeding and raising healthy, well-socialized Heeler puppies.
Your breeder should offer proof that parent dogs have been CHIC-health tested and also that puppies have received all required vaccinations.
The breeder should also offer you an initial health guarantee and a take-back offer if the puppy doesn't work out.
Look for a puppy that is bright-eyed and clear-eared with a healthy coat and skin.
Pick a puppy that is friendly, curious, eager to play, and willing to be held.
Red Heeler Rescue
The red Blue Heeler dog is definitely not the easiest dog breed for living the pet dog life.
For some individuals and families, this high-energy, driven, and active dog breed just proves to be too much.
Because of this, several rescue organizations exist regionally and nationally to help place unwanted surrendered Heelers with new forever homes.
Is a Red Australian Cattle Dog Right for Me?
As you now known, the red Australian Cattle Dog has a very distinct temperament and personality.
While this may not be the right pet dog for every person or family, in the right setting the Red Heeler can make an ideal canine companion!
Resources
Salladay, P. "Breed Standard/Working Standard," Australian Cattle Dog Association of America, 2018.
Hampson, B.A., et al. "Physiological responses of the Australian cattle dog to mustering exercise," Equine & Comparative Exercise Physiology, 2007.
Lubin, G. "These Are The 'Smartest' Dog Breeds, According to a Canine Psychologist," Science Alert, 2018.
Lenz, S. "Meet the Real Shelter Dogs of the Australian Cattle Dog Rescue … And Then Go Adopt One!," Bravo TV, 2018.
Sommerlad, S.F., et al. "Prevalence of congenital hereditary sensorineural deafness in Australian Cattle Dogs and associations with coat characteristics and sex," BMC Veterinary Research, 2012.