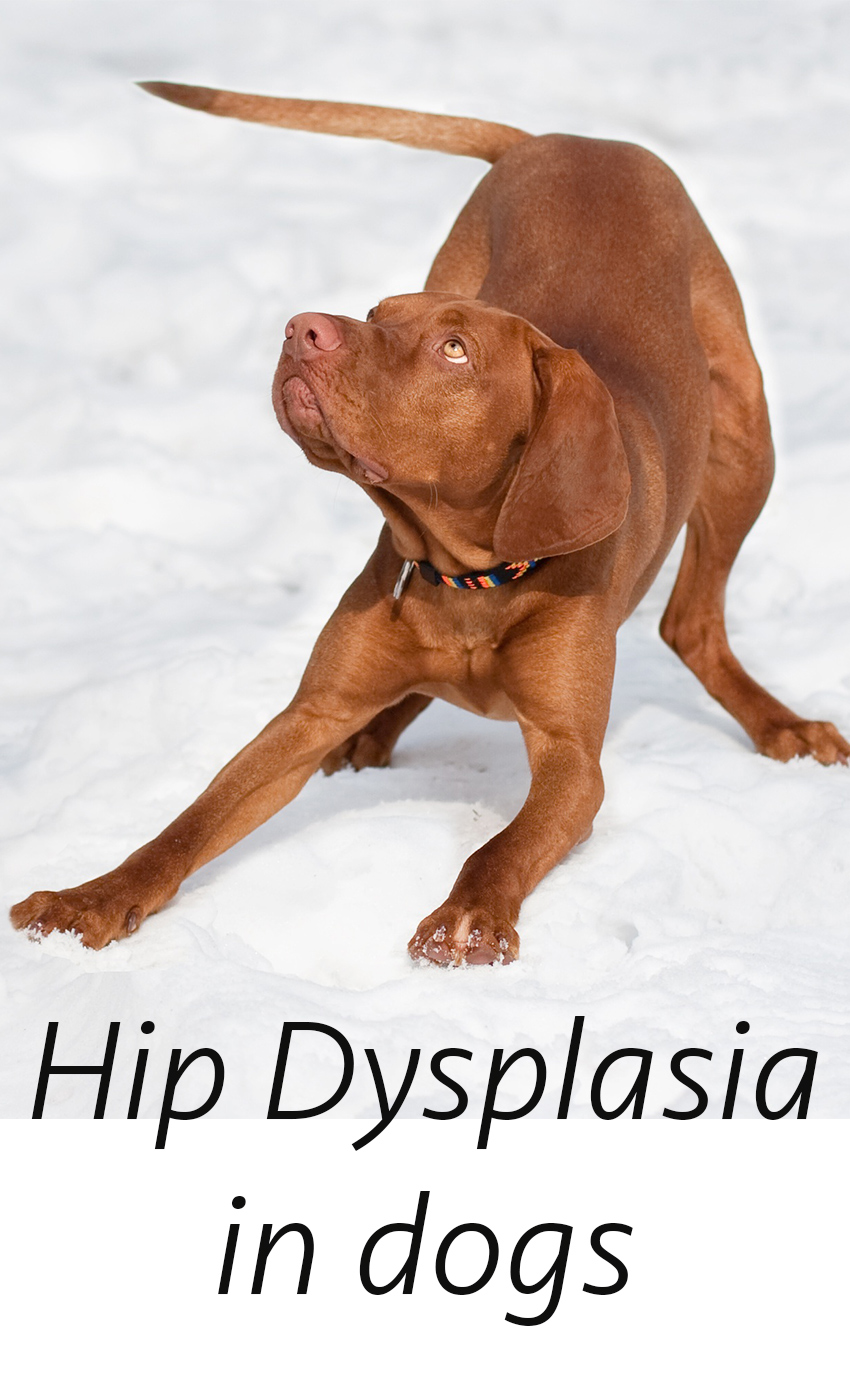 Are you worried about canine hip dysplasia? Has your puppy been limping, or having trouble climbing up the stairs?
In this article we give you a complete guide to hip dysplasia in dogs.
Giving you the information you need on symptoms, diagnosis and treatment. As well as that all important prevention.
Helping you to take the best possible care of your dog with hip dysplasia.
What Is Hip Dysplasia In Dogs
Hip dysplasia in dogs is an orthopedic condition where the hip joint is malformed.
When your puppy is growing his hip joints should develop into a very specific shape.
They should have a smooth, complete ball and socket joint.
Puppies with hip dysplasia have less effective joints due to an abnormal growth. The ball may be rough, lumpy or more oval than round.
The socket may be incomplete or barely there at all. Ligaments alone can support the ball if the socket is too deformed.
This abnormal joint leads to osteoarthritis, where the surface of the bones
Hip Dysplasia Symptoms
Hip dysplasia can be very painful, but a dog who is suffering from it will rarely vocalise this pain. They won't cry or whine to tell you that they are uncomfortable. So you need to know how to spot the symptoms of hip dysplasia in dogs yourself.
Canine hip dysplasia symptoms can include any or all of the following:
Limping or lameness
Stiffness
An odd gait
Bunny hopping
Moving both back legs at the same time when running
Reluctance to climb stairs or jump
Exercise intolerance
Difficulty standing up
Trouble laying down
Difficulty squatting to pee or poop
Thigh muscle wastage
Your dog might show only one of these signs, he might show a couple or he could show all of them.
If you think your puppy or dog might be exhibiting any of the above symptoms, then pop down to the vet for a check up.
Hip Dysplasia Diagnosis
A hip dysplasia diagnosis for dogs is normally given between six and eighteen months of age.
The earlier the diagnosis the better, as the hip will have had less time in which to become arthritic through damage.
If you suspect that your puppy or dog has hip dysplasia, then your veterinarian will first do a visual assessment and give him a check up.
If possible bring along some video clips you have taken on your phone, showing your dog's limp 'in action'. Lameness can be only visible after exercise to begin with.
If your vet thinks your dog might have hip dysplasia, the next thing she will do is to take x-rays of his back end.
To take x-rays of a dog they will need to be put under a general anaesthetic. This allows the vet to put him in the best position for the bones to be clearly seen. Letting the muscles relax in the correct way and making sure that the dog does not move and blur the pictures.
She will look at the resultant photos of your dog's hip bones to ascertain whether they are malformed or damaged in any way.
If they are, then she will use these to help her make a decision about the best course of treatment for your dog.
Hip Dysplasia Treatment
Canine hip dysplasia treatment varies depending upon the extent of the damage to the joint.
Mild hip dysplasia may only require monitoring, careful management and pain medication later in life.
Moderate to severe hip dysplasia is likely to require pain medication, anti-inflammatories and surgery.
Hip Dysplasia Medication
The main medications given to dogs with hip dysplasia are non-steroidal anti-inflammatory drugs.
This is the name given to the category of drugs known more often as NSAIDS.
They are great pain killers as well as having anti-inflammatory properties. NSAIDS reduce pain and swelling, promoting more normal movement in the effected joints.
These drygs are only available on prescription from your vet and can potentially have some strong side effects. Your vet will be the best person to decide whether the benefits of using these drugs outweigh the risks.
The other options your vet may consider are buffered aspirin and corticosteroids. Buffered aspirin is also an anti-inflammatory and pain killer.
Corticosteroids have a wide range of uses, and if managed correctly can be very effective at treating pain and inflammation. However, they are very strong and side effects can be serious.
NSAIDS are more popular in most cases due to the smaller impact of side effects and the more specific actions they have on the dog's body.
Hip Dysplasia Surgery
Hip dysplasia surgery is a common way to relieve the symptoms that hip dysplasia can cause in dogs.
There are a variety of options for hip dysplasia surgery. Your veterinarian will help you make the right choice.
Triple Pelvic Osteotomy
The triple pelvic osteotomy (TPO) is usually only carried out on pups under two years of age at time of diagnosis. This is because the joint cannot have already been subject to osteoarthritis when it is carried out for it to be effective.
The surgeon repositions the socket, by making three cuts into it and relocating the bones. This will allow it to form a more complete joint around the ball.
The new position is secured with a plate and screws.
Juvenile Pubic Symphysiodesis
Juvenile public symphysiodesis (JPS) can only be carried out on young dogs.
This operation involves cauterizing a part of the underside of the pelvis, encouraging improved bone growth in the ball and socket joint.
It can only be carried out on puppies under 6 months old, who are still in the correct phase of growth.
Femoral Head and Neck Excision
The Femoral Head and Neck Excision involves removing the ball end of the femur completely. The gap that is left is filled in by the dog's tissue. This operations leaves the joint less mobile, but reduces pain.
This procedure is best carried out on smaller breeds who weigh less than 50lbs. Larger sized dogs may have trouble supporting themselves without their femoral head.
Total Hip Replacement
A total hip replacement is carried out in dogs who have severe hip dysplasia, with advanced arthritis.
This surgery is used when the existing hip joint is not salvageable. It is also considered when it is not appropriate to attend a femoral head and neck excision.
A prosthetic hip is created specially for the dog, to fit his joint exactly. The existing joint is then surgically removed and replaced with this prosthetic implant.
Canine Hip Dysplasia Surgery After-Care
After your dog has had hip dysplasia surgery, your vet will give you information on the best way to manage their recovery.
They may be on crate rest for several weeks, and limited exercise for a time afterwards.
It is very important to follow your vet's advice if you want the surgery to be a success. It will also help to give your dog the best chance at gaining a good range of pain free movement later on.
Best Hip Dysplasia Surgery
Hip dysplasia surgery for dogs is a fairly common procedure.
Most vets have experience of hip dysplasia. But some vets will have had significantly more practice operating on them than others.
A your vet how many times she has carried out the operation, and what her success rate is, before you book it in. If you want a second opinion or to look for a referral to a specialist, don't be afraid to ask.
Make sure you find the best vet to carry out your dog's operation.
Hip Dysplasia Management
If your dog has been diagnosed with hip dysplasia then they will need to be treated with extra care on a daily basis.
Exercise
Most dogs with hip dysplasia can still be taken for daily walks, but you will need to chat to your vet about how best to restrict their exercise.
Some regular exercise is good for joint health, but over exercising can put additional strain on them.
Diet
The best thing you can do for your dog with hip dysplasia is keep his weight low. The less strain the joints are carrying the better.
Keep tabs on his nutrition won't just help his hips, it will help him to live longer too.
Home Comforts
Try to avoid situations which put extra stress on their joints. If you have steps up to your house or a big jump into the car, then consider investing in a doggy ramp. This will allow them to easily walk up without causing unnecessary damage or pain.
Make sure that their bed is comfortable and supportive. You can get some great orthopedic dog beds which help to support arthritic bones.
You might also like to try using a raised food and water bowl holder.
Although, you will need to weigh the benefits for their joints against the increased possibility of bloat if you have a fast eater.
Joint Supplements
There is some evidence to suggest that in dogs with canine hip dysplasia, joint supplements can help to slow the progression of the disease. Reducing the severity of arthritis that it causes.
Glucosamine and Chondroitin are supplements that have been shown to work together to help arthritic dogs create and repair connective tissue in the damaged joint.
You can buy glucosamine and chondroitin in tablet form.
Hip Dysplasia Causes
There are a few possible causes of hip dysplasia, but they can be generally broken down into genetics, diet and exercise.
Genetics
Genetics is the key aspect to take into account when you are looking at the risk factors for canine hip dysplasia.
Hip dysplasia is an inherited condition in many cases.
If a puppy's parents have bad hips, they are much more likely to have bad hips themselves.
Fortunately, you can help to reduce the chances of your puppy inheriting hip dysplasia by buying him from a breeder who only uses fully health tested dogs. We will look at the importance of hip scores later in this article.
Diet
Obesity or rapid weight gain in dogs puts extra pressure on their joints. In a dog who has the potential for hip dysplasia, this extra pressure increases the chances of it occurring.
Keeping your puppy or dog's weight low throughout their life, will give them a better chance of keeping their joints in good health,
Exercise
A dog who already has hip problems may find them exacerbated by over exercising.
Hip dysplasia leads to osteoarthritis, which can be made worse by increased pressure to the joint through additional exercise.
There is definitely evidence to demonstrate that allowing puppies access to stairs at under 3 months old can lead to an increased likelihood of hip problems further down the line.
So what can we do to help reduce the possibility of these causes effecting our dogs?
Hip Dysplasia Prevention
There are a number of ways to reduce the chances that your puppy will grow to develop hip dysplasia.
Reducing his access to stairs when he is small could help to lower the chances of hip dysplasia developing.
There is also evidence to suggest that keeping your puppy on non-slip flooring improves their chances of not getting hip dysplasia.
Keeping your puppy's weight down will also improve his chances of having healthy hips.
It is also worthy taking into account that dogs who are castrated are more likely to suffer from symptoms of hip dysplasia. This effect appears to be greater in dogs neutered at a young age.
We know therefore that some good ways to help prevent hip dysplasia once you own your puppy are to:
Reduce access to stairs
Have a non-slip flooring
Keep their weight low
Avoid or delay neutering
However, the best way to prevent your puppy from growing up to develop hip dysplasia is to act before you have even brought him home.
Buy him from a breeder who has shown you evidence that both parents have excellent hip scores.
Carefully choosing his parents based on the quality of their hips is the best thing you can do.
To choose the best hip scores, you will need to know what the breed median score is for your chosen dog type.
Hip Dysplasia By Breed
Many breeds of pedigree dog are prone to hip dysplasia.
The Kennel Club limits the potential number of pedigree dogs through closed registers. There are therefore a restricted number of potential partners for each dog.
Closed register breeding is very effect for retaining good qualities in some of our favorite breeds, but unfortunately it also makes them more susceptible to many inherited diseases. Hip dysplasia is one of these.
It is most prevalent in dog breeds who are medium, large or giant. These breeds of dog have more strain put on their joints and often go through a period of rapid growth when they are young.
Some breeds particularly prone to hip dysplasia are: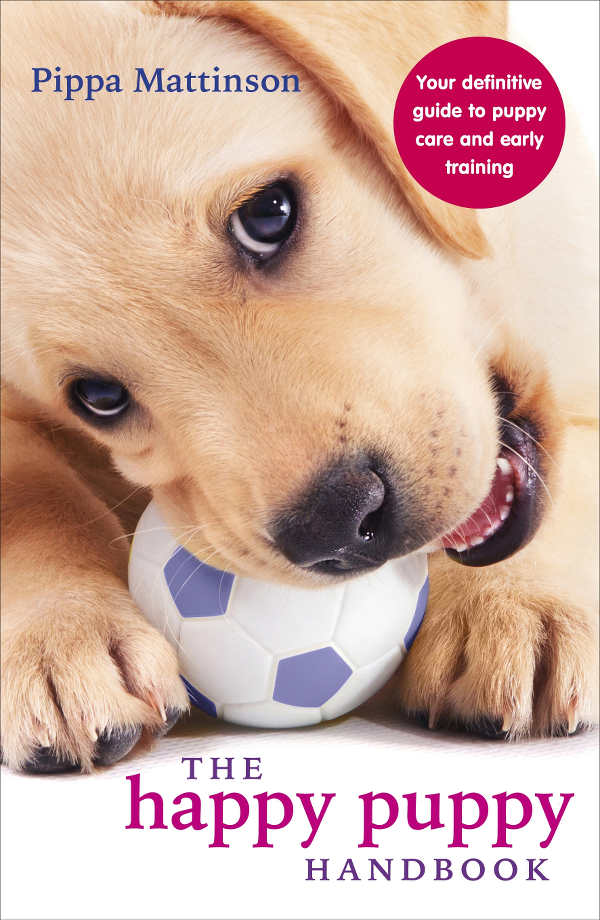 German Shepherd Dogs
Golden Retrievers
Newfoundlands
Rottweilers
If you are looking for a puppy from any of the above breeds, you have a responsibility to only buy him from a breeder who has hip scored their dogs and whose dogs have scores lower than the breed median.
Personally I would try very hard to find a puppy with both parents with hip scores of 0:0 or Excellent rating.
Some rare breeds of dog have very poor hips on average.
If you are thinking of buying a puppy, then check out the BVA's breed median list from their last survey.
Dog Hip Scores
Dog hip scores are gradings which are given to the hip joints.
These are established using x-rays of the dog, which are studied by experts and rated according to the quality of the joint.
USA Hip Scores
In the USA hips are given gradings according to their quality. These are written in plain English and denote the quality of the joint.
They range from Excellent through to Severe.
UK Hip Scores
In the UK hip scores are numerical. 0 is the highest, best quality hip score. Equivalent to the USA's excellent.
1-3 are considered as USA Good, 4-6 Fair, 7-8 Borderline and anything from this point is equivalent to the given in terms of the severity of the dysplasia, from mild to severe.
You can check out the BVAs comparison of the systems here if you are importing puppy, to get an idea of how they translate.
Analysing Hip Scores
Make sure you see the parents hip certificates, because it is not just the total score that matters. The way this score breaks down is important too.
Each dog hip is scored individually, and the total score is cumulative. Adding both sides together.
The more even the hip score the better.
An example being:
There are two dogs that have hip scores of 8.
Dog 1 has hips 1:7
Dog 2 has hips 4:4
The second dog therefore has better hips overall. Despite having the same cumulative score, the joints are healthier where the sides are more even.
Hip Dysplasia In Dogs
If you are buying a new puppy, look into whether the breed is susceptible to hip dysplasia.
Most pedigree breeds are, but some breeds are far more likely to have it than others.
If you want a dog from a high occurrence breed, then make sure you only buy a puppy from hip scored parents. Take care to manage your growing puppy's weight and exercise sensibly and you will have the best chance of them growing up to have healthy hips.
If you suspect your adult dog has hip dysplasia, then go and see your vet without delay. They are the best person to help diagnose the problem and to give you advice on the right course of treatment for his individual case.