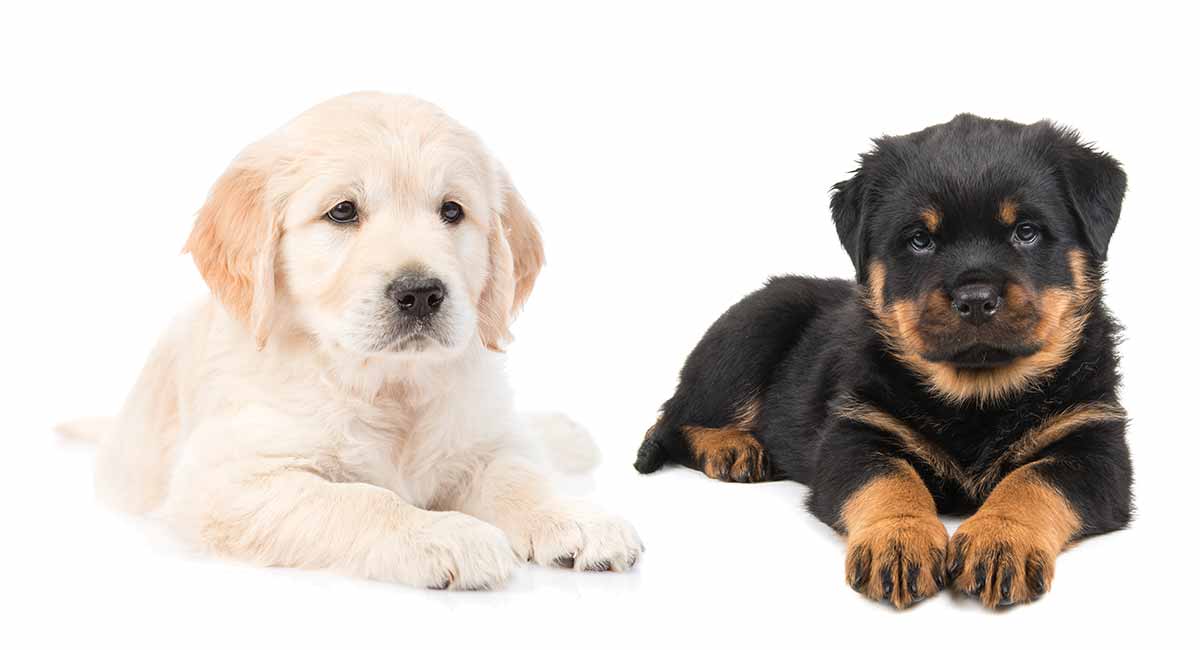 The Golden Rottweiler is a newer hybrid or "designer" dog that is a mix of two truly iconic dog breeds.
The Golden Rottweiler, or "Golden Rott," is also one of the more interesting of the new hybrid dogs because of the unique mix of possible traits Rottweiler and Golden Retriever mix puppies could inherit from either parent dog!
In this article, we take an up close and personal look at the Golden Rottweiler dog so you can decide if this is the right canine companion for you!
Purebred dogs and designer dogs – the controversy & the science
To most dog owners, a hybrid dog is simply another type of mixed breed dog – aka a mutt!
Unfortunately, to purebred dog breeders, a hybrid dog is a dilution of their carefully preserved genetic breed lineage.
This makes hybrid dogs an unpopular new trend in the eyes of many purebred breeders.
But canine biologists have a different take on hybrid dogs.
Breeding dogs to a certain breed standard has caused some health weaknesses along the way that continued purebred breeding often cannot correct.
But with the crossing of these purebred lines, the resulting hybrid puppies inherit greater genetic diversity and the possibility of better future health through the theory of "hybrid vigor."
The Golden Rottweiler – a Golden Retriever and Rottweiler mix
So what is a Golden Rottweiler dog really like? To answer this question, we need to get to know each parent dog much better!
Origins of the Golden Retriever
The Golden Retriever is the third most popular pet dog breed in America, according to the American Kennel Club.
Golden Retrievers have an exceptional mix of traits.
They are great working dogs that are descended from a long line of water dogs.
The Golden has never met a stranger and likely never will, which also means this is not the right dog for you if you are seeking a guard dog or a family watch dog!
Golden Retrievers are famously great picks for therapy and service work as well as for hunting and show dogs.
They also excel at obedience, agility, and search and rescue work.
Origins of the Rottweiler
The Rottweiler, or "Rottie" as fans call this breed, is the eighth most popular pet dog in America according to the American Kennel Club.
In stark contrast to the Golden Retriever dog, the Rottweiler makes an excellent guard dog or watch dog, with this dog's long history of guarding both people and material treasures.
Like the Golden Retriever, the Rottweiler makes a great choice for therapy and service dog work.
These dogs excel at search and rescue, K-9 work, military and police work, herding, tracking, and obedience training.
What Is the Rottweiler Golden mix dog like?
As you now know, the Golden Rottweiler is likely to inherit some traits from each purebred parent dog, as well as a few that are quite opposite!
This unpredictable mix of traits is what makes hybrid dogs so interesting.
But it can also make it challenging to select Golden Rottie puppies if you are hoping for some very specific traits in your new pup.
The Golden Rottweiler is quite likely to excel in hunting, service and therapy dog work, obedience training, search and rescue, and in the show ring.
Where there will be less certainty is in whether your puppy will grow up to be a great guard dog or the social coordinator for your block!
Size, Height & Weight of a Rottweiler Golden Retriever mix dog
The Golden Retriever as an adult can vary in height, size, and weight depending on gender.
A male Golden Retriever can weigh 65 to 75 pounds and stand 23 to 24 inches tall.
A female Golden Retriever typically weighs between 55 and 65 pounds and stands 21.5 to 22.5 inches.
Like the Golden Retriever, the Rottweiler as an adult shows size and height diversity based on gender.
But this is also a bigger dog breed altogether!
An adult male Rottie can weigh 95 to 135 pounds and stand 24 to 27 inches tall. A female Rottweiler may weigh 80 to 100 pounds and stand 22 to 25 inches.
Because there is such a range of possible heights and weights for Golden Retriever Rottweiler mix puppies, the best way to try to predict the weight and height of your Golden Rottweiler puppy as an adult is to learn as much as you can about the size, height, and weight of each parent dog.
Appearance, Coat & Grooming for a Rottweiler and Golden Retriever dog
Here is another area where there is interesting diversity between the two purebred parent dogs.
The Golden Retriever's famously golden coat is long, wavy, and flowing, yet thick and water-repellant.
The Golden's coat is double layered, with the top layer being water-resistant and the bottom layer consisting of a thick, shorter insulating layer.
Both layers will shed continually year-round and will "blow coat" twice per year at the changing of the seasons.
The Rottweiler's medium-length coat is thick and dense but straight.
The Rottie's shedding is moderate year-round and then there is a seasonally heavier shed twice a year.
With this mix of coat types, you can expect to be brushing your Golden Rottweiler dog at least once or twice per week during most of the year and perhaps more frequently during the twice-yearly seasonal sheds.
Personality & Temperament of a Rottweiler cross Golden Retriever dog
The Golden Rottweiler is likely to inherit the high energy level and zest for exercise and activity that both parent dogs display.
So you can expect this dog to need lots of interaction, enrichment, and activity to stay happy and healthy!
Health Issues of Golden Rottie mix dogs
As we touched on earlier, purebred dogs can have some known health issues because of being bred to conform so closely to an appearance-based breed standard.
This makes health testing for the parent dogs a huge priority!
You only want to work with a breeder who provides proof that the parent dogs have had all required and recommended genetic health tests done before breeding puppies.
Health Testing for Golden Retriever Rottweiler dogs
At this time, the Canine Health Information Center (CHIC) recommends that Golden Retriever purebred dogs be tested for hip dysplasia, elbow dysplasia, eye issues, and cardiac issues.
Rottweiler purebred dogs should also be tested for hip dysplasia, elbow dysplasia, eye issues, and cardiac issues.
You should also be aware that both purebred dog breeds are considered at higher risk to develop cancer, and both dogs have a shorter-than-average life expectancy for their size group.
The Golden Retriever's expected lifespan is 10 to 12 years. The Rottweiler's life expectancy is 9 to 10 years.
You can learn more about Golden Retriever cancer concerns and current research at the Golden Retriever Lifetime study website.
You can learn more about Rottweiler cancer concerns and research at the Rottweiler Health Foundation.
Socialization & Training Needs for a Golden Rottweiler
Golden Retrievers have no guarding instincts to speak of, but Rottweilers more than make up for that!
Since you can't know in advance which parent dog your hybrid puppy will most favor, it is best to start socialization and training early so your puppy can grow up to be a productive member of your family and community.
Is the Golden Rottie a good family dog?
There is no doubt that the Golden Rottweiler comes from great stock – both parent dogs are consistent favorite picks for pet dogs in America!
However, because your Golden Rottweiler is likely to be a large, powerful dog that may inherit strong guarding tendencies.
This is probably not the ideal pet dog to pick if you have young children or other vulnerable family pets.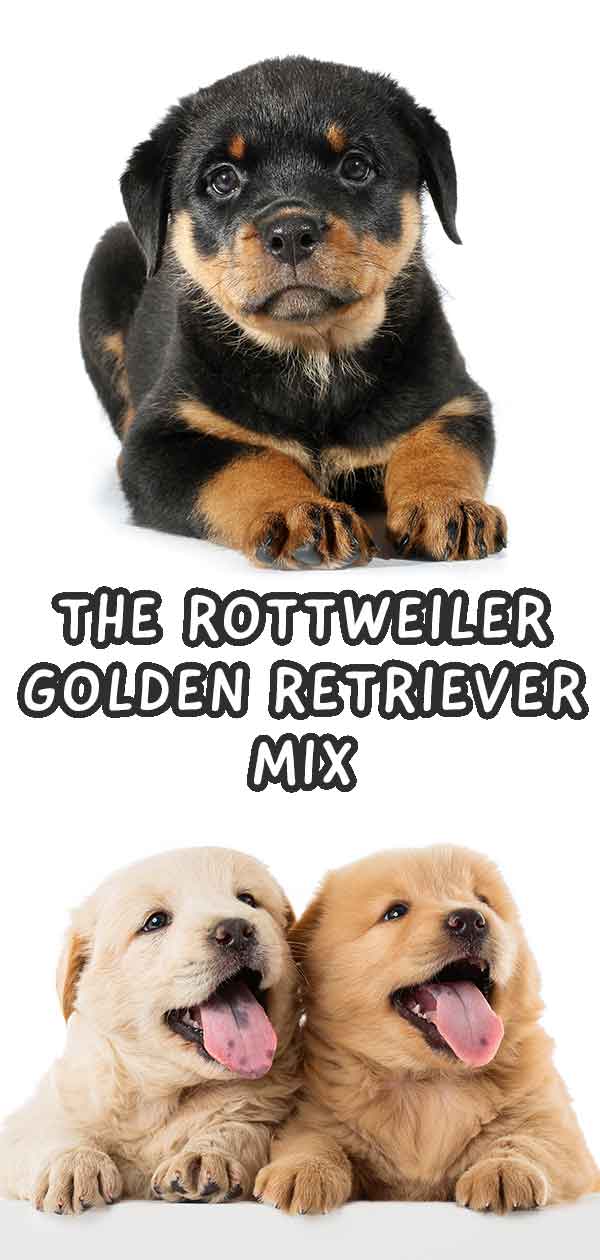 How to Pick Golden Retriever Rottweiler puppies
Golden Rottweiler puppies can each inherit different traits from either purebred parent dog.
For first generation (F1) Golden Retriever Rottweiler puppies in particular, there really is no way to know for sure what the coat type, temperament, personality, and overall traits of each puppy will be.
The best approach here is to meet each parent dog so you can get a sense of personality, temperament, and traits.
Then pick a Golden Rott puppy that is active and alert, willing to be held, eager to interact and play with you and littermates, clear-eyed and eared with healthy skin and coat, and trust that that will be enough!
Also be sure to work with a breeder who is willing to give you an initial guarantee of health and a take-back open-door policy if the puppy doesn't work out for any reason.
Should I get a Golden Rottweiler dog?
This is such a personal question – there is no right or wrong answer, but only the answer that is right for your situation! For the right owner, a Golden Rottweiler dog can make a great companion for an active lifestyle!
References and Further Reading
Reisen, J., et al, "Golden Retriever Dog Breed Information," American Kennel Club, 2018. 

Draper, L., et al, "Rottweiler Dog Breed Information," American Kennel Club, 2018.

Hubbs, A., et al, "Health and Research, Golden Retriever Club of America, 2018. 
Harrap, E., et al, "Rottweiler Health," The Rottweiler Club UK, 2018. 
Waters, D., DVM, "Exploring mechanisms of sex differences in longevity: lifetime ovary exposure and exceptional longevity in dogs," Aging Cell, 2009.