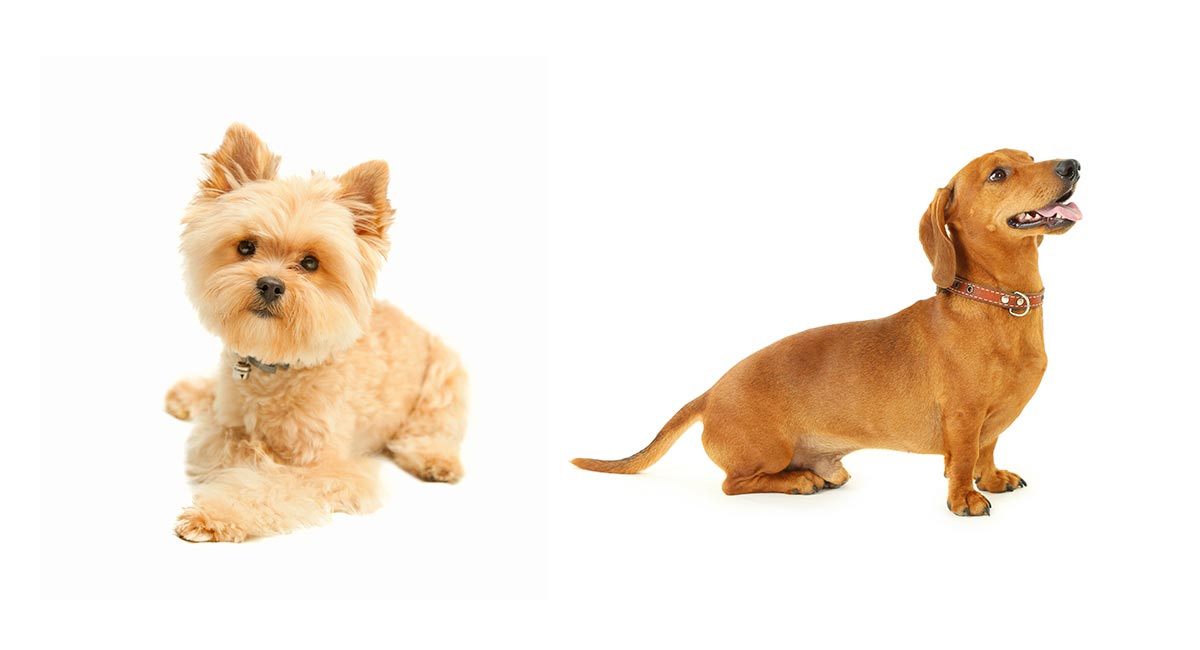 Welcome to our complete guide to the Dorkie.
Helping you decide if this adorable Dachshund Yorkie mix is the right dog for you!
The Dachshund Yorkie mix is known for being intelligent, loyal and loving.
Traits both the Yorkie and Dachshund possess.
But is it the right dog for you?
Introducing The Dorkie
The Dorkie is a first-generation mixed breed.
There's a lot of controversy surrounding these so-called "designer dogs".
Love tiny dogs? Then it's time to get to know the teeny
Chiweenie!
Designer dogs are bred in an attempt to capture the best qualities and traits of two distinct breeds.
But unlike purebreds, a lot of hybrid dogs are not recognized as valid breeds and have no registration papers.
Designer dogs are becoming increasingly popular—over 500 varieties exist and can sell for seriously high prices.
Before you decide if the Dorkie is right for you, it's vital to know all the facts.
First, what's with all this controversy surrounding designer dogs?
Designer Dogs – The Controversy
One of the advantages of buying purebred dogs is that they are bred to meet certain standards with qualities and traits that are predictable.
Therefore, potential owners know what they are getting.
Moreover, the size of your dog is more predictable, along with their exercise needs.
However, the downside of purebred dogs is the practice of inbreeding to preserve or emphasize specific features.
As a result, some breeds have become more prone to particular health issues than others.
Health benefits?
Supporters of mixed breeds believe their dogs have what is known as hybrid vigor.
This means they are thought to be stronger and healthier due to having two completely different parents.
And therefore less likely to inherit genetic defects. However, at present, there is not enough evidence to back this claim.
Designer dogs are individually bred to produce specific traits, often for a particular niche of dog owners.
However, mixed breeds are risky because compared to purebreds the outcome is not guaranteed.
In addition, hybrid offspring may inherit more traits from one parent breed than the other.
Although hybrid dogs continue to grow in popularity, there is still a lot of opposition to crossbreeding from both breeders and the public.
Whatever your preference—purebred or designer—it's still up to the breeders to put the care and welfare of the animal first.
This can be done by enforcing responsible breeding practices.
The Dorkie – Dachshund Yorkie mix
It is not known why the Dorkie breed was first created or where it originated from.
But it's thought to most likely have been in the USA.
When you buy a Dorkie, you cannot be sure exactly what it will be like since it can inherit particular genes from either parent.
The best way to establish the possible personality traits and appearance of a Dorkie dog is to consider the traits of the parent breeds.
Both the Yorkie and the Dachshund are similar in temperament and size and share a feisty determination!
So, let's look more in depth at these two breeds.
Origins of the Dachshund
The Dachshund has been around for at least 500 years and was first developed in Germany as a hunter, commonly known as the badger dog.
The Dachshund's long low body and short legs along with their courage and tenacity allowed them to burrow their way into the dens of animals, such as badgers and foxes and dispatch its occupants.
Packs of Dachshunds hunted wild boar as well.
In the 1800s, the Dachshund started being bred more like a pet and favored amongst Royalty all over Europe.
Queen Victoria was especially fond of the breed.
These pet Dachshunds were created to be smaller, but still retained the fearlessness that made them such good hunters.
The Dachshund first came to the USA in 1870 and was recognized by the American Kennel Club (AKC) in 1885.
During the war years, the popularity of the Dachshund dropped due to their association with Germany.
But today in both the UK and USA, the Dachshund is very much favored as a pet and companion.
They're still used as hunters in some parts of Europe, most notably France.
Origins of the Yorkshire Terrier
The Yorkie is a relatively new breed of dog that was developed in 19th century England in Yorkshire, where it derives its name.
The breed was actually brought to Yorkshire from Scotland by workers coming to the mines and mills.
They brought a variety of Scottish terrier breeds with them.
The result was a small, feisty dog, used to catch rats and other vermin in the mines and mills, but which were also friendly towards people.
In 1870, the breed acquired the name Yorkshire Terrier and was recognized by the British Kennel Club in 1874.
Over the years, the Yorkie became smaller and developed into more of a pet, often as a fashionable companion for high-society ladies.
The Yorkie first appeared in the USA around 1872 and recognized by the AKC in 1885.
Today it is the sixth most popular dog and the most popular Toy breed in the USA.
Size, Height, and Weight of the Dachshund Yorkie Mix
There are two sizes of Dachshund—standard and miniature.
The weight of a standard is between 16 and 32 lbs.
He stands 8 to 9 inches at the shoulder.
The miniature weighs between 8 to 11 lbs.
He stands 5 to 6 inches at the shoulder.
In addition, the Dachshund has a muscular body.
However, the disproportionate length of his body has left him with some serious health problems.
Combining with the Yorkshire Terrier
The Yorkie is the same height as the standard Dachshund.
Standing 8 to 9 inches at the shoulder but with a much lighter frame.
He weighs only 3 to 7 lbs.
The resulting Dorkie dog is likely to weigh between 5 and 12 pounds.
And stand between 5 to 10 inches at the shoulder.
So, the Dachshund Yorkie mix will definitely be a small dog!
Defining Characteristics of the Dachshund Yorkie mix
The Dachshund has a distinctive appearance with an elongated body on short.
But powerful legs with reasonably big feet, in addition to a straight tail.
They have a long tapering jaw and flap-down ears, and their skin is loose and elastic, which helps when tunneling.
The Dachshund has three varieties of coat—smooth, long-haired and wire-haired.
The most common colors are chocolate, red, black and cream.
The Dachshund can also have two-tone color coats with the most popular being black and tan. Other double colors include chocolate and tan, fawn, and tan and gray and tan.
Or they can have patterns such as dapple, brindle, piebald, and sable.
Mixing with the Yorkie
The Yorkie has a small but sturdy body with a flat head and medium-length muzzle.
Their ears are small, triangular, and erect on top of their head and tails customarily docked to half a length.
Many breeds of dog have a double coat, but a Yorkie has just one layer with human-like hair.
It is long, silky, and straight with a high sheen.
Yorkies shed very little.
When Yorkshire Terrier puppies are born, they are black and tan or black and gold.
As the puppies grow into adulthood, their hair turns blue.
The Yorkie has unique genes that are responsible for this color change and silky hair.
A Dorkie will have the combined appearance of a Dachshund and Yorkie and most tend to have a long body with short legs.
Their ears can be either erect or drooped and they have a well-proportioned, slightly wedge-shaped head.
Their coat can be soft and short or smooth and long and comes in various colors including black and tan, grey, gold, and black.
Temperament and Behavior of the Dorkie
The Dachshund may be small but has a big personality and they are often attention seekers with a stubborn streak!
They love companionship and dislike being left alone for extended periods.
Dachshunds are very protective of their toys and space and could easily bite a small child if aggravated.
Due to their hunting instincts, they should not be left alone in the backyard as they may start digging.
The Yorkie is a dog who is friendly and affectionate and always on the lookout for an adventure.
But, like the Dachshund, they dislike being left alone for long periods, and doing so can result in destructive behavior.
They get along with other pets but due to their fragile frame and their dislike of being teased, they're not ideal for families with small children as they can snap.
Dorkie Characters
Both the Yorkie and the Dachshund are intelligent but challenging to housetrain and are notorious barkers who are suspicious of strangers.
As a hybrid, the Dorkie temperament is difficult to predict.
However, most of them are gentle and affectionate, love being around people, and are highly intelligent.
Often, they will attach themselves to one person.
They also love cuddling and are quite happy to be around other pets and children.
The Dorkie is very laid back and loves to nap for hours especially under the bed covers!
And like both parents, they are alert and good at barking!
Grooming and General Care Requirements of the Dorkie
Dachshunds should be brushed regularly irrespective of their hair length, but long-haired ones should be brushed daily.
This breed of dog doesn't shed too much and is low maintenance.
Yorkie coats grow very long and must be brushed daily to prevent matting, even with a trimmed coat.
The Dorkie coat requires low to moderate maintenance and brushing just two or three times a week.
Is the Dorkie hypoallergenic? Like their parents, the Dorkie is a low shedder so good for those with allergies.
It is important with all breeds that you clean their teeth and ears regularly and have their claws trimmed.
Dorkie Health Concerns
Both the Yorkie and Dachshund breeds tend to live between 12 to 15 years.
The lifespan of a Dorkie is around 13 years.
Many believe that cross breeds are immune to health issues, but this is not always the case and certainly not guaranteed.
The Dachshund has a unique body shape compared to other dogs and is more prone to back problems such as intervertebral disk disease than any other breed.
Hip dysplasia, patella luxation, and eye diseases are also common, and they are also prone to weight gain issues.
Yorkies aged between 5 and 8 months are prone to hypoglycemia, which is a low level of blood sugar.
Other genetic health problems seen in the Yorkie are Legg-Perthes disease, retinal dysplasia, liver shunt, and collapsed trachea.
Yorkies are also picky eaters.
There are no particular known health issues of the Dorkie.
But they are prone to skin problems and allergies and could inherit a disease associated with one or both parent breeds. And like the Yorkie, they can be picky eaters.
Exercise and Training Requirements of the Dorkie
Both Yorkie and Dachshund breeds require only moderate daily exercise but should be kept on a leash due to their chasing instincts.
Because they possess a stubborn streak, Dachshunds can be difficult to train, resisting if force is used by growling or snapping.
They require patience and respond to positive reinforcement methods.
The Yorkie is relatively easy to train but has a low attention span so needs short training sessions. They also dislike force and will react the same as a Dachshund.
The Dorkie is smart and responds well to training, but some are too lazy to care!
Like its parent breeds, the Dorkie requires only moderate exercise.
Ideal Home for the Dorkie
Both the Yorkie and Dachshund breeds love attention and companionship and dislike being left alone, and the Dorkie is no different.
They do best with owners who are at home most of the time and with a family that has older children due to their small size and their intolerance of teasing.
Dorkies are more tolerant of younger children but need to be supervised by an adult.
How to Choose Your Dorkie Puppy
When you're looking for a Dorkie puppy always proceed with caution.
With mixed breeds, you're dealing with a lot of unknowns so don't be afraid to ask plenty of questions.
Only purchase your puppy from a reputable Dorkie breeder, and preferably one that has been recommended to you.
When visiting the breeder, look at the living conditions of the parents and puppies and check that all their puppies are healthy.
The Dachshund parent should be calm and friendly.
They should have a relatively short body compared with the usual examples of the breed.
Avoid any litters from very low slung parents.
Also, ask to see both parents and obtain proof of their health checks.
When buying from a purebred breeder, there is usually a formal contract that states what happens if there are any after-sale problems or illnesses.
Check whether the breeder can offer any such coverage should an issue arise.
Is the Dachshund Yorkie Mix Right for You?
Only you can decide if the Dorkie is the right for you.
We've outlined the personality and physical traits, along with possible health issues of both the Yorkie and Dachshund breeds and the Dorkie itself.
The Dorkie is a super cute and friendly dog requiring moderate exercise and is ideal for apartment living.
Purchasing your Dorkie from a reputable breeder increases the chances of a healthy puppy and equally healthy adult.
The temperaments of both parents may give you some indication of how your Dorkie may turn out, but there are no guarantees.
However, proper training and early socialization have just as much of an impact on behavioral traits.
We don't recommend a puppy mixed from a breed with structural problems such as the Dachshund has.
If you have your heart set on this mix then a rescued adult could be a good choice.
References and Further Reading
Priester WA. 1976. Canine intervertebral disc disease — Occurrence by age, breed, and sex among 8,117 cases. Theriogenology.
Kimmel SE, Waddell LS, and Michel KE. 2000. Hypomagnesemia and hypocalcemia associated with protein-losing enteropathy in Yorkshire Terriers: five cases (1992–1998). Journal of the American Veterinary Medical Association.
Ljunggren G. 1967. Legg-Perthes Disease in the Dog. Acta
Orthopaedica Scandinavica.
Nicholas FW, Arnott ER, and McGreevy PD. 2016. Hybrid vigour in dogs?
Calboli FCF et al. 2008. Population Structure and Inbreeding From Pedigree Analysis of Purebred Dogs. Genetics.