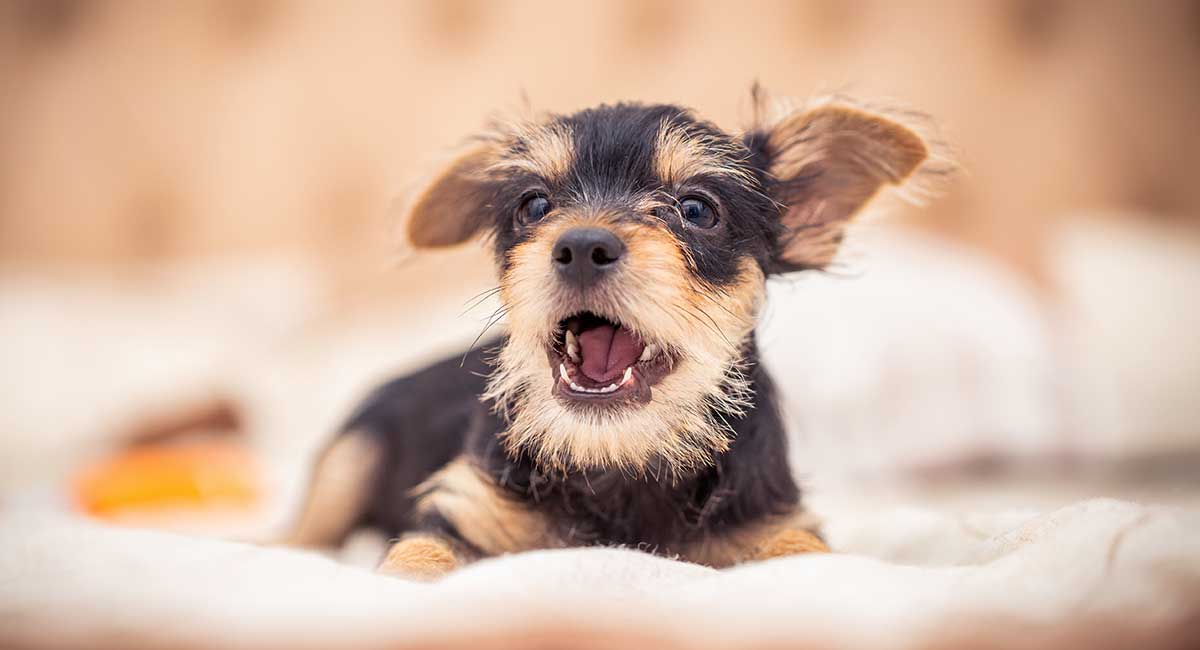 The adorable Dorkie dog is a cross between a purebred Dachshund and a Yorkshire Terrier. This cute Dachshund Yorkie mix stands at around 10 inches from the floor and weighs 5 to 12 pounds.
What's In This Guide
Dorkie FAQs
Our readers' most popular and frequently asked questions about the Dorkie.
Here's a quick roundup of all the info you need on this adorable pup.
Dorkie: Breed At A Glance
Popularity: Rare
Purpose: Companionship
Weight: 5 to 12 pounds
Temperament: Smart, loyal and full of personality.
Want to know more? Check out this handy guide that dives deep into the history and challenges of this unknown dog.
Dorkie Breed Review: Contents
So without further ado, let's begin!
Is the Dorkie a designer dog?
Short answer: yes.
The Dorkie is a first-generation mix resulting from the crossing between two purebred dogs. This kind of intentional crossing has been called a "designer dog".
There's a lot of controversy surrounding these pups. Designer dogs are bred in an attempt to capture the best qualities and traits of two distinct breeds.
Nevertheless, unlike purebreds, a lot of hybrid dogs are not recognized as valid breeds and have no registration papers.
Designer dogs are becoming increasingly popular: over 500 varieties exist and can sell for seriously high prices.
Before you decide if the Dorkie is right for you, it's vital to know all the facts!
First, what's with all this controversy surrounding designer dogs?
Designer Dogs – The Controversy
One of the advantages of buying purebred dogs is that they are bred to meet certain standards with qualities and traits that are predictable.
Therefore, potential owners know what they are getting, both aesthetically and character-wise.
However, the downside of purebred dogs is the practice of inbreeding to preserve or emphasize specific features.
As a result, some breeds have become more prone to particular health issues than others.
Are designer dogs healthier?
Supporters of mixed breeds believe their dogs have what is known as hybrid vigor.
This means they are thought to be stronger and healthier due to having two completely different parents and therefore less likely to inherit genetic defects.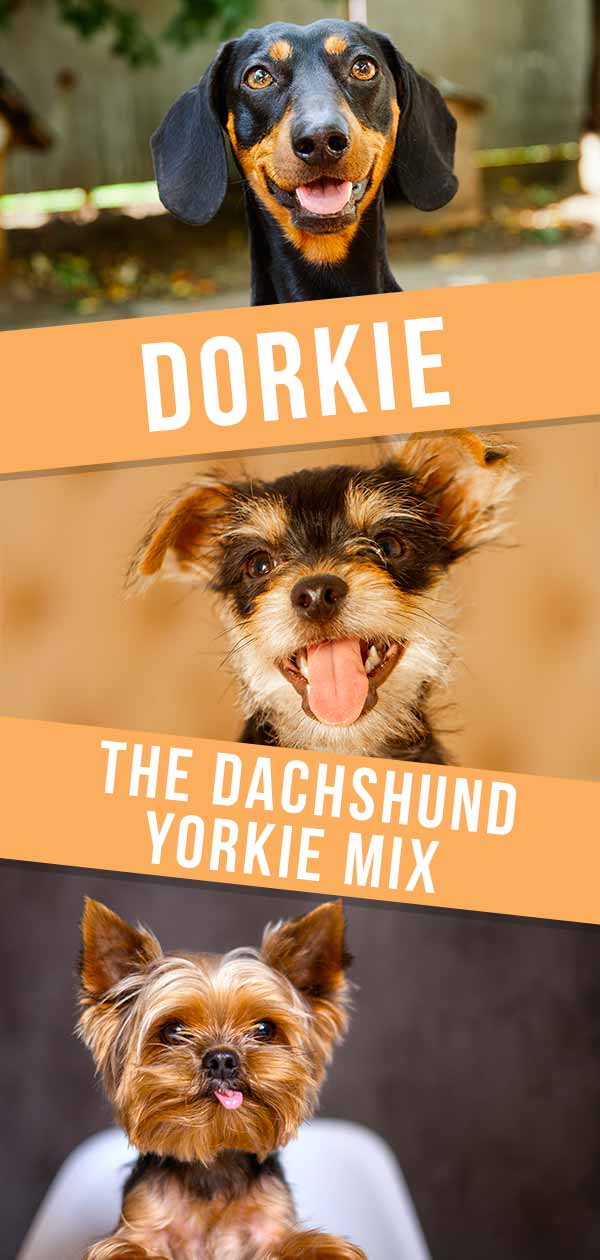 However, at present, there is not enough scientific evidence to back this claim.
Designer dogs are individually bred to produce specific traits, often for a particular niche of dog owners.
However, mixed breeds are risky because compared to purebreds the outcome is not guaranteed.
In addition, hybrid offspring may inherit more traits from one parent breed than the other.
Although hybrid dogs continue to grow in popularity, there is still a lot of opposition to crossbreeding from both breeders and the public.
Whatever your preference—purebred or designer—it's still up to the breeders to put the care and welfare of the animal first.
This can be done by enforcing responsible breeding practices and ensuring you only get puppies coming from reputable sources.
So now that you know a bit of the story behind the Dorkie, it's time to understand where it came from!
History and original purpose of the Dorkie
The Dorkie's origins are a bit obscure. We don't really know when it was created, but they probably came from the US.
As a first-generation crossbreed, Dorkie puppies can have traits from either of their parents. To understand this sweet pup, it's best to start with the breeds it comes from.
Origins of the Dachshund
The Dachshund has been around for at least 500 years and was first developed in Germany as a hunter, commonly known as a badger dog.
The Dachshund's long low body and short legs along with their courage and tenacity allowed them to burrow their way into the dens of animals like badgers and foxes, dispatching its occupants.
Dachshunds packs were used to hunt wild boars as well.
In the 1800s, the Dachshund started being bred as a pet and was favored amongst Royalty all over Europe.
These pet Dachshunds were created to be smaller, but still retained the fearlessness that made them such good hunters.
The Dachshund first came to the USA in 1870 and was recognized by the American Kennel Club (AKC) in 1885.
During the war years, the popularity of the Dachshund dropped due to their association with Germany.
Nevertheless, as of 2019, in both the UK and the USA the Dachshund is very much favored as a pet and companion.
They're still used as hunters in some parts of Europe, particularly France.
Origins of the Yorkshire Terrier
The Yorkie is a relatively new breed of dog that was developed in the 19th century in Yorkshire, England.
The breed was actually brought to Yorkshire from Scotland by workers coming to the mines and mills.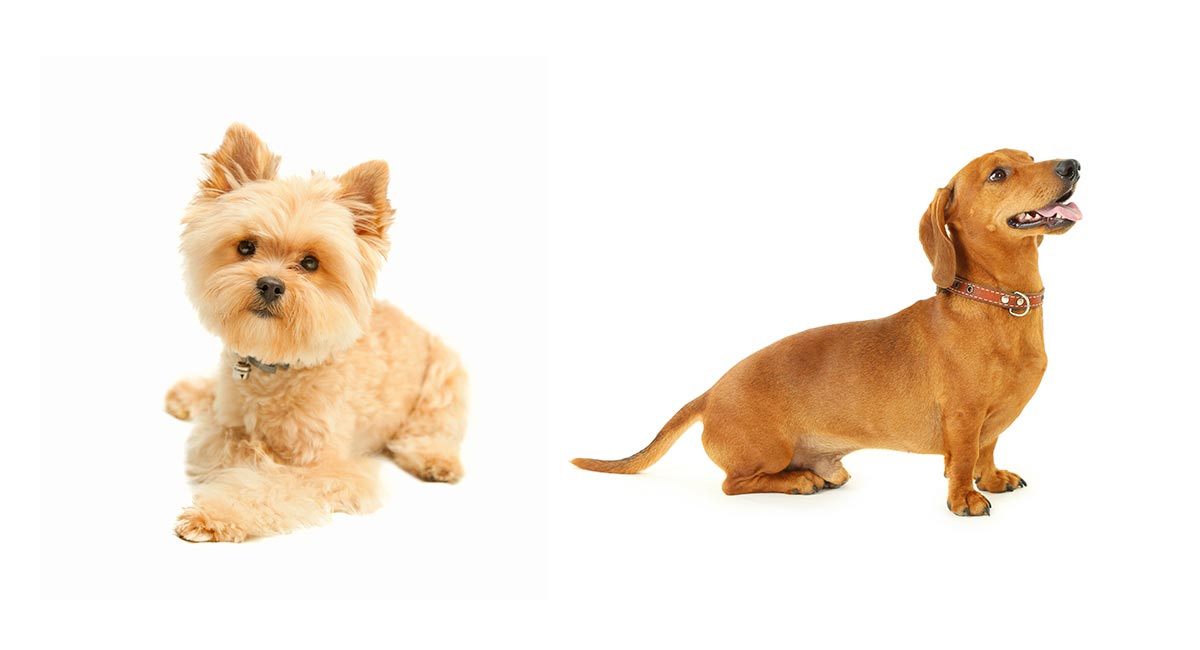 They brought a variety of Scottish terrier breeds with them, resulting in a small, feisty dog used to catch rats and other vermin in the mines, while also being friendly towards people.
In 1870, the breed was named Yorkshire Terrier and was recognized by the British Kennel Club in 1874.
Over the years, the Yorkie became smaller and developed into a pet, often as a fashionable companion to high-society ladies.
The Yorkie first appeared in the USA around 1872 and was recognized by the AKC in 1885.
As of 2019, the Yorkie is the 10th most popular dog among a total of 193 breeds.
The new Dachshund Yorkie mix was born to be an eye-catching family companion, merging the best of both parents.
Are you interested in knowing more about this cute pup?
Dorkie appearance
Although it is a mix, the Dorkie boasts the same distinct shape as the Dachshund.
Dorkies are usually between 5 and 12 pounds, standing between 5 to 10 inches at the shoulder. This means they are a little taller than purebred Dachshunds and slightly shorter than actual Yorkies.
So, your Dachshund Yorkie mix will definitely be a small dog!
To understand the appearance of the Dorkie dog, it's best to check where it comes from:
Dachshund appearance
The Dachshund has a distinctive appearance with an elongated body on short, powerful legs with reasonably big feet, in addition to a straight tail.
They have a long tapering jaw and flap-down ears. Their loose, elastic skin helped them in their original hunting times.
This breed has three coat varieties—smooth, long-haired and wire-haired.
The most common colors are chocolate, red, black and cream.
The Dachshund can also have two-tone color coats with the most popular being black and tan. Other double colors include chocolate and tan, fawn, and tan and gray and tan.
These pups can also have patterns such as dapple, brindle, piebald, and sable.
Yorkshire Terrier appearance
This small terrier is a toy dog with a sturdy body, a flat head and medium-length muzzle.
Their ears are small, triangular, and erect on top of their head with a long tail.
Like humans, Yorkies have only one layer of hair, reducing shedding in comparison with other dogs. They have a long, silky coat with a high sheen that reaches the floor when prepped for shows.
Yorkies have a distinct blue-gray hue in their coats.
As a mix, Dorkie puppies have the shape of a Dachshund and the color of a Yorkie, with shiny hair usually shorter than their purebred parents.
Most Dorkies tend to have long bodies, short, sturdy legs and a proportionate head. Their ears can be erect or dropped.
Color-wise, this crossbreed will usually be black and tan, or blue and brown. Nevertheless, they can also come in other colors like tan, apricot, gold or black.
Now that you know how they look like, it's time to dive into their character.
Dorkie temperament
As with all crossbreeds, the Dorkie takes traits from both its parents. Given this is a first-generation cross, it's unsure whether or not your pup will take more after one parent than the other-both when it comes to physical traits or temper.
Dachshunds also love companionship and dislike being left alone for extended periods. They are very protective of their toys and space, which can lead to protective aggression if left untrained.
On the other hand, Yorkies are smart, playful dogs that love being around people. Bred as hunters as well, they have a strong prey instinct and need proper exercising when at home.
The Dorkie dog will probably inherit some of the traits from its parents. Although their personalities are unpredictable, these pups are usually friendly and playful.
Because Dachshunds and Yorkies were bred to chase, their offspring can be focused and have a strong character.
Dachshund Yorkie mixes tend to be gentle and affectionate, love being around people, and are highly intelligent. Often, they will attach themselves to one person.
They will also have a developed pray instinct, so socialization and leash training should be key elements in early puppyhood.
Now that you know what will your pup behave like, it's time to learn more about their care.
Grooming a Dorkie dog
Both Dachshunds and Yorkshire Terriers should be brushed regularly irrespective of their hair length.
Nevertheless, the Dorkie coat requires low to moderate maintenance and brushing just two or three times a week.
For the rest of their care, this pup will need consistent oral hygiene and nail clipping. Make sure you check their ears once in a while to keep them healthy and happy.
Wondering the best way to train your Dorkie dog? Here's everything you need to know.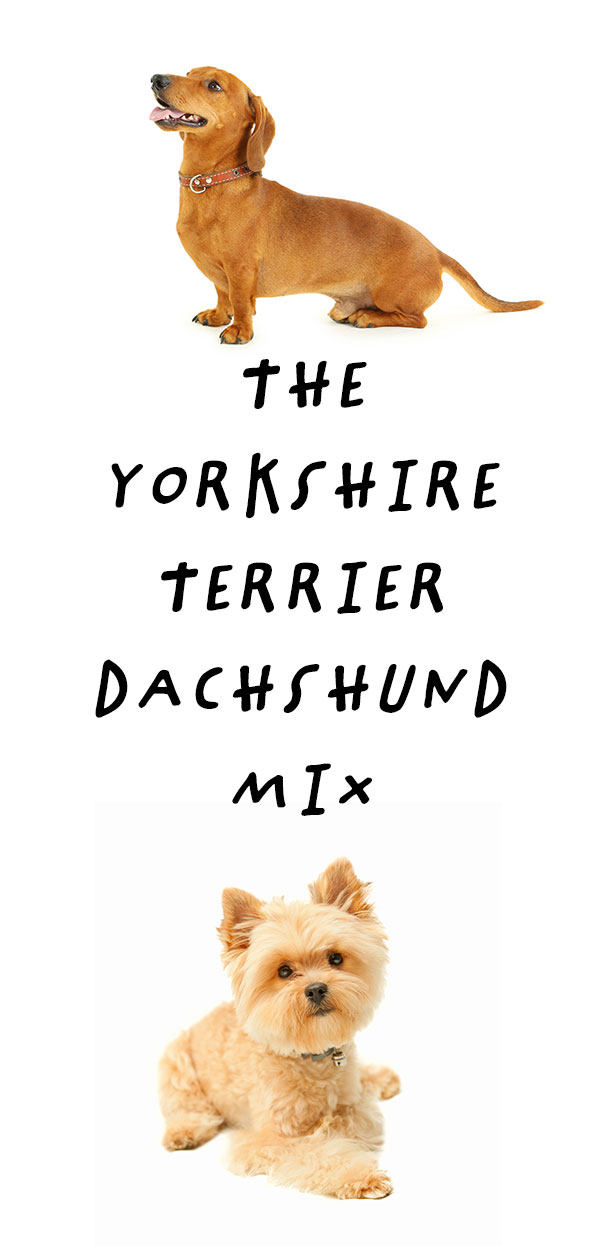 Training and exercising your Dorkie
Your Yorkie Dachshund mix will need moderate daily exercise. When out and about, they should be kept on a leash due to their chasing instincts: it will prevent them from running after prey!
Keep in mind your pup's spine when going out to train or exercise. Although active, this crossbreed should exercise with moderate intensity and avoid jumping or running. Their elongated bodies can be delicate and you should train accordingly.
Dorkie puppies can evolve into notorious barkers, so training should also focus on proper socialization to make sure they stay calm in regular domestic situations.
Both the Dorkie's parents were bred to be hunting companions. This means their offspring will usually be independent pups that need a firm but gentle hand when training.
It's essential to focus on positive reinforcement in order to foster wanted behaviors and avoid using punishment. It will only harm your pup and make training difficult.
Besides proper training, the Dachshund Yorkie mix needs specific care related to their body composition.
Dorkie health and care
Many believe that crossbreeds are immune to health issues, but this is not always the case and certainly not guaranteed. Dorkies, as other crossbreeds, are prone to inheriting the conditions of their purebred parents.
Dorkies have inherited the unique body shape of its Dachshund parent, and this distinct feature also implies some health risks.
Health concerns of the Dachshund
The Dachshund has a unique body shape compared to other dogs and is more prone to back problems such as intervertebral disk disease than any other breed.
Affected dogs suffer from pain and even paralysis. When diagnosed, mortality rates are high.
Hip dysplasia, patella luxation, and eye diseases are common among Dachshunds and they are also prone to weight gain issues.
Health concerns of the Yorkshire Terrier
On the other hand, Yorkies aged between 5 and 8 months are prone to hypoglycemia, which is a low level of blood sugar.
Other genetic health problems seen in the Yorkie are Legg-Perthes disease, retinal dysplasia, liver shunt, and collapsed trachea.
Overall, the main health issue among Dorkies is spinal diseases. Because of over breeding, Dachshunds have developed a shape that puts excessive strain on their backs.
Dorkies have inherited the same problem, making them more prone to life-threatening injuries that you have the responsibility to prevent.
Here's how to properly care for your Dorkie pup and avoid any spinal troubles
How do you care for a Dorkie's back?
As is the case with Dachshunds, you need to handle your Dorkie with care. Never lift them by their front legs, and when you handle them, lift them simultaneously at the chest and back.
You should also keep your pup from jumping and lift them if need be. Be watchful when playing with larger dogs, as they could accidentally hurt your pup during intense play.
Young children should also be carefully supervised, as they tend to forget about not lifting Dorkies and other long dogs.
Finally, it's important you keep them at their ideal weight. Extra fat will drag their bodies down and could accelerate the appearance of back troubles.
It was previously thought that avoiding neutering Dachshunds helped to reduce the risk of Intervertebral Disk Herniation (IVF). Given the other benefits of neutering, it is now recommended to wait at least until the pup is 12 months old, and think about every case on an individual basis.
If you understand the health risks Dachshund Yorkie mixes are subject to but are still interested in adding one to your pack, keep reading.
Do Dorkies make good family pets
Both the Yorkie and Dachshund breeds love attention and companionship and dislike being left alone, and the Dorkie is no different.
They do best with owners who are at home most of the time and with a family that has older children due to their small size and delicate build..
Adult supervision is mandatory when interacting with younger kids.
Dorkies can be great family pets because of their character. Nevertheless, due to the dangerous spinal conditions they are prone to, we don't recommend you get a puppy.
When buying a pup with this high chance of health issues due to following the official breed standard, you are also promoting indiscriminate breeding without regard to the health of neither parents or pups.
If your mind is still set on a Dorkie, we probably won't change it. Either way, it might be worth it to consider rescuing an adult dog.
Many pups are abandoned after a difficult health diagnosis, and this Yorkie Dachshund mix is no different.
Lots of adult dogs are waiting for their second chance at a forever home in a shelter, and it might be worth it to take a look in your local rescue.
Rescuing a Dorkie
We don't recommend a puppy mixed from a breed with structural problems such as the Dachshund has.
The severely shortened legs, flattened faces, and disproportionately long body of the Dachshund causes these pups pain and a shortened lifespan.
Because the official breed standard has promoted the perpetuation of dangerous conformational defects, we urge you to consider rescuing an older pup instead.
Dachshund crosses have been purposefully bred with severe disabilities, and buying a puppy encourages irresponsible breeders to make more of the same.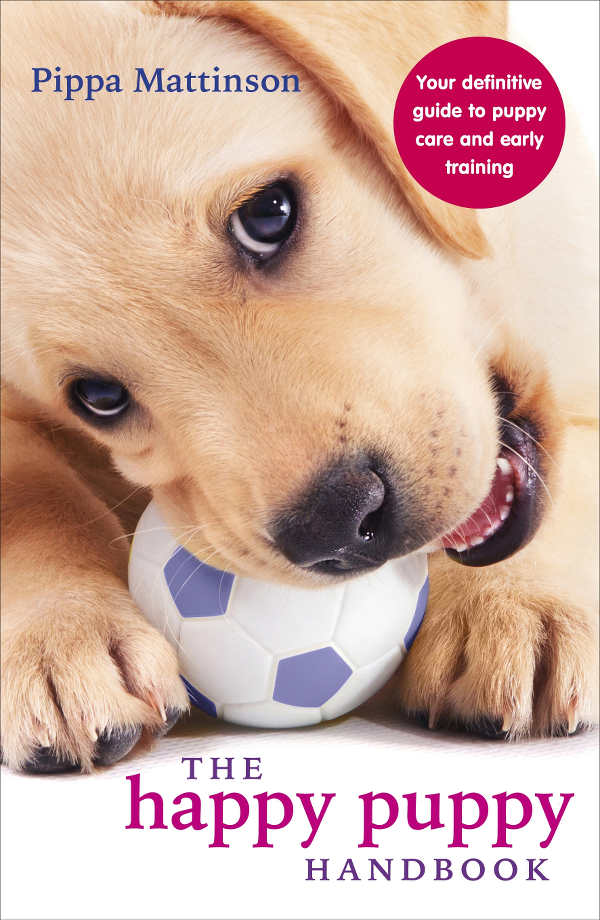 By rescuing an older dog, you get the breed you wanted without being part of the inhumane puppy market focused on economic gains instead of the health of the dogs.
You'll find some breed rescue organizations listed at the end of this article.
Finding a Dorkie puppy
If after knowing about the health issues the Yorkie Dachshund mix can have you still want your very own puppy direct from the breeder, choose one that has dogs with a shorter body. These are usually breeders that raise their dogs as pets rather than for show.
With mixed breeds, you're dealing with a lot of unknowns so don't be afraid to ask plenty of questions.
Only get your puppy from a reputable Dorkie breeder, and preferably one that has been recommended to you from a credible source.
When visiting the breeder, look at the living conditions of the parents and puppies and check that all their puppies are healthy.
The parents should be calm, friendly and have all their medical papers in check.
They should have a relatively short body compared with the usual examples of the breed. You should avoid any litters from very low slung parents.
Also, ask to see both parents and ask about their health history. Inquire about previous litters, their health status and the mother's age.
When buying from a purebred breeder, there is usually a formal contract that states what happens if there are any after-sale problems or illnesses.
Check whether the breeder can offer any such coverage should an issue arise.
Raising a Dorkie puppy
Pups are always vulnerable, and your Dorkie puppy will be so even more than usual. Besides caring for their backs and ensuring they stay safe at all times, you'll be responsible for training and raising a well-adjusted dog.
To make it a bit easier, check our handy guides. From leash training your new pup to the challenging process of potty training, here's everything you need to have a happy, healthy pup.
Once you're sure about how to raise the new member of your family, it's time to get everything you need to make it happen.
Dorkie products and accessories
Here's everything you need to take care of your Dachshund Yorkie mix:
Are you sure this is the right dog for your family? This is what you should know.
Pros And Cons of Getting A Dorkie
Still haven't made up your mind? Here's our final round-up:
Cons
Their distinct shape makes them prone to spinal disease
Getting a Yorkie Dachshund mix will spur on irresponsible breeding
Interaction with young children requires constant supervision
Pros
Small, friendly dog that's easy to train
Gentle demeanor
Moderately active
If you still have your heart set on this mix then a rescued adult could be a good choice.
Similar Breeds
Here are other dog breeds you might want to consider
If you're still interested in getting this crossbreed, take a look at these shelters
Dorkie Breed Rescues
Dorkies aren't a registered breed and as such, they are still quite rare. Although there are no specific rescues, sometimes these pups will come into Dachshunds or Yorkie rescues. It might be worth it to take a look at these shelters and rescues!
USA
UK
Australia
Do you have experience with Dorkies? Let us know in the comments below!
References And Resources
Gough A, Thomas A, O'Neill D. 2018 Breed Predispositions to Disease In Dogs and Cats. Wiley Blackwell
O'Neill et al. 2013. Longevity and Mortality of Owned Dogs In England. The Veterinary Journal
Adams VJ, et al. 2010. Results of a Survey of UK Purebred Dogs. Journal of Small Animal Practice.
Schalamon et al. 2006. Analysis of Dog Bites In Children Who Are Younger Than 17 Years. Pediatrics
Duffy D et al. Breed differences in canine aggression. Applied Animal Behavior Science 2008
Strain G. Deafness prevalence and pigmentation and gender associations in dog breeds at risk. The Veterinary Journal 2004
Packer et al. 2015. Impact of Facial Conformation On Canine Health. PlosOne
Priester WA. 1976. Canine intervertebral disc disease — Occurrence by age, breed, and sex among 8,117 cases. Theriogenology.
Kimmel SE, Waddell LS, and Michel KE. 2000. Hypomagnesemia and hypocalcemia associated with protein-losing enteropathy in Yorkshire Terriers: five cases (1992–1998). Journal of the American Veterinary Medical Association.
Ljunggren G. 1967. Legg-Perthes Disease in the Dog. Acta
Orthopaedica Scandinavica.
Nicholas FW, Arnott ER, and McGreevy PD. 2016. Hybrid vigour in dogs?
Calboli FCF et al. 2008. Population Structure and Inbreeding From Pedigree Analysis of Purebred Dogs. Genetics.
Neuter status as a risk factor for canine intervertebral disc herniation (IVDH) in dachshunds: a retrospective cohort study Marianne Dorn & Ian J. Seath Canine Genetics and Epidemiologyvolume 5, Article number: 11 (2018)