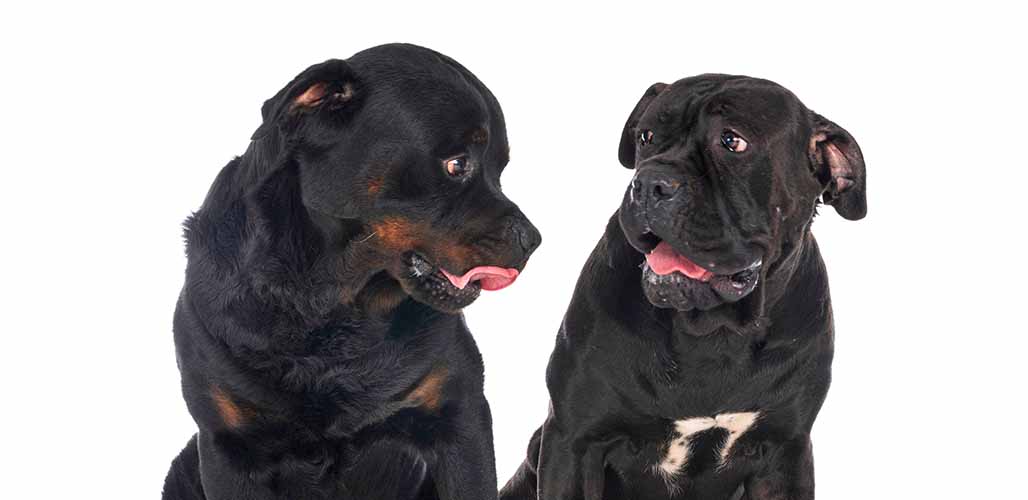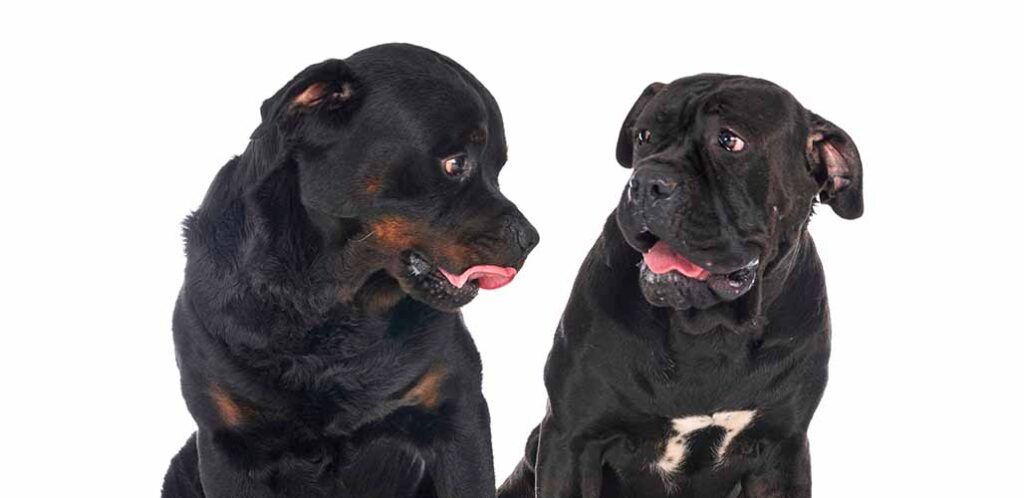 The Cane Corso Rottweiler mix combines two loyal giants – the Cane Corso Italiano and the Rottweiler. Also known as a Rotticorso, this powerful and athletic mixed breed has two working dog breeds as its parents, and has much to offer experienced owners who can give them a task. Similar in type to the Mastiff, these shepherding, droving, herding and guarding dogs benefit from positive training methods. They live around ten years and can weigh up to a whopping 135lbs. Today we shine the spotlight on this relatively unknown hybrid dog, to help you decide if the Cane Corso Rottweiler mix is the right pet or working companion for you.
Contents
What is a Cane Corso Rottweiler Mix?
The Rottweiler Cane Corso mix is a cross between the purebred Cane Corso Italiano and the purebred Rottweiler, both large, strong, working dog breeds. This powerful combination is a somewhat rugged-looking dog that likes to be active and is loyal to its owner but can sometimes be challenging to train.
As with any mixed breed, the outcome of a Rotticorso is uncertain as a puppy may inherit more traits from one parent breed than the other. Before bringing a hybrid dog home, you must learn about the parent breeds to avoid surprises.
History of the Cane Corso Rottweiler Mix
We must study each parent breed's history to understand the Cane Corso Rottweiler mix better. The Cane Corso hails from Italy with a history that dates back to ancient times. It's believed the breed descended from ancient Molosser and Mastiff dogs, considered the largest and mightiest dog breeds throughout history.
The modern Cane Corso was developed by crossing Molosser dogs with Neapolitan Mastiffs. The name Cane Corso loosely translates from the Latin as "bodyguard dog", which it lived up to by accompanying soldiers into battle. This large Italian dog breed has a long history as a working dog and was a familiar sight on Italian farms for centuries, used for hunting, guarding, and droving.
The Rottweiler has a history similar to the Cane Corso, dating back to the Roman Empire and descending from the early breeding of Mastiffs with local shepherding and herding breeds. Although undocumented, many believe this breeding stock developed the breed of Rottweiler we know today. At the start of the 20th century, the Rottweiler found new roles serving as police dogs, in the military, as guard dogs and even as guide dogs for the blind.
What Do Cane Corso Rottweiler Mixes Look Like?
The Cane Corso Rottweiler mix will have physical features in keeping with its strong Mastiff heritage, with most having a stocky physique, floppy or stiff ears, prominent jowls, and a short double coat.
If the offspring takes after the Rottweiler, they will have a black coat with a tan saddle marking. But if the genes of the Cane Corso are more dominant, the Rottweiler Cane Corso mix will have either a black, gray, blue, brindle or chocolate coat.
Grooming and Shedding
The grooming requirements for a Cane Corso Rottweiler mix are easy, as their lovely short sleek coat needs brushing just once or twice a week to remove dead hair and circulate natural oils. Their teeth need brushing at least three times a week, their ears cleaned once a week, and their nails trimmed once a month.
How Big Are They When Full Grown?
The Cane Corso Rottweiler mix stands at 25 to 29 inches in height and weighs between 100 to 135 pounds.
Are Cane Corso Rottweilers Aggressive?
The Cane Corso Rottweiler mix is a loving, loyal and protective dog who wants to be with its family. They need plenty of socialization as puppies to prevent them from guarding their homes from guests as well as intruders! These dogs love children that they know, and are likely to be protective of them, although an adult must supervise them at all times.
As both parent breeds come from a working background, the Rotticorso has a lot of energy, so it does best in an active household with a large, secure backyard. The Rottweiler is an extremely intelligent dog that responds well to training, while the Cane Corso is considered the most trainable and adaptable of the Mastiff breeds.
These dogs strive for physical and mental stimulation, so training routines and interactive games will be hugely beneficial.
Cane Corso Rottweiler Exercise and Training
The parent breeds relate to a history of herding cattle over long distances, so the Rotticorso requires plenty of exercise. Otherwise, they can be destructive. They require 1.5 hours of daily walking, including interactive games, like throwing a ball or frisbee, to run after and fetch. The Cane Corso Rottweiler mix makes excellent hiking, jogging and biking partners.
This mixed breed is a quick learner who can master a range of commands and would enjoy training for tracking or trailing-based activities, which offers mental stimulation and exercise. By keeping this mixed breed well exercised and mentally stimulated, you will have a sweet, loving, and affectionate dog.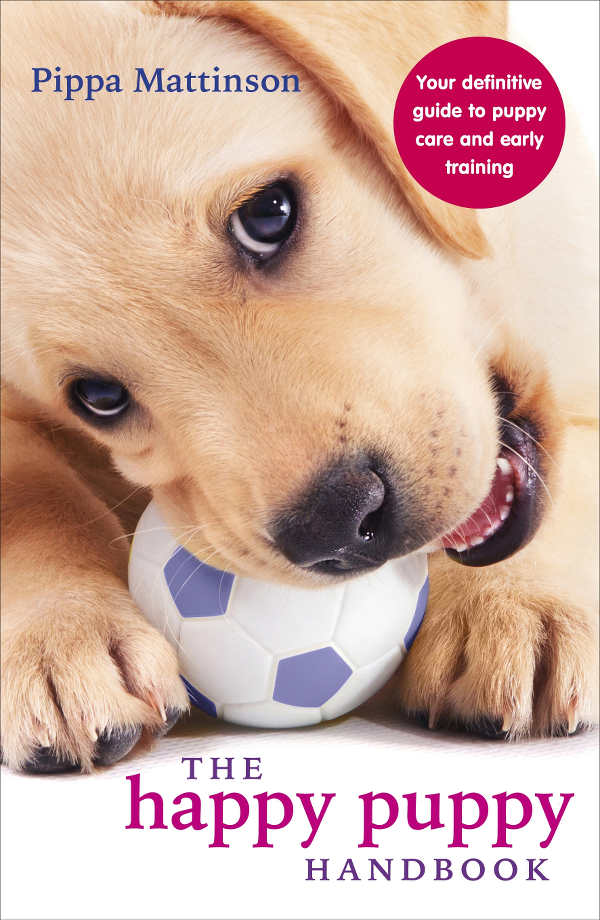 Any Potential Health Problems?
Mixed breed dogs potentially are far healthier than purebred dogs, but it is still important you are aware of the health issues common in the parent breeds. The potential health problems for the Cane Corso Rottweiler mix include:
Hip and elbow dysplasia
Heart disease
Bone cancer
Bloat
Entropion
Ectropion
Corneal erosion
Brain tumors
Cherry eye
How Long Does This Designer Dog Live?
The average lifespan for the Cane Corso Rottweiler mix is about nine to twelve years.
Are Cane Corso Rottweiler Mixes Good Pets?
The Cane Corso Rottweiler mix may be the right dog for you if you want a loving, loyal, and protective dog. These pups make lovely companions if properly socialized and trained from an early age.
However, you must have the experience to handle a big dog and provide them with the mental and physical stimulation these dogs require, along with a spacious and secure backyard.
Learn More About Rottweilers and Cane Corso Dogs
References
Smith et al. Evaluation of risk factors for degenerative joint disease associated with hip dysplasia in German Shepherd Dogs, Golden Retrievers, Labrador Retrievers, and Rottweilers. AVMA Journals, 2001.
Korec et al. Inheritance of coat colour in the Cane Corso Italiano dog. BMC Genomic Data, 2019.
Notari et al. A survey of behavioural characteristics of pure-bred dogs in Italy. Applied Animal Behaviour Science, 2007.