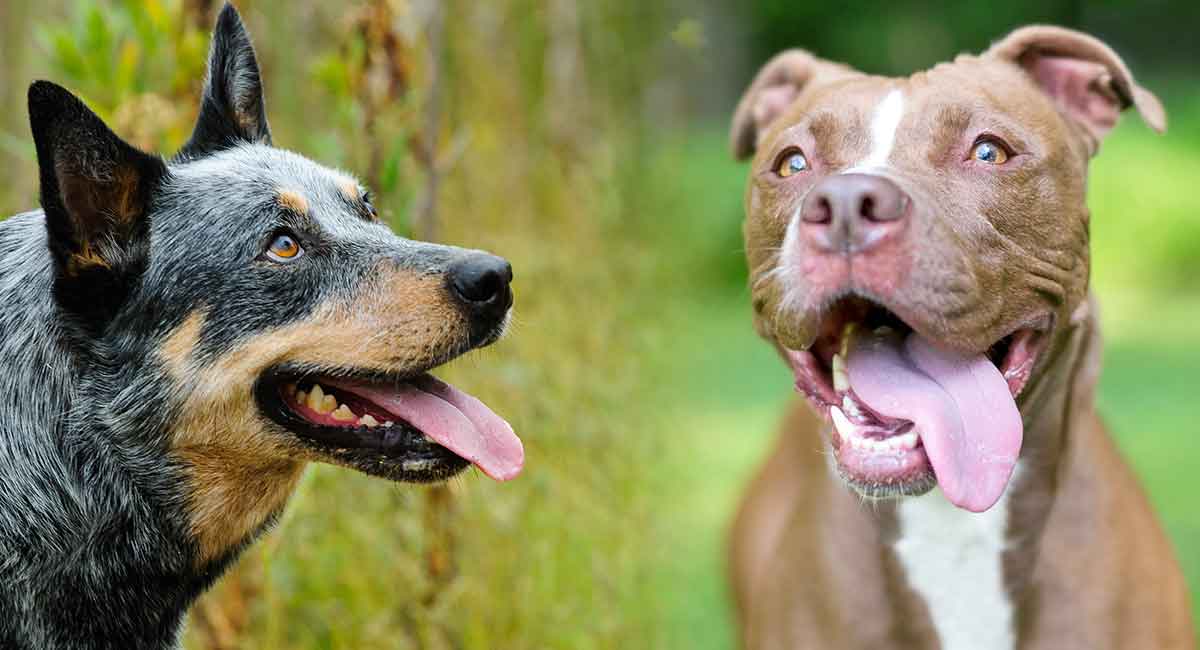 The Blue Heeler Pitbull mix is a cross between the American Pit Bull Terrier and the Australian Cattle Dog, or Blue Heeler. These active, loyal, and affectionate mix breed pups are also known as Pit Heelers. Some Pit Heelers are a result of accidental matings, others are intentional blends of the two purebred parents.
We're going to be looking at what you can expect your new Pit Heeler puppy to look like as a fully grown adult. And what you'll need to provide in the way of training and exercise. We'll look at coat colors, grooming, behavior, and personality. And give you lots of tips to help you raise a healthy, happy dog.
Where Does the Blue Heeler Pitbull Mix Come From?
The Australian Cattle Dog was bred in the Australian outback from British working breeds and local wild Dingoes. The goal was to create a breed that could work hard in the rough and tumble outback.
That's exactly what they got.
The American Pitbull Terrier was also developed by the British. It arose in the United Kingdom as a cross between terrier breeds and Bulldogs, traditionally used as fighting dogs.
More about Pitbulls:
The crossbred Pitbull was gentler and kinder than the old Bulldog breeds but just as strong. Eventually, the breed made its way to the United States.
The American Pitbull and Cattle Dog, or Blue Heeler, are both purebred dogs. The Pit Heeler, as a blend of the two, is considered a crossbreed.
Does it matter? That depends on who you ask. Some argue that mixed-breed dogs have less risk of health problems because they are more genetically diverse. Breeders disagree.
A 2013 study showed that there's no easy answer. There are some genetic disorders that are more common in purebred dogs. Still, there is a slightly larger set of conditions that are equally common among mixed and pure breeds.
So what's an aspiring dog owner to do? Luckily, breeds like the Blue Heeler Pit mix give you the best of both worlds.
Fun Facts About the Blue Heeler Pit Mix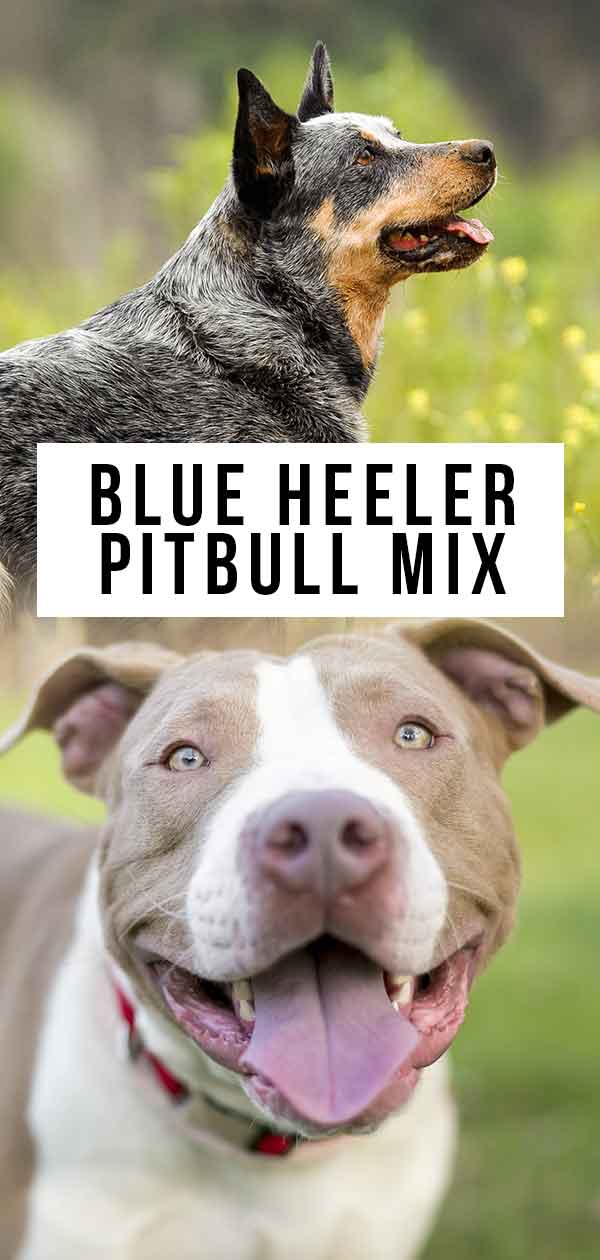 Helen Keller and Theodor Roosevelt both owned Pitbulls. Pitbulls have appeared on screen as Petey from Little Rascals and Tige from Buster Brown.
During World War I, a Pitbull by the name of Stubby received a Purple Heart and a Gold Medal of Valor for waking a sleeping regiment of soldiers during a gas attack.
Don't worry, Blue Heelers and Pit Heelers, there's plenty of time for you to make your mark on history!
Blue Heeler Pitbull Mix Appearance
As a cross between two medium-size working breeds, the Blue Heeler Pitbull stands 17 to 21 inches high and weighs between 30 and 60 pounds. Males tend to be about an inch taller and five to 10 pounds heavier than females on average.
The Pit Heeler is slightly longer than it is tall. It has a strong back, muscular chest, and broad hindquarters, all characteristic of the Blue Heeler.
Depending on parentage, some dogs may inherit the Pitbull's shorter loin or narrowing of the torso toward the tail.
The Pit Heeler's head often has the slightly rounded skull of the Pitbull. The ears tend to be high on the head and slightly pointed, the eyes medium in size and more likely to be brown.
The coat of the Pit Heeler is short and thick. The base color may be white, grey, or brown as seen in the Pitbull. The markings tend to be the blue mottled, striped, or spotted appearance of the Blue Heeler.
Blue Heeler Pitbull Mix Temperament
Like any dog, a Pit Heeler's temperament depends on his or her parentage, environment, and socialization.
Some Pit Heelers may show the loyalty and intelligence of the Blue Heeler. Some have the indiscriminate friendliness of the Pitbull. In other cases, the Pit Heeler inherits the Blue Heeler's suspiciousness of strangers.
If it strikes you as odd to read the Pitbull as the friendlier of the two breeds, you're not alone. Many people hear the word "Pitbull" and think of a vicious attack dog. But the Pitbull hasn't always had a reputation for aggression.
For most of the 20th century, the Pitbull was famous for being a loyal and loving family pet. That changed in the 1980s when several attacks received a fair amount of publicity. Eventually, some local governments banned the breed entirely.
Fortunately for Pitbull owners, research hasn't shown that the Pitbull is any more aggressive toward people than other dogs.
In fact, testing suggests that the American Pitbull has a very stable temperament, similar in nature to the notoriously friendly Golden Retriever.
Training Your Blue Heeler Pit Mix
The Pitbull does have a sturdy body, strong musculature, and developed jaw. After all, its long-ago parent breeds were fighters. The Blue Heeler is also strong, has plenty of endurance, and is a devoted protector.
These two breeds combine to create a very physically capable and energetic dog, so make sure your Pit Heeler spends lots of time outdoors.
Make sure that you also socialize your Pit Heeler well and don't neglect obedience training. You do not want a strong dog like this not to be controlled!
Pit Heelers are responsive trainees if you are a confident trainer. Avoid punishing disobedience and stick with positive reinforcement. It works better, is associated with lower levels of aggression, and strengthens the owner-dog bond.
It makes sense – after all, aren't you more likely to do what someone asks if they ask nicely?
Blue Heeler Pit Mix Health
Blue Heeler Pit mix owners are lucky; both parent breeds have good genetics and aren't prone to many genetic defects.
The Blue Heeler does have a predisposition to a kind of hereditary deafness known as CHSD and an eye disease called progressive retinal atrophy, which can cause vision loss. According to the AKC, the dog may also be prone to hip and elbow dysplasia.
If your dog hasn't already had genetic testing done, ask about the recommended screenings for the Blue Heeler. Information about these tests is available through the Australian Cattle Dog Club of America.
As for the Pitbull, it tends to be a healthy dog. Some searches for Pitbull health problems show a tendency toward congenital heart disease, but a retrospective study shows that the breed actually has a relatively low risk of the disease.
By all accounts, your Pit Heeler should have a normal life expectancy for a medium-sized dog – approximately 12 to 14 years. Do your part by keeping your dog active, clean, and well-fed. A high-quality diet appropriate for his age and okayed by a veterinarian is always best.
Fortunately, because the Pit Heeler a short-haired dog, the grooming part is easy. A simple weekly brushing and the occasional bath should be enough. And then, of course, there are the baths he or she will need after messy outdoor adventures!
Do Blue Heeler Pitbull Mixes Make Good Family Dogs?
In a word, yes. Pitbulls are friendly and Blue Heelers are loyal, so it's only natural that their cross-breed fits well into a family.
The Pit Heeler's energy level also makes for plenty of family fun. Send your kids out into the yard with their Pit Heeler and they'll all sleep well that night.
Also, because both the Pitbull and the Blue Heeler tend to live long and healthy lives, you're not setting your family up for heartbreak any time soon.
One word of caution, however. The Pitbull is great with people but may be animal-aggressive. You might want to go with a different breed if you have other pets in the house.
Rescuing a Blue Heeler Pitbull Mix
If you want a Blue Heeler Pitbull rescue, search your local listings or the ASPCA's roster to see if there are any near you that need homes.
You can also call a Pitbull or Blue Heeler rescue to ask if they have any mixes. You'll find some listed below.
Finding a Blue Heeler Pitbull Mix puppy
All Blue Heeler Pitbull puppies are cute, but not all will be healthy and happy.
Whatever you do, don't get your Pit Heeler puppy from your local pet store. Puppies in pet stores come from commercial breeders, known colloquially as puppy mills.
A study conducted in 2017 also shows that puppy mill dogs have a higher risk of emotional and behavior problems. These include:
– aggression
– excessive fear
– separation anxiety
– emotional neediness
These issues can stem from poor socialization or early separation from the mother. They can also develop if the mothers themselves are treated poorly.
Instead of contributing to this cycle, consider seeking out a reputable private breeder.
Raising A Blue Heeler Pitbull Mix Puppy
Like any breed, the Blue Heeler Pitbull needs a good start to life. Teach your puppy good habits early and, as mentioned earlier, remember to use rewards instead of punishments. This goes for house training as well as other kinds of puppy education!
Your dog's health and physical development are important as well, so take the time to do your research and choose the right diet. Check out advice on what to feed Blue Heelers or Pitbull Terriers, and make sure to double check your food choices with the vet.
Blue Heeler Pit Mix Products and Accessories
In addition to the usual dog paraphernalia – bowl, leash, and brush – your Blue Heeler Pitbull will need lots of toys.
The best ones encourage activity and make the dog think – like these.
These smart dogs need plenty of stimulation.
Pros and Cons of Getting A Blue Heeler Pitbull Mix
No breed is perfect, and even the Blue Heeler Pitbull isn't for everyone. Some of the cons that you might have to deal with are:
– animal aggressiveness
– boredom-induced misbehavior (This dog needs to be kept busy!)
– pitbull prejudice from other humans.
The pros, meanwhile, are plentiful and include:
– good overall health
– minimal grooming needs
– a loving and loyal temperament
– an active dog for a lively household
Ultimately, of course, the choice is up to you. If the breed is a fit, go with it!
Similar Blue Heeler Pit Mixes and Breeds
If you're thinking about exploring other breeds, there are a number of other popular Blue Heeler crosses that you could research. They include:
– the Labraheeler (Labrador cross)
– the Texas Heeler (Australian Shepherd cross)
– the Border Heeler (Border Collie cross)
There are other Pitbull mixes as well, including:
– the Labrabull/Pitador (Pitbull/Labrador)
– the Pitsky (Husky/Pitbull)
– the German Pit/German Sheppit (Pitbull/German Shepherd)
Or you could try something completely new! Such as the German Shepherd Husky mix!
Blue Heeler Pitbull Mix Rescues
Rescue organizations for the Blue Heeler and Pitbull might be able to help you find a mix. A few options include:
– Pit Bull Rescue Central
– It's the Pits Dog Rescue
– Australian Cattle Dog Rescue Association
Do you know of a Blue Heeler, Pitbull Terrier, or Pit Heeler rescue in the USA, UK, Canada, or Australia? Comment below and add it to the list.
Is A Blue Heeler Pit Mix Right For Me?
A Blue Heeler Pitbull can be a wonderful companion and member of the family, but you have to be willing to put in the time and energy.
This isn't the kind of dog that you can leave alone in an apartment all day – he or she will get bored, restless, and lonely.
In fact, if you can, adopt two so that they can keep each other company. That's twice the love for you!
Related Articles
References and Resources
American Kennel Club (AKC)
Andre, C. Et all. Hereditary retinopathies in the dog: genetic fundamentals and genetic tests. Pratique Médicale et Chirurgicale de l'Animal de Compagnie, 2008
Bellumori TP, Famula TR, Bannasch DL, et al. Prevalence of inherited disorders among mixed-breed and purebred dogs: 27,254 cases (1995-2010). J Am Vet Med Assoc, 2013.
McMillan, F. Behavioral and psychological outcomes for dogs sold as puppies through pet stores and/or born in commercial breeding establishments: Current knowledge and putative causes. Journal of Veterinary Behavior, 2017.
Medlin, J. Pit bull bans and the human factors affecting canine behavior. DePaul Law Review, 2014.
Oliveira P, Domenech O, Silva J, et al. Retrospective Review of Congenital Heart Disease in 976 dogs. Journal of Veterinary Internal Medicine, 2011.
Sommerlad S, Morton J, Haile-Mariam M, et al. Prevalence of congenital hereditary sensorineural deafness in Australian Cattle Dogs and associations with coat characteristics and sex. BMC Veterinary Research, 2012.
United Kennel Club (UKC)