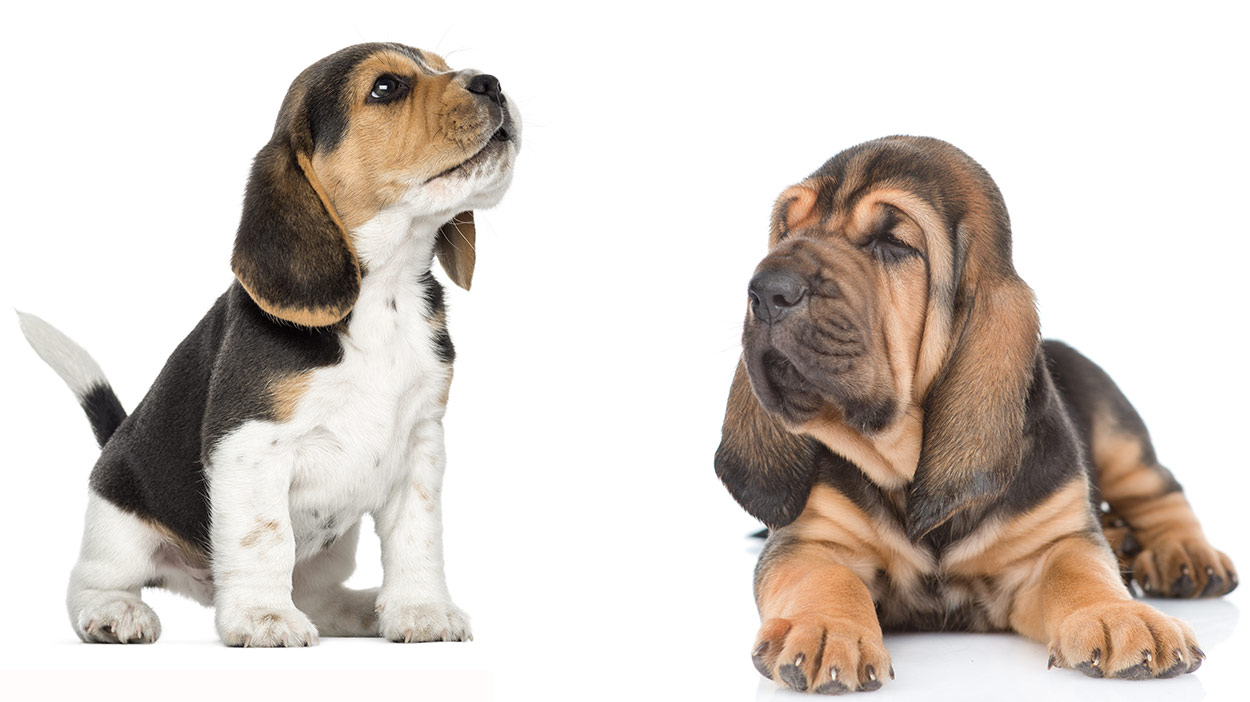 So, why a Beagle Bloodhound Mix? The world is full of lovely dogs to choose from, and making the right choice for your lifestyle can be a daunting task. Allow us to help.
Adopting a cross breed puppy presents the opportunity to weigh the merits of two breeds and consider how they might combine to produce the perfect pet for you.
Gaining knowledge about the pure breeds that created your proposed pet will inform you about the physical and behavioral traits your dog might inherit and will help you feel confident about your decision.
What is cross breeding, and why do some animal lovers oppose it?
Cross breeds are created by mating two purebred dogs either naturally or through IVF to create a new breed. Some people disagree with the practice of cross breeding purebred dogs, because it interrupts purebred bloodlines.
The Bloodhound Beagle is no exception to this mentality. Sustained breeding of pedigree dogs generally produces predictable temperaments and appearances, features that some buyers and sellers consider important.
However, purebred dogs were originally created by cross breeding. The practice produced specific, desired traits in the dogs we today consider purebreds. Today's purebreds have been created using a smaller gene pool than dogs were in the past, a risk with potentially negative health effects.
Animal experts, including biologists and geneticists, associate better health outcomes with cross breeds than with their purebred counterparts due to the diversity of the combined gene pools.
So, how does this apply to the Bloodhound x Beagle? Follow your nose to find out!
The Beagle Bloodhound Mix
Because of the significant size difference between the two dog breeds, artificial insemination is often employed to create a Beagle and Bloodhound cross breed.
The Bloodhound mother will carry the pups.
Walk away from breeders who promise any specific physical or behavioral traits; it is impossible to accurately predict the way the puppies will look or behave.
You can make informed guesses, however, by considering the size, weight, and other attributes of the parent breeds.
From where does the Bloodhound x Beagle come?
Understanding the origins of the Bloodhound and Beagle mix requires an examination of the origins of the parent breeds.
History of the Bloodhound
Bloodhounds are said by some to have originated in 11th century Belgium, where they were bred by the monks of Saint-Hubert. What is certain is that the breed is traceable to 14th century Britain.
Some sources say Bloodhounds got their name from their "pure blood" breeding, while others attribute it to their use in tracking animals wounded during hunts.
Dubbed "sleuth hounds," these dogs quickly adapted to tracking humans as well. Their use by law enforcement is legendary, and in fact, their tracking results are admissible in court cases.
Bloodhounds are humorously referred to as "a nose with a dog attached," and the truth is, their sense of smell is estimated to be forty times keener than that of humans.
Research suggests that Bloodhounds possess well over 200 million olfactory cells (scent receptors). Bloodhounds' loose, wrinkly faces capture scent traces, and with their heads down as they track, their long ears convey odors to their noses.
The American Kennel Club officially recognized the Bloodhound breed in 1885 and rates them as the 52nd most popular dog breed.
Origins of the Beagle
The origins of the Beagle are not entirely clear, but it is thought that they descended from earlier scent hounds in Europe and England. The "pocket beagle" was a favorite of Elizabeth I in the 16th century.
Beagles were originally bred to be small so they could be carried in pockets while riding, and set down to pursue prey through underbrush when hunts concluded.
The Reverend Phillip Honeywood is credited with breeding the larger, modern beagle in the nineteenth century to move away from miniature dogs.
Beagles are scent hounds used as hunting companions, as well as for family pets.
Their name is thought to have derived from its distinctive voice; in German, to scold is "begele," and the French expression "begueule" means "open throat."
The American Kennel Club officially recognized the breed in 1885 and rates Beagles as the 5th most popular dog breed.
Beagle Bloodhound Mix Size
Beagles stand between 13" and 15" and should weigh less than 25 pounds.
These broad-chested dogs have sloping shoulders and well-sprung ribs to support strong lungs. Their hips and thighs are muscular.
Bloodhounds are typically around 26" tall and weigh between 80-110 pounds; males weigh on the higher end.
They are big and powerfully built, with long necks and heads and muscular shoulders.
The body type, size, and shape of a Beagle Bloodhound mix can range anywhere between the physical traits of its parents' breeds.
Beagle Bloodhound Mix Characteristics
Beagles can be black, tan, black and tan, or blue tick, but Beagles can also come in many colors that combine with white: tan, red, lemon, and brown. Some other color pairs that combine with white include: black and tan, black and red, brown and tan, and blue and tan.
The Bloodhound's coat is short and hard, and the colors are limited to just three variations: black and tan, liver and tan, and red, all with no markings.
The Beagle's coat is medium in length and quite hard and close. The standard marking is ticked.
Beagle ears are long, set close to the head, and do not sit erect. Bloodhound ears are similar and feel thin to the touch. Your Beagle Bloodhound mix is likely to have these characteristic drooped ears
Unlike Beagles, Bloodhound faces have an abundance of loose skin that falls into folds when the dog is looking down. The folds under the neck are called the shawl and function to collect scent.
Remember, your cross bred dog can have any combination of physical traits of either of these appealing breeds.
Beagle Bloodhound Mix Temperament
To appreciate the probable Beagle Bloodhound mix temperament, let's look to the two parent breeds once more for personality traits.
Both breeds are reputed to be friendly and imperturbable.
Both breeds are good with other dogs as they were often bred to hunt in packs.
Chances are good that your Beagle Bloodhound mix will be even-tempered, but socialization is vital in bringing out your dog's best behavior.
Though they are similar in many ways, these scent hounds also have their differences.
Beagle Personality
Beagles are curious and playful, and these compact hounds need lots of exercise and play. They are intelligent, good with children, and highly trainable.
Beagles are known to be vocal; you should consider this carefully if you have close neighbors or if you find barking bothersome.
Because of their compact size, experts do not recommend feeding them treats in addition to their regular diet. As Beagles will chase things that run, it is important to use a leash outside rural settings.
Beagles are not well-suited to apartment living because of their need for exercise and stimulation. Remember, they do tend to be vocal! A short daily walk is not enough for these active pups.
Grooming your Beagle weekly with a rubber mitt should keep his or her coat healthy, in addition to a regular nail trim and ear cleaning.
Bloodhound Personality
The Bloodhound responds well to training, and will be relentless when scent trained. They are not overly energetic but do require daily exercise, and they tend to be independent.
Bloodhounds are gentle, but bear in mind that a dog of this size will need to be supervised around children and others who might be unsteady on their feet. It is important to remember that these hounds will follow their noses. Fenced areas and leashes are a must.
Because of the risk of bloat, experts recommend feeding Bloodhounds their daily food in two or three smaller increments 8"-12" off the ground to help control air intake when eating.
Bloodhounds are large dogs with commensurate appetites; consult your veterinarian for feeding recommendations as your puppy grows. A weekly brushing with a rubber mitt should keep your Bloodhound's coat in good condition.
Because these dogs tend to drool, you will want to keep wipes handy. Ear cleaning and dental checks should be carried out regularly.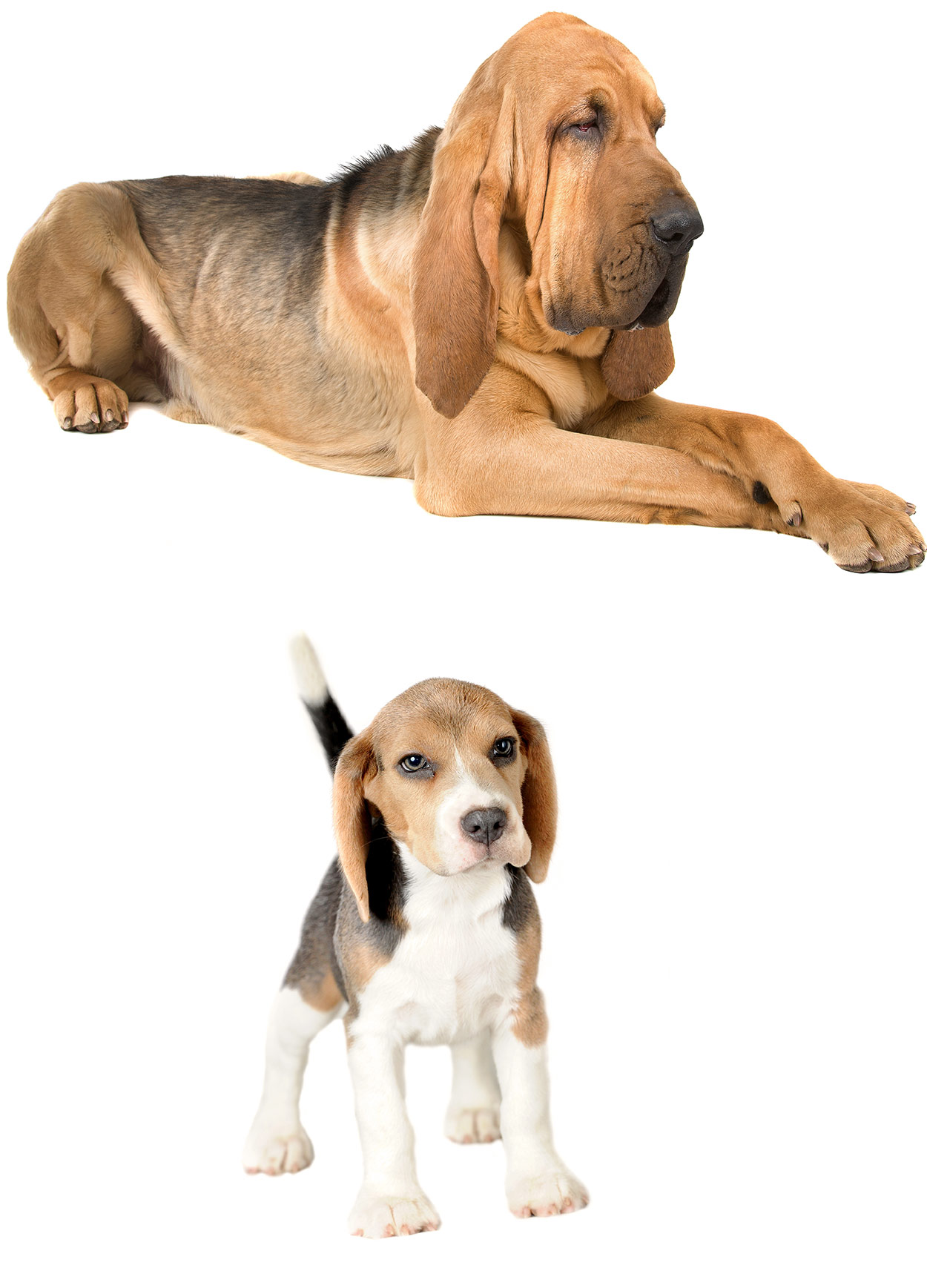 Beagle Bloodhound Mix Personalities
Both breeds are very loyal to their owners, and though independent, they also want to spend time with you.
This mix is suited to a home where they can receive lots of outdoor time, play, and companionship.
It is impossible to predict which behavioral and personality traits your cross bred dog will inherit from his or her Bloodhound and Beagle parent.
Dedicated training is essential whether your dog acts more like a Beagle or a Bloodhound, or vice-versa.
Bloodhound x Beagle health
Looking after your dog's health is an important part of your life together. Cross breeds can be healthier than purebreds because they are created from a larger gene pool, but cross breeds can still inherit genetic diseases from their purebred parents.
Confirm that each parent is health tested for any disorders that could affect your pup; include the recommendations of their parent breeds in your research.
Bloodhounds should be tested for hip and elbow dysplasia and have eye and cardiac evaluations.
Beagles should be tested for hip dysplasia and undergo eye and cardiac evaluation.
Health Risks for Beagles
Beagles can be prone to complications with their eyes; common ailments include "cherry eye," a prolapse of the gland of the third eyelid, which can be addressed surgically, open angle glaucoma, and central progressive retinal atrophy.
Luxating patella is not uncommon in smaller breeds, and although Beagles can suffer from this condition it is often manageable without surgery.
Ear infections are fairly common, but they are preventable through good hygiene and treatable once they've developed.
Hypothyroidism can afflict Beagles, and dogs suffering from it will become lethargic, gain weight, and/or develop skin problems.
Health Risks for Bloodhounds
Bloodhounds are at risk for potentially life-threatening gastric-dilatation-volvulus, or GDV, commonly called "bloat."
It is associated with dogs ingesting too much food at once, GDV will require emergency veterinary intervention to save your dog's life.
As is true of most large purebreds, Bloodhounds are at risk for hip and elbow dysplasia, which can range in severity and lead to arthritis.
Ear infections are common in Bloodhounds because of the size, shape, and placement of the ears, but they are avoidable through routine care and cleaning.
Beagle Bloodhound Mix Life Expectancy
Based on statistics for their parent breeds, it is possible to estimate the life expectancy of your dog.
The average lifespan of a Beagle is between 10 and 15 years.
Bloodhound lifespans generally range from 10 to 12 years.
With good care and good luck, you and your pet will enjoy more than a decade together.
Veterinarians agree that obesity is the most common preventable disease in dogs.
Though it is perhaps natural to believe that "food is love," looking after your pets' weight is vital to their comfort, mobility, and long term health.
Beagle Bloodhound Mix Puppies
As this cross breed gains popularity, it becomes easier to find reputable Bloodhound Beagle breeders who can answer all your questions.
If you can't locate a cross breeder through the internet, a veterinarian, rescue organization, or word of mouth, then consider consulting purebred breeders who might be open to the idea of cross breeding.
Once you've found a breeder, do ask to see the health records of the parents, particularly blood tests and x-rays.
Always keep in mind that your dog's health and behavior will be affected by both genetics and training: nature and nurture.
Though we may wish for conclusive tests for traits, at least one extensive study suggests that any data collected does not reliably predict adult behavior.
Inspect the dogs' living conditions; do your best to judge how receptive the mother and puppies are to human touch, and pay attention to how they interact with one another.
Your intuition is an important guide. Ask all the questions it takes for you to feel confident with your decision. Reputable breeders will welcome your interest in their dogs and feel confident that you will be a good owner.
Ask to see pictures of earlier litters, inquire about the size and traits of those pups, and whether there are any references you can contact.
Is a Bloodhound Beagle mix the right dog for me?
As you begin your search for Bloodhound x Beagle puppies, remember that these dogs require outdoor time, training, attention, and varying degrees of mental and physical exercise.
Apartment or condominium living would not suit the needs of these active hounds. Access to spaces for running, socializing, and trail work are ideal. Proximity to a training center will be important during the puppy months.
All pets become a financial responsibility and will require food, preventative and other types of care, and perhaps boarding or daycare if you travel or work long hours. A cross breed is, in some respects, a roll of the dice.
The puppy will grow into a dog that could be more Bloodhound than Beagle, more Beagle than Bloodhound, or the ultimate gift: the best of both breeds.
Commit to being happy with the gift that is your Beagle Bloodhound mix, a blend of Snoopy and Goofy who is sure to bring joy to your life. Have you got your heart set on this mix? Let us know in the comments!

References and Further Reading
American College of Veterinary Surgeons. 2018. "Gastric Dilatation-Volvulus."
Bradshaw, J.W.S. and D. Goodwin. 1999. Determination of behavioral traits of pure-bred dogs using factor analysis and cluster analysis; a comparison of studies in the USA and UK Research in Veterinary Science
Farrell, Lindsay L. et al. 2015. The challenges of pedigree dog health: approaches to combating inherited disease Canine Genetics and Epidemiology
Glickman, Lawrence T. et al. 2000. Incidence of and breed-related risk factors for gastric dilatation-volvulus in dogs Journal of the American Veterinary Association
Maldarelli, C. "Although Purebred Dogs Can Be Best in Show, Are They Worst in Health? Scientific American.
National Beagle Club: Standard
American Kennel Club: Bloodhound
The Bloodhound's Amazing Sense of Smell:
Plummer, C.E. et al. 2008 "Intranictitans tacking for replacement of prolapsed gland of the third eyelid in dogs" Veterinary Opthalmology