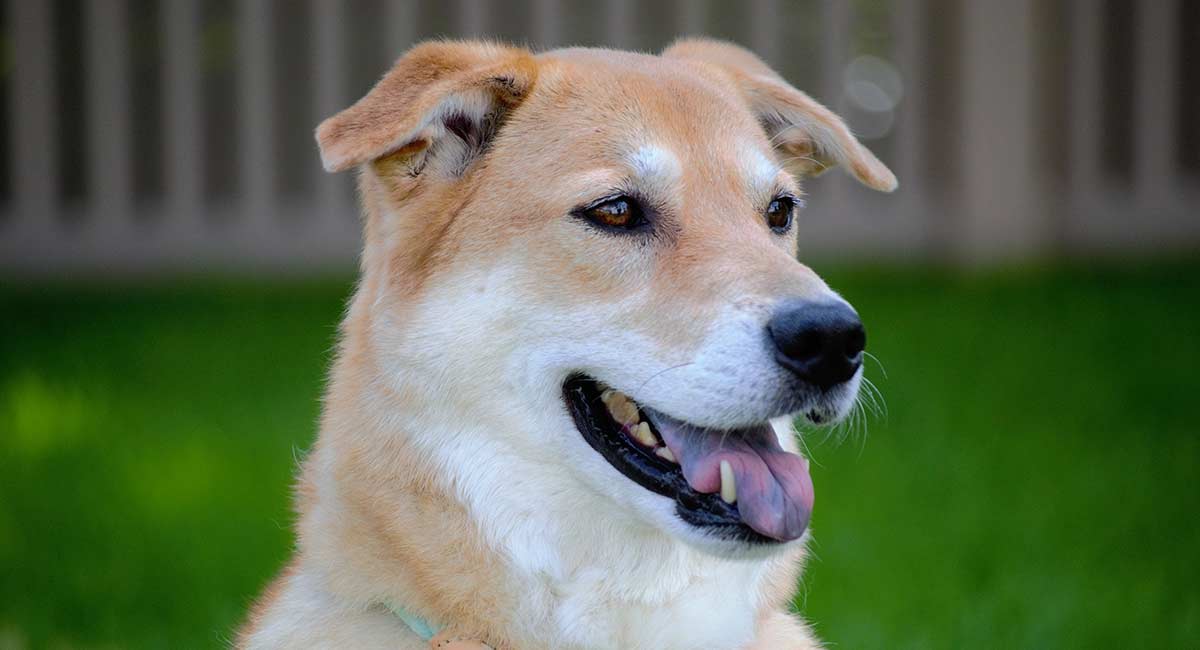 The Akita Lab mix is a hybrid dog, combining the family friendly Labrador with the loyal and hard working Akita breed. They are usually fairly large dogs, with short coats and lighter markings around their muzzle and chest. Labrakita puppies benefit from lots of socialization and positive reinforcement training, bonding strongly to their families. They are strong, powerful pets that love spending time together, but need plenty of exercise and mental stimulation to stay happy and calm at home.
Contents
A Labrakita is likely to have aspects of each parent dog, but which traits transfer to which puppies can feel more like gambling than science in first generation crosses. Although second generations onwards have a bit more practictability when it comes to looks and personality.
Akita and Labrador Origins
The ancient Akita breed calls Japan home and has for 10,000+ years. This hunting class dog works in packs and can bring down surprisingly large, fierce prey. Today, the Akita is a permanent part of Japanese history and culture.
The Labrador Retriever hails from Newfoundland, which today is a part of Canada. This breed arose from a lineage of water dogs and has a wonderful swimming ability and natural love for water.
Size, Height And Weight
This mixed breed tends to be fairly large in adulthood. They can range anywhere from 21 to 28 inches tall, and weigh from 55 to 130lbs.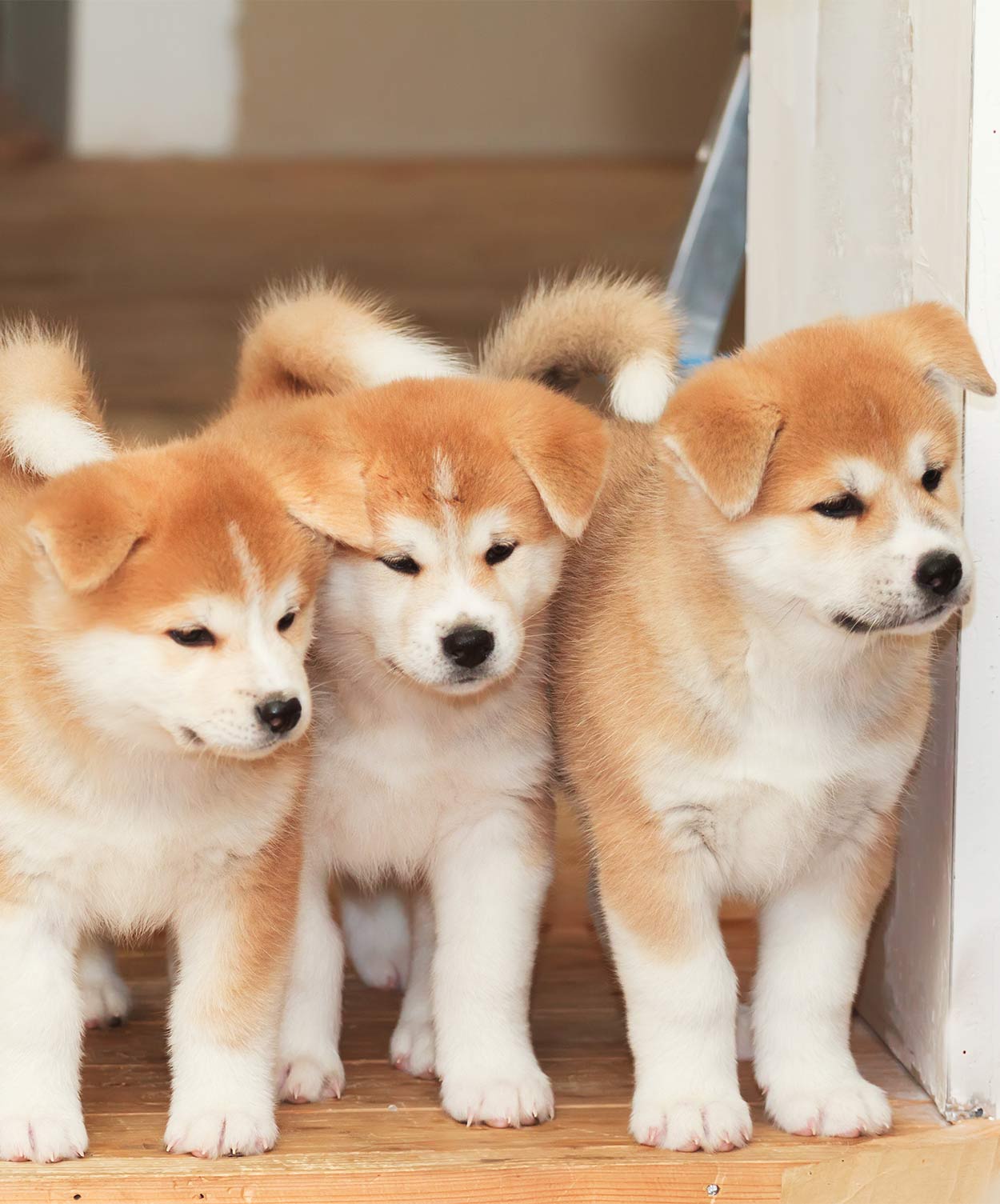 Temperament And Behavior Of An Akita Lab Mix
The Labrakita temperament can range from super-exuberant and playful to headstrong and reserved. This is because of certain differences in the personality and temperament of the Akita versus the Labrador.
The Akita is a truly ancient dog breed that has evolved to hunt in packs of other equally large and intelligent dogs. They are intensely loyal to the point of being considered an excellent guard dog. In contrast, the Labrador is a dog that rarely meets a stranger – everyone is a friend!
These dogs are also incredibly smart and eager for socialization but can be slow to mature (especially if your Labrakita's parent is an English Lab).
The Akita can be very independent and willful and so will need a positive, firm, steady, and consistent training regimen to integrate successfully into the social life of a family.
The Lab also needs early and ongoing positive yet firm training to do well as part of a family and community.
From this, you can already see that your Akita cross Lab puppy will need continuous socialization plus lots of positive reinforcement and training to do well as a pet dog.
Grooming And Care Of Your Akita Lab Mix
In the area of grooming and general skin/coat care, both parent dogs to an Akita Lab mix puppy share some important coat characteristics. This holds true whether you bring home a yellow Lab Akita mix, an Akita black Lab, or a chocolate Akita Lab mix dog.
Both the Akita dog and the Labrador Retriever have short, thick, double-layer, water-repellent coats. They will shed seasonally (an occurrence called "blowing the coat").
The Akita has less doggy odor than the Lab, although both can benefit from an occasional bath.
So you can expect at least weekly brushing and monthly bathing duties for your Labrakita, as well as a certain level of ongoing shedding and a twice-annual big coat shed.
Health Issues Of Akita Dogs And Labrador Retrievers
When buying a puppy you'll want the Akita and Lab parent to have hip and elbow dyplasia tests, and a regular eye screenings.
Despite being a mix, any reputable Akita Lab mix breeder will willingly volunteer results of all required and recommended breed-specific health tests.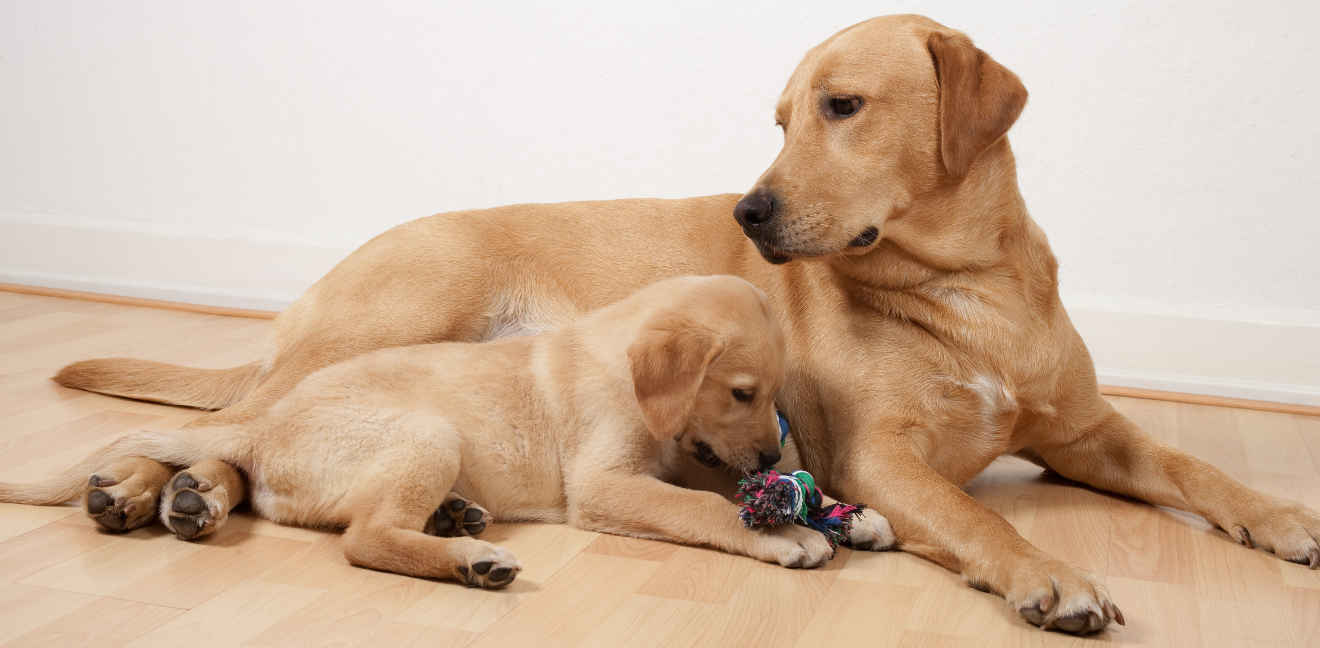 Are Akita Labradors Good Family Dogs?
An Akita Lab mix with good socialization, from friendly parents, and positively trained has the potential to make an excellent family pet. However, there are risks of guarding behaviors, and intolerance towards rough handling by small kids.
An Akita Lab mix can be a good family dog in a family with older children who can learn to handle the puppy appropriately. It is not a great dog choice if you have other vulnerable family pets. Both the Akita and the Lab have a strong prey drive from their shared background as hunting and working dogs.
How To Pick An Akita Lab Puppy
In general, your costs will range from $500 to $1,500+ for an Akita Lab mix puppy. But try to focus more on health and personality than price, if you can. Make sure that you meet both parents. Decide whether you think either one of them or a combination of the two would fit into your lifestyle.
Choose a breeder that is motivated by something more than money. This doesn't mean the cheapest necessarily, but one that has a clear bond with their breeding stock beyond puppy production. Both parents should know their names, and be attached to their owner. They need to look bright, healthy, relaxed and well exercised.