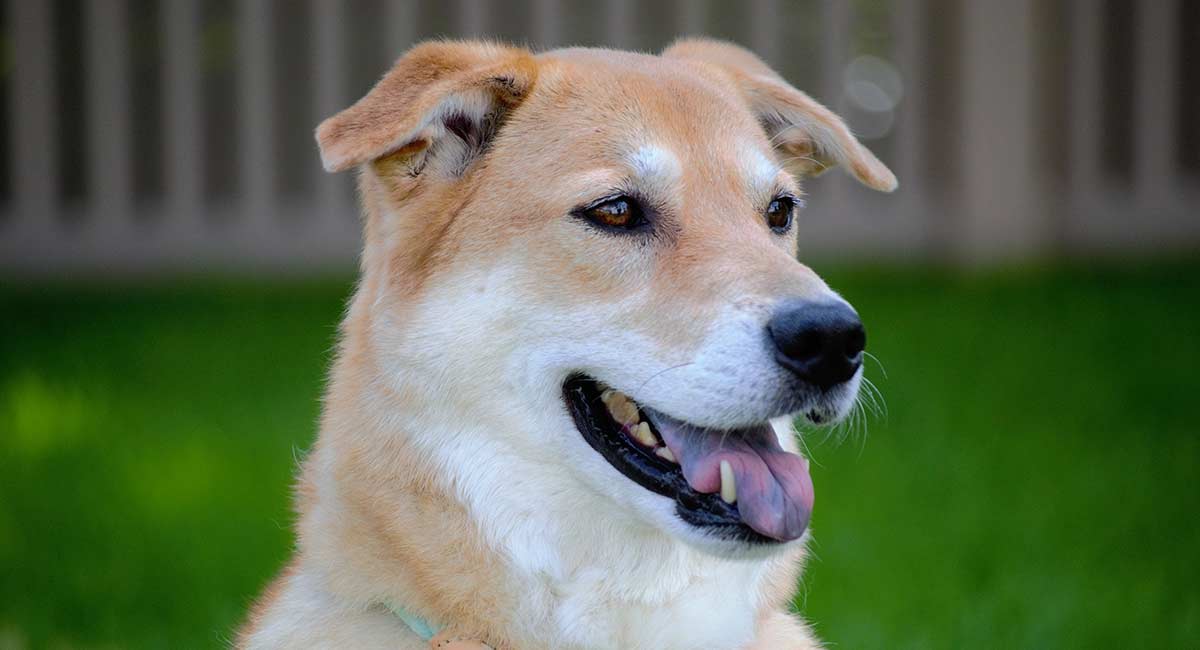 The Akita Lab mix dog is a new hybrid or "designer" dog breed that isn't technically a true breed at all.
But this doesn't mean the "Labrakita" won't achieve breed status at some time in the future.
This mix may become just like the Akita and the Labrador Retriever, this hybrid's parents on official breed lists.
The current popularity of hybrid dog breeds has sparked an intense and ongoing debate.
Owners, breeders, and scientists each have their own unique take on the pros and cons of purebred dogs versus hybrid dogs.
Read on to learn more about this debate and, most importantly, discover everything you need to know about the Akita Lab mix dog as a family pet!
Designer Dogs – What Does Science Tell Us?
The science is clear – hybrid dog breeds can bring newfound vigor (genetic diversity) to any purebred dog breed lineage.
We see this frequently in the wild when biologists are fighting to save a vanishing species without sufficient remaining genetic diversity to repopulate itself healthily.
But in captivity, the practice is not so well known or accepted.
Breeders sometimes feel like crossbreeding dilutes their hard work to develop purebred dog lines.
Owners don't tend to be so picky as long as the pup is healthy and friendly.
This means scientists are for now the foremost proponents of interbreeding in an attempt to alleviate long-standing genetic (heritable) health issues in certain purebred dog breeds.
For example, the purebred Labrador Retriever frequently suffers from cancer, a health issue that seldom plagues Akita dogs.
Here, breeding the two purebred dog breeds together may result in a new breed that is more cancer-resistant.
The Labrakita – An Akita Lab Mix
The Labrakita dog will always have aspects of each parent dog.
But which aspects transfer to which puppies can sometimes feel more like gambling than science!
This is because there is currently no accurate way to predict which traits from either parent dog will appear in a given puppy in a litter of first generation Labrakitas (those whose parents are a purebred Akita and a purebred Lab).
But in second generation or later litters (those whose parents are Labrakitas), predicting how the parent genes will display in each puppy becomes easier.
The first step to learning more about the Akita Lab mix, then, is to learn as much as you can about each parent dog breed!
Origins of the Akita Inu
The ancient Akita Inu (or simply "Akita") breed calls Japan home and has for 10,000+ years.
This hunting class dog works in packs and can bring down surprisingly large, fierce prey.
Today, the Akita is a permanent part of Japanese history and culture.
Interestingly, in Japan when a family welcomes a new baby, a traditional gift is an Akita dog figurine, which is said to symbolize long life and happiness.
Hachiko, the most famous modern Akita, has been memorialized in a film called "Hachi: A Dog's Tale."
Origins of the Labrador Retriever
The Labrador Retriever hails from Newfoundland, which today is a part of Canada.
This breed arose from a lineage of water dogs and has a wonderful swimming ability and natural love for water.
The Labrador Retriever is the most popular pet dog in America and has been for 26 years and counting.
Many families today believe you truly can't go wrong by choosing a Lab!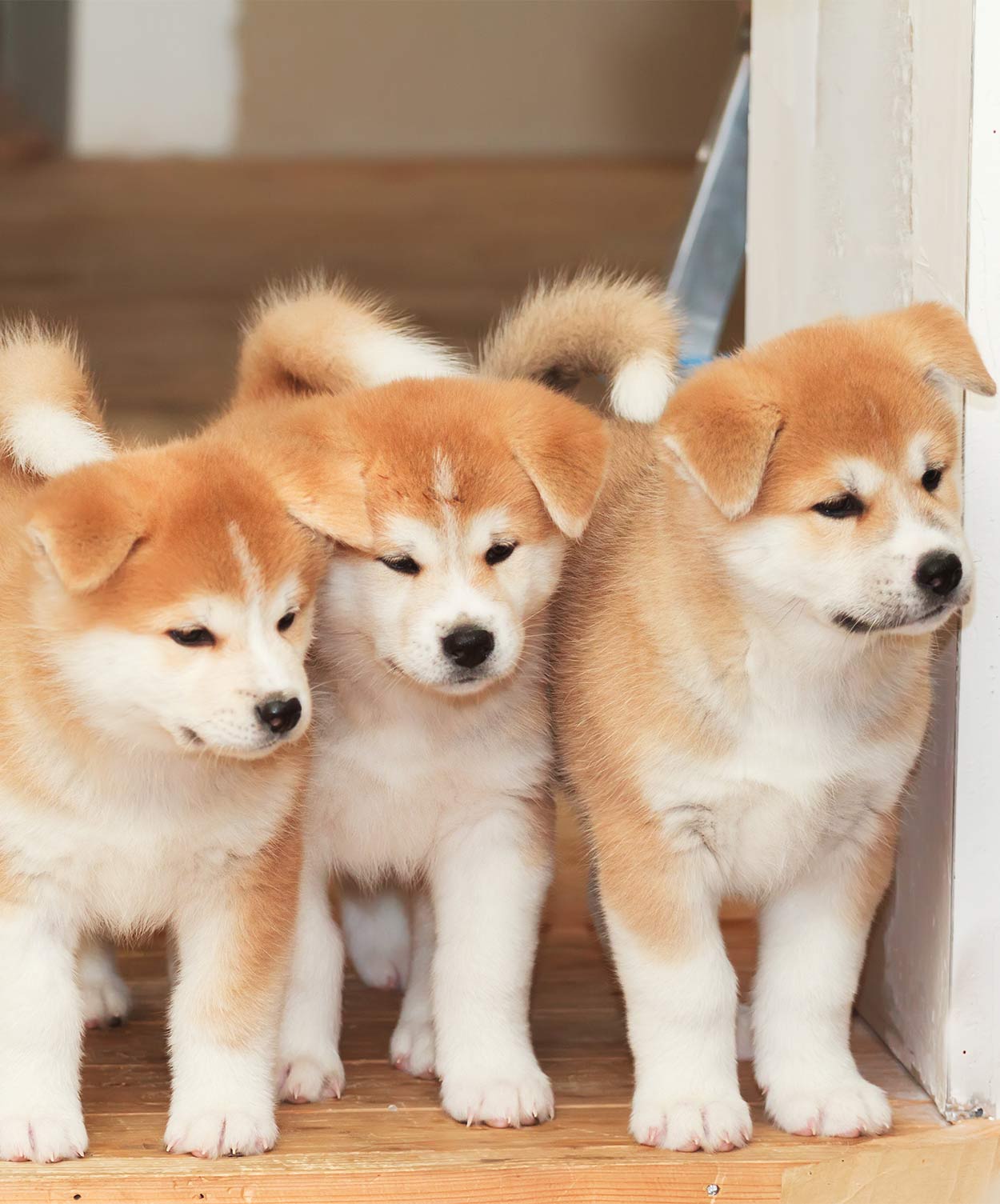 Size, Height And Weight Of An Akita Lab Mix
The Akita Lab mix may vary in size depending on the size, height, and weight of each specific parent dog.
The Akita dog is considered to be a large dog breed.
Females typically stand 24 to 26 inches tall (paw to shoulder) and weigh between 70 and 100 pounds.
Males typically stand 26 to 28 inches tall and weigh 100 to 130 pounds.
The Labrador Retriever is considered a medium-to-large dog breed.
Females tend to stand 21.5 to 23.5 inches and weigh between 55 and 70 pounds.
Males tend to stand between 22.5 to 24.5 inches and weigh between 65 to 80 pounds.
For the most general purposes, this means your Akita Lab cross puppy could stand anywhere from 21.5 to 28 inches tall and weigh anywhere from 55 to 130 pounds when fully grown.
Temperament And Behavior Of An Akita Lab Mix
The Labrakita temperament can range from super-exuberant and playful to headstrong and reserved.
This is because of certain differences in the personality and temperament of the Akita versus the Labrador.
The Akita is a truly ancient dog breed that has evolved to hunt in packs of other equally large and intelligent dogs.
This dog breed is intensely loyal to the point of being considered an excellent guard dog.
The Labrador is a dog that rarely meets a stranger – everyone is a friend!
These dogs are also incredibly smart and eager for socialization but can be slow to mature (especially if your Labrakita's parent is an English Lab).
Socialization And Training Requirements For An Akita Lab Cross
The Akita can be very independent and willful and so will need a positive, firm, steady, and consistent training regimen to integrate successfully into the social life of a family.
The Lab also needs early and ongoing positive yet firm training to do well as part of a family and community.
From this, you can already see that your Akita cross Lab puppy will need continuous socialization plus lots of positive reinforcement and training to do well as a pet dog.
Grooming And Care Of Your Akita Lab Mix
In the area of grooming and general skin/coat care, both parent dogs to an Akita Lab mix puppy share some important coat characteristics.
This holds true whether you bring home a yellow Lab Akita mix, an Akita black Lab, or a chocolate Akita Lab mix dog.
Both the Akita dog and the Labrador Retriever have short, thick, double-layer, water-repellent coats.
Both dogs will shed seasonally (an occurrence called "blowing the coat").
The Lab will shed more profusely year-round than will the Akita.
Both dogs benefit from weekly brushings.
The Akita has less doggy odor than the Lab, although both can benefit from an occasional bath.
So you can expect at least weekly brushing and monthly bathing duties for your Labrakita, as well as a certain level of ongoing shedding and a twice-annual big coat shed.
Health Issues Of Akita Dogs And Labrador Retrievers
The official Akita breed health statement recommends that breeders test all parent dogs for:
hip dysplasia
elbow dysplasia
eye issues
autoimmune thyroiditis
(optionally) patellar luxation
The official Labrador Retriever breed health statement recommends that breeders test all parent dogs for:
hip dysplasia
elbow dysplasia
exercise-induced collapse
eye issues
thyroid issues
heart issues.
Any reputable Akita Lab mix breeder will willingly volunteer results of all required and recommended breed-specific health tests so you know the parent dogs of your puppy are healthy enough to breed.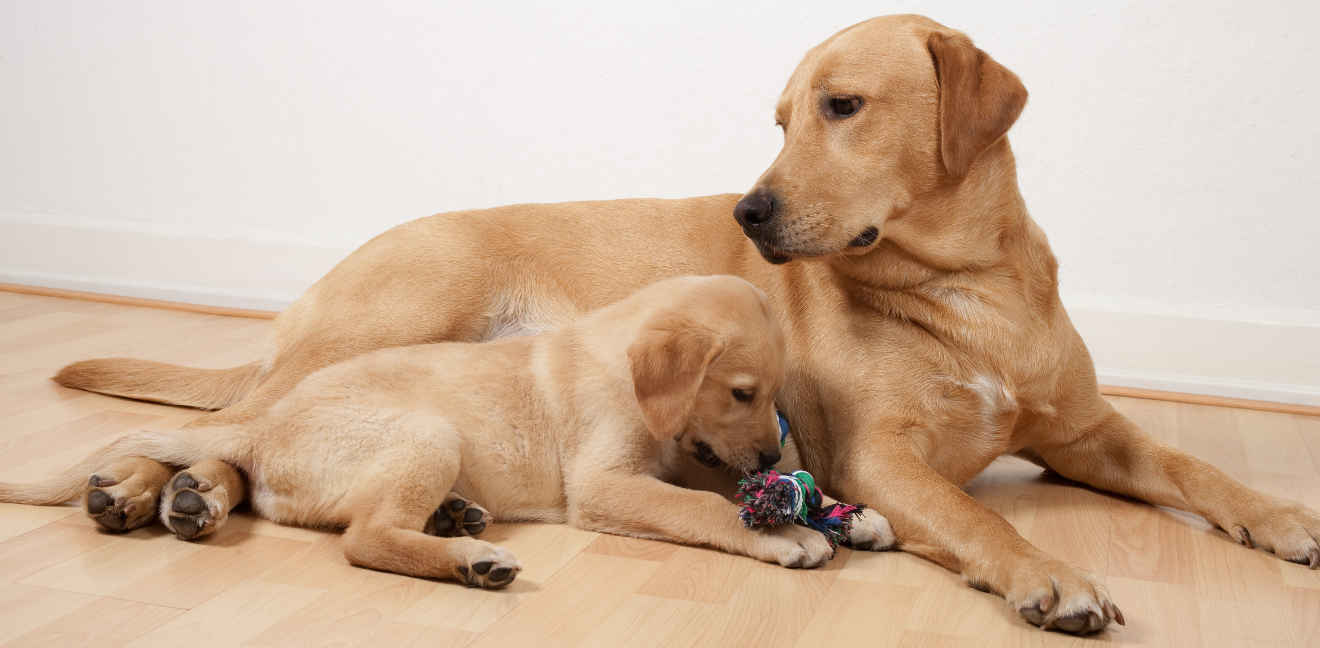 Are Akita Labradors Good Family Dogs?
The best way to answer this question is to take a look at each parent dog's personality.
The Akita is considered to be a good family dog.
However, breeders caution that this dog can lack the patience to tolerate the rough play and inexpert handling of small children.
In contrast, the Labrador Retriever is a wildly popular family dog.
This breed is great with family members of all ages.
Labs are arguably the most popular pet dog in the world.
This interesting combination of traits means the Labrakita may or may not make a good family dog in your situation.
The Ideal Home For A Labrador Akita Mix
An Akita Lab mix can be a good family dog in a family with older children who can learn to handle the puppy appropriately.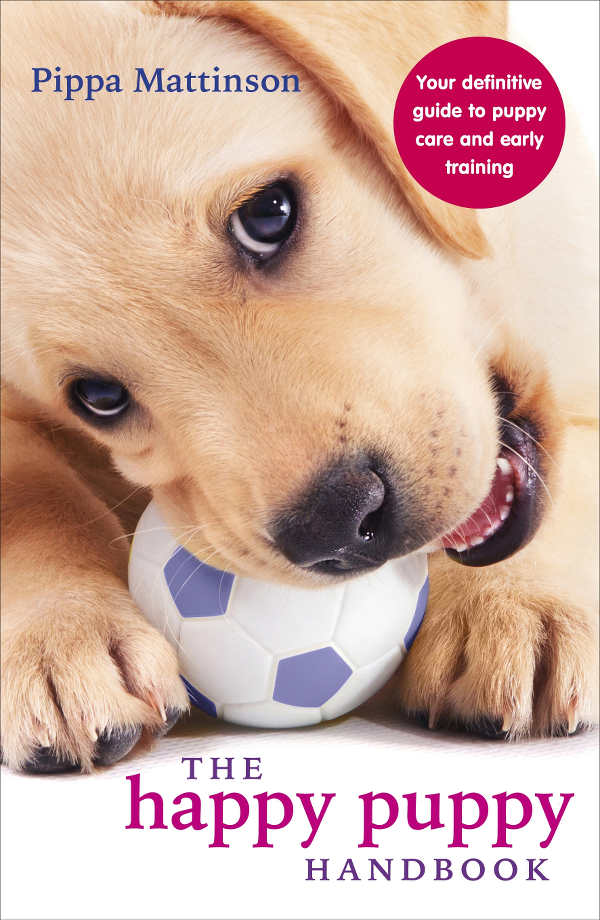 The Labrakita is not a great dog choice if you have other vulnerable family pets.
Both the Akita and the Lab have a strong prey drive from their shared background as hunting and working dogs.
How To Pick An Akita Lab Puppy
As we touched on earlier, the first step towards selecting Labrakita puppies is deciding whether you want a first-generation hybrid (one parent being an Akita dog and the other being a Labrador Retriever) or a second generation or later hybrid puppy (one or typically both parents being Labrakitas).
Akita Lab puppies are going to be cute no matter what generation they are from!
So it is very important to make this decision before you go to look at a litter!
In general, your costs will range from $500 to $1,500+ for an Akita Lab mix puppy.
Show lineage, parent pedigrees, birth order, gender, show versus pet quality, color, size, and other traits can impact your purchase price.
Don't forget to have the breeder show you the results from any health tests done on the parents.
Should I Get An Akita Black Lab Mix?
Akita Lab mixes are strong, powerful dogs, but they aren't for everyone. If you think this breed isn't the right fit then why not check out some other guard dogs and see if they are a better match. The Doberman, Rottweiler, German Shepherd and even the unusual Keeshond could be interesting options.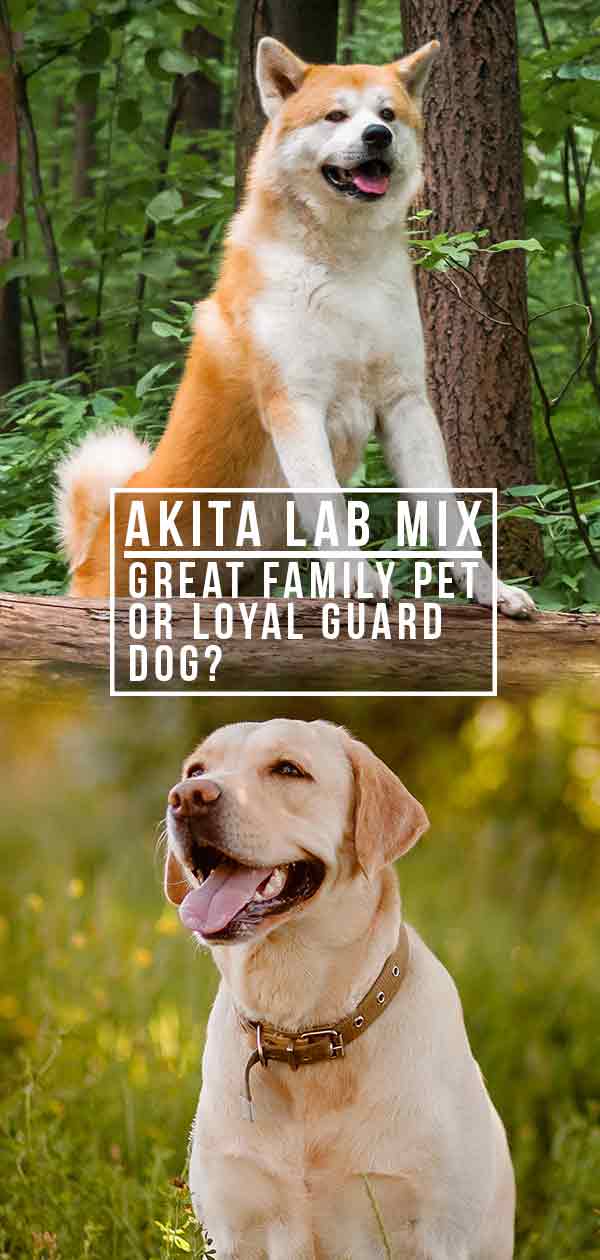 Sources
Moskalenko, M., "Crossbred cat embryos frozen in Siberia will save endangered species," Russia Beyond, 2016.
Bennington, S., "Color Myth," Moonlit Labradors, 2018.
Pilot, M., "Widespread, long‐term admixture between grey wolves and domestic dogs across Eurasia and its implications for the conservation status of hybrids," Wiley/University of Lincoln UK, 2018.
Faith, C., "Dogs That Changed the World," PBS Nature, 2010.
Soto, S., "Breed History/Official Health Statement: Akita," The Akita Club of America, 2018.
Kampo, F., "Official Health Statement: Labrador Retriever," The Labrador Retriever Club, Inc., 2016.