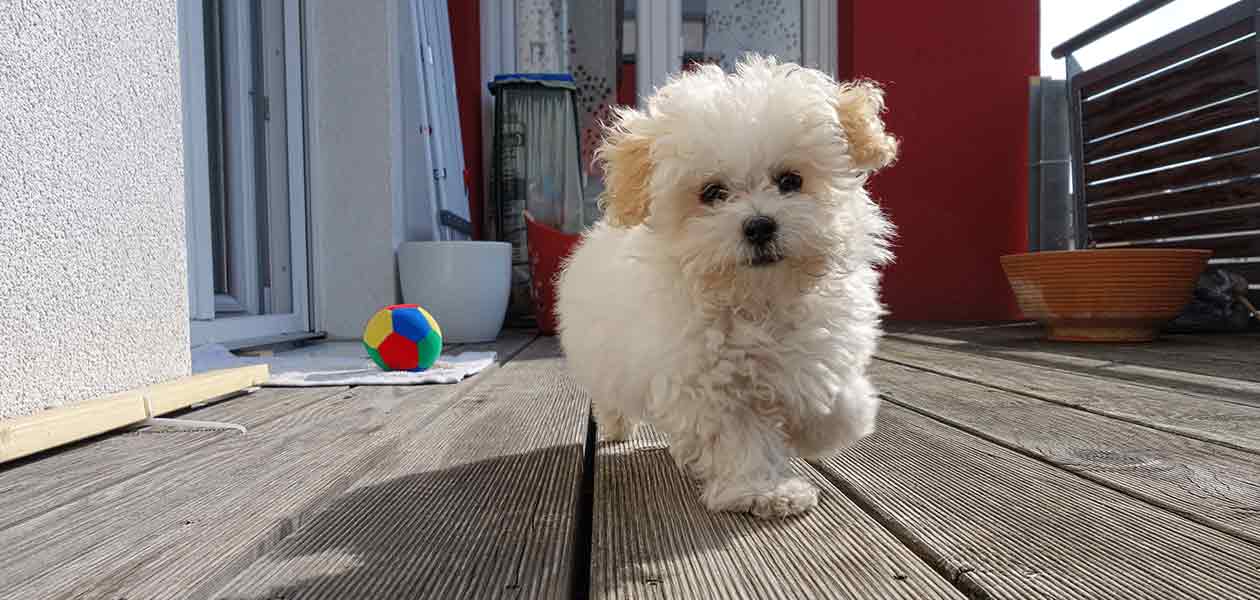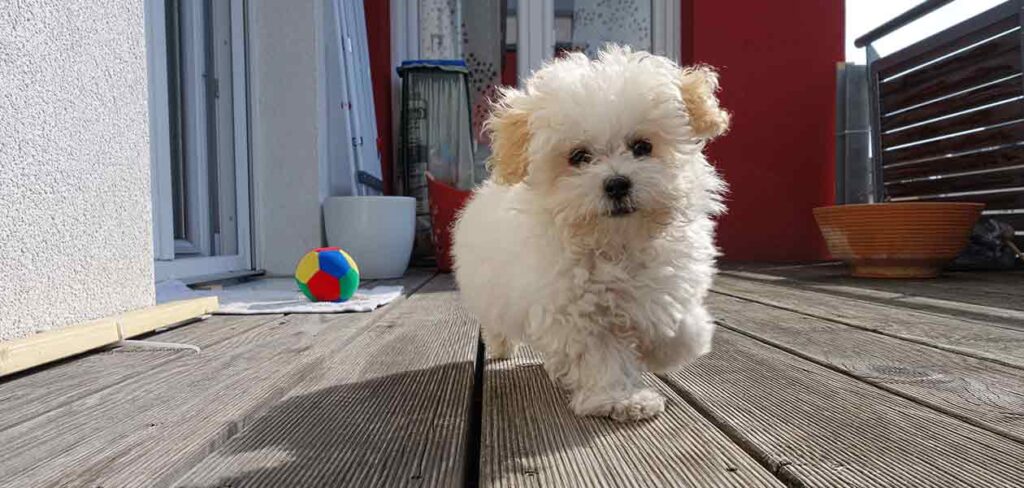 The teacup Maltipoo is a smaller version of the Maltipoo, a designer breed that is a cross between a Maltese and a Toy Poodle. As adult dogs they usually weigh between 5 to 10 pounds, but they can be even smaller depending on how they're bred. This hybrid puppy has a fluffy, low shedding coat, show legs and a soulful expression. But sadly they can also suffer from some rather serious health problems, and occasionally come with a bit of an attitude!
Contents
Where Do Teacup Maltipoos Come From?
There are three ways to make a miniature dog, all of which have a degree of controversy and notable drawbacks. Breeders can add other smaller dogs into the mix, introduce dwarfism genes, or breed from the smallest puppies, or runts of the litter.
Mixing with Smaller Breeds
One of the methods of breeding a teacup Maltipoo is by breeding the standard Maltipoo with a different, smaller breed. The advantage of this is that it can reduce the risk of puppies developing predisposed health issues by increasing genetic variety.
However, there aren't many dogs smaller than the Maltipoo to choose from! Plus, crossing two breeds is a game of chance. There is no guarantee a micro Maltipoo dog bred this way will look like a Maltipoo. It may instead look more like its other parent breed.
Here are some crossbreeds commonly advertised as teacup Maltipoos by breeders.
Maltipoo Maltese Mix
One way to make a smaller Maltipoo which still matches its name perfectly is by breeding with a particularly small individual from the parent breed.
The smallest Maltese can weigh as little as 5 pounds, whereas a Maltipoo born from an average sized Maltese and Toy Poodle could easily weigh more than 10 pounds.
Mating a Maltipoo to a very tiny Maltese will create a teacup Maltipoo more likely to resemble a Maltese, as they'll be three quarters Maltese.
This makes them more likely to have the Maltese's playful and pleasant temperament. But it also increases their chances of inheriting certain predisposed health issues. These include heart abnormalities, liver issues, and luxating patella (loose kneecaps).
Maltipoo Toy Poodle Mix
The Poodle is the other parent breed of the standard Maltipoo. So it makes sense that breeders often crossbreed with the smallest Poodle to create the teacup dog.
Toy Poodles are the most popular choice. They're under 10 inches tall and weigh as little as 4 pounds.
As with the other mix, a teacup Maltipoo bred this way is more likely to resemble a Poodle. Toy Poodles are intelligent and loving. But they are also at risk of passing down predisposed health issues such as hip dysplasia and eye conditions.
Maltipoo Chihuahua Mix
Chihuahuas are the smallest recognized dog breed, making them a viable choice for breeding the teacup Maltipoo.
Standing at only 5–8 inches tall, their offspring is likely to have the teacup size.
Chihuahuas have charming temperaments but can be a bit stubborn, a trait which the Maltipoo mix can inherit.
They're genetically predisposed to heart issues, eye diseases, and luxating patella also. There is a chance a Maltipoo Chihuahua mix will inherit these problems.
Bear in mind that a teacup Maltipoo bred using this method may resemble a Chihuahua more than a Maltipoo.
Introducing Dwarfism Gene
Another way to get teacup Maltipoos is by introducing the dwarfism gene. Dwarfism is a condition that restricts growth, resulting in a dog with a small body and legs. Normally dwarfism occurs due to mutations. But breeders may purposely breed dogs to have it to give them the teacup size.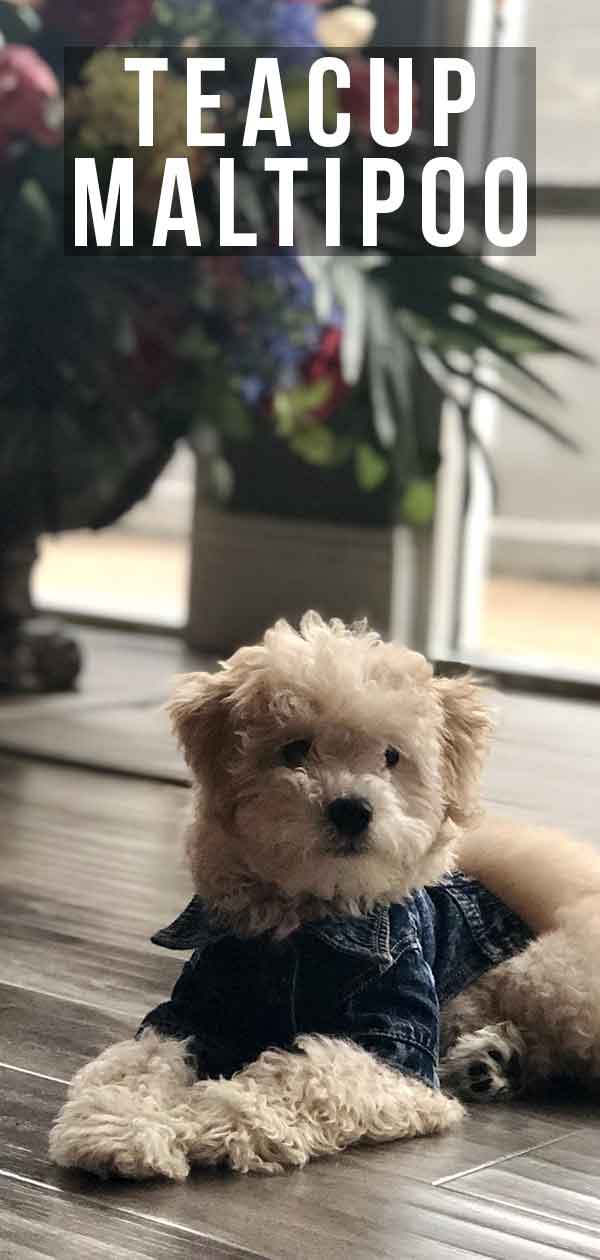 Breeding From Runts
Finally, the last method for breeding teacup Maltipoos is by breeding two runts together. A runt is the smallest and least developed member of a litter. Runts are often sickly and more vulnerable than the rest of their littermates.
By breeding them together, breeders achieve the teacup-sized dog, especially over a couple of generations.
Teacup Maltipoos bred this way have an increased likelihood of developing immune system problems and heart conditions later on in life. To avoid getting a teacup Maltipoo bred from runts, you should ask breeders to view their dog's genetic history.
Teacup Maltipoo Appearance
The appearance of a teacup Maltipoo will depend on the way their small size is created. If a mini Maltipoo is made by mixing a Maltipoo with a smaller breed, they could look more like either parent.
Teacup Maltipoos with dwarfism will have shorter legs and larger heads. And those made by breeding runts are most likely to look like smaller versions of the two parent dogs.
Mini Maltipoos will be small dogs. Both the Poodle and Maltese parents are known for having beautiful fur, so expect this in your mini version! The best way to predict what your puppy will look like is to take a look at the parents.
How Big Are Teacup Maltipoos?
Just like everything else in your dog's appearance, micro Maltipoo size will depend on how the breed has been created.
Generally, these tiny dogs will grow to be under 10 pounds as adults. The name teacup comes from the tiny size of these pups. So, most mini Maltipoos will be small enough to fit in the palm of your hand.
But, there will still be variety among individual puppies, depending on how they were bred.
Teacup Maltipoo Temperament
Your mini pup's temperament and personality will depend on how he was bred just as much as his appearance will. The best place to look for a prediction of what your Maltipoo will be like is the parent breeds.
This dog is a miniature version of an already mixed breed. So, even standard Maltipoos may be more like a Poodle or a Maltese. In general, these little dogs will be friendly, intelligent, and loyal.
The Appeal of Miniature Dogs
Teddy bear dogs have been a huge trend in recent years. And the mini Maltipoo fits that bill with its large dark eyes and wonderful soft fur.
For some people, the practical aspects of having a tiny dog are also an appeal.
Smaller size typically means less exercise is required. So, they might be a good choice for someone who can't provide lots of walks.
They also take up less space, which might suit someone with a small apartment.
Small dogs also eat less, and even if they do shed, the amount of visible lost hair is less.
Potential Problems
The teacup Maltipoo will be prone to the same health issues as a regular Maltipoo. But, there are some other problems linked specifically to the size of this dog.
Fragility
Miniature dogs like this will have fragile bones and bodies in general.
This means they are vulnerable to broken bones, and other serious injuries if they are handled incorrectly.
Brain Problems
Teacup dogs like the mini Maltipoo are prone to problems with their brain. One of which is called Hydrocephalus, which involves a buildup of fluid on your dog's brain.
This problem puts pressure on the brain, causing symptoms such as seizures, blindness, or altered gaits. Surgery or lifelong medication is often the only solution.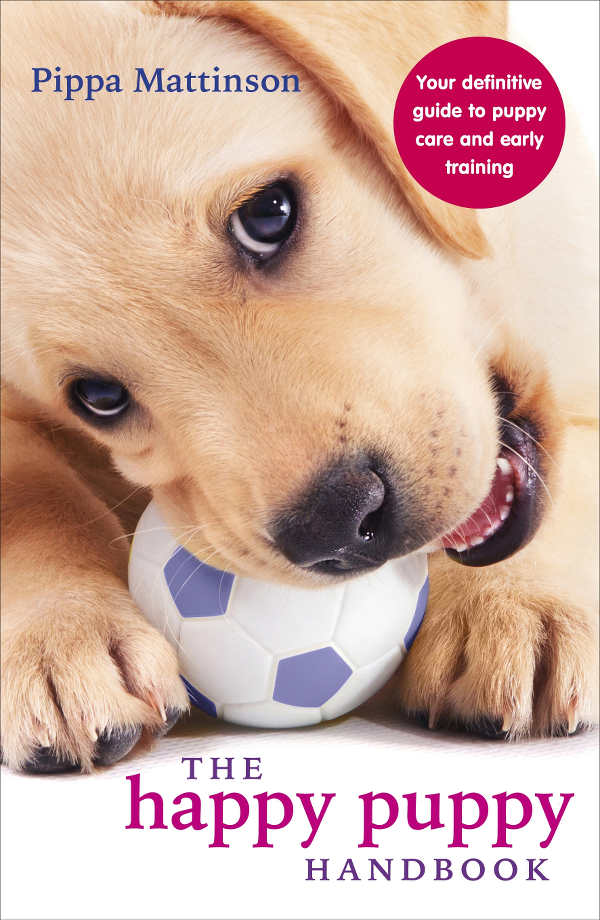 On top of this, tiny dogs can be more prone to increased stress and poor mental health. These dogs need calm environments to lead the happiest lives possible.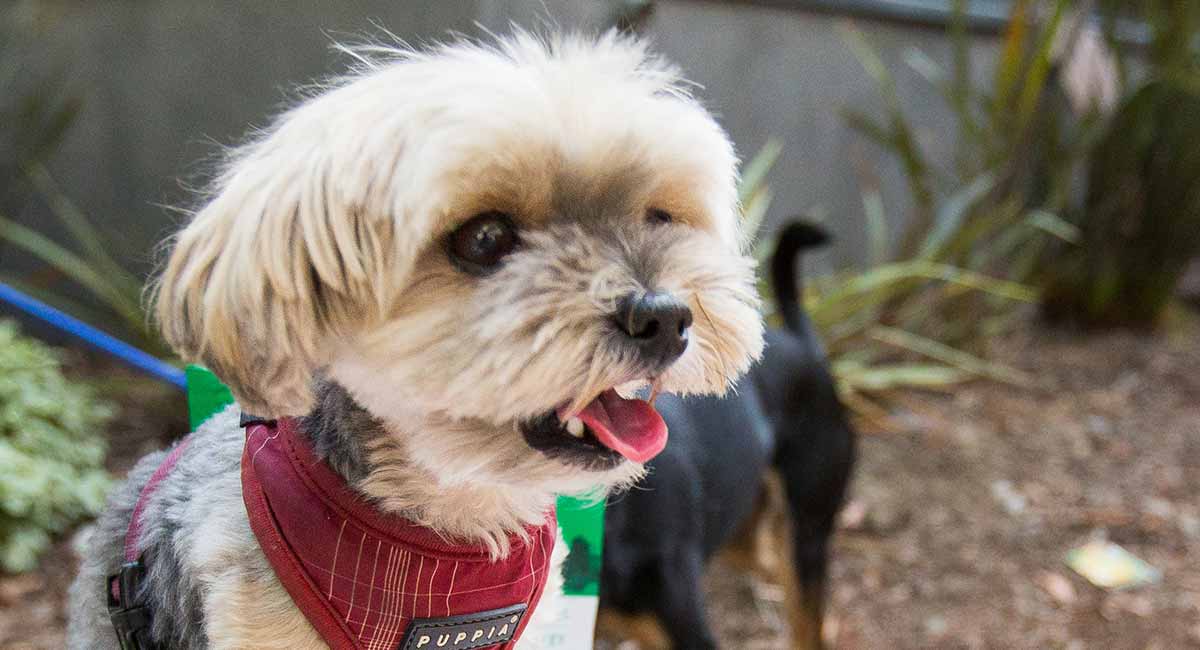 Heart and Bladder Defects
Their tiny size means that teacup dogs like the mini Maltipoo are also prone to heart disease. Common problems include enlarged heart and dilated cardiomyopathy.
Having such tiny organs means that miniature dogs like this can also struggle with incontinence. Their bladders are simply too small to hold on for long periods of time.
You should also be aware of and watch out for liver shunts and hypoglycemia (low blood sugar).
General Care
Because of their many potential health issues, a teacup Maltipoo needs a family that can provide plenty of care. They will need a good quality dog food, possible one designed for small breeds, regular exercise, and a calming environment at home to minimise stress.
Mini Maltipoos will need regular grooming to keep their fur looking its best.
They need plenty of company. But, they should never be left with someone inexperienced, or too young to know how to handle such a delicate little dog.
Teacup Maltipoo Puppies
Mini Maltipoo puppies will be tiny dogs. So, they need plenty of care and really delicate handling. As small teddy bear dogs are so popular, you might have to pay quite a bit in order to get a puppy.
Dogs from puppy mills are more likely to have serious health problems in the future. You can find the healthiest puppy possible by going to a reputable breeder. But as the teacup Maltipoo is not a recognized breed, finding one might be a struggle.