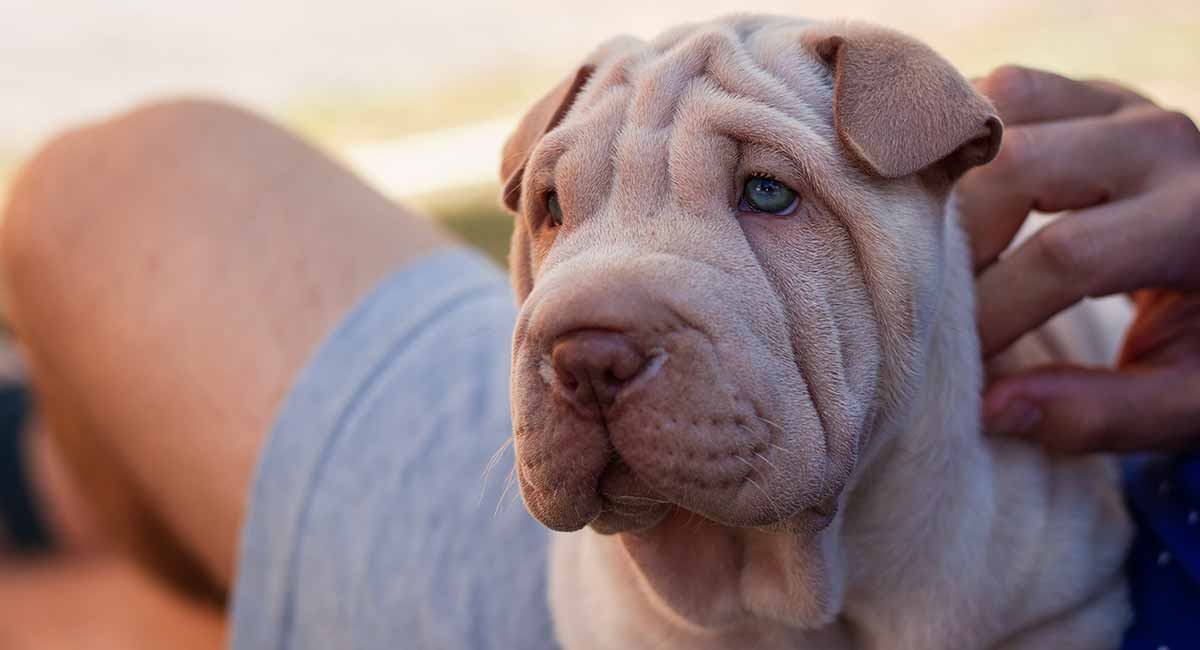 Despite a hard-working history and turbulent past, today's Shar Pei temperament is primarily that of a loyal and beloved companion. Calm and confident, this is an intelligent and independent animal. However, they're also known to be dominating and may have a stubborn streak and have held onto their fighting fierceness. This can lead to aggression towards both people and other dogs. Needless to say, this is a breed who needs to be socialized and trained early.
Contents
Although they're not typically prone to barking, these dogs can make other loud noises. Snoring, snorting, grunting, and grumbling are in their catalog of sounds.
The Shar Pei is a curious fusion of unusual physical characteristics. As if the broad "hippopotamus" head, small sunken eyes, blue-black tongue, and scowling expression weren't unique enough, this dog's sandpaper-like skin covers him in folds that fit like a bulky coat.
The Shar-Pei is a medium-sized and sturdily-built dog who stands from 18 to 20 inches and weighs between 45 to 60 pounds. Almost as unique as their appearance is their long and singular history.
Hunter, Herder, Guarder, Fighter
The Shar Pei is a distinctly Chinese breed. Their origins date back more than 2,000 years to the Han Dynasty. This intelligent, rugged canine was believed to have been a peasant's dog. This accounts for his versatility and ability to take on various roles over the years including: hunter, herder, guard dog, and pit fighter.
When the communist regime took over China in 1949 they slaughtered much of the dog population. Luckily, a few of these dogs survived in Hong Kong and Taiwan.
When the breed was nearly facing extinction, a 1971 magazine article featured a photo of the Shar Pei. It described the dog as "one of the last surviving specimens of the breed."
This caught the attention of a Hong Kong breeder named Matgo Law who wrote a letter to the magazine and urged Americans to save the breed. Dog lovers responded and thankfully ensured the Shar Pei's survival.

Are They Easy to Train?
Training can go either way with this breed. On the one hand they're extremely intelligent, but they can also be very willful and want to do things their own way.
Consistent, positive reinforcement that uses plenty of treats and praise is the best way to get your Shar-Pei to see things your way. Using harsh words or punishment won't get you anywhere and could even trigger aggression.
Early socialization, that exposes your puppy to a wide variety of experiences, people, and other pets in a controlled and pleasant environment, has proven to play a large role in the development of a well-adjusted adult dog.
Are Shar Pei Dogs Protective?
These are dogs who will be devoted to their owners and often forge a very tight bond with one family member in particular. Their instinct to protect can kick in if they sense the slightest danger to their loved ones.
Even an unusual sound or an unfamiliar person can cause them to react. This makes them excellent guard dogs, but they can be overly defensive if not properly socialized and trained.
Aggressive Temperament Traits
Because of the Shar Pei's pit-fighting past, he may become aggressive in defending himself.
In fact, poorly socialized dogs can be downright dangerous. One study found the Shar-Pei to be very aggressive
Generally this aggression is directed towards other dogs, especially if they're of the same sex.
His standoffish demeanor and natural suspicion of people he doesn't know can also be interpreted as aggression.
Ensuring your dog is getting enough exercise can go a long way in reducing unwanted behavior. Moderate activity can sometimes be enough to burn off energy that could otherwise result in aggression.
Alternatively you could give this intelligent dog a job to do. Whenever he performs the tasks you've assigned him correctly, make sure to reward him.
This 2016 study shows that poor health can also affect fear and aggression in dogs. And unfortunately, the Shar-Pei is a breed with a multitude of genetic health concerns.
Do They Like Other Dogs?
The Shar-Pei is not a dog who likes to hang out with his own kind.
For that reason, bringing them into a home with another dog can lead to trouble.
Cats and other small animals won't fare much better as the Shar Pei's hunting instincts can kick in and cause them to chase and grab any creature that tries to get away.
Properly socializing a Shar Pei from a young age can prevent the assumption that all other dogs are a threat.
Taking your puppy to the dog park or obedience classes are good ways to expose them to a variety of other breeds.
However, this is never going to be a dog who's crazy about other canines in his face or his space.
Natural Instincts
Although the Shar Pei is essentially calm, cool, and confident, they retain their fighting instincts and won't back down when confronted.
Remember, their famous loose wrinkled skin enables this dog to continue fighting, even while another dog attacks.
Early socialization is essential for the Shar Pei. Aggression towards other dogs, and in some case strangers, is not uncommon in this breed.
Their instinct to guard can make him an excellent watchdog. However, it's important to teach your Shar Pei that not every person he doesn't know is a threat.
Shar Peis also have hunting and herding in their heritage. As a result they may try to chase and catch smaller animals.