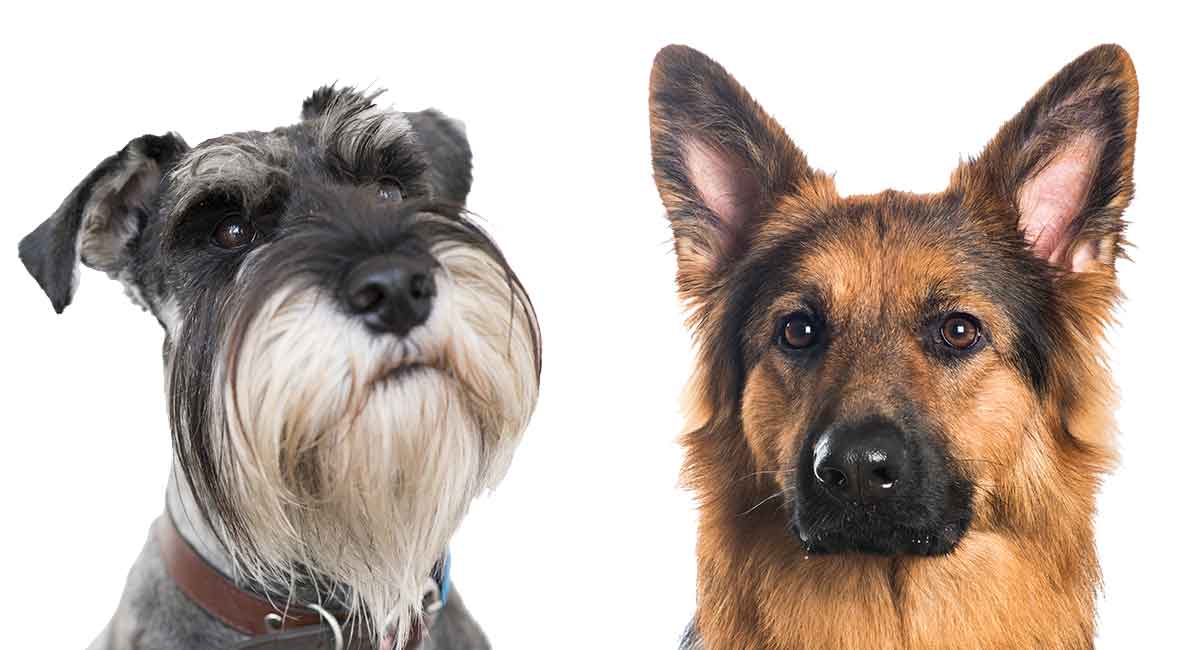 The Schnauzer German Shepherd mix combines two breeds with German heritage.
These dogs are quite different in appearance. However, both dogs are known for being highly intelligent and boldly fearless.
They also share a versatile working history.
Are you wondering if this hybrid breed is the right dog for you?
We'll look at everything about them. From their origins and temperament, to exercise requirements and health problems.
But first, let's look at the controversy surrounding mixed breeding.
The Designer Dog Debate
The Schnauzer German Shepherd mix is just one of a multitude of mixed breeds or designer dogs.
Over the last few decades crossbreeding has become hugely popular. It has also created a lot of debate in the canine world.
Find out what happens when a German Shepherd is crossed with:
Those who crossbreed will argue the merits of widening the gene pool. As they see it, they're creating dogs who are less likely to pass on genetic diseases and deformities.
However, in terms of physical appearance and behavioral traits the outcome is completely unpredictable.
In fact, even puppies from within the same litter can look quite different from each other.
Where Does the Schnauzer German Shepherd Mix Come From?
There's not a lot we know about where this relatively rare mixed breed originated. We can figure out what to expect in this dog by looking at each parent.
Schnauzer Origins
The Schnauzer's history dates back to the Middle Ages and the farms of Bavaria.
These versatile dogs were true multi-taskers. They worked as ratters, herders, guardians, and hunters.
Schnauzers descended from early European herding and guardian breeds. These medium-sized dogs were the original prototype of the three Schnauzer types.
In the mid-19th century, the dogs that are now referred to as the Standard Schnauzer, were crossed with other breeds. The Miniature and the Giant Schnauzer were the result.
German farmers bred the Miniature Schnauzer to work as barnyard ratters.
In the mid-1800s the Giant Schnauzer was bred to herd cattle and work as a guard dog.
German Shepherd Origins
In the late 19th century a German cavalry officer named Captain Max von Stephanitz set out to develop the ultimate herding dog.
Various German herding breeds were the ancestors of the German Shepherd.
Sheep-herding of course, declined. The breed's exceptional intelligence, agility, and speed was adapted for other canine occupations. Today they can be found doing police and military work.
These dogs excel in these roles.
Fun Facts About the Schnauzer German Shepherd Mix
When Schnauzers worked as ratters, their thick whiskers protected them from getting bitten by the vermin they hunted.
Originally known as Wire-haired Pinschers, the breed's name was changed to Schnauzer by the early 1900s.
Jake Gyllenhaal, Joe Biden, Ben Affleck, and Shania Twain are among famous German Shepherd owners.
A female German Shepherd named Buddy was the world's first seeing eye dog.
Schnauzer German Shepherd Mix Appearance
Puppies can inherit more physical traits from one parent, or be a combination of both. There's no way of knowing exactly what a Schnauzer German Shepherd mix will look like.
Taking a closer look at each breed will give us a better idea.
Schnauzer Appearance
The Schnauzer is a medium-sized dog with a squarely-built frame. It's covered in a tight-fitting, wiry coat that's black or salt and pepper.
An elongated head features a blunt muzzle covered in the characteristic Schnauzer whiskers.
Bushy eyebrows arch over deep-set eyes that display a keen intelligence.
They stand from 17.5 to 19.5 inches at the shoulder and weigh between 30 and 50 pounds.
The Giant Schnauzer is considerably larger. It stands at 23.5 to 27.5 inches and weighs up to 85 pounds.
German Shepherd Appearance
The powerful German Shepherd stands from 22 to 26 inches and weighs between 50 and 90 pounds.
Agile and well-muscled, they create a smooth, graceful silhouette from their deep chest to their strong hindquarters.
The head is chiseled with dark eyes, an intelligent expression, and moderately pointed ears.
Their medium-length, double waterproof coat comes in several colors. These include: black, black and tan, red and black, black and silver, sable, or grey.
Schnauzer German Shepherd Mix Temperament
Temperament, like appearance, can be inherited from either parent.
However, in the case of the Schnauzer German Shepherd mix, these breeds share some qualities. This includes guarding and aggression. Guarding instincts can be a double-edged sword.
They can be an excellent watchdog. However, guarding tendencies can also make them overly protective, territorial, and wary of strangers. This Australian study found the German Shepherd to be one of the most aggressive breeds.
The Schnauzer is also known to show signs of dominance and aggression. There can be an aloofness towards people and dogs he doesn't know.
You want your puppy to grow up to be friendly and confident. So, it will be important to socialize them thoroughly as early as possible. Both parents are also touted for their keen intelligence and loyalty.
The Schnauzer can have a strong personality and be quite independent. They're also known for being playful, loving companions.
Courageousness and confidence define the German Shepherd temperament. That being said he can also be a gentle, loving pet.
Ensuring you raise a well-mannered and adaptable Schnauzer German Shepherd mix comes down to a few things. These include early training, good breeding, and providing them with plenty of exercise and attention.
Training Your Schnauzer German Shepherd Mix
Early socialization is important for any breed. When you're dealing with a large, powerful dog who's prone to aggression, it's vital.
Being highly intelligent can make training a breeze, but these dogs may also get bored easily.
Schnauzers have an independent mind and may want to do things their own way.
Training a Schnauzer German Shepherd mix will require a few things from you. This means consistency, positive reinforcement, plenty of socialization, and obedience training.
Exercising Your Schnauzer German Shepherd Mix
Combining two very active and clever dog breeds means providing them with plenty of exercise and mental stimulation.
One to two hours of vigorous daily activity is de rigueur.
The Schnauzer German Shepherd mix will enjoy playtime with their family.
If left on their own too often they can become bored and destructive.
Considering their lineage, this dog should excel at performance sports such as agility and herding.
This can provide an excellent outlet for pent-up energy.
Schnauzer German Shepherd Mix Health
The Schnauzer is an overall healthy breed with a lifespan of 13 to 16 years. However, the German Shepherd has a considerably shorter average of 7 to 10 years.
As a crossbreed, the Schnauzer German Shepherd could be prone to any of the genetic health issues that affect his parents. This risk increases if both the sire and the dam are predisposed to the same conditions.
Hip dysplasia is a concern, as it is for many large breeds. This study found German Shepherds in particular to be at a high risk for this condition. It can lead to crippling arthritis of the joints.
The Schnauzer parent should also be tested for eye disorders and cardiomyopathy. This disease causes the heart muscle to becomes enlarged.
German Shepherds are prone to bloat. This is serious condition that causes the dog's stomach to become distended with gas.
Skin diseases and an incurable disease of the spinal cord known as degenerative myelopathy also affect the breed.
Grooming and Feeding a Schnauzer German Shepherd Mix
Grooming requirements will depend on which coat your Schnauzer German Shepherd mix has inherited.
Although both have double coats, they're quite different in texture.
The Schnauzer's harsh, wiry coat requires regular grooming to prevent matting.
They also need to be trimmed or clipped, but many owners opt to have that done by a professional groomer.
The German Shepherd's medium-length, dense coat sheds profusely once or twice a year.
They need to be groomed twice a week throughout the year and daily during shedding periods.
Choose a high-quality food that's appropriate for their age and size.
Do Schnauzer German Shepherd Mixes Make Good Family Dogs?
The Schnauzer German Shepherd mix would make an excellent pet for the right family.
This large, active dog will want to spend plenty of time spent with his people.
They also need someone who is able to dedicate ample time to training and exercising.
A tendency to be dominant means they should be supervised around strange dogs.
If well-socialized, both parents tend to be good with children.
However, due to their size, they would be better off in homes with older kids.
Young ones should always be supervised around dogs.
In this case, extra caution should be taken around children who are unknown to the animal.
Rescuing a Schnauzer German Shepherd Mix
Are you specifically looking for a Schnauzer German Shepherd mix? Try the breed specific rescues using the links lower down this page.
Signing up with more than one rescue gives you a better chance of finding the puppy you want.
Good shelters are often very particular about matching dogs to new homes.
They'll do a home inspection on prospective adopters and provide support after the puppy has been placed.
This article will give you more information about adopting a puppy.
Finding a Schnauzer German Shepherd Mix Puppy
The popularity of mixed breed dogs continues to grow. As does the number of less than reputable breeders. Such breeders are looking to make a quick buck off a hot trend.
Choosing a puppy from a reputable breeder who has health-tested both parents is crucial.
It may be easier to visit your local pet store, but their dogs are almost always supplied by puppy mills.
These breeding facilities are known for having inferior conditions and little veterinary care.
For this reason, the puppies often suffer from health and behavioral problems.
Check this guide to help you find the puppy you're looking for.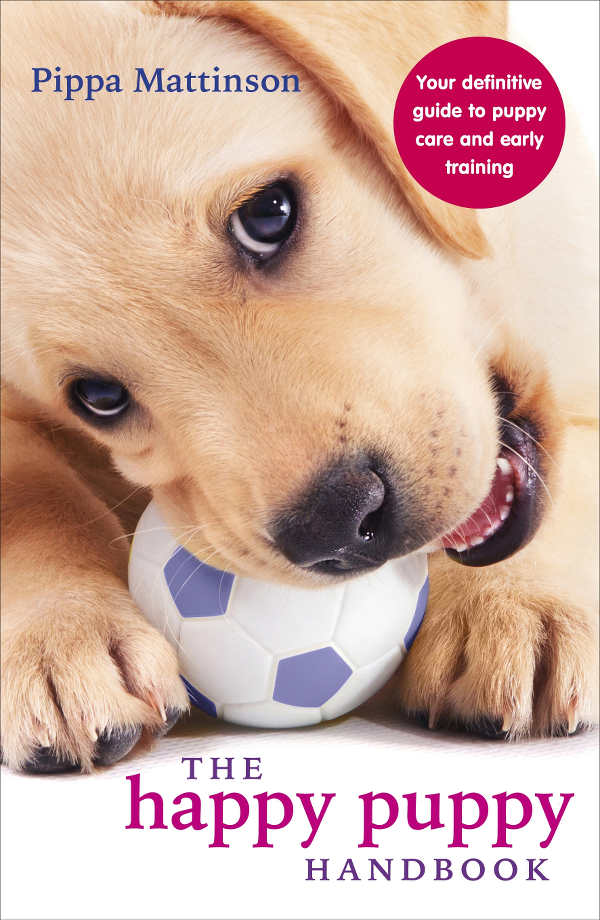 Raising a Schnauzer German Shepherd Mix Puppy
Raising any puppy can be challenging. Large, active breeds, can be even more demanding.
Our dog training guides, offer detailed dog training lessons and exercises. They cover everything from basic obedience to tricks and training practice.
Schnauzer German Shepherd Mix Products and Accessories
These products designed for German Shepherds will also work well for their mixes.
Best Shampoo for German Shepherds
Best Brushes for German Shepherds
Pros and Cons of Getting a Schnauzer German Shepherd Mix
Sometimes breaking down the pros and cons is the easiest way to determine if this is the right dog for you.
We've given you a lot to consider; here are the highlights:
Cons:
Needs an abundance of daily physical exercise and mental stimulation
Potential for destructive behavior if bored or left alone too much
Needs careful socialization to avoid aggressive or territorial behavior
Can be aloof with strangers and dogs
Potential for heavy shedding if their coat resembles that of the German Shepherd parent
Pros:
Extremely loyal to their family
Highly intelligent
Very trainable and versatile with the potential to learn to do many things
Excellent watchdog
Outstanding companion for active people
Similar Breed Mixes and Breeds
Are you still undecided?
Check out these other Schnauzer and German Shepherd mixes for comparable dogs:
Schnauzer German Shepherd Mix Rescues
These rescues that deal specifically with the parent breeds are a good starting point for finding a Schnauzer German Shepherd mix.
If you know of others, please tell us about them in the comments section.
If you know of others, please tell us about them in the comments section.
Is a Schnauzer German Shepherd Mix Right For Me?
These dogs require extensive socialization, training, and regular daily exercise. Provided with these, the Schnauzer German Shepherd mix can make an excellent companion.
Both parent breeds are known for their loyalty and intelligence. They will be devoted to protecting those they love.
However, these dogs can be aggressive towards people and dogs they don't know. They would be better off in a home without small children.
References and Resources
Standard Schnauzer Club of America
German Shepherd Dog Club of America
Blackshaw, JK, et al., "An overview of types of aggressive behavior in dogs and methods of treatment," Applied Animal Behavior Science, 1991
Smith GK, et al., "Evaluation of risk factors for degenerative joint disease associated with hip dysplasia in dogs," Journal of the American Veterinary Medical Association, 1995
Harmon, M., et al., "Dilated Cardiomyopathy in Standard Schnauzers: Retrospective Study of 15 Cases," Journal of the American Animal Hospital Association, 2016
Jennings, PB, et al., "Epidemiology of Gastric Dilatation-Volvulus in the Military Working Dog Program," Military Medicine, 1992
Tengvall, K., et al., "Genome-Wide Analysis in German Shepherd Dogs Reveals Association of a Locus on CFA 27 with Atopic Dermatitis," PLOS Genetics, 2013
Barclay, KB, et al., "Immunohistochemical evidence for immunoglobulin and complement deposition in spinal cord lesions in degenerative myelopathy in German shepherd dogs," Canadian Journal of Veterinary Research, 1994