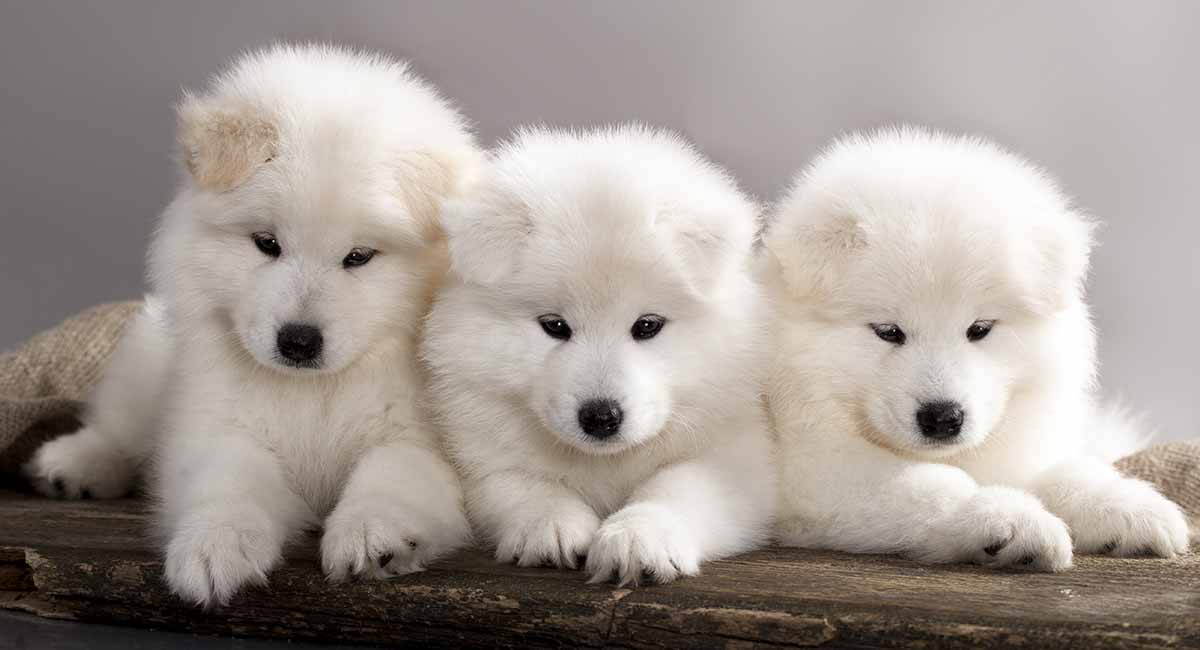 Also called "Smiling Sammies", the Samoyed breed is a large, beautiful purebred who has been around for hundreds of years.
With his stunning white coat, wide, alert eyes, and friendly disposition, it should come as no surprise that many people are wondering if he would make a suitable pet for them.
If you are one such person wondering if the Samoyed would fit into your lifestyle, then this is the article for you.
Today, we are going to provide you with all the Samoyed information you need to determine if you would mesh with this beautiful herding breed!
Presenting the Samoyed
The show-stopping Samoyed is a powerful purebred known for his adorable smile, profuse white coat, and a playful sense of humor.
But would this dog make the right pet for you? If you are considering this dog, chances are you have plenty of questions about him.
Where does he come from? What does his general care entail? And does he have any health issues you should be aware of?
Keep reading to find out.
Origin of the Samoyed Dog
With a name that derives from the nomadic Samoyede people who journeyed to Siberia over a thousand years ago, the Samoyed dog was created for work.
Originally used for reindeer hunting, this breed became vital in the survival of the Samoyede people.
Bred to withstand the coldest of conditions, this breed was the epitome of a working dog who transitioned seamlessly to companionship, providing their masters with protection, food, export, and warmth in the incredibly harsh conditions of Siberia.
As time passed, this dog turned from being a reindeer hunter to a reindeer herder, driving livestock and protecting them throughout Siberia.
International discovery
The breed remained relatively unknown throughout the rest of the world until later in the 18th century, when explorers came across the breed while traveling through the Siberian region.
The explorers returned to England with the breed, where they quickly became favorites amongst dog enthusiasts, including Queen Alexandria.
Excelling not only as a pet but also as a show dog, the Samoyed was officially registered by the American Kennel Club (AKC) in 1906, and today he currently ranks at number 65 out of 194 on the AKC's list of America's most popular dog breeds.
Samoyed Temperament and Behavioral Traits
The Samoyed personality is perhaps one of his most endearing qualities. Known for his friendly nature and gentle disposition, this breed's temperament is ideal for families with children and other dogs.
This breed is also known for his funny sense of humor and mischievous nature. He is friendly to all and doesn't mind strangers.
However, he may not get on well with smaller pets like cats. In fact, he may make a game of chasing smaller pets due to his hunting instincts.
And while relatively well behaved, this breed can be a bit stubborn and doesn't like boredom.
Relationship with owners
Being a pack dog, this dog's temperament does require somewhat of a firm hand from his master, but of course, firm does not mean harsh.
The Samoyed thrives in loving environments and wants nothing more than his owner's time and affection.
Bred to live shoulder-to-shoulder with his masters, the Samoyed naturally forms a very tight bond with those he considers family, and although he is very tolerant of harsh weather, this is not a breed who should be considered an outdoor dog.
For this reason, the Samoyed's tight bond with his family could be a blessing and a curse, as this dog cannot handle being left on his own for hours at a time.
In fact, it is recommended that those who choose to get this breed either have a very flexible work schedule or are able to work from home.
And remember, early socialization is going to be key to raising a well-rounded and happy dog.
We also recommend obedience training to help with that stubborn streak of his!
Samoyed Appearance
Breathtaking and massive, this breed's characteristics are some of the most gorgeous in the dog world.
And while the Samoyed size is rather large, the fluffy Samoyed has a profusely thick coat that makes him look even larger!
The Samoyed height and Samoyed weight vary depending on if the Samoyed dog is a male or female.
A male Samoyed stands 21 to 23.5 inches tall and weighs 45 to 64 pounds while a female is 19 to 21 inches and can weigh around 35 to 50 pounds.
While the Samoyed full grown is a rather large breed, there is no such thing as a specific Giant Samoyed breed. There are just some Samoyeds that are bigger than others.
Coat
Known for his stunning white coat, the Samoyed actually comes in three color varieties:
White
White and Biscuit
Cream
This breed has a thick, double coat and a long-plumed tail that curls over his back. He has erect ears and of course, his most famous feature, a winning smile!
In fact, did you know that that smile the Samoyed is famous for actually helps to keep him from drooling?
This is a nifty quality to evolve with this breed, considering drooling in freezing conditions could have resulted in frozen icicles on this poor dog's muzzle during his working days in Siberia.
How to Groom and Care for the Samoyed Breed
Do Samoyeds shed?
The answer is yes, and quite excessively too!
If you are considering adding this dog to your household, you should definitely consider shedding.
As previously mentioned, the Samoyed has a double layer coat, with his first layer being thick and wooly and his outer layer being pretty long and profuse.
This dog sheds consistently throughout the year, however, shedding becomes even heavier during shedding seasons, which occur twice a year.
This means that grooming your dog is going to require a bit of time and patience.
Brushing and bathing
While they are pretty decent self-groomers, they will need to be brushed almost daily to keep all that loose hair under control and to keep his long, outer layer of hair from getting matted.
And though he will need further, more thorough grooming at least twice a week, the Samoyed will only need baths occasionally.
Your dog will also need his nails trimmed every three weeks to keep them from breaking and his ears will need to be cleaned regularly to keep moisture and wax from building up and causing ear infections.
Exercise and Training Needs of a Samoyed
This is a very large breed who requires daily exercise and playtime. He enjoys running and playing in the backyard, however, prospective owners should ensure that their yard is safely enclosed and fenced.
This is a dog who was bred to roam freely in Siberia, so keep this in mind when walking him or letting him outside. This is not a dog you would want to let off the leash.
While he does love his family and has an incredibly strong bond with his people, he also has a natural instinct to run and explore.
If let off leash or if he escapes his home or yard, he may end up running off and is perfectly capable of traveling for miles.
Training
As far as training your Samoyed, keep in mind that he is very intelligent. He will enjoy learning and pleasing you, although it may take some patience and consistency, considering he can be stubborn and mischievous.
Again, a firm but loving hand will suit this breed perfectly. We love to recommend the positive reward system, especially treats and praise.
And since this is such a large breed, remember that early socialization and obedience training beginning in puppyhood will be key to ensuring this breed learns to walk gently on a leash and doesn't wind up dragging you down the sidewalk!
Early socialization will also help ensure that the gorgeous and sweet Samoyed is adaptable and well-rounded in many different settings and situations.
Life Expectancy and Health Problems
The Samoyed lifespan is about 12-14 years, which is generally pretty long for a larger dog breed!
And while typically a hardy breed, the Samoyed is predisposed to several inheritable health issues.
Health problems could include hip dysplasia, progressive retinal atrophy, heart issues such as aortic stenosis and pulmonic stenosis, diabetes, and hypothyroidism.
If you are concerned about possible health problems in your dog, you may want to consider early health screening.
You should also keep in mind that any repeatable breeder will be able to provide health certificates proving their dogs have been screened for any of the above issues.
What Are the Nutritional Needs of a Samoyed?
Like all dogs, the Samoyed thrives on a high-quality dog food with real meat proteins as the first few ingredients.
Since the Samoyed is a larger breed, he will do best with a dog food geared towards larger dogs since they require certain nutrients for their bone and muscle development.
Your Samoyed should also eat a high-quality food specific for his age, weight, and activity level.
And of course, fresh water should always be available to him. Experts also recommend that treats be given in moderation but when necessary, especially during training!
You should also research any human foods you would like to give your Samoyed as a treat, as not all human foods are safe for our furry friends.
What is the Ideal Home Environment for a Samoyed?
This dog is gorgeous, intelligent, and very friendly, but that doesn't mean he fits into everyone's lifestyle.
While most of this breed's characteristics make him an ideal family pet and a wonderful choice for first-time dog owners, he is also a dog who requires a lot of time and attention and will not tolerate being alone.
The Samoyed does best in homes with families that have flexible work schedules that allow them to come home often throughout the day, or with a family member who works from home.
And while the Samoyed does get along well with children and other dogs, you should take extra precaution when leaving him alone with smaller household pets like cats, as the Samoyed is a hunter at heart and may enjoy chasing smaller animals.
Room for exercise
Prospective Samoyed owners should also consider their yards. Do you have a fenced and secure yard in which your dog cannot escape? Remember, this breed is capable of running off and traveling for miles.
Luckily, this breed is very adaptable to most home types whether they are houses or apartments, as long as his exercise requirements are being met.
So, if you love the outdoors and need a dog to adventure with, are able to groom your Samoyed as necessary, and have a flexible work schedule that allows you to give the adequate attention to this loving breed, then he would make a wonderful companion for you.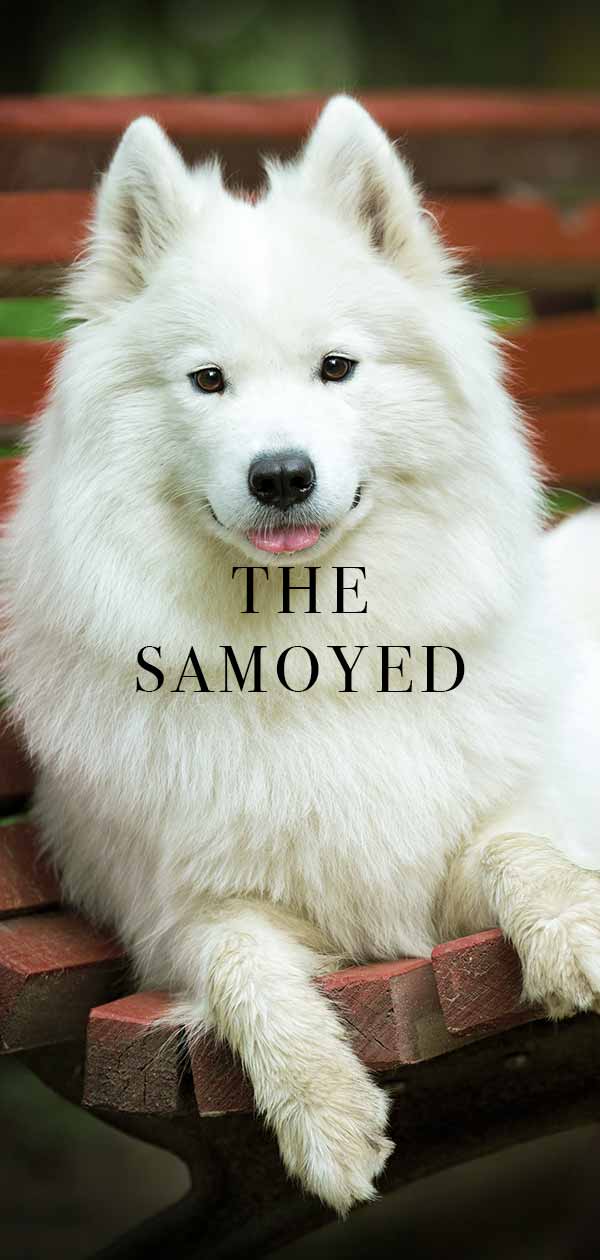 Tips on Finding and Picking a Samoyed Puppy
If you want to find a Samoyed puppy, you are in luck. This is a very popular breed, with many sources selling this dog breed. However, it may come with a hefty price tag.
Are you looking for a crossbreed like a Samoyed husky or a Siberian Samoyed? Or perhaps you want a purebred?
Either way, you'll want to make sure you go through a source you can trust, so be sure and do your research before making the leap into getting a Samoyed.
Rescue
Would you like to rescue a Samoyed? While there are many benefits to rescuing a dog from a shelter, one of them is going to be the price.
If you are looking to rescue your Samoyed puppy, adoption fees are around $50 to $100, and often times shelters will cover the initial vet fee.
Breeders
However, if you want to go through a Samoyed breeder, prices will be much higher. You can expect to pay anywhere from $500 to over $1000, with prices being even higher if your dog's parents are show quality.
One of the benefits of getting your puppy from a breeder is that reputable breeders will be able to provide certificates proving their breeds have been health screened.
So, are you sold on the Samoyed breed and just need some names for your new addition? Visit us here for the perfect list of names for this large breed!
References and Further Reading
Meyers VN, Jezyk PF, Aguirre GD, Patterson DF, Short-Limbed Dwarfism and Ocular Defects in the Samoyed Dog, Journal of the American Veterinary Medical Association,

Betsy Sikora Siino, Samoyeds: A Complete Pet Owner's Manual, 

Ross D. Clark, DVM, Medical, Genetics & Behavioral Risk Factors of Samoyeds, 

Peter Pongracz, Adam Miklosi, Victoria Vida, Vilmos Csanyi, The Pet Dogs Ability for Learning from a Human Demonstrator in a Detour Task is Independent From the breed and Age, Applied Animal Behaviour Science, 
Tiffani J Howell, Tammie King, Pauleen C Bennett, Puppy Parties and Beyond: the role of early age socialization practices on adult dog behavior, Volume 6, pages 143-153
Nathan B Sutter and Elaine A Ostrander, Dog Star Rising: The Canine Genetic System, Nature Reviews Genetics, Volume 5, pages 900-910