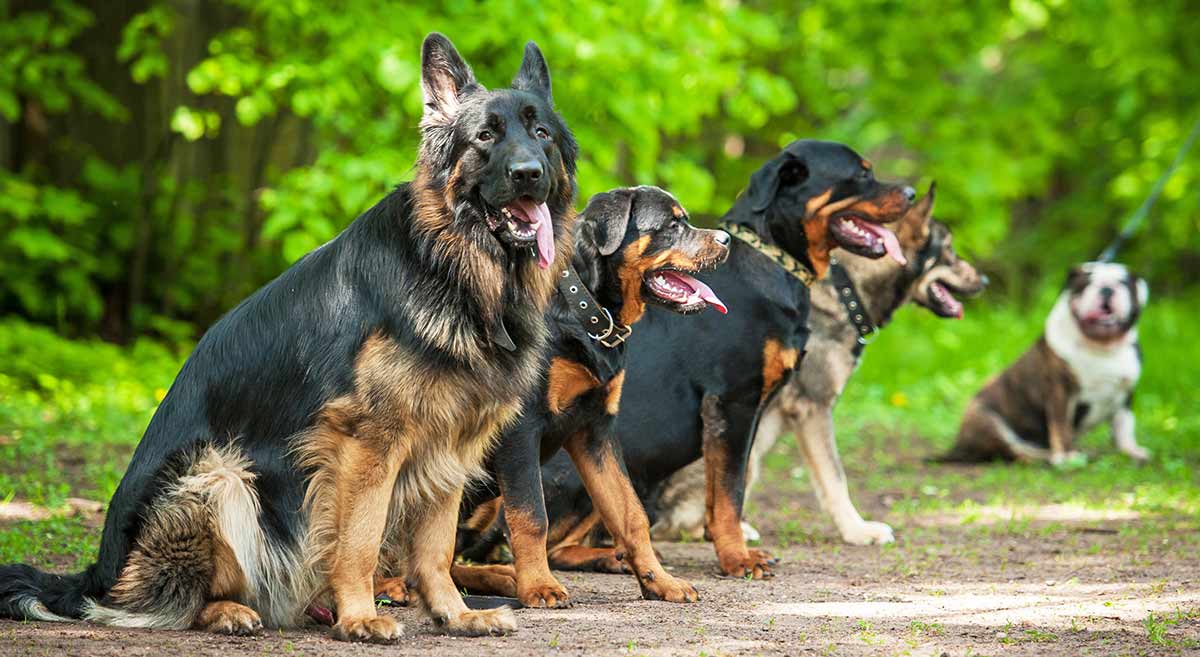 Rottweiler vs German Shepherd? It's a tough decision!
Welcoming a new canine family member into your home is always a happy occasion.
But what if you find yourself torn between two similar breeds, each with its own set of attractive qualities?
With so many magnificent dog breeds to choose from, it's not uncommon to be conflicted between two outstanding purebreds.
Both of these popular and handsome dogs have positive attributes that make them desirable companions: intelligence, active personalities, and owner loyalty.
When we look at the Rottweiler dog vs German Shepherd conundrum, there are some striking similarities between the two.
Rottweiler vs German Shepherd
Each dog shares a unique canine perspective: they love to work! Both dogs are temperamentally working dogs who thrive on having a task to perform.
Both canines also have a high need for daily exercise and possess a natural instinct to protect.
On the other hand, each breed, especially the Rottweiler, has a bit of a reputation that may make you wonder whether it would be suitable as a family pet.
In the end, how do you choose between a Rottweiler and German Shepherd?
Although it's a dilemma, you might say it's a good problem to have!
As both doggie alternatives are winners depending upon your individual circumstances and unique situation.
When it comes to a German Shepherd compared to Rottweiler, we are going to break down the tangible elements.
To help make or break a decision between the two.
These include temperament, size, and health issues.
The Rottweiler vs German Shepherd comparison hinges on different factors for each potential owner.
Ultimately, there is no single pure breed that can be considered better than another.
You must make the best choice for your individual circumstances and the qualities that you seek in an animal companion.
Let's take a look at some of these make or break factors when it comes down to Rottweiler compared to German Shepherd.
Rottweiler Overview
Rottweilers, or Rotties as they are affectionately known, are medium-to-large size dogs that exude a commanding and intelligent aura.
These qualities, in combination with an impressive physique and tremendous stamina, make the Rottie a go-to dog for law enforcement.
As well as therapy and service dog work.
Like many established breeds, the Rottweiler's history is somewhat obscured by the mists of time.
They are considered to be a herding canine, perhaps descended from dogs popular in the Roman Empire.
Many think that the Rottie was used to drive cattle throughout Europe, thus the name "drover" dog.
Rotties have a natural instinct to protect and guard, and the American Kennel Club (AKC) classify them in the working group.
The breed had an early reputation in Germany as good herders.
And herding livestock is something that Rottweilers are still chosen to do in many parts of the world.
Stories abound that the breed was prized during the Middle Ages as a guardian for merchants who had to travel with large sums of money.
Their reputation as a guard dog was further enhanced with the advent of WWI and their recruitment as law enforcement canines.
Rotties are highly trainable and make good guard, search and rescue, and military dogs.
With early and positive training and socialization they bond well with children and make good family pets.
Many Rottie owners describe their pups as having an endearingly goofy, clownish side.
Rotties were recognized by the AKC in 1931, and their popularity has seen a tremendous surge in recent years.
Today Rotties enjoy their status at number eight in the AKC Top Ten popular dogs chart.
German Shepherd Overview
German Shepherd dogs (GSD) are from the herding group and currently enjoy a favored status.
They are the second most popular breed in the USA.
German Shepherds date back to 1899 in Germany, where they were established to herd sheep.
They quickly broke out of the sheep herding mold however as their intelligence and trainability, combined with endurance and a compliant nature, became impossible to ignore.
These stellar qualities have made the GSD an ideal candidate for use in the law enforcement and military fields.
As well as a natural choice for use in service and therapy roles.
GSDs share many of the same traits and qualities as the Rottie.
They are a large, deep-chested dog who love to work.
Like the Rottweiler, German Shepherds are built of solid muscle but their sturdy physique also exudes a certain mannered grace.
In fact, they are surprisingly nimble and capable of reaching high speeds.
These are traits you'll see once you take your GSD out for some healthy exercise or a romp in the dog park.
GSDs are described as courageous dogs, with a tendency to be eager to please and incorporate information quickly.
These traits combine to make the GSD a trusted dog that can be depended upon to act in line with his training, not rashly.
The breed has a certain reputation for holding itself aloof from owners, but this is a matter of interpretation.
There is no doubt that a GSD has a great capacity for affection and loyalty once he has bonded with his pet parent.
GSDs are full of life and love to be on the go, especially with their human family.
They are ideal for energetic families eager to include Fido in their plans and sojourns, as well active singletons who enjoy an outdoorsy lifestyle.
Rottweiler dog vs German Shepherd size
Typically Rotties reach two feet in height, with males capable of standing a few inches taller, and females coming in a few inches shorter on average.
The medium-sized Rottie is a densely packed dog, full of muscle!
Males weigh around 110 to 130 pounds, while females carry a mighty 80-100 pounds on their impressive frames.
Make no mistake about it, Rotties are strong and agile.
They are a deep-chested dog with long and well-muscled thighs and they have an expected lifespan of 8-11 years.
Like Rotties, German Shepherds hover around the two foot mark, with males averaging a couple more inches give or take, while the reverse is true for females.
GSDs are packed with lean muscle, with males averaging 65-90 pounds.
Female German Shepherds can be expected to top out at about 70 pounds, with both genders typically living approximately 7-10 years.
In terms of Rottweiler vs German Shepherd weight, the Rottie comes out on top.
Rottweiler vs German Shepherd grooming
Rottweilers are an easy-to-groom breed.
They sport a short, predominately black coat with markings that range from tan to red to russet.
Their fur is dense and stiff and requires occasional brushing.
Conversely, keep your vacuum handy if you decide to get a GSD, for these handsome and hirsute animals are frequent shedders!
They sport a thick, medium-length double coat that will need frequent brushing to remain healthy and mat free.
Most GSDs are either tan and black or red and black.
When you compare Rottweiler vs German Shepherd grooming, you are probably going to have an easier time with the Rottie.
Rottweiler vs German Shepherd shedding
Rottweilers shed on a seasonal basis. Most owners report them to be average shedders.
They carry both an undercoat and an outer coat and a bristle brush does wonders for keeping their coats neat and trim.
German Shepherds also carry two coats, with the fur being dense and either medium or long.
Although some dogs, such as the poodle, are labeled hypoallergenic, neither of these big dogs are considered to be hypoallergenic.
German Shepherd vs Rottweiler temperament
Both Rotties and GSDs thrive when they have a role to perform; this part of their psyche cannot be underestimated.
​Rottweilers in particular are at their best when provided with firm training and early socialization.
They are strong-willed dogs who absolutely need to understand their owner's behavioral expectations if the relationship is to be a harmonious and cooperative one.
Rotties are a naturally self-assured breed that has learned over generations to protect territory, possessions, and/or people.
Because of this, socialization from an early age is vital.
The Rottie has powerful jaws and incredible strength, two factors that can inflict serious damage if and when a dog attacks.
This leads us to a key factor when discussing Rottweilers.
Because of their aggressive reputation and/or real-life behavior, Rotties are banned in some areas.
Furthermore, some experts warn owners that the threat of lawsuits is a real concern due to Rotties' reputations.
Especially if, or when, a Rottie behaves in an untoward manner.
Like the Rottie, the GSD is frequently described as a loyal companion and fine guard dog.
But keep in mind that these traits must be reduced through consistent training and early socialization to make good family pets.
You can see that Rottweiler vs German Shepherd temperaments are quite similar. So let's dive a bit deeper into those guarding tendencies.
Rottweiler vs German Shepherd guard dog
We have outlined the Rottweiler's history as a superior and prized guard dog.
Indeed, the Rottie is known to have a strong urge to control and herd, and uses intimidating, aggressive behavior when herding livestock, etc.
The Rottweiler has a reputation as an antagonistic dog, a status that is often perpetuated through the media and popular culture.
Despite this, Rotties can and do make excellent pets when exposed to early socialization and supportive training.
Rottweiler vs German Shepherd intelligence
There's no question that Rotties and GSDs are at the top of the canine class when it comes to intelligence.
Each is a valued and sought after dog for important work in the community, including law enforcement and drug detection.
If you've ever seen a reality television police show, you know that GSDs take their K-9 roles seriously and are always eager to catch "the bad guy!"
In addition to their high IQs, both dogs have immense reserves of affection and loyalty that make them outstanding candidates as service dogs.
GSDs are described as a curious breed, one that excels when given a task to execute.
In fact they were bred specifically for their intelligence.
Both as a sheepherder and as an aid to humans working on farms, the military, and law enforcement.
One study reveals that GSDs are quite advanced when it comes to possessing the behaviors and responses needed to meet the requirements of K-9 work.
After testing over 200 GSD puppies, each under two months of age, researchers concluded that "specific puppy tests for police dogs provide a reliable tool for predicting future service ability of a puppy."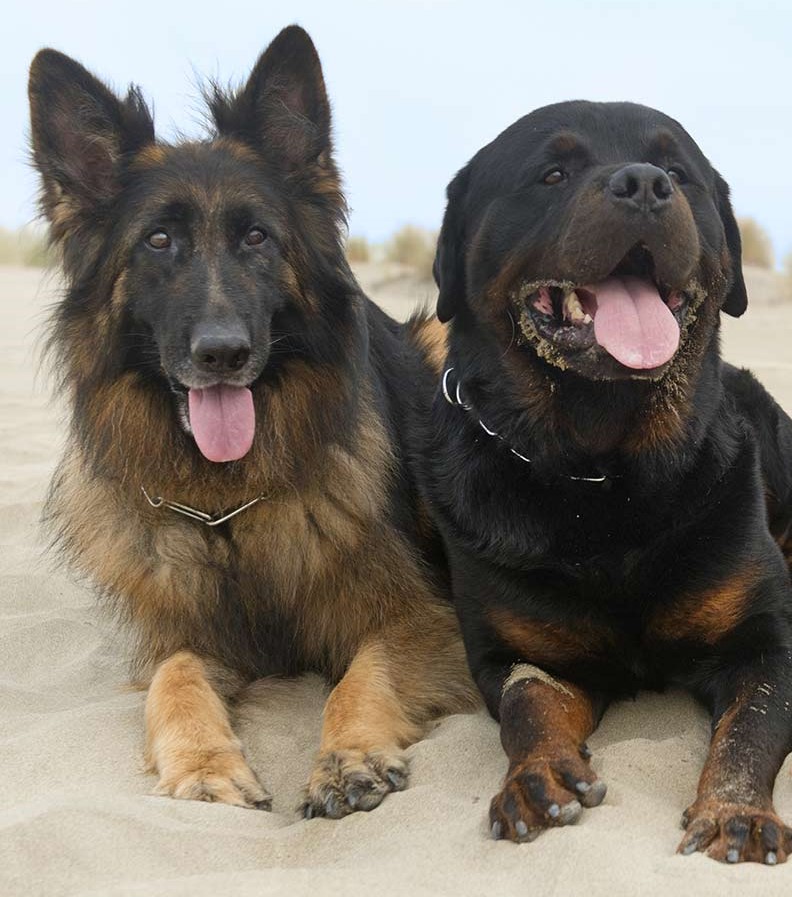 German Shepherd dog vs Rottweiler training
Rotties are excellent students!
They receive an almost universal thumbs-up from owners when it comes to their training acumen.
In addition, they achieve marks nearly as high when rated for compatibility with other dogs and children, given the proper training.
But without successful socialization, Rotties may have an unfortunate tendency to display indiscriminate suspicion, and subsequently unwarranted aggression.
In a similar vein, GSDs will seek negative attention if not socialized and trained properly.
For example, they have a herding instinct that can be troublesome around small children and animals.
They are easily bored if left alone for long periods, which can result in destructive behavior.
Speaking of destructive behavior, numerous studies have been conducted to try and understand, as well as predict, the factors that influence the occurrence of dog bites among children.
One study found that dog bites in children occur most often in the 10-and-under age group.
After sifting through extensive data, the researchers concluded that canine biting behavior was influenced by several factors.
These included "the breed-related behavior of dogs, dog owners, children, and parents."
Perhaps of most importance, they suggested that public education and training of dogs and their owners are the best forms of preventing dog bites in children.
Rottweiler vs German Shepherd Health
Experts name hip dysplasia as one of the most common orthopedic problems in dogs.
Dysplasia involves abnormal construction of the hip socket and can result in arthritis as well as lameness.
Being big dogs, both GSDs and Rotties are candidates for this condition.
In addition, German Shepherds are prone to degenerative myelopathy, a degenerative spine disease that is an inherited condition.
This condition affects the dog's spinal cord and can also result in lameness.
Osteosarcoma (bone cancer) strikes Rottweilers at an unfortunate rate and is the leading cause of premature death.
Treatments include limb amputation, which can increase survival rate, but for the majority of affected dogs the prognosis is poor.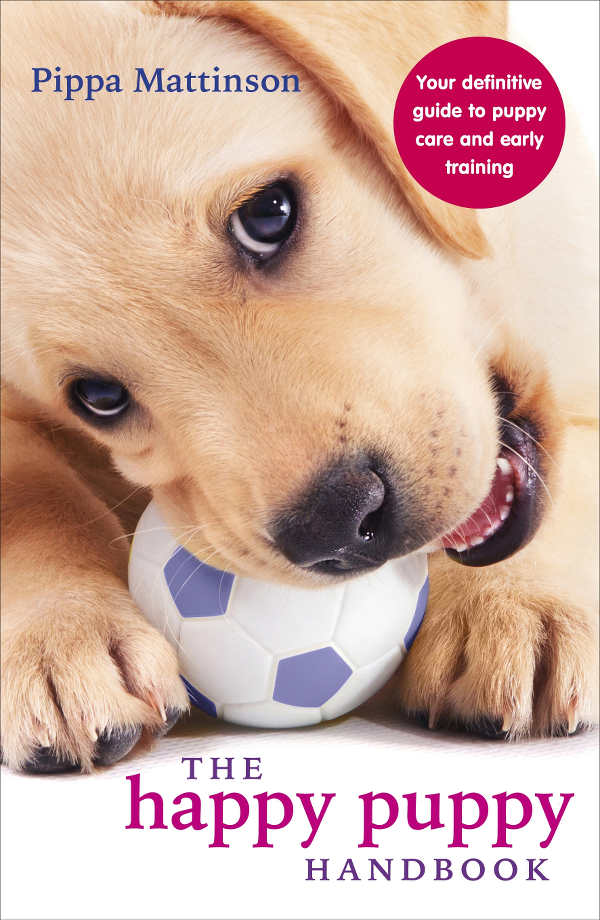 One study found that the median survival rate stretched from just 3 months to 1 year.
Less than 20% of dogs lived for more than two years after receiving a positive osteosarcoma diagnosis.
Parvovirus (a deadly, contagious condition that afflicts young dogs) is also a common concern.
As we've mentioned earlier, Rotties absolutely need to have an outlet for their considerable levels of energy.
Boredom and destructive behavior are definite downsides to an under exercised Rottie, but so is obesity, which can lead to serious illnesses such as diabetes and heart disease.
Bloat and gassiness are other issues commonly reported by Rotties' human parents.
The Kennel Club also recommends testing GSDs for hemophilia and hip dysplasia.
German Shepherd or Rottweiler for family
The strong-willed, active Rottweiler is a fantastic companion animal when paired with the right family.
This is a "big dawg" in almost every sense of the word: physically, temperamentally, etc.
In order to thrive and be at his natural best, a Rottie needs early training and socialization in order to learn acceptable limits to his strong personality and raw strength.
Without this guidance, combined with regular companionship and mental and physical stimulation, the Rottie can become more than an inexperienced or absent owner can handle.
Nonetheless, Rotties are known for being a loyal family dog, even if remaining a bit detached with strangers.
Early socialization and training are key when combining children and Rotties, as they are a large, strong dog who may retain a degree of herding mentality.
Just like the Rottweiler, German Shepherd Dogs will thrive within a loving and active environment.
Spending a part of their day playing and exercising is important to their well-being, and a great way to channel their immense intelligence and tracking instincts.
They will keep a protective eye on the family, but be aware that a GSD can become overly possessive if not socialized properly, an undesirable trait known as "guarding behavior."

Rottweiler vs German Shepherd
We hope that you enjoyed our Rottweiler vs German Shepherd comparison.
In conclusion, both of these loveable, large, athletic dogs are among the canine world's most intelligent breeds.
They are fast learners with a high energy level, and dogs from both breeds are entrusted with high profile public roles, such as search and rescue and service animal work.
With proper socialization and training, they make fine family dogs—albeit ones who require daily exercise and plenty of mental stimulation.
Remember that these are robust dogs who require a regular outlet for their abundant reserves of energy.
Daily play sessions should be expected if you own either breed.
Moderate-to-strenuous activity such as swimming, hiking, running alongside you, or running around the dog park will suit both breeds just fine.
On the downside, both of these big dogs are prone to hip dysplasia as well as other serious medical conditions.
Potential owners should also be aware that Rottweilers have an ingrained predilection for herding, while GSDs remain prone to guarding behavior.
Animal behavior is a delicate balance of nature and environment.
A healthy dog who is given proper training will be an excellent candidate for meeting his potential to be a fine, loyal, and loving forever companion.
Do you have experience with Rotties or GSDs?
We would love you to share your experiences with these very similar, yet distinctly unique dogs, in the Comment section below.
Resources
German, AJ, et al., Obesity, its associated disorders and the role of inflammatory adipokines in companion animals, The Veterinary Journal, 2010
McNeill, CJ, et al., Characterization of the biological behavior of appendicular osteosarcoma in Rottweilers and a comparison with other breeds: a review of 258 dogs, Veterinary and Comparative Oncology, 2007
Parshall, DP, Research and Reflection: Animal-Assisted Therapy in Mental Health Settings, Counseling and Values, 2003
Rosenberger, JA, et al., Prevalence of and intrinsic risk factors for appendicular osteosarcoma in dogs: 179 cases (1996–2005), Journal of the American Veterinary Medical Association, 2007
Schalamon, J, et al., Analysis of Dog Bites in Children Who Are Younger Than 17 Years, American Academy of Pediatrics, 2006
Selvarajah, GT, Kirpensteijn J, Prognostic and predictive biomarkers of canine osteosarcoma, The Veterinary Journal, 2010
Svobodova, I, et al., Testing German shepherd puppies to assess their chances of certification, Applied Animal Behavior Science, 2008