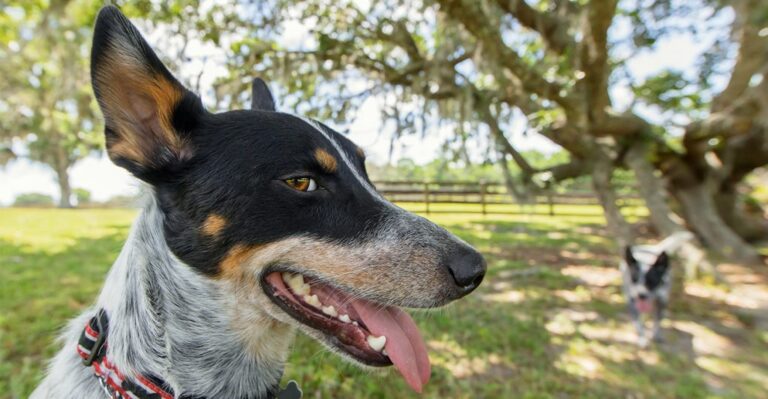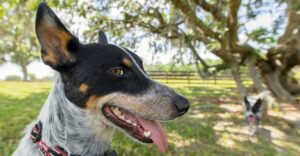 What exactly is a Queensland Heeler?
This hard-working dog is often known as the Australian Cattle Dog.
But they also go by the Australian Heeler, or Blue/Red Queensland Heeler depending on coloring!
In this article, we'll walk you through the origins of the Queensland Heeler, the breed's standard physical characteristics, and possible health problems.
In addition, we'll look at temperament and training requirements of the Queensland Heeler. As well as some tips for picking your new puppy.
Origins of the Australian Queensland Heeler
The Queensland Heeler commonly referred to as the Australian Cattle Dog, is a type of sheepdog.
The "Heeler" part of the name refers to "heeling" livestock in the outback of the land down under—Australia.
Heeler dogs were needed to help ranchers drive livestock, primarily cattle, from one area to another, typically covering large expanses of open country in the process.
The Queensland Heelers were used to move livestock around, usually in search of grazing land, water resources, or because it was time to send them to the market.
Sheepdogs weren't quite cutting it with larger livestock drives. So the Queensland Heelers was deliberately cross-bred with wild dingos of the Australian Outback.
The resulting mix was the perfect specimen—the muscular and hardy Queensland Heeler we know today.
The Queensland Heeler eventually made its way to the United States and other parts of the world.
However, the American Kennel Club (AKC) did not formally recognize the breed until 1980. And only one year previous, the breed had just made it to the United Kingdom.
Today, the role of Queensland Heelers is still quite similar to the role for which they were originally bred.
From experience, if you attend any equine- or livestock-associated event in the Midwest, you'll surely find a handful of Heelers accompanying their human and equine friends!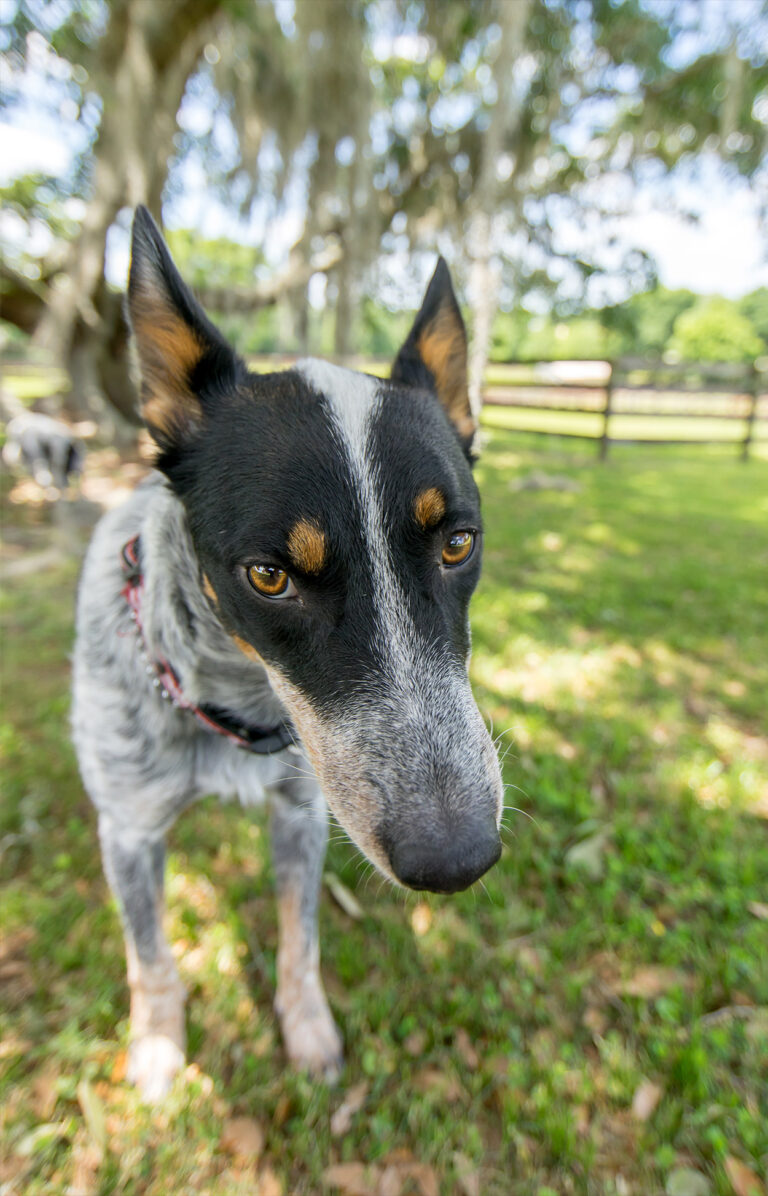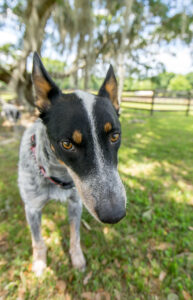 Queensland Heeler Defining Characteristics
The Queensland Heeler is a medium-sized member of the herding group.
While being built low enough to the ground to easily nip at the heels of the livestock, the Queensland Heeler is also agile enough remove himself out of harm's way of errant hooves.
Heelers meeting the breed's standard reach anywhere from 17 to 19 inches tall at the shoulder, with an average weight of 35 to 50 pounds.
As a general rule of thumb, females tend toward the smaller end of these height and weight ranges.
You'll notice that we didn't include any miniature Queensland Heeler size measurements above.
This is because there is no such thing as a purebred mini Queensland Heeler.
Any breeder who is advertising 'miniature' Queensland Heelers is falsely advertising the puppies.
A small size is accomplished by breeding a purebred Queensland Heeler with a smaller breed.
So what type of coat can you expect a Queensland Heeler to have?
Coat of the Australian Queensland Heeler
The Queensland Heeler has quite a distinctive coat, and their markings are one of the first things you're likely to notice.
A double coat keeps Heelers cool on hot days and warm on cold nights (the typical desert climate) and doesn't have an oily feel.
The following coat colors can be found:
Blue
Red mottled
Red speckled
Blue mottled
Blue speckled
In addition, a Heeler may have either black and tan marking, tan markings only, or red markings only on the head, chest, and/or legs.
Looking for a white Queensland Heeler?
Unfortunately, there is no such thing as a white purebred Queensland Heeler, and any so-called white Queensland Heeler is the result of mixing a Queensland Heeler with another breed.
Queensland Heeler Grooming Requirements
The Queensland Heeler has a weather-resistant double coat requiring weekly brushing to keep it smooth.
The thick undercoat sheds twice a year, however, they also shed regularly and a slicker brush can be used to keep dead hair to a minimum.
Queensland Heeler Health
Like the majority of purebred dog breeds, Queensland Heelers frequently develop health conditions that have been passed from generation to generation.
Breed-agnostic canine ailments that may affect the Queensland Heeler include hip dysplasia, allergies, and skin irritation.
Queensland Heelers also have an increased risk of developing the following:
Progressive retinal atrophy–gradual loss of vision
Hip and elbow dysplasia–improperly developed hip or elbow joints
Osteochondritis dissecans (OCD)–excess cartilage and deficient bones
Hereditary deafness
Portosystemic shunt–abnormal blood flow in the liver
Studies suggest that some Queensland Heelers may also be prone to a number of other health issues:
Neurological disorders
According to one study, Australian Cattle Dogs (Queensland Heelers) aged two or younger with the CLN5 genetic mutation have been diagnosed with neuronal ceroid lipofuscinosis (NCL).
This mutation causes seizures, intermittent or permanent vision loss, stumbling, lethargy, anxiety, and/or behavioral changes, and it is often fatal.
Moreover, the multi-drug resistance-1 (MDR1) genetic mutation—common in sheepherding breeds—prevents the Queensland Heeler's body from removing certain drugs from the brain.
Dogs with the MDR1 mutation should not be given certain antibiotics, anti-cancer drugs, anti-diarrheal drugs, dewormers, pain medications, or tranquilizers.
Doing so could result in an adverse reaction due to the buildup of toxins, including seizures, blindness, loss of muscle control, or death.
Bladder/kidney stones
According to another study, some Australian Cattle Dogs (Queensland Heelers), along with several other sheepdog breeds, may inherit cystinuria.
This disease increases the concentration of the amino acid cysteine in the urine, which causes painful cystine stones to form in the kidneys or bladder.
The stones can cause irritation at minimum or obstruction and subsequent inability to urinate at worst.
Genetic testing of Queensland Heelers can help to identify genes of parent that may predispose their offspring to inherited health conditions should be performed prior to breeding.
Queensland Heeler Life Expectancy
Generally Queensland Heelers have a lifespan of 12 to 16 years.
Queensland Heeler Personality and Temperament
As a working dog, Queensland Heelers are all about business!
Their instinct tells them to protect their property, be loyal to their owner, and of course, move livestock!
They have been bred to work for hours at a time without a lot of breaks, so they aren't much of a "sit and chat" type dog.
If you're looking for a non-stop worker who will be out there with you from sunrise to sunset, ready to work and help out around the ranch (or house), consider a Queensland Heeler.
Heelers thrive on having the run of the land, without boundaries set by fences or enclosed areas.
Queensland Heelers can be wary of strangers and prone to chasing other animals if not socialized from a young age to multiple people, places, animals, and things.
Unfortunately, wariness toward people who aren't their owner may make these dogs aggressive toward strangers and other animals, unless they've been socialized properly.
However, they are not aggressive for the sake of being aggressive. Queensland Heelers are just intensely loyal.
Although, according to a study in 2008, Australian Cattle Dogs ranked among the breeds that are particularly aggressive toward unfamiliar dogs.
We'll get into the importance of socializing dogs with strong guarding and/or herding instincts in the next section.
Socializing a Queensland Heeler Dog
Socializing Queensland Heelers is necessary to suppress their guard dog instincts.
Dogs with working and/or herding heritage usually have a strong urge to guard and are generally very loyal to their owners.
Moreover, they may view strange people or animals as a threat to their owners, families, or property.
Queenslander Heelers may simply growl at strangers. But if allowed to continue, this behavior it may escalate to nipping at strangers or even attacking them.
The same behavior may be observed when the dog is introduced to a strange dog or other animals for the first time.
To prevent aggression toward strangers and other animals in the first place, Queensland Heelers should be socialized from birth.
This means that new individuals, situations, and places should be gradually introduced to your pup to get them used to interact with different animals and people.
Training a Queensland Heeler Dog
The herding instincts of Queensland Heelers make them highly intelligent dogs and are easily trained.
Since Queensland Heelers need plenty of space and a "job" to be happy, you'll definitely need to put some effort into training into your Heeler.
You'll want to be sure your Heeler comes when called (especially in open spaces) and knows the meaning of "no" due to possible nipping tendencies.
Queensland Heeler Exercise Requirements
Queensland Heelers have an enhanced risk of developing joint problems. Therefore they need to spend several hours on the move each day.
Exercise helps to keep their joints flexible. It also prevents them from gaining too much weight, and can also prevent muscles from atrophying.
This may help prevent or manage age-related hip and elbow dysplasia.
It cannot be emphasized enough how vital to the health and well-being of your Heeler are only purchased for protection or farm work.
Queensland Heelers truly thrive on having a job to do and will languish if kept primarily indoors.
How to Choose Your Queensland Heeler Puppy
If you're thinking about purchasing a Queensland Heeler from a breeder, chances are good you'll be able to locate a breeder in your area.
Especially if you live in a farming area or ranch country.
While there may be an abundance of Heeler breeders, that doesn't mean you should buy a puppy from just anyone.
You'll want to do your homework prior to bringing your puppy home!
Before you even think about picking out a puppy, you should first locate a responsible breeder–one that does genetic testing of breeding stock.
This ensures the health of future litters and decreases the chance of passing on undesired traits.
You can also tell a good breeder by observing the living conditions of their dogs–all dogs should appear happy and healthy, with no obvious illnesses.
In addition, dogs should be at a good weight and live in clean conditions.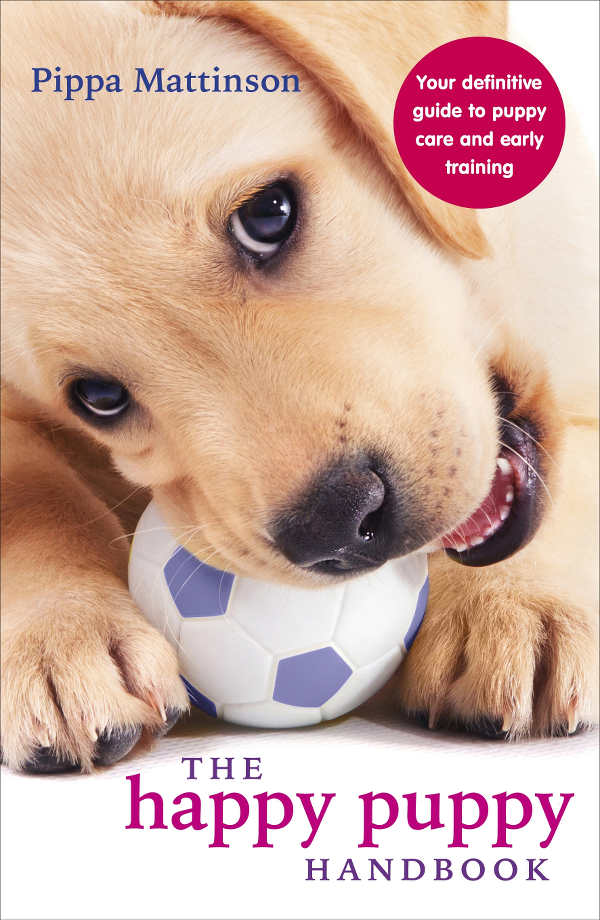 Stay away from breeders whose breeding stock and/or puppy litters are in ill health or have poor living conditions.
How Much Does a Queensland Heeler Puppy Cost
Expect to pay about $400 to $600 for an unregistered puppy, $1,200 to $2,000 for a puppy with an AKC limited registration, and $2,500 to $3,000 for a puppy with full AKC registration.
The price varies based on the puppy's parents and how much they are worth to the breeder.
Remember, you should only buy from a responsible breeder.
Queensland Heeler Rescue Dog
If you'd like to rescue a Queensland Heeler, or you're hoping to find a mature Queensland Heeler that has retired from work, you may be able to.
Check your local animal shelter or animal rescue facility, some may specifically deal with Queensland Heelers.
Queensland Heelers you find in animal shelters are generally retired breeding or working dogs that need to be re-homed, or dogs rescued from bad situations.
Is a Queensland Heeler a Good Family Pet?
Although Queensland Heelers are working dogs and cannot be kept happily indoors, that doesn't mean they aren't suitable as a family pet.
Queensland Heelers are actually very loving dogs that bond closely with their owners.
However, they may not like to spend a lot of time cuddling in your lap. But they will still appreciate some affection after a hard day's work.
It is important to note, Queensland Heelers can become aggressive if not properly socialized, due to their guarding instincts.
These dogs should, therefore, be supervised around children or strangers, especially when you are just beginning to socialize them.
Is the Queensland Heeler the Right Dog for You?
Queensland Heelers, or Australian Cattle Dogs, are amazing dogs that are popular among farmers and ranchers as herding or guard dogs.
The medium-sized Queensland Heeler is a true powerhouse—goes all day long and won't quit until you are both done!
So, if you're looking for a lap dog that enjoys a quiet lifestyle, with only the occasional walk or playing session, then a Blue Heeler is definitely not for you.
A Queensland Heeler will absolutely not be able to live in a cramped space without plenty of room to roam.
Queensland Heelers do have a number of potential health concerns. So it's best to purchase your puppy from a breeder that uses genetic testing to ensure the future health of your four-legged friend.
Some hereditary conditions include vision loss, degenerative joint disease, drug resistance, urinary tract infections, and neurological conditions.
Finally, it's best to socialize your Queensland Heeler to eliminate their tendency toward guarding, unwanted herding, or nipping.
Do you own a Queensland Heeler? We'd love to hear about your experience. Please add your comments below.
References and Further Reading
Brons AK et al. 2013. SLC3A1 and SLC7A9 Mutations in Autosomal Recessive or Dominant Canine Cystinuria: A New Classification System. Journal of Veterinary Internal Medicine.
Duffy D et al. 2008. Breed Differences in Canine Aggression. Applied Animal Behavior Science.
Kolicheski A et al. 2016, Australian Cattle Dogs with Neuronal Ceroid Lipofuscinosis are Homozygous for a CLN5 Nonsense Mutation Previously Identified in Border Collies. Journal of Veterinary Internal Medicine.
Gramer I et al. 2011. Breed distribution of the nt230(del4) MDR1 mutation in dogs. Veterinary Journal.