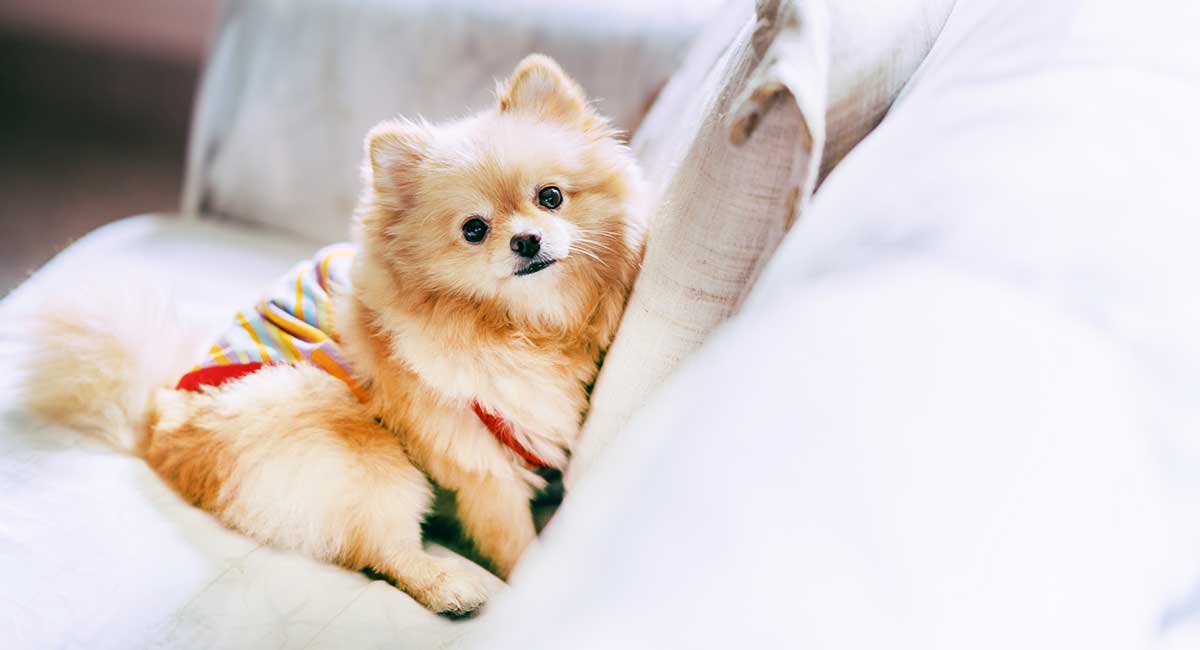 Stuck looking for Pomeranian names and can't decide? We can help — we've got over 300 appropriate names to choose from!
Pomeranian dogs might be the fluffiest cuties ever, but naming them is no small task. Picking the proper name is actually quite significant. You'll be using your dog's name for years — both in public and in the privacy of your own home.
We've got a huge selections of names that will show off just how awesome your Pomeranian is! Let's dive in.
Our Favorite Pomeranian Names
Our fifty favorite Pomeranian names for 2019 are:
Top 25 Male Names
Sawyer
Emerson
Bear
Puppy
Jack
Finn
Hudson
Kai
Cooper
Emerson
Allen
Boss
Breezer
Bruno
Coyote
Danny
Hudson
Buddy
Casper
Donny
Zoro
Zumi
Willy
Vinny
Cupid
Top 25 Female Names
Bella
Quinn
Elsa
Stella
Sophie
Lila
Charlie
Avery
Ivy
Aurora
Adele
Dolly
Candy
Angel
Cheeky
Gem
Jenny
Lucy
Pinky
Rosie
Ruby
Roxy
Roxanne
Sky
Snowy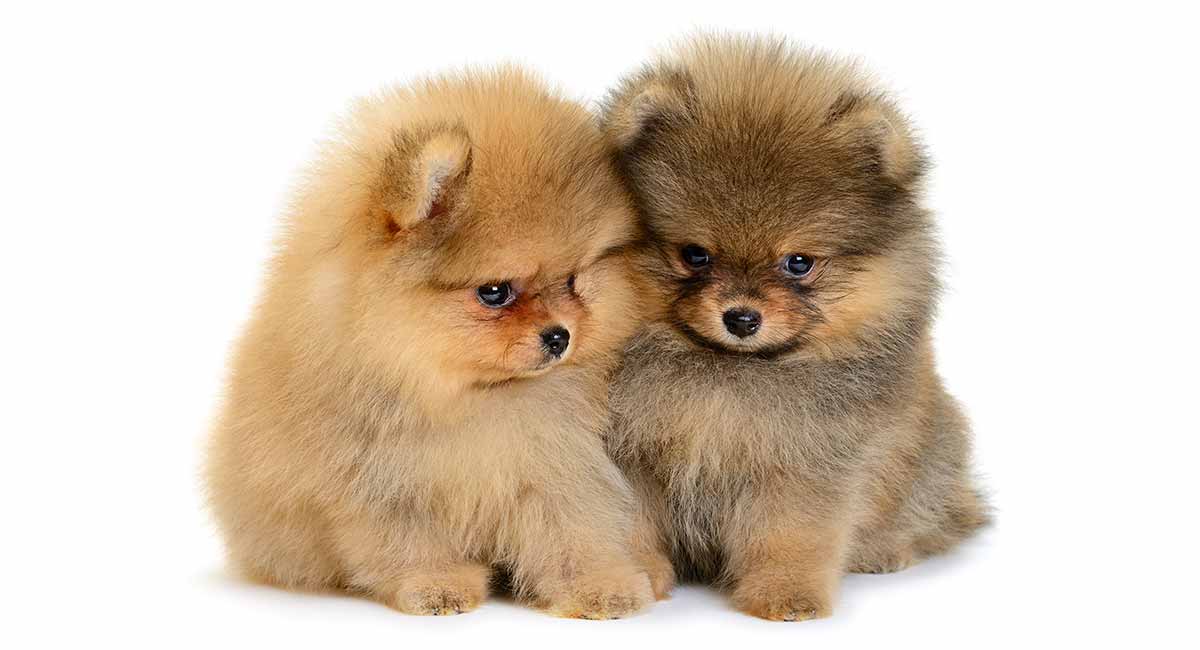 Best Names for Pomeranian Dogs
We know that getting a new dog is exciting, and part of the fun is picking out the perfect name.
Still, sometimes naming our pets can be challenging, especially if we are still getting to know our furry new friends. If you're about to be a new Pomeranian owner, you should know that this breed is adorable! They're the perfect companion — bold, ever-smiling, and foxy. These dogs are highly alert and although small, make a great watchdog.
If you have kids, your Pom will also get along with — as long as they know it's a real dog, not a teddy!
When naming your Pom, you may be on the hunt for cute ideas, fluffy ones, unique, or even fierce names. But whether you love a funny name or a just a good one, we've got you covered. Just check out our offerings below:
JUMPLINKS
Female Pomeranian Names
Need some female-only ideas? Tired of searching Google for "Pomeranian names girl" and just need a straightforward, thought-out list for your precious Pom princess?
Then you'll fall in love with this list of 20 darling names for your adorable Pomeranian girl.
Foxy
Maddie
Hazel
Coco
Lady
Daisy
Bailey
Chloe
Phoebe
Lexi
Maggie
Roxie
Layla
Ruby
Molly
Bella
Penny
Willow
Macy
Trixie
Still, don't see the perfect name for your female Pomeranian? Click here for more ideas!
Male Pomeranian Names
Pomeranians may be small and fluffy, but that doesn't mean your male Pomeranian isn't a manly man.
How better to prove it to the world than to name your Pomeranian something strong and sturdy!
When honing on the name, these boy choices are right up our alley.
Here is our list of 20 Male Pomeranian names.
Champ
Hunter
Spike
Max
Lucky
Winston
Bruno
Chester
Mac
Oliver
Leo
Romeo
Milo
Copper
Buster
Duke
Jax
Tucker
Scooter
Murphy
And for an even larger list of male Pomeranian names, give us a click right here!
Good Pomeranian Puppy Names (Unisex)
Why is it so important to make sure the world knows your dog is a boy or girl? Actually, it's not.
If you want a name that keeps people guessing, and doesn't pigeonhole your Pom into a certain category, then you'll love this list of unisex ideas.
Marley
Riley
Jesse
Frisbee
Ziggy
Logan
Bandit
Olive
Charlie
Morgan
Sam
Alex
Lucky
Blue
Bo
Dakota
Scout
Kai
Loki
Billie
Brown Pomeranian Names
If you love to name your pets after their colors, you're in luck. Here are some ideas for your brown Pomeranian floof.
Autumn
Tiger
Brown
Muddie
Ginger
Sahara
Honey
Beige
Taupy
Sandy
Black Pomeranian Names
If your Pom is black, there's no need to feel left out. Here are some ideas for your black Pomeranian floof.
Shadow
Cinder
Midnight
Cinderella
Ember
Coal
Cola
Jet
Noir
Graphite
Unique Pomeranian Dog Names
While the most popular dog names of 2018 are tail-waggingly precious, perhaps you have a Pomeranian unlike any other.
If so, then you need a list of unique Pomeranian names to choose from.
Behold, a list perfect for your one-of-a-kind Pomeranian!
Unique Male Names
Domino
Ripley
Xander
Zen
Ryder
Parker
Jiminy
Velcro
Nitro
Beacon
Unique Female Names
Unity
Primrose
Xena
Flower
Uma
Sage
Monet
Gilly
Fiji
Indy
Need even more unique ideas to choose from? Check out our complete list of unique dog names here!
Cool Names for Pomeranian Dogs
Is your Pomeranian the coolest pup in town? Then you need a name that's as awesome as he is.
Below is a list of 20 names fit for the coolest of cool Pomeranians around.
Cool Male Names
Diesel
Oakley
Cosmo
Arrow
Ghost
Onyx
Atlas
Apollo
Bentley
Phoenix
Cool Female Names
Rebel
Gypsy
Axelle
Indigo
Nixie
Rumor
Jazz
Harley
Nova
Minx
If you need an even bigger list of cool dog names for your rockin' Pomeranian pup, check out this link.

Intelligent Sounding Pomeranian Dog Names
Is your Pomeranian the smartest Pomeranian of all time? Then he needs a name suitable for his genius mind. Alas, behold this list of monikers for your brainy Pom.
Smart Male Names
Einstein
Galileo
Darwin
Dexter
Conrad
Newton
Edison
Hawking
MacGyver
Smart Female Names
Frances
Eleanor
Hermione
Agatha
Velma
Prudence
Cecil
Imogen
Winifred
Food-Inspired Pomeranian Names
Pomeranian pups are just so sweet we could eat them up! So obviously a foodie name would fit them perfectly, right?
And better still, these tasty names are even unisex!
Check out this list of 20 mouth-watering ideas!
Peanut
Peaches
Marshmallow
Twinkie
Dumpling
Raisin
Basil
Biscuit
Oatmeal
Pancake
Pepper
Jellybean
Nacho
Gumdrop
Pickles
Cheeto
Muffin
Brownie
Hershey
Dorito
Pomeranian Dog Names Beginning With "P"
Do you simply adore alliteration? Same, my word-loving friend. For that reason, we've listed 20 perfectly precious Pomeranian P names.
Male "P" Names
Pacey
Pip
Perry
Patches
Pax
Pearce
Pluto
Pepito
Percy
Pierre
Female "P" Names
Piper
Priscilla
Paisley
Portia
Paris
Poppy
Petra
Pearle
Pansy
Prisca
Cute Pomeranian Names
Pomeranians are cute, so seeking out a list of cute ideas seem like a no-brainer.
Whether you are looking for cute boy or cute girl Pomeranian names, or trying to pick standard size or teacup Pomeranian names, we've got you covered.
Cute Pomeranian Names Male
Cricket
Dash
Bolt
Gus
Sprout
Moe
Spot
Prince
Nugget
Sport
Cute Pomeranian Names Female
Pebbles
Clover
Belle
Dot
Gem
Lottie
Gracie
Lulu
Baby
Princess
If you want to see a full list of the cutest ideas ever, then you must visit us here!


Hilarious Pomeranian Puppy Names
If you just love getting some giggles when it comes to your Pomeranian pal, boy do we have the list for you!
Here are 20 of our favorite ideas for that funny Pom of yours.
Funny Male Names
Droolius Ceasar
Chewbarka
Jimmy Chew
Bark Twain
Professor Wagglesworth
Pumba
Santa Paws
Elmo
Pikachu
Butterball
Funny Female Names
Mary Puppins
Fluffernutter
Miss Furbulous
Pom-Pom
Miss Piggy
Sarah Jessica Barker
Squeakers
Bitsy
Miss Barkley
Madam Waggington
Musician-Inspired Pomeranian Dog Names
Perhaps you are a musician yourself, or you just love the way music makes you feel. Either way, we know it matters that your Pom has a name that correlates with something you are passionate about.
For that reason, here is a list of 20 Pomeranian puppy names inspired by some of history's best musical artists!
Musical Male Names
Elvis
Ringo
Tupac
Zeppelin
Jagger
Ozzie
Mick
Bowie
Lennon
Hendrix
Musical Female Names
Fergie
Presley
Gaga
Beyonce
Miley
Madonna
Pink
Rihanna
Stevie Nicks
Adele
Big Pomeranian Puppy Names
It's no secret that Pomeranians are really just big dogs in tiny packages. And if you've got a little Pom with a Napoleon complex, we've got the perfect list of 20 Pomeranian dog names to suit him.
Big Pom Male Names
Hercules
Baloo
Godzilla
Tank
Goliath
Hulk
Moose
Rhino
Vader
Bear
Big Pom Female Names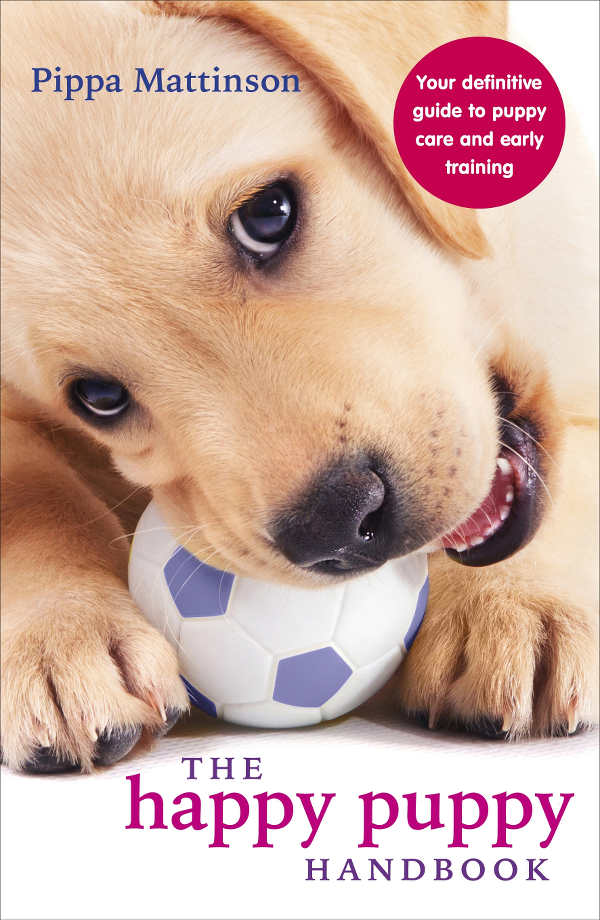 Saber
Venus
Olympia
Panda
Queenie
Shebear
Octavia
Athena
Falcon
Hera
Another way you might want to show off that big personality is with a tough dog name!
Naming My Pomeranian Pup – How Long Until He knows His Name?
Our canine counterparts are intelligent and sensitive creatures, and Pomeranians are no exception.
Not every dog is exactly the same, but most experts agree on this one thing. With proper training, your dog could learn his name in as little as two days!
Teaching your Pomeranian his name will be similar to teaching him many other things. So, experts suggest the treat-based reward system, patience, a loving hand, and consistency when getting your Pom's name to stick.
One of the most important things to do when teaching your Pomeranian his name is to make sure he associates it with something positive.
Teaching Recall
You want your Pom to come when you call him, right?
So, make sure you steer clear of scolding him using his name, especially in the early days. For example, if he rips up the toilet paper or has an accident on the rug, avoid saying "No, Milo, bad!"
If you use his name in a negative situation while he is learning it, he may associate it negatively. As a result, he may not come when called, fearing he has gotten in trouble.
Positive Reinforcement
Instead, we recommend using a positive, high-pitched voice when saying his name, and as he responds to it, offer him a treat.
And don't worry if you have a rescue or your new Pomeranian is older.
In spite of the common saying, you can always teach an old dog new tricks, including a new name!
Just use the same methods as you would a puppy. Also, be sure to let him know that when he hears his name, something great is going to happen for him!
Soon, he'll figure out exactly who he is.
Pomeranian Dog Names Summary
Have you found the right name for your cute Pom? We sure hope we helped. We've curated the good, cute, funny, and even food-inspired name ideas. Remember that it takes some time for your little floof-ball to learn their name. So, stay positive and keep trying — don't forget that good boy treat!
Need a list of even more perfect Pomeranian names? If so, then you're in luck, because we have a whole list of naming ideas for you and your Pomeranian right here.
What's your Pomeranian called? We'd love to hear your own ideas. Let us know in the comments below!
References and Further Reading
Juliane Kaminski, Josep Call, Julia Fischer, Word Learning in A Domestic Dog: Evidence for "Fast Mapping," Science, Issue 5677, Pages 1682-1683
Mary B. Harris, Some Factors Influencing Selection and Naming of Pets, Psychological Reports
Ai Kutsumi, Miho Nagasawa, Mitsuaki OHTA, Nobuyo OHTANI, Importance of Puppy Training and Future Behavior of the Dog, Journal of Veterinary Medical Science
Ian Dunbar, Before & After Getting Your Puppy: The Positive Approach to Raising a Happy, Healthy & Well-Behaved Dog, Chapter 1, What's Important to Know Right Away
Brian Hare, Michael Tomasello, Human-Like Social Skills in Dogs?, Trends in Cognitive Sciences, Volume 9, Issue 9, Pages 439-444
Emanuela Prato-Previde, Deborah Mary Custance, Catrina Spiezio, Francesca Sabatini, Is the Dog-Human Relationship an Attachment Bond? An Observational Study Using Ainsworth's Strange Situation, Behavior, Volume 140, Pages 225-254
AKC. Pomeranian.
This article has been updated for 2019.