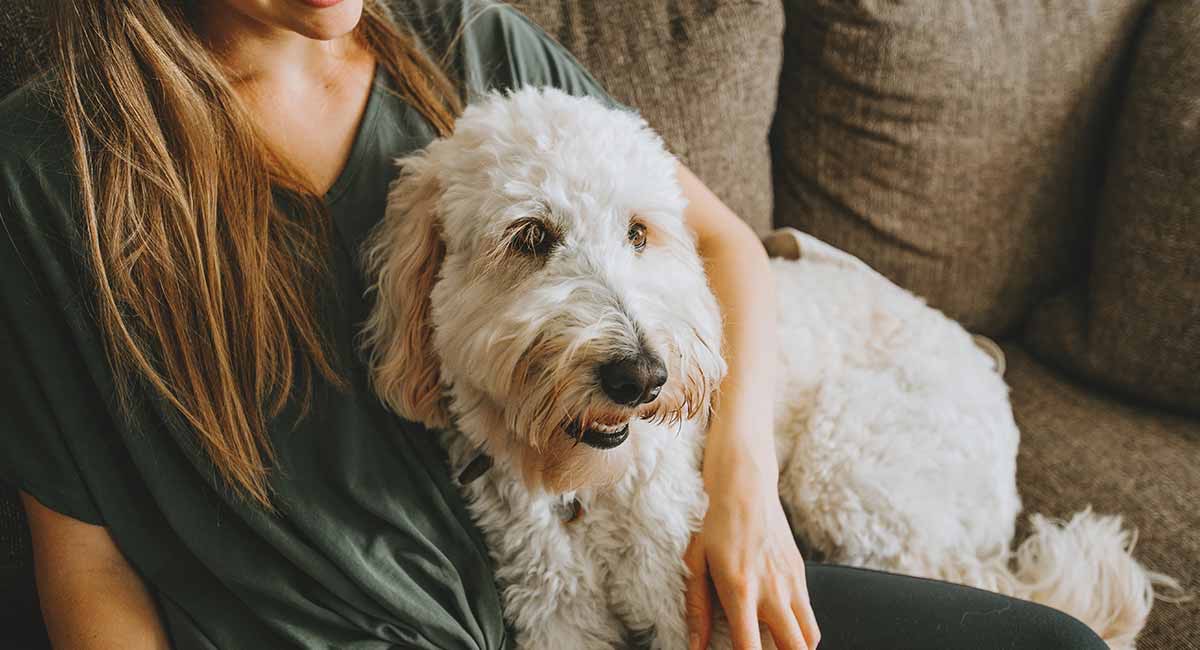 Great Goldendoodle names highlight how cute, affectionate, loyal and loving your baby puppy is. But they can also say something about you too. Today we'll share dozens of good Goldendoodle names for any new owner. Trending topics, pop culture, Disney movies and Netflix series all feature. But so do the classics, and historically inspired ideas as well. We'll focus on monikers that are easy for your pup to learn, because it's important that recall training is made simple as possible. Our Goldendoodle names all have three syllables or less, and mostly contain sharp consonants and soft vowel sounds for maximum impact. They also don't sound like any of the other commands you'll want your companion to learn!
Contents
Whether you're a novice dog owner or an old pro, picking out your dog's name is always exciting and fun! It's part of the bonding process — a moment that really confirms this dog is your dog. Whether you're looking for cute, unique, male or female names, we've got appealing suggestions coming up!
Best Goldendoodle Names
The cute Goldendoodle breed is a mix between a Golden Retriever and a Poodle. This breed is known for being a friendly companion dog. They're cheerful, outgoing, and very sociable — your houseguests will love them! Still, naming these dogs, regardless of how cute they may be is worth a bit of thought.
Picking out the perfect name for your four-legged friend may seem like an easy task. However, we recommend waiting until you have had that little fluff ball in your arms for a few days! Unless you already have a name picked out, that is.
But sometimes, even if you do, your dog's personality, physical appearance, and overall spirit may end up guiding you in a different direction, name-wise. We know that this is your dog and his name is totally up to you. But there are a few things you may want to consider before taking the leap.
Our Most Popular Names
Our thirty favorite Goldendoodle names are:
Max
Charlie
Bentley
Apollo
Champ
Astro
Levi
Bear
Tucker
Chester
Abby
Daisy
Bella
Amber
Sadie
Lucy
Maggie
Chloe
Bailey
Emma
Cubby
Bambi
Shep
Grizzly
Rex
Fuzz
Curly
Rutt
Neutron
Paws
Doodle
Lexie
Midge
Bambino
Ruby
Rosie
Ringlet
Snuggles
Gigi
Paisley
Female Goldendoodle Names
Girl Goldendoodle names are one of our favorites. Is your pup a golden princess? Could you tell from the moment you laid eyes on her that she was a she? Do you bedazzle her in bows and pink collars and glittery things? Then we have a super sparkly list of ideas you're going to love!
Princess
Stella
Sweetie
Laney
Lacey
Lola
Mia
Penny
Olivia
Harper
Mabel
Maddie
Lulu
Elsa
Darla
Hailey
Lady
Josie
Missy
Nala
If you need more fierce female Goldendoodle names to choose from, visit us here!
Male Goldendoodle Names
Goldendoodle names for boys exist in multiple variations. We only want you to select the best Goldendoodle boy name for your furbaby. Perhaps your Goldie Poo is a gentleman through and through? Is he into all things boy and needs a super masculine name to suit his very manly personality?
Murphy
Beau
Leo
Milo
Jax
Moose
Levvie
Duke
Boomer
Jax
Frankie
Kirby
Dublin
Moose
Chico
Loki
Brodie
Houston
Angus
Shadow
For even more male names for your manly Goldendoodle, click right here!
Good Goldendoodle Dog Names
Gender, Schmender. Are you into good names that keep people on their toes and don't put your Goldie Poo in a gender box? Then this list is going to be right up your alley. Below are twenty perfect unisex Goldendoodle dog names to choose from!
Jesse
Ashton
Riley
Moonie
Dakota
Morgan
Logan
Olive
Wonder
Brownie
Sammy
Porter
Akona
Scout
Roo
Dasher
Scout
Marley
Baby
Niko
Cool Goldendoodle Names
Is your Goldendoodle the hippest of the litter? Does every dog want to be their friend? Do they have a crazy amount of swag? Then they deserve a totally rad name. Check out this list of way too cool Goldendoodle dog names just for them!
Cool Goldendoodle Boy Names
Denver
Arrow
Titus
Magnus
Axel
Orion
Maverick
Fenway
Houston
Trooper
Cool Goldendoodle Girl Names
Piper
Rebel
Sable
Rowan
Sparrow
Tatum
Tallulah
Quinlynn
Coco
Sage
For more incredibly cool options, click here!
Smart Goldendoodle Dog Names
If your Goldie Poo is the canine Einstein of his generation, then it is imperative that his name live up to his brain. Here is the perfect list of intelligent-sounding ideas for that brainy dog of yours!
Brainy Goldendoodle Male Names
Conrad
Hugo
Darwin
Reginald
Edison
Mendel
Hawking
Socrates
Solomon
Einstein
Intelligent Female Goldendoodle Names
Sonia
Mary
Prudence
Bernadette
Velma
Minerva
Hermione
Imogen
Veta
Marie Curie
Names Inspired by Food
If there is one thing your Goldendoodle loves almost as much as you, it's food. That's right, this list of ideas is perfectly suited for those Goldie Poos and their owners who love to plan their lives around their meals. Feast your eyes on these delicious ideas for foodies!
Peanut
Hambone
Doughnut
Cheerio
Biscuit
Zoodles
Pumpkin
Hershey
Peaches
Nacho
Basil
Hershey
Pepper
Nacho
Butterscotch
Pork Chop
T-Bone
Noodles
Rueben
Caramel
Alliteration Names
Love alliterations? Are you into Poodles named Pier and Labradors named Leo? Then you'll love these great ideas that begin with the letter G!
Male G Names
Gus
Goofy
Gizmo
Gimmy
Georgie
Galaxy
Gabru
G-Daddy
Gage
Ghost
Female G Names
Gabby
Gemma
Genie
Georgia
Girlfriend
Gypsy
Grace
Gloria
Goldie
Ginger
Cute Dog Names
Anyone who has seen a Goldendoodle knows they are cute. Cuteness is practically a part of the crossbreed, right? So, if you're on the hunt for a name as adorable as that curly cutie of yours, you won't be able to resist this list of adorable ideas!
Socks
Panda
Bubbles
Moe
Boots
Prince
Klondike
Domino
Monkey
Gypsy
Honey
Tulip
Cuddles
Minnie
Diva
DaphneHappy
Kalua
Snow
Dot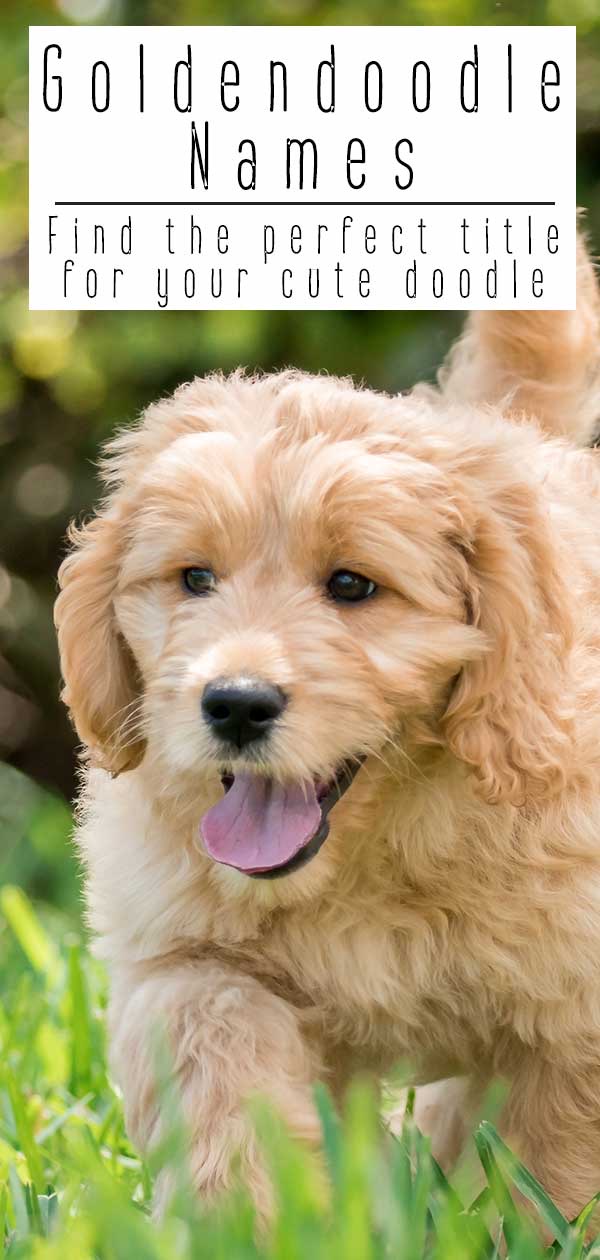 Do you need an even larger list of cute choices? If so, visit us here!
Funny Goldendoodle Names
So yes, Goldie Poo dogs are cute, but they are also full of personality! These curly comedians keep their owners laughing from dawn till dusk! If this perfectly describes your pup, then check out this list of hilarious and ironic ideas.
Amusing Male Names
Hairy Paw-Ter
Bark Obama
Bark Twain
The Notorious D.O.G.
Captain Sniffer
Deputy Dawg
Sherlock Bones
Woofgang Puck
Count Droolsbury
Chewbarka
Funny Female Names
Mrs. Frizzle
Winnie the Doodle
Queen Elizawoof
Lucky Goodsniffer
Miss Fluffers
Princess Wags
Miss Barks-a-Lot
Lady Sniffers
Miss Barkley
Vera Fang
Black Goldendoodles
Goldendoodle dogs come in a few colors and sizes. Do you need a name that perfectly describes your Black Goldie Poo? We've got them below.
Coal
Shadow
Midnight
Ash
Iris
Black
Ebony
Cinder
Jet
Oreo
Ember
Raven
Slate
Pepper
Luna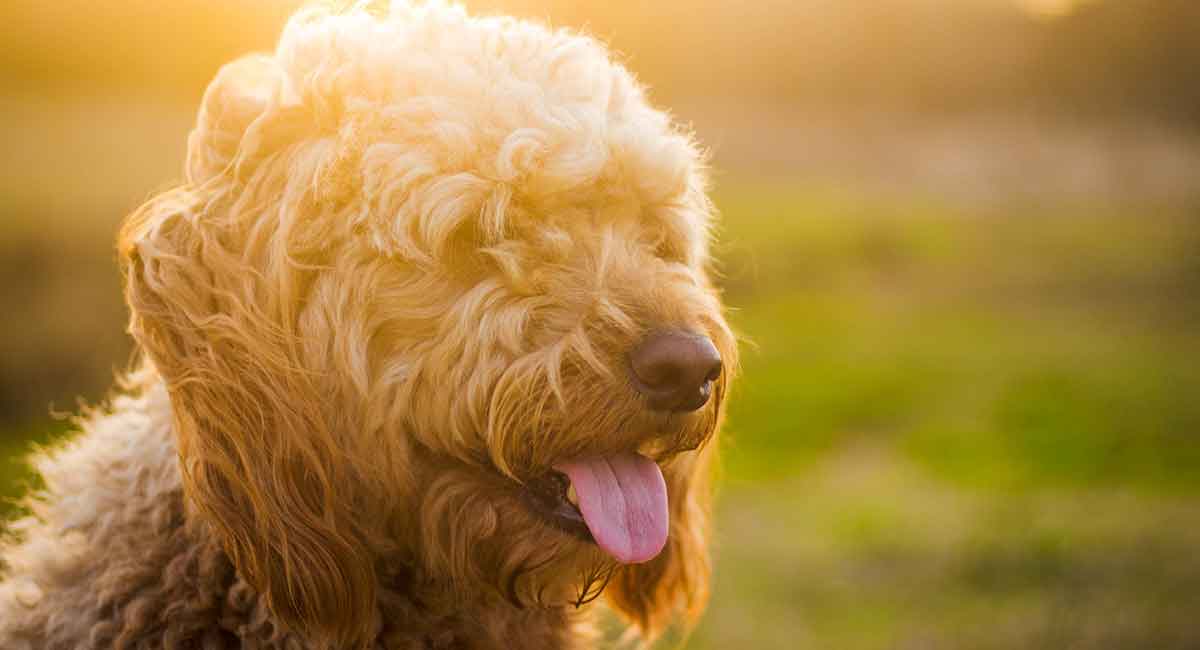 White/Cream Goldendoodles
These ideas are perfect for your white puppy! Many of these white Goldendoodle names reflect the pristine color of your Goldie Poo!
Snowball
Snow
Puffins
Crystal
Bunny
Pebbles
Cloud
Ice
Frost
Pearl
Blondie
Angel
Sugar
Winter
Cotton
Brown Goldendoodles
Goldendoodles are known for their traditional golden brown colors, but sometimes these cuties roll into the darker brown tones. We love them all and these brown Goldendoodle names are inspired by their various rich brown tones.
Honey
Mocha
Ginger
Marigold
Toffee
Goldie
Goldilocks
Sandy
Sunny
Maple
Brownie
Chestnut
Moose
Cocoa
Buttercup
Famous Goldendoodle Names
Your Goldendoodle is a star, even if the rest of the world doesn't know it yet! If they've got the whole package and basically deserves his own star on the Hollywood Walk of Fame, then these famous choices were simply made for them!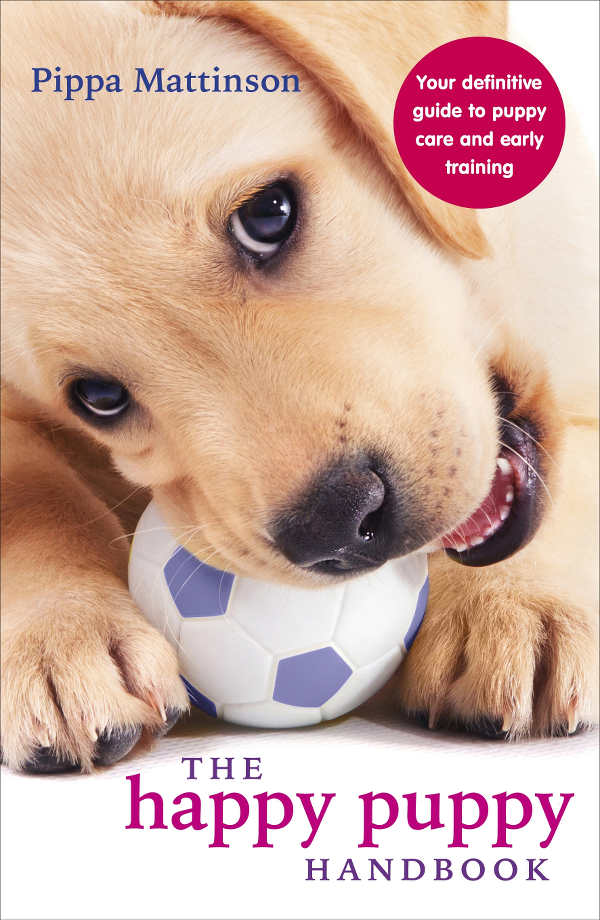 Celebrity Male Goldendoodle Names
Fallon
Sandler
Clooney
Elvis
Bono
Jagger
Jackson
Zeppelin
Cruise
Lincoln
Famous Female Goldendoodle Names
Fergie
Perry
Stevie
Winfrey
Beyoncé
Kennedy
Monroe
Rihanna
Jolie
Miley

Teacup Goldendoodle Names
Teacup Goldendoodles are TINY compared to their parent breeds and even the typical Goldendoodle. Still, we could never leave out these cuties. Here are some Teacup Goldendoodle names for you:
Tiny
Tim
Mia
Josie
Kid
Missy
Periwinkle
Pea
Twig
Cub
Goldendoodle Puppy Names
As if Teacup Goldendoodles weren't cute enough, we've got ideas for Goldendoodle puppies.
Buttons
Cork
Wiggle
Niblet
Skittle
Shrimp
Twiglet
Mini
Dumpling
Teddy
Unique Goldendoodle Names
Trends are fun, but they're not for everyone. If you want a one-of-a-kind name for your one-of-a-kind pup, then you need to check out these rare and unique ideas. Not only are they different, but many of them are fun to say! We are willing to bet you won't be hearing any of these names at the dog park.
Junju
Kona
Pushkin
Trooper
Remy
Wailer
Ranger
Wonder
Ray Ray
Cinder
Zoelle
Feather
Phaedra
Moxie
Emmy
Talulah
Minx
Ling Ling
Malani
Petunia
Need a bigger selection of unique Goldendoodle names to choose from? Then check out our complete list of unique dog names here!
The Right Name For A Goldendoodle
The name you choose for your Goldendoodle puppy is likely going to be the first human word you teach him. And if you have rescued and are renaming an adult Goldendoodle, this is important. Sorting out his new moniker will be one of the first things the two of you navigate together as a team.
Teaching your dog his name is a part of training, and training is a part of bonding. So, remember, whichever name you choose to go with, make sure it is something your Goldendoodle can latch onto easily. The easier the name, the easier training will be, which will help to keep things fun and simple for you both.