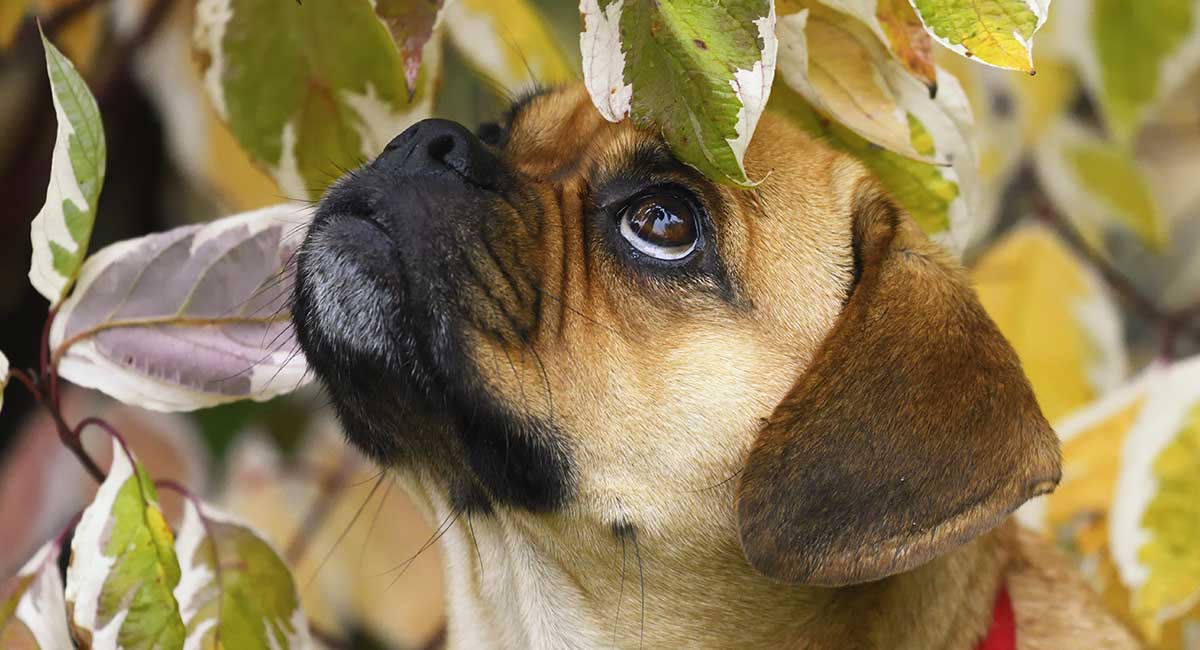 Are you planning on adopting or buying a Puggle but want a little extra help thinking about some great possible Puggle names?
Here we will recommend 200 cute, cool, unique Puggle dog names.
Names for white and black Puggles, Puggle puppy names, and more!
Introduction
When it comes to naming any new pet, prospective pet parents often see their pet and can quickly think of a name that sounds and feels like a great match.
They often take inspiration from their unique appearance and personality, perhaps without even realizing it!
For others, a little outside help for naming ideas can be the way to go.
If this sounds like you, you've come to the right place!
If you feel a bit stuck, this shows that you're taking extra care with the naming process, just as everyone should.
Things to Consider Before Naming Your Puggle
When considering what to name your pet, especially if it's a puppy, it is very important that the name sticks.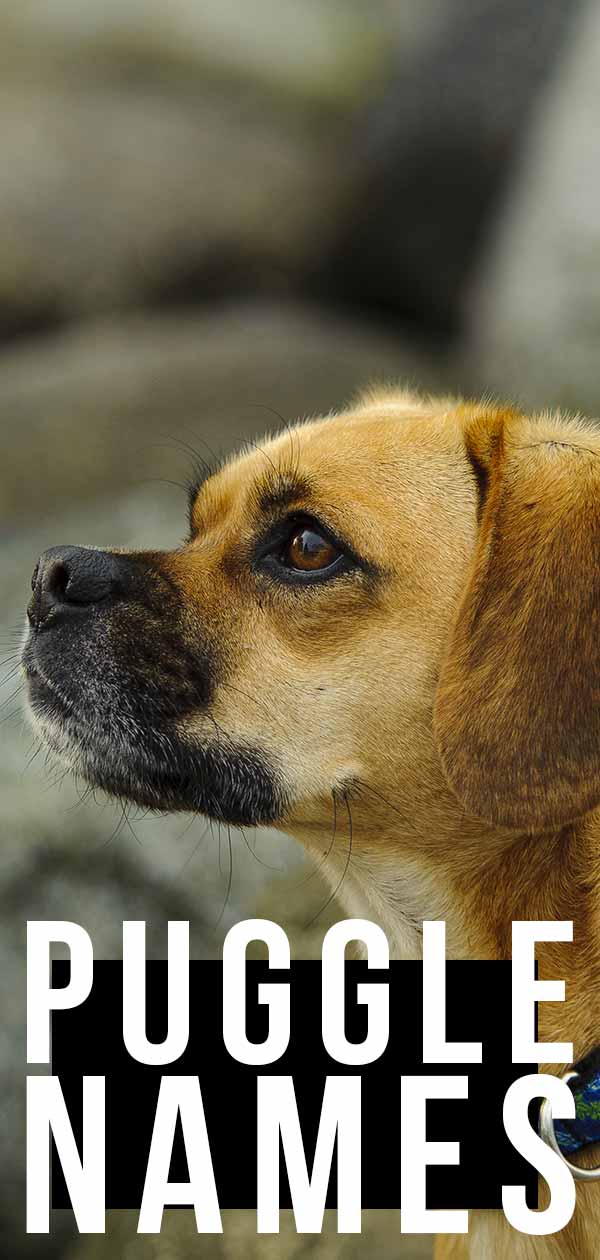 You'll invariably have times when you need to get your pet's attention, whether you're getting ready to go out, starting to teach your dog new commands, or just getting your puppy to join you to veg out on the couch.
This is only made possible when you have a name that your pet recognizes without a second thought.
In this article, we feature 200 Puggle names, ranging from female Puggle names and male Puggle names to cute, cool, and unique names, and names specifically for white and black Puggles.
We've made a point of providing you with many types of names to help you find the best Puggle name.
Having said this, it will help us greatly to look at some basic traits unique to Puggle dogs.
Puggle Breed
As this breed's name suggests, Puggles are a cross between a Beagle and a Pug.
From their appearance to their personality, there is much to love about Puggles!
Puggle Personality
Puggles are friendly, kind, and adaptable, as they are noted for living well in a household with other dogs, as well as children – a trait not seen in all dog breeds.
They also make great companions, as they are naturally affectionate and develop a strong bond with their owners over time.
Additionally, Puggles are noted for being energetic day-to-day, albeit more on the playful rather than athletic side, while also enjoying downtime with their pet parents.
They are also known for being an intelligent breed, as well as vocal—these little guys make themselves heard!
Finally, let's talk about the Puggle's appearance.
Puggle Appearance
This is a small breed, often seen with a tan coat and black accents, though they can also have black, white, or fawn colored coats, among a few others.
Most notable, however, is their face, specifically their facial expressions.
Both Beagles and Pugs on their own have highly unique, striking faces, so it's only natural that the Puggle would inherit this.
Actually, the Puggle's face goes above and beyond in this category!
Their expressive faces can take on a look that at one minute is happy-go-lucky, then the next is comically grumpy.
And they can even, with a slight head tilt, take on a humorously quizzical face.
On a serious note, read our complete Puggle breed review to make sure you bring home a Puggle who's unforgettable face doesn't come with a host of health problems.
Ready for Some Puggle Names?
With all of this in mind, we will now dive into our great lists for Puggle names.
Each list comes with its own set of criteria, taking inspiration from a certain quality or qualities such as the ones we've just discussed.
As a final note, pet names are often inspired by their country of origin.
Since Puggles are cited as originating in the U.S., our female and male name suggestions will likely have a familiar sound and feel to them.
Now, let's jump into our recommendations for female Puggle names!
Female Puggle Names
In this list, as well as our next list for male Puggle names, we will largely be taking inspiration from arguably "common" names, particularly shorter, more nickname-type names.
While we will explore some longer, more formal names in later lists, you can feel free to pursue the longer, more formal counterparts to the following names as well.
Daisy
Lilly
Rosie
Harper
Maria
Tiffany
Julie
Jessie
Kali
Polly
Libby
Gracie
Amy
Maya
Mindy
Hazel
Annie
Colette
Charlotte
Didi
Mitzy
Nana
Leia
Heather
Ellie
Shirley
Esme
Faye
Cora
Sadie
Marjorie
Trista
Lori
Juliet
Sophie
Sara
Bailey
Cecily
Bella
Cassidy
Piper
Daria
Layla
Kimmy
Kayla
Marie
Lexie
Addie
If you're looking for more ideas, check out these female dog names.
Male Puggle Names
This list for male Puggle names comes as the counterpart to our previous female Puggle names, also taking names common to the U.S., particularly those with a casual, easy-going tone to them.
Again, these are mostly shorter names that have equally appealing longer name forms.
Benji
Sydney
Billy
Colby
Lee
Ray
Landon
Nico
Rory
Kipp
Davis
Leroy
Tate
Ari
Levi
Archie
Clarke
Cale
Clay
Cody
Carey
Drake
Arno
Grady
Nash
Oliver
Gabe
Keith
Connor
Owen
Jerry
Ozzie
Timmy
Bradley
Leo
Mikey
Randy
Jeremy
Johnny
Joel
Ollie
Milo
Reid
Donnie
Miles
Terry
Quinn
Willie
Bobby
Dougie
You can find even more male dog names here.
Cool Puggle Names
Now that we've given some arguably standard name suggestions, let's take a trip down a more quirky route.
For these cool Puggle names, we'll take our cue from these dogs' adaptability and kindness, as well as their high energy, intelligence, and independent nature.
While some of these names may possibly fit under the cute category as well, we believe these candidates have a certain distinguished, formal air that pushes them over to the cool side.
Here we will also start bringing up some names that have a more official feel than our generally short, informal names thus far.
Harmony
Charity
Faith
Serenity
Dreamer
Gunner
Dart
Arrow
Comet
Jax
Blessing
Boomer
Spirit
Hunter
Atlas
Maverick
Banner
Glory
Echo
Bandit
Char
Major
Celeste
Blaze
Mystic
Haven
Sterling
Looking for even more suggestions? Check out these cool dog names here.
Cute Puggle Names
With all the adorable traits that come naturally with Puggles, it's only fitting that we'd include our comprehensive list of cute Puggle names.
With these adorable Puggle names, we'll be thinking about their affectionate and upbeat attitudes and adorable facial expressions.
As an added benefit, many of these names will work well as Puggle puppy names, too.
Now, let's get to those cute Puggle names!
Sparkle
Sprinkles
Fairy
Sunny
Lucky
Dandy
Dearie
Caramel
Missy
Lady
Honey
Valentine
Olive
Lilac
Dulce
Bossy
Coral
Precious
Darling
Maxie
Gem
Fifi
Daffy
Buddy
Pixie
If you're interested in even more names, look at these cute dog names.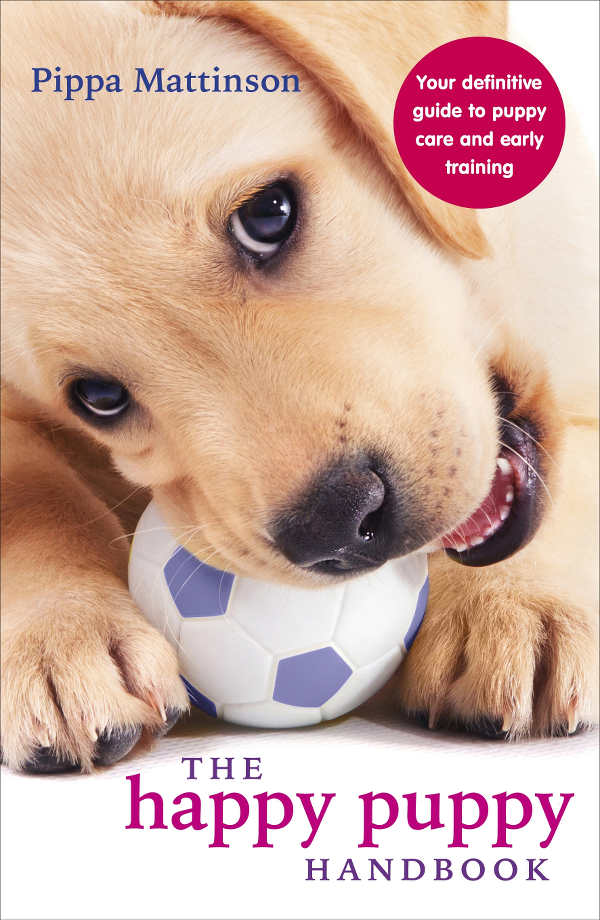 Unique Puggle Names
Here we have some great Puggle names that are standouts, that don't necessarily fit under the categories of cool or cute.
Whether they are not commonly used as names at this time or have a unique meaning or background to them, we'll give you some name ideas here that each carry their own unique identity with them.
Crystal
Justice
Violet
Skylar
Amber
Aura
Genie
Melody
Channing
Mirage
Clarity
Liberty
Eloise
Ferris
Flora
Skye
August
Eleanor
For even more ideas, look at these unique dog names.
Black Puggle Names
For this and the next list, we will make some Puggle name suggestions specifically inspired by the Puggle's coat color.
While a common sight is a tan or fawn colored coat with accents of dark brown or black, there are also Puggles with coats that are mostly or all black, as well as the less common white coat.
Let's start with some great names for black Puggles.
Shadow
Midnight
Inky
Brownie
Dusky
Charcoal
Chocolate
Jet
Onyx
Nocturna
Nyx
Ebony
Mocha
Bean
White Puggle Names
Similar to the previous list, we're going to take these next Puggle names as the perfect titles for white Puggles.
Their distinctive appearance calls for equally distinctive names, some cute, some whimsical, all fitting for this special group of Puggles!
Moonbeam
Moonlight
Heaven
Vanilla
Angel
Luna
Starlight
Cream
Ivory
Ghost
Snowflake
Lacey
Winter
Frosty
Frosting
Cloudy
Feather
Pearl
Best Puggle Names
We hope our lists for Puggle names have given you an idea for a name that fits with your new pet.
If not, check out this list for more names!
Any Puggle is sure to be a welcome addition to your life, and whatever name you choose, we're sure you have many great memories ahead of you!
Be sure to tell us in the comments below which name you chose and why!