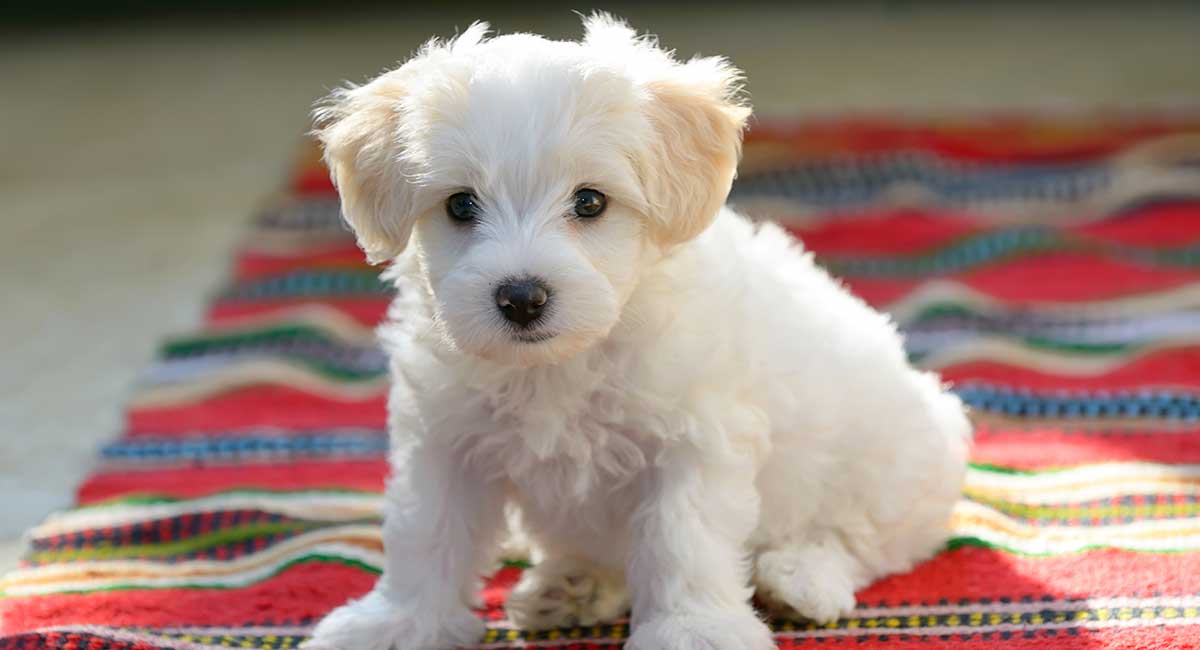 Looking for the best Bichon Frise names? Never fear, we're here for you. Choosing the perfect name for your Bichon Frise pup should be high on your list of priorities when you get a new dog. After all, that name will last her entire life! The right name is more than just cute. It can help with your dog's training, too. And if it's the wrong name, it can even cause problems.
Contents
Have a favorite musician? Literary character? Song? TV show? Creative projects we relate to can help us name our pets. Is your dog's color something you could name him after? I mean, that white fur is so soft and cute! What about historical figures or real people? Maybe someone you admire can inspire your pet's name. Your dog's size, personality, or other qualities might make great names. Just remember that naming your dog tells people about you as well as your dog. Their names reflect your self image. But it can be a way of showing off your creativity, too.
Bichon Names Female
Since dogs are part of our families, you may wish to name your dog a human name!
Angel
Annabelle
Bailey
Bonnie
Brandy
Buffy
Cherie
Chloe
Coco
Fifi
Gigi
Heidi
Jasmine
Laika
Lady
Lucy
Nova
Pippa
Princess
Poppy
Rose
Roxy
Sasha
Shelby
Twiggy
Zoey
Bichon Frise Names Male
If you need some suitable Bichon names for that little male furball in your life, here are some great names for Bichon Frise males.
Adair
Alair
Bex
Calvin
Charlie
Cody
Corbin
Dustin
Finn
Jack
Harry
Lucas
Max
Milo
Monty
Murphy
Oliver
Oscar
Ross
Rufus
Sammy
Toby
Teddy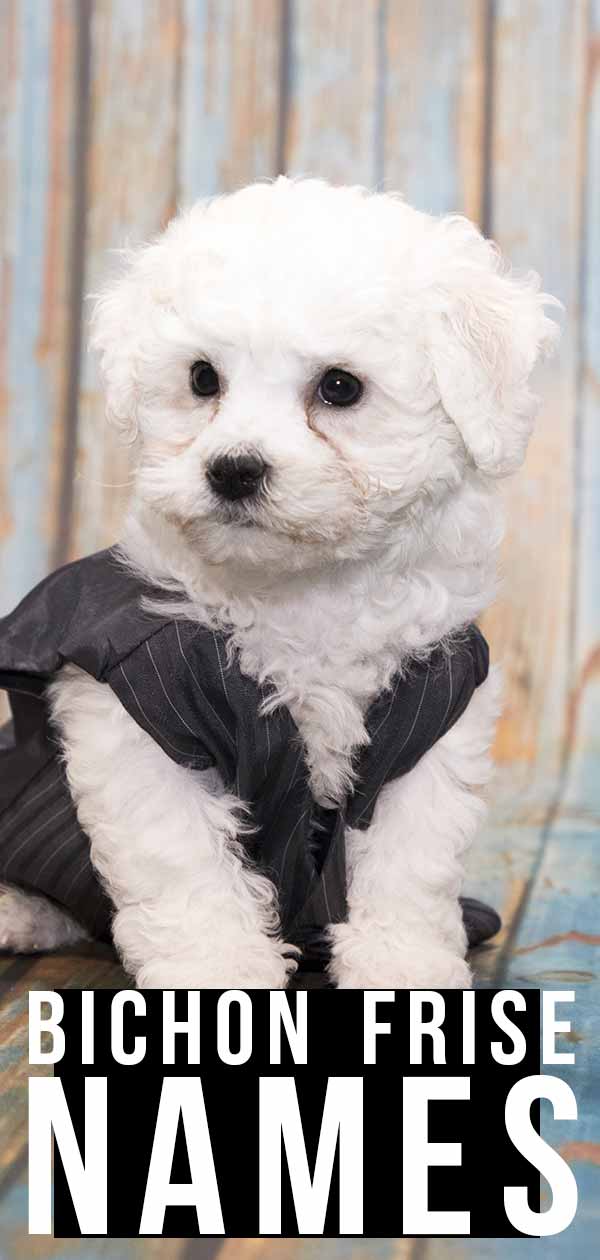 French Boys Names
As you may know, Bichon Frise dogs were once Spanish sailing dogs, but were developed by the French into lapdogs. So maybe you'd like to consider some great French names for your dog. Some of these names also have other European origins, which is perfect for this continental pup.
Alexandre
Alois
Augustin
Axel
Basile
Bijoux
Bosco
Edgar
Enzo
Gabriel
Gaspard
Hadrian
Hugo
Jacques
Joachim
Jean
Jules
Leo
Louie
Lumiere
Marceau
Marius
Melchior
Pierre
Rafael
Romeo
Sacha
Thelio
Theo
Zadig
Zenon
French Girls Names
Here are some great French- and European-inspired names for your favorite female Bichon Frise. They're sweet and girlish and lovely, just like your pup!
Adele
Alice
Agatha
Ambre
Ava
Aubrey
Berenice
Brielle
Chanel
Clara
Ella
Esme
Gisele
Juliette
Lena
Luna
Macie
Marie
Maya
Mia
Mila
Nina
Lola
Mimi
Paige
Remy
Sophia
Sylvie
Yasmine
Victoire
Adorable Inspiration For Little Cuties
Ace
Arlo
Beau
Bing
Booboo
Georgie
Finn
Jesse
Jax
Mac
Rocco
Scout
Tig
Tripp
Winston
Aria
Ariel
Bella
Blossom
Daphne
Faith
Honey
Hope
Juno
Melody
Molly
Phoebe
Polly
Sadie
Tessa
Angelic Ideas
Bichon Frises, with their curly white hair and angelic expressions, are definitely cute little creatures! If you want a name that reflects that cuteness, we offer up these options.
Banjo
Bean
Beeswax
Bunny
Candy
Cricket
Cuddles
Chewy
Cookie
Dash
Doodle
Gizmo
Jingles
Joy
Kiwi
Lucky
Mopsy
Nacho
Nori
Nipper
Primrose
Puddles
Rascal
Skittles
Sully
Sweetie
Toto
Trixie
Waddles
Yoshi
Cool Bichon Frise Names
Bono
Bowie
Brock
Chipper
Crash
Dai
Duke
Flash
Groot
Hal
Laurent
Loki
Monk
Morse
Niko
Otto
Quark
Ringo
Rocket
Rogue
Rumor
Snoop
Sting
Thor
Uno
Ziggy
Bailey
Diva
Duchess
Evita
Fiona
Ingrid
Ivy
Gypsy
Janis
Kizzie
Lacy
Leia
Mika
Naoki
Piper
Raini
River
Robin
Quinn
Serena
Silk
Simone
Storm
Tiki
Wren
Bichon Frise Names for Small Dogs
Do you need some great Bichon puppy names that really reflect your little doggo's adorable size? After all, her smallness was one of the most adorable things about her! Although your puppy will grow, she'll always be your baby. So maybe you want to choose from this list: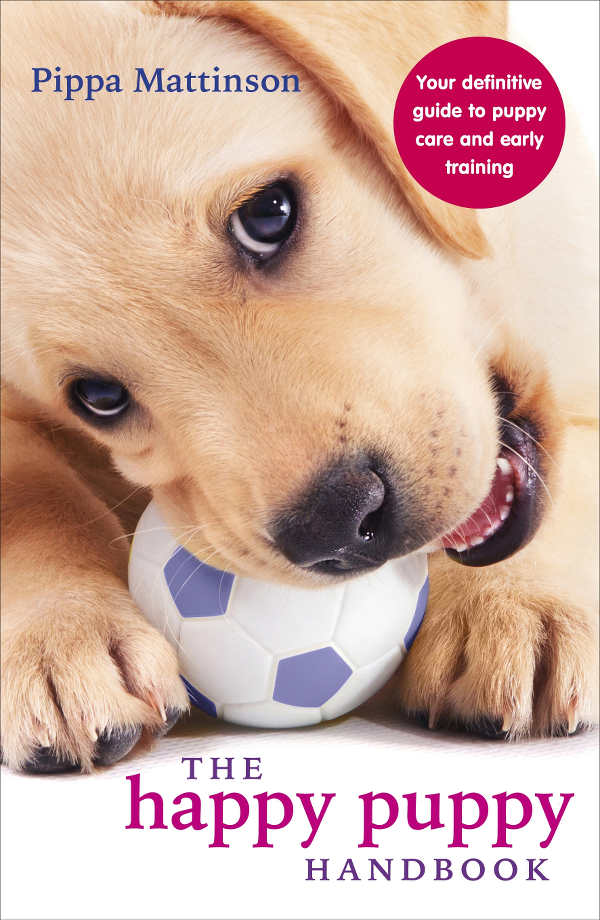 Baby
Bantam
Button
Chicklet
Cupcake
Dinky
Junior
Kewpie
Ladybug
Midge
Morsel
Munchkin
Peanut
Pebbles
Peewee
Peony
Pippin
Pipsqueak
Pidge
Pixie
Precious
Sprout
Tink
Tiny
Webster
White Dog Names
One of the most distinctive aspects of the Bichon Frise breed is that beautiful white coat. So here are a few names designed to evoke the vision of that lovely fur!
Arctic
Ash
Bianca
Blitz
Blanche
Blizzard
Bones
Carnation
Caspar
Chardonnay
Cloud
Comet
Cream Puff
Crystal
Daisy
Dazzle
Denali
Diamond
Dove
Frosty
Gardenia
Ghost
Icy
Ivory
Quartz
Lily
Magnolia
Marshmallow
Milky
Minnie
Misty
Moon
Nimbus
Opal
Pearl
Polar
Puffy
Shadow
Shimmer
Snowball
Snowbear
Snowdrop
Snowflake
Snow White
Sparkle
Star
Sugar
Tofu
Vanellope
Yuki
Unique Bichon Frise Dog Names
Want a name that's more unusual for your new Bichon Frise? Here are some options!
Adara
Apple
Bamboo
Boo
Bingo
Birch
Burrito
Buzz
Caesar
China
Darcy
Dobby
Dogzilla
Eggroll
Emi
Fonzie
Frida
Jamila
Gozer
Gretel
Hansel
Meatloaf
Ninja
Pixel
Puck
Ramen
Spice
Sloth
Sprite
Taco
Tortilla
Twiga
Vespa
Yeti