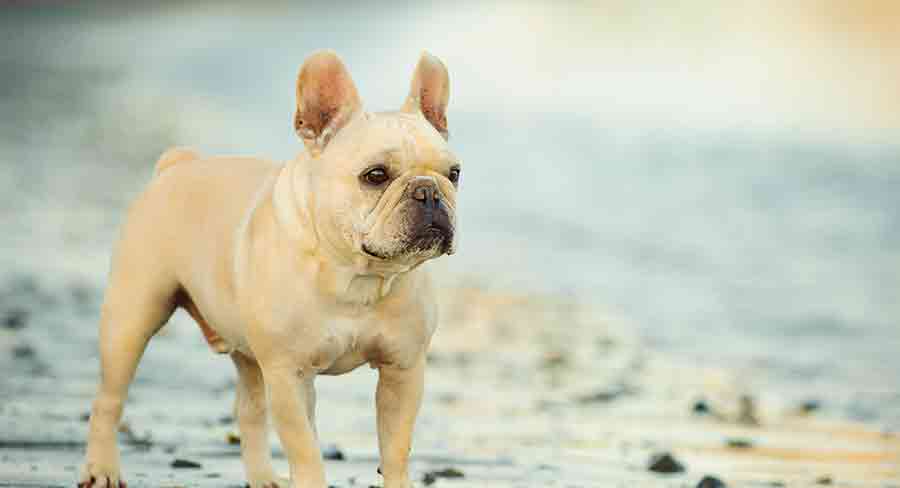 French Bulldog names can reflect their cute little bodies, big personalities or playful nature. Today we'll share 100's of cool ideas for naming your new large eared lapdog! From names that show off their adorable traits and characteristics as ideal apartment pets, to nods to their friendly personality and short, easy to groom coat. Whether you want an idea that is trending, based on your favorite movie character, or one that is as unique as your newly adopted baby French Bulldog, we've got you covered in our French Bulldog names lists.
If you are thinking of bringing home a French Bulldog we recommend that you look into adopting one, rather than buying a puppy. If you go for a puppy, then find a breeder that uses parents with longer than average muzzles, to reduce the chances of breathing and overheating issues that are so common with these friendly, cuddly pups.
What Should I Name My French Bulldog?
A dog's name isn't just their identity, it's normally a command too. Most people want their dog to know it's name, and by that they mean they want them to come when it's said. That means picking a puppy name is a bit more complicated than any other type of pet.
Here are some simple rules that will help you to select a name that will be easy for your dog to learn.
Use one or two syllables only
Make sure it's not similar to another family member
Don't use a word that sounds like another command like 'sit' or 'heel'
Use a word with hard consonants
Go for a name with long vowel sounds
Male French Bulldog Names
In my family the tradition has always been to use human names for dogs. They are proper members of the family after all! If you like human names for dogs, then this list of classic and contemporary boy dog names will be just what you were after.
Charlie
Eddie
George
Angelo
Jack
Ned
Manny
Freddie
Pat
Borris
Timmy
Oscar
Harry
Robby
Dennis
Vin
Sim
Lenny
Bobby
Archie
Noah
Albie
Teddy
Theo
Female French Bulldog Names
Girls' names suit baby Frenchies just as well as they do newborn humans! These ideas are a mix of traditional and modern human girls names, that would all suit your girl French Bulldog really well.
Darla
Bella
Henny
Juno
Isla
Lily
Abbie
Penny
Darcy
Stevie
Elsie
Orla
Winnie
Karla
Brit
Amy
Freya
Liv
Chloe
Lottie
Raine
Minnie
Florie
Brie
Cute French Bulldog Names
One of the reasons so many people fall for the French Bulldog breed is that they are, to put it simply, cute. They are freaking adorable. Their faces might cause them all sorts of trouble, but they do look really sweet, with wide eyes and flat noses. They also have one of the most kind, gentle and loving personalities of any dog breed. Let's see if these cute dog names stack up to one of the loveliest pup's in dogtown.
Baby
Squish
Button
Boops
Darling
Tiny
Chunky
Twitch
Curly
Pippin
Tic Tac
Binkie
Skipper
Tango
Twirl
Peepo
Missy
Blinky
Twist
Skittles
Mister
Flopsy
Winky
Tinker
Cool French Bulldog Names
What's cool to you, might be different to my idea of cool. But there are some things that most of us can agree on, like biker jackets and wearing shades in the dead of winter… This list of cool dog names is inspired by the hippest, trendiest, coolest things and words that you and your dog can find. See if any of them is even close to as awesome as your new pet.
Dash
Pogo
Harley
Titus
Steel
Rocker
Blaze
Rocket
Shades
Stag
Trixie
Bear
Flare
Dancer
Disco
Jazz
Bolt
Tig
Flash
Neo
Trinity
Blade
Storm
Nightmare
Unique French Bulldog Names
Giving your dog a truly unique name is quite the challenge. My favorite way to go about it is to pick a totally random topic that I am into, and see if I can make a word cloud to find related areas that also happen to be good names. Here are some examples, but go wild with a bit of paper and pen and think up some new French Bulldog names by choosing something close to your heart.
Nature Names
Meadow
River
Glade
Forest
Copse
Heath
Foody Names
Bon Bon
Lolly
Syrup
Marmite
Honey
Beans
Sports Names
Rugby
Hockey
Hoops
Pitch
Try
Goal
Outdoors Names
Tracker
Ranch
Steed
Hiker
Ranger
Military Names
Chief
Commander
Captain
Corporal
Lieutenant
Sargent
Brindle French Bulldog Names
One of the most popular French Bulldog patterns is the brindle. With it's dark browns and blacks, flecked all over their body, these cute puppies really are a distinctive dog. Why not choose a name that shows off their most beautiful feature, that brindle coat!
Pepsi
Cola
Coke
Guiness
Stout
Speckle
Freckles
Flicker
Pepper
Espresso
Toffee
Latte
Licorice
Whisky
Fudge
Tawny
Stripey
White French Bulldog Names
The cute white French Bulldog has a bright, pale coat that is accentuated by their shot coat. They can have other markings as well, and your name choice could be inspired by their pattern as well as the base white color.
Snowy
Blizzard
Chilly
Frosty
Spook
Misty
Gidget
Icicle
Spirit
Snowdrop
Max
Casper
Sugar
Orchid
Jasmine
Petal
Snowflake
Snowball
Paige
Drift
Avalanche
Milky
Creamy
Blue Dog Names
Although it's not an official French Bulldog color, blue Frenchies are very popular. These dark slate grey dogs have a deep coat.
Slate
Flint
Pebbles
Rocky
Ocean
Surf
Chaos
Skye
Navy
Bluebell
Squirtle
Cinders
Tinsel
Smokey
Naming Your French Bulldog
French Bulldogs have wonderful personalities, but sadly can suffer from a lot of nasty health conditions. We therefore highly recommend that if you want a French Bulldog, you adopt one from a shelter or rescue center. You'll be more likely to know how badly they are impacted by breathing issues, and you won't be helping to prop up an industry based around breeding sadly unwell puppies.
To find out more about this obviously contentious issue, check out the following guides: