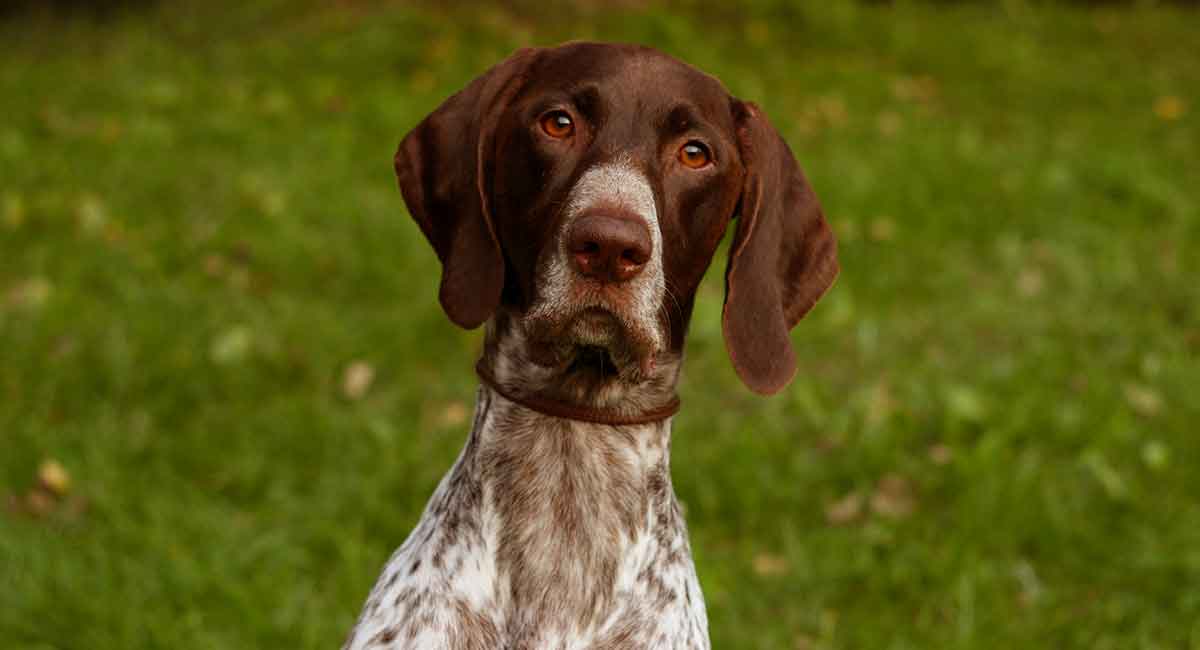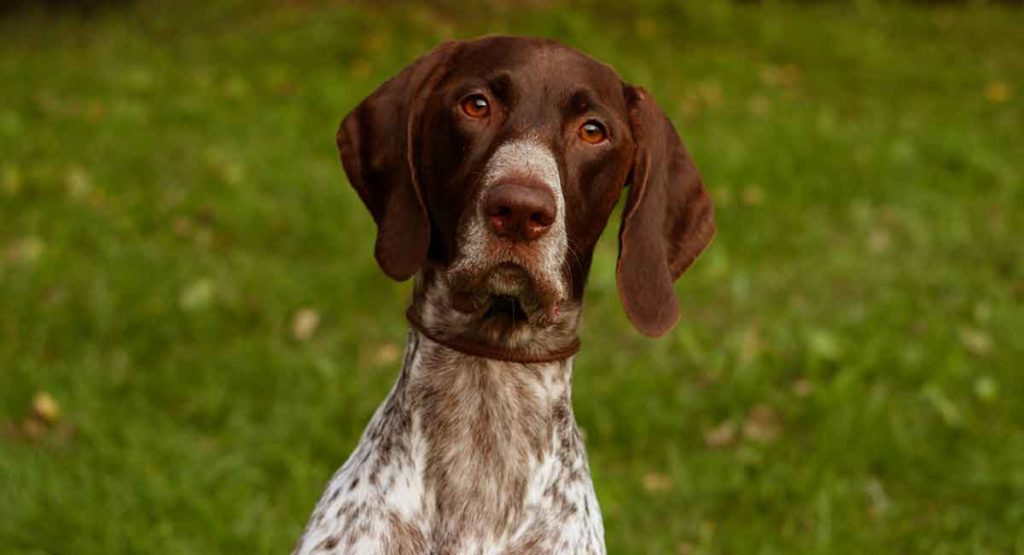 The best German Shorthaired Pointer names really say something. Either about your dog, or about you and your own style or taste. Naming a new pet dog is an important process. It is helpful to decide on a name you believe fits. One that will stand the test of time. But that doesn't mean you need to stick with the mundane!
Contents
The Best German Shorthaired Pointer Names
The German Shorthaired Pointer is a distinctive breed. These are highly active, loyal, loving dogs. They are medium-sized, and have a short coat and sturdy body. Built for action!
Their kind brown eyes and floppy ears provide an interesting contrast to the rest of their build. And they come in two distinctive colors. They either develop a short coat with an all-over liver, or medium brown coat. Or it could be a combination of liver and white, with numerous spots and marking possibilities. Drawing inspiration from a dog's color coat is a prime pathway for name inspiration.
Coco
Peanut
Fawn
Mars
Dusty
Bear
Dot
Snickers
Truffles
Polka
Sparky
Galaxy
Patches
Disco
Dash
Dapple
Brick
Mocha
Domino
Honey
Chip
Flash
Oak
Diesel
Freckles
Puddles
The GSP has a blend of cool and cute appearance. We can't deny the heart-melting effect of GSP's big brown eyes and adorably quizzical facial expression. But of course, you don't need to name your dog after their looks!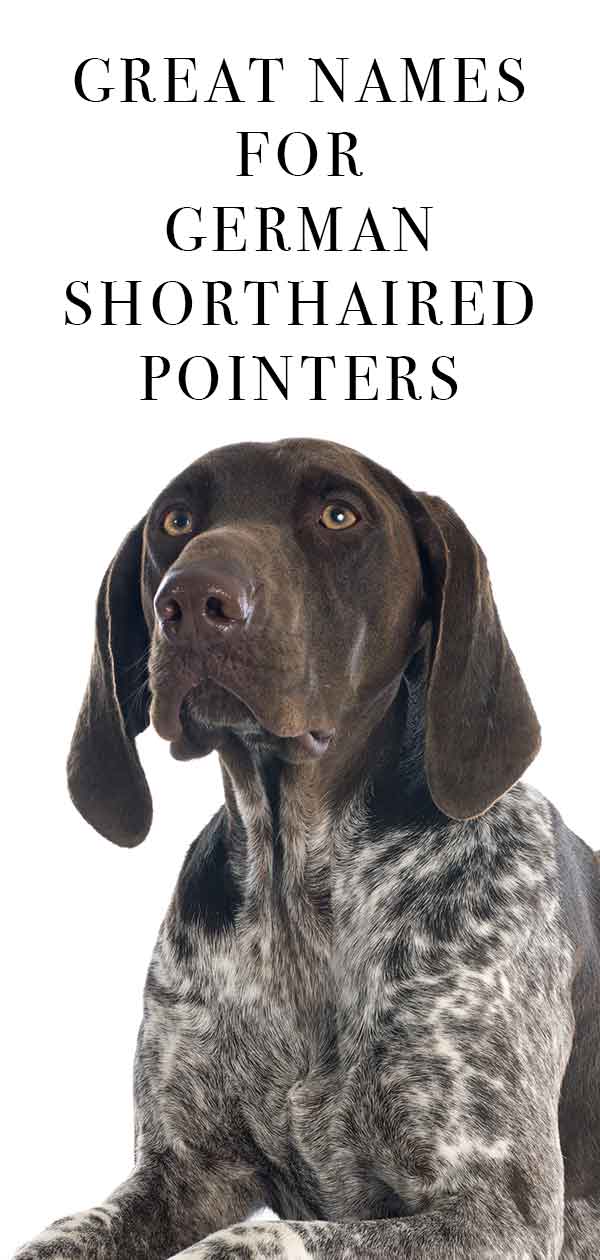 Names for Females
Great female German Shorthaired Pointer names can be both femine and strong. And a cool way to show them off is to use classically human names.
Allie
Sophia
Charlotte
Victoria
Brooke
Madeline
Sadie
Delia
Valentina
Gracie
Daphne
Olive
Blake
Holly
Blair
Giselle
Arianna
Kendall
Dakota
Delaney
Audrey
Delilah
Joanna
Fiona
Alice
Chloe
Josie
Cassidy
Lydia
Vivian
Bianca
Naomi
Phoebe
Camilla
Noelle
German Shorthaired Pointer Names Male
These German shorthaired pointer male names cover both the formal, distinguished side of the GSP and the cuter, less formal side. It's up to you which direction you want to go.
Bruno
Bruiser
Skippy
James
Jackson
Leon
Carson
Charlie
Vincent
Griffin
Oliver
Jasper
Dante
Felix
Archie
Xavier
Chase
Sawyer
Baxter
Wade
Finn
Connor
Hudson
Howie
Huck
Levi
Shawn
Harvey
Joshua
Caleb
Louie
Walker
Cooper
Kingston
Billy
Cool German Shorthaired Pointer Names
These cool GSP dog names draw inspiration from their distinctive traits and history. Here you'll find names alluding to the German shorthaired pointer's high-energy and high speed. Along with their history as a hunting dog.
Rocky
Archer
Phantom
Jet
Fisher
Wilder
Slade
Skye
Thorn
Howl
Cannon
Scout
Bolt
Valkyrie
Blade
Rebel
Echo
Storm
Arrow
Ember
Forest
Legacy
Everest
Calliope
Blaze
Dash
Gunner
Pierce
Titan
Colt
Hunter
Ace
Cute German Shorthaired Pointer Names
German shorthaired Pointers have a distinctive face that brings a whole lot of adorable to their look. We're now ready to go all-out with these cute German shorthaired pointer names. These cute German shorthaired pointer names take inspiration from the GSP's big brown eyes, unique and kind facial expression. As well as their liver and liver-and-white coats. And we've included some simple funny dog names as well.
Brownie
Chocolate
Milky
Summer
Belle
Truffles
Sunshine
Cookie
Penny
Junior
Coco
Fudge
Sunny
Cream
Treasure
Bean
Coffee
Mocha
Sweetie
Dreamy
Merry
Honey
Precious
Darling
Candy
Angel
Fancy
Sugar
Softie
Daisy
Silky
Rascal
Poppy
Funny German Shorthaired Pointer Names
Got a taste for the amusing? The best way to give your pup a funny name, is to pick one that doesn't quite fit. Or is just a bit silly! Ironic dog names aren't just humorous, they also avoid the potential embarrassment that comes with trying to be a bit too out there!
Titch
Lazy
Scraps
Slo-mo
Atom
Tiny
Tank
Ghost
Minnow
Twist
Micro
Jelly
Puss
Bug
Jingles
Dino
Trolley
Minx
Smiggle
Smush
Dagger
Rocky
Truck
Spoon
Drift
Rover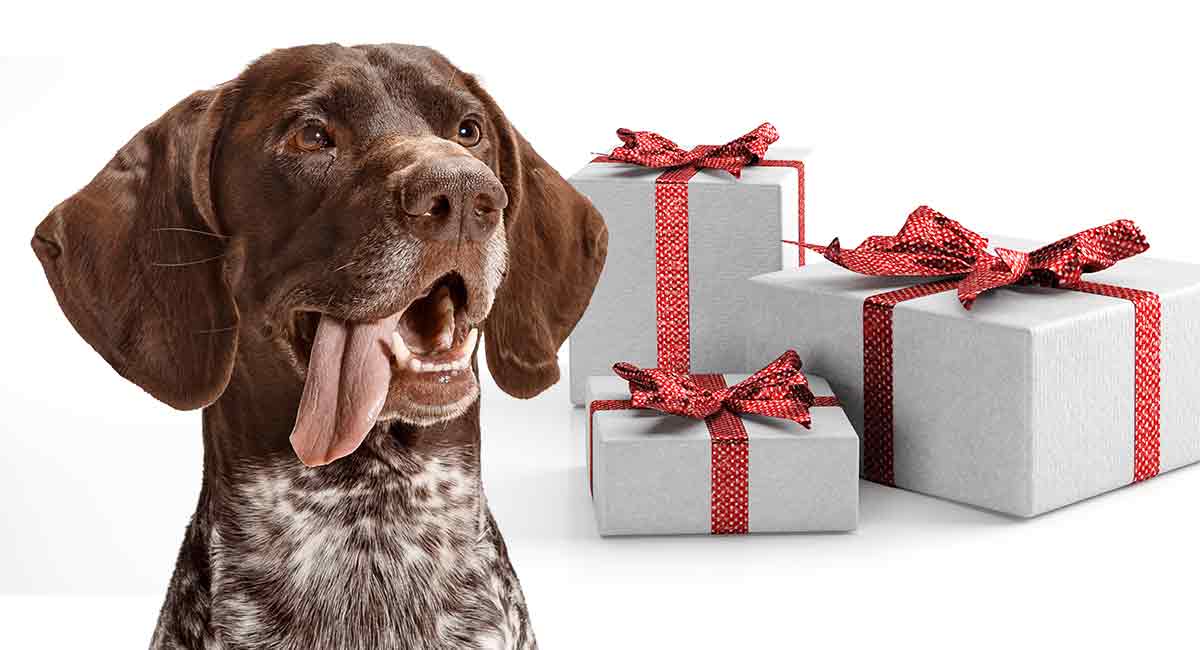 Some Unique Ideas
Want something you'll find less awkward to shout out at the dog park, but still hoping to be different? These unique GSP names will take much of their inspiration from the common association of the German shorthaired pointer as looking "aristocratic." We've also included names that allude to their energetic nature and love for the outdoors.
Lady
Princess
Duchess
Ulysses
Faith
Queen
Aurelia
Rio
Joker
Rainy
Frolic
Liberty
Journey
Royal
Major
River
Justice
Lyric
Sage
Miracle
Vita
Oakley
Holly
Orion
Juniper
Zelda
Nova
Muse
Eve
Jewel
Celeste
Meadow
Lucky
Chance
Champ
German GSP Names
This list wouldn't be complete without some choice German names for German shorthaired pointer dogs! Below are some of our favorites, with translations. These names mostly translate to meanings related to royalty, bravery, and other similar traits. This is just a taste, though—feel free to look deeper into German names for GSPs!
Aloisia ("Famous Fighter")
Adal ("Noble")
Albert ("Noble and bright")
Bathilda ("Heroine")
Berta ("Bright ruler")
Clotilda ("Heroine")
Clovis ("Renowned Warrior")
Dedrik ("Ruler of the people")
Della ("Bright")
Drugi ("Strong")
Edel ("Noble")
Ehren ("Honorable")
Frieda ("Peaceful ruler")
Fritz ("Peaceful ruler")
Gerdie ("Beloved warrior")
Halfrid ("Peaceful heroine")
Hardy ("Daring")
Irmine ("War goddess")
Katrina ("Pure")
Lothair ("Famous warrior")
Luther ("Famous warrior")
Minne ("Resolute protector")
Meinhard ("Firm")
Ottila ("Fortunate heroine")
Rikard ("Rich and powerful ruler")
Renke ("Strong judgment")
Sigfrid ("Victorious")
Ulrike ("World Ruler")
Vande ("Wanderer")
Willis ("Resolute protector")