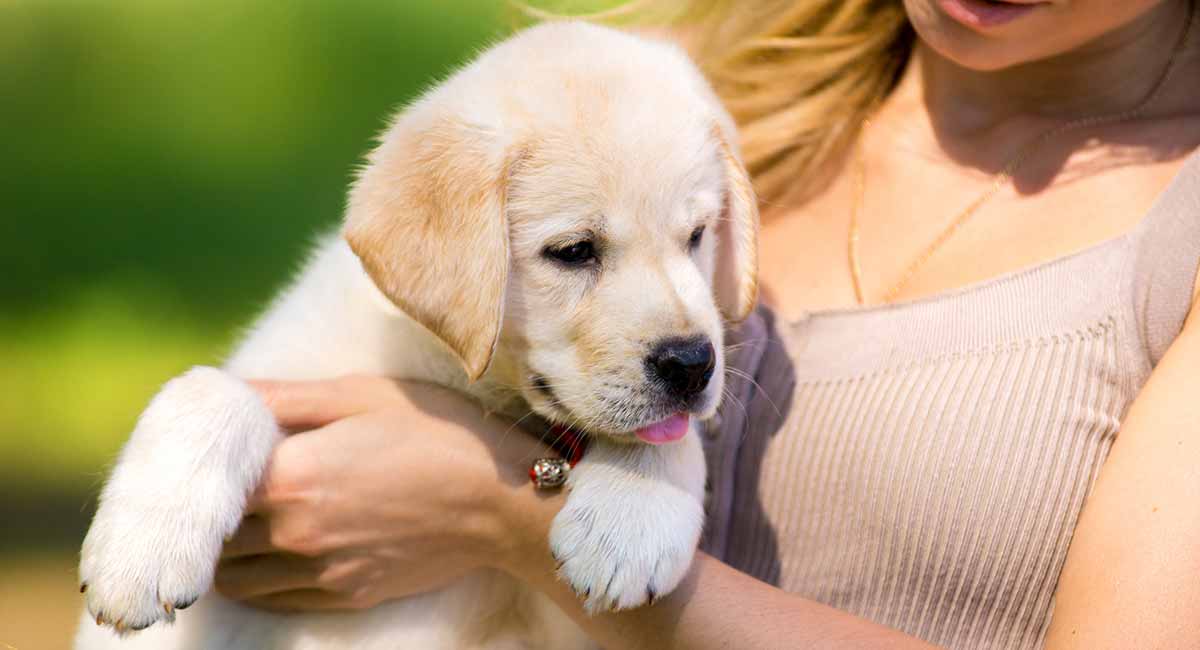 Over the years our family have had to find a lot of different Labrador names. From naming individual pet or working Labs, to choosing Kennel Club registration names for the pedigrees of litters of puppies. We firmly believe the best Labrador names reflect the intelligent, friendly, loving and adorable nature of these incredible companions. Today we'll share dozens of amazing ideas to suit any taste, from popular names and trending topics, to vintage, retro themes and off-the-wall inspiration points. We'll focus on short names, no more than three syllables at most, with hard vowels and long consonants. This will help your new dog to learn their name, and make for a great start to that all important recall training. Whether your new baby Labrador is a therapy dog, hunting partner, future agility superstar or beloved family pet, we'll have the perfect name for you here.
Contents
Labrador Retrievers have been the most popular dog breed in the United States for nearly thirty years. Labs are intelligent, friendly, loving, and adorable. Is it possible to find a name that reflects all those qualities and more? In a word, yes! But there may be several contenders for perfect Labrador Retriever names. Coming up in this article, we have compiled lists of awesome Labrador names specifically for certain characteristics, such as black Lab names, yellow Lab names, chocolate Lab names, male or female Lab names, as well as names with a variety of inspirations.
Our Favorite Labrador Names
Our fifty favorite Labrador Retriever names for this year cover a variety inspired by our lists for black Lab names, chocolate Lab names, unique Labrador names, and more, are:
Westie
Tiara
Kieran
Marley
Harvey
Martha
Buddy
Tango
Fudge
Mars
Sedona
Lightning
Arizona
Dave
Hal
Algernon
Flynn
Fiona
Clara
Noram
Arianna
Peony
Ryder
Madonna
Coconut
Eiderdown
Riptide
BeeBee
Lillian
Browntown
Lister
Pollyanna
Russet
Lil Lady
Wilson
Cheddar
Starlight
Pumpkin
Yesterday
Waffles
Liam
Aurora
Peach
Onyx
Ruff
Cosmos
Auntie
Taz
Willow
Mocha
Best Labrador Retriever Names
Labradors are pretty awesome. They're friendly, smart, playful, hard workers, and fantastic companion animals. They're also known for their lovable personalities. Oh, and the fact that they're so cute at every age!
It's only natural to want to name your Lab something that reflects one of her fantastic qualities. You may want a name that references her beautiful chocolate coat, or how cute she was as a puppy, or maybe even her annoying-but-still-adorable habit of trying to help you in the garden by digging up every plant, whether it's a weed or not.
Regardless of what type of Lab you have, we're confident that you will find the perfect name somewhere here on this list. In fact, the main problem may be deciding which one of your own top ten best fits your pup!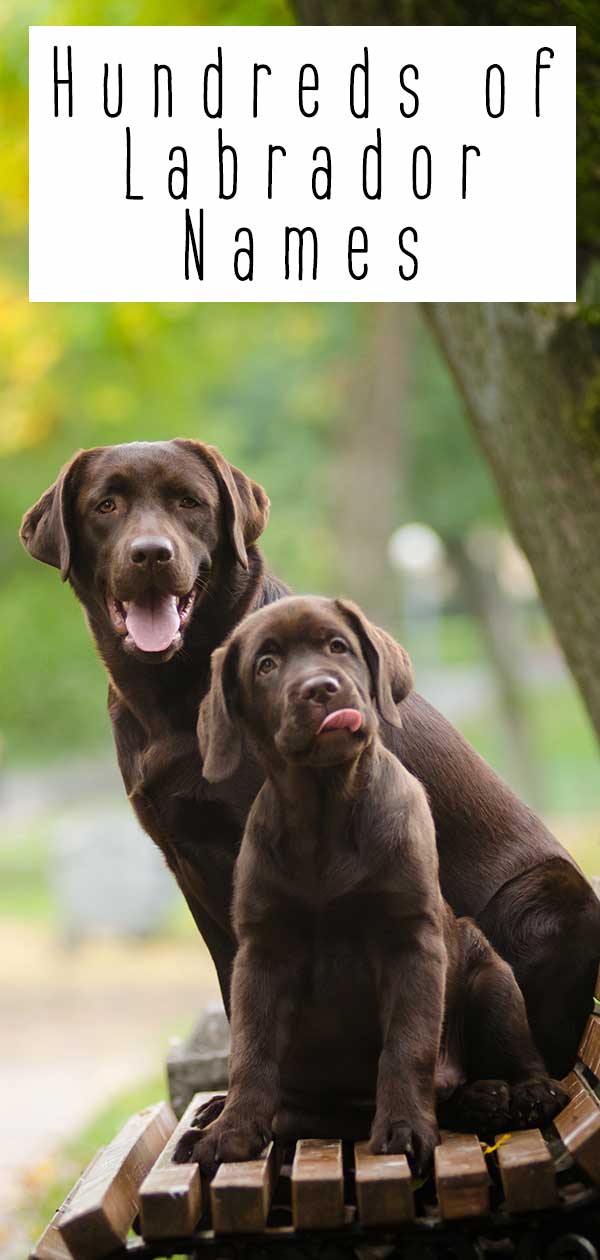 Female Lab Names
For Lab names for girls, we've taken inspiration from the Lab's wonderful character. These female Lab names are great whether you've brought home a female Lab puppy, or you're adopting a full grown lady Lab. Take a look at our top female Lab names right here!
Katie
CeCe
Maria
Gia
Charice
Norah
Aria
Summer
Averie
Ruth
Lea
Naomi
Farah
Artemis
Natasha
Anna
Eugenia
Irina
Kira
Clara
Kiana
Bree
Cadee
Cass (short for Cassidy)
Fiona
Male Labrador Names
Boy Lab names may reference exactly how handsome and spirited your Lab is. Or it could be a funny reference to his sense of humor! Here are some of our favorite choices for personality-filled options.
Hal
Don
Rafi
Axel
Henri
Gabe
Zenon
Algernon
Nino
Luc
Damir
Alexei
Roman
Harrison
Lachlan
Kevin
Connor
Shane
Griffin
Murphy
Rory
Tag
Flynn
Alvy
Brady
Good Labrador Names
Every dog is a good dog, right? And good dogs deserve good names! If you have a good dog (and of course you do), you'll probably want to consider some of these options.
Hannity
Donnal
Afi
Zelia
Gaston
Gargle
Xena
Algie
Nina
Alucard
Kath
Conoy
Miriam
Gianni
Char
Noram
Arianna
Autumn
Evie
Ross
Marina
Rhianna
Rhiannon
Talbot
Mishael
Chocolate Lab Names
Chocolate is one of the three primary coat colors (the other two are yellow and black) according to the official breed standard. These chocolate Lab names strive to capture how lovely a chocolate brown Labrador can be in all varieties of shade.
Brindle
Mohave
Sherwood
Hickory
Bamboo
Espresso
Alder
Matrix
Jasper (a gemstone)
Corkie
Willow
Mocha
Ruff
Russet
Waffles
Browntown
Cosmos
Cello
Lotus
Heather
Hoppy
Khaki
Brandy
Mustang
Balsa
Yellow Lab Names
The golden coat color some Labradors show off is a color on the spectrum of the yellow Lab, as is the fox red Labrador. More recently we've also begun to see more Goldadors, a hybrid dog breed. Puppies have one Labrador parent and one Golden Retriever parent. Yellow Lab names may work very well for this mix, as well! These yellow Lab names can help you express your love for the beauty of your golden pup's unique coat.
Buttermilk
Sunflower
Banana
Hazel
Mango
Honey
Maize
Amber
Papaya
Geode
Beryl
Peach
Pumpkin
Monarch
Lion
King
Prince
Glint
Cheddar
Sparkle
Shine
Royal
Sequin
Platinum
Angelfood Cake
Fox Red Labrador Names
The fox red Labrador is truly one of the most unique and beautiful of all the Labrador coat colors. What is most interesting is that the fox red coat color isn't actually considered "red," per se, but rather is actually one variation out of the many shades contained within the yellow coat color spectrum. Choose one of these, or let this list inspire you to find your own perfect name for your fox red Lab.
Flame
Cardinal
Cherry
Scarlet
Zinny (short for Zinnia)
Poppy
Coral
Ruby
Ginger
Tabby
Scorpion
Howler
Rose
Chrissy (short for Chrysanthemum)
Azalea
Pepper
Berry
Redbud
Stellar
Mars
Venus
Sedona
Arizona
Bryce (after Bryce Canyon National park red rock formations)
Garnet
White Labrador Names
These choices for both males and females can help you capture your white Lab's rare and stunningly beautiful coat color.
Lightning
Blizzard
Pearl
White Star
Glacier
Ghost
Aspen
Sugarplum
Ametrine (a lavender-white stone)
Marble
Opal
Flake
Ocean
Iris
Peony
Coco(nut)
Whisper
Spirit
Eskimo
Lily
(White) Knight
Camellia
Tulip
Snowdrop
Magnolia
Black Lab Names
Did you know that black was initially the most favored coat color for Labrador dogs? Today, of course, everyone has their opinion on this lively topic and there are more coat colors than ever before to choose from. Meanwhile, when it comes to finding a great moniker, you'll surely want to look at some specifically black Lab names! If you are seeking the perfect black Lab names, one of these might be the lucky winner.
Pitch
Atomic
Steam
Smoke
Ember
Fossil
Char
Taz (short for Tasmanite, a black mineral)
Glow
Miner
Onyx
Gunny
Astral
Gamma
Fireball
Spinel (a black stone)
Radio
Aurora
Eclipse
Flare
Lunar
Nova
Drusy (a black crystal stone)
Pirate
Hema (short for Hematite)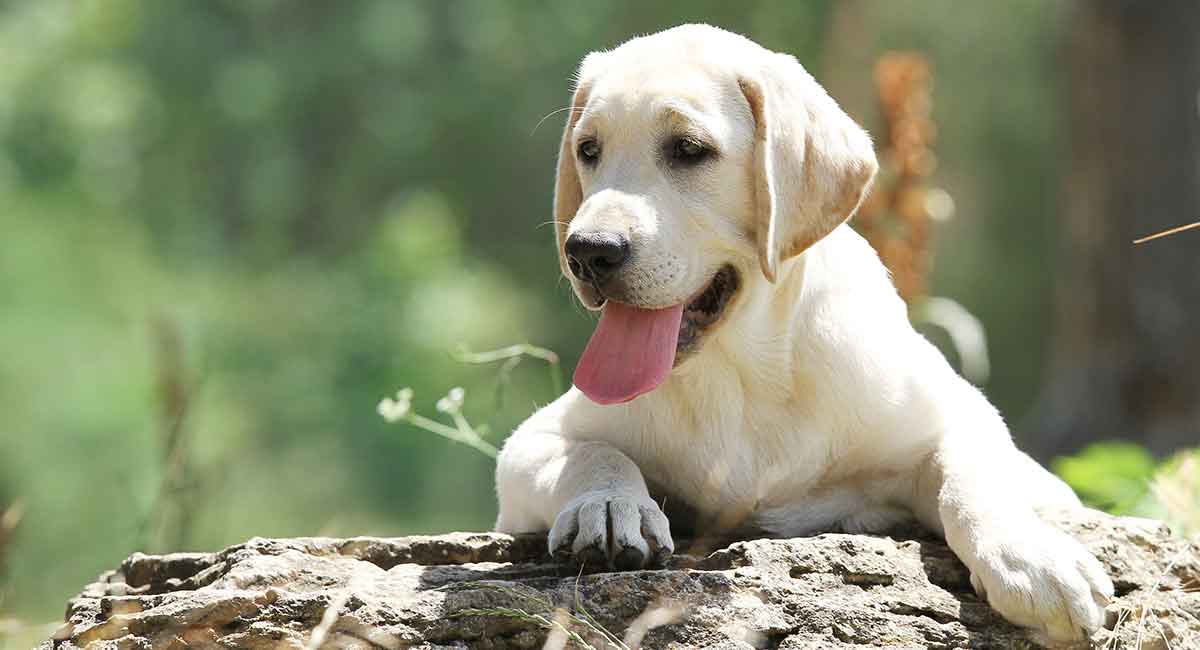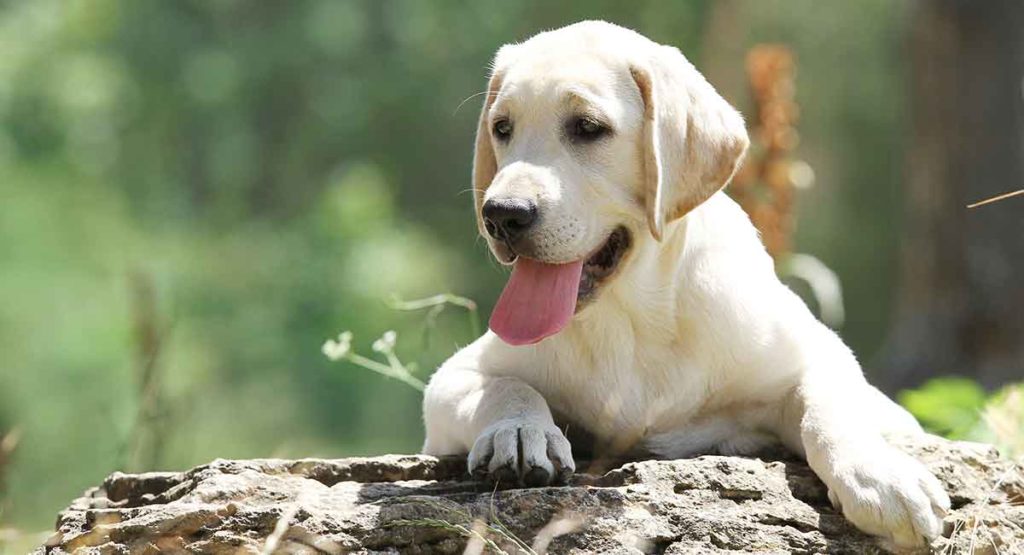 Cool Labrador Names
Reaching into different cultures and languages can yield neat ideas such as these cool English and Indian dog names for female Labradors and male Labradors.
English names:
Amee (beloved)
Bella (beautiful)
Candace (queen mother)
Diane (heavenly)
Evangenline (good news)
Maximus (greatest)
Kwan (strong)
Benedict (blessed)
Constant (steadfast)
Hugo (smart)
Indian names:
Sai (divine)
Baba (teacher)
Arjun (honor)
Kabir (great)
Raj (king)
Anika (grace)
Chanda (moon)
Jaya (victory)
Keya (flower)
Mirai (miracle)
Cute Labrador Names
These cute monikers aim to capture that all-too-brief puppy cuteness while still making room for the big adult dog that has yet to appear.
Amelie
Mason
Liam
Adley
Lora
Jack
Bagel
Lox
Teddy
Gumdrop
Lucky
Pookie
BeeBee
Lil Lady
Winkles
Tori
Ama
Hutch
Logan
Hurdler
Chickie
Tiko
Saffy (short for Saffron)
Chuckit
Beau
Eiderdown
Minx
Silly Putty
Graham
Cokie
Eyelet
Janie
Ocho
Miracle
Zoomer
Lass
Laddie
Sunset
Mr. Chips
Carroll
Dave
Wilson
Daisy
Tiara
Princess
Unique Lab Names
Learning more about Labrador breed development is a great way to brainstorm unique Labrador dog names with interesting, significant meanings. These names are all inspired by the Labrador's early breed development and history and the people and pups who contributed to that history.
John
Hubert
Duke
Nell
Scott
Norfolk
Buccleah
Avon
Ben
C.J.
Lassie
Lorna
Banchory
Bolo
Night Light
Riptide
Star
Cola
Simba
Hibbert
Fudge
Ming
Arden
Defender
Khan
Tango
Kim
Sultan