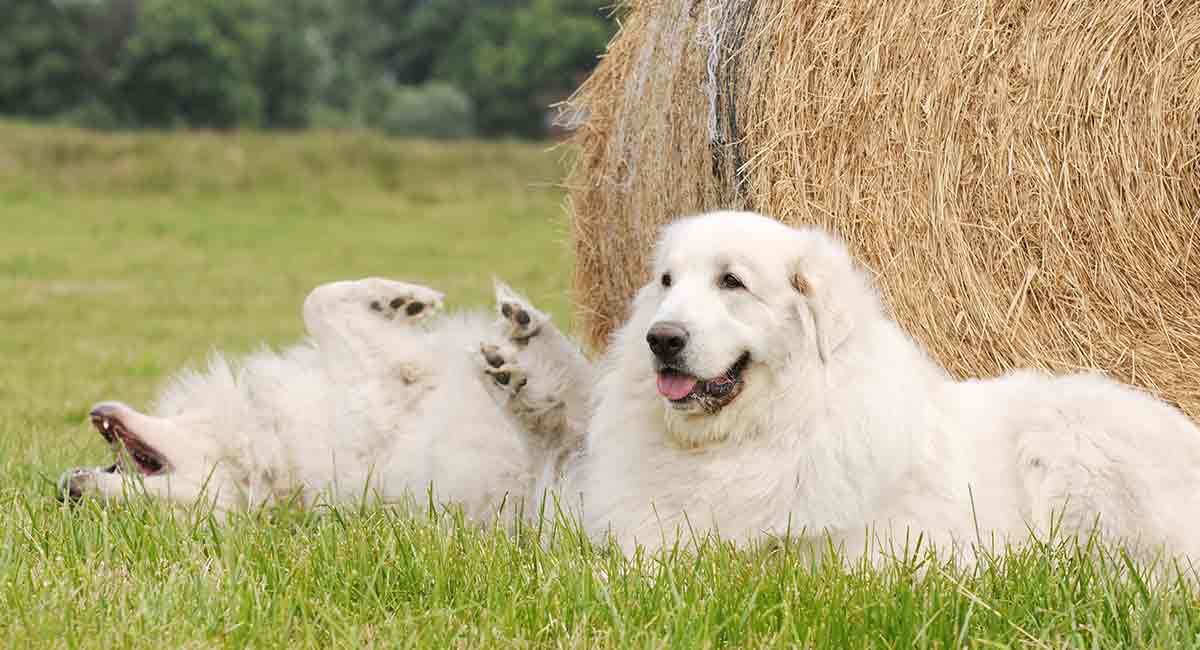 The Great Pyrenees is a gorgeous mountain breed with a strong work ethic, legendary stamina, and incredible loyalty. This courageous and stunning dog also makes for a fabulous pet for the right person. Getting for a new puppy or rescue dog is exciting, but we know it can also be a little bit nerve-wracking. There is so much to do and prepare for! And to top it off, you also have to pick out a name. Don't worry. You've got the Great Pyrenees puppy and we've got 200 Great Pyrenees names!
Contents
Best Great Pyrenees Names
Sometimes all we need is a little inspiration. Are you curious about what other Great Pyrenees parents are naming their pups? Then you're in luck!
Belle
Marley
Sable
Charlie
Lucy
Marvel
Roxy
Beau
Missy
Nimbus
Sandy
Samson
Chloe
Trapper
Willow
Oliver
Velvet
Max
Lola
Shiro
Female Great Pyrenees Names
Is your Great Pyrenees a girl? Do you want the world to know she's a girl? Did you already buy her a bedazzled collar and a bedazzled leash and are just in need of that one perfectly bedazzled name to suit her bedazzled personality? Okay, if we got a little too girly on you, don't worry. Even if your Great Pyrenees is a boy, that's cool too. There are no rules here.
Luna
Angel
Bianca
Nova
Heaven
Latte
Sophie
Blondie
Blanche
Ginger
Addie
Holly
Chloe
Cleo
Zoe
Scout
Stella
Riley
Princess
Trixie
Male Great Pyrenees Names
This dog is a dude through-and-through! He needs a masculine name to fit his masculine frame, right?
Duke
Toby
Saturn
Loki
Romeo
Finn
Tucker
Prince
Tyson
Bailor
Chance
Bubba
Lucky
Frankie
Ziggy
Cooper
Bubba
Benji
Rufus
Chester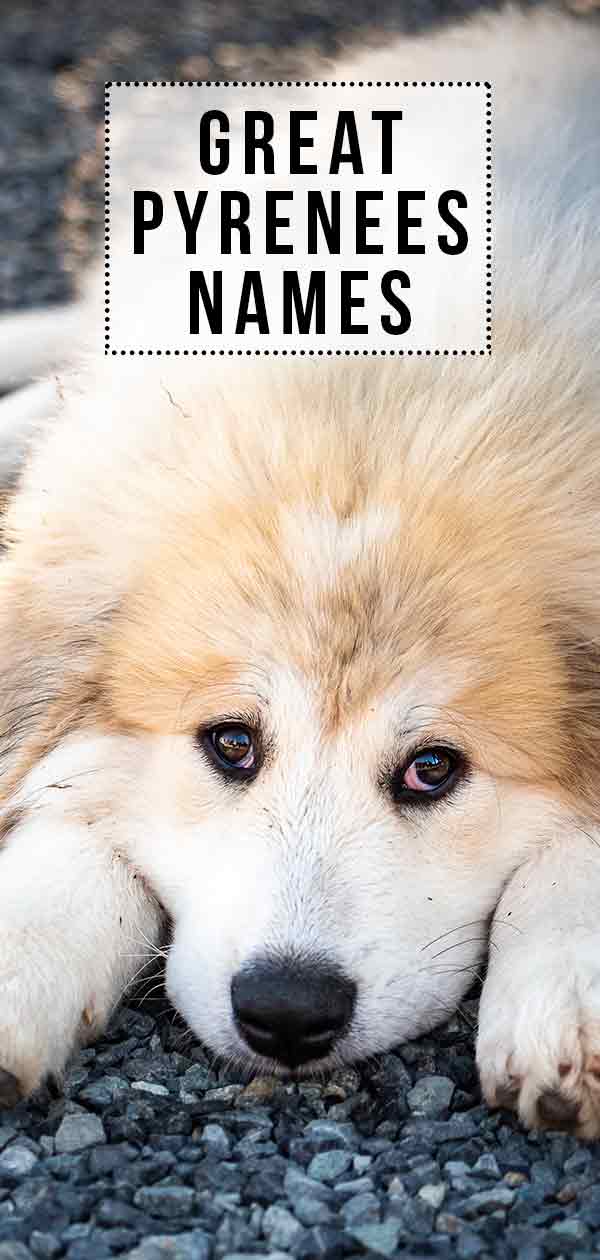 Cool Great Pyrenees Names
The Great Pyrenees breed name says it all. This dog is great. He's awesome. He's so darn cool. And coming from a cooler climate where he did a cool job like guarding sheep from wolves, we really think this badass dog deserves a badass moniker.
Jagger
Axle
Ranger
Gizmo
Gunner
Bentley
Apollo
Leo
Tank
Ace
Boomer
Cash
Jasper
Hunter
Lex
Harley
Jax
Jaxon
Diesel
Baxter
Cute Great Pyrenees Names
Okay, so forget cool names. Your Great Pyrenees is cute. Like, adorable cute. Like, makes you want to cry and fall down and hug on him cute. This giant fluffy ball of cuteness can have nothing less than the world's cutest name. And that's where we come in.
Pebbles
Poppy
Chewy
Lulu
Cookie
Dot
Gus
Bubbles
Moose
Tiny
Mini
Thumbelina
Boots
Cricket
Mouse
Archie
Biscuit
Dolce
Clover
Buddy
Funny Great Pyrenees Names
Whether your Great Pyrenees has a serious disposition and you just enjoy irony or he is really just a giant ball of fluffy goof, these twenty hilarious names are sure to leave everyone who hears them in stitches!
Franz Fur-dinand
Hairy Paw-ter
Ozzy Pawsborne
Bark Twain
Sherlock Bones
Mary Puppins
Deputy Dawg
Sarah Jessica Barker
Subwoofer
Miss Furbulous
Captain Barkley
Sir Fluffers
Count Wigglebottom
Lady Droolsbury
Putt-Putt
Sir Wags
Sergeant Sniffs
Mister Fluffs
Snoop Dogg
Madam Wagglesworth
Unique Great Pyrenees Names
If you hate trends, never follow the leader, and are seriously into creating your own way, then this list of super unique Great Pyrenees names is perfect for you! Trust us, no other dog owner at the dog park will be yelling these names out any time soon!
Figaro
Daphne
Elliot
Gatsby
Keats
Flapjack
Eleanor
Aurora
Amadeus
Broderick
Phineas
Hamlet
Ritz
Atticus
Sansa
Keats
Taco
Kit
Vida
Ophelia
Tough Great Pyrenees Names
As we said in the beginning, the Great Pyrenees is an incredible dog with incredible courage and resilience. He is an all-around tough dog who really deserves a tough name. If you agree and you want a name that suits your Great Pyrenees' tough-guy past, then you're in luck.
Wolf
Sabre
Zeus
Rogue
Attila
Pharaoh
Stryker
Raptor
Grizzly
Rambo
Hercules
Zelda
Gotham
Tempest
Ninja
Ulysses
Goliath
Gladiator
Dragon
Godzilla
White Dog Names
Marshmallow
Snow
Snowball
Casper
Dove
Ghost
Snowflake
Cotton
Coconut
Sugar
Moonie
Feather
Vanilla
Alaska
Pearl
Polar Bear
Daisy
Ivory
Lace
Glacier