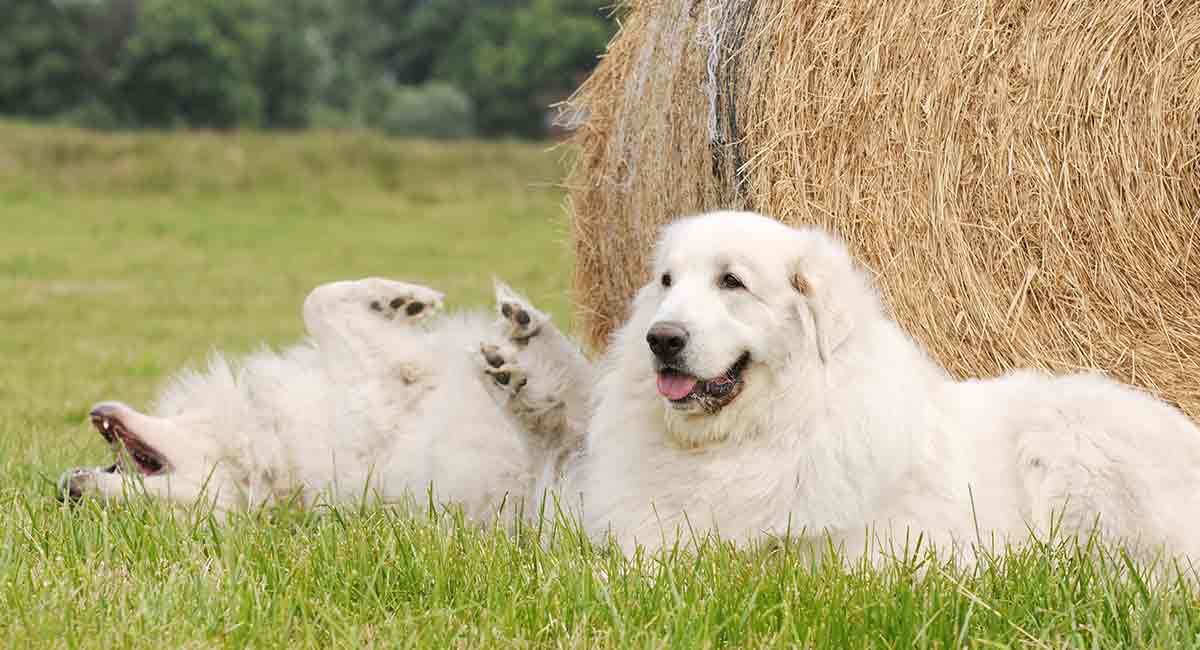 The Great Pyrenees is a gorgeous mountain breed with a strong work ethic, legendary stamina, and incredible loyalty.
This courageous and stunning dog also makes for a fabulous pet for the right person.
If you are about to welcome this amazing pup into your home, congratulations!
Getting for a new puppy or rescue dog is exciting, but we know it can also be a little bit nerve-wracking.
There is so much to do and prepare for! And to top it off, you also have to pick out a name.
Don't worry. You've got the Great Pyrenees and we've got 200 Great Pyrenees names!
But before we jump into our list, let's learn about the importance of naming our furry little friends.
Naming Your Great Pyrenees Puppy or Rescue Dog
Naming your new Great Pyrenees puppy or rescue dog should be fun, but it should also be given some thought.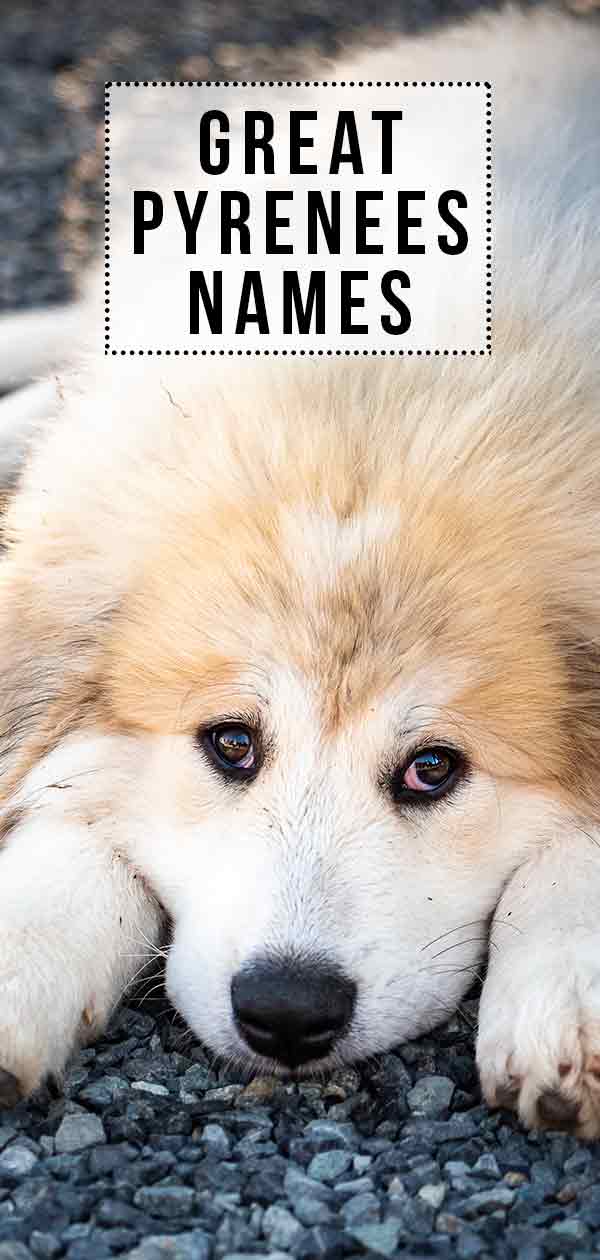 Keep in mind that you will be using your dog's name repeatedly for years to come.
Are you ready to call this name out in the dog park or fill it out on the form at your new veterinarian's office?
Are you going to be able to say your Great Pyrenees dog's name easily during training without him getting confused or thinking his name perhaps means something else?
What kind of name is the easiest names for both your dog and you to work with?
Most experts suggest dog names with two syllables. These types of names are usually the easiest for dogs to remember and therefore seem to stick with dogs the quickest.
Still, this just a suggestion. There are no real rules when it comes to naming your dog.
So, are you ready to dive into our amazing list of 200 great names for the Great Pyrenees in your life?
Let's start with the most pup-ular names for the Great Pyrenees!
Best Great Pyrenees Names
Sometimes all we need is a little inspiration. Are you curious about what other Great Pyrenees parents are naming their pups? Then you're in luck!
Below is a list of twenty of the most popular and best-suited names for a Great Pyrenees dog we could find.
Belle
Marley
Sable
Charlie
Lucy
Marvel
Roxy
Beau
Missy
Nimbus
Sandy
Samson
Chloe
Trapper
Willow
Oliver
Velvet
Max
Lola
Shiro
Female Great Pyrenees Names
Is your Great Pyrenees a girl? Do you want the world to know she's a girl?
Did you already buy her a bedazzled collar and a bedazzled leash and are just in need of that one perfectly bedazzled name to suit her bedazzled personality?
Okay, if we got a little too girly on you, don't worry. Even if your Great Pyrenees is a boy, that's cool too.
There are no rules here.
Check out some of our favorite female-sounding names for the Great Pyrenees.
Luna
Angel
Bianca
Nova
Heaven
Latte
Sophie
Blondie
Blanche
Ginger
Addie
Holly
Chloe
Cleo
Zoe
Scout
Stella
Riley
Princess
Trixie
And if you liked this list of female Great Pyrenees names but would like to see more, click right here!
Male Great Pyrenees Names
Perhaps when you first saw your Great Pyrenees, you didn't even have to ask. You simply knew.
This dog is a man's dog.
This dog is a dude through-and-through! He needs a masculine name to fit his masculine frame, right?
Of course, female Great Pyrenees dog parents are welcome to take a gander at this list as well. We have always been fans of boy names for girls!
Duke
Toby
Saturn
Loki
Romeo
Finn
Tucker
Prince
Tyson
Bailor
Chance
Bubba
Lucky
Frankie
Ziggy
Cooper
Bubba
Benji
Rufus
Chester
Need an even larger list of male Great Pyrenees names to choose from?
Great, because we've got an entire article dedicated to male dog names here!
Cool Great Pyrenees Names
The Great Pyrenees breed name says it all. This dog is great. He's awesome. He's so darn cool.
And coming from a cooler climate where he did a cool job like guarding sheep from wolves, we really think this badass dog deserves a badass moniker.
Do you agree? Awesome. Then take a look at these wickedly cool names for your cool Great Pyrenees below!
Jagger
Axle
Ranger
Gizmo
Gunner
Bentley
Apollo
Leo
Tank
Ace
Boomer
Cash
Jasper
Hunter
Lex
Harley
Jax
Jaxon
Diesel
Baxter
For an even bigger selection of awesome dog names for your awesome Great Pyrenees, visit us here!
Cute Great Pyrenees Names
Okay, so forget cool names. Your Great Pyrenees is cute. Like, adorable cute. Like, makes you want to cry and fall down and hug on him cute.
This giant fluffy ball of cuteness can have nothing less than the world's cutest name. And that's where we come in.
Are you ready to totally lose your cool due to cuteness overload? Then keep reading!
Pebbles
Poppy
Chewy
Lulu
Cookie
Dot
Gus
Bubbles
Moose
Tiny
Mini
Thumbelina
Boots
Cricket
Mouse
Archie
Biscuit
Dolce
Clover
Buddy
Did you not lose your cool all the way yet? Don't worry. We're not quite finished. We've got an even larger list of ridiculously cute dog names here!
Funny Great Pyrenees Names
If you have the soul of a comedian, then this list of twenty funny Great Pyrenees names is sure to make you chuckle.
Whether your Great Pyrenees has a serious disposition and you just enjoy irony or he is really just a giant ball of fluffy goof, these twenty hilarious names are sure to leave everyone who hears them in stitches!
Franz Fur-dinand
Hairy Paw-ter
Ozzy Pawsborne
Bark Twain
Sherlock Bones
Mary Puppins
Deputy Dawg
Sarah Jessica Barker
Subwoofer
Miss Furbulous
Captain Barkley
Sir Fluffers
Count Wigglebottom
Lady Droolsbury
Putt-Putt
Sir Wags
Sergeant Sniffs
Mister Fluffs
Snoop Dogg
Madam Wagglesworth
Unique Great Pyrenees Names
It's no secret that the Great Pyrenees dog is totally one of a kind. And a one of a kind dog needs a one of a kind name.
If you hate trends, never follow the leader, and are seriously into creating your own way, then this list of super unique Great Pyrenees names is perfect for you!
Trust us, no other dog owner at the dog park will be yelling these names out any time soon!
Figaro
Daphne
Elliot
Gatsby
Keats
Flapjack
Eleanor
Aurora
Amadeus
Broderick
Phineas
Hamlet
Ritz
Atticus
Sansa
Keats
Taco
Kit
Vida
Ophelia
If you're not convinced that the above list of unique names was unique enough for your Great Pyrenees, that's fine. We still have tons more unique dog names for you to choose from.
Just visit us here!
Tough Great Pyrenees Names
As we said in the beginning, the Great Pyrenees is an incredible dog with incredible courage and resilience.
He is an all-around tough dog who really deserves a tough name. If you agree and you want a name that suits your Great Pyrenees' tough-guy past, then you're in luck.
Below are twenty tough dog names for your tough Great Pyrenees!
Wolf
Sabre
Zeus
Rogue
Attila
Pharaoh
Stryker
Raptor
Grizzly
Rambo
Hercules
Zelda
Gotham
Tempest
Ninja
Ulysses
Goliath
Gladiator
Dragon
Godzilla
And for an even larger list of tough dog names to choose from, go ahead and click here!
White Great Pyrenees Names
If your Great Pyrenees is not all-white, then chances are he is mostly white with a few red or tan markings.
Either way, you may be on the hunt for a name that perfectly describes his snow-white fur. If so, this is the perfect list for you.
Marshmallow
Snow
Snowball
Casper
Dove
Ghost
Snowflake
Cotton
Coconut
Sugar
Moonie
Feather
Vanilla
Alaska
Pearl
Polar Bear
Daisy
Ivory
Lace
Glacier
Fun Facts About Great Pyrenees
We love the Great Pyrenees for his beautiful looks as well as his charming personality! This is an ancient mountain breed who worked as a herding dog in the Pyrenees Mountains.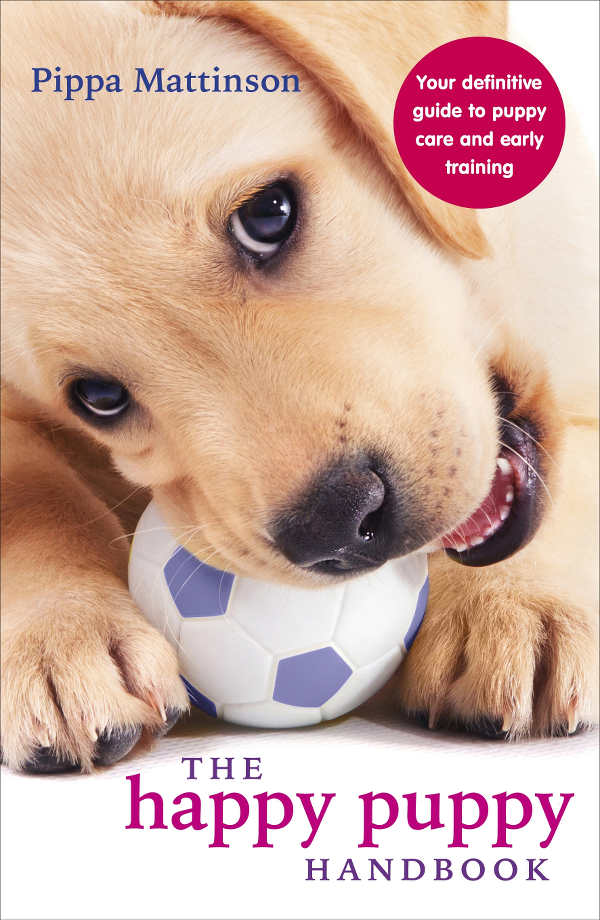 But just how ancient are the Great Pyrenees?
According to the American Kennel Club, evidence of the breed has been found in fossilized deposits dating all the way back to the stone age!
Today, the Great Pyrenees makes a wonderful family dog for those who understand his drive for work and serious nature.
Gentle with children, intelligent, and loyal, the Great Pyrenees also makes a great family pet and has even starred in a number of movies throughout the years!
So, with all that in mind, did you find the perfect name for your Great Pyrenees on our list?
Tell us which name stuck with you most in the comments section below!
Related Articles
References
Kaminski et al, Word Learning in A Domestic Dog: Evidence for "Fast Mapping", Science,.
Mary B. Harris, Some Factors Influencing Selection and Naming of Pets, Psychological Reports
Kutsumi et al, Importance of Puppy Training and Future Behavior of the Dog, Journal of Veterinary Medical Science
Dunbar, Before & After Getting Your Puppy: The Positive Approach to Raising a Happy, Healthy & Well-Behaved Dog, Chapter 1, What's Important to Know Right Away
Hare & Tomasello, Human-Like Social Skills in Dogs? Trends in Cognitive Sciences.
Prato-Previde et al, Is the Dog-Human Relationship an Attachment Bond? An Observational Study Using Ainsworth's Strange Situation, Behavior.